Introduction to Tenmusu
Are you one of those people who love to have onigiri, or omusubi or rice ball as a snack and/or substitute for meals? Then, you should definitely know about Tenmusu. Tenmusu is a specialty from Nagoya classified as a rice ball with shrimp tempura as its ingredients. In many cases, locals used shrimp as an ingredient, but some restaurants use shrimp and small vegetables to make Tenmusu. There is also a conflict on the history of where it originated. Some locals say that it originated from Mie prefecture. So, if you ever went to Nagoya or Mie and thought of what will you try, you can try Tenmusu, also their Tebasaki and Akafuku Gori.
Etymology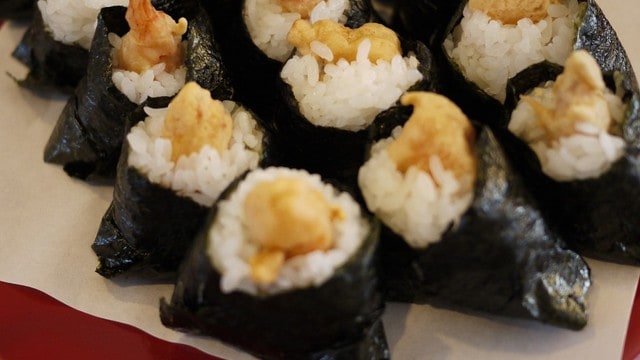 The word "Tenmusu" comes from two words combining – Tempura (天ぷら) and Omusubi (おむすび) – which means rice ball in Japanese. Japanese like to shorten names by picking the first few syllables of the words; hence, we end up with Ten(pura) + (o)musu(bi).
What is Tenmusu?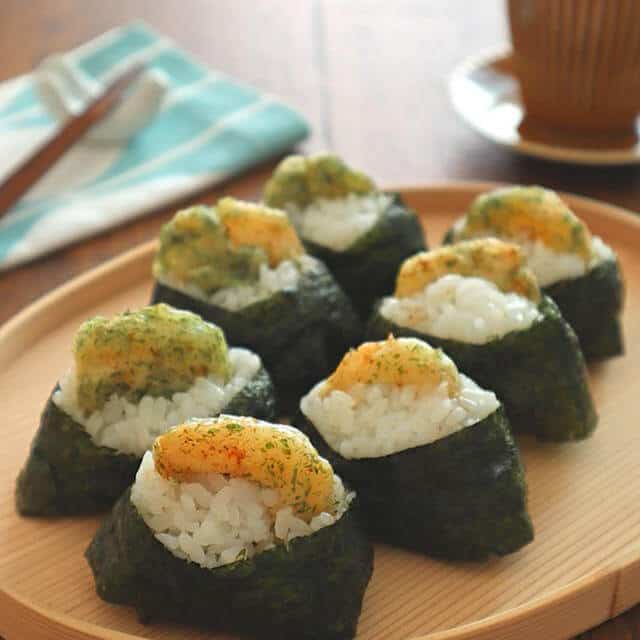 Tenmusu (天むす)is a traditional Japanese food from Nagoya that is a perfect match between shrimp and rice balls. Its feature is that locals use rice mixed with salt, and you can enjoy the natural taste of shrimp and the special sauce of each restaurant. A typical tenmusu has shrimp tempura inside a triangular rice ball, and the tail of the shrimp pops out from the top of the rice ball. There are also different types of Tenmusu according to their ingredients and Kyoto also has its own different style of this dish.
History of Tenmusu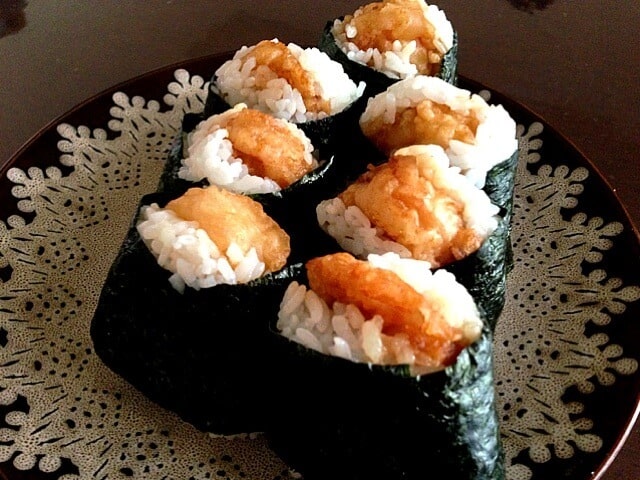 Tenmusu is one of the Nagoya specialties, but some locals said that it originated in Mie prefecture. It was a meal served by a tempura set meal restaurant called "Senju" in Tsu City, Mie Prefecture. in Mie prefecture, and then officially made into a menu. It became popular at the restaurant as a backup menu for regular customers and became an official menu item. Then, in 1959, the restaurant became a tenmusu specialty restaurant and registered the trademark tenmusu in 1965.
Afterward, a Tenmusu store was opened in Aichi, and when it was featured on TV, its popularity rose explosively. It is said to be Nagoya food because the store in Nagoya first made the name of Tenmusu, but now it is widely known that it originated in Mie prefecture, and the dish called Tenmusu is spreading all over the country.
The Tenmusu Recipe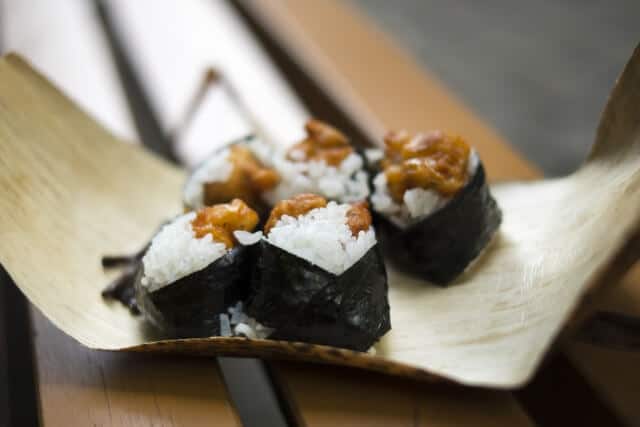 Tenmusu Ingredients
| | |
| --- | --- |
| Tenmusu Ingredients for 12 servings | |
| Shrimp | 36g |
| Dashi soy sauce | 11g |
| Potato starch | 6g |
| | |
| --- | --- |
| For Shrimp Batter | |
| Flour | 35g |
| Potato starch | 5g |
| Baking powder | 1.25g |
| salt | 2g |
| pepper | 1g |
| garlic powder | 1g |
| egg | 50g |
| water | 44g |
| liquor | 5g |
| | |
| --- | --- |
| For rice ball materials and others | |
| cooked rice | 400g |
| salt | 1g |
| Seaweed (nori sheets) | 6g |
| oil | appropriate amount |
How to make Tenmusu?
Peel the shrimp and scoop up the backbone
Peel the shrimp and scoop the backbone with a bamboo skewer.
Soak with ingredients and wipe off the moisture
Add an extra amount of potato starch, salt, and water little by little, rinse with water. Then, put it in a colander, wrap in a paper towel, and wipe off the water.
Seasoning
Mix white soup and potato starch to season.
Mix the flour
Put flour, potato starch, baking powder, garlic powder, salt, and pepper in a bowl and mix.
Combine the liquid ingredients and mix the green laver
Add beaten egg, water, and sake and mix. Then, add green laver and mix gently.
Fry shrimp tempura
Put a batter on the shrimp, put it in oil at 180 ℃, and fry it while turning it over. It is easier to use bamboo skewers. The frying oil should be about 2 cm deep. Afterward, drain the oil.
Make rice balls
Wet your hands with water, add a little salt to your palms, and let them blend in. Put rice and shrimp on rice balls and make a triangular rice ball. Cut one piece of nori seaweed into 6 equal parts and wrap it around a rice ball.
Kyoto-style Tenmusu vs Nagoya-style Tenmusu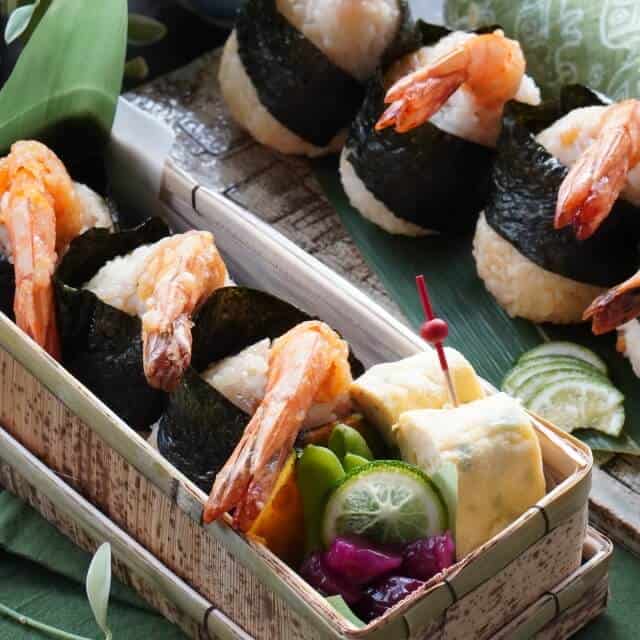 Tenmusu is for Nagoya but Kyoto also has it but in a different style. Kyoto-style Tenmusu is in a bale of hay shape. A typical tenmusu has shrimp tempura inside a triangular rice ball, and the tail of the shrimp pops out from the top of the rice ball. And the ingredients are mostly shrimp tempura. The Kyoto Tenmusu has various ingredients besides shrimp.
What are the nutrition benefits of Tenmusu?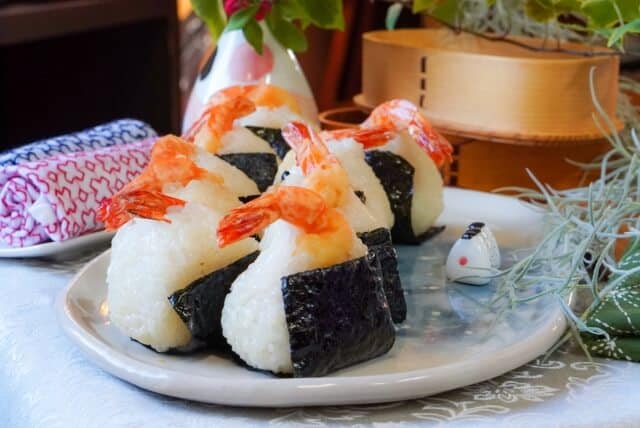 Rice ball is very high in carbohydrates and relatively low in protein which makes this an unideal food to eat regularly when you are trying to stay fit or lose weight.  Shrimp doesn't have nearly the nutritional value of, say, salmon (lower in many vitamins and minerals, higher in sodium). However, it can be a source of protein and, to a lot of people, it's yummy. Additionally, it can add calories and fat.
Other Types of Tenmusu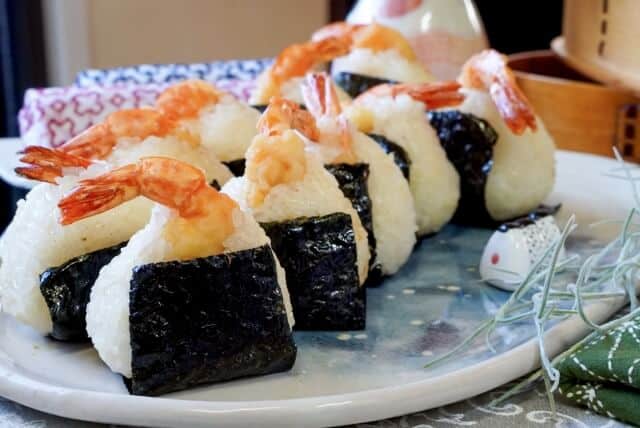 There are varieties to pick from tenmusu. Locals create different versions of it such as crab tenmusu, tori tenmusu, tenmusu with tenkasu, pork, and avocado tenmusu.
Recommended Tenmusu Restaurants
Senju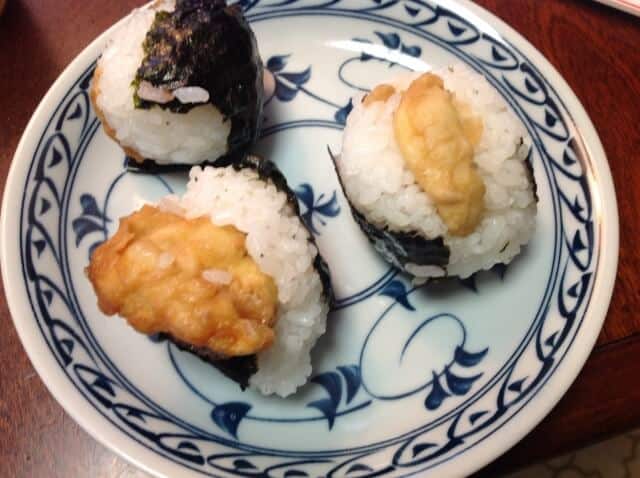 Senju is the original shop introduced in the history of Tenmusu. You can take it out here or eat in the store. If you want to eat in the old-fashioned atmosphere, please go at this time. The delicious taste of the shrimp tempura soaked in the sauce spreads throughout your mouth. You can enjoy the crispy shrimp tempura and the hot and fresh taste of rice.
Jiraiya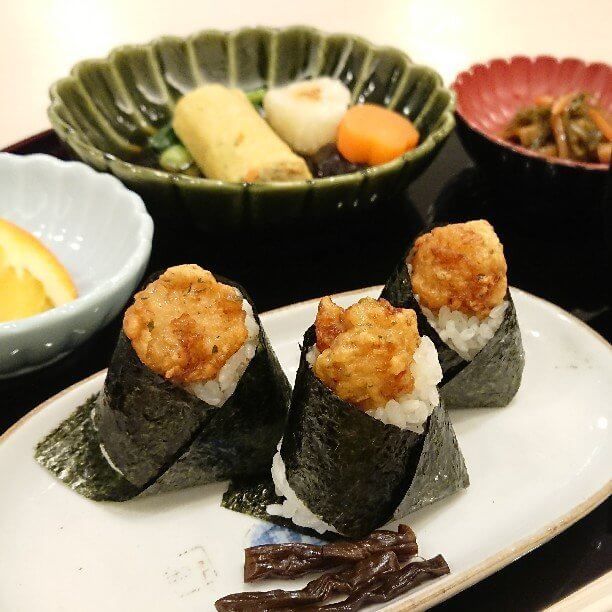 "Jiraiya", which has stores all over the country, is famous as a staple of Nagoya cuisine. Their tenmusu feature is that the ingredients stick out greatly, and good quality rice. They even use fresh natural shrimp that are delicious even when cold. In addition to ordinary tenmusu, black rice tenmusu and takana tenmusu are also popular. 
Takano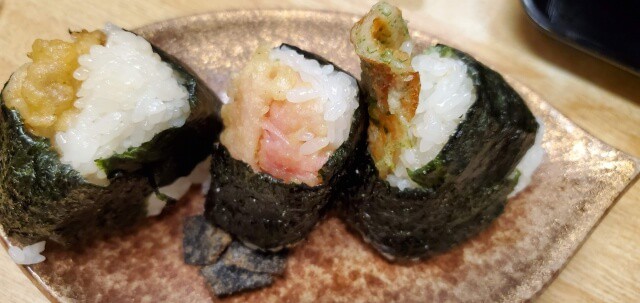 "Takano" Tenmusu is a kakiage type with plenty of vegetables. We use white squeezed oil that goes well with tempura. "Tenmusubi set meal" comes with okara, charabuki, and red noodles with somen noodles. Okara is handmade every morning. It is a shop where you can relax in a homely atmosphere.
Kita (Kyoto)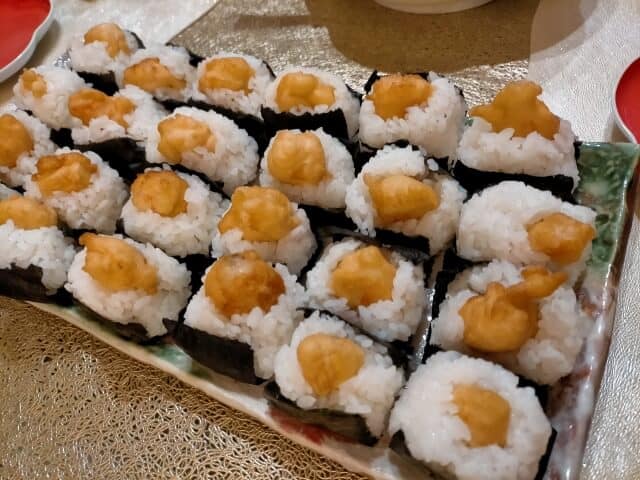 There is a shop in Kyoto that sells Tenmusu, they call it "Kita". It seems that the owner decided to open a Tenmusu shop because he wanted to sell unfamiliar dishes. Such as Kita-san's Tenmusu. There was big shrimp tempura on it that covered the bite-sized rice balls, and it was good for the size. The taste of it also felt the crispy texture and sweetness of natural shrimp, and the tempura garment seasoned with homemade sauce was still delicious even when cold.
Conclusion
Rice balls are not only the main snack in Japan, but it is also the most convenient. It's very portable and quick and easy to make. When these rice balls became triangular in shape and were widely popularised as a food that could travel well, allowing people to enjoy them on journeys, at hanami cherry blossom viewing picnics, and while watching plays. Onigiri or omusubi has been a snacktime favorite for centuries and it shall continue to be until the end of time. It includes Tenmusu along with its history.