Do you know what shirasu is? It is heaped in the storefronts of dry goods stores as "dried shirasu". Rich in protein, vitamin D, calcium and magnesium, it is a fish that can be eaten with bones. The name may differ depending on the region, but in order of the highest moisture content, it can be called kamaage shirasu, dried shiras, or semi-dried young sardines. There are fish called Shirouo and Shirauo that have similar names and appearances, but these three species are completely different species.
The popular whitebait of Japan
In Japan, whitebait is called shirasu, which is small immature fish. They are less than 2cm in length, typically sardines, but can also be the fry of herring, sweet fish, conger eel, or others. This tiny fish ingredient can be found in almost all Japanese supermarkets. You can eat it raw or boiled. If dried after being boiled then the shirasu turns into chirimen. There are many names depending on how long their dried or the region. Speaking of regions, this ingredient is popular and famous in the Kanagawa prefecture.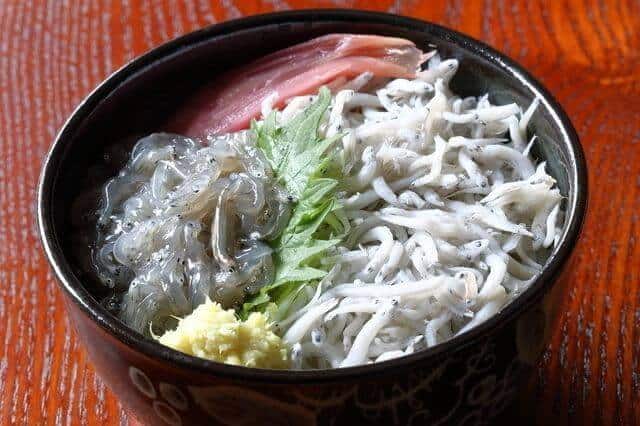 Kanagawa and the Shirasu season
During the shirasu season of spring and fall you will see plenty of advertising for raw shirasu at shops in the Kanagawa prefecture. It can be caught at any time, but it is most delicious in those seasons. They do a great job of fishing it in Sagami Bay. A specialty in Kanagawa is the shirasu-don, which is the shirasu on top of rice. The shirasu rice bowl is a must try for people in that region. They also have the shirasu tsukimi-don, meaning moon-viewing shirasu rice bowl. It has a raw egg yolk in the center which represents the moon.
Health Benefits of Shirasu
Shirasu is easy to prepare, as you do not cut anything out. Eating the whole thing means you get all the nutrients it has to give. The nutrients it does give are: calcium for the bones, taurine and potassium for your liver, and other vitamins and minerals, especially vitamin D. What makes it really healthy is the rich levels of DHA (docosahexaenoic acid). This improves the cell membranes to effectively boost one's learning ability. Eating it every day would really help make your bones stronger, body healthier, and brain better.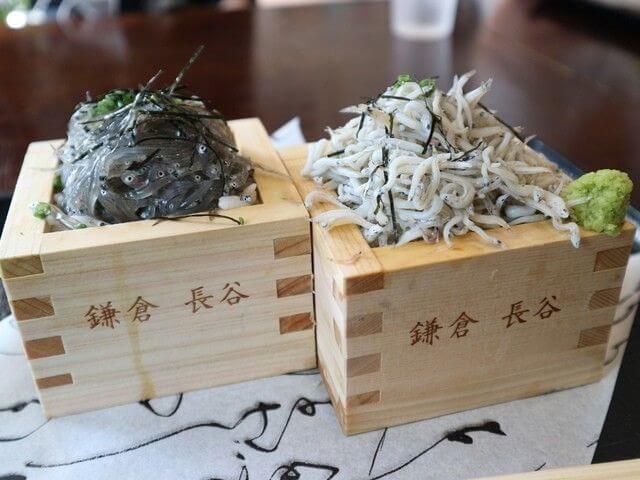 On the left side, we have the raw shirasu and on the right side we have the boiled one. Only the largest and least fragile of the delicate baby fish are kept to be served raw, while the others are lightly boiled in salted water. They then spread the boiled ones out on screens to dry them outside in the sun. When eaten raw it will be chewy and will smell like the ocean. When eaten boiled it will become fluffier and saltier. When dried and turned into chirimen, it becomes more jerky-like and is savory. There are another fish food we do recommend is namerou.
Season of whitebait
There are two seasons when whitebait is at its best: spring and fall. Spring is from late March to May, and fall is from mid-September to November. However, there is a fishing ban in Shizuoka Prefecture from January 15 to March 20, so you cannot eat it in the spring in that area.
FAQ
What kind of fish is shirasu?

"Shirasu" is a general term for sardine, eel, and ayu (sweetfish) fry, but Japanese anchovy fry are generally called shirasu.

What is the difference between Whitefish and Shirasu?

When they reach about 3 cm in length, they begin to take on a silver color like the parent sardines and are called "kaeli. The frogfish eventually grows to about 5 cm in length and is called a sardine.
Where to eat shirasu?
It is hard to come by raw shirasu as they spoil quickly and can only be eaten in a shop that gets them delivered quickly. Meaning you will almost never see it in a major city like Tokyo. It needs to be closer to the water and to the fisherman that fish them. The raw shirasu that are caught need to be eaten on the same day. Kanagawa prefecture is the ideal place. Even though the whitebite is typically eaten over rice, Japanese cooks have come up with many creative variations. No matter how you try it, it is a wonderful and traditional Japanese experience.
Enoshimatei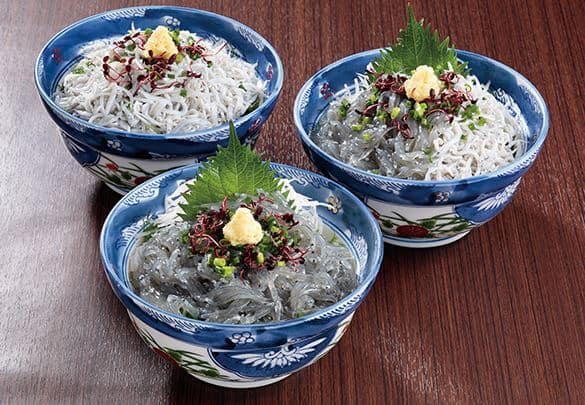 Enjoy any of the kinds of the white bite here at this famous shop with the beautiful view. This long established restaurant has been used to shoot movies and TV commercials at its nice location on a hill. The convenient location does not stop them from making delicious meals. The morning caught whitebait used in their delicious bowls as a specialty of theirs. Try the taste of many other seafood as well. Especially try it out on their terrace where you can overlook Sagami Bay. A wonderful experience can be had here while eating it and seeing the breathtaking views of nature.
Ikedamaru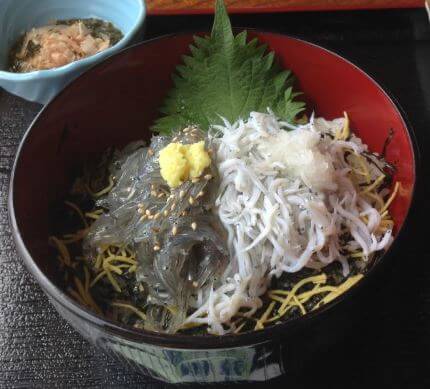 Popular restaurant in the shirasu famous Kanagawa prefecture. They get their raw shirasu fresh in the morning from the Koshigoe Port. Try all kinds of fry of fish in a shirasu set meal. They also have a nice view from their windows as you enjoy the irresistible crisp shirasu. A highly recommended shop and is only a 1 minute walk from Koshigoe station.
Kamakura Kinema-do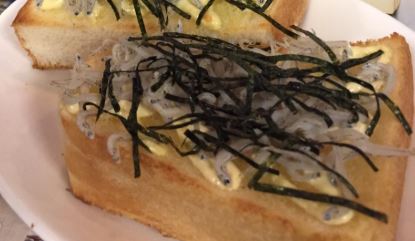 Have a stop at this nice book cafe to try a new shirasu experience. Here you can try Kamakura Shirasu Toast. A specialty of Kamakura that has made manga appearances. The shop is also famous for being a coffee shop model. You will get plenty of white bite and seaweed on a thick toasted slice of bread. Simple yet delicious. Enjoy the retro atmosphere and try the original Kamakura Shirasu Toast.
Restaurant Shikina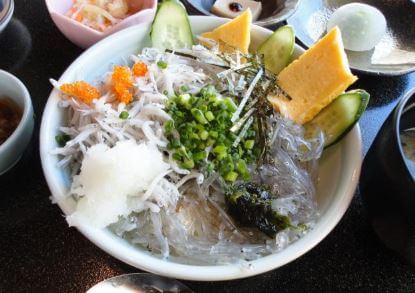 Enjoy the tasty Shirasu at this other restaurant near the Kamkura station. The owner of this shop use to be a fishmonger and takes pride in his sea food. Their whitebait is all fresh and the menu is original. The value you get will be satisfying. Great choice to stop by when you are in the city and known for having great white bite.
Shirasuya Honten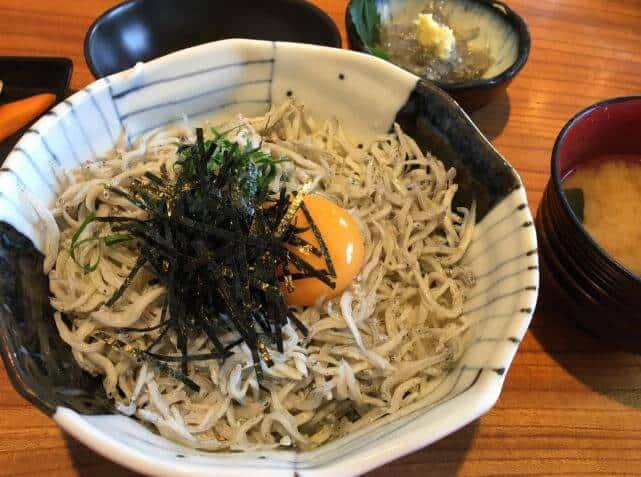 Next we have a very highly rated seafood restaurant that is a popular choice for seafood lovers. The shirasu they specialize in is a popular item here that people flock to this place when it is in season. Wonderful atmosphere and located right in front of Koshigoe Fishing Port. You can enjoy the fresh shirasu that is fished up there at a reasonable price. For the shirasu did not have to travel far and it is as fresh as a raw fish will be before entering your stomach. Big free parking area and only a 2 minute walk from Koshigoe Station.
Spring Sea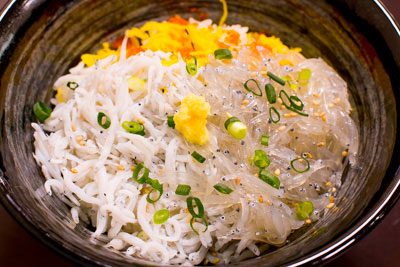 The last one we have for this list is a nice and stylish looking restaurant inside and out that is right next to the Kamakura Daibutsu. Great place for visitors to stop by and have a taste of Kamakura's famous shirasu. The variety of dishes they make with it is unique and delicious, but you can still go with the classic shirasu rice bowl too. The one shown in the picture is a classic 2-color rice bowl with both boiled shirasu and raw shirasu on top of rice. This is the perfect bowl to truly experience it for the first time.