Imagine sitting around a table with your family or friends, enjoying a steaming pot of delicious food cooked right in front of you. This is the experience of sukiyaki, a traditional Japanese dish that is popular especially in winter. Sukiyaki is a type of nabemono (one-pot dish) that consists of thinly sliced beef and various vegetables simmered in a sweet and savory broth. If you are looking for a warm and cozy way to enjoy Japanese cuisine, sukiyaki might be the perfect choice for you.
INTRODUCTION TO SUKIYAKI
Sukiyaki is a traditional Japanese food that originated in the late Edo period in Kobe City, Hyogo prefecture in the Kansai region. However, before the Edo period began, there was a dish knew by some called "fish sukiyaki." Sukiyaki consists of thinly sliced beef, leeks, shiitake mushrooms, and tofu in dashi known as "Warishita" grilled and boiled in a soy sauce and sugar within an iron pot. 
Indeed, the Japanese enjoy a wide variety of hot pot dishes called nabemono. Some of the popular nabemono dishes are Sukiyaki, Shabu Shabu, Yudofu, and Oden. Himeji Oden is also one of the specialties of Hyogo prefecture alongside Sukiyaki. In fact, the Japanese embrace these dishes to combat long winter months or gloomy rainy days. We will get to know Sukiyaki in this article and learn its two styles; the Kansai-style Sukiyaki and the Kanto-style Sukiyaki. 
ETYMOLOGY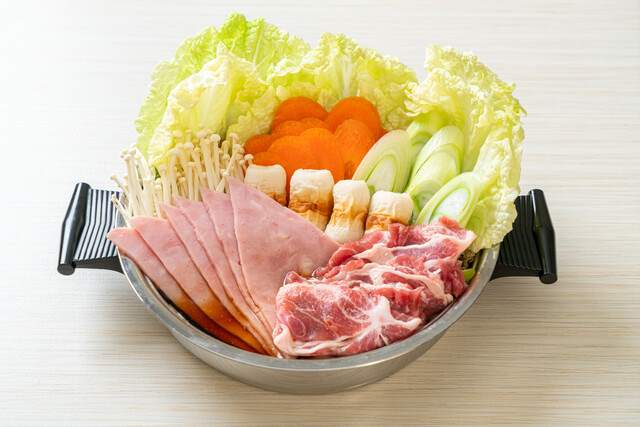 The word "Sukiyaki" consists of two root words; suki and yaki. The literal meaning of sukiyaki is "grilling (焼, yaki) on a plowshare (鋤, suki)," referring to the time when Buddhist customs grilled meat outdoors.
WHAT IS SUKIYAKI?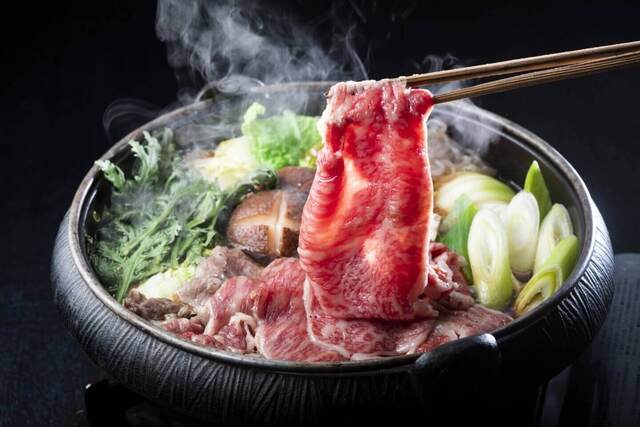 Sukiyaki is a traditional Japanese food specifically in Hyogo prefecture, Kansai region. It is a kind of nabemono (one-pot dish) cooked at the dining table. They slowly simmered the ingredients in a shallow iron pot in a mixture of soy sauce, sugar, and mirin (sweet rice wine). Sukiyaki consists of thinly sliced beef, leeks, shiitake mushrooms, and tofu in dashi known as "Warishita" grilled and boiled in a soy sauce and sugar within an iron pot. 
Before eating it, locals recommended dipping the ingredients in a small bowl of raw, beaten egg. Furthermore, Sukiyaki can vary depending on their styles or cooking method. Locals served it with bowls of steamed rice. Generally, sukiyaki is a dish for the colder days of the year and commonly on the menu of bōnenkai, a Japanese year-end party. Additionally, the Japanese prepared sukiyaki for special occasions and family celebrations.
SUKIYAKI HISTORY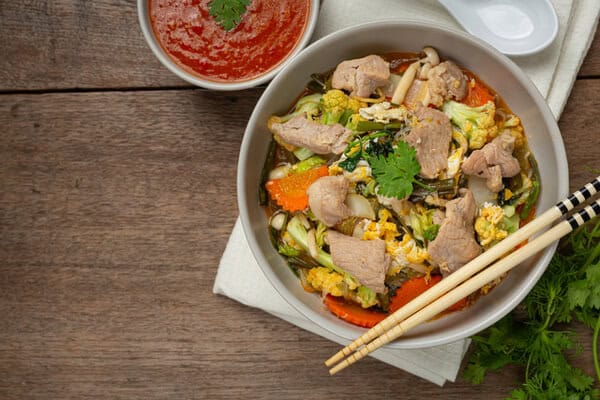 There are many theories about the origin of Sukiyaki. The first theory says that Japanese commonly do not eat beef in Japan until the Tokugawa shogunate. In wartime, however, many soldiers received beef to build up their strength for battle. Returning with an appetite for beef, the soldiers cooked it on plowshares over hot coals outside the house.
Meanwhile, the second theory says that the origin of Sukiyaki dates back to the Edo period. In the recipe book of the Edo period called "Cooking Conflict" in the first year of culture (1804), there is a specific description of "plow-yaki." Written as a so-called grilled dish that heats chicken such as duck, whale meat, fish, etc., by holding a used plow over a fire. Accordingly, there are two kinds of dishes, "Sugiyaki," boiled in miso of seafood, and "Plowyaki," which is grilled meat of birds and fish. The prolonged contact with the West during the Meiji era popularized the consumption of beef, and sukiyaki developed in its current form.
TWO STYLES OF SUKIYAKI
There are two styles of cooking methods for Sukiyaki. The Kanto style and the Kansai style. The Kanto-style sukiyaki is a beef pot style made by boiling under a warishita, subsequently, Kansai sukiyaki is a "baking" style in which they baked the meat first, and then add sugar and soy sauce. The essential ingredients and seasonings are almost the same, but the cooking method gives each taste and taste. 
Kanto style sukiyaki
Kanto style Sukiyaki's ingredients include soy sauce, mirin, cooking liquor, sugar, dashi, etc., and boil it at once including the meat and vegetables. The Kanto style, in which locals boiled all the meat and ingredients in a pot. It is refer to as "beef pot" instead of "sukiyaki" until the Great Kanto Earthquake, and that is probably the reason why the "pot" looks better in the Kanto style. For more detail on Kanto-style sukiyaki, check here.
Kansai style sukiyaki
Additionally, the Kansai style Sukiyaki focus on grilling the meat first then seasoning it with soy sauce or sugar. Afterward, adding vegetables and adjusting it with sake or water without using warishita. Thus, this kind of cooking method is the origin of "sukiyaki." For more detail on Kansai-style sukiyaki, check here.
SUKIYAKI SAUCE
The sauce for sukiyaki is generally called warishita, which is a mixture of soy sauce, sugar, mirin, sake, and other ingredients. The ratio of warishita varies by household or region, but the golden ratio is said to be soy sauce : sugar : mirin : sake = 1 : 1 : 1 : 1 : 1. Warishita can be bought in stores, but you can also make your own.
Ebara sukiyaki sauce, kikkoman sukiyaki sauce, and various sukiyaki soup base are sold in Japan. It is easy to cook sukiyaki with them.
You can also prepare the sauce for sukiyaki in different ways. For example, to make it Chinese style, you can add chicken stock powder and oyster sauce to make it more delicious. You can also use the sukiyaki sauce for other dishes. For example, you can marinate chicken thighs in the sauce and make teriyaki chicken.
SUKIYAKI RECIPE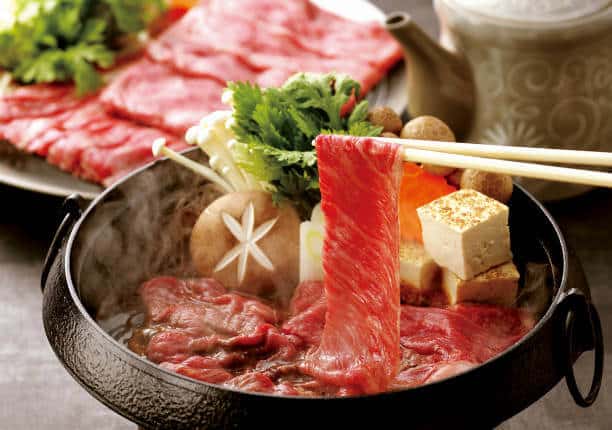 There are seven (7) standard ingredients for the Sukiyaki recipe. First is the Negi (green onions), cabbage, yaki-tofu, konjac, shirataki noodles, shiitake, crown daisy, and fu (either roasted-fu or fried-fu). There are also four (4) ingredients selected as those with "Excellent cost performance." Namely, pork and chicken, bean sprouts, Chikuwa, and Hanpen. Consequently, the beef that is ideally used for Sukiyaki is Wagyu beef. This Wagyu beef has the top three brands including Matsusaka Beef, Kobe Beef, and Omi Gyu (Omi beef). You can also use Iga beef, Saga beef, Shiraoi beef, Shinshu beef, or even Hida Gyu (Hida beef) as the beef for sukiyaki.
Additionally, about Sukiyaki's sauce, there is a unique recipe for it. In Kanto-style sukiyaki, locals use Warishita. Warishita is a soup that adds seasonings such as soy sauce, mirin, sugar, and salt to the soup stock. Generally, sukiyaki sauce has the same meaning as warishita. Furthermore, if you make a warishita with the golden ratio called "soy sauce 4: mirin 3: sugar 2: water 1", you can make a very delicious warishita.
HOW TO MAKE SUKIYAKI?
Kanto-Style
First, you can put vegetables such as green onions in the place where you can only boil the warishita, cook it, and then add the meat. In Kanto-style, locals use the same ingredients as the Kansai-style. The difference is the cooking method and the usage of Warishita.
Preparation
Firstly, cut the ingredients into pieces that are easy to eat.
Making Warishita
You can make Warishita with soy sauce, mirin, sugar, sake, or dashi (optional). With the ratio of 4:3:2:1
Adding Warishita
Put an appropriate amount of warishita in a heated sukiyaki pan and simmer the meat with vegetables. The amount of warishita to add is small enough to hide the bottom of the pot if it has a strong taste and the same amount as a regular pot if it has light umami.
Dipping in a beaten egg
When it's cooked, dip it through a beaten egg and eat it.
Adding boiled udon noodles
Add boiled udon noodles to the shime, re-season the soup with condensed umami. Then soak it in and eat it. Be careful because it will only become spicy if the seasoning is strong.
Kansai-Style
Preparation
Cut ingredients such as vegetables and tofu into pieces that are easy to eat.
Adding the ingredients
Heat a sukiyaki pan, ground beef, add beef and sprinkle with sugar, soy sauce, sake, etc., as you like.
Eat the meat from the cooked end
Eat the meat from the cooked end, either as before it becomes hard or soaked it in a beaten egg.
Adding the other ingredients
Add ingredients other than beef, such as vegetables and tofu, and fry. Moisture comes from vegetables, but water, sake, kelp stock, etc., may be added if desired. Adjust the taste with sugar or soy sauce.
Repeating the steps to finish
After cleaning up the vegetables, wipe the pot clean and repeat steps from step 2.
DIFFERENCE BETWEEN KANTO STYLE AND KANSAI STYLE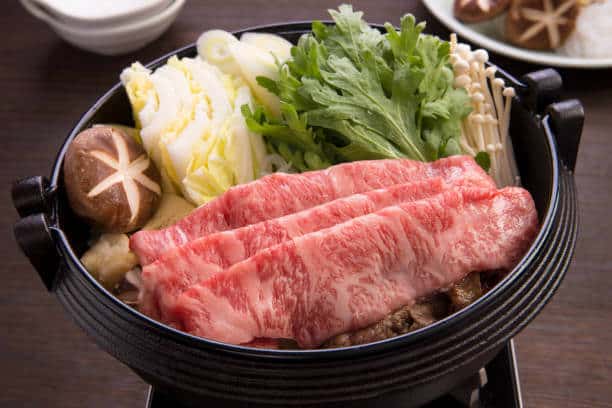 As a matter of fact, the difference between "Kanto-style" and "Kansai-style" sukiyaki lies in whether or not to use warishita. Subsequently, its difference in cooking method. The Kansai style of grilling beef with high-quality beef fat gives you a feeling of directly enjoying the taste of the meat. Meanwhile, in the Kanto style, by boiling vegetables and meat under the warishita, the soup stock comes out from the ingredients. And you can enjoy the taste of the meat and vegetables. However, if you entwine the beaten egg with juicy meat and ingredients, everyone can spend a blissful time around the table.
SUKIYAKI VS. SHABU-SHABU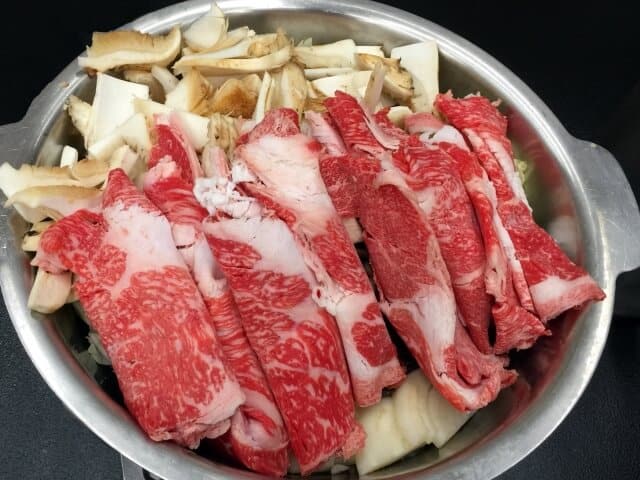 Another dish that uses beef similar to sukiyaki is "shabu-shabu," a dish where locals boiled the sliced meat together with vegetables. Like sukiyaki, the ingredients include thinly sliced meat, vegetables, and dashi, but the big difference is with the dashi flavor. The locals made the dashi for shabu shabu using milder-tasting ingredients such as kelp. 
There is also a difference in the way you eat it. The ingredients are simmered in the dashi with sukiyaki. Meanwhile, in shabu-shabu, each ingredient is separately dipped into the dashi to cook before eating. 
Also, with shabu, you do not dip the ingredients in raw egg before eating, but rather in condiments such as sesame sauce or ponzu (citrusy soy sauce). They are both famous Japanese hot pot dishes, but as the flavors and cooking methods are different, it is worth trying both if you have the chance.
HEALTH BENEFITS OF EATING HOT POT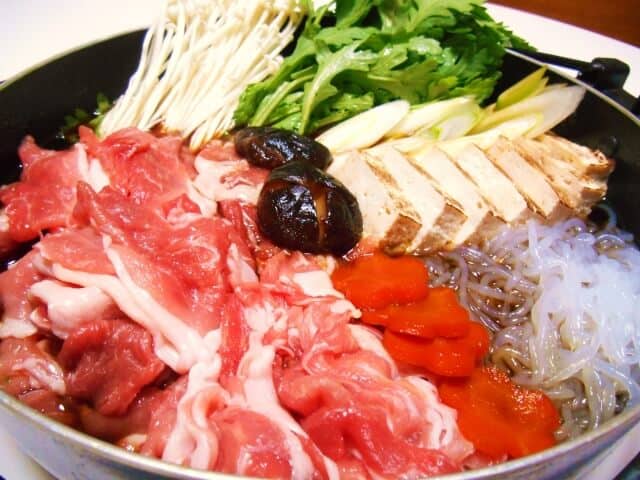 Hot pot can certainly be healthy, provided you choose your ingredients, base soup, and dipping sauces carefully to avoid an overdose of sodium, saturated fats, and carbohydrates in your meal. "The sodium content in a typical hot pot meal far exceeds the recommended daily salt intake. Unlike frying or other cooking methods with added fat, boiling meats and veggies release their nutrients back into the cooking broth, maximizing them. Having a hot pot in the colder months can help you warm up from the inside out while enjoying it in the hotter months can allow you sweat and cool off.
OTHER NABEMONO DISHES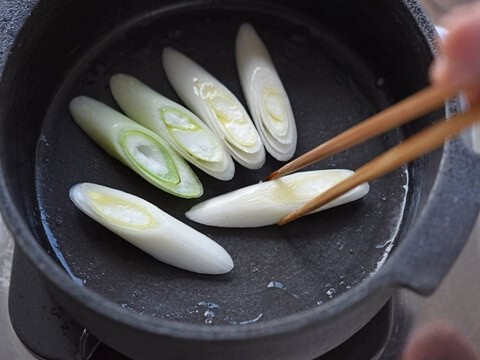 Nabemono, or simply nabe, is a variety of Japanese hot pot dishes, also known as one-pot dishes and "things in a pot." Some examples of other nabemono dishes are Shabu-shabu, Chanko Nabe, Anko Nabe, Oden, soy milk hot pot, Goma Miso Nabe, Yosenabe, and many more. 
FAQ
Why did the custom of dipping eggs in sukiyaki come about?


The practice of dipping eggs in sukiyaki is said to be related to the era when beef hot pot became popular. In the past, eggs were considered as luxurious as beef. To enhance the sense of luxury when eating beef, it is said that people started dipping eggs in sukiyaki. Another theory suggests that eggs were dipped in sukiyaki to cool down the heat.

Why is a cast iron pot used for sukiyaki?

"Sukiyaki" is more akin to teppanyaki rather than a hot pot dish. The thick iron plate used in teppanyaki cooking prevents sticking and maintains a consistent temperature, sealing in the umami flavors of the ingredients instantly.
RECOMMENDED SUKIYAKI RESTAURANTS
Tokyo Meat Shabu-Shabu (Tokyo)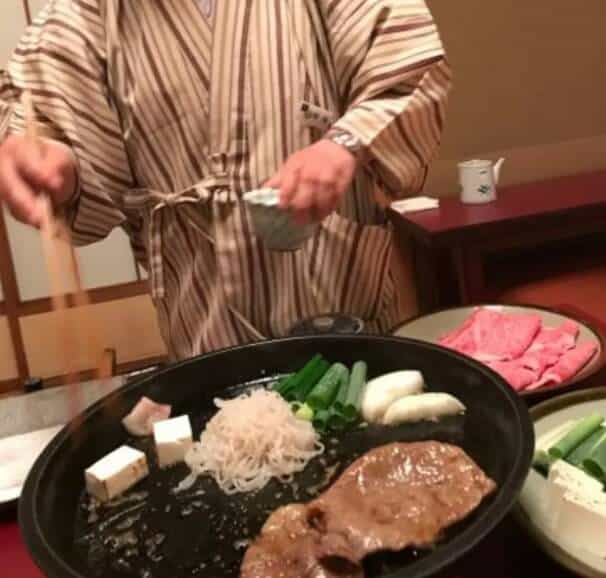 The next restaurant is Tokyo Meat Shabu-Shabu. It is about a 10-minute walk from the East Exit of JR Shinjuku, an 8-minute walk from JR Shin-Okubo Station, and a 4-minute walk from Seibu Shinjuku Station. This shop focuses on the soup stock and the thickness of the meat. As a result, this shop has wholly overturned the concept of shabu-shabu. For sukiyaki, the shop uses "Chateaubriand," a rare part of the A5 rank fillet of Japanese black beef.
Ishibashi (Tokyo)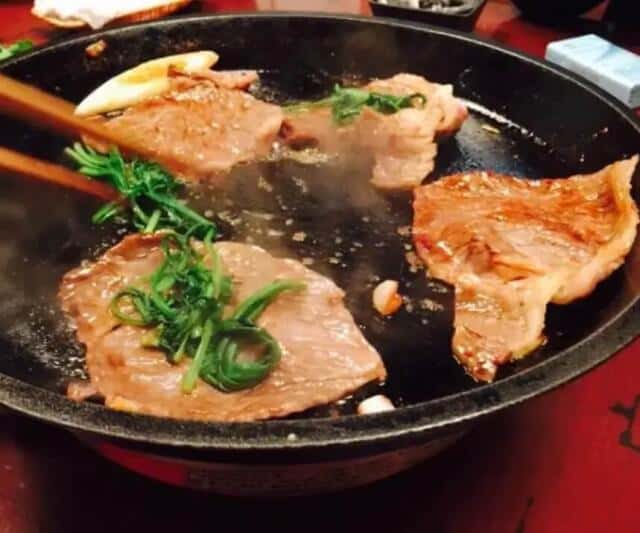 Ishibashi is about a 1-minute walk from Tokyo Metro Suehirocho Station and a 10-minute walk from JR Akihabara Station. This shop was established in the 12th year of the Meiji era. Generally, it is a long-established sukiyaki restaurant run by a butcher shop. The store's interior is a Japanese-style room with the taste of a Japanese house full of umami. 
Kitamura (Osaka)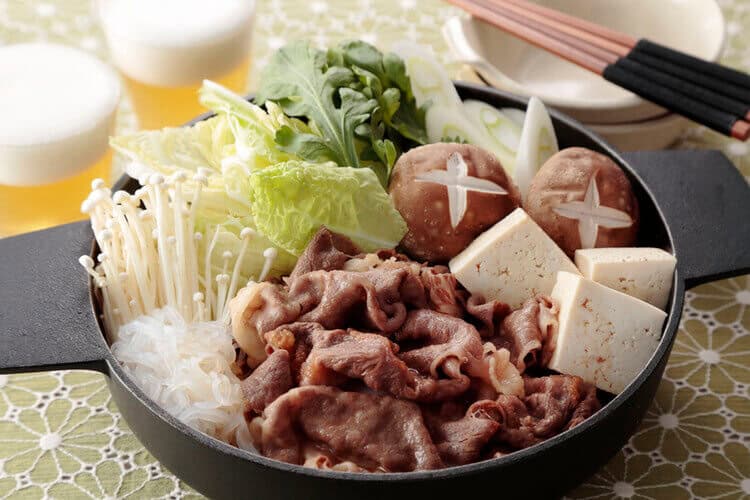 "Kitamura" in Shinsaibashi, Osaka, is a "sukiyaki specialty store" founded in 1887, about a 3-minute walk from Shinsaibashi Station. The Sukiya-style store has a courtyard and private rooms. It has a calm space suitable for relaxing meals with the family, entertainment, and meetings. The shop's "Sukiyaki"  menu is about ¥ 10,780 (tax included). This menu is a unique hot pot where you can enjoy authentic Kansai sukiyaki without using warishita.
Sukiyaki Ichiban Shinsaibashi store (Osaka)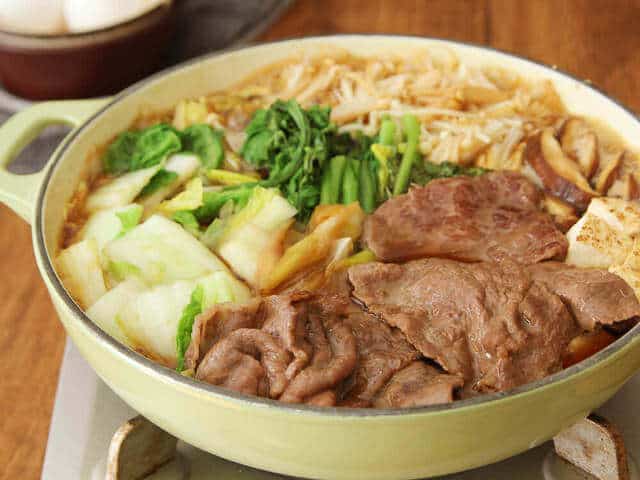 The following shop for Osaka prefecture is "Sukiyaki Ichiban Shinsaibashi store" in Shinsaibashi, Osaka. It is about a 3-minute walk from Shinsaibashi Station on the Midosuji Line. This shop is a sukiyaki restaurant where you can enjoy A5 rank Japanese black beef at a reasonable price.
The inside of the store has a calm ambience. It has five private rooms  that can be used by four people or more. If you want to eat luxurious sukiyaki to your heart's content, the shop recommended to order the All-you-can-eat sukiyaki  when you are at this shop. The "Sukiyaki all-you-can-eat course" is ¥ 2,980 (excluding tax), where you can eat as much high-quality meat as you like. 
CONCLUSION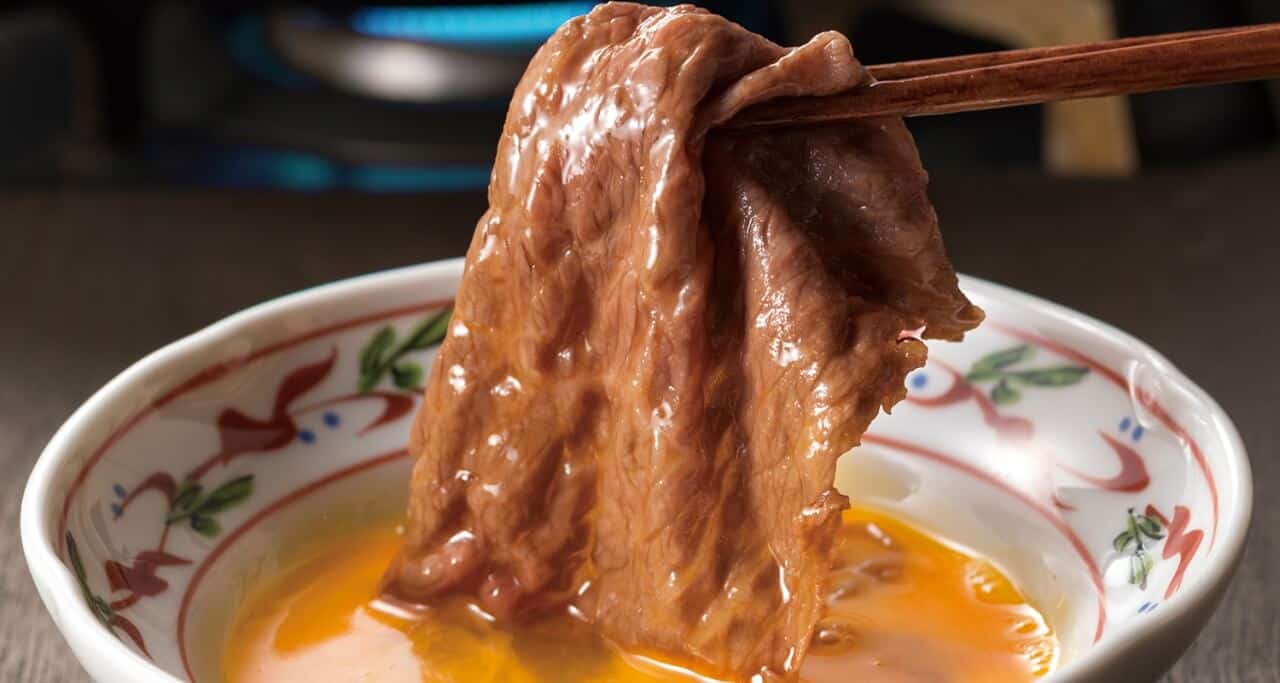 Overall, these classic one-pot dishes require minimal fuss and preparation and no special equipment. Using savory broths, easy-to-find ingredients such as seafood, poultry, greens, roots, mushrooms, and noodles. They're simple, fast recipes to whip up either on the stove or on a portable tableside burner like they do in Japan. Wholesome, delicious Japanese comfort food, hot pot cooking satisfies the universal desire for steaming, gratifying and hearty meals the whole family can enjoy.
Hence, traditional Japanese food encourages the future generation to respect nature. The food also transmits skills and knowledge to the next generation; hence, traditional Japanese food must be protected as an important part of Japanese culture.