Shirokuma Dessert
Shirokuma directly translates to "white bear". However, Japanese have a favorite dessert that comes in the same name. The dessert originated in Kagoshima City, Kagoshima Prefecture. There are different theories on how the name was derived. Many local coffee shops offer Shirokuma dessert. Meanwhile, restaurants offer this as well especially during summer season. Comparable to Akafuku Gori, locals love to eat Shirokuma to ease the heat.
Hence, the popularity of Shirokuma dessert is undeniable. Nowadays, it is a representation of the city. Tourism guide books even include this confection. Examples of these guide books are "Hokkaido TV" and TV Tokyo. Undeniable, Shirokuma is a favorite not just in Kagoshima but also outside the prefecture.
Origin of Shirokuma Dessert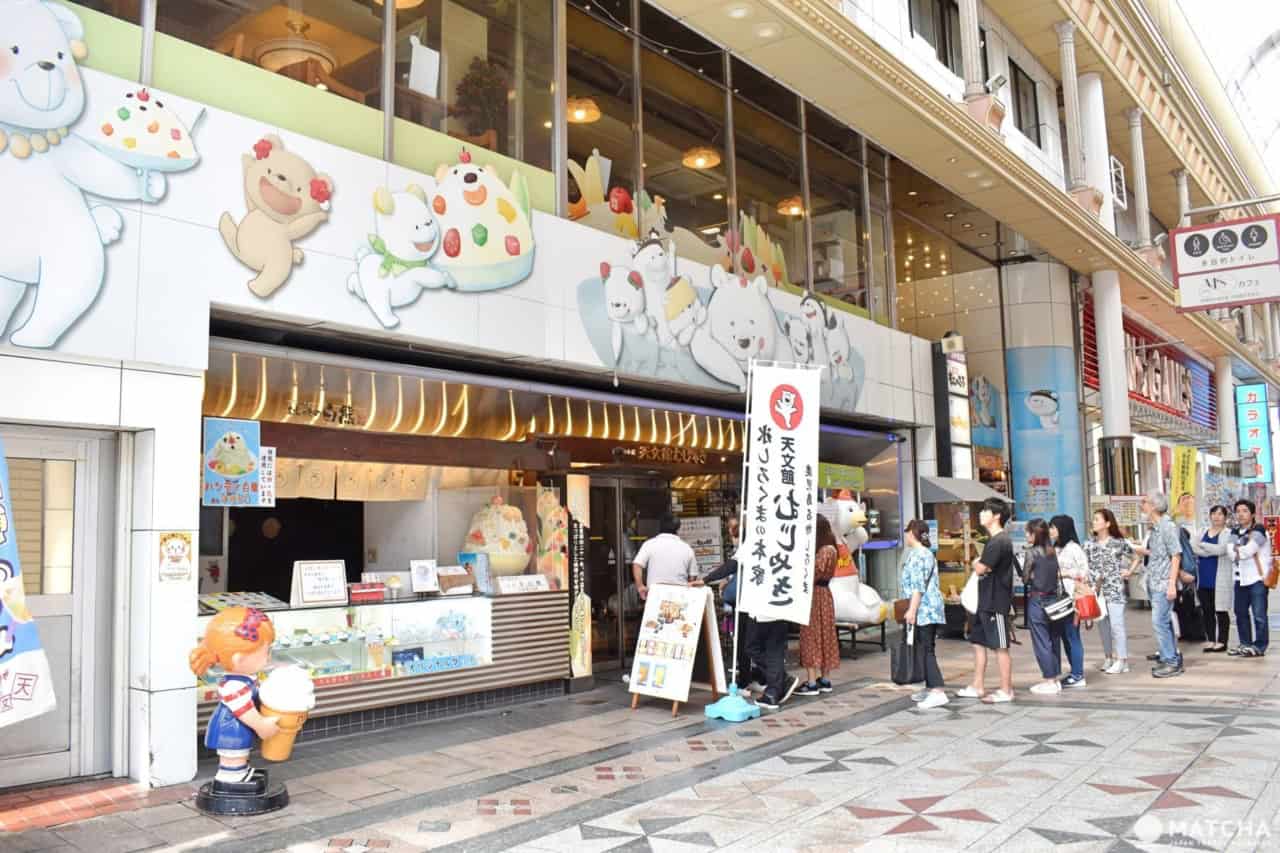 Around 1930s, a restaurant in Nishida Street created a new product. First, the shop sells this product during summer only. The first product consists of just shaved ice and condensed milk. Then, the creator adds white and red honey. The creator then tastes it and finds it too sweet.
After a few revisions, he then comes up with condensed milk syrup. The white bear in the condensed milk can is then used by the creator. Later on, Seika Foods adopts this theory. The condensed milk syrup is now Shirokuma dessert's main flavor.
In 1947, a coffee shop in Kagoshima City improves the dessert once again. Instead of just milk and ice, colors and new flavors were added. The coffee shop adds fruit cuts and red beans on top. The colors improve the overall visual of this local food. Moreover, the fruits give a variety of flavor. Lastly, red beans add contrast to the texture of the dessert.
During this time, shaved ice costs about 20 yen. On the other hand, Shirokuma dessert is around 50 yen. It is so popular that it symbolizes post war era.
Ingredients of Shirokuma Dessert
It's easy to make Shirokuma dessert! First, let's talk about the ingredients.
Shaved Ice
Shaved ice is the soul of Shirokuma. The cold ice is what makes it a summer favorite. The finer the ice is, the better!
Condensed Milk Syrup
Who doesn't like milk? Milk has rich taste and a favorite among all ages. The combination of sweet milk and cold is perfect!
Fresh Fruit Slices
There is no limit to what fruits can go in! The most common ones are strawberries and bananas. Add oranges for a sour delight.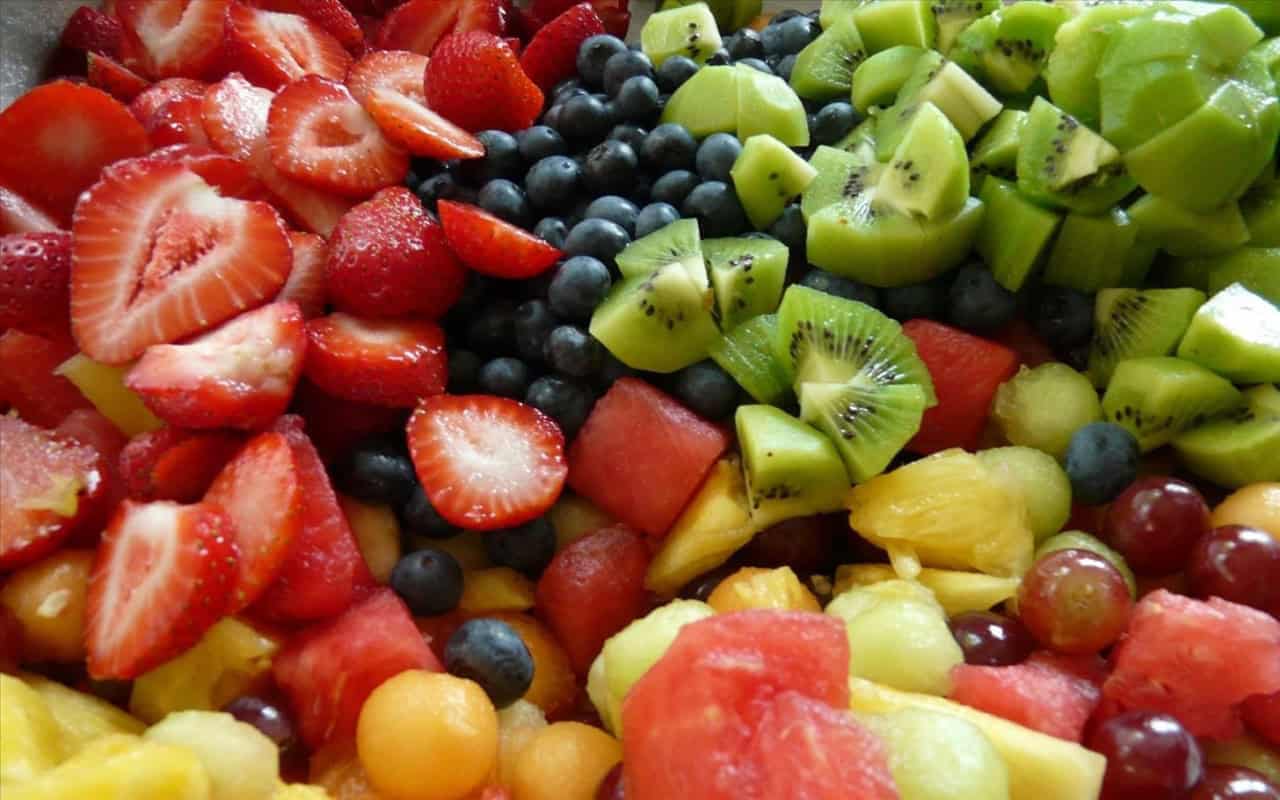 Dried Fruit Cuts
Raisins? Yes, sir! Obviously, raisins are sweet but not too overpowering.
Honey Syrup
Honey drizzle goes well with condensed milk. For instance, the earthy yet sweet taste of honey is best with Shirokuma dessert.
Beans
White and red beans are common ingredients for shaved ice desserts. The taste of beans is reminiscent to sweet potato. Adding beans adds texture to this local food.
Preparing Shirokuma Dessert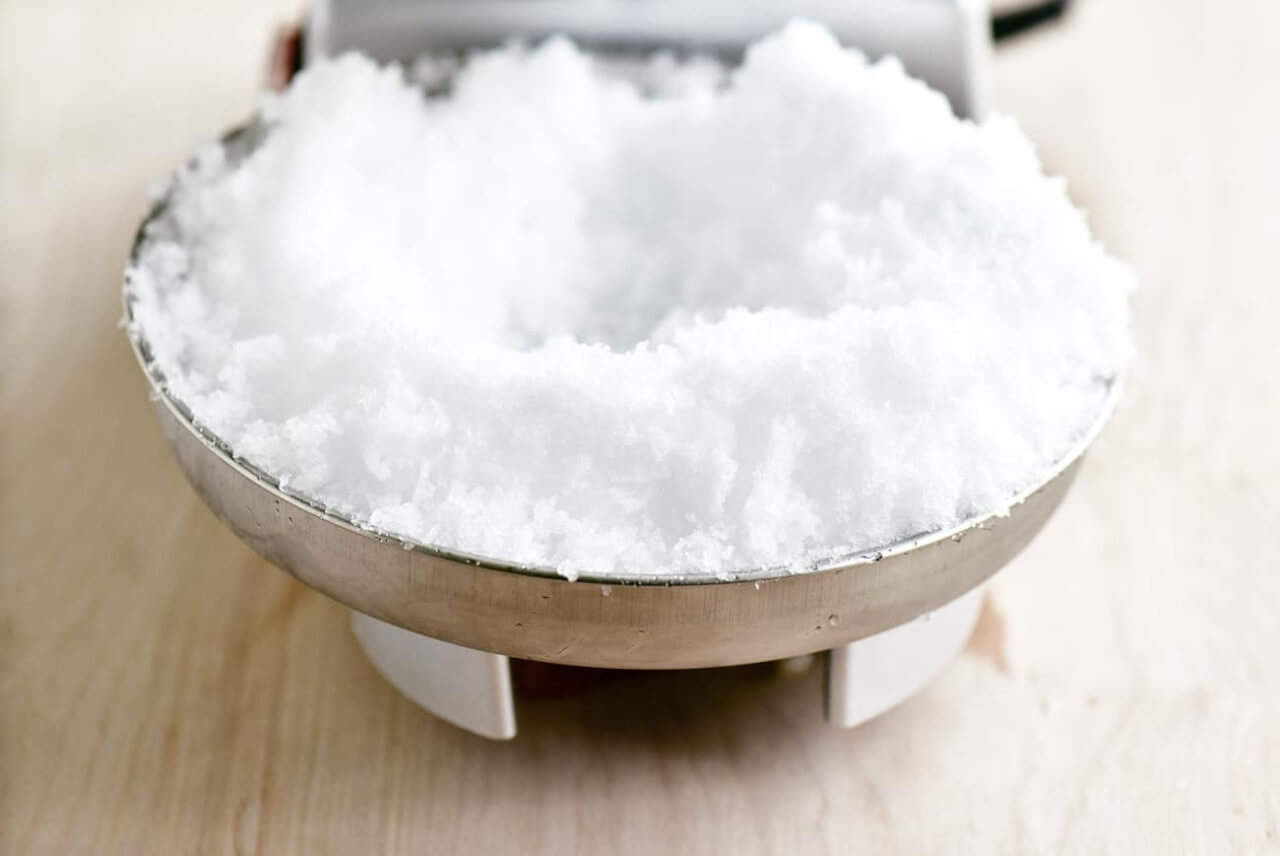 Preparing Shirokuma dessert takes only a few minutes. It's fast and a piece of cake!
First, put a few pieces of fruits and beans in the bowl. Fruits may vary depending on season and preference.
Second, fill the bowl with shaved ice. Gently press the ice to form a dome.
Next, pour a generous content of milk over the ice.
Then, place more fruits on top of the shaved ice. Consider the color of the fruits to make it more visually pleasing.
Lastly, drizzle honey syrup and put a cherry in the center.
Different Types of Shirokuma Dessert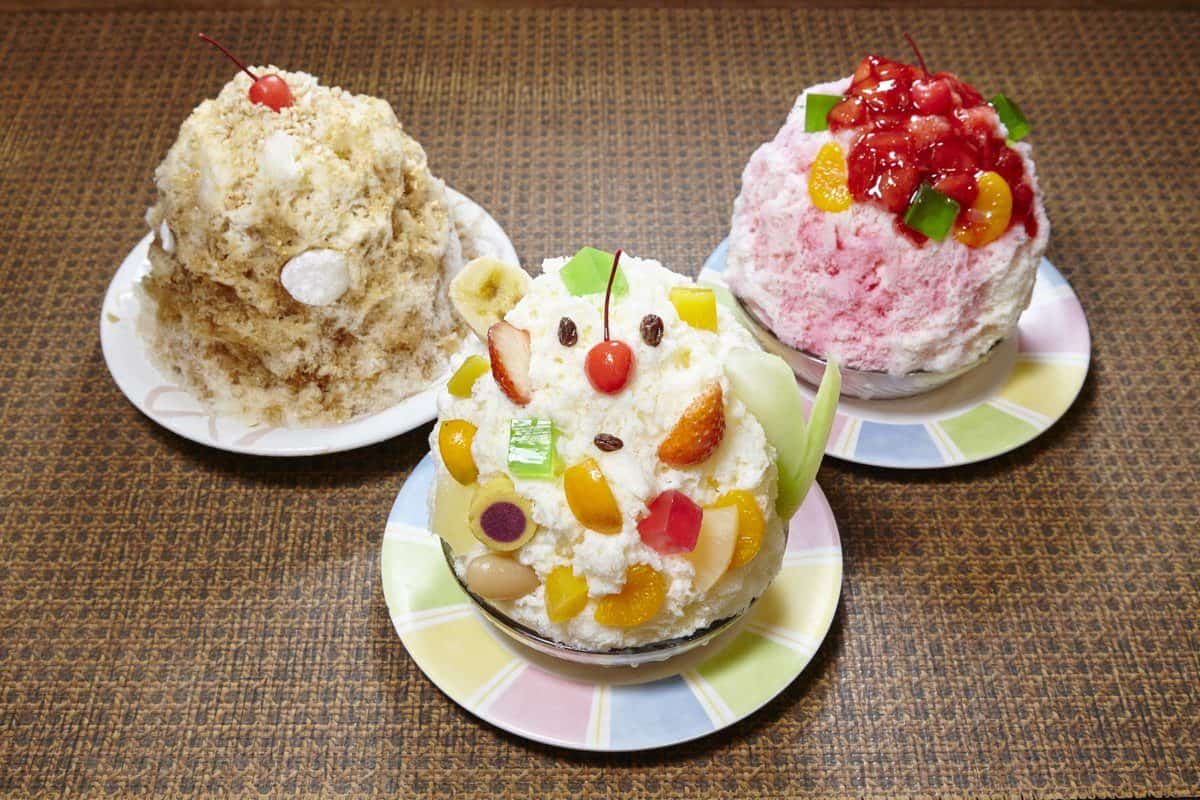 Apparently, Shirokuma has become so well-loved that many variations were made. We've listed some of these below.
Chocolate
Kids love chocolate! Adults love chocolate too. Arguably, everyone loves chocolate! So, some cafes offer chocolate Shirokuma.
Yogurt
Obviously, yogurt Shirokuma is perfect for health conscious people. In addition to being high in protein, yogurt is good for the immune system. The sour taste of yogurt adds balance to the sweetness of the dessert.
Pudding
Without a doubt, pudding complements Shirokuma! The sweetness and softness of the pudding add texture to this local food.
Where to Eat Shirokuma?
Eventually, a lot of cafes in Kagoshima Prefecture now sell Shirokuma dessert. This well-loved local food is now being offered not just in summer season but all throughout the year. Shirokuma is now available outside Kagoshima. For an authentic experience, you may try these restaurants listed below.
Tenmonkan Mujaki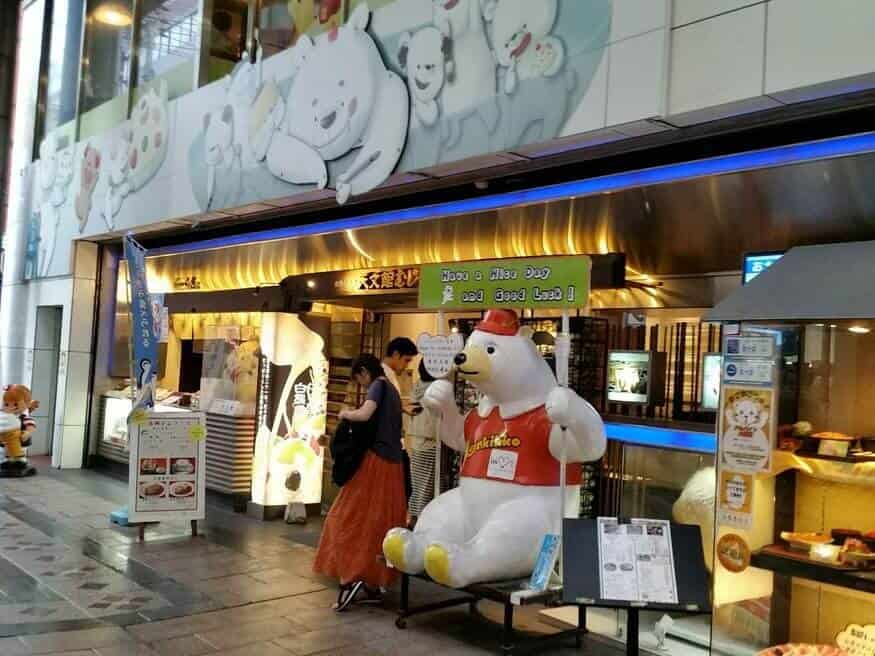 Tenmonkan Mujaki is standing for over seventy years. When you see a shop with a large polar bear, that's when you know you're in Tenmonkan Mujaki.
The most popular item in this cafe is their own version of Shirokuma. The cost is around 740 yen for a regular size serving. Another hot item is their Chocolate Shirokuma. The price of this variant is also 740 yen per bowl.
For busy bees, the Handy Shirokuma is a must-try! It only costs around 450 yen.
Tenmonkan Mujaki is just a three-minute walk from Tenmonkan-dori station.
SANDECO Coffee Sugaku Cafe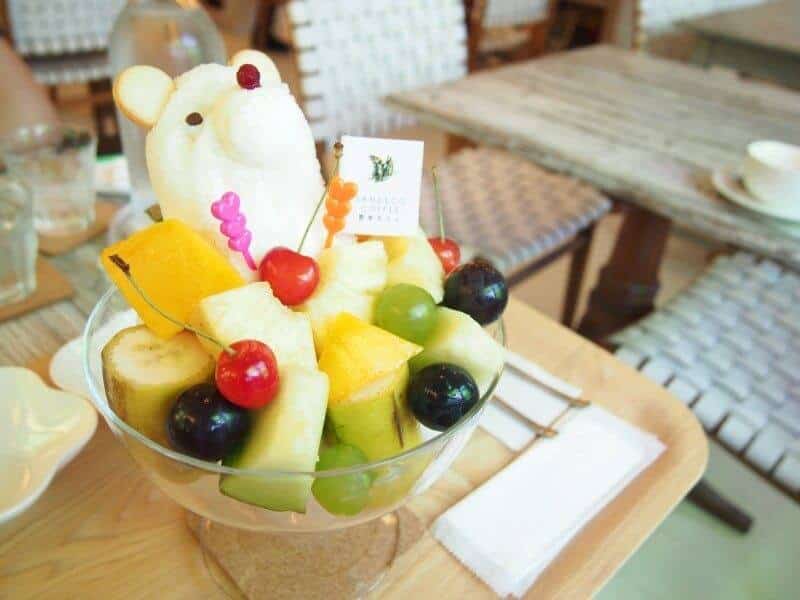 Sandeco Coffee Sugaku Café is a local coffee shop that offers Shirokuma dessert. The cafe is popular for its "Kurokuma". Kurokuma means "black bear". Therefore, pouring iced coffee on Shirokuma makes it a Kurokuma. Since coffee is present, there's a slight bitterness in taste.
Another popular item in the menu is their "Fruit Onsen Shirokumanoyu". It contains different seasonal fruits. The serving is usually good for two persons.
Yanagawa Hyoshitsu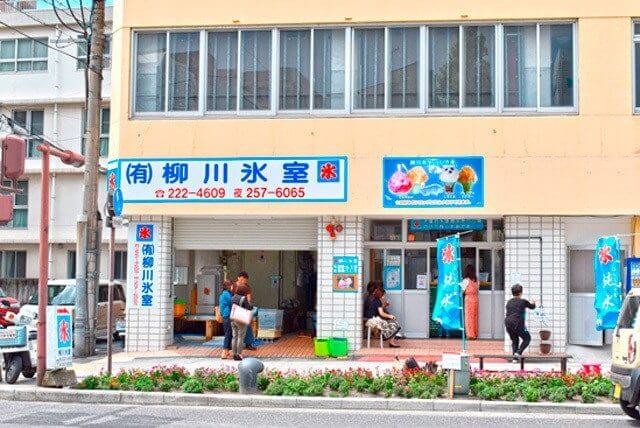 Selling for over 40 years, Yanagawa Hyoshitsu is one of the oldest Shirokuma shops. In addition to its fluffy and fine ice, the cafe is recognized for its twenty different syrups. Without a doubt, the syrup choices combined with their special milk make the experience even more unforgettable!
The shop boasts premium variants for Shirokuma dessert as well.
It's easy to find Yanagawa Hyoshitsu because it's just a few steps away from Izuro-dori bus stop.
Il Mole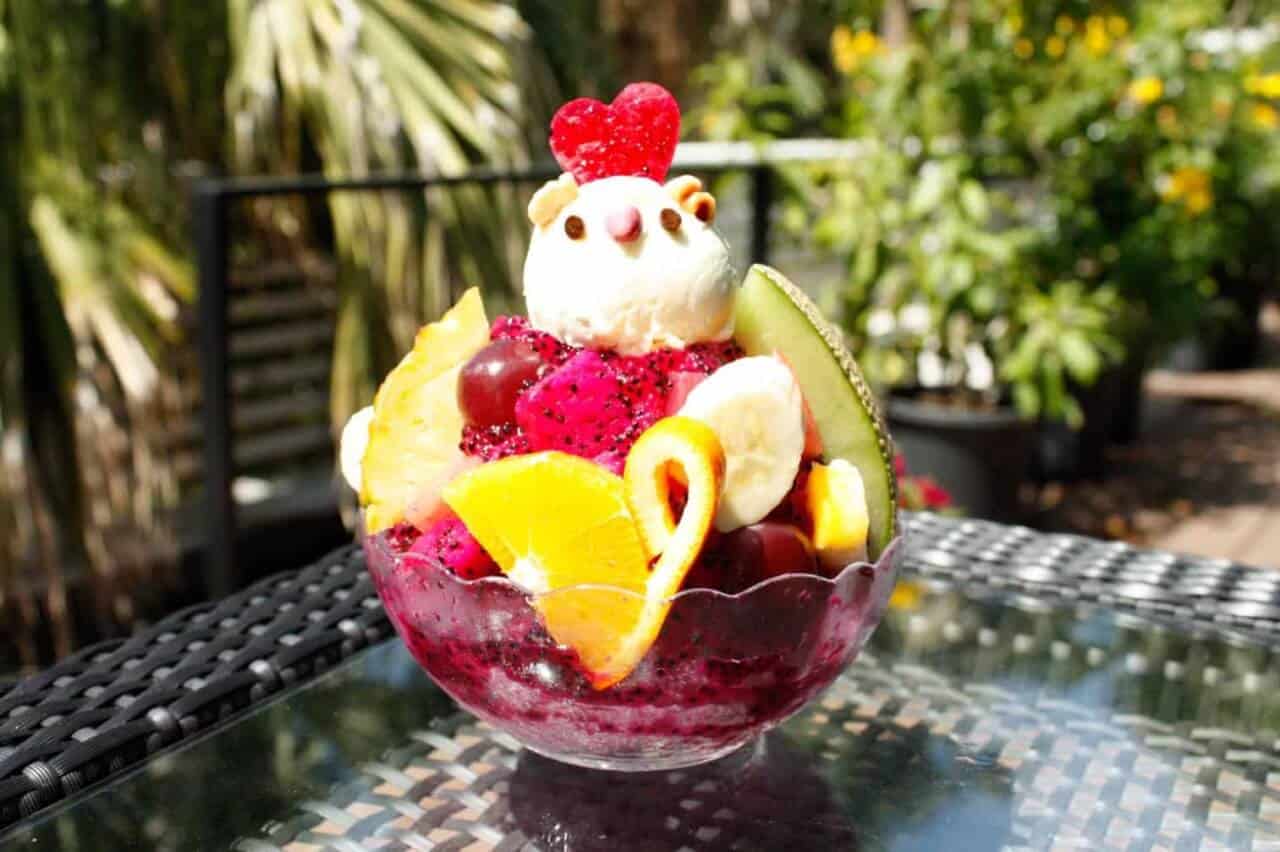 Indeed, Il Mole is a refreshing restaurant that sits in the heart of Kagoshima City, The ambience inside feels like a trip to a tropical resort. "Amami-no-sato" is the household name of this cafe.
Il Mole's precious menu is their Shirokuma dessert with dragon fruit. Additionally, the dragon fruit comes from the restaurant's own farm. They usually combine dragon fruit with soft vanilla ice cream. Therefore, making this dessert a hit! Dragon fruit Shirokuma is available from July to October only.
Starting with Taniyama Station, Il Mole is about 15 minutes away by foot.
Do you love shaved ice desserts? Don't forget to try Shirokuma next time! We're sure you'll love it.
If you enjoyed this article, let us know in the comment box below!