Dango is a Japanese sweet that has been loved by Japanese people for a long time, and many people miss it during the cherry blossom and moon viewing seasons. You can easily get dango at supermarkets, but what is the different between these dango at supermarkets and these of Japanese sweets specialty stores? In this article, we will introduce the specialties of dango that is unique to Japanese confectionery.
What is Dango?
Wagashi (和菓子) or what Japanese people call traditional Japanese confections. This includes popular Japanese sweets such as Dorayaki, mochi, dango, etc. Dango is a traditional Japanese sweet dumpling made by adding water or hot water to glutinous flour and steaming or boiling it. This Japanese sweet that the Japanese loved for a long time, and many people miss it during the cherry blossom and moon viewing seasons.
There are things sprinkled on the dango, such as soybean flour, seasoned with soy sauce and bean paste, and skewer dumplings on skewers. Locals made this sweet with rice flour, called mochiko. Generally speaking, it refers to Japanese confectionery, but locals referred to it sometimes as rolled meat dumplings or clay dumplings. There are also dango called hanami dango and tsukimi dango, which bring good luck as they are often seen at festivals and events.
Dango Names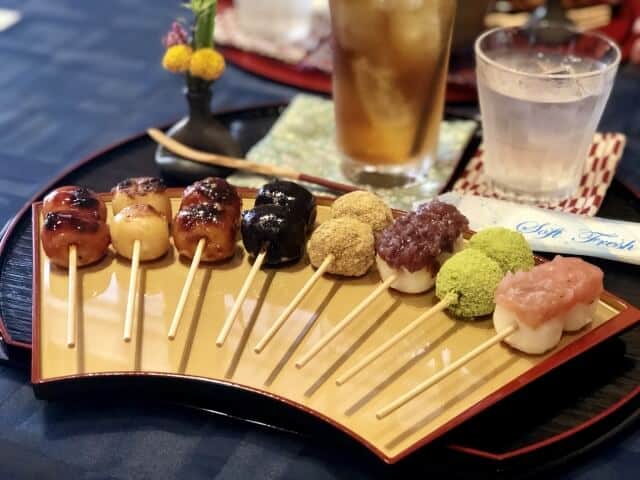 Today, locals widely used the name 'dango', but depending on the region. There are various names such as 'dansu' ( Tohoku region, etc.), 'Anbu' (Niigata prefecture, etc.), and 'omaru' (Shiga prefecture, Shikoku region, etc.). have a nickname. 
Dango History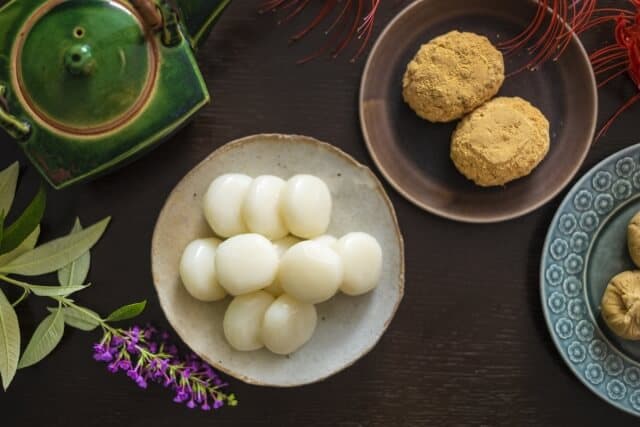 The Japanese began eating dumplings in the Jomon period. When eating the fruits of sawtooth oaks and oaks that were familiar to Japanese, since these fruits have a strong scum. They were made into powder, exposed to water, removed the acorns, and made into dumplings. In the Muromachi period, envoys to the Tang Dynasty brought home the Chinese offering confectionery "Danki", and made a skewer dumpling based on Danki. And the phrase "Hana Yori dango or dango over flowers" was coined during the stable period of the Edo period.
It all began as an offering made in front of the temple at the Shimogamo Shrine (Kamomioya Shrine) festival in Kyoto City. According to one theory, when Emperor Godaigo scooped up water from the Mitarai Pond in the precincts, one bubble floated at first, then four bubbles floated shortly thereafter, and the bubbles were compared to dumplings. In addition, because mitarashi dango are made to resemble a human head and limbs, the people formerly prepared them in front of the gods and prayed before bringing them home to be baked over a fire with soy sauce to ward off evil.
Dango Recipe
Mitarashi Dango Ingredients
| | |
| --- | --- |
| Ingredients of Mitarashi Dango for 2 persons | |
| Shiratama flour | 30g |
| Water | 50g |
| Joshin powder | 120g |
| Boiling water | 70g |
| [Sauce] Soy sauce | 14g |
| [Sauce] Sugar | 49g |
| [Sauce] Water | 70g |
| [Sauce] Potato starch | 14g |
How to make Mitarashi Dango
Making the base

Add water to the shiratamako a little while kneading. Add boiling water to the joshinko and mix well. Divide into 5 to 4 equal portions.
Kneading the base
Boil the dango base in hot water until it floats, take it in a damp cloth and knead it well.
Rolling it up and skewering it
Form the well-kneaded dough into a stick and cut it into 16 equal parts. Then, roll it up and put it on a skewer. Lightly sear it.
Serving
Put the ingredients for the sauce in a small pan and mix well to heat through. Then, entangle it all and ready to serve.
What is the difference between dango and mochi?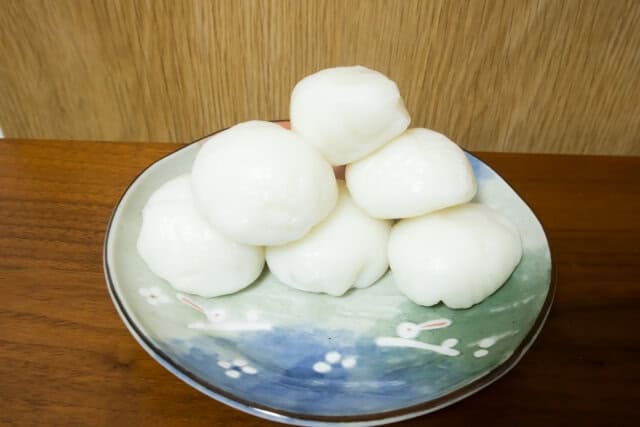 In the past, locals made dango from mashed wheat, millet, and millet, but nowadays it is frequently produced from rice. If you travel to rural regions nowadays, you will still see dumplings made of wheat or millet. There is little distinction between rice cakes and dumplings, which are both formed from grains, rolled, and steam-cooked. While some claim that they steamed the mochi first before consumption, others maintain the creation of dumplings from powdered grains. However, it appears that there is no apparent way to separate because the line drawing differs depending on the region.
Types of dango
Red bean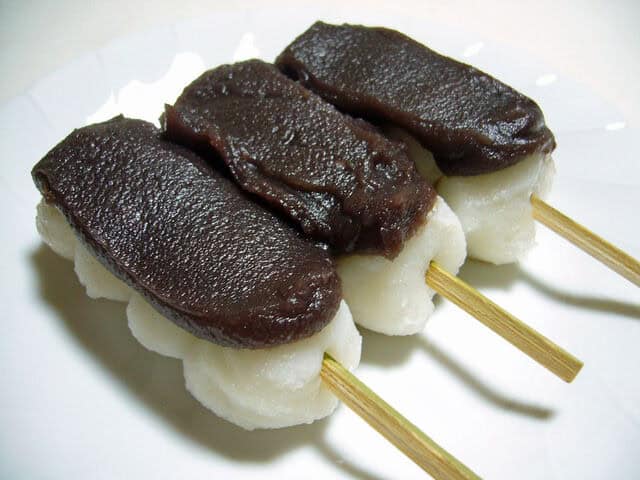 It is a dango eaten by placing red bean paste made by adding sugar to steamed adzuki beans and kneading them, on top. There are two types of dango: tsubuan, which retains the texture of azuki bean skin, and koshian, characterized by its smooth texture. 
Kinako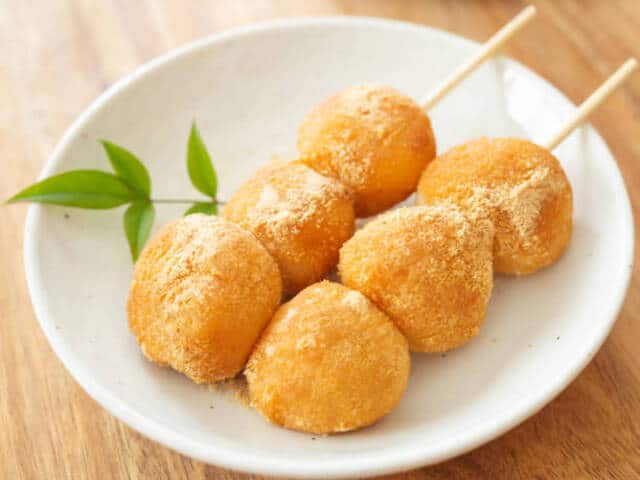 It is a dango made by mixing sugar with soybean powder. They slightly season the sweet dango with kinako (roasted soybean flour) and are popular with children and adults alike for their gentle flavour.
Mitarashi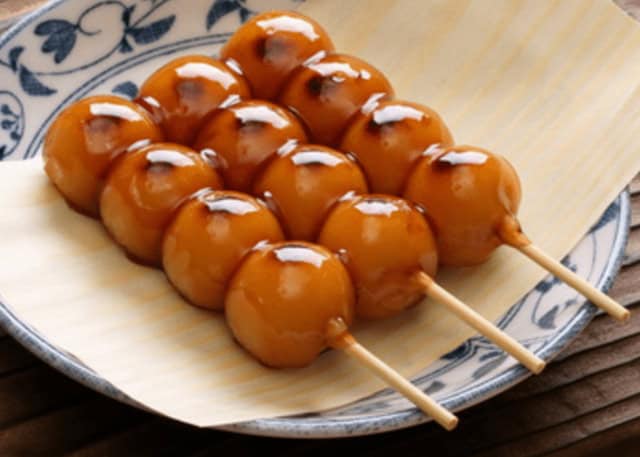 This dango type coated with raw soy sauce grilled dango and mitarashi dango coated with sugar and soy sauce. In the old days, grilled dumplings were common, but since this type appeared in the Taisho era and gained popularity, mitarashi dango have become more common.
Zunda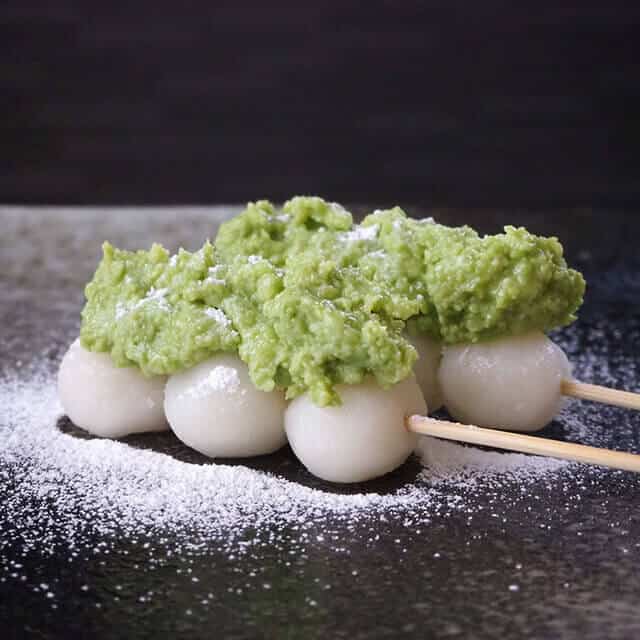 Zunda is a dango topped with green bean paste made from mashed green soybeans mixed with sugar. Bright green bean paste is rare, and you don't usually see it often. Regionally, it is very popular in the Tohoku region, and it has become a standard souvenir in places such as Sendai.
Hanami dango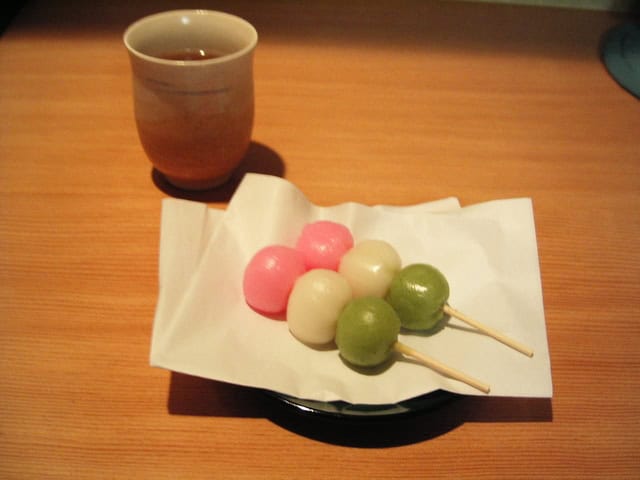 This dango come in three colours: white, green, and pink. The green dango contains powdered mugwort, and the pink dango contains food colouring. Because it looks gorgeous, locals sometimes eat this at celebrations and cherry blossom viewing.
Sasa dango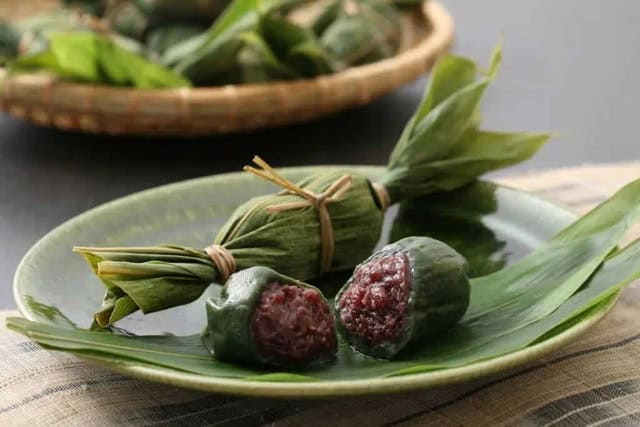 Sasa dango are wormwood infused dango wrapped in sasa leaves. It is a relative of bamboo with a filling of sweet red bean paste.
Kibi dango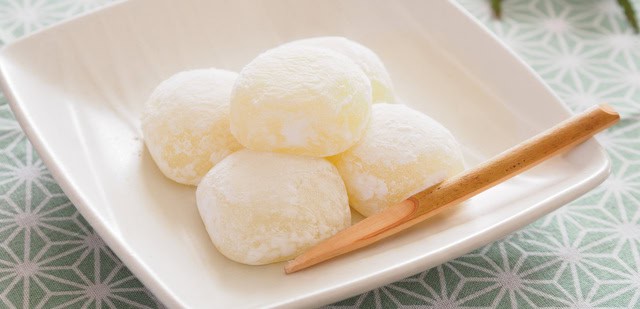 Kibi dango are seemingly simple. Their only flavorings are sugar and a dusting of millet flour and characterized by its round shape and springy texture.
Popular dango rankings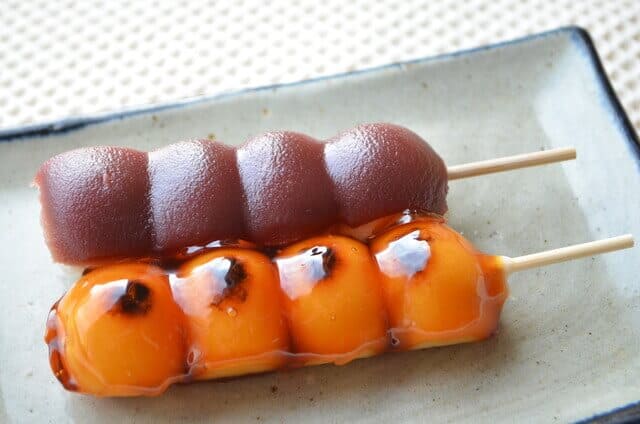 Mitarashi
Strained bean paste
Soybean flour
Nori roll
Zunda (green soybeans)
Tsubuan
Why Japanese eat dango at ohanami?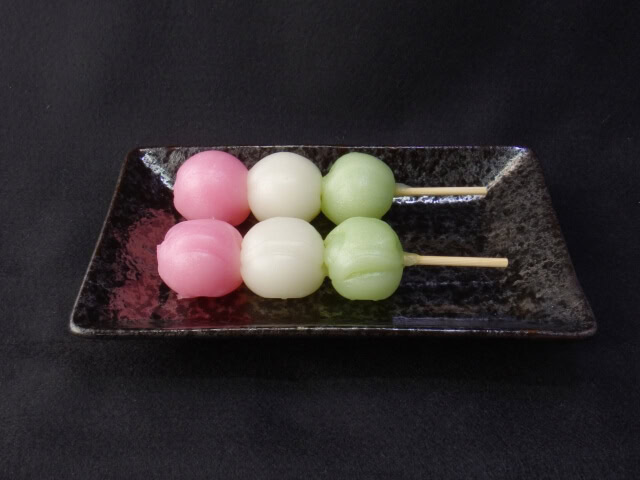 Later in the Edo period, the custom of ordinary people in Edo eating dango while enjoying cherry blossom viewing began to spread. The reason for the spread is not clear, but one theory is that dango shops started selling this dish during the cherry blossom viewing season. 
The "hanami dango" are indispensable for cherry blossom viewing because it has different meanings. The most famous theory is that the three colours of dumplings represent the season. The "red" is the colour of cherry blossoms or the sun and means "spring". "White" means "winter" with snow. And "green" is fresh green and "summer". There is also a theory that all three colours have auspicious meanings and that it is a food that carries good luck and can ward off evil spirits.
Where to buy Dango
Mosuke Main Store (茂助だんご本店)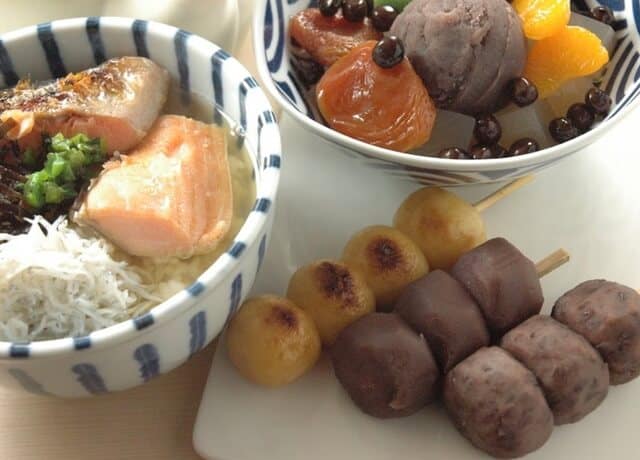 Even in Tsukiji, Mosuke Dango is the first name that comes to mind when it comes to stylish souvenirs. Sometimes more than 2,000 can be sold out in the morning, and you can purchase even one piece of their flagship dish. In addition to traditional craftsmanship, only the contracted farmers in Hokkaido make the azuki beans. They are also particular about grinding domestically produced Koshihikari rice at the store.
Kameya Awagi (亀屋粟義)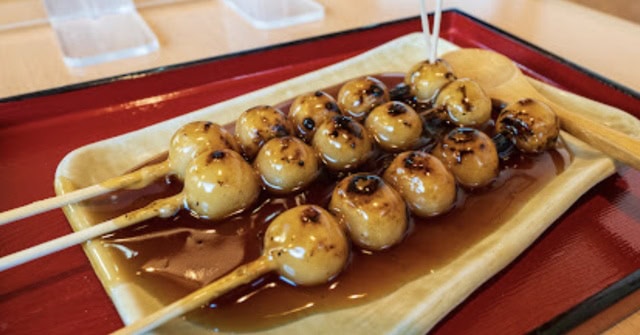 "Kameya Awayoshi", which has a shop near Shimogamo Shrine in Kyoto, is said to be the originator of mitarashi dango and known among dango lovers. A dango (dumpling) shop with a long history, founded by Toyotomi Hideyoshi's Kitano tea ceremony. Their dango here has a delicate taste with plenty of sauce that is not too sweet and has no unpleasant taste. 
Goken-uiro Main Store (五条本店)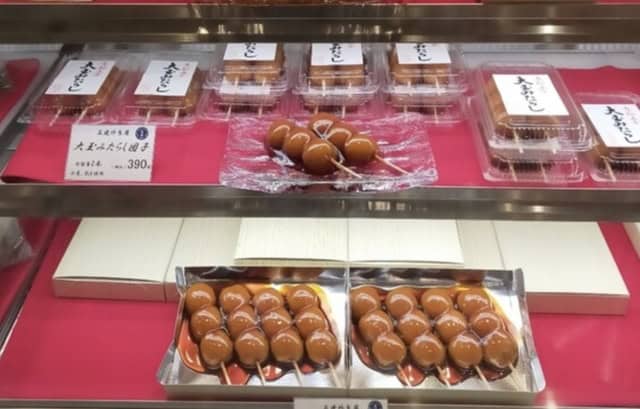 "Goken uiro Main Store", which has a store in Gojo, Kyoto, was founded in 1855. It is a long-established store in Kyoto that boasts a history of over 160 years as a uiro speciality store and has won numerous prestigious awards. The "Ootama Mitarashi Dango", which is a popular souvenir, is a dish that shines with the kneading technique that is indispensable for Uiro. The sauce is not too sweet, and the aroma of the soy sauce will satisfy your appetite
Final Thoughts
All year long, people in Japan consume sweet rice dumplings called dango. They are a truly remarkable treat because of their chewy texture and variety of flavours. They are a typical Japanese treat that are fairly casual and ordinary and go particularly well with matcha tea and green tea. The texture is what distinguishes this Japanese dessert as unique. Although it is firm and toothsome, it is chewy, tender, and soft.
You can check out other dango here and if you're looking for another type of wagashi or Japanese sweets, we've got you all covered.