Colorful nerikiri is lined up in a Japanese confectionery shop. The colors and shapes of them are quaint and will captivate your eyes. It is a Japanese confectionery that not only looks beautiful, but also has a smooth mouthfeel and elegant sweetness. What kind of materials and tools are used to make it? We will introduce about it today.
WHAT IS NERIKIRI?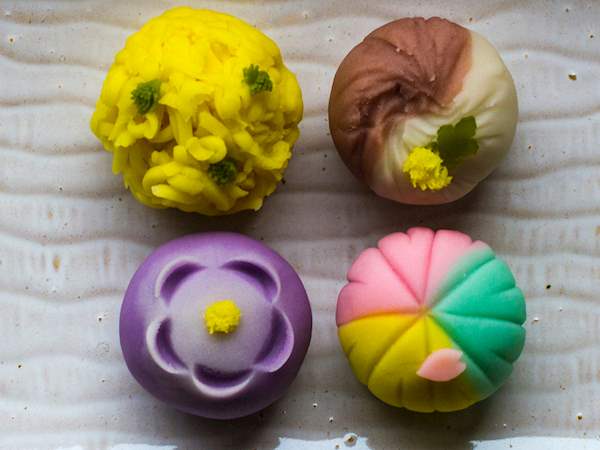 Nerikiri is a type of Japanese wagashi made by kneading and mixing sweetened white bean jam, Chinese yam, and glutinous rice flour. This wagashi can be consumed any time of the day but is often served at tea ceremonies. Nerikiri is an artistic Japanese confectionery made by copying seasonal features and is tinted with different colors and molded into various shapes according to the season. It might include sceneries, flowers, animals, and more. The most famous shape is Sakura Nerikiri that is available during the Cherry Blossom season. Nerikiri is the most well-known with its beautiful presentation and delicate taste. 
WHAT IS HISTORY OF NERIKIRI?
For the history of Nerikiri, it is said that it was born around the Edo period. During that time, the price of sugar which has been a valuable ingredient since ancient times has fallen. Japanese confectionery culture develops around. The craftsmen at that time all competed for their skills, and thanks to that, beautifully shaped Japanese sweets were born one after another.
In Kyoto, Japanese sweets with elaborate designs were actively made using a dough called "konashi" that was steamed by adding flour to white bean paste and sugar. With the transfer of capital to Edo, it is said that Nerikiri changed, and developed.
Moreover, Nerikiri has become as a high-class Japanese sweet that is present at tea ceremonies and ceremonial occasions.
WHAT IS NERIKIRI'S CLASSIFICATION?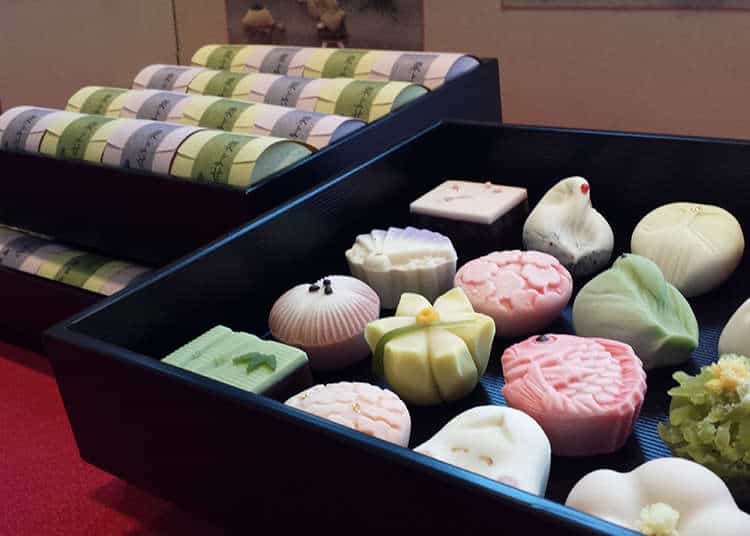 Nerikiri is a type of Japanese sweet that is classified as "namagashi". Japanese sweets are roughly divided into three types, namagashi, semi-namagashi, and dried sweets, depending on the amount of water. Nerikiri is classified as a namagashi that contains a lot of water and is a typical confectionery that is considered to be a highly artistic namagashi. It is a confectionery for celebrations and hospitality for special customers, and as a confectionery that matches the dark tea of ​​the tea ceremony, they serve it according to the season. Namagashi refers to confectionery itself that contains 30% or more water. Additionally, there are various types of namagashi, and Nerikiri is one of the "high-quality namagashi" that refers to the finest and most luxurious ones.
WHAT ARE THE TYPES OF NERIKIRI?
Nerikiri is a Japanese sweet delicacy that expresses nature and scenery. The number of motifs that relate to animals, events, and characters makes you feel more familiar. This is the theme of the four seasons of Japan.
Here are the types of Nerikiri that divide into spring, summer, winter, and autumn.
Summer Nerikiri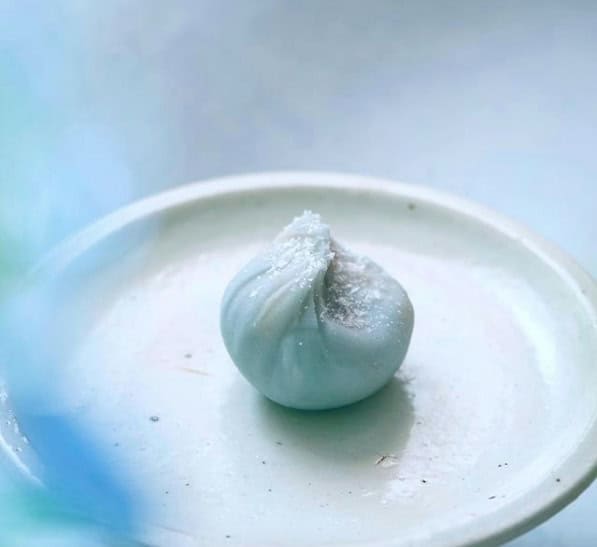 The hot summer is the season when you can enjoy colorful and gorgeous Nerikiri with cold tea. This cool nerikiri has a gradation of white and blue. The ice sprinkles also express splashing waves.
Spring Nerikiri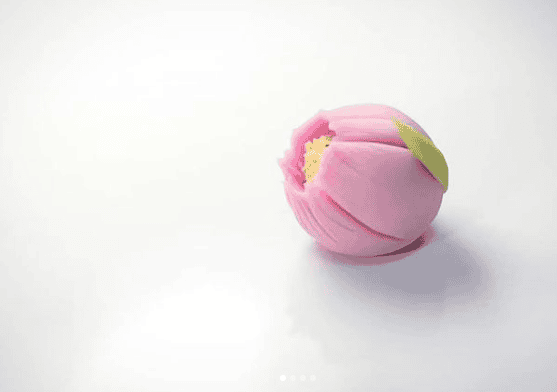 Spring is the season when vegetation begins to sprout and pretty flowers such as cherry blossoms begin to bloom. In this season, you can see many flowers in the shape of flowers that signal the arrival of spring. Moreover, this nerikiri expresses the arrival of spring and the joy of life.
Autumn Nerikri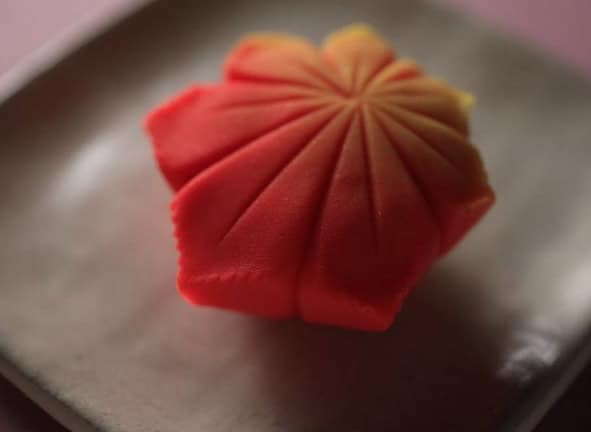 In autumn, there are Nerikiri with autumn motifs such as Halloween motifs and autumn leaves. This autumn leaf symbolizes fall and the gradation from crimson to pale orange is eye-catching.
Winter Nerikiri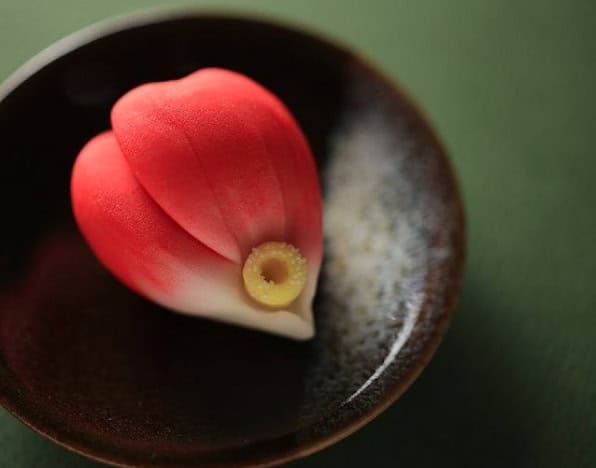 In winter, it gives an impression of calm and quiet so it's base on white. There are also winter motifs such as Christmas and New year motifs. In addition, this is Kantsubaki, one of the few flowers that bloom in winter.
WHAT ARE THE INGREDIENTS OF NERIKIRI?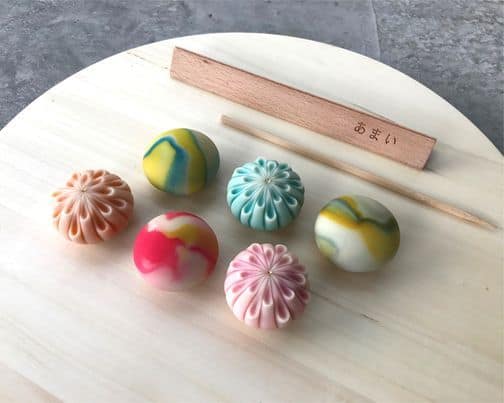 When making Nerikiri at home, the following ingredients are easy to obtain and are recommended:
| | |
| --- | --- |
| Ingredients & Tools (good for 6 pieces) | |
| White bean paste | 500g |
| Shiratamako | 30g |
| Water | 60g |
| Red bean paste | 60g |
| Coloring agent | |
| Mixing spoon | |
| Rice paddle | |
| Bamboo skewer | |
| Wet cloth | |
WHAT IS THE RECIPE OF NERIKIRI?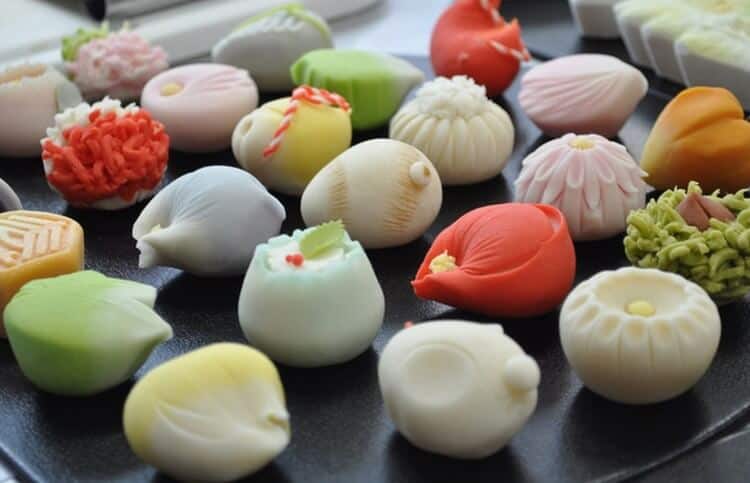 Make a dough
Firstly, in a non-stick frying pan, mix the shiratamako (glutinous rice) and half water to remove the lumps. Mix it. Then turn the heat on to medium-low.
Mix
Add the remaining water then add sugar. Cook while stirring gently with a spatula until the color changes from white to translucent.
Get yout white bean paste
Add 500g of white bean paste in a heat-resistant bowl and use the spatula to combine the shiratamako and bean paste well. Cook down the mixture until it loses its stickiness.
Mix until it gets hard
Next, mix well with a rubber spatula, heat several times until it becomes as hard as powdered potatoes, and mix well each time.
Add food dye and shape it!
Now the exciting part, add the food dye and shape the nerikiri into any shape you want! Use red bean paste inside and shiratamako mixture outside for each nerikiri. Take note that the mixture can be stored frozen. Take out only the amount you use and use it.
Enjoy it with green tea!
Making nerikiri is pure art, so don't forget to share your creation with your family and friends!
WHAT ARE THE RECOMMENDED SHOPS OF NERIKIRI?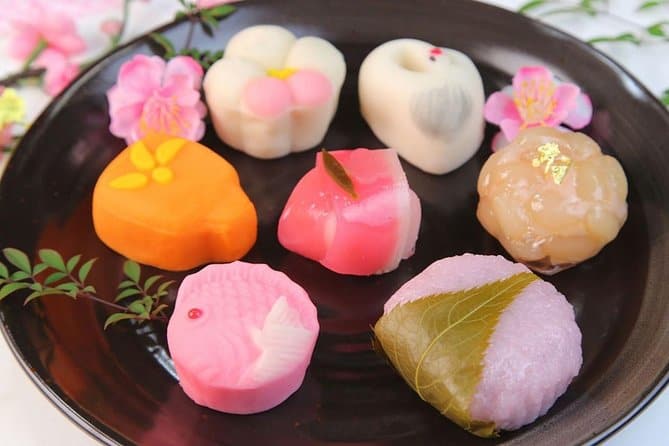 Toraya
This is a long-established Japanese sweets shop. The founding date of Toraya is back to the Muromachi period. In addition, there are some types of colorful Nerikiri that are fun to look at and have been handed down to the present based on recipes that have continued since the Edo period.
Kasho Kikuya
Kikuya, a Japanese sweets shop that has just moved to a new location, was founded in 1935. Additionally, you can enjoy the small four seasons with the traditional Japanese scenery created by Kikuya.
Satoya Main Store
At Satoya, there are other popular Japanese sweets besides Nerikiri. They use agar sweets, butter, nuts, and fresh cream that have been made since the Edo period. They have an exquisite sourness and aroma. Satoya is a long-established store that has been in business for over 190 years. The main store uses the building from the early Showa period as it is.
Funasada
"Funasada" is a long-established Japanese sweets shop that has been in business for 90 years since the Meiji era. Additionally, Nerikiri is characterized by its pastel color and warm shape, which makes you want to pick it up. From the classic seasonal flowers to the events such as Christmas and Halloween, you will want to take a closer look and choose.
CONCLUSION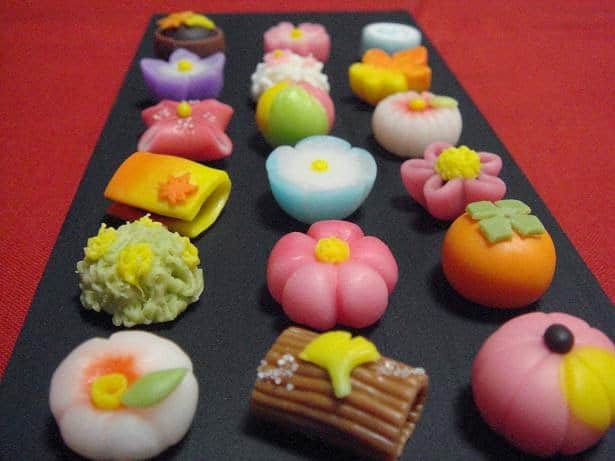 In conclusion, during the old times, sugar was very expensive. Sweets are very valuable and can only take at special occasions such as ceremonies and celebrations. As time goes by it became accessible and affordable. Japanese wagashi can be really creative ever since before. These prove that even in old times, Japanese people are indeed creative. In addition, Nerikiri may be one of the more colorful sweets among the other traditional Japanese sweets. With the softer mochi acting as the cover, it is kneaded, colored, and shaped into various designs. These designs will typically align with the seasons or special occasions. This entire experience creates a great visual experience for each individual especially those who are tourists. There are some lessons offering how to make Nerikiri for foreigners and it is a good experience since it is one of the beautiful Japanese wagashi.