Introduction to Ichigo Daifuku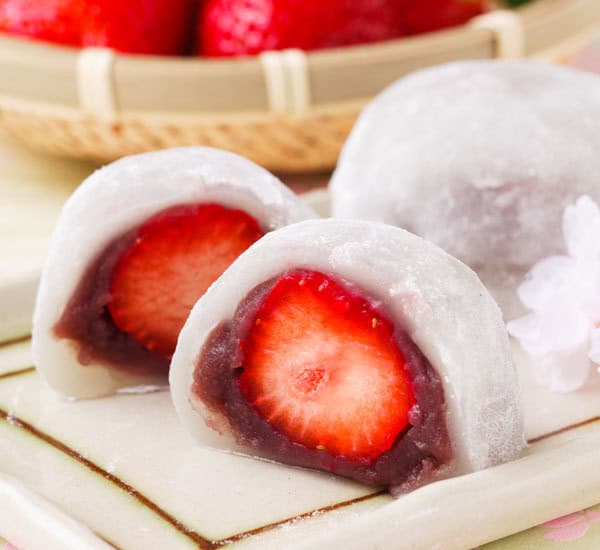 Ichigo daifuku is a very popular spring dessert. It is another type of sweet Japanese snack with strawberry and sweet red bean paste, also known as strawberry mochi. It is one of the most interesting and unique versions of traditional Japanese daifuku sweets since it uses whole strawberries as fillings. In the most traditional type, the strawberry is first wrapped in a thin layer of sweet red bean paste, and then in a layer of soft white mochi.
The combination of fresh soft mochi, sweet red bean paste, and juicy and tart strawberry is a match made in heaven!
What is the history of Ichigo Daifuku?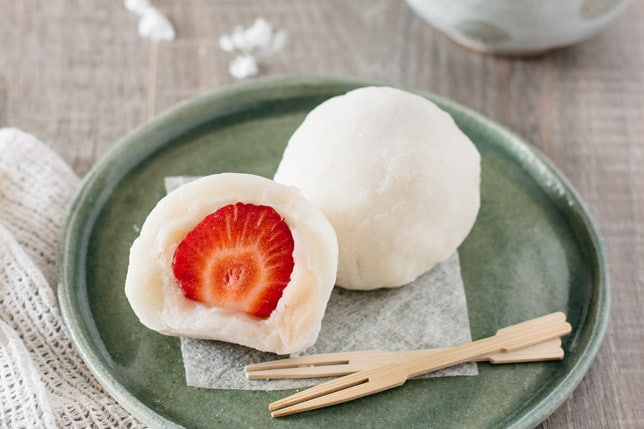 It is said that Ichigo Daifuku first appeared in the 1980s. Many famous confectionery shops claim that they created the first ichigo, but the real history is unknown.
Strawberry Mochi was first created during the '80s. For those born in Heisei, Ichigo Daifuku may also be considered a member of the long history of Japanese sweets. However, Ichigo Daifuku is a very new Japanese sweet. Its existence was the savior of the times when Japanese sweets could not be sold.
The third-generation president of Tamaya, Wahei Osumi came up with the idea to put a strawberry inside a daifuku back in 1985. Although a novel idea, they didn't expect it to sell well off the bat. However, seemingly overnight, people were craving the great taste of mochi, anko, and strawberry and buying them as fast as Tamaya could make them.
The first to notice its popularity was the people who went in and out of Fuji TV, which had a company building near Daikaku Tamaya at that time. Above all, the unprecedented texture of juicy fruits in Daifuku has become a big topic in the industry. Then, in 1987, it was introduced in the national song program "The Best Ten". It is said that this big hit also boosted the sales of Japanese sweets as a whole. It was this "strawberry bean daifuku" that saved the crisis of Japanese sweets.
What is Daifuku?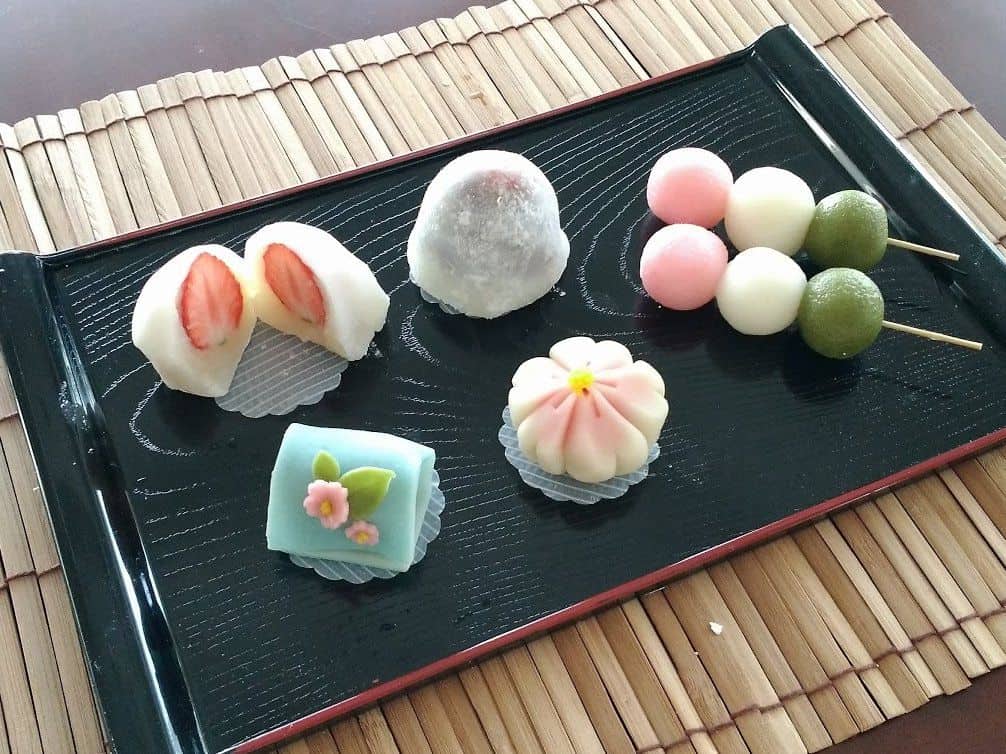 Daifuku (大福) is a popular traditional Japanese sweets. It is soft mochi stuffed with sweet red bean paste. They usually come with the same soft and chewy mochi exterior with different stuffing. There are many varieties of Daifuku. All daifuku varieties consist of a chewy mochi shell, made with pounded glutinous rice and various fillings which are hidden inside the shell. Daifuku literally means "Great luck".
In addition, daifuku is a popular wagashi in Japan and is often served with green tea. The most common varieties are white, pale green, or pale pink-colored mochi filled with anko. Daifuku is approximately 4 cm in diameter. Nearly all daifuku are covered in a fine layer of rice flour, corn starch, or potato starch to keep them from sticking to each other or to the fingers.
What are the ingredients of Ichigo Daifuku?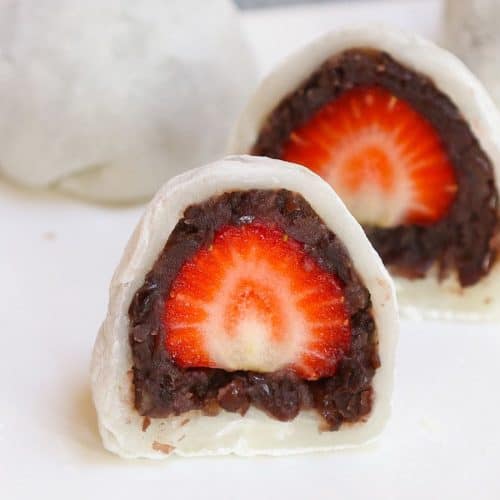 Ichigo Daifuku's ingredients are actually easy to find and mostly you can find them in convenience stores. For red bean paste and rice flour, you can buy them in packs if you don't want to make a homemade one. Check out the following ingredients for your preparation!
| | |
| --- | --- |
| Ingredients of Ichigo Daifuku (12 yields) | |
| Fresh Strawberries | 12 pieces |
| Glutinous Sweet Rice Flour | 1 1/2 cups |
| Sugar | 1/2 cup |
| Water | 1 1/2 cups |
| Red Bean Paste (Anko) | 18 oz |
What is the recipe of Ichigo Daifuku?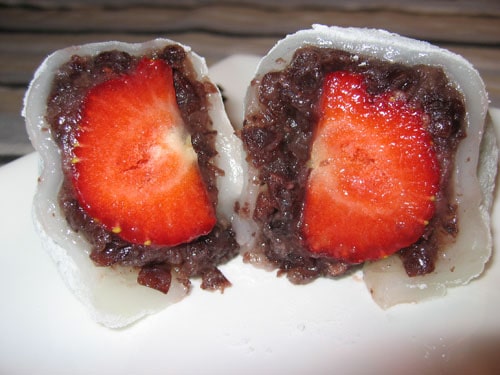 Making Ichigo Daifuku is actually easy! Making homemade daifuku is quite satisfying. It is not just delicious but also good for the health! See the recipe below:
Prepare strawberries and anko
Firstly, rinse and cut strawberries, as well as the anko. Make sure to wash your hands as it gets too sticky on your hands. Make anko balls and wrap the strawberries with anko.
Mix the Rice Flour
Secondly. mix the sugar and water together in a large saucepan and bring to a boil. Remove from heat and add mochiko. Stir until smooth, then turn the heat down and return the pot to burner. Let cool for 15 minutes, stirring occasionally.
Cool the mix
When cool, take the mochi and make it into walnut-sized balls then flatten them.
Add the wrapped strawberries and anko
Place a strawberry with anko in the center of each mochi and bring edges together, pinching to close. When all sides of mochi meet at the top, twist, and close. Hold the mochi with both hands and form it into a nice round shape. Repeat the process for the remaining mochi. Note: use the flour or potato starch on your hands and mochi pieces to prevent sticking.
Serve at room temperature.
Ta-dah! The ichigo daifuku are now ready to serve.  Be reminded to not put it in the refrigerator as it becomes hard. The daifuku mochi must be consumed within 2 days. Just like other daifuku varieties, ichigo is always enjoyed freshly prepared. Don't forget to share it and enjoy it!
What are the health benefits of Ichigo Daifuku?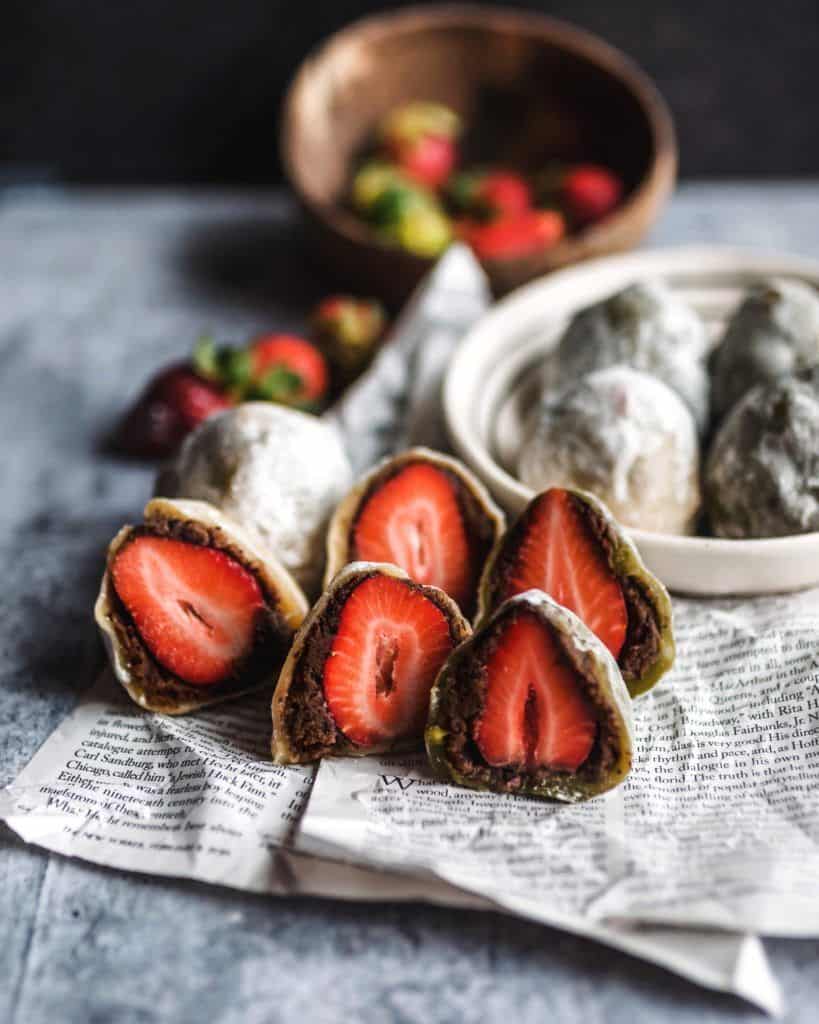 Ichigo Daifuku is one of the many Japanese sweets that have low calories and carbohydrates. It is easy to eat even while on diet therefore, it is somehow recommended during weight loss. One piece of Ichigo Daifuku is equivalent to 150kcal. That's even lower compared to other Japanese confectioneries.
Strawberries have a high content of vitamin C, which is 62 mg per 100 g. Vitamin C is effective for cold prevention and beautiful skin control. It is one of the nutrients that you want to take actively when you get a sunburn or have a cold. In addition, strawberries contain xylitol, which is effective in preventing tooth decay, and dietary fiber that is essential for preparing the intestinal environment.
Additionally, anko contains a lot of dietary fiber. Because azuki beans contain water-soluble dietary fiber that improves the flow of stools and constipation. Moreover, it contains anthocyanins and vitamin B1 that convert carbohydrates into energy, which can be expected to have antioxidant effects. In addition to being delicious and low in calories, Strawberry Daifuku is packed with nutrients that are nice to the body.
What are the recommended shops of Ichigo Daifuku?
Ginza Akebono
Akebono is a famous Japanese sweet shop right beside Le Café Doutor. Akebono is famous with its daifuku.There is ichigo daifuku in winter and mame daifuku (bean daifuku) in summer. Ichigo daifuku is limited item which is only being sold in Akebono Ginza! Their daifuku does not consist any additive so you have to eat it on the same day of purchase.
Ginza Kanraku
It is a shop that has a freshly made bean paste in the middle of Tokyo Ginza. This restaurant is famous for its Mame Daifuku. You can enjoy the flavor of red bean paste cooked directly from a farm in Rusutsu, Hokkaido. Also, they have a variety of white bean paste of Ichigo Daifuku.
Suikodo Yurakucho Store
The name is derived from the shop on the banks of the Midorino River. Among the seasonal Japanese sweets, Ichigo Daifuku is famous in this store. However, Yurakucho store does not have an dine-in space so people have to take-out.
Seigetsudo Main Store
This store is long-established since 1907 that was founded in Ginza 7-chome, where the head office is currently located. The ichigo daifuku here is a fluffy, chewy marshmallow-like rice cake with condensed milk and egg whites wrapped in red bean paste and a strawberry on it. A must try!
Conclusion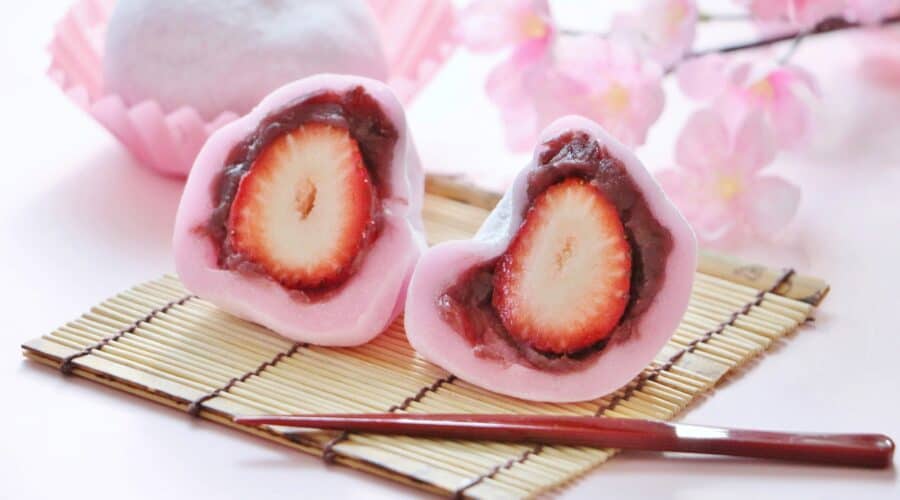 In conclusion, this sweet treat is indeed visually appealing to eat. The combination of red berries, anko, and a pale white layer of mochi makes it more exciting to eat. There are also some variations of Ichigo Daifuku that people will definitely love. Some strawberry mochi has red bean paste filling while others use Shiroan or white bean paste. Some mochi comes with whipped cream and strawberry inside. Ichigo daifuku is a seasonal confectionery where it is usually consumed in the spring when strawberries are in season. As this seasonal mochi includes fresh strawberry, it is only offered during the strawberry season in Japan between winter and spring. Don't forget to try out the Ichigo Daifuku when you come and visit Japan!
Another Japanese sweets you may interested