What is Kusa mochi?
Kusa mochi ​​(草餅) is one of the Japanese sweets also known as "kusamochi or yomogi mochi (蓬餅)." Locals made it using mochi and yomogi (known as Japanese mugwort) leaves. In fact, this Kusa Mochi is the Yomogi Mochi kneaded with Japanese mugwort leaves from the Shinshu region around Nagano Prefecture. Kusa mochi is a vibrant green color due to the use of Japanese mugwort in the mochi.
The amount of Japanese mugwort in the mochi determines how green it is. Japanese also used this as a medical diet. It is a rice cake mixed with boiled mugwort leaves and they sometimes fill the rice cakes with bean paste. It is a common and often homemade treat for young and old alike. When the grass and trees begin to sprout their spring colors, many Japanese heads for the mountains or rivers to enjoy the abundance of wildflowers and plants, one of which they used to make Kusamochi.
Etymology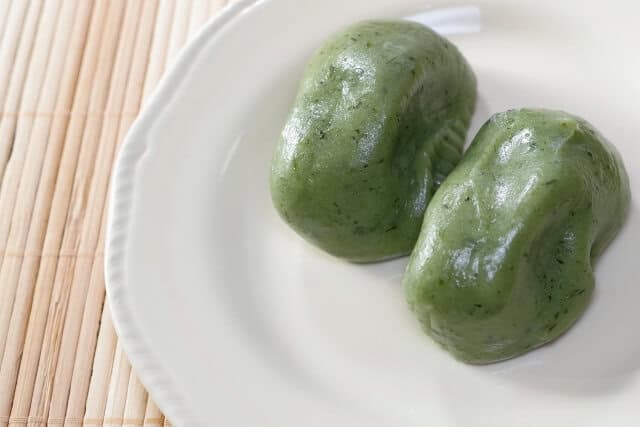 Today's Kusa Mochi is from wormwood or yomogi, but they originally made this using "Ogata (御形)" which means mother and child herbs. Both Kusa mochi and Yomogi ochi uses wormwood. And so in the name of the Japanese confection "Kusa Mochi (草もち)", "Kusa (草)" means "grass" or "herb" in Japanese which comes from the eaves of Yomogi or the Japanese wormwood. While "Mochi (もち or 餅)" refers to a glutinous rice cake. So the green color of the sweet treat comes from mixing yomogi or wormwood with the rice cake.
Kusa mochi History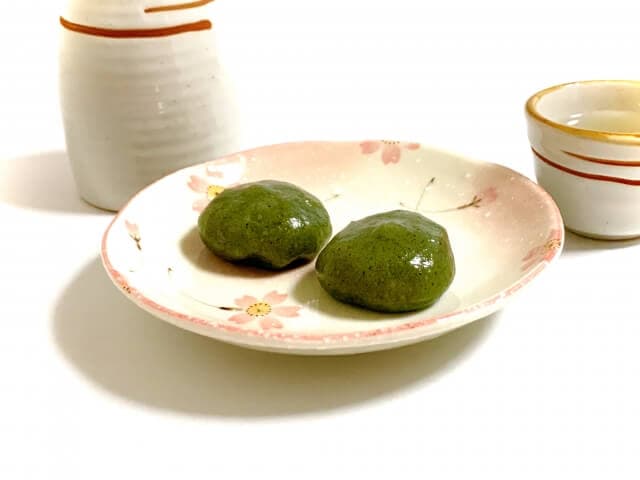 Documents state that nobles were eating kusa mochi during palace events in the Heian era. They made it with Jersey cudweed before the Heian era. However, since the Heian era, people started to make kusa mochi using Japanese mugwort (or yomogi) because of its capability to boost fertility and as a medicinal food. 
Another purported reason for the change in ingredients was because they called the Jersey cudweed Haha-ko-gusa which translates to "mother-and-child grass". As they enjoyed kusa mochi to wish for the health and well-being of the mother and her children, locals considered it ominous to knead jersey cudweed into the mochi. Since the Edo-era, kusamochi began to be used as an offering for Hinamatsuri (the Girl's Festival) because of the vivid green color that represents fresh verdure. Another reason why is because of the medicinal power of Japanese mugwort. Japanese mugwort is known for its vitality, which makes it difficult to eradicate.
Kusa mochi Recipe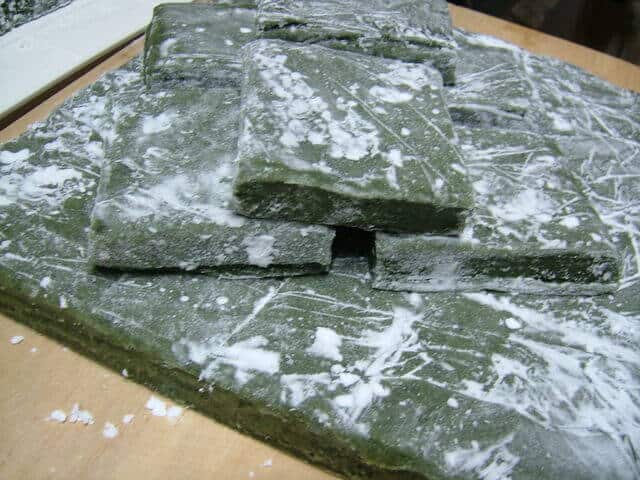 Kusa mochi Ingredients
| | |
| --- | --- |
| Ingredients of Kusa mochi for 4 persons | |
| Joshinko | 120g |
| Shiratamako | 30g |
| Warm water | 200g |
| Sugar | 30g |
| Dried mugwort | 15g |
| Granulated bean paste | 300g |
How to make Kusa mochi
Wrapping the bean paste
Soft bean paste is difficult to wrap, so heat it in a microwave using a heat-resistant bowl to remove water and make it hard. The time varies depending on the number. 
Mixing it with dried mugwort
Weigh 30g of bean paste and roll it. Next, put in the dried mugwort and leave it for a while. Then, drain the hot water with a colander and put it in a heat-resistant bowl. Stir it well with mugwort and heat it in a microwave oven.
Shaping the kusa mochi
Divide the finished rice cake dough. Wrap the rolled bean paste in rice cake dough and then, roll it up. Kusamochi comes in many shapes.
Serving
You can put kinako or soybean flour on top of the finished kusa mochi and serve it with others.
Shapes of Kusa mochi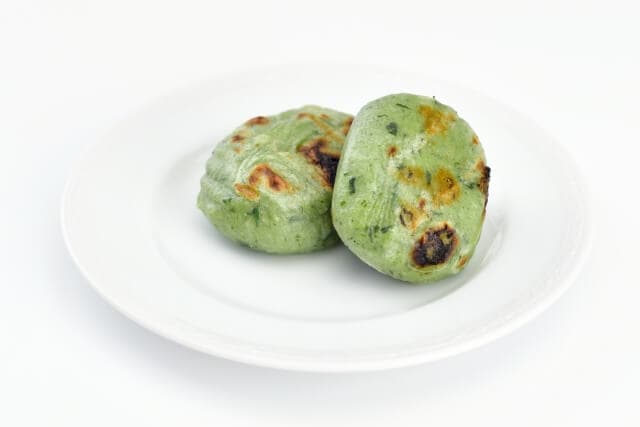 "Kusa mochi" comes in various shapes. There are various shapes such as the shape of the snow, the shape of the wooden fish, the shape of the clam, the shape of the kinchaku, the shape of the knitted hat, and the shape of a zigzag hat.
What is the season for eating Kusa mochi?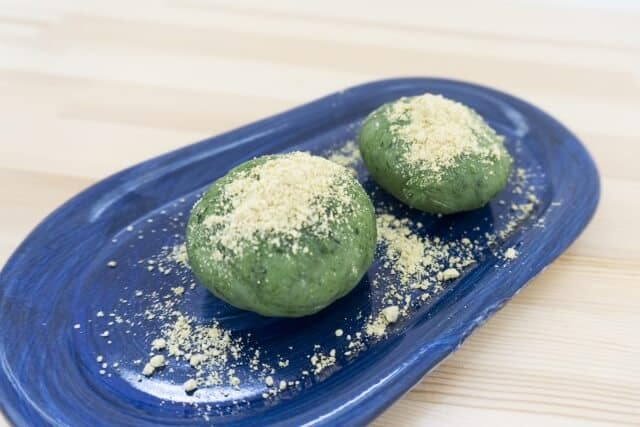 The season for eating kusa mochi is the spring when hahakogusa grows, especially the peach festival season. Haha-ko-gusa, also known as Gogyo, is famous for the seven herbs of spring. Also, the Japanese serve Kusa Mochi as Hishi Mochi for the Hinamatsuri or Doll's Festival, so it seems that they sold it at Japanese sweets stores nationwide from early spring in February.
How many calories are there in Kusa mochi?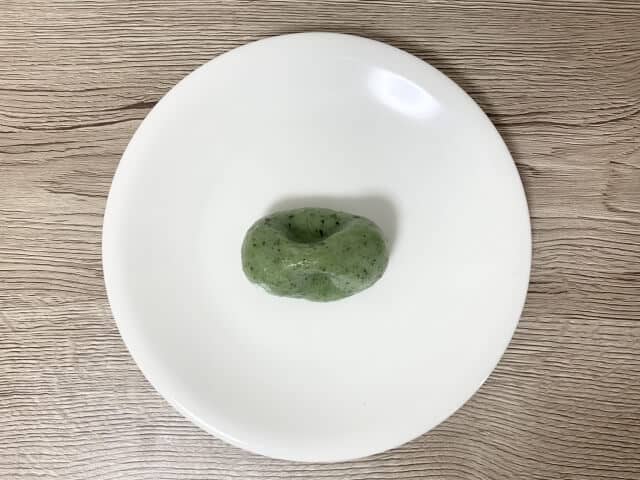 Kusamochi, simply put, it's a rhombus-shaped green rice cake. Calories in kusa-mochi depend on whether it contains adzuki beans or not. In general, regular mochi and Kusamochi differ very little in terms of calories. The calories in Kusa Mochi are 229 kcal per 100 g.
Where to buy Kusa mochi
Kusa Mochikobayashi (草もちこばやし)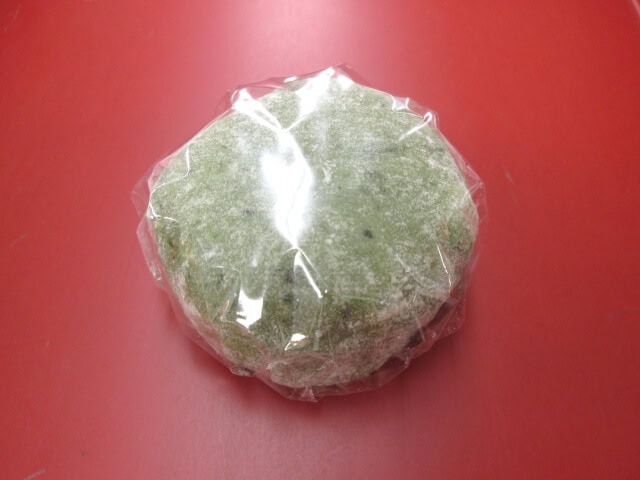 "Kusa mochikobayashi" is a long-established Japanese sweets shop located in Nishikyo Ward, Kyoto City. They use fresh mugwort that they've harvested at the foot of Koshioyama at the back of the store. In addition, they use Hokkaido azuki beans for bean paste, which they cooked with high-grade white sugar. The chewy texture, the refreshing scent of mugwort, and the moderately sweet bean paste are becoming popular even in Kyoto, a fierce battleground for Japanese sweets.
Kawashimaya (かわしまや)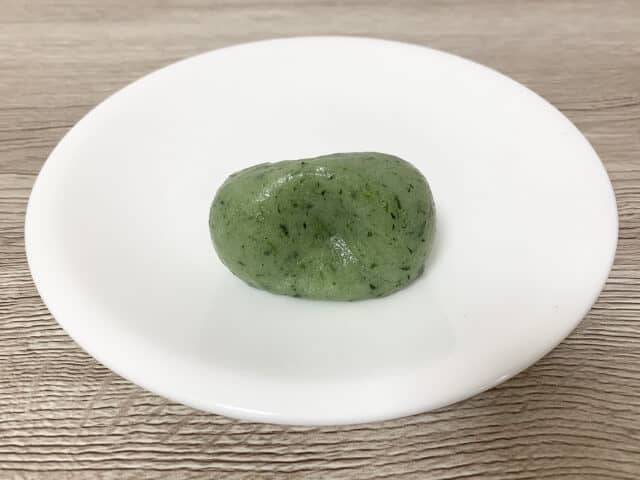 There are several Kusamochi shops along the approach road, but this one is a famous shop in the local area. When you enter the store in order, many kinds of Japanese sweets assorted sets are displayed. They have many customers around so expect to have a line in front of the shop. The sweetness of Kusamochi they make is modest and elegant and it has a faint scent of mugwort. 
Jiman Kusamochi (志"満ん草餅)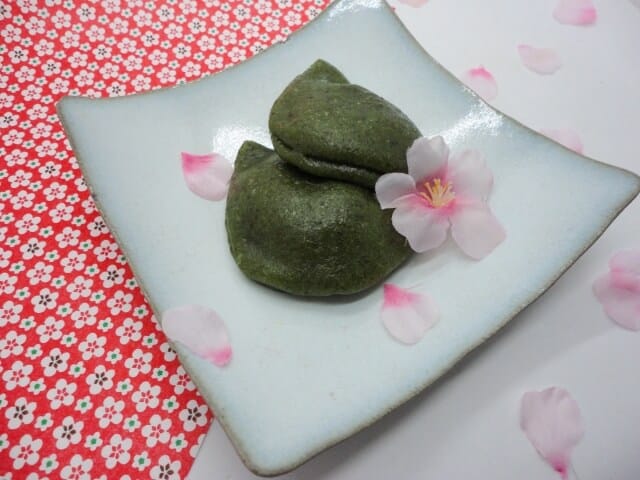 In this store, they serve kusamochi with and without sauce. It is a little sticky, and the texture of it is such that the fibers of mugwort sometimes. The taste is natural, but it has the sweetness of rice, and the aftertaste is just like eating rice balls. The included soybean flour is with sugar from the beginning. On the other hand, it contains a very smooth bean paste with a little salt, and it has a mugwort flavor than when you eat it as it is. 
Kikusato Matsutsuki (菊里松月)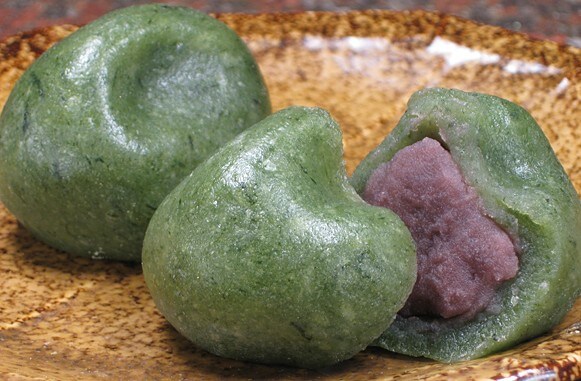 "Kikusato Matsutsuki" is an easy-to-find Japanese sweets shop where there is a wide selection of Japanese sweets, and you can buy various Japanese sweets. If you step inside the Japanese sweets shop, you will find a lot of seasonal sweets. They always try to create a store where you can feel the seasons, and they want to make it with a lot of "seasonal Japanese sweets" that you can enjoy just by looking at them.
Takeaway
Mochi has grown in popularity across the world over time, and its flavor has improved as a result of more creativity. You can eat rice cakes at any time now, but it used to be something special, for example, during ceremonial occasions and services. Mochi didn't require as much sugar and the business evolved because of it. Just like Kusa mochi, its taste is neutral and has the sweetness of rice.
There are several types of mochi in Japan that you can try and should know. Try Hishi mochi, Sakura mochi, Warabi mochi, Zunda mochi, and Kinako mochi.