Introduction to Daifuku
Are you one of those people who like to eat any sweets or confectionery? Have you tried any Japanese confectionery such as Mochi, Sasa Dango, and Ichigo Daifuku? In this article, we will discuss Daifuku or Daifuku Mochi which is a Japanese confectionery that resulted in one of many new taste combinations and increased mochi's appeal across Japan.
Etymology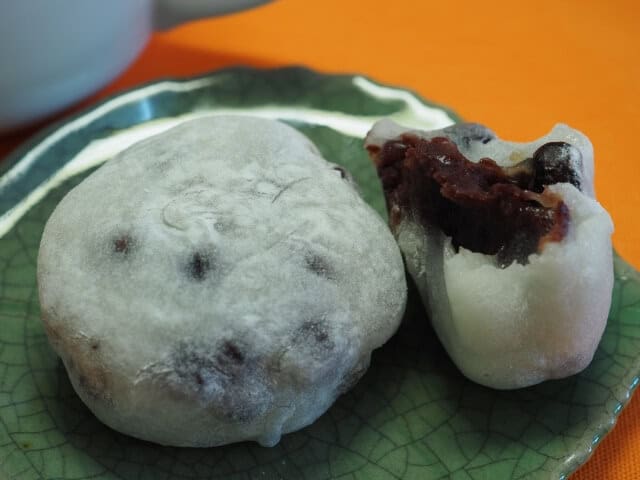 Daifuku was originally called Habutai mochi (腹太餅) (belly thick rice cake) because of its filling. Later, they changed the name to daifuku mochi (大腹餅) (big belly rice cake). Since the pronunciations of Fuku (腹) (belly) and Fuku (福) (luck) are the same in Japanese, so the name further changed to daifuku mochi (大福餅) (great luck rice cake), a bringer of good luck. 
What is Daifuku?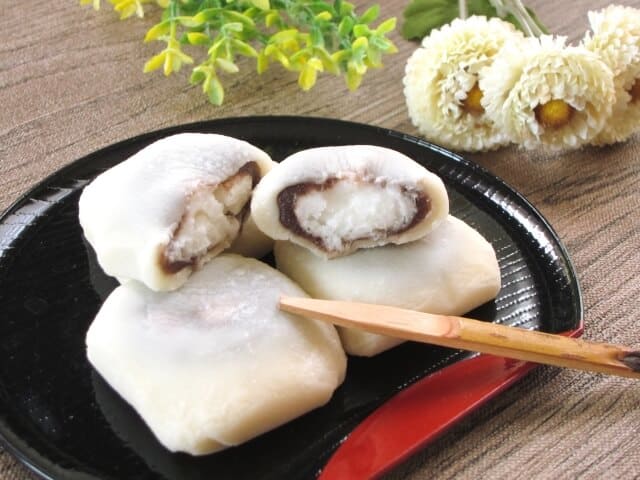 Daifuku is a traditional Japanese confectionery made of bean paste from red beans wrapped in mochi. Locals also call this Daifuku mochi. Locals will finely chop the mochi, and the amount of bean paste is often equal to or greater than that of the mochi. Japanese often sprinkled with edible flour (rice cake flour, often cornstarch). When making this at home, it is difficult to harden it by mixing sugar with the mochi. There are various types of Daifuku, but even if the color of the rice cake is different, the roundness of the shape does not change. It is now commonplace, but it was one size larger when it was first sold. The current size is a palm-sized round shape that men and women of all ages can eat. 
History of Daifuku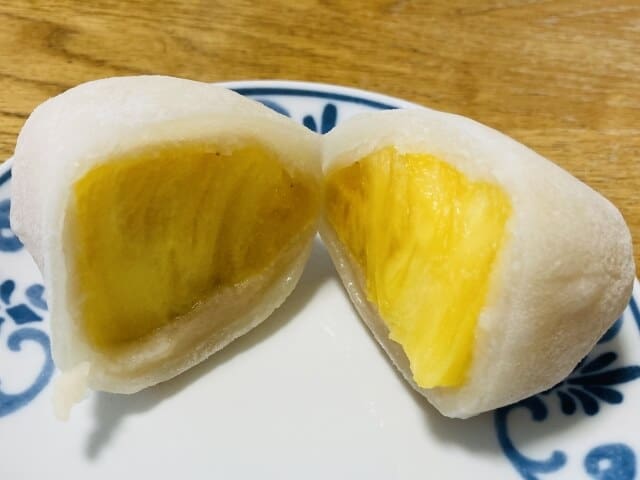 Daifuku was originally called quail mochi because its round and plump shape resembled a quail. It was also called "Harabu-to-mochi" or "belly thick mochi". At that time, Daifuku was large, and the bean paste was just salted azuki beans. In 1771, a widow named Otayo in Edo, invented a small belly rice cake made by adding sugar to bean paste and sold it under the name of "Otama-mochi." Later, the word "belly" in "Otama-mochi" was changed to "Fuku" and became "Daifukumochi." During the reign of Kansei, selling this at night was popular, and in cold winters, "yakiDaifuku" was said to have been popular. Nowadays, various kinds of Daifuku are made, including beans and strawberries, whipped cream, custard, and pudding instead of bean paste.
Daifuku Recipe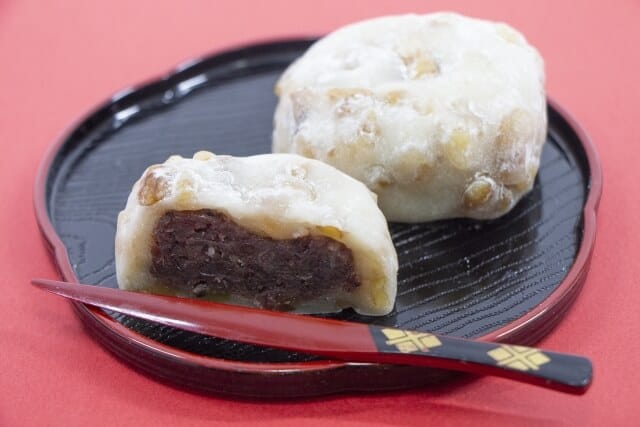 Daifuku Ingredients
| | |
| --- | --- |
| The Daifuku Ingredients for 4 person | |
| Shiratamako | 60g |
| Water | 70g |
| Refined white sugar | 10g |
| Potato starch | 5g |
| Red bean paste | 100g |
How to make Daifuku?
Putting Shiratamako and water together
Put Shiratamako and water in a bowl and mix with a spatula. The method of sucking water differs depending on Shiratamako. Then, add sugar and mix with a spatula.
Straining excess water on the dough
Put a towel soaked in water in a mold such as an egg tofu bowl and pour the dough into it.
Steaming the dough
Bring the steamer to a boil, put the whole mold in a steamer, and steam on high heat for 10 minutes.
Making the filling
While steaming, roll the bean paste and put the potato starch on the tray.
Kneading the steamed mochi
Put the steamed rice cake in a bowl and knead it with a wooden spatula. Please use force and knead firmly.
Sprinkling the mochi with potato starch
When the mochi stretches, put it on the potato starch on the tray. Sprinkle the whole mochi with potato starch. Use a brush to remove excess potato starch.
Dividing the mochi
Divide the mochi into 4 equal parts. Use the space between your thumb and forefinger to cut the mochi and it will be neatly separated.
Completing the process
Put the mochi on the palm and put the bean paste on it. Wrap the bean paste and close the seams. Close it down and brush off the excess potato starch to complete.
Daifuku vs Mochi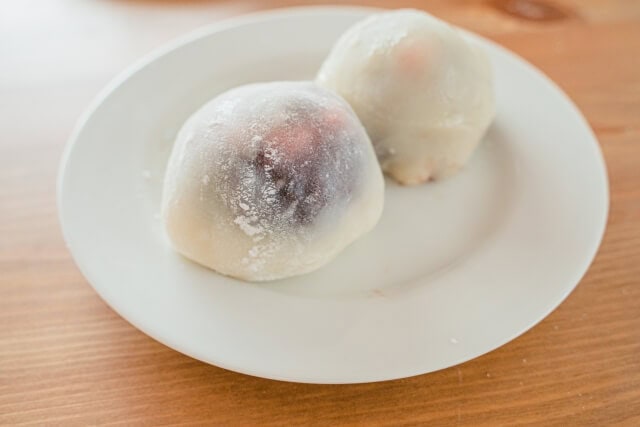 Mochi is a sticky rice-based Japanese rice cake. Locals beat it into a sticky ball after being crushed, heated, then pounded. As a result, it's extremely chewy and colorless (i.e. white). Color, on the other hand, maybe added to it. Also, mochi isn't inherently sweet, which is why Dango and daifuku exist: they're sweetened mochi that locals eat as snacks or desserts.
Daifuku, on the other hand, is a lot easier to tell apart from mochi. It may come in a variety of colors, but it's unique in that locals fill the inside. It is stuffed with mochi. Anko is the most typical filling, however other fillings may sometimes exist.
What is Fruit Daifuku?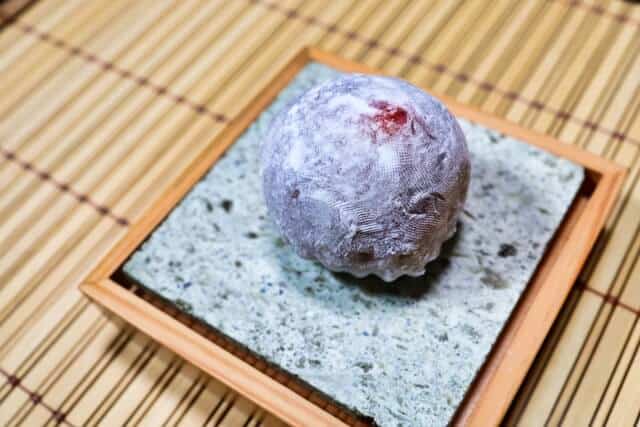 Fruit Daifuku is a Japanese Mochi confection in which fruit, such as strawberries, are coated in Anko sweet bean paste before being wrapped in Mochi rice cake. This one is not a traditional Japanese sweets, but it's been there for a while and is one of the most popular things in Wagashi Japanese sweet stores. When strawberries are in season, Ichigo Daifuku (strawberry inside) is the most well-known type of Fruit Daifuku, and it can be found at every Wagashi shop. It's unknown when or where Ichigo Daifuku was created, but it became well-known and popular in the 1980s.
Types of Daifuku
Mame Daifuku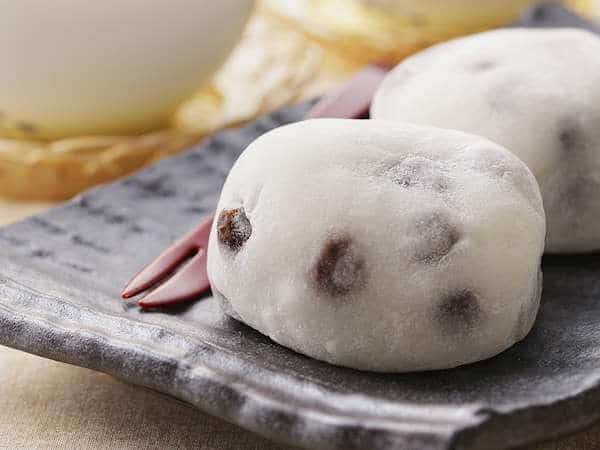 It is a traditional Japanese confectionery that dates back to the Edo period. A rice cake filled with Anko, soybeans, or azuki beans and served as a dessert.
Ichigo Daifuku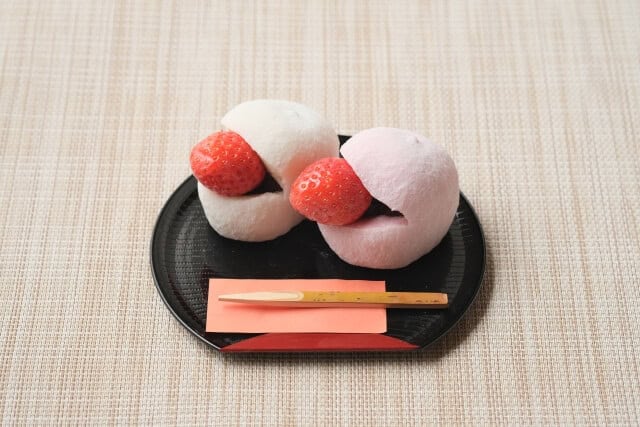 This is one of the most unique variations of traditional Japanese sweets, daifuku. Because it employs entire strawberries as fillings, Ichigo stands out as a one-of-a-kind variety. If you want to know more about this type of daifuku, you can look up all its details here.
Shio Daifuku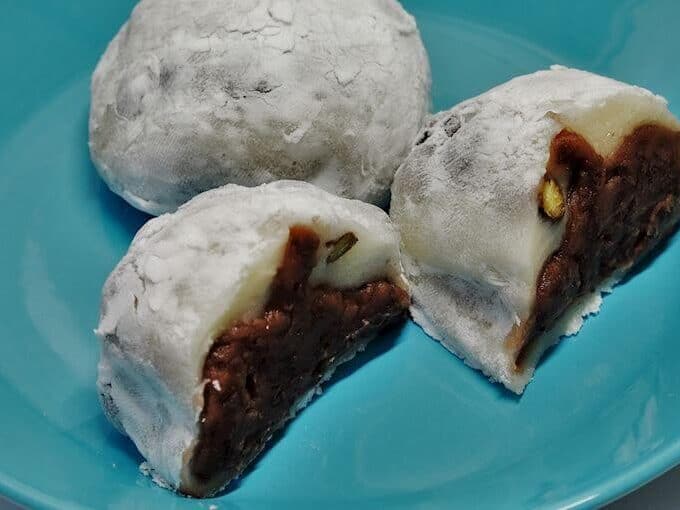 Shio daifuku is a chewy mochi shell filled with creamy or coarse anko red bean paste that is a popular Japanese dessert. They're normally round, and entire black beans are occasionally inside in the mochi wrapper.
Purin Daifuku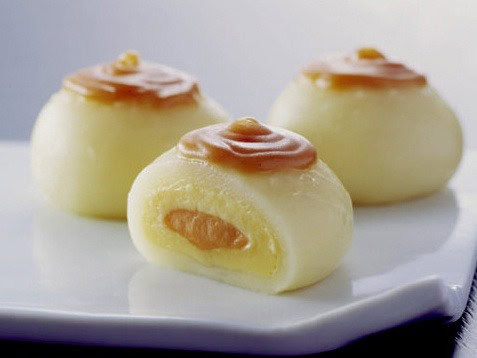 Purin is a daifuku variety that has become popular in recent years. The inside is a creamy custard nestled inside a chewy outer layer made of mochi in this spin on a classic one.
Coffee Daifuku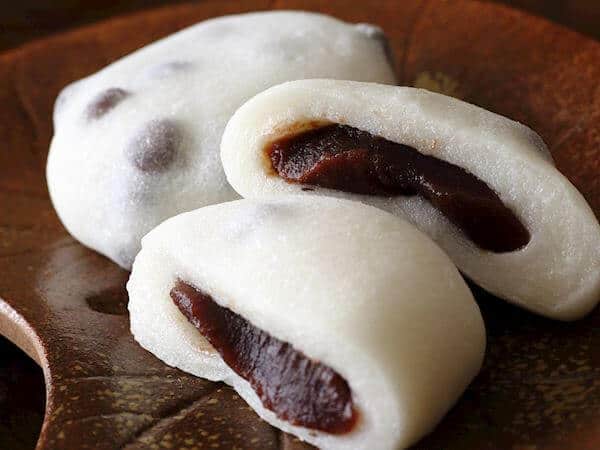 This daifuku has a chewy mochi outer layer and a creamy coffee-flavored bean paste in the middle. The dish is available in a variety of flavors at Japanese pastry shops.
What is the calorie count of eating Daifuku?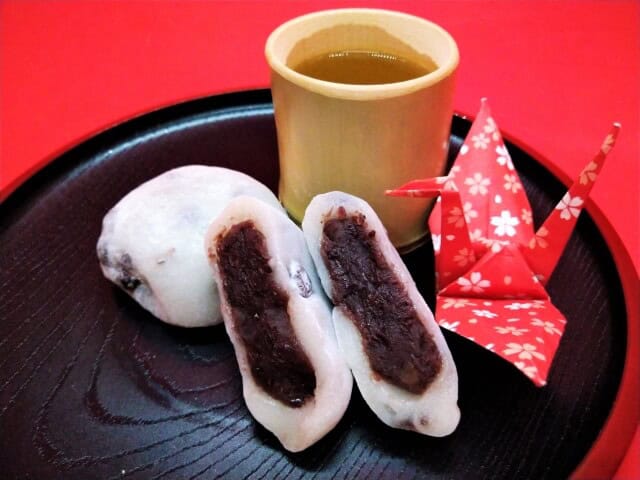 Daifuku is one of the typical snacks in Japanese sweets. A typical one is about 100g and has a calorie of 242kcal. The calories of mochi are surprisingly high, accounting for 130 kcal, which is half of the total. The calorie of red bean paste is 91kcal. One Ichigo daifuku has a calorie of about 148 kcal, which is low calorie if you compare it to general daifuku. Since the whole strawberry is inside as a filling, the amount of red bean paste is also small, which seems to lead to a calorie cut.
Recommended Daifuku Restaurants
Shiroikuro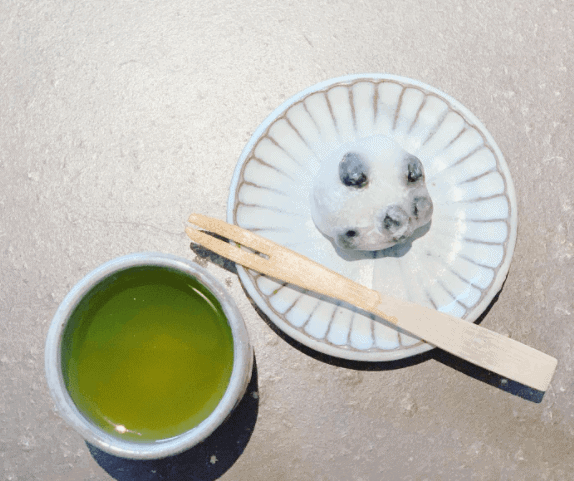 At "Shiroikuro" from Tokyo, there are many product lineups that use black soybeans, and Daifuku also uses plenty of black soybeans. The Daifuku with red bean paste wrapped in mochi is soft and elastic, and the black beans are also an accent to the taste. You can also enjoy Western-flavored black soybean sweets such as roll cakes with black soybeans, so the shop recommend to try them with tea.
Okano Eisen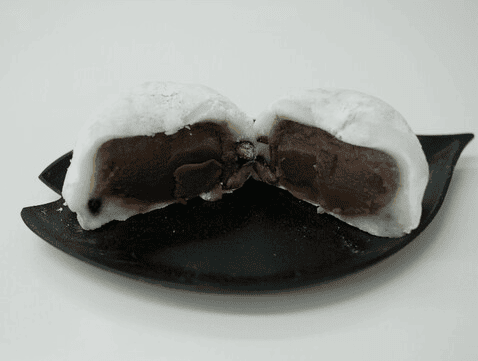 Daifuku from Okano Eisen, one of the long-established stores in Tokyo, is also a must-see. Daifuku, the signature product of this popular menu, is large and heavy and is excellent for eating. The shop uses red bean paste, has a smooth texture, and is a perfect combination with the rich taste of mochi.
Matsushimaya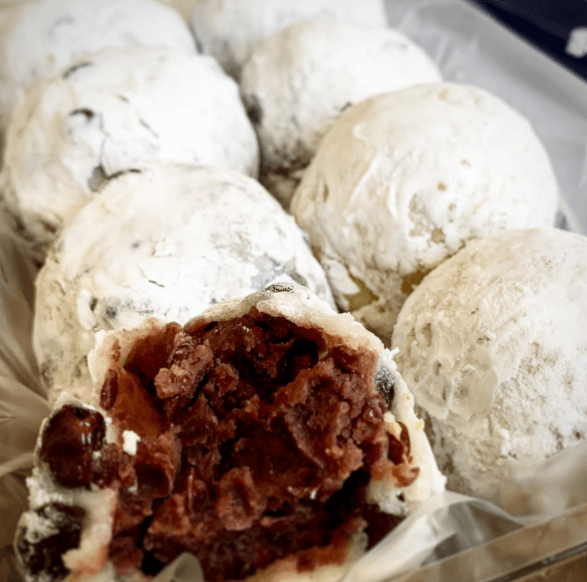 This place that Daifuku lovers praise as one of the exquisite Daifuku that you want to taste in Tokyo is "Matsushimaya". This soybean daifuku packed with red bean paste is irresistible for anko lovers, and you can enjoy its presence and weight. The bean paste used here is grainy, and even if it contains plenty of it, the sweetness is modest, and it has a reputation for being able to enjoy the flavor of the azuki beans as they are.
Gunrindo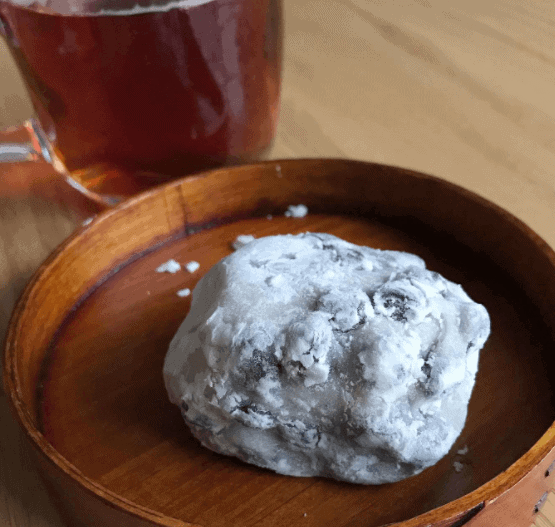 If you're in Daifuku, you can't miss this place. The store of the Tokyo brand Daifuku, which has a great reputation, is "Gunrindo Hon". GUNRINDOU's Daifuku, which expresses all the deliciousness is well-balanced with plenty of bean paste, soft rice cakes, and beans that accentuate the irresistible taste, and the sweetness and saltiness are exquisite. 
Conclusion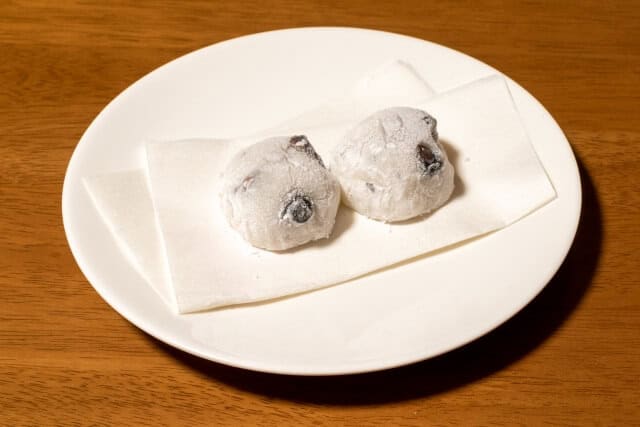 Sticky rice, also known as sticky rice, is a staple in Asian cuisine. Rice was ground into flour and used to produce a variety of cakes and pastries. Chinese have Hainanese E-bua, tortoise longevity cake, tang yuans, and other sticky rice flour cakes; Malay have kuih Koci, ondeh ondeh, and other glutinous rice flour cakes; and Japan has mochi and daifuku. There is one thing that all of these cakes have in common. Wrapped with sticky rice flour dough is a delectable filling. Mochi and Daifuku have always been a favorite of Japanese since it is soft, sweet, and slightly chewy.