What is Nabeyaki Ramen?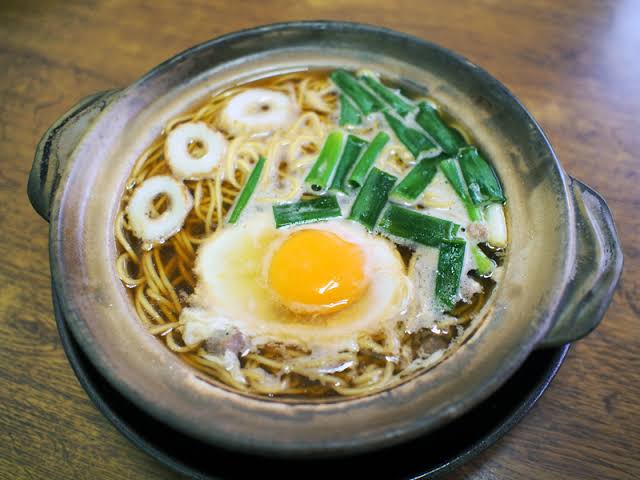 Nabeyaki Ramen is a local ramen of Sasuki City in Kochi Prefecture. It is a ramen dish made with chicken soup that is stewed in a traditional earthenware pot. Everyone can taste this specialty ramen in ramen stores of Sasuki. You can also buy a raw ramen in local supermarkets around Sasuki City. In addition, nabeyaki ramen is also sometimes referred to by other names such as Sasuki ramen or Sasuki-nabeyaki ramen. The broth for nabeyaki ramen is made on a chicken and shoyu (soy sauce) base which, overall, is lighter than other types of ramen.
Additionally, the ramen is characterized by its strong umami. Usually, the main ingredients are chicken, shallots, raw egg and fish cakes. The chicken meat in the dish often uses the parent chickens. The type of noodles are crunchy thin noodles, and the soup has a light taste of chicken and soy sauce which is usually serves in a boiling state.
Etymology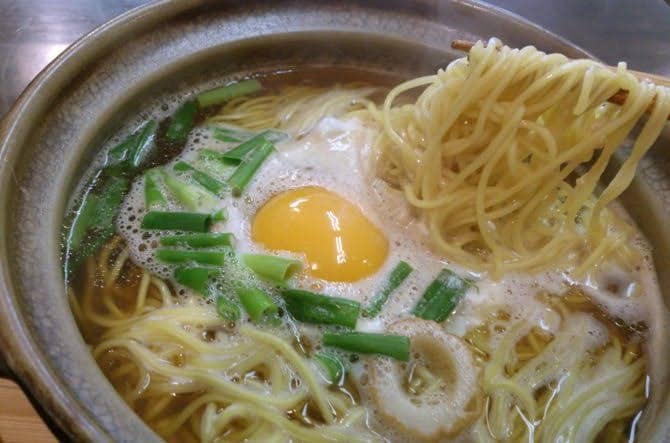 Nabeyaki Ramen in Japanese is 鍋焼きラーメン. In Japanese, a nabe is a heavy clay pot with a lid in which stew is usually made. Yaki means to cook over a fire. Basically, Nabeyaki is a Japanese word that means steamboat or hotpot. And ramen, as well known, is a noodle that is usually served in a broth with bits of meat and vegetables. Nabeyaki ramen is stewed in an earthen pot, so it can stay hot until the end.
What is the history of Nabeyaki Ramen?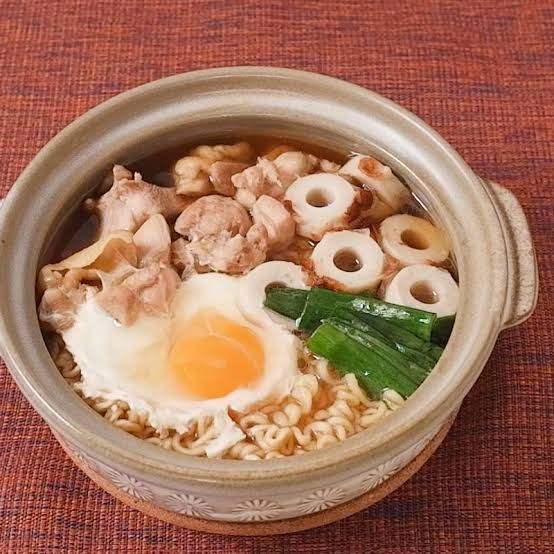 Nabeyaki Ramen has a long history. It was invented by Terracotta Taniguchi, the owner of Taniguchi Shokudo. The restaurant opened in Suzaki City immediately after the war. Originally, it was served in ordinary ramen bowls, but the owner used enamel pot instead of the rice bowl to keep the temperature warm during deliveries. At that time, it was called "Nabeyaki Chuka", and it was nicknamed "Nabechu" around the area. The price was about 60 yen, and it became popular as a meal after a public bath. Additionally, it was also open until late at night, making it a hangout for young people.
During that time, there was a chicken shop in front of Taniguchi Shokudo that started using parent chicken, that is why the ramen is characterized by the meat of the parent chicken, and used as ingredients. In 1980, the store was closed due to the death of the owner and absence of a successor.
In 2002, volunteers from the Chamber of Commerce and Industry and the City Hall raised their hands to launch "Nabeyaki Project X" with the aim of "let's sell it as a specialty of Suzaki!". Nowadays, raw ramen is sold at supermarkets in Suzaki City, and online shopping are also born.
What are the toppings and soup included?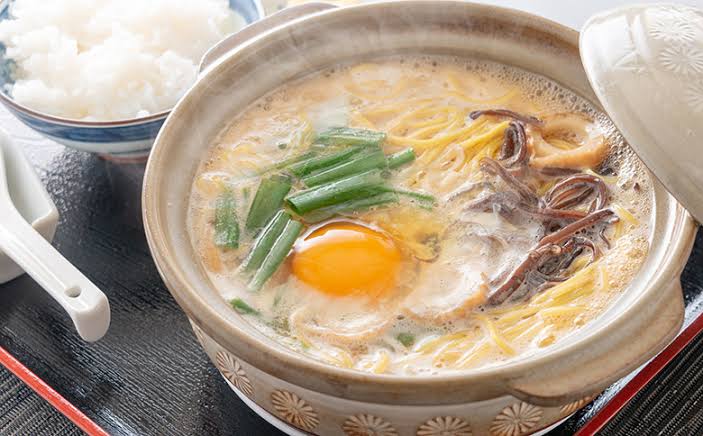 This ramen was born after the war. Therefore, it's difficult to obtain foods and so are the ingredients. Green onions and eggs are easy to gather at that time and the soup was basically made by stewing chicken and vegetables. Toppings are usually the parent chicken meat, green onions, raw eggs, chikuwa or Japanese fish care which is considered the ingredients that easily can obtain.
What are the main ingredients?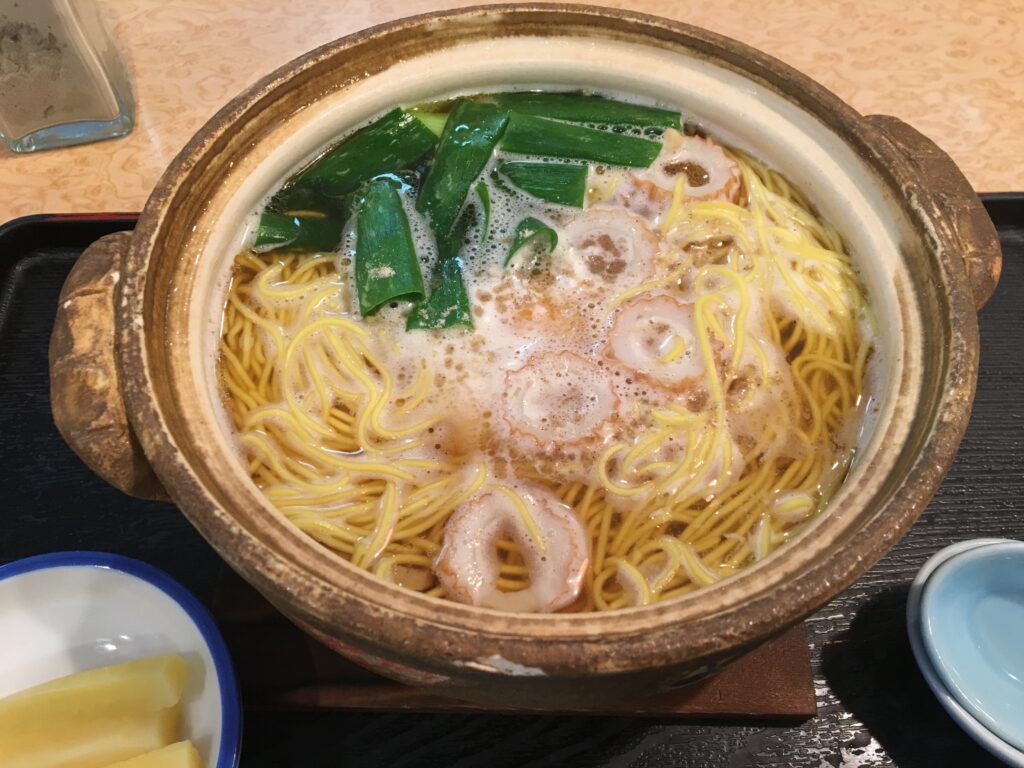 | | |
| --- | --- |
| Ingredients: | |
| Instant Noodles | 1 bag |
| Chicken Thighs | 100 g |
| Chikuwa (Japanese Fish Cake) | 40 g |
| Green Onions | 1/2 |
| Hot water | 500 ml |
| Sake | 2 tbsp |
| Soy Sauce | 1 tbsp |
| Mirin | 1 tbsp |
| Chicken Soup Stock: | 1 tsp |
| Egg (medium size) | 1 pc |
The recipe of Nabeyaki Ramen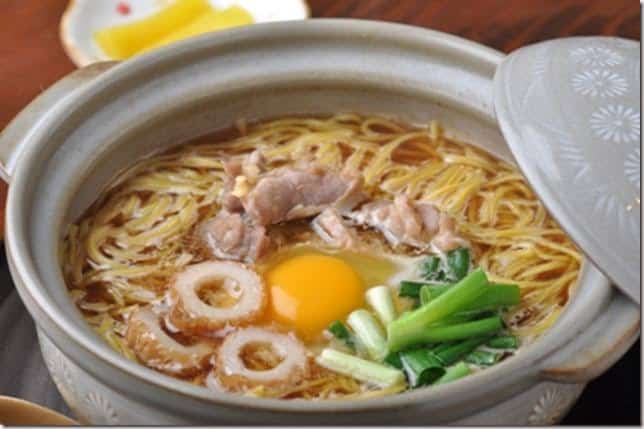 Preparation of ingredients
Firstly, cut off the roots of green onion, cut it into 4cm width. Next to cut is the Chikuwa or Japanese Fish Cake into 1cm width, and also cut the chicken thigh into bite-size pieces.
Mix and boil
In an earthenware pot, add hot water and then add the sake, soy sauce, mirin, and chicken stock. Heat over medium heat and then boil the chicken thigh for about 4 minutes.
Add the vegetables
When the chicken thighs are cooked, put the instant noodles, green onions and then add the egg. Boil it as written on the package. After the noodles are boiled, remove them from heat when they are complete.
Serve and enjoy!
Don't forget to share your
What are the recommended stores?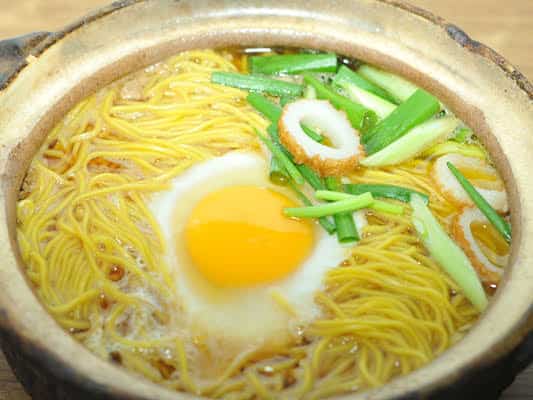 Hashimoto Shokudo
This is a popular and well-known Nabeyaki specialty store that represents Susaki's famous Nebayaki ramen. The soup base has soy sauce and they are famous for their own original, chewy, thin straight noodles.
Mayumi's Shop
This store has the particular same taste as Taniguchi Shokudo which is said to be the originator of the ramen. It is one of the most popular store that has strong taste so this is perfect for those who like a solid seasoning.
Kiraku
The Kiraku restaurant is famous for it's Susaki's Nabeyaki Ramen. There are also crab sukiyaki and lobster dishes during winter. There are bowl dishes, tempura, and sushi as well. This store has a large space for any gatherings and the interior looks calming. It also has private rooms that is popular place for team lunch out.
Susaki Station Square
This restaurant is about a 30-second walk from Susaki Station. The soup at this restaurant is an original soup made by slowly boiling several kinds of vegetables and fruits for 5 to 6 hours. This store is also popular for its light and rich soup. In addition, moray eel that is full of collagen is also popular in Nabeyaki Ramen since it adds beauty benefit.
Chiaki
It is located in front of JR Susaki Station. Chiaki is an old-fashioned coffee shop and it attracts the customer. Nabeyaki Ramen is one of the specialty here as well.
Conclusion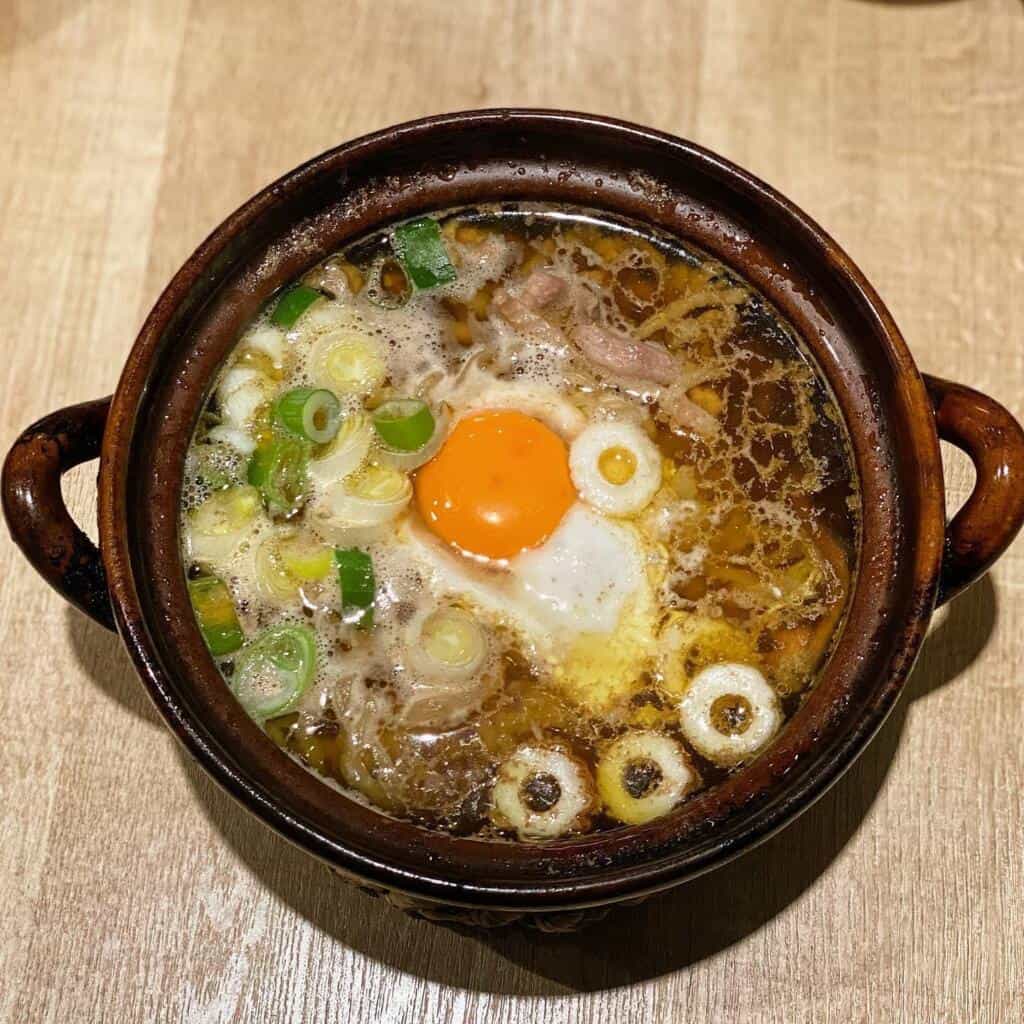 In conclusion, during old times since many people wish to eat "Nabenaka" of Taniguchi Shokudo, the number of shops that offer Nabeyaki Ramen has increased. The culture of Nabeyaki Ramen has been handed down to the present day. Nowadays, 36 restaurants serve this local ramen dish in Suzaki City. In addition, there are also other traditional dish in Kochi Prefecture called Katsuo which can be eaten daily. This local ramen has been the go-to food of people from Suzaki City most especially during cold weather season. By having it on an enamel bowl, it will give a continous warm to a person eating this dish. For this ramen, you can also add any toppings you like which makes it more tasty and exciting.
If you want to check the other varieties of ramen, click here for more!