Ramen is definitely one of the most popular dishes all over the world. It is so familiar to Japanese people that it not only appears in daily life but also in Japanese animation (anime) or drama. However, today we would like to introduce you a more interesting dish called "tsukemen" (つけ麺). Let's find out what it is, its history and what is the difference between the normal ramen/ soba and tsukemen!
What is Tsukemen?
If you notice, you can point out that "Tsukemen" (つけめん) and "Ramen" (らーめん)share the same word "men". In Japanese, "men" (麺) means noodles. However, way of eating it makes it so different from the normal noodles. Tsukemen (つけ麺) is a type of noodle that is eaten by dipping the noodles into a sauce. It is mainly considered as a type of ramen but in fact, depending on the restaurants and the noodles that are used, it can also be morisoba (もりそば) or tsukesoba (つけそば).
Because the word tsukemen (つけ麺) literally means dipping noodles so there is no fixed type of noodles used in this dish. If you make it at home, you can use it with your favourite noodles and dipping sauces. However, there are some points in making tsukemen that we will state below in this article.
Recommended types of noodles
Raw Chinese noodles TD (生中華麺 TD)
This type of noodles have a rich wheat flavour. The flour itself is a little hard, so it has a stiff texture that goes well with tsukemen. Beside tsukemen, you can also use it for mazesobe also.
Raw Chinese noodles MD (生中華麺MD)
The feature of this type of noodle is that it is thick and curly. In addition, it also have a chewy texture and often used for Jiro-style ramen, but it is also suitable for tsukemen.
Kuni 16S (国16S)
The Kuni 16S noodles is made from 100% Hokkaido wheat. It is characterized by its soft and chewy texture. Because of this, it is really popular in dishes such as tsukemen and mazesoba, in which you want to emphasize the firmness of the noodles.
Kunita (国太)
Just like Kuni 16S, Kunita's dough is also made from 100% Hokkaido wheat and have soft and chewy texture. The only difference from Kuni 16S is that you can choose the thickness of the noodles to your liking!
History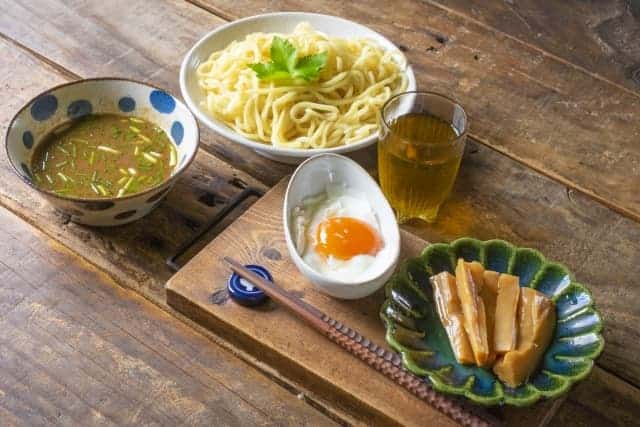 Origin of tsukemen
Masayasu Sakaguchi, after training at "Marunaga" and "Eiraku," launched "Taishoken" in Nakano, Tokyo with Kazuo Yamagishi, who was later called the "God of Ramen." In fact, "Tsukemen" was invented by Katsuji Aoki, the founder of "Marunaga," but during this time, it was considered as a side dish.
In 1955, Kazuo Yamagishi, who became the manager of Nakano Taishoken, first commercialized this special morisoba. When each restaurant developed its own unique recipe and served it as "Tsukesoba", this dish quickly became a popular product and a signature menu item for each restaurant.
After that, in 1961, Kazuo Yamagishi opened Taishoken in Ikebukuro. Taishoken turned out to be a popular restaurant with endless queues, leading the tsukemen boom.
Three generations of Tsukemen
The first generation of tsukemen represented by Taishoken with the sweet and sour dipping soup.
Meanwhile, tsukemen turned into a new era as soup from rich pork bones and seafood was popular in the 2000s. This was the second generation of tsukemen.
However, since then, there have been no major changes that would move the tsukemen industry. Until 2010, there was a new style introduced in the third generationTsukemen's series called "Aetsuke" (あえつけ). "Aetsuke" is a style in which the tsukemen noodles are topped with sauces and other ingredients. The meaning is "to mix and to dip", so that you can enjoy two flavors with one "aetsuke".
[How to eat "Aetsuke"]
(1) Immediately mix the noodles and the toppings.
(2) First, eat straight.
(3) Dip noodles in dipping sauce and eat it.
(4) Enjoy it in any way that you like.
How to eat Tsukemen?
Taste the noodles
Compared to ramen, tsukemen focuses on the noodles. Most of the tsukemen are thick noodles, but there are some restaurants that serve extra-thick noodles that are as thick as udon.
Therefore, it would be interesting for you to first taste the noodles to enjoy its texture and aroma. Let's see what is so distinctive about Japanese tsukemen!
Dip in the soup and eat!
Generally, tsukemen is served with cold noodles that have been soaked in cold water and a hot, thick soup. Just dip it in the soup and enjoy!
Tsukemen FAQ
What is Atsumori?

Tsukemen is generally a combination of cold noodles and hot soup. However, the soup will gradually become colder so whenever you want hot noodles, you can order atsumori (熱盛 or あつもり).

What is Soup Wari?

At a soba restaurant, you can ask the staff for a "soup wari" (soup split). Split soup is the leftover dipping sauce mixed with broth. By this way, you can enjoy the taste of the soup to the very last drop.

Depending on the shop, after you finish eating the noodles, you can order rice (atomeshi) to eat with the soup wari.
How to make Tsukemen?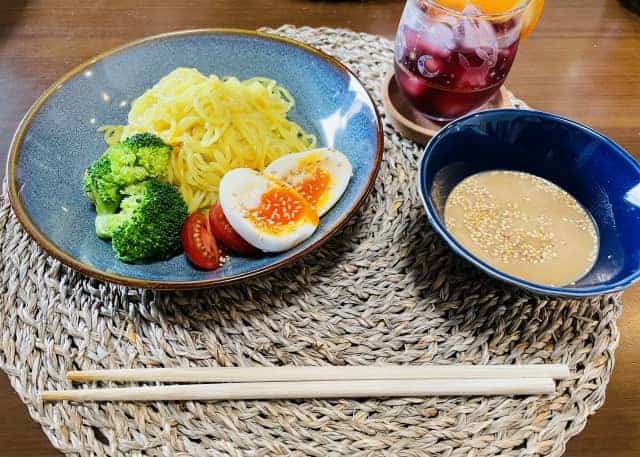 Ingredients
| Ingredients (for 2 servings) | Measurement |
| --- | --- |
| Chinese raw noodles | 2 balls |
| Thinly sliced pork belly | 100g |
| Green onion | 1/2 |
| White sesame | 1 tbsp |
| Sesame oil | 1/2 tbsp |
| (1) Soup | |
| Chicken broth | 1 tsp |
| Soy sauce | 1 and 1/2 tbsp |
| Grated ginger | 1 tsp |
| Grated garlic | 1/2 tsp |
| Water | 400cc |
| (2) Toppings | |
| Boiled eggs | 2 pieces |
| Menma | 40g |
| Nori | 5g |
How to make Tsukemen?
Preparing
Slice the green onion.
Cut the pork into bite-size pieces.
Boiling noodles
Boil water in a pot, add the Chinese noodles and boil following the cooking time written on the package.
After this, drain the noodles and soak them in cold water.
Making the broth
Heat the sesame oil in another pan, add the pork and fry over medium heat until the meat changes its color.
Add the green onions and fry until tender, then add the (1) ingredients and bring to a boil.
Serving
Pour the soup into a bowl and sprinkle with sesame. Place the boiled noodles and toppings in another bowl and enjoy the dish!
Restaurants
The charm of tsukemen is that every restaurants has its own recipe of dipping sauce to combine with the umami of noodles. Apart from making your own tsukemen at home, it is also recommended to try different restaurants to find out your favourite taste! Let's us recommend some well-known shops to put into your to-eat-list!
Menya Ittou (麺屋 一燈)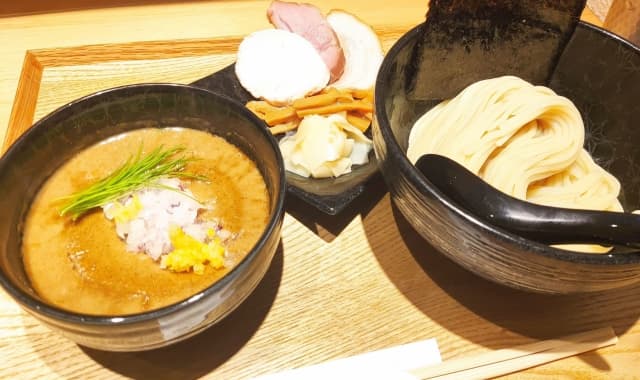 A popular ramen shop with long queues, located just one block from Heiwabashi-dori, about a 5-minute walk from Shin-Koiwa Station.
The restaurant has only 11 seats and the menu consists of tsukemen (tsukemen) and ramen (ramen). You can choose between the rich and the light taste. We recommend you try the "rich taste seafood tsukemen", which is a rich chicken soup made with 100% Tsukuba madder chicken and combine with seafood umami. If you like ramen, this is one of the best restaurants in East Side Tokyo that you should try at least once.
Marucho ChukaSoba (丸長中華そば)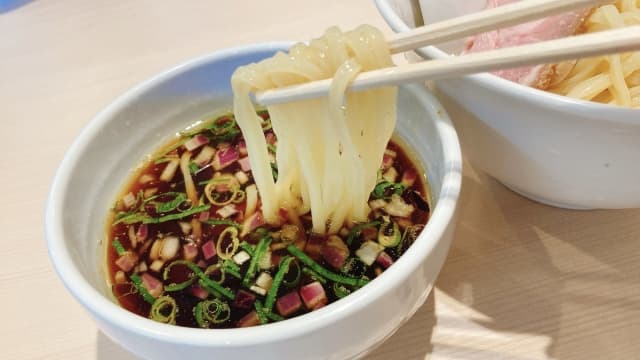 About a 2-minute walk from the South Exit of Ogikubo Station toward Minami Asagaya. This is the oldest ramen shop in Ogikubo. Established in 1947, this long-established store has historical value as the roots of today's Tokyo tsukemen.
"Tsukesoba" is a combination of soft and thick homemade noodles and a spicy dipping soup with the combination taste of spicy, sweet and sour taste. Thanks to the unique taste of broth, this restaurant is on the must-try ramen shop in Tokyo. However, it takes a long time to prepare the noodles so make sure you are not in a hurry when order here. 
Rokurinsha (六厘舎)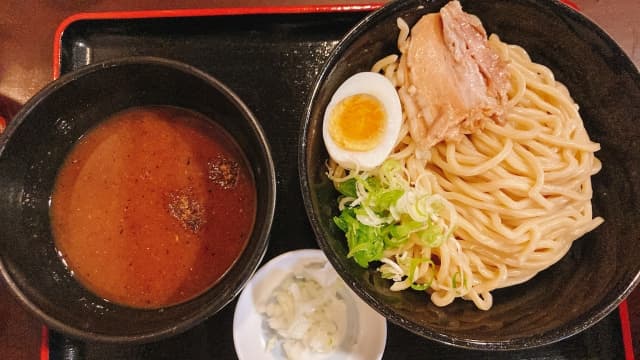 The Tokyo Station branch of Rokurinsha is popular for its custom-made extra-thick noodles. Among the ramen shops in Tokyo, it is particularly popular, and there is always a line in front of the shop. Therefore, whenever you decide to go to this restaurant, make sure to go when you have spare time.
The popular menu dish "Tsukemen" uses special thick noodles from Asakusa Kaikaro in a soup with a rich seafood flavour. After finishing the tsukemen, feel free to ask the staff for soup wari.
Seitoku (勢得)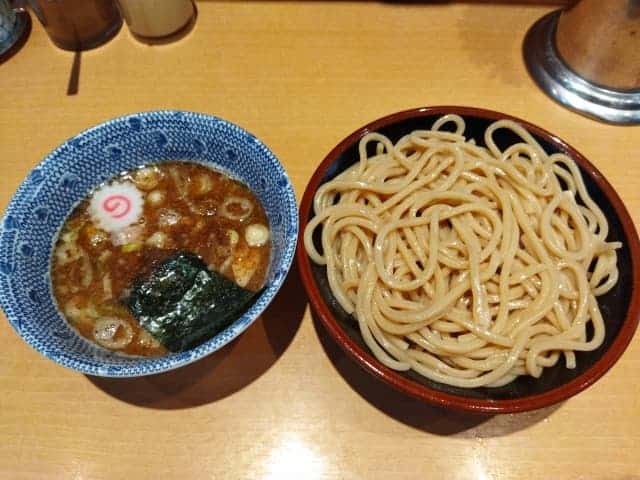 A tsukemen shop that is open only during the day, located along Setagaya-dori, right next to Tokyo University of Agriculture. The noodles here are medium-thick noodles made from flour. The dipping sauce is a combination of seafood stock and chicken bones stock. Tsukemen is really recommended item in this restaurant but if you want to try other dish, Seitoku also serves ramen.
Men Takahashi (麺 高はし)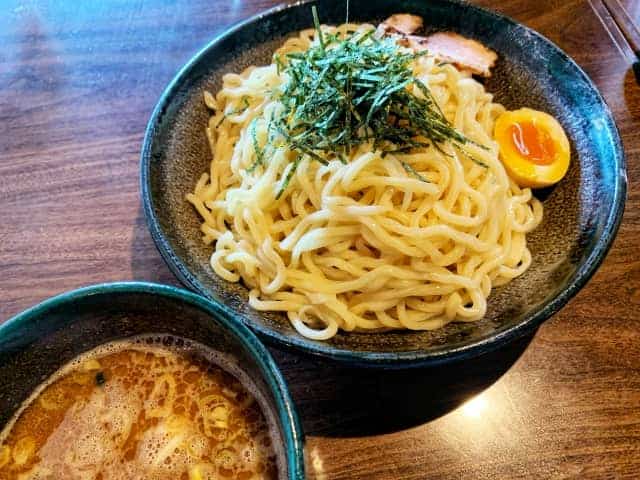 The shop is located about a 5-minute walk from JR Akabane Station. The tsukemen are especially popular, and there is a constant line of people waiting to get in. "Tsukesoba" is surprisingly priced at 600 yen for a bowl, but it achieves an exquisite balance of flavors. The dipping sauce is a well-balanced blend of seafood-based stock and animal-based stock such as chicken bones and pork bones. The chewy thick noodles go really well with this soup. In Men Takahashi, three bowls of onions are free so feel free to add it as toppings to your tsukemen.
Takeaway
Other than ramen or soba, tsukemen is also a must-try dish. With tsukemen, you can enjoy the chewy texture of noodles and the flavorful taste of broth made from seafood or chicken. The recipes are not too complicated so if you want to try to make it at home, follow our recipes. Otherwise, you can easily try tsukemen at some ramen or soba shops all around Japan.
If you are fan of Japanese noodles, check it out here!