In Japan, the combination of fish and rice has become very common but still plays a very important role in Japanese food culture. You may know and eat Tai (sea bream) sometimes. However, do you know what is the meaning of this fish to Japanese people? Today, we will introduce you about it as well as a celebratory dish called "Tai meshi" (鯛めし).
What is Tai meshi?
Definition of Tai meshi
Tai meshi (鯛めし) is a Japanese dish that combines tai (sea bream) and rice (めし). The two ingredients are representative foods that have been familiar to Japanese people since ancient times and there are plenty of dishes of them all over the country such as sushi or sashimi. Beside this, tai meshi is a suitable for celebratory meals but still easy to make at home and enjoy with family and friends.
Tai meshi is often known as local dish of Ehime prefecture. However, even in this prefecture, there are two types of Tai meshi called Hojo tai-meshi in Toyo (eastern Ehime) – Chuyo (central Ehime) and Uwajima tai-meshi in Nanyo (southern part of Ehime).
About Tai (sea bream)
Sea bream is a special fish for Japanese people. People found traces of this fish in Jomon period's ruins throughout Japan. After that, sea bream was used to contribute to the ancient court. In the Kamakura period, when the samurai came to power, the use of tai became more and more popular thanks to its good-looking appearance. Coming to the Muromachi period, Japanese people began to eat sea bream as a high-quality dish. All ancient documents such as "Kojiki", "Nihon Shoki", which are said to be "the oldest books in Japan" or literary works such as "Manyoshu", "Kokinshu" are said to have the appearance of this special fish.
 After the introduction of Buddhism and Confucianism, the custom of respecting the color red as a lucky color entered Japan. In some areas, it is even thought that they were objects of faith. A lot of factors has made it so popular among Japanese, one of it is the name of sea bream "tai" is somehow similar to the word "medetai" (happy) so people consider it as something that brings good luck.
Two types of tai-meshi in Ehime
As mentioned below, in this section, we would like to introduce more about the two types of sea bream rice. Let's see what are the differences between the two flavors unique only to Ehime!
Hojo tai-meshi (北条鯛めし)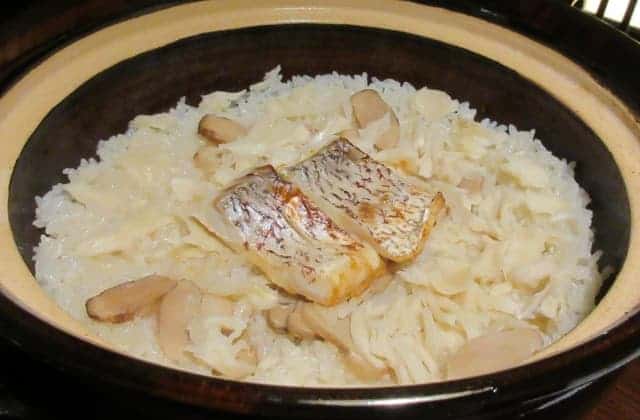 Features of Hojo sea bream rice
Hojo city (北条市) is a city located in the Chuyo (central) region of Ehime prefecture. On January 1, 2005, it was merged into the expanded city of Matsuyama City along with Nakajima-chou (Onsen district).
Since ancient times, Hojo tai-meshi has been popular as a local dish of Hojo city (modern Matsuyama city). The feature of the dish is that a whole grilled sea bream is cooked together with rice. To keep the fresh taste, before cooking, there is no need to fry the fish or add vegetables such burdock or carrots.
After slowly cooking in a pot, scrambled fish fillet will be mixed it together with cooked rice. Hojo tai-meshi can be found at stores in Hojo area, including long-established restaurants with a history of over 150 years.
Origin
Empress Jingu (Jingū-kōgō), on her way to leave for campaign in Korea, she stopped at Kashima and prayed to the Kashima Myojin shrine for victory in battle. The fishermen of Kazehayaura offered her fresh sea bream caught in the nearby waters. The Empress gladly accepted it as a good omen, and when she cooked rice and placed sea bream on top, she was very surprised by the good taste of it.
This is said to be the origin of Hojo tai-meshi, which is a specialty of the Hojo area. Therefore, in Hojo, this food is also a special dish served on celebrations like New Year's Eve.
Uwajima Taimeshi (宇和島鯛めし)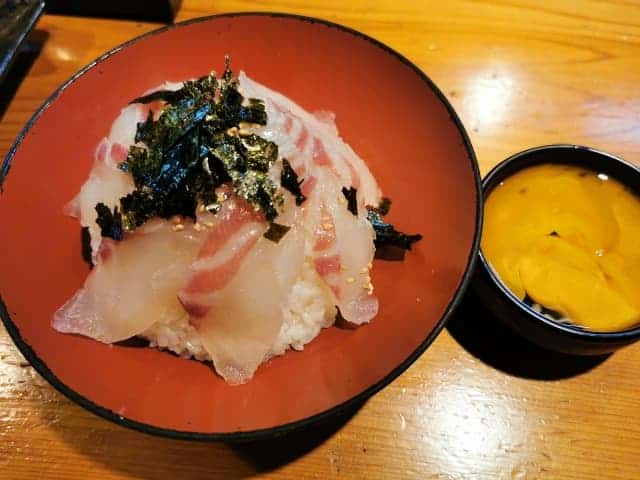 Feature of Uwajima sea bream rice
In Nanyo (southern) region which is centered on Uwajima city, sea bream in sashimi form is served with steamed rice along with special sauce, raw egg and condiments. This dish has become signature of Nanyo region and popular with the name Uwajima tai-meshi. In southern part (Nanyo) of Ehime prefecture, there is a dish called hyuga-meshi (ひゅうが飯) which is seasoned sashimi served on rice while tai-meshi is the version of sea bream fish in form of sashimi.
Origin
The origin of Uwajima Taimeshi is a dish called Kaizokumeshi (pirate's rice) or ryoushi meshi (fishermen's food) that was often eaten by the Iyo naval forces who were active mainly on Hiburi island from the period of Nothern and Southern Dynasties to the Edo period.
If you find this dish interesting, click here for more information.
How to make Taimeshi?
Recipe
| | |
| --- | --- |
| Ingredients | (5-6 servings) |
| Sea bream | 1 |
| | |
| Konbu | 10×5 cm |
| | |
| Water | 480cc |
| | |
| Soy sauce | 3 tbsp |
| | |
| Mirin | 1 tbsp |
How to make the delicious Taimeshi
How to make Hojo sea bream rice
Preparing the rice and soup stock
Put 480cc of water and kombu seaweed in an earthenware pot and leave it there for about 30 minutes.
Put the rice in a colander and also leave it for about 30 minutes.
Preparing sea bream
Sprinkle salt all over the fish and let it sit for about 10 minutes.
After 10 minutes, wipe off the moisture with kitchen paper.
Cut the ginger into strips.
★ Remember to remove the guts, scales and gills from the sea bream. If you find it difficult for you to do by yourself, you should ask the fisher to do it for you at the fish market.
Cooking the rice

Take out the kelp from the earthenware pot and add soy sauce, sake, and mirin.
Put the rice into the earthernware pot, rehydrate the kelp, and place the sea bream on top.
Sprinkle with ginger, cover with a lid and cook.
Place the pot on the stove under medium heat. When it comes to a boil, reduce the heat to low and cook for about 12 minutes. Then turn off the stove and let it steam for 10 minutes.
Check if the rice boils after 10 minutes.
Serving
Take out the kelp and remove the fish's bones.
Mix and sprinkle green onions.
Ready to serve! Itadakimasu!
SOME TIPS FOR A DELICIOUS DISH
The amount of water should be 480cc. This amount of water will go well with the seasonings as the fish sea bream itself have some water inside it.
Restaurants
Marumizu (丸水)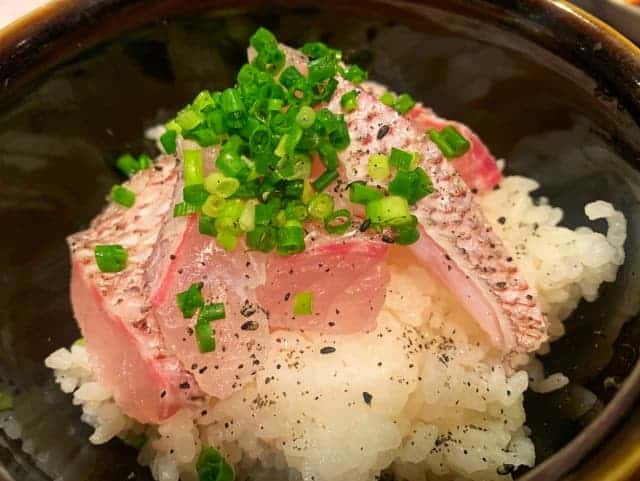 This is a long-established famous restaurant of Uwajima tai-meshi in Ehime. There is a line waiting in front of the restaurant during dinner time, but Uwajima sea bream rice is like Ehime's fast food. The cooking time is fast, and it doesn't take long to finish eating, so even if you line up, you can enter the store without waiting too long.
All the dishes here are very impressive with the fresh taste and well-seasoning sauce. Beside the tai-meshi, there are also local Ehime sake so make sure to try the excellent taimeshi dish with the local wine!
Akika (秋嘉)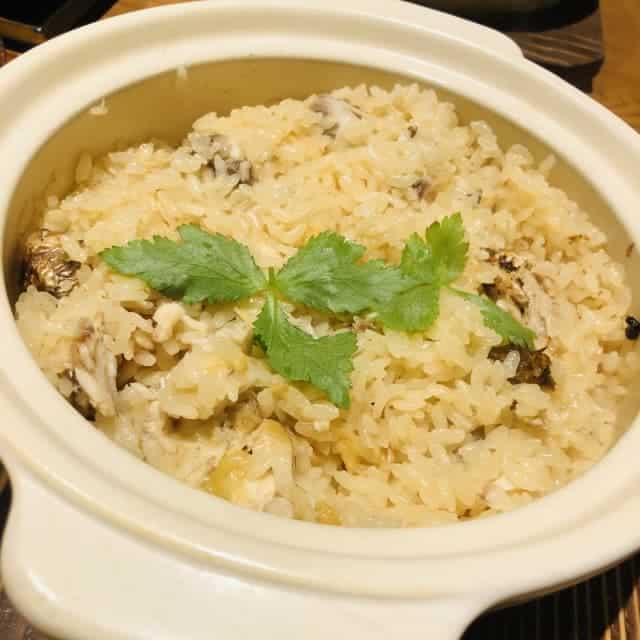 This is also a famous taimeshi restaurant in Matsuyama city. The signature menu of the store is "Matsuyama taimeshi rice", along with uwajima tai-meshi and tai-meshi somen. The features of this restaurant are that you can enjoy set meal with tempura and sashimi using local cuisine and seasonal vegetables. Hurry up and try their amazing dishes! Details are as below:
Takeaway
Tai (sea bream) has long placed an importan role in Japanese culture, including food culture. It appears in so many popular dishes such as sushi, sashimi, etc but if you want to try anything different, what about Tai-meshi, a local specialty of Ehime prefecture. In Japan, people often eat this dish in celebration such as New Year's Eve with the belief that it can bring good luck. The interesting thing is that even in Ehime prefecture, you can find two different styles of this dish: Hojo sea bream rice and Uwajima sea bream rice. Even if you do not have a chance to eat the original taste in Ehime, what about trying our recipe at home?! Let's go and send us our result!
There are so many more Japanese rice dishes. Click here to find out!