Traditional Japanese cuisine (or Washoku) is nowadays popular all over the world for both its appealing presentation and delightful subtle flavors. As rice is the staple food of Japan, it is not surprising that there are so many good Japanese rice dishes. Today, we would like to introduce Japanese version of chicken rice. Although chicken rice dish is not only eaten in Japan but also in Southeast Asia countries, there is a big difference between regions.
What is Japanese chicken rice?
Japanese chicken rice (チキンライス) is rice dish using chicken. It is considered to be one of the Western dishes that originated in Japan. Basic ingredients of Japanese-style chicken rice consist of chicken, onions, mushrooms, rice and ketchup (tomato sauce).
One of the typical images of this dish is a plate of chicken rice for kids with a small decorative flag on top. In addition, if you top the fried rice with egg, it becomes "omelette rice".
Introduce other countries' chicken rice
Chicken rice is a common rice dish in Asian area, especially Southeast Asia. In this section, we are going to talk about chicken rice in different countries. Despite sharing the same name, each country's dish has its own characteristics and taste.
Thai chicken rice (khao man gai)
In Thailand, chicken rice is called khao man gai (ข้าวมันไก่). In Thai version, first you need to boil the chicken and then leave it to cool down. Then, for the authentic recipe, fry garlic using the chicken fat oil from chicken skin until it turns into nice brown toasted color. Whenever you order a plate of khao man gai in Thailand, you will be served with a plain chicken soup. The tao chi sauce is believed to be the key point of the dish. It is based on Chinese miso made from fermented soybeans and contains soy sauce, garlic, ginger, and red pepper. 
Singapore style chicken rice
Singapore's chicken rice is said to be a dish that people from Hainan Island in China brought along with their immigration. It has the same roots as Malaysian Chinese chicken rice and is basically the same dish. However, Singaporeans emphasize the tenderness of the chicken when it comes to chicken rice.
For the sauce, Singapore has three sauces : sweet soy sauce, grated ginger, and refreshing red pepper. Sweet soy sauce is served on rice while ginger and chili sauce is poured over chicken.
Nasi Ayam
Nasi Ayam is the traditional fried rice of Indonesian, which is similar to Singapore chicken rice and also has the same name as Malay, which is linguistically close. In Indonesia, the two basic types of sauces (ginger and chili sauce) are the same as Singapore and Malaysia. However, each restaurant has its own recipe to make the sauce.
History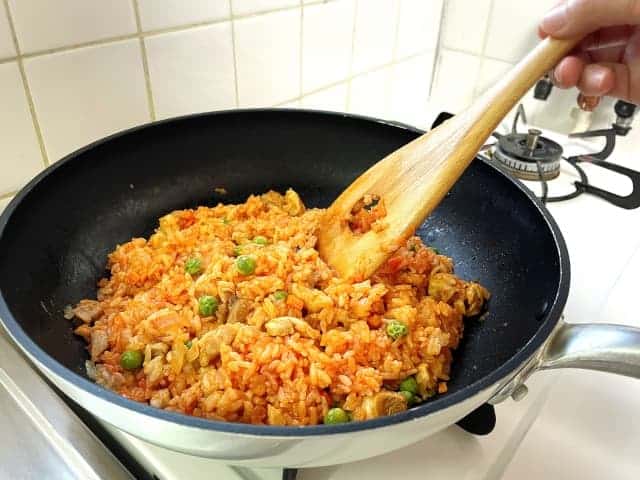 The origin of chicken rice
Chicken rice with ketchup is a Western-style dish that originated in Japan. It's a fried rice dish made by stir-frying chicken and other ingredients and seasoning it with tomato ketchup. Other ingredients include onions, mushrooms, carrots, and green peas. As chicken rice is considered to be a simple dish, some people may think it has a quite long history. However, suprisingly, Japanese chicken rice is not that "old". Ketchup, which is indispensable for chicken rice, was first sold in Japan in 1908. In other words, chicken rice did not exist until then.
Tomatoes have a long history, but they were originally for ornamental purposes. It wasn't until the Showa period that tomato cultivation became popular. Therefore, it is presumed that there were no dishes using tomato sauce, or even if there were, they were not common at that time.The first rice dish using chicken seems to be stewed chicken over rice, which is nothing like Japanese chicken rice.
The history of ham in Japan
Before chicken, ham was the main ingredient in fried rice. Therefore, let's talk about the history of ham as it also affects Japanese chicken rice.
In 1863, shortly after Yokohama port opened, William Curtis arrived at Yokohama (Japan) as a sailor. On his arrival, he brough ham as well as Western vegetables to Japan. Ham manufacturing factories gradually appeared in Kamakura (Yokohama) and even up until now, this place is still famous for its "Kamakura Ham". After the birth of ham manufacturers in Kamakura, a lot of ham dishes such as "Ham Sandwich" or "Roasted Ham" appeared and became a hit.
In 1909, Kagome launched tomato ketchup. When ketchup hit the market, the ham rice boom first occurred. "Ham rice" is stir-fried chopped ham and rice, seasoned with soy sauce, salt and pepper.
The replacement of ham
It was around 1924, ham was replaced by chicken and appeared in western restaurants. It became popular in the early Showa period. By that time, ketchup had spread to ordinary households. Even so, it must have been difficult for ordinary people to afford it because it was too expensive during that time. Time has changed and now ketchup is available and affordable for everyone. Therefore, Japanese rice chicken turns into a familiar dish to every Japanese.
Japanese chicken rice FAQ
What is the difference between Japanese chicken rice and other countries' chicken rice?

The sauce is the key point to determine the difference between these dishes. Japanese use tomoto ketchup; other countries like Singapore, Malaysia, Indonesia use grated ginger, chili sauce, etc. In addition, Japanese chicken rice is believed to be Western dish originated in Japan while southeast asia seems to be affected by Hainanese chicken rice.

Why does Japanese chicken rice has different name "ketchup chicken rice"?

As ketchup is the main ingredient to make this Japanese-style dish, it also has the name "ketchup chicken rice". This name is really common among Japanese and is useful to differentiate between Japanese chicken rice and southeast asian rice.
How to make Japanese chicken rice?
Ingredients
| | |
| --- | --- |
| Ingredients (for 4-5 servings) | Amount |
| Rice | 2 go |
| Chicken thigh | 150g |
| Onion | 1/4 (about 50g) |
| Carrot | 1/4 (about 50g) |
| Green pepper | 1 piece |
| Corn | 50g |
| Granule consommé | 5g (2 tsp) |
| [A] Ketchup | 6 tbsp |
| [A] Chuno sauce | 1 tbsp |
| [A] Sake | 1 tbsp |
| [A] Grated garlic | 1 tsp |
| Butter | 10g |
| Water | moderate amount |
Method
Prepare the ingredients
Rice
Soak the rice in water for 30 minutes to 1 hour and then strain it.
Chicken thighs
Cut chicken thighs into bite-sized pieces.
Vegetables
Cut onions, carrots and green peppers into cubes.
Make the sauce
Mix [A] in advance to make the sauce.
Add rice and prepared ingredients
Put rice in the prepared pot, add water to the 2-go mark. Add onsommé granules and [A] sauce, chicken thighs, prepared onions, carrots, green peppers and corn.
Cook in the rice cooker
Place [Step 3] in the rice cooker and cook.
Serve
After cooking, add butter, stir lightly, and serve on a plate to enjoy the dish!
Cooking points
・In step 3, remember not to mix the ingredients with the rice, just put them on top. If you mix them here, the rice can be raw.
・If it is undercooked, take out half the amount in a frying pan, add a small amount of water and cover with a lid, and boil over low heat.
・You can garnish it with powdered cheese or top with an egg to make it an omelette rice.
Restaurants
Botan (ぼたん)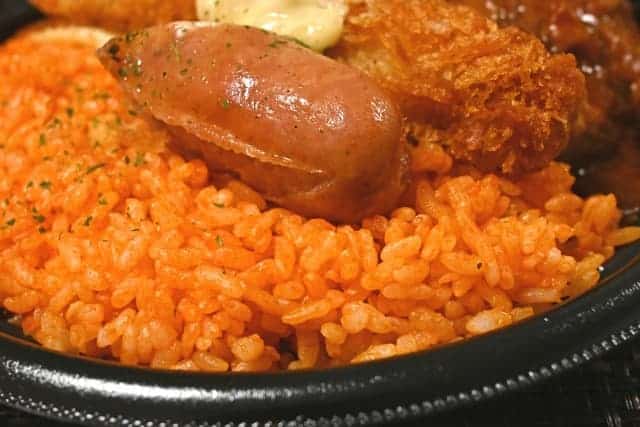 Botan is a long-established Chinese restaurant in Asakusa and has been in business since 1948. It is long famous for chicken rice dish wih beautiful dome shape and orange color thanks to ketchup sauce. Other than this, you can also try other rice dishes such as chahan, omurice or katsudon, etc.
Gensen Youshoku Sakurai (厳選洋食さくらい )
Gensen Youshoku Sakurai is a Western-style restaurant with popular dishes such as omelette rice and hamburg steak, and of course ketchup fried rice. This restaurant is also a perfect place for buying souvenir or presents with the beautiful cutlet sandwich.
Center Grill (センターグリル)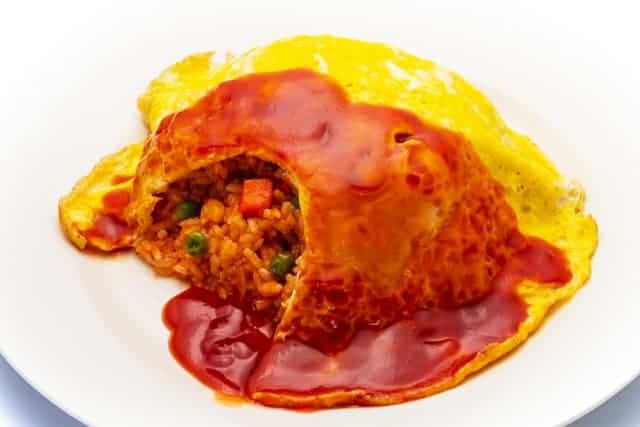 If you have a chance to Yokohama (Kanagawa), we recommend you this long-established Wetern restaurant – Center Grill. As well as nostalgic Yokohama style ketchup rice or omelette rice, you can also choose 2-hour nomihoudai drink course (or all-you-can-drink course). Let's note in your bucket list!
Takeaway
Japan is popular with a lot of rice dishes such as onigiri, sushi, etc. Howevere, Japanese cuisine is attractive not only for these dishes but also lesser known yet appealing dishes such ketchup chicken rice. The dish brings nostalgic vibe to many Japanese and is considered to be a household dish. Therefore, it is not too complicated so you can easily try to cook it at home following our recipe. Do you have chicken rice dish in your country? Let's try this Japanese version and compare the differences!
Find out more appealing recipes for Japanese rice dish below!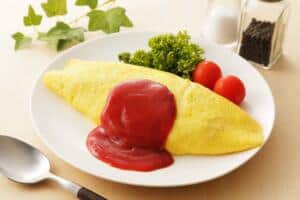 Omu Rice (オムライス)
If you're a fan of anime or manga, you've seen Omu Rice for sure! In fact, it may be one of the most used Japanese food in them. Even food vlogs (video blogs…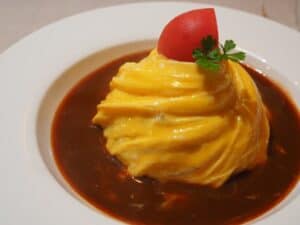 Dressed Omu-rice (ドレスドオムライス)
As the rice-centered food culture, food made from rice plays an important role in Japanese cuisine as well as Japanese traditions. In Japanese, "gohan" or "m…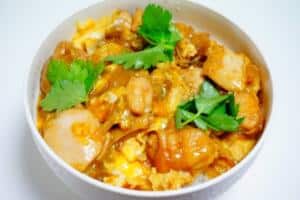 Oyako don (親子丼)
Do you know that there is a dish in Japan called Oyako Don (Parent and Child Rice)? This dish is familiar and is a classic comfort food to every Japanese. It…