What's better than putting sakura and mochi together? Sakura Mochi is a Japanese dessert that's usually available during the spring season. Read further to know more about this delicious and eye-catching confection.
What is Sakura Mochi?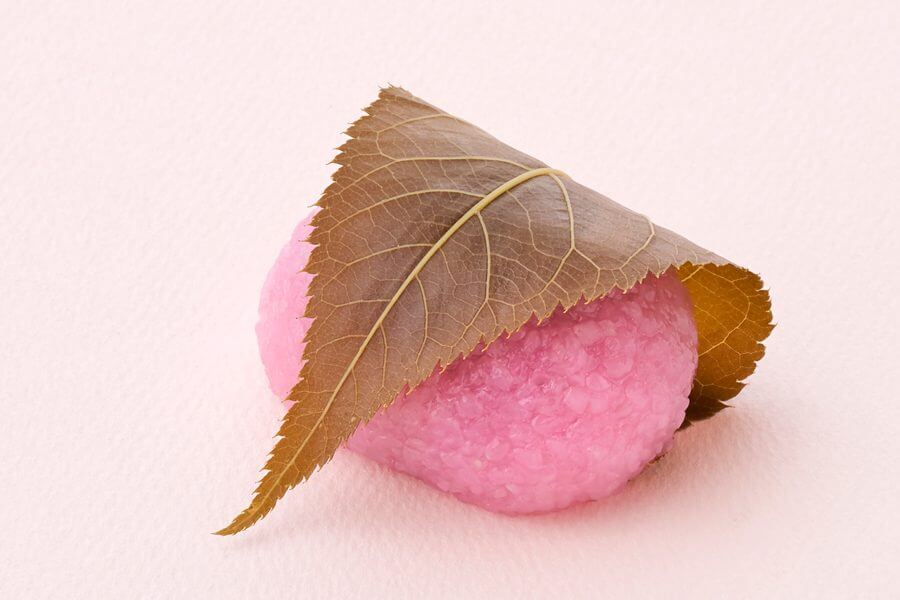 Sakura Mochi is a favorite local dessert in Japan. It's a kind of "wagashi" that is famous for its cute appearance. Most of the time, locals pair it with green tea. Moreover, the sweetness of the mochi blends well with the earthy flavor of the tea.
This dessert is a pink rice cake that has "Anko" (red bean paste) filling. Then, they would wrap this cute mochi with salted cherry blossom leaves after. Some people would eat the leaf, while some would not. Of course, it depends on one's preference.
What is Sakura?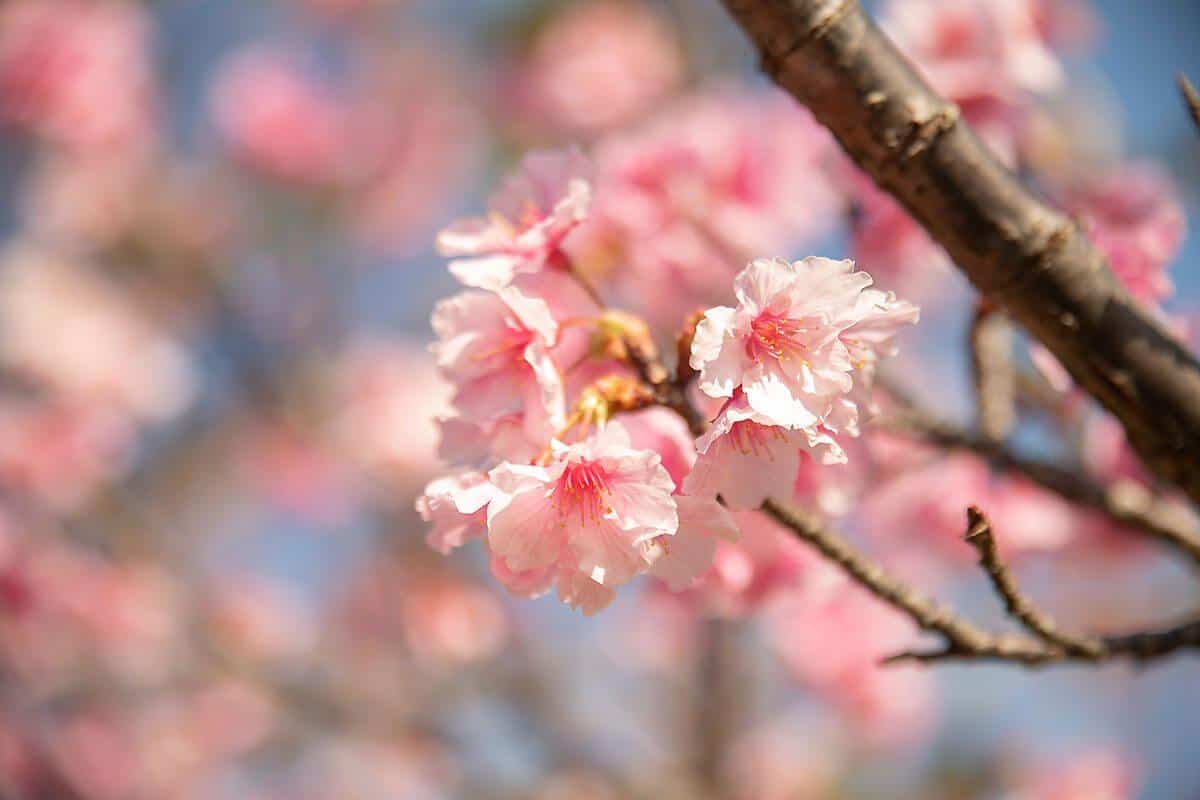 The name "Sakura" comes from Japan's most famous flower — cherry blossoms. Some say that cherry blossom is the national flower of the country. However, some are disputing this claim. A lot of people are saying that the chrysanthemum is the correct national flower of Japan. Nevertheless, one cannot deny that Sakura is famous worldwide.
Cherry blossoms are in full bloom during springtime. Its petals are pale pink, which is a delight to the eyes. No wonder why locals gather for the "hanami" or the traditional cherry blossom viewing.
The scent of Sakura is soft. It gives off a sheer and rose-like smell in particular. Seeing and smelling the flowers is euphoric, especially to first-timers.
Mochi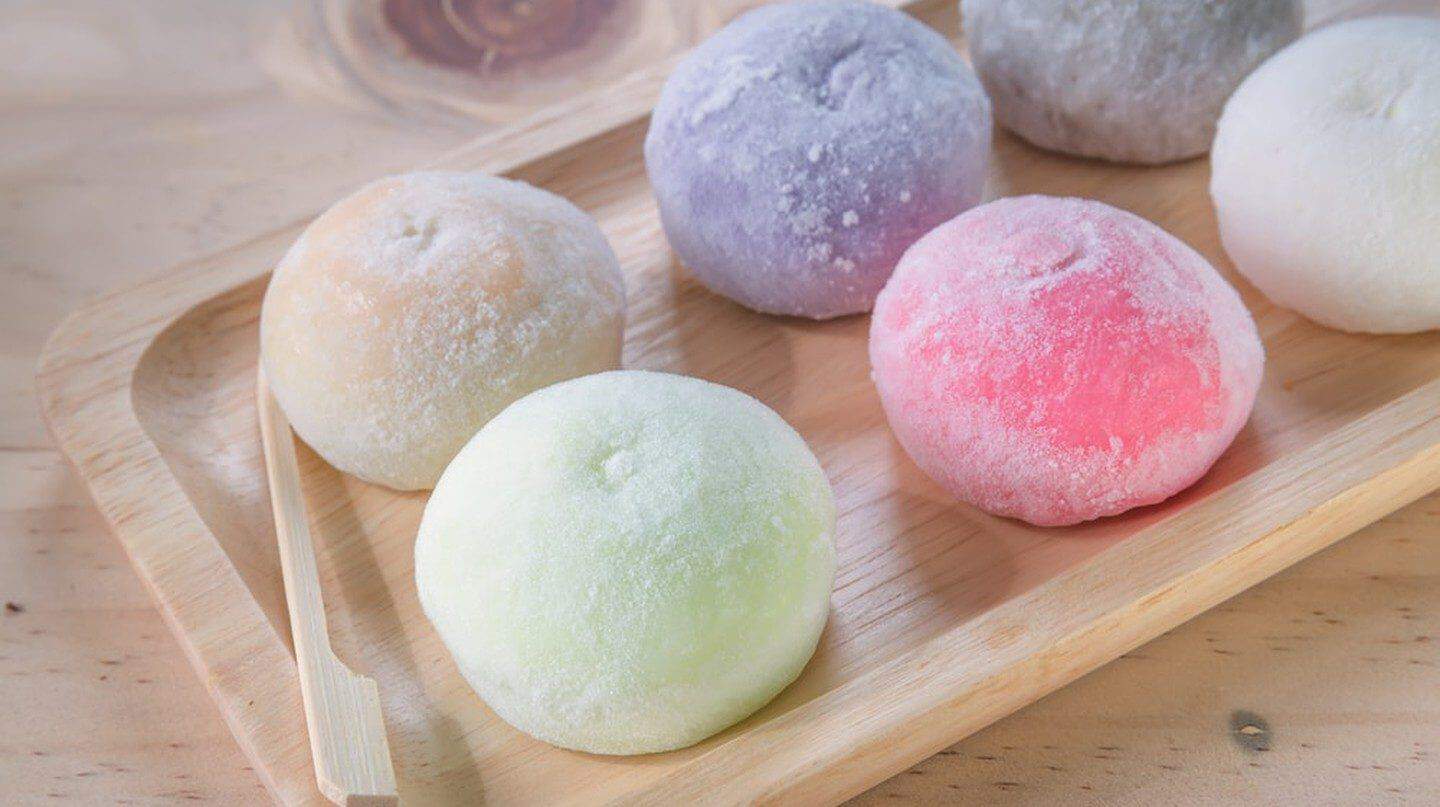 Mochi is a type of Japanese wagashi. Glutinous flour is the main ingredient of this Japanese confection. Thus, mochi is not only sticky, but it's also chewy.
Usually, mochi is round and cute. It also comes in different colors and flavors. Supermarkets and convenience stores have a variety of mochi available. On the other hand, traditional stores and vendors still sell freshly-made mochi.
Some examples of mochi are as follows.
How did Sakura Mochi start?
The origin of Sakura Mochi dates back three hundred years (300 years) ago. According to the theory, a gatekeeper of Chomeiji Temple thought of a way to put Sakura leaves to use. For him, it is such a waste to throw the leaves out. He then decided to gather the leaves. After that, he preserved it in saltwater. Eventually, the gatekeeper used the leaves to wrap mochi. It was a hit after then.
What are the two types of Sakura Mochi?
There are two distinct types of Sakura Mochi. The first one is the Kanto style. At the same time, the second one is Kansai style. One differs from the other, but it carries the same name.
Kanto Style (Chomeiji)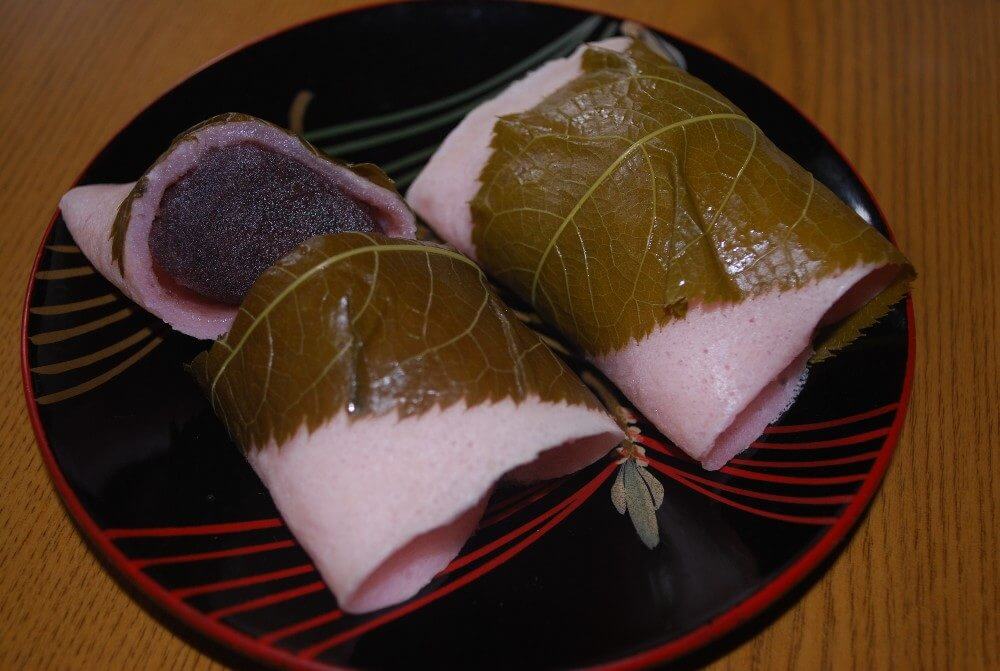 Unlike the usual, Kanto style Sakura Mochi steers away from it. Instead of the customary rice cake balls, it's in a crepe form. It still has the red bean paste filling and the cherry blossom leaf wrap. This variant is available in wagashi stores in Kyoto.
Kansai Style (Domyoji)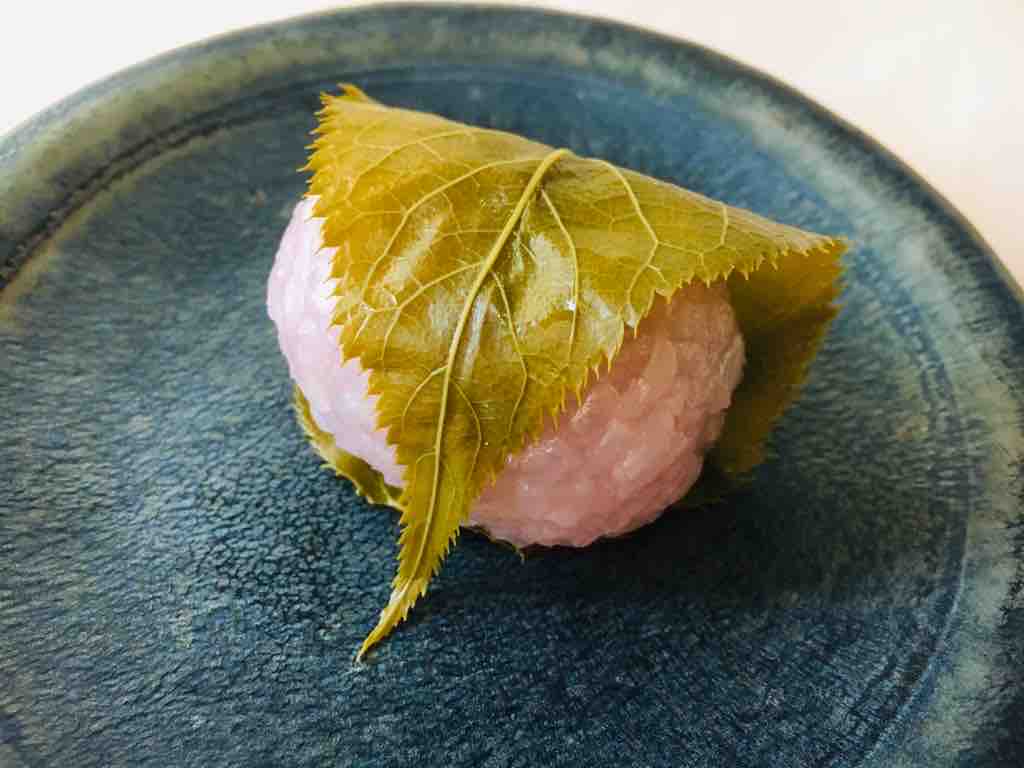 Contrary to the first one, Kansai style is the traditional form of Sakura Mochi. It's the typically steamed mochi shaped into balls. Also, it is softer and chewier than Kanto style. Of course, it's available in many stores in the Kansai Region.
Sakura Mochi Recipe
Without a doubt, making this dessert is fast and easy! Not only that it's a piece of cake, but the tools are also readily available in your kitchen! Since there are still travel restrictions, you might want to make your own in the comfort of your home. There are two types of Sakura Mochi; hence, there are also two ways to create it.
How to make Chomeiji?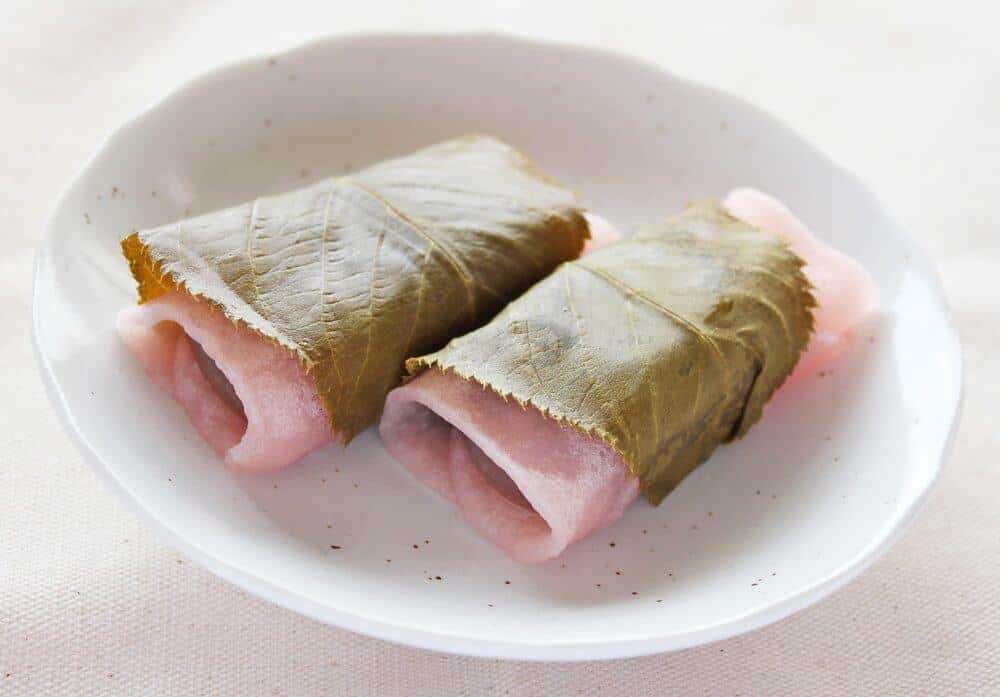 | | |
| --- | --- |
| Chomeiji ingredients for 6 people | |
| Shiratamako | 10 g |
| salted cherry leaves | 6 pieces |
| cake flour | 50 g |
| sugar | 1 tbsp |
| water | 70 ml |
| red food coloring | a drop |
| red bean paste | 120 g |
| oil | a drizzle |
Mixing the batter
Before anything else, combine all dry ingredients first. Mix Shiratamako, cake flour, sugar, and salt. Then, add water gradually while whisking. Smoothen the batter to ensure that there are no lumps.
Cooking crepes
Get a non-stick frying pan, and heat a small amount of oil. When it's hot enough, pour crepe batter in an oval shape. Cook in low heat.
Next, flip the crepes after one to two minutes and let them cook. Take the crepes out of the frying pan and let them cool down.
Put a small amount of red bean paste, and wrap it. To conclude the process, wrap it with salted cherry blossom leaf and begin plating.
How to cook Domyoji?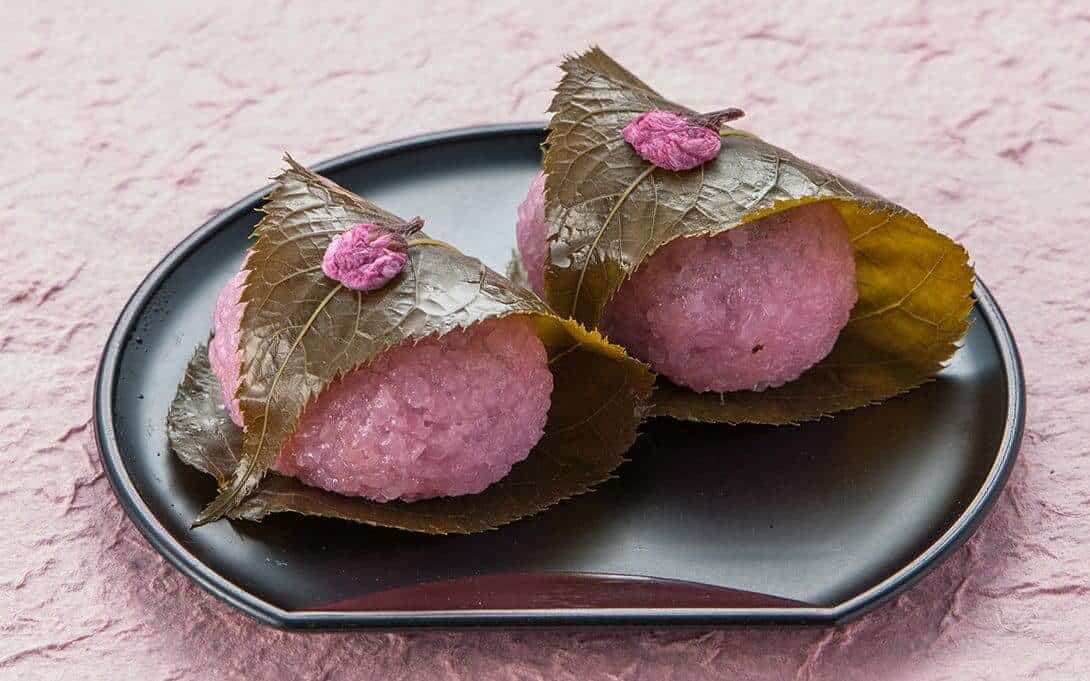 | | |
| --- | --- |
| Domyoji ingredients for 6 people | |
| Domyoji powder | 100 g |
| salt | a pinch |
| sugar | 2 tbsp |
| water | 150 ml |
| red food coloring | a drop |
| salted cherry leaves | 6 pieces |
| red bean paste | 120 g |
Preparing the leaves
First, prepare the pickled cherry blossom leaves. Rinse it well. If it's too salty, you may soak the leaves in clean water for at least thirty minutes.
Next, dry the leaves with paper towels. And lastly, remove the stalks using a pair of scissors.
Making the mochi
Combine Domyoji powder, salt, sugar, and water in a bowl. Then, add a small drop of food coloring. Make sure to mix it well to avoid lumps. Then, wrap it well before heating it in a microwave for two minutes. After two minutes, take it out and mix again. Place it in the microwave again, and heat for another two minutes and thirty seconds.
Next, divide the dough into six equal parts. While it's still warm, roll the dough into small balls. Finally, steam it for ten minutes.
Filling
Take the mochi balls out of the steamer and let them cool down for a few minutes. Then, stretch the dough a little before filling the center with "Anko". Make sure to leave the edges thinner to make it easier to shape into balls again.
Lastly, wrap it with salted sakura leaves to complete.
Why is Sakura Mochi associated with spring?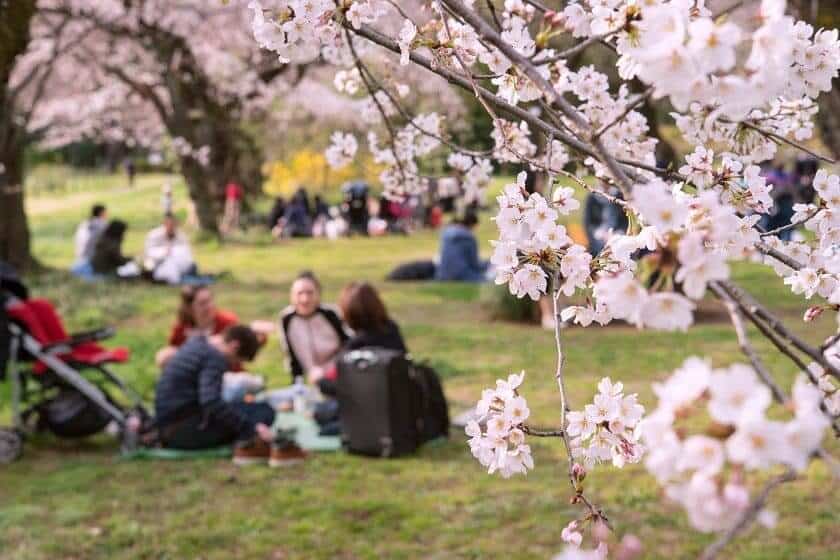 Since the color is similar to cherry blossoms, the dessert was quickly associated with spring. Moreover, locals eat various wagashi depending on the season.
In addition, confectionery shops would design their products according to the theme and season. For instance, they will serve Sakura Mochi in a way that would remind you of the actual flower.
It may be a simple dessert, but for many, it is special. It's because locals can "taste the memories of spring" with this famous dessert. Thus, it has become a tradition to many.
Is it healthy?
Since the main ingredient is "shiratamako", we can assume that Sakura Mochi is high in carbohydrates. Meanwhile, it is also gluten-free, so people with celiac disease can eat it without worrying.
Calories
It is about 200 to 250 kcal per piece. In this case, one piece is almost equal to one cup of rice. That is quite high considering the size of the dessert. Thus, moderation is the key to enjoy it.
Where to eat Sakura Mochi?
Many confection stores sell this during springtime. But, it is available in some shops all year round. Are you a fan of spring? Do you love cherry blossoms too? We've finally listed a few stores you can visit to have an authentic taste of this sweet delicacy.
Chomeiji Sakura Mochi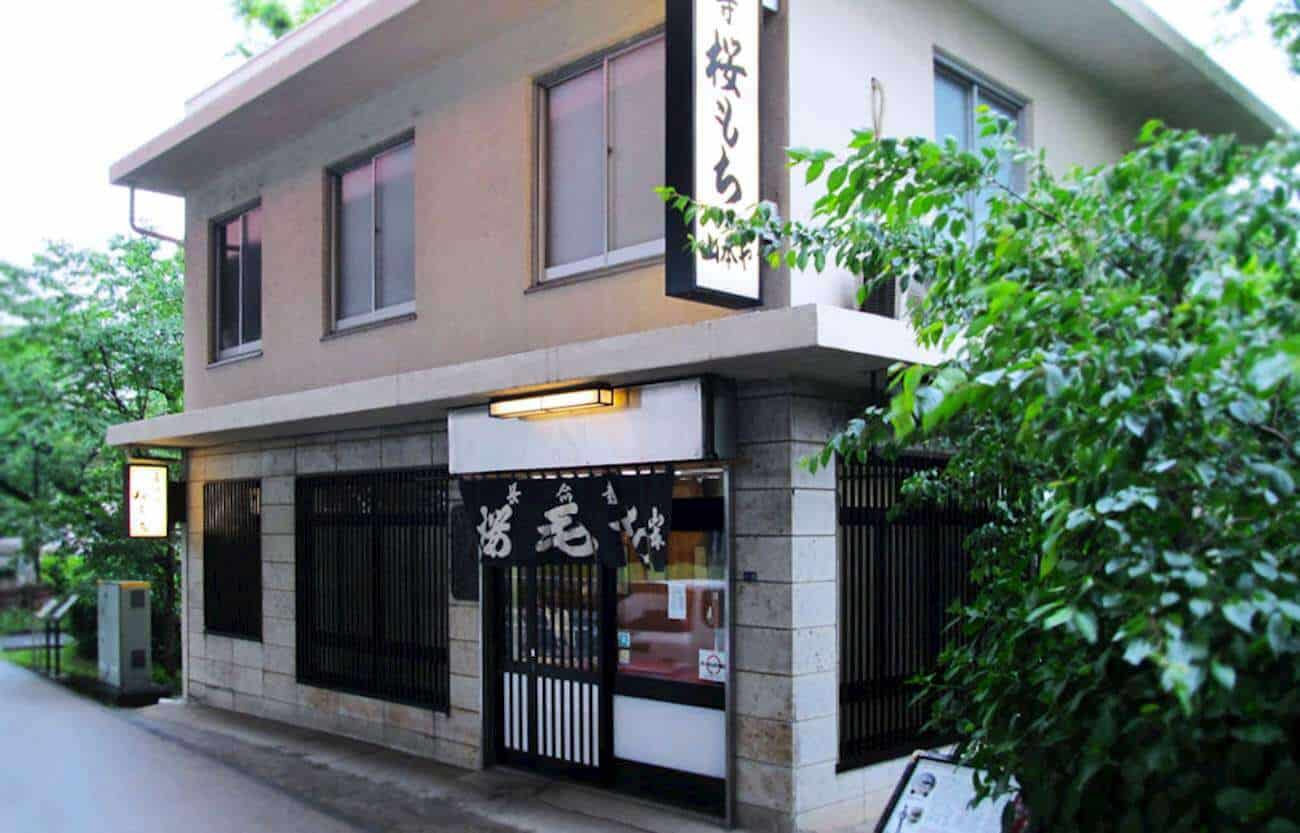 This store sits in the heart of Sumida City, Tokyo. They don't require reservations, but they do recommend it, especially during springtime. Chomeiji is firm in using ingredients that do not contain any additives. The store's tradition of over 300 years is still the same method they are using to create this wagashi today. Don't forget to drop by Chomeiji when visiting the Tokyo Sky Tree. It's a 15-minute walk from Oshiage Station.
Ginza Akebono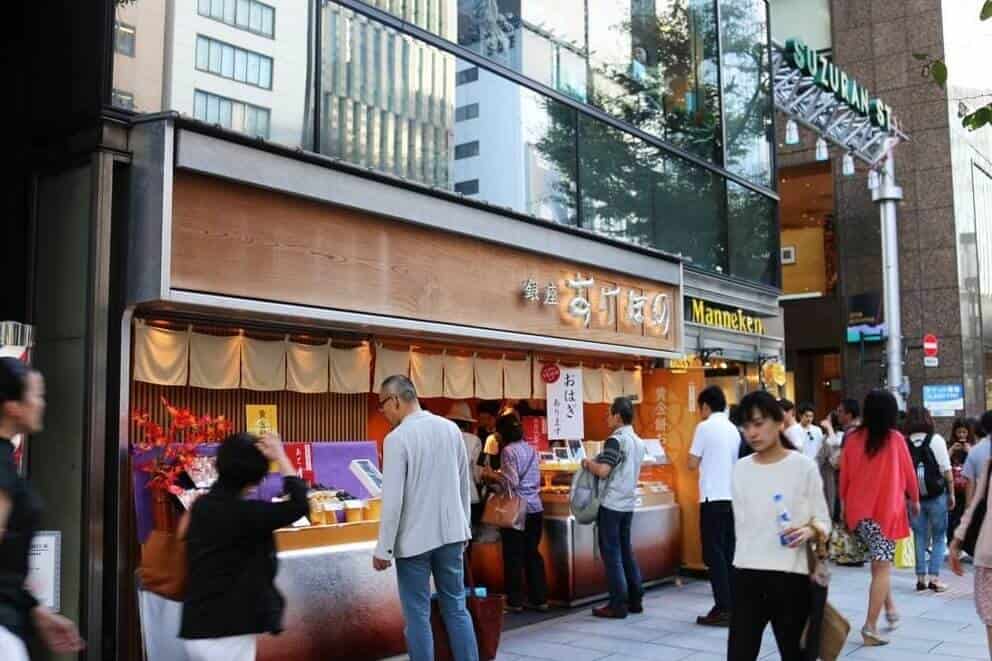 Following is this boutique store in Tokyo. During the early period, sweets were rare and expensive. Hence, the founder built this candy store after the war. According to the official site of the store, "Akebono" means "the desire for a new dawn in Japan".
Ginza Akebono is just a tiny shop, but it's a must-try in the Ginza area. Locals and travelers visit this shop often because of its mouth-watering mochi varieties. But, the shop gets specially busy during February to April due to the seasonal offering of Sakura Mochi.
Akasaka Aono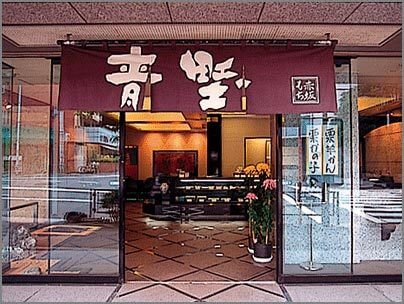 The shop boasts 100 years of existence in the Akasaka area. Thus, making it one of the oldest confectionery stores in the area. According to the general manager of the store, Steve Jobs, a famous American co-founder of Apple, used to order from them.
Akasaka Aono is also popular for Dorayaki, Oyaki, and other confections. It's also impossible to miss the store as it is only about 500 meters away from Akasaka Station.
What are your thoughts on Sakura Mochi? Let us know in the comment box below. In addition, don't forget to share on your Twitter account!