What is Kakinoha Zushi?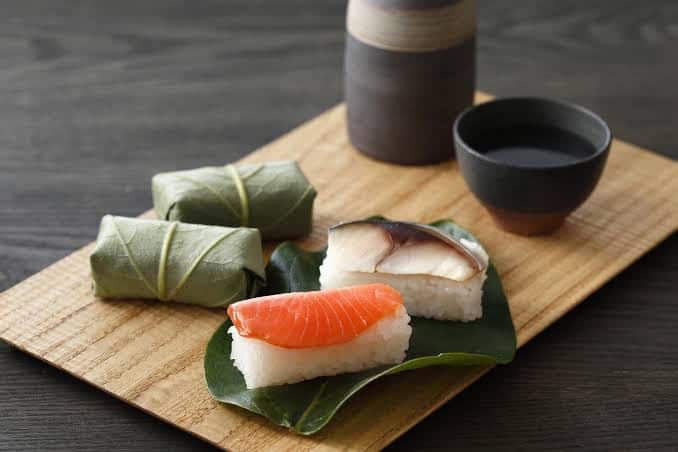 Kakinoha Zushi means "Persimmon Leaf Sushi" is a local traditional cuisine of Nara prefecture but is mostly found in all Kansai territories. Unlike ordinary sushi, Kakinoha Zushi is pressed sushi wrapped in persimmon leaves with slices of mackerel salted on white vinegared rice that is usually bite-size. This traditional cuisine has been dated way back to the Edo period. Back then before, people used to transport fish to areas that does not have direct accessibility to the ocean. Thus, preserving it by cutting into small pieces and wrapping it to the leaves of Japanese persimmon as these leaves serves as a protection for the fish due to their antibacterial benefits.
The main ingredients for this dish in all regions are salmon, mackerel, rice, and persimmon leaves. However, in some regions, such as in Ishikawa, they should add sea bream, conger eel, shiitake mushrooms, and sardines. Also, in Tottori Prefecture, trout is also part of an ingredient.
This dish is also present during the summer festivals and other events. Kakinoha Zushi is also one of the most popular representative souvenirs of Nara. Let's know more about Kakinoha Zushi!
Etymology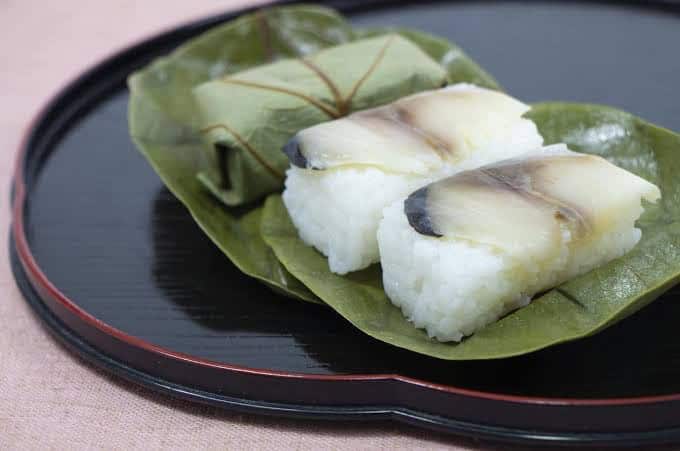 Kakinoha Zushi is spelt a Zushi instead of Sushi. Basically, it means "Persimmon Leaf Sushi" because it uses the persimmon leaf as the outer wrapping layer, with vinegared rice together with salmon or mackerel. However, the persimmon leaf is just for wrapping purposes. It is not edible just like in other sushi that uses seaweed or nori sheets.
What is the history of Kakinoha Zushi?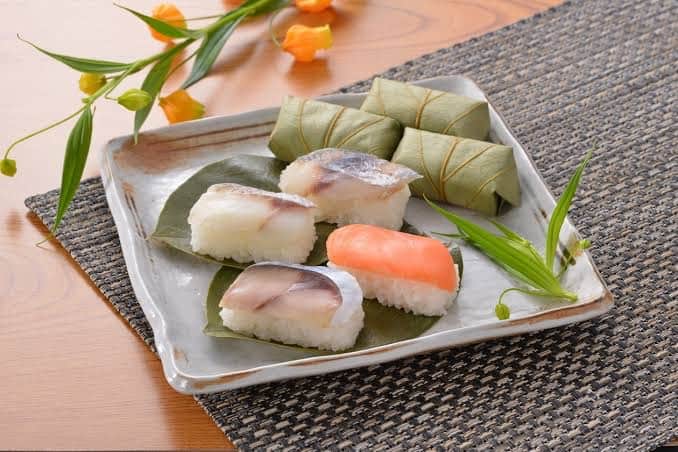 There are various theories about the origin of Persimmon Leaf Sushi. In the middle of the Edo period, fishermen from Wakayama prefecture had mackerel from the Kumano sea with salt and vinegar and then went to a village along the Yoshino river to sell it to raise money due to tax. Back in the old days, salt and sometimes vinegar was used to make it last longer for transport on ocean, sea and land. Then they cut the fish into small sections and placed in in the vinegared rice due to the result of being too salty.
Additionally, there's Mackerel road or 'Saba Kaido' which is the origin of persimmon leaf sushi. The road consists of the Kii Peninsula. The mackerel came in from Kumano Sea from Mie and Wakayama Prefecture, and were sold in villages in Yoshino regions by fisherman. There are several theories about the route, but one of the most influential is the Higashi-Kumano Road. It is a road that departs from Kumano that passes through Nara, in Kamikitayama and Kawakami Village, and then Yoshino town.
During old times, there is no freezing technology like today what we have today. Therefore, there should be some salt in Mackerel for the preservation so it would not rot. In addition, the end point of Saba Kaito or Mackerel road is in the fish market of Sakurai and Shimoichi City in Nara, which was 100 km from Kumano.
Furthermore, they use the leaves of the Japanese persimmon as a wrapping because it was a common fruit in the region. The village of Gojo and Yoshino river are the areas for the production of persimmons. The leaves served as a protection for the fish because of their antibacterial properties. It also provided a beautiful aroma to the sushi.
Why Kakinoha?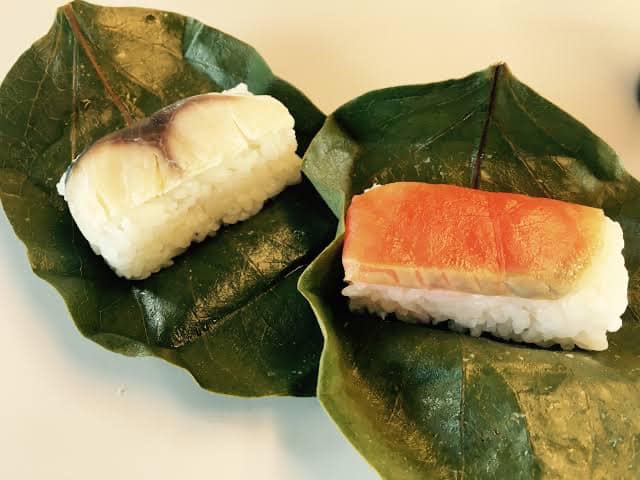 Kakinoha, or Persimmons are rich in antioxidants, bactericidal, and vitamins on their leaves. Persimmon is a common tree in Nara. It is known as the production of persimmons. Back in old days, there were persimmon trees in each household. It was useful not only for eating the fruit, but also it has various purposes such as collecting persimmon juices and making a hanging persimmon, since it is not eaten by the insects, they thought they were anti-bacterial. Now. it was scientifically proven that persimmon leaves have antibacterial and antiviral effects. It is also effective against high blood pressure since they contain a lot of tannins. Additionally, there's also Vitamin C component in Kakinoha which is effective for protecting our immune system.
What are the ingredients of Kakinoha Zushi?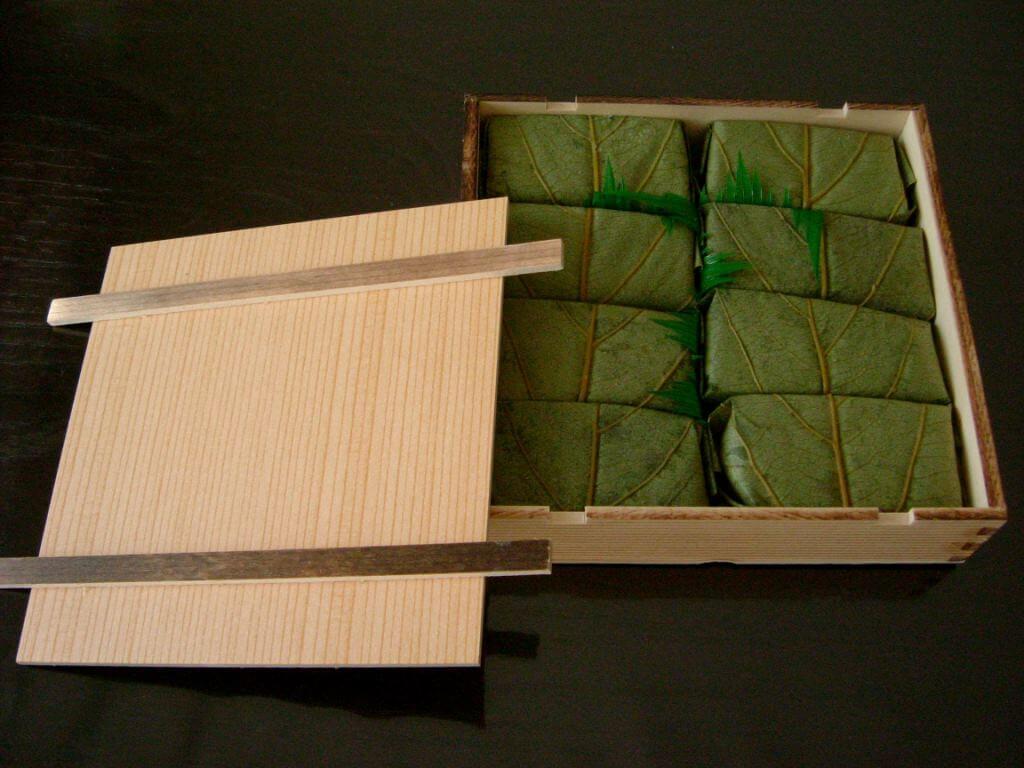 | | |
| --- | --- |
| For Sushi Rice: | |
| Rice | 1 kg |
| Kelp | 1 sheet |
| For Seasoning: | |
| Vinegar | 200 cc |
| Sugar | 200 g |
| Salt | 1/4 tsp |
| For preparation: | |
| Mackerel | 40 slices |
| Salmon | 40 slices |
| Persimmon Leaves | 80 sheets |
Recipe of Kakinoha Zushi?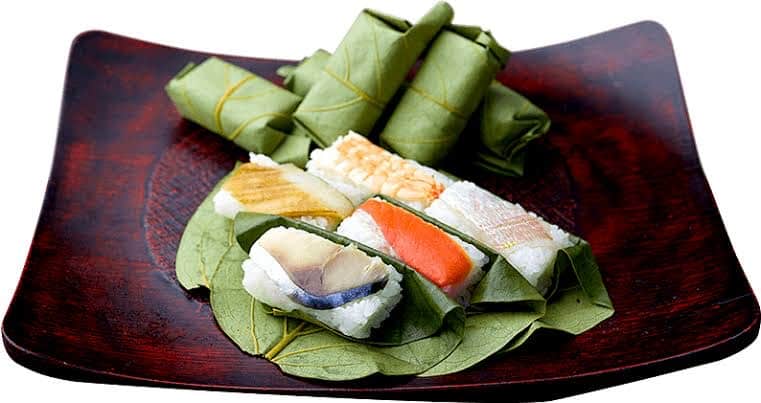 Wash the rice
Firstly, wash the rice, put in the kelp and then cook it.
Prepare two sets of seasoning
Secondly, make two sets for seasoning. One is for the Neta (toppings such as Mackerel, Salmon) and another one is for vinegared rice.
Apply mixture
Soak the Mackerel into the seasoning for about 2 seconds. Once the rice is cooked, put them in Sushi Oke or wooden contain to prepare sushi, add sushi vinegar and mix to flavour it, do not mash and let it cool to make them shiny.
Put on a persimmon leaf
Take sushi rice and hand roll softly. Add the mackerel or salmon, place it onto persimmon leaves and press it softly from above and below.
Prepare and serve!
Place all the sushi on Oke without spaces between and cover them with more persimmon leaves. Place stone weight and let it rest for a half-day, do not refrigerate. After then, share and enjoy!
What are the store recommendations?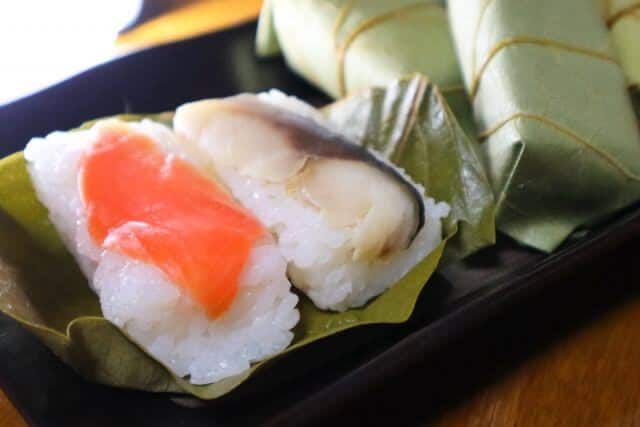 Kakinoha-Zushi-hompo Tanaka Nara Head store
This store has other branches mostly in Nara and has been doing business for a long time. One of the best seller is the Kakinoha Zushi which has a mackerel on it since it's the most typical one. Additionally, the one with sea bream is also popular since it has a refreshing taste as well as the salmon which is popular with women and children.
Kakinoha-Zushi Souhonke Hiraso
The characteristics of their Kakinoha Zushi is their vinegared rice. The rice they use is 100& Hinohikari rice, a brand of rice that is found in Nara. Additionally, the vinegar they use is a special vinegar that has 350 years of history. Therefore, it's a popular souvenir for the visitors of Nara.
Kakinoha-Zushi IZASA Nakatani-Hompo
In this store, Mackerel and Salmon are popular on the menu. Additionally, in their package sets, there are 4 types of toppings: mackerel, salmon, horse mackerel, and sea-bream which is a best-seller too.
Kakinoha-Zushi Yamato
This store has its main branch Gojo City in Nara, where there are a lot of famous Kakinoha Zushi restaurants. Gojo City is the birthplace of Kakinoshi Zushi. Additionally, the characteristics are its original vinegar rice and carefully selected mackerel and salmon. The vinegar contains no preservatives or sweeteners.
Kuwaraku
It is a sushi-maker and restaurant near Kudoyama Station which serves one and only bestseller, Kakinoha Zushi. This store has been featured in the Japanese media, including on TV and in newspapers and magazines. They finished cold mackerel with their original sweet vinegar while removing the original smell of mackerel with their original manufacturing method. Not just mackerel that is used as neta of persimmon leaf sushi, also there's salmon, shiitake and sea bream which are also finished with their own process of method so that it can be delicious to the taste of people from elderly to children.
Conclusion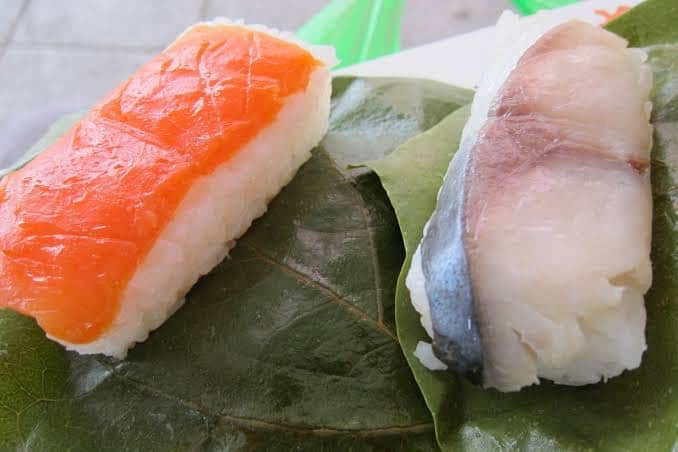 In conclusion, Kakinoha sushi traditionally comes with mackerel, but salmon is also popular. Recently there are more kinds of fish to choose from, like sea bream, prawn, red snapper, sea bream, and eel. The vegetarian option is shiitake mushrooms which are grown in Wakayama Prefecture. Sushi wrapped in a persimmon leaf is a traditional way of eating sushi in parts of the Kii Peninsula, which is part of the Kansai region. This is the area where a lot of persimmon trees are grown. By eating Kakinoha Zushi, it is important to unwrap the sushi and discard the leaf as it is only for wrapping purposes to keep sushi protected since the persimmon leaf has anti-bacterial properties. Not just bactericidal and deodorizing effect but also effective against high blood pressure.
Kakinoha Zushi is also popular as a souvenir of Nara. Since the sushi is well preserved, people usually buy it as souvenirs from the region to take them home. Usually, the packaging comes in a box, either a wooden box or cardboard which has 9,12 or 20 pieces. If you happen to visit Nara someday, don't forget to try these traditional Japanese persimmon leaf sushi or other local cuisines of Nara!