Introduction
Picture this: a delectable piece of sushi sits in front of you. Delicious fresh mackerel, cured and marinated to bring out the natural sweetness of the fish, sits on top of a bed of neatly moulded vinegared rice. Scattered on top are flakes of kombu, freshly chopped chives and sesame seeds; you take a bite and the flavours meld together wonderfully, balancing sweet, salty and umami. Congratulations, you've just taken a bite of saba sushi!
Saba sushi is a popular type of sushi in Japan thanks to its tasty and rich flavour, cheap ingredients and the fact it's easy to buy either to make at home or in restaurants. It has a unique flavour due to being salted and vinegared before eating, which is different to most other sashimi-grade sushi.
This deletectable dish has a rich history in Japan, having first been introduced in the Wakasa region of the country. It's a traditional Japanese food that brings lots of variations at different times of the year but can be found year-round.
In this article you can learn more about this delicious type of sushi, where the best saba sushi is in Japan and how you can recreate the recipe at home.
What is saba sushi?
Saba sushi is a popular type of sushi dish in Japan, most commonly found in Kyoto and Osaka. The recipe has salted mackerel placed on top of sushi rice mixed with vinegar, which has been shaped into a rectangle. The dish is often garnished with seaweed, sesame seeds or chives, depending on where it's available or typical in the region.
What's the history of saba sushi?
Saba sushi is a traditional Japanese food but is relatively new to the sushi market in comparison to other dishes. The dish was first invented in the Wakasa region during the Edo period. The city of Kyoto has a strong association with saba sushi; being a city that's far away from the sea, its citizens had to preserve fish using salt and other curing methods – hence why saba sushi first came about.
It's widely accepted that Izuu, a shop founded in 1781, first began serving saba sushi commercially. At the time it was saved for special occasions or celebration days due to the scarcity of cured fish. Now the dish is popular across all of Japan, with many variations available.
Are there any traditions around saba sushi?
Saba sushi has seasonal changes according to what vegetables and condiments are available at the time of year. The Gion Matsuri festival, the Kyoto-based celebration that's one of Japan's biggest celebrations of the year and that takes place in July, has made saba sushi a feature of the celebration.
How do I make traditional saba sushi?
As the fish can degrade quickly, saba sushi should only be prepared fresh mackerel caught that day. In order to ensure any parasites are gone and you want to be extra careful, you can also use frozen mackerel.
Fillet the fully defrosted fish and remove any bones. Turn the filleted mackerel skin-side down; rub a healthy amount of salt over the flesh until the fillets are completely covered. The fillets need a minimum of an hour to cure; the salt draws out the moisture and brines the mackerel.
Mix four-fifths rice vinegar with one-fifth water and let the mackerel fillets marinate for a minimum of 20 mins. Rinse and pat dry. Gently separate the skin from the flesh, leaving a small amount of shiny skin on top.
To prepare the sushi base, mix 300g sushi rice with 2 tbsp vinegar. Wrap in clingfilm, then shape into a rectangle. To shape the sushi, you can use a traditional sushi mat or bamboo to help with the process. Leave in the fridge to firm up before cutting and topping with the cured sushi. Garnish with sesame seeds and chives, then serve.
Is there an easier way to make it?
Yes! Because tinned mackerel is so widely available, this makes a great alternative if you're wanting to make saba sushi but don't have a lot of time. Make sure to look for brined mackerel to get the most authentic flavour. Although it won't be the 'real deal', this method certainly comes close.
Another variation would be to grill mackerel instead of serving it raw. If you're feeling adventurous you can also mix in different flavours to the vinegar marinade for the mackerel, like soy sauce and kombu (a type of edible seaweed).
Are there any health benefits of mackerel?
Mackerel is a fatty fish that's rich in many nutrients, including omega-3, vitamin D and vitamin B12. Mackerel is also a good source of protein and as it contains magnesium, potassium and zinc, it's a good food to eat for better heart health.
Considering mackerel is a relatively cheap type of fish, it's a powerhouse of nutrients and minerals to benefit you and your health.
Where can I find saba sushi?
Many places in Japan serve saba sushi, but Kyoto is king when it comes to its own sushi invention and where you can find a lot of quality sushi destinations, even some with Michelin stars. We've found the best places in the country for you to check out if you're planning a visit.
Izuju, Kyoto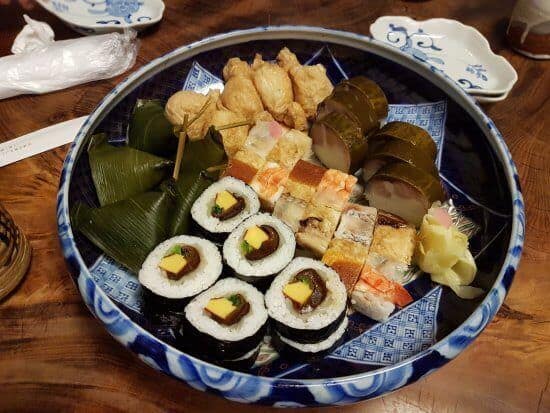 Founded in 1890, Izuju in the city of Kyoto is the place to find saba sushi. The shop is a follow-on from Izuu, the original store to first commercialise saba sushi and is famous for having a family-friendly atmosphere while serving the world's best saba sushi. If you're looking for mackerel, this place is a must-visit!
Sakai, Kyoto
Sakai knows what it's doing when it comes to saba sushi. After opening its doors in 1953, the restaurant quickly gained a reputation for serving excellent mackerel sushi. Sakai serves saba sushi with a twist on the presentation – stuffed with vinegar rice, instead of sliced – so this is the place to go if you want a slightly different take on the classic.
Kikunoi, Kyoto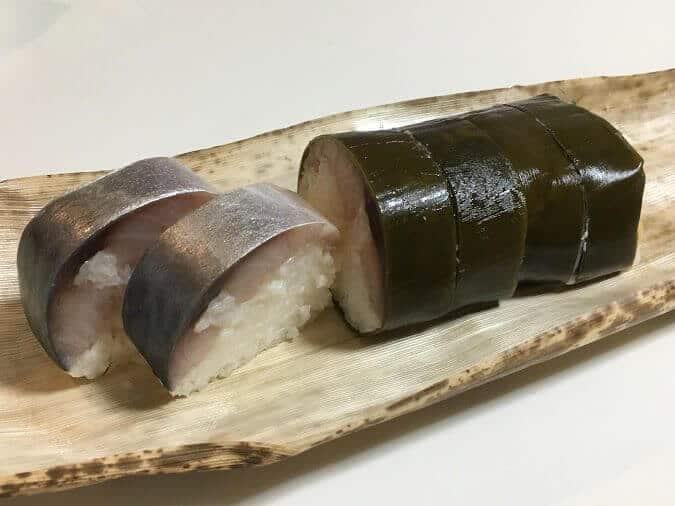 A takeaway restaurant in the heart of Kyoto, Kikunoi is great if you're after some saba sushi in a rush. If you're still after some authentic saba sushi with a delicious taste, check this place out – and if you're so inclined, you can pick up some conger eel sushi at the same time.
Gion Nishimura, Kyoto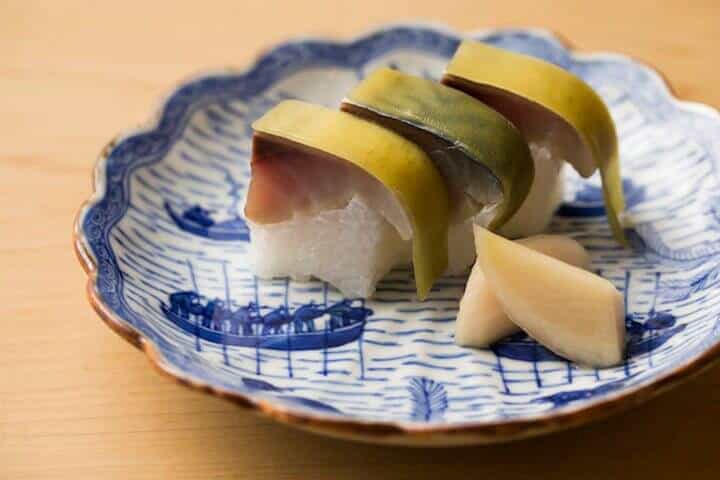 Gion Nishimura, complete even with a Michelin star, serves a more upmarket version of saba sushi. Inspired by the Senmaizuke of Ofuji, they use a kind of white kelp that makes the dish resemble snow. If you're looking for a unique take on sushi samba that gives you a story and experience behind the dish, you should add Gion Nishimura to your list of restaurants to visit.
Suehiro, Kyoto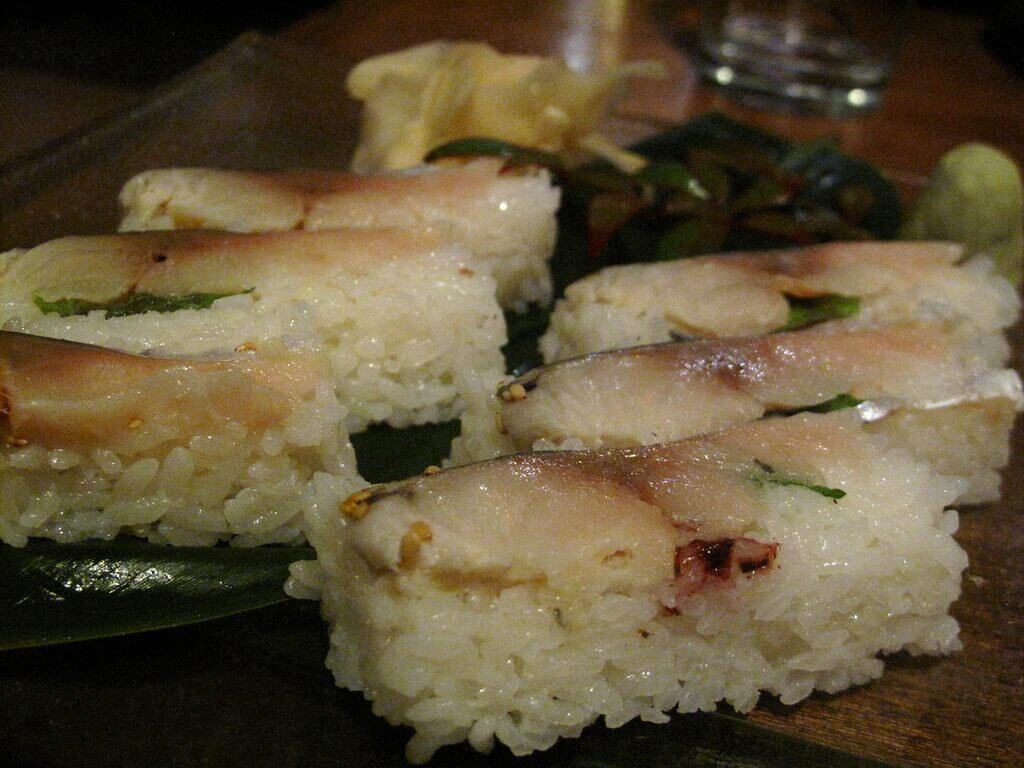 Suehiro is a long-established restaurant with some of the best saba sushi around. Reviews are always good for this establishment which has an excellent reputation with locals and tourists alike. Suehiro serves traditional saba sushi so if you're looking for how it would have been made when it was first invented, this is worth a visit.
Conclusion
There's a whole world of sushi out there and saba sushi is one of the simplest, yet most delicious types available. Borne from traditional Japanese methods, the recipe has become a popular yet accessible meal for those who want to experience authentic Japanese cuisine either in the country itself or at home. It goes great on its own or with other types of sushi, like sasa sushi or hatahata sushi.
Should you be visiting Kyoto or another part of Japan, or even trying out a sushi night in your own home, then saba sushi must be on your list of things to try. The wonderful flavours are worth the trip!