Introduction to Hinaarare
The Hinamatsuri in Japan is celebrated with chirashizushi, clam soup, rice cakes, and Hina-arare. Hinamatsuri has been popular as a celebration for the growth of girls since the Edo period. Locals held this festival at their homes with girls all over the country, but the sweets lined up at the celebrations are unique depending on the region. And Hina-arare is one of them so this article will let you understand all about it.
Etymology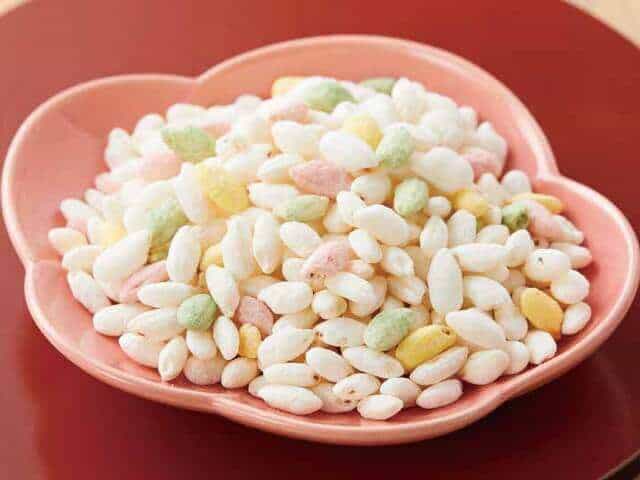 So before we proceed to know what is Hina-arare, first let us know what the word Hina-arare means. Hina (雛) from Hina-arare refers to the Hina dolls in Hinamatsuri, where they linked it to the food itself. And the arare (あられ) is a type of bite-sized Japanese cracker from glutinous rice and flavored with soy sauce.
What is Hina-arare?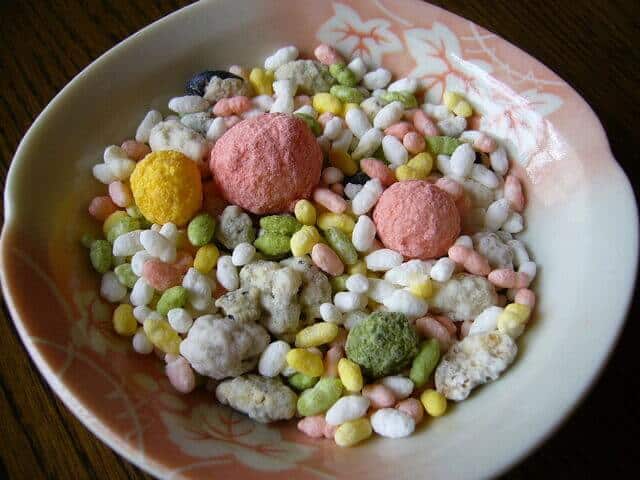 The Hinamatsuri in Japan on March 3 is a festival to pray and celebrate for girls to grow up healthy and be happy for a long time. In a family with girls, you may be looking forward to a delicious meal and a celebration with Hina dolls. One of the sweets that are indispensable for such a Hinamatsuri is "Hina-arare". Hina-arare is a type of Japanese sweet offered at the Hinamatsuri. Hina-arare is roughly divided into two types. It is a sweet-flavored rice cracker coated with sugar and a small rice cracker seasoned with soy sauce.
History of Hina-arare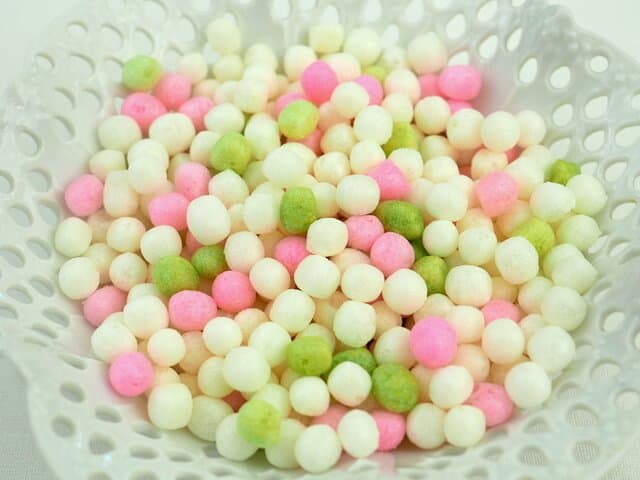 In the first place, how was Hinaarare born? The origin of starting to eat Hina-arare at the Hinamatsuri is not clear.  The reason why Hina arare became popular is related to an event called "Hina no Kuni Show," which was popular in the Edo period. "Hina no Kuni Show" is a custom in which Hina dolls displayed in the room to show the scenery of spring. At that time, there is a theory that Hinaarare began when the Japanese crushed the Hishimochi so that they could eat it outdoors. In addition, there is a theory based on the lucky charm of roasted rice and the sweets offered on the anniversary of the death of Buddha.
Hina-arare Recipe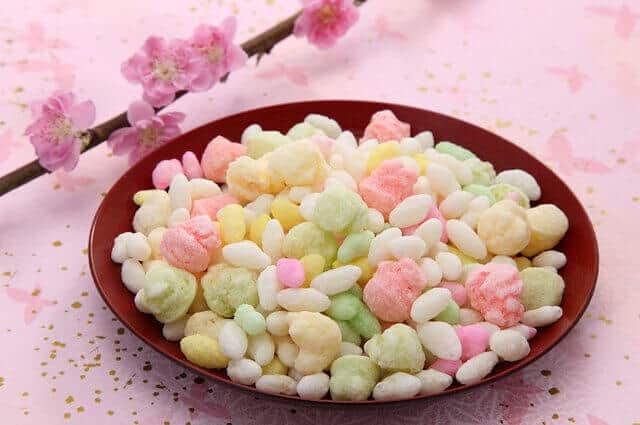 Hina-arare Ingredients
| | |
| --- | --- |
| The Hina-arare Ingredients for 4 person | |
| Sticky rice | 100g |
| Powdered sugar | 10g |
| Color powder (red, green, yellow) | 5g (each) |
| Fried oil 15g | 15g |
How to make Hina-arare?
Using glutinous rice
Preparing the glutinous rice
Prepare the glutinous rice in a cup. Never wash glutinous rice when making hina-arare with glutinous rice. Then, heat the frying oil to 170 ° C and add the glutinous rice.
After it pops like a popcorn
If it pops like popcorn, quickly scoop it into a strainer with a paper towel. When it is not that hot anymore, put the powdered sugar in a plastic bag, blow in air to inflate it, and shake it so that you make every rice cracker evenly sprinkled.
Putting on the colored powder
Lastly, put the coloring in which white is powdered sugar only and pink is powdered sugar and red colored powder. Then, green is powdered sugar with green colored powder and yellow with powdered sugar and yellow colored powder.
Using Hishi mochi
Frying the Hishi mochi
Fry the cut and dried Hishi mochi in oil and season it to complete.
Cutting it by its color division
It's a point when cutting Hishi mochi that you can easily cut it by inserting a knife along with the color division.
Cut into 5mm square
After dividing by color, cut it into pieces about 5 mm square.
What does Hina-arare look like in different regions?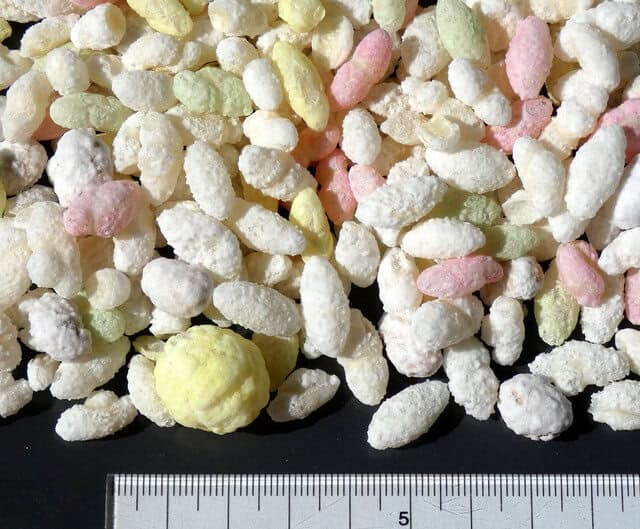 Kansai
Many believed that the origin of Hina-arare was in Kyoto. The beginning was the sweets that a Buddhist priest named Yuren Shonin made from the rice crackers offered at the temple and brought them to the mountain cage training. It is about 1 cm in diameter and has a variety of flavors such as unglazed, salty, tamari soy sauce, and shrimp.
Kanto
The locals from the Kanto region made it by roasting and simmering rice crackers or  "puffed grains" which was popular in Edo. For this reason, many Hina-arare in the Kanto region is about the size of a grain of rice, and locals made it sweetly seasoned with sugar. 
Why is Hina-arare decorated as a set with Hishi mochi?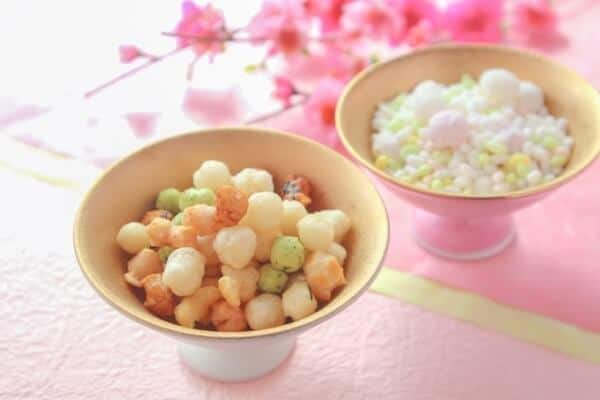 At the Hinamatsuri, "Hishimochi" is displayed along with the Hinaarare on the Hinamatsuri. The predominant theory is that locals made Hina-arare by crushing Hishi-mochi to make it easier to eat outside, and as a remnant of that, Hina-arare and Hishi-mochi are displayed together in a set
What are the meanings of Hina-arare?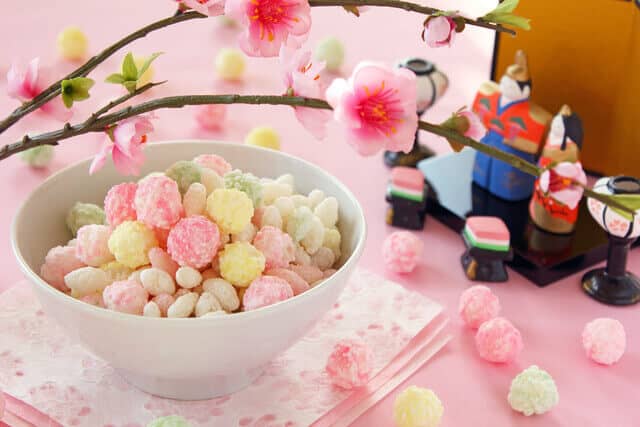 Hina-arare has the meaning of praying for the health of her daughter. Hina arare is composed of four colors, "peach, green, yellow, and white," which means the four seasons. And this means "pray for the happiness of their daughter throughout the year". In addition, there are cases of three colors, in which case it is of "white, green, red". It means that white is the land of snow, green is the sprout of trees, and red is blood and life.
Recommended store that sells Hina-arare
Minatoya (みなとや)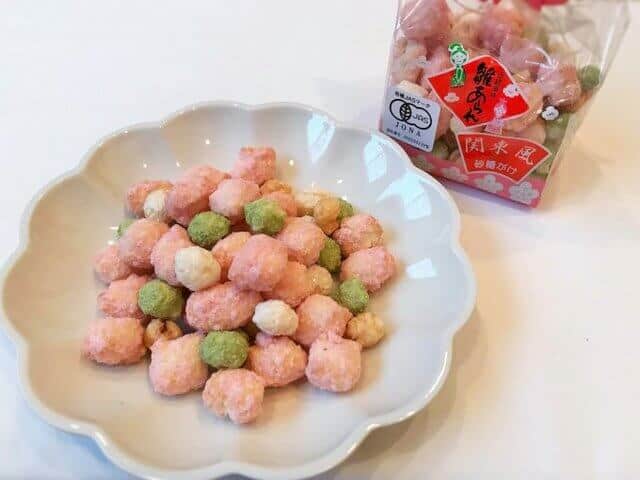 The shop's Hina-arare is made from raw materials and they handmade it in all processes, so it is different from the ones sold at mass retailers and supermarkets. Therefore, it is an expensive product. Please note that if you are looking for a cheap Hina arare, this shop will not meet your expectations.
Kinpeidou (金米堂本店)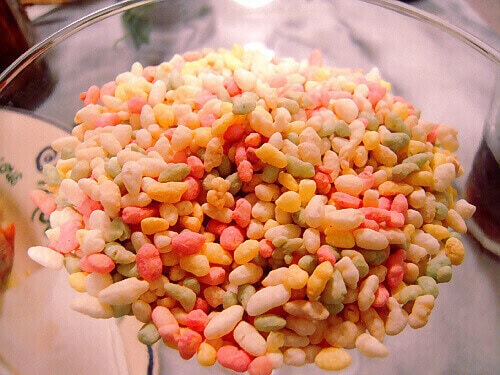 Hina-arare is so popular that it is easily sold out and it has a slightly different packaging called spring hail. This shop is particular about rice (including Domyoji powder). The hina-arare is very crispy and has a taste, unlike the hina-arare that is usually like puffed grains. And the large grains (maybe they say) are hail or okaki-shaped.
Toyosu (とよす株式会社)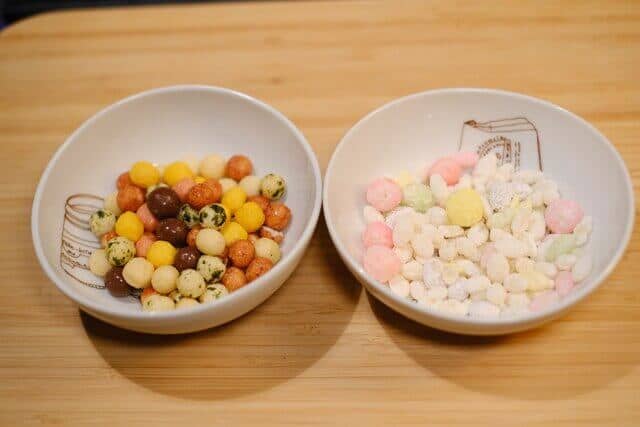 At Toyosu, they will deliver the historic Hina-arare dolls in bulk on the day of your choice for nursery schools, kindergartens, and other facilities. It is a product that the store finished in an adorable and vivid Hina-arare of white, yellow, and pink without using any raw materials containing allergens such as shrimp, beans, and soy sauce.
Ogura Sanso (小倉山荘 竹生の郷)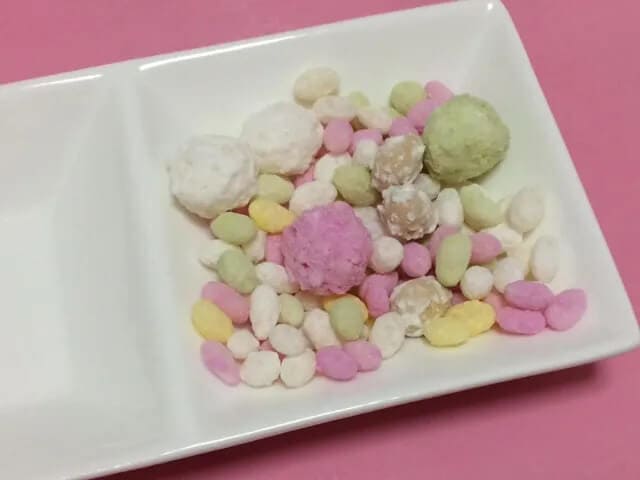 The main store of Ogura Sanso reproduces the elegant atmosphere of peace on a site that expresses the world view of Ogura Sanso in various ways. They have "Ogura Sanso Cafe" where you can spend a relaxing time talking, about Japanese confectionery brands and Western confectionery brands.
Conclusion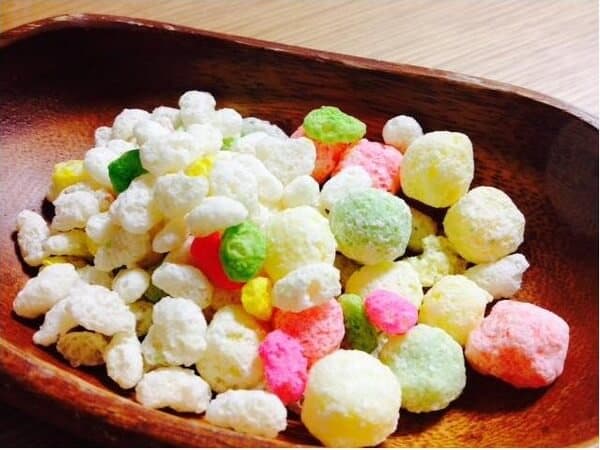 Japanese make different Hina-arare based on the regions. The Kanto-style Hina-arare from rice and sweet. And the Kansai-style Hina-arare is from rice crackers which locals will make salty. Hina-arare has such a difference, but you can easily make both at home. If you make it from mochi, you can not only fry it but also make it in the oven, so even people who are not good at deep-fried food can feel at ease.