Introduction to Matsutake Gohan
Have you ever heard of Matsutake Gohan or Pine Mushroom Rice? And have you tried it before? Well, if not, then I will guide you to it through this article. In Japan, the Japanese considered Matsutake mushrooms an upscale delicacy, although Kyoto has a long history of cultivating them thus, the dish matsutake mushroom rice is popular in the city. 
If you visit Japan and want to try restaurant-like cuisine more than homemade cooking, try this Matsukake Gohan. What's great about this is that the Matsutake mushrooms are one of the ingredients that continue to fascinate Japanese people.
Etymology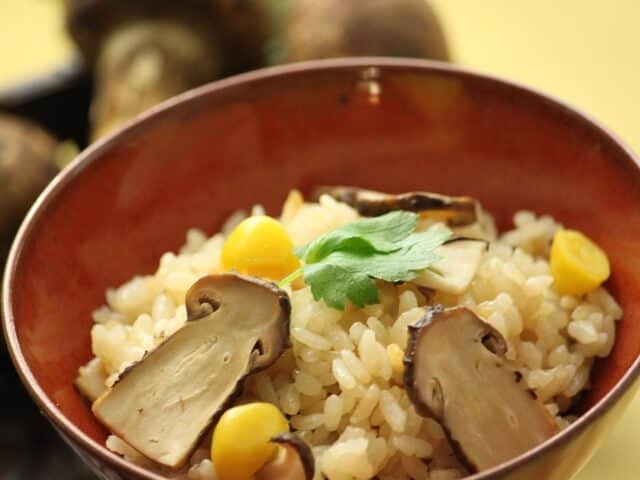 First, we will have to know what is the real meaning of its name –"Matsutake Gohan (松茸ごはん)". "Matsutake (松茸) came from the Japanese "Matsu (マツ) meaning "pine" and "take (茸)" meaning "mushroom". On the other hand, "Gohan (ご飯)" means "cooked rice or meal". Making the English translation of, "Pine Mushroom Rice".
What is Matsutake Gohan?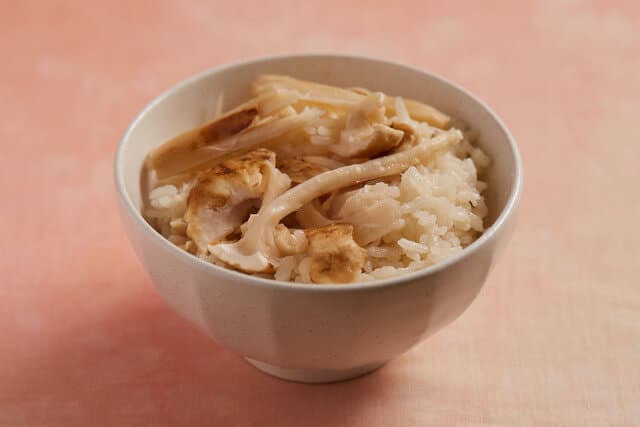 Matsutake mushrooms are characterized by having a unique scent among mushrooms. On the other hand, many dishes make use of the scent of matsutake mushrooms and Matsutake Gohan is one of them. Locals eat Matsutake Gohan in restaurants and kappo (Japanese-style cooking) restaurants during September and early November.
Matsutake Gohan (松茸ごはん) is a traditional Japanese dish of sliced ​​matsutake mushrooms and rice. It is Kyoto Prefecture's local cuisine. Slices of matsutake mushrooms seasoned with sake and soy sauce are cooked in a rice cooker together with rice, kelp soup stock, sake, and soy sauce.  When locals cook the rice with the matsutake on it, the scent of matsutake mushrooms drifts, which is appetizing.
You can also enjoy the crispy texture unique to matsutake mushrooms. There are other types of cooked rice dishes in Japan, such as, Gyudon and there are some who are also in the "Five Great Rice Meals in Japan".  Although it is rarely seen on the table of ordinary households, Matsutake Gohan is almost always made in households near the production area when delicious matsutake mushrooms are available in season.
History of Matsutake Gohan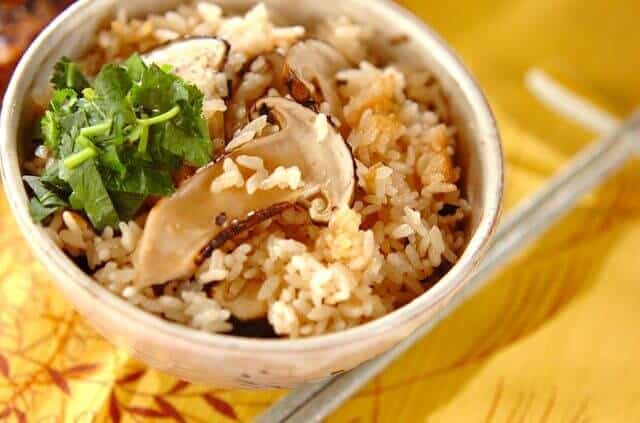 There is a history of active production of matsutake mushrooms in Kyoto, and before the war, it boasted an annual production of over 1,200 tons. However, when the Japanese no longer used pine trees as fuel after the war, they left the pine forests unattended. And the production of matsutake mushrooms fell. Since then, locals have improved the environment for growing matsutake mushrooms in Kyoto. Even now, the majority of imported matsutake mushrooms are still being produced in Kyoto. Not only in Kyoto but around autumn, which is the season for matsutake mushrooms, Matsutake Gohan is served at restaurants all over the country. Some also said that Matsutake mushrooms appear earlier than other mushrooms in the historical literature after "Nihon Shoki". In the tenth volume of "Manyoshu", a collection of the following (composing poems).
Matsutake Gohan Recipe
Before we learn how to make Matsutake Gohan, we should understand the Matsutake Gohan recipes or how to make it at home also. Additionally, in making it be reminded that the ingredients vary on whatever ingredients you want to put in it.
Matsutake Gohan Ingredients
| | |
| --- | --- |
| Matsutake Gohan Ingredients for 4 people | |
| Rice | 600g |
| Dashi | 388g |
| Matsutake Mushroom (Large) | 100g |
| Wine | 42.3g |
| Soy Sauce | 28.4g |
How to make Matsutake Gohan?
Cutting matsutake mushrooms
Cut the matsutake mushrooms in stone, cut them about 1/3 from the top. For the upper part, tear them with your hands with a knife in the cross-section. Slice the bottom along the fiber.
Tearing matsutake mushrooms by hand
You can enjoy the unique texture of matsutake mushrooms by tearing them into large pieces by hand. Cut the bottom in half if it is large, and then slice it thinly.
Reminders for matsutake mushroom
Do not simply cut it off the stone, but cut it diagonally. If it has dark-colored inside, it is proof that there is a bug inside. It disappears in saltwater for about an hour. For soups, steamed earthenware bottles, and grilled matsutake mushrooms with closed umbrellas. The one that opens a little is cooked rice. The spread one is suitable for sukiyaki, etc.
Cooking the rice
Firstly, wash the rice well, place it in a strainer. Then, put it in an inner pot of a rice cooker for about an hour.
Adding seasonings and serving
Add seasonings, and mix well. Place matsutake mushrooms on top and cook as usual. When cooked, mix well and serve in a bowl.
What to Serve with Matsutake Gohan?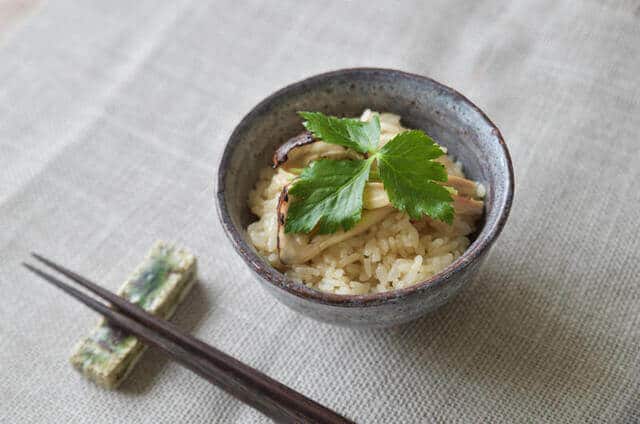 As the name suggests, Matsutake Gohan is serve with only matsutake mushrooms and rice. Other than that, only seasonings, sake, and kelp stock are the basic ingredients. On the other hand, the appeal of matsutake gohan is that you can enjoy the deliciousness of seasonal matsutake mushrooms. 
What are the Matsutake Gohan Nutrition and Health Benefits?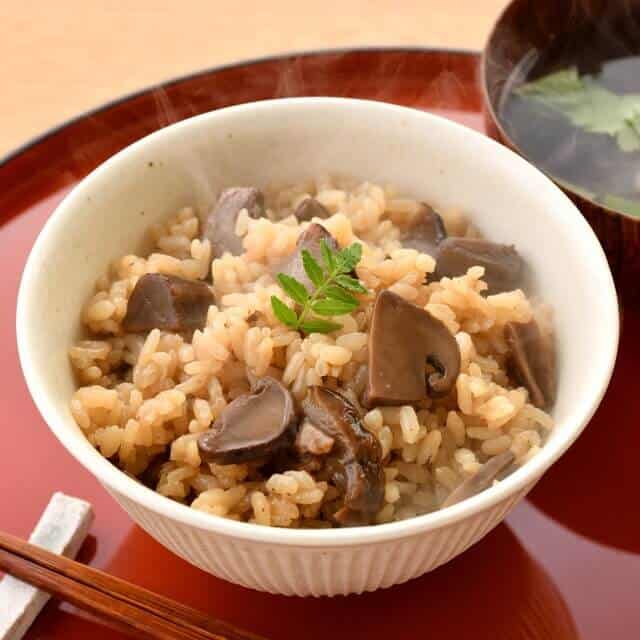 The calorie of Matsutake Gohan calculated with a bowl of rice (159.8g) is 232kcal. The calories of each ingredient are 218 kcal for rice (61 g). Consequently, the three major nutrients contained in one set of matsutake mushroom rice are 4.51 g of protein, 0.62 g of fat, and 49.54 g of carbohydrate. On the other hand, mushrooms are high in vitamin D, and matsutake mushrooms are no exception.
Why is Matsutake expensive?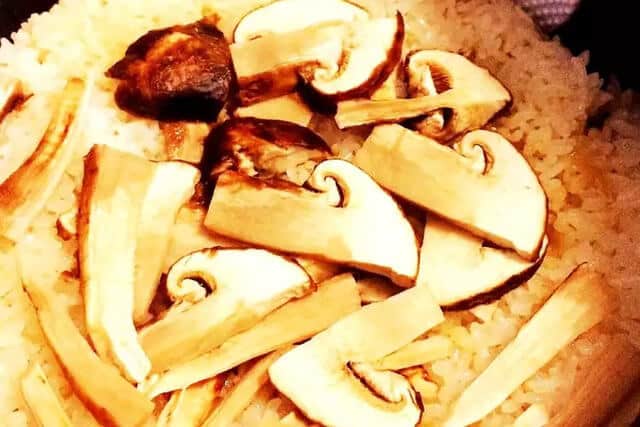 Due to its scarcity, matsutake is a costly ingredient in general.  Even though mushroom producers are relentless in their attempts, cultivating "shimeji" and other cultured mushrooms artificially is a nearly impossible task. Matsutake's environment is also decreasing.
How Do Matsutake Mushrooms Taste?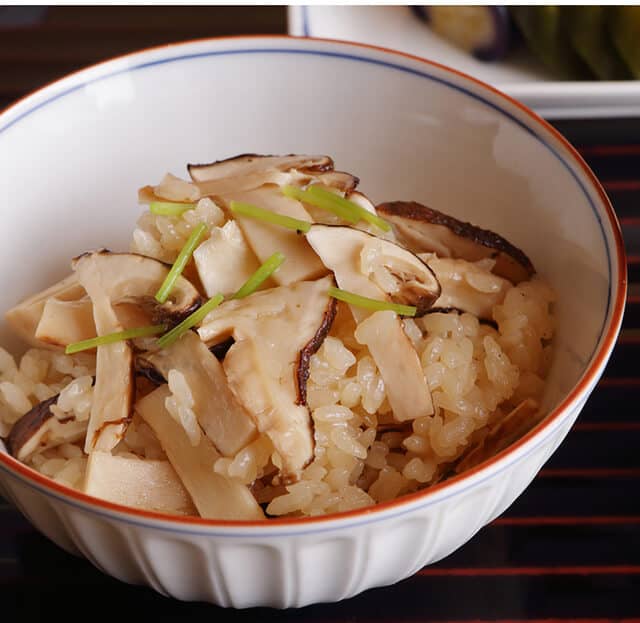 When it comes to mushrooms, most people prefer them for their flavor, but matsutake mushrooms are famous for their distinct scents. Sweet cinnamon and cypress are prominent features in the fragrance, according to the producer.  Thus, with a meaty, chewy consistency and a spicy flavor, this dish is sure to please.
Recommended Matsutake Gohan Restaurants
Minokichi (Kyoto)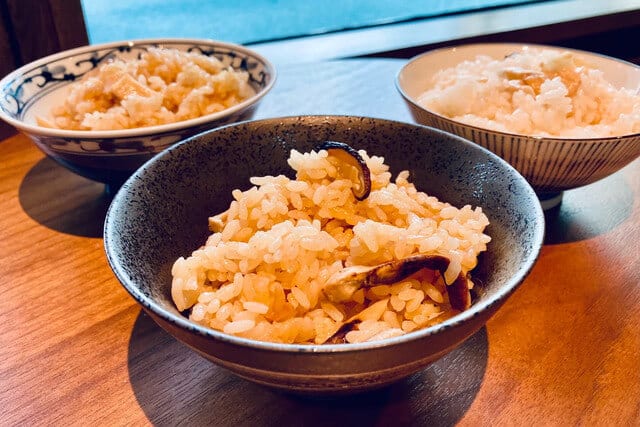 At Minokichi, the matsutake mushroom dishes are in season. Consequently, the taste of autumn in Japan is from matsutake mushrooms. This year, as well, Minokichi's chef will examine Japanese matsutake mushrooms. Such as the rare Tamba matsutake mushrooms and showcase the traditional works of grilled matsutake mushrooms, steamed clay bottles, and Matsutake Gohan.
Yuzuki (Kyoto)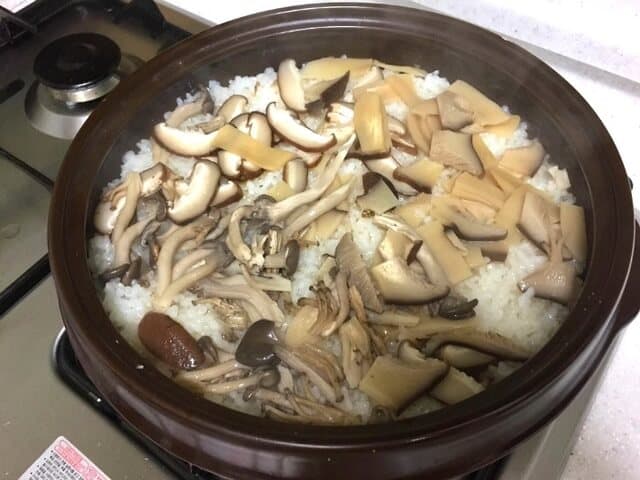 A classic among the classic matsutake mushroom dishes. Add plenty of matsutake mushrooms with a nice aroma and texture and cook. On the other hand, the rice the restaurant uses is 100% Koshihikari rice from Kyoto, which is particular about Yuzuki. Additionally, they stored the pure rice harvested in one rice field at a low temperature by a farmer after harvesting and managing it.
Kamedo Masu (Tokyo)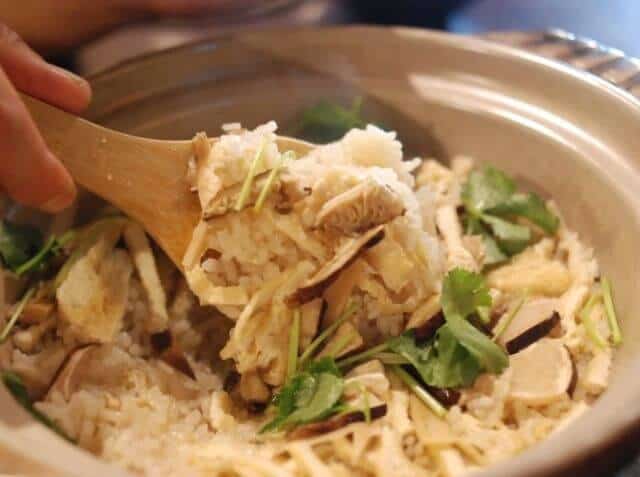 Kamedo Masu specialties include Matsutake Mushroom Bento. You can enjoy the autumn taste of "Matsutake" with Masumoto's bento. Customers will enjoy the arrival of autumn with its elegant aroma and taste. Matsutake Mushroom Bento has KamoMaki matsutake, conger eel, grilled shrimp, leaving the nest-egg baked and also Matsutake Gohan as its rice.
Itoya (Tokyo)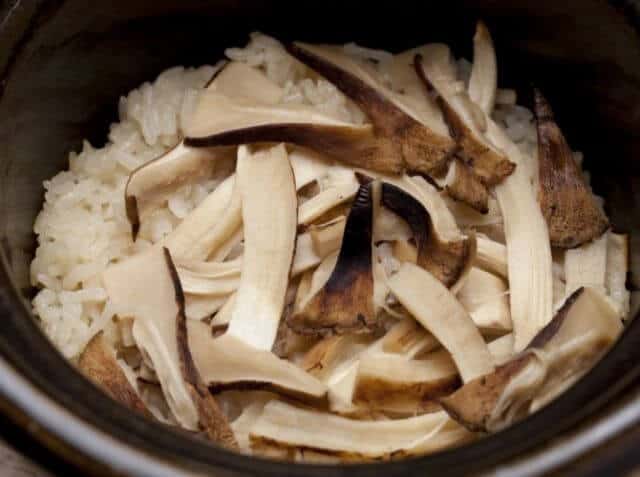 In Itoya, you will surely enjoy the taste of autumn with the goodness of the ingredients and the generosity. All the dishes they serve are wonderful and very delicate. The matsutake Gohan is delicious and plump so you will be full in time for this one.
Conclusion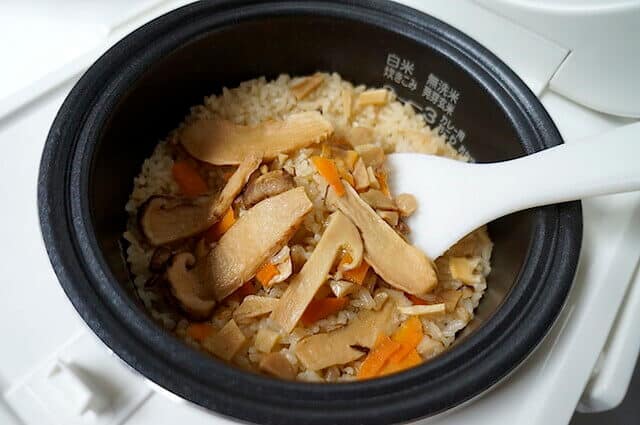 Matsutake mushrooms produced in Kyoto have a thicker and more elegant flavor than imported matsutake mushrooms. The appeal of Matsutake Gohan is that you can enjoy the deliciousness of seasonal matsutake mushrooms. On the other hand, the reason why it is simple to make is probably to make the best use of the goodness of the material. However, although it is not high in calories, it has a high sugar content, so if you would like to enjoy it while being careful not to overeat in combination with other dishes.