Introduction to Nikujaga
Nikujaga (肉じゃが) is a traditional Japanese food in which the meat, potatoes, and onion are stewed in a sweetened soy sauce and mirin. Locals made this dish by frying meat, potatoes, onions, konnyaku, etc., and then boiling it with soy sauce, sugar, and mirin. For the meat, they usually use either beef, pork, and chicken. Conveniently, it is easy to produce because it uses the same ingredients as curry rice and was introduce nationwide as a military diet.
This dish is a specialty from Kyoto and Hiroshima prefecture along with the other three; Obanzai, Hiroshima Kaki and Hiroshima-style Okonomiyaki. As we go to this article, we will get to know what consists of nikujaga, how to make one, and its history. 
Etymology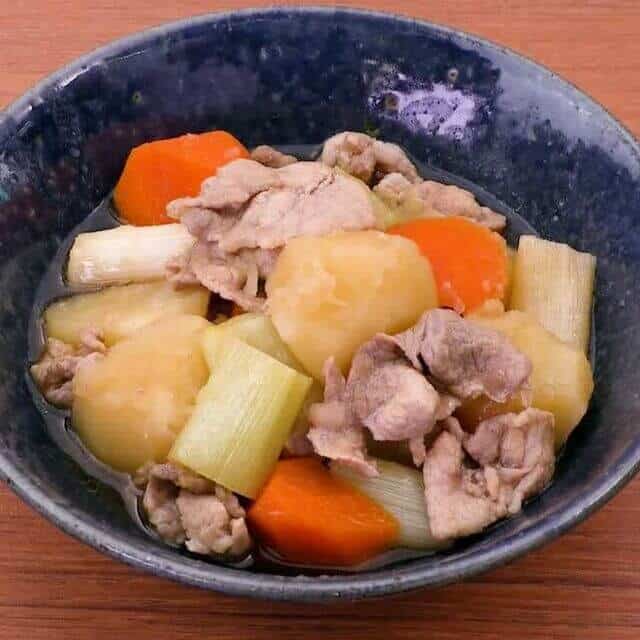 The name nikujaga also has its meaning. When you translate nikujaga (肉じゃが ), it means "meat and potatoes". Niku (肉) means "meat" in Sino-Japanese and Jaga (じゃが ) is a short version of Jagaimo (じゃがいも) which means "potato".
What is Nikujaga?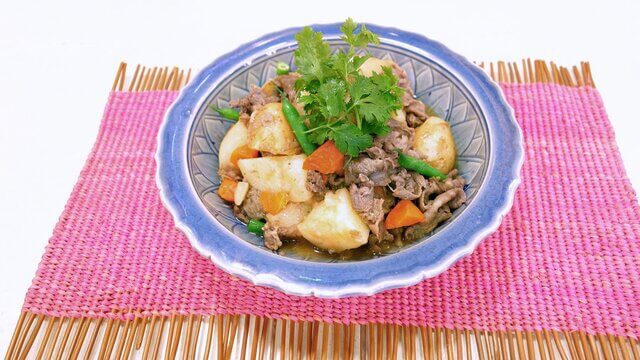 Nikujaga is a Japanese dish specialty from Kyoto and Hiroshima prefecture which stir-fry meat, potatoes, onions, shirataki noodles, etc. Afterward, locals will boil it in soy sauce, sake, sugar, mirin. It is one of the stewed dishes in Japan. In addition to being home-cooked food, it is one of the dishes that is serve in izakaya and small restaurants. 
It is one of the menus in home economics at school as a dish for beginners because it includes the basic cooking processes. Consequently, there are also differences in the ingredients and seasonings used depending on the region, home, and store. Pork and chicken can be use instead of beef, konjac may be use instead of Shirataki noodles.
Nikujaga History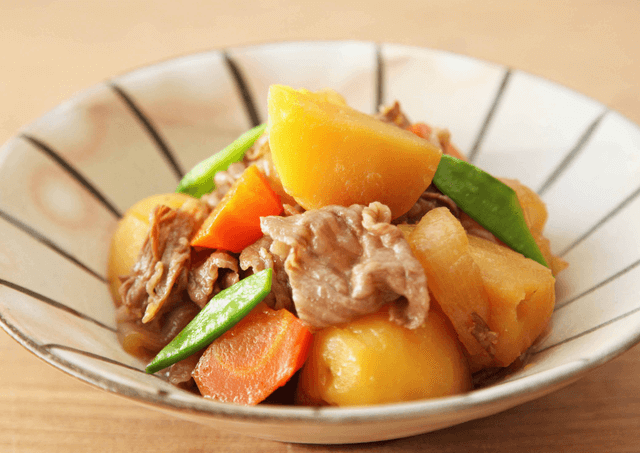 Nikujaga History of Maizuru City, Kyoto
There's no definite theory about the origin of Nikujaga because there are two prefectures involve in its history. The two prefectures are Kyoto and Hiroshima prefecture. Locals claim that both Kyoto and Hiroshima prefecture are the birthplaces of Nikujaga. In October 1995, Maizuru City declared that they are the birthplace of nikujaga. Subsequently, in March 1998, Kure City, Hiroshima Prefecture also name itself as the birthplace of nikujaga. 
Well, here's a fact. The story of the birth of Nikujaga begins when the Satsuma domain scholar Heihachiro Togo from the end of the Edo period to the Meiji era was studying abroad in Portsmouth, England, when he was still young.  At that time, Togo was impress by the "beef stew" he was eating when he is going to England. And so, when he came to Maizuru City, he asked the military cook to add beef stew to the menu of the ship's meal. However, at that time, it was difficult to obtain red wine, demiglace sauce, and butter, which are the ingredients for beef stew, and the troubled military personnel used soy sauce and sugar instead. Togo says that this dish includes beef, potatoes, and carrots.
Nikujaga History of Kure City, Hiroshima 
In Japan at that time, beef stew and its variant, Hayashi rice, were already a common menu at Western restaurants. There is also an opinion that boiling beef with soy sauce and sugar is just an urban legend. Because it is the same method as sukiyaki and Yamatoni beef.
The same thing happen in Kure City, Hiroshima Prefecture, where Heihachiro Togo was stationed. Maizuru City claims that it was the birthplace of nikujaga. This is because the recipe for meat and potatoes at that time remained in Maizuru and Portsmouth in England recognized it as the birthplace of nikujaga. They are also selling "original nikujaga croquettes" jointly developed by local civic groups and food manufacturers. On the other hand, Kure City claims that Togo Heihachiro was posted to Kure City before Maizuru. Additionally, they also claim that the nikujaga recipe it uses as the basis for the birth of their nikujaga was arrange in a modern way. Thus, this debate has been going on for about 20 years.
Nikujaga Recipe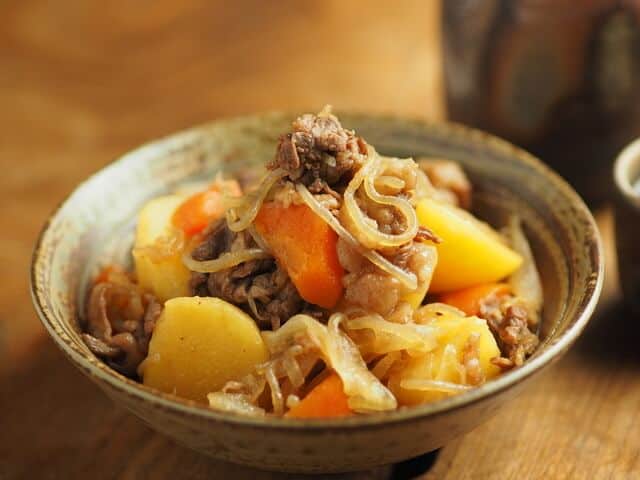 This section will tackle the nikujaga recipe. First off the list is nikujaga ingredients. Its ingredients consist of potatoes, onion, meat (pork, chicken, or beef), carrots, shirataki noodles, soy sauce, sugar, and mirin.
How to make Nikujaga?
Cut the ingredients.
Cut the potatoes into bite-sized pieces and expose them to water to drain them. Then, cut the onions and carrots into small pieces. Cut the beef into bite-sized pieces. Boil the shirataki noodles and cut them to make them easier to eat.
Fry and sauté the ingredients.
Heat the vegetable oil in a pan, fry the onions, add the beef, and fry further. Add carrots, potatoes, and shirataki noodles and fry.
Making the soup stock.
Pour the soup stock, remove the lye when it boils, add soy sauce and mirin, and cover with a lid. When it boils, simmer over low heat for about 15 minutes.
What is the difference between Kansai Nikujaga and Kanto Nikujaga?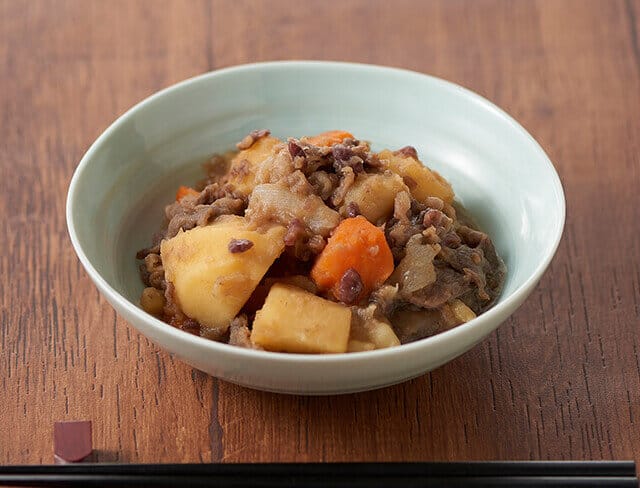 Locals stated that pork is what they use for meat in the Kanto region. There are various theories about this but it seems that the predominant theory was that the pig farming boom occurred after the Great Kanto Earthquake. Consequently, since delicious pork is directly produce and is available at a low price, locals use pork as often.
Meanwhile, in the Kansai region, locals often use beef for their nikujaga. There are various theories about this, but it seems that in the Kansai region, it has become common to keep cattle as livestock for agriculture since there was no meat habit before the Meiji era.
Other than meat, there seems to be no particular change in typical ingredients such as potatoes, carrots, shirataki noodles, colored pods, or green beans, but there are differences depending on the household.
What are the health benefits and nutrition of Nikujaga?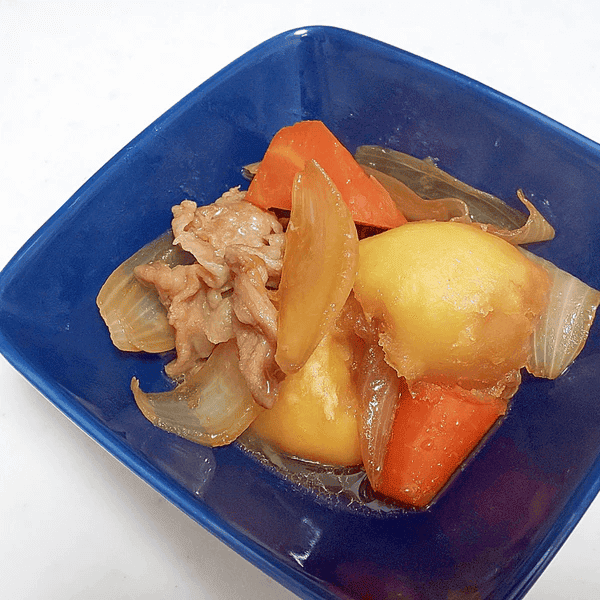 Pork, carrots, potatoes, onions, and konjac in nikujaga are useful for health and beauty. Pork is rich in vitamins, essential amino acids, and proteins. Additionally, it supports the recovery of fatigue of the body. Carrots are rich in carotene and other nutrients such as iron, potassium, dietary fiber, and phosphorus. By taking carrots, you can suppress the oxidation of your body, so it can keep your skin youthful.
Potatoes are rich in nutrients such as vitamin C, potassium, and folic acid. The nutrients contained in potatoes are effective in improving hypertension, preventing cancer and adult diseases. Eating onions makes your blood smooth. Effective for recovering from fatigue and improving high blood pressure. Konjac is low in calories and is an ingredient with high diet effectiveness.
What is Nikujaga served with?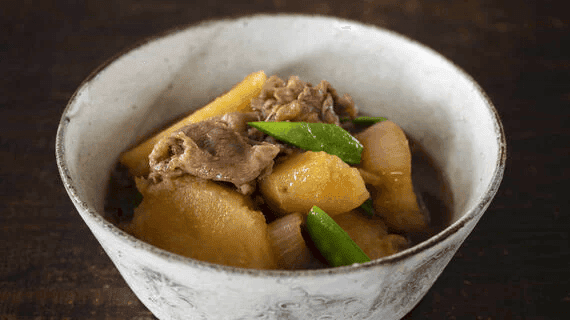 Nikujaga is a common home-cooked winter dish, served with a bowl of white rice and miso soup. It is also sometimes seen in izakayas.
How do you eat Nikujaga?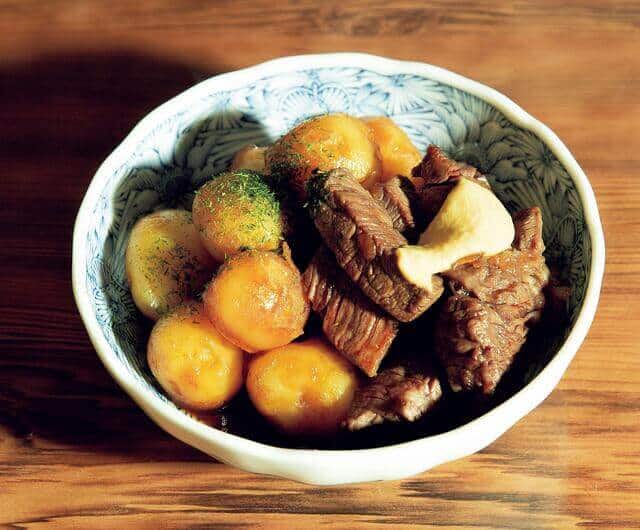 Locals typically eat nikujaga that is pack into a bento lunch box or as part of a traditional Japanese meal served with rice and numerous side dishes. This dish is also being taught to girlfriends to make for their boyfriends to impress them.
Recommended Nikujaga Restaurants
Sake no Ana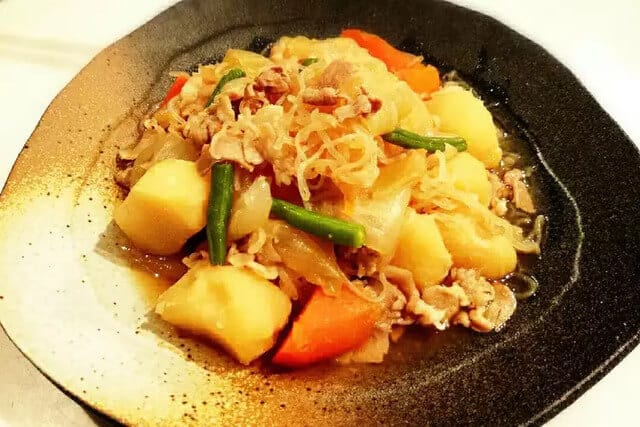 "Sake no Ana" is a 3-minute walk from Ginza Station and is open as an izakaya at night. It is a popular restaurant where you can have a delicious lunch during the day. Their menu "Favorite lunch" is one of their best where you can choose dishes from 15 kinds of side dishes. Such as the standard and monthly dishes. Nikujaga is one of them. Depending on the month, there are other lineups such as "chawanmushi," "two-piece sashimi," and "menchi-katsu." Additionally, there is also coffee or tea on this selectable menu.
Mikame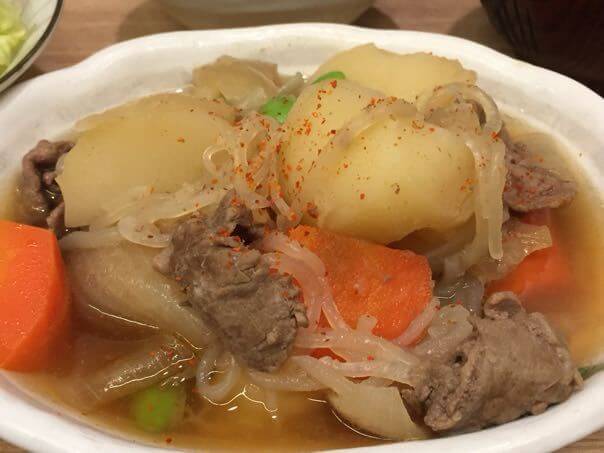 "Mikame" is a 3-minute walk from Ginza Station. It is a Michelin-starred Japanese restaurant.  At night, the price is unique to a luxury store; however, you can enjoy it at a wallet-friendly price at lunchtime. For lunch set meals, you can choose 2 to 3 dishes from sashimi, simmered-dishes, and grilled-dishes. You can enjoy elegantly seasoned set meals such as "Nikujaga".
Kyoya Ginza Store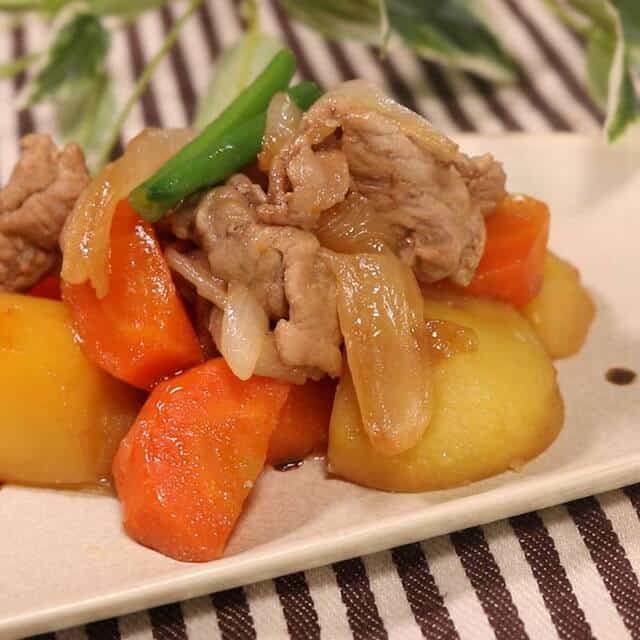 "Kyoya Ginza store" is an 8-minute walk from Ginza station and a 7-minute walk from Shimbashi station. It's a little far from both stations, but it's a popular restaurant as a timeless set meal restaurant. A set meal of nikujaga appears as a daily lunch menu. It is a set meal that you can relax with just the right amount of seasoning.
Farmer's Kitchen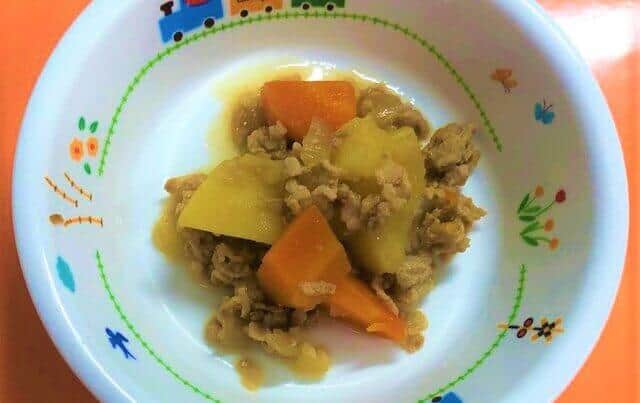 "Farmer's Kitchen Ginza" is a natural food restaurant located a 5-minute walk from Ginza Station. You can enjoy dishes that make the best use of the taste of the vegetables by contracting with a farmer who practices their farming method. At the lunch buffet, there are many menus centered on dishes using seasonal vegetables such as nikujaga.
Conclusion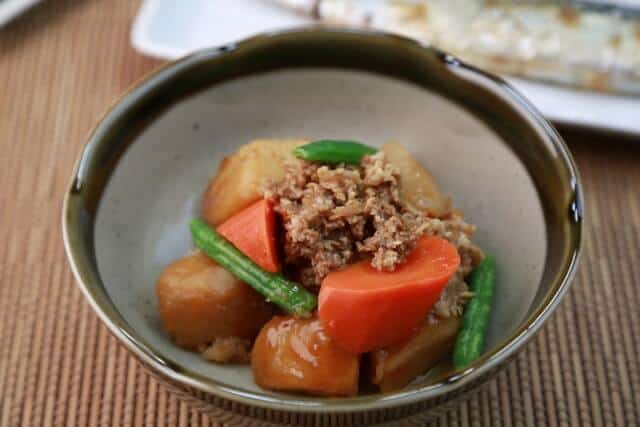 In Japan, many people eat Nikujaga at home. And some never had them at restaurants. They might also have bought a bento box containing nikujaga. In conclusion, Nikujaga is typical Japanese home cooking. When it comes to nikujaga, there are synonymous related words such as "the taste of your home" and "the food you want your mom to cook." I think it's a convenient dish that creates an elaborate feeling and creates a feeling of accomplishment at the end because it is easy to make.