Botan Nabe "ぼたん鍋" uses wild boar meat as its main ingredient. Wild, isn't it? It's one of the many hot pot dishes in Japan. Read on to know more.
What is Botan Nabe?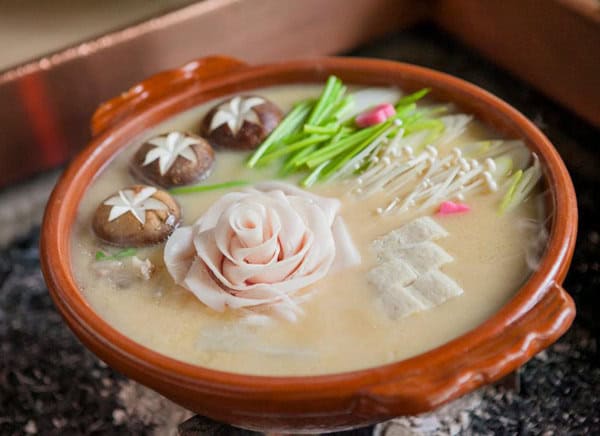 While there are tons of hot pot dishes, this dish is making noises in western Japan. In fact, it is quite common to use wild boar meat in Japan. Of course, this may be new for some people from other countries.
Another distinct thing about Botan Nabe is the arrangement of the meat. They would carefully place the meat to make it look like a flower. Thus, making it look like "Botan" or peony in English.
In 2007, the Ministry of Agriculture, Forestry, and Fisheries of Japan chose it as a representative of Hyogo Prefecture in the 100 Best Local Dishes. Some of the local dishes in the list are Inaniwa Udon of Akita, Ise Udon of Mie, and Fukagawa Meshi of Tokyo. Due to its popularity, there are now over 40 stores in Tamba-Sasayame City that serve Botan Nabe.
History of Botan Nabe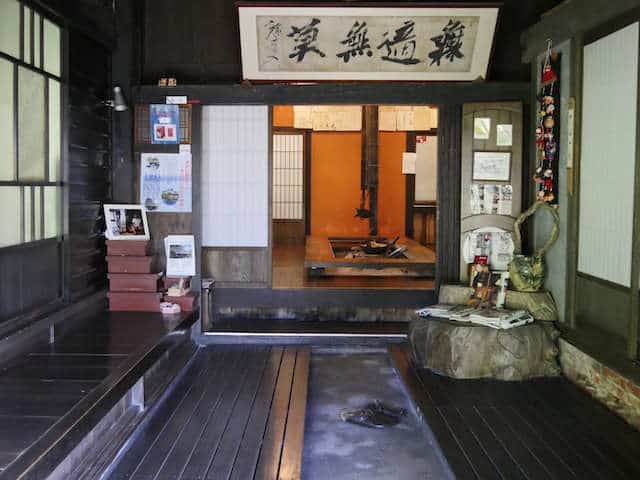 Using wild boar meat in dishes is a common thing in Japan. In fact, they have a long history of eating wild boar meat which dates back to the Jomon period. Not to mention that some people even called it "mountain whale". During Buddhism's introduction, people are not allowed to eat any kind of meat. However, there are still some people who eat this as a good protein source.
During the Edo period, they replaced the name "boar" with "botan". Similarly, they also changed the names of other animal meats. For example, horse meat became "sakura" and deer meat is "momiji". Other meat names include "kashiwa" for chicken and "getuyo" for rabbit meat.
As soon as the Meiji era began, officials lifted the ban on eating meat. Hence, people started cooking and eating wild boar meat in a hot pot. Later on, the dish got the name "Ino hot pot".
A certain healthy food for the soldiers rose to fame in 1908. According to them, the wild boar meat of Tamba Sasayama is exceptional! It became popular nationwide after then.
Fast forward to 1945, a local inn began serving wild boar meat that looks like peony flowers. Thus, acquiring the name "Botan Nabe".
What is the difference between Botan Nabe and Shishi Nabe?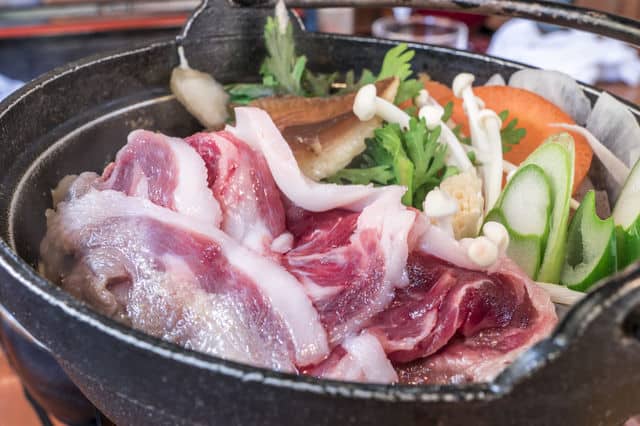 Hot pot dishes are especially popular during the winter. During the cold season, it's just normal for people to eat something to help them warm up. Hence, the consumption of hot pot dishes increases.
While both dishes use wild boar meat, there are still some differences between the two. Discussing the difference is easier than many would think.
Since the hot pot dish uses wild boar meat, the name "Shishi Nabe" totally makes sense. The ingredients are also the same. Both have Chinese cabbage, tofu, carrots, green onions, mushrooms, etc. However, the slices and arrangement of wild boar meat in Botan Nabe make it different from the other one.
In conclusion, both hot pot dishes have the same ingredients but differ in presentation.
Is it healthy to eat wild boar meat?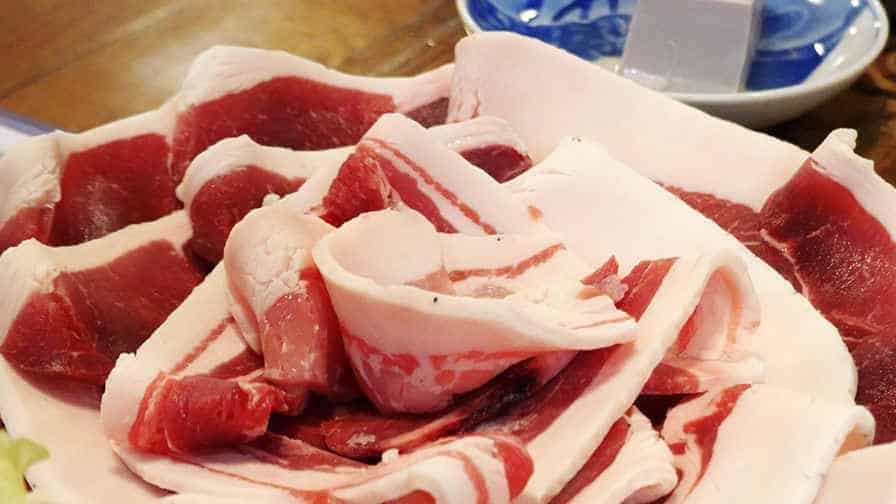 The answer is yes. As a matter of fact, it is leaner than regular pork. It appears to be darker in color and carries a sweet and nutty flavor.
In addition, wild boar meat is high in protein and low in fat and calories. Thus, this is a popular meat option for those who keep a strict diet. It also has vitamin B2 which helps in maintaining the body's energy supply.
Botan Nabe Recipe
Another key point is that people traditionally seasoned Botan Nabe with soy sauce and miso. They also added plenty of soy sauce and sugar to make it sweeter. However, not everyone liked this way of cooking. So, they developed a new recipe instead.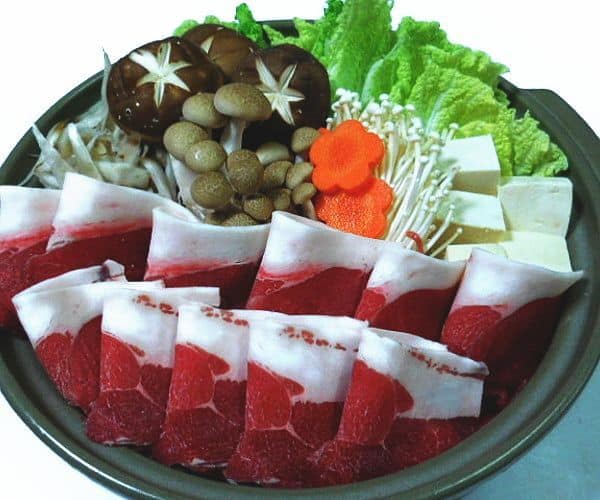 Botan Nabe Ingredients
Good for 1-2 persons
cabbage
half piece
green onions
50 grams
carrot
1 pc.
mizuna
appropriate amount
mirin
5 tbsp.
sake
10 tbsp.
miso
2 tbsp.
salt
a pinch
dashi (soup stock)
4-5 cups
mushrooms
(i.e. Shiitake, Maitake, and Shimeji)
appropriate amount
burdock root
50 grams
lotus root
150 grams
roasted chestnuts
50 grams
tofu
70 grams
wild boar meat
300-500 grams
How to cook Botan Nabe?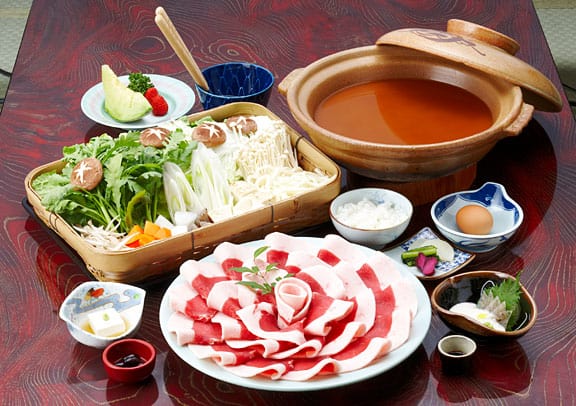 To begin with, mix all condiments except salt and dashi.
Then, get the hot pot and boil clean water.
Afterward, toss all ingredients that take a longer time to cook. (i.e. carrots, lotus root, burdock root, roasted chestnuts, etc.)
When the vegetables mentioned above are about to be ready, add the rest of the ingredients. Add salt according to your preference and let it simmer after.
Carefully place the wild boar meat on top making it look like a peony flower. As soon as the color of the meat changes, turn off the heat. Lastly, garnish with mizuna before serving.
Where to eat Botan Nabe?
Since Botan Nabe is a traditional food from Hyogo Prefecture, it just makes sense to recommend shops from the area. The restaurants below are arguably some of the best places to get an authentic taste of this dish.
Kai Shinoyama Local Cuisine (丹波篠山郷土料理 懐)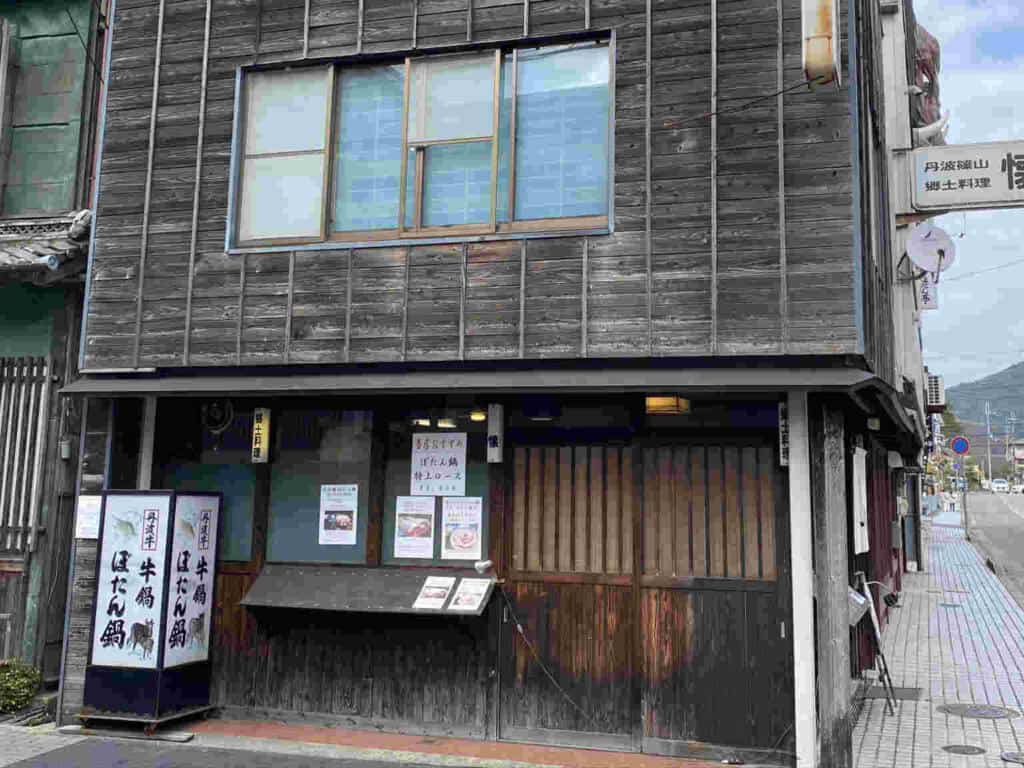 Finding this restaurant is easy as it's just near the Sasayama Castle. Not only do they serve authentic Botan Nabe, but they also offer it all-year round. Kai Shinoyama Local Cuisine is so popular that it's best to make a reservation before going. In fact, visitors flock the restaurant any time of the day.
Hearth Chaya Sato no Ie (囲炉裏茶屋 里の家)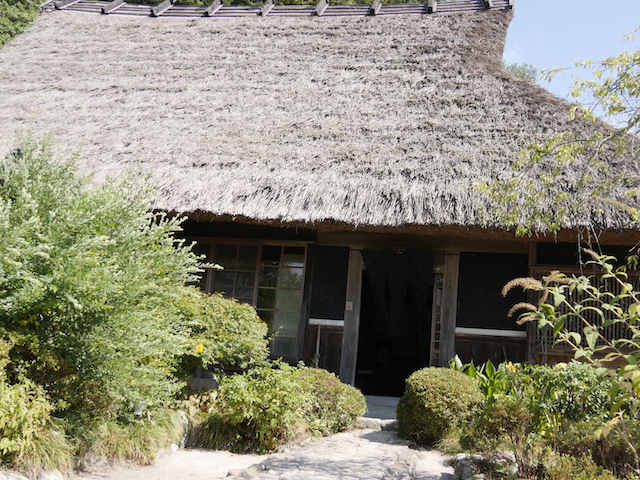 This old yet fashionable Samurai residence is surrounded by nostalgic scenery. Hearth Chaya Sato no Ie uses wild boar meat and vegetables that are produced locally. In addition to that, Botan Nabe is part of their menu for Seasonal Dishes. As a matter of fact, they only serve this local food in Hyogo from mid of November to late March.
Tamba Sasayama Kinmata (丹波篠山 近又)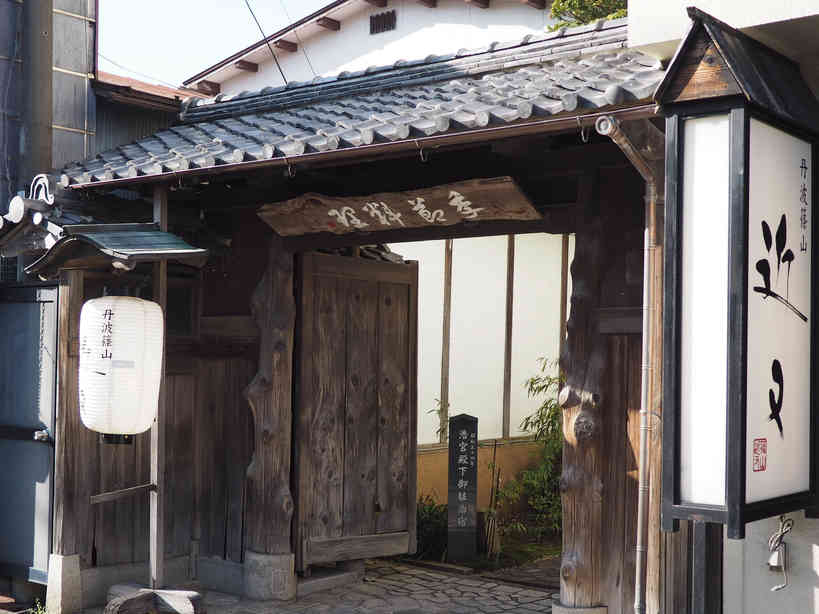 Make way for the origin of Botan Nabe! Tamba Sasayama Kinmata is the place where this Hyogo Prefecture representative started. It's actually a famous inn that has been operating for more than 400 years.
The inn has a private tatami room (Japanese-style room) which is perfect to enjoy the wild boar hot pot dish. Also, their sweet and spicy miso matches the flavor of wild boar meat. Another great thing about Tamba Sasayama Kinmata is that they value history and tradition.
Despite being a local food of Hyogo, there are a few stores in Tokyo that offer Botan Nabe. Though these shops are still rare in comparison with other specialty stores. Here are a few restaurants where you can devour wild boar meat hot pot while in Tokyo.
Momonjiya (山くじら すき焼 ももんじや)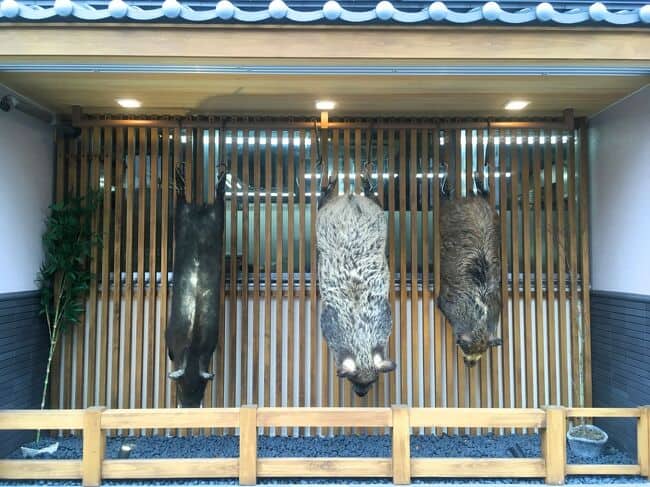 This famous Botan Nabe restaurant is just a 5-minute walk from Ryogoku Station. Momonjiya has been serving wild boar meat hot pot for over 300 years. They also have a tatami room for those who want to take time in enjoying the meal.
Rice & Circus Takadanobaba (獣肉酒家 米とサーカス 高田馬場店)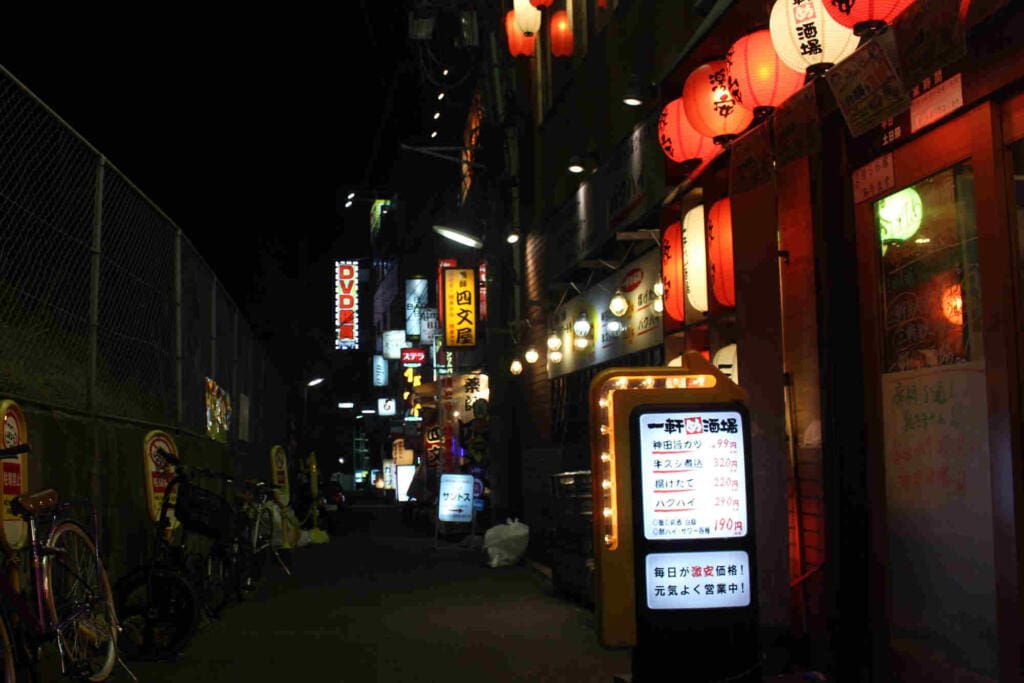 Rice & Circus is a Japanese izakaya that is just a 1-minute walk from Takadanobaba Station. They are famous for serving Jibie cuisine or Japanese wild game cuisine which is rare in Tokyo. If you want a different experience, Rice and Circus is the place to be!
Takeaway
Botan Nabe or wild boar meat hot pot may come strange, but this is a delicious and healthy meal. The peony style of the meat also adds up to the overall aesthetic of the dish. Don't miss out on trying this Hyogo local food the next time you visit Japan!
If Botan Nabe looks appetizing, you can check other nabe dishes in Japan here.