People tend to think of Shabu-shabu as a dish for cold winter days. However, Shabu-shabu is actually enjoyed all year round in Japan while various types of hot pot dishes are often eaten as the seasons change . Today, we would like to introduce the history of shabu-shabu and how to make it at home.
What is Shabu shabu?
Shabu-shabu (しゃぶしゃぶ) is a Japanese nabemono hotpot dish where locals cook the meat and assorted vegetables in a flavorful broth called kombu dashi. It is generally more savory and less sweet than sukiyaki. There are some sliced ​​bite-sized ingredients in the boiling water or soup boiled in a tabletop pot and then dipped in a small bowl of sauce to eat. Ponzu and sesame sauce are its common sauces in Japan.
Etymology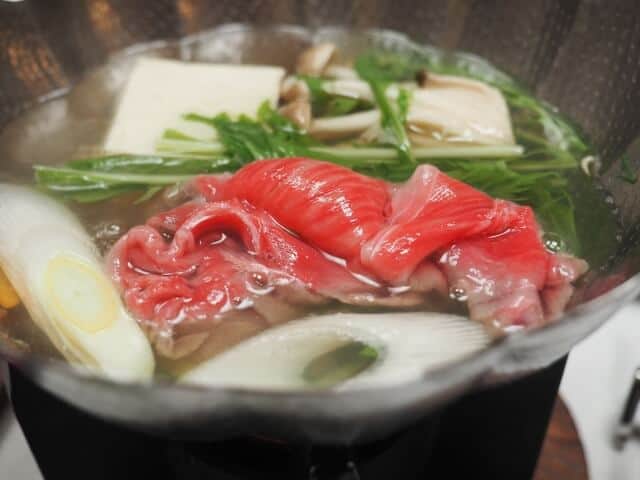 The term "shabu-shabu (しゃぶしゃぶ)" is onomatopoeic, derived from the sound – "swish swish" – emitted when the ingredients are stirred in the cooking pot. The name originated from the similarity between the sound of meat being dipped in soup broth and the rhythmic sound of water when a person rinses a hand towel in a basin. Many believed that this is the biggest factor that led to the big hit from the name change. And they registered this name as a trademark in 1958.
Shabu shabu History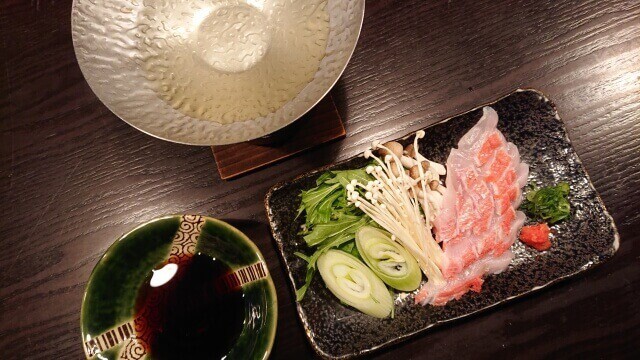 Came from China
Shabu-shabu was introduced in Japan in the 20th century with the opening of the restaurant "Suehiro" in Osaka, where they invented the name of it. According to one theory, the origin of shabu-shabu is a Japanese hot pot dish in China. It is a hot pot dish in Beijing, "Schwann Yanrou", which Kublai Khan's doctor devised. "Schwann" means rinsing in water or hot water, and "Yanrou" means lamb, which is a dish in which lamb is put in soup and cooked quickly.  
Various changes in Japan
After the introduction to Japan, the ingredients and seasonings changed according to the Japanese people. Meat changed from hard-to-find lamb to beef, and the seasoning changed to suit the taste of Japanese people. What they developed at this time was the sesame seeds that are now widely used. In addition, the pot was a shichirin (small charcoal grill) at that time, but after repeated trial and error to make it a product with good thermal conductivity, it changed to the current shape. There is a chimney-shaped cylinder in the center of the shabu-shabu cooking pot, which is a remnant of the Shichirin at the time of development. It also serves as an exhaust path during heating, and since the diameter of the pot is larger than that of the shichirin, it also has the purpose of avoiding incomplete combustion.
The outcome of shabu-shabu
The result of many people's ingenuity is the dish called "mizutaki beef," which is the original form of shabu-shabu in Japan. In 1947 (Showa 22), Mitsunori Nishigaki put it as "Mizutaki beef" on the market. The new taste gained popularity and spread throughout Japan by people involved in the folk art movement. In Tottori City, there is also a "beef rinse pot" Takumi Kappo, which they believe to have the roots of Japanese shabu-shabu.
Shabu shabu Recipe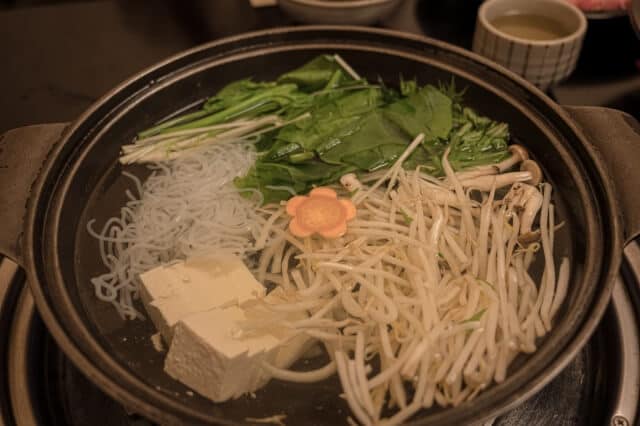 Shabu-shabu Ingredients
| | |
| --- | --- |
| Ingredients of Shabu-shabu for 3 person | |
| Katsuo dashi | 30g |
| Water | 1000g |
| Pork (for shabu-shabu) | 600g |
| Chinese cabbage | 35g |
| Enoki | 65g |
| Long green onion | 20g |
How to make Shabu-shabu
Put water in a pan and heat it
Put the water in a pan. When it boils, turn off the heat, add dried bonito flakes and leave for about 2 minutes.
Dry the bonito flakes
Use kitchen paper (or cloth) on the colander and slowly rub the dried bonito flakes.
Prepare the ingredients and your sauce
Prepare your favorite vegetables, ponzu sauce and sesame sauce.
Cutting the vegetables
Cut Chinese cabbage into pieces that are easy to eat. Then, cut off the root of Enoki also and cut it in half. Additionally, cut the green onions diagonally.
Boil all the ingredients and serve
Put water and kelp in a pan, heat over medium heat, and take out the kelp just before boiling.
What are the common meat or ingredients used in Shabu-shabu?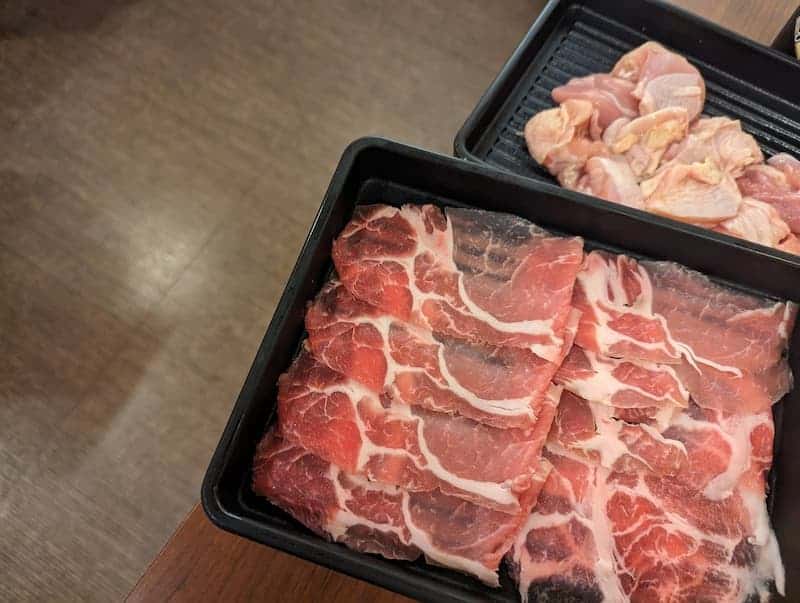 Shabu-shabu generally uses slices of pork or beef. As a variant, you can also eat chicken breast and lamb meat deliciously. Some also use Thai, crab, and yellowtail. Because they are the popular fish and shellfish in Japan. As for vegetables, we recommend standard Chinese cabbage, green onions, mushrooms, and root vegetables such as sliced ​​radish and carrots. There are no particular rules regarding the ingredients, but the point is to choose the ingredients that can be cooked quickly by shabu-shabu. If the ingredients are difficult to cook, slice them thinly. Because the thicker the meat, the longer the heating time, so the meat may become a little harder, but it also has a good texture and taste.
Sauce for shabu shabu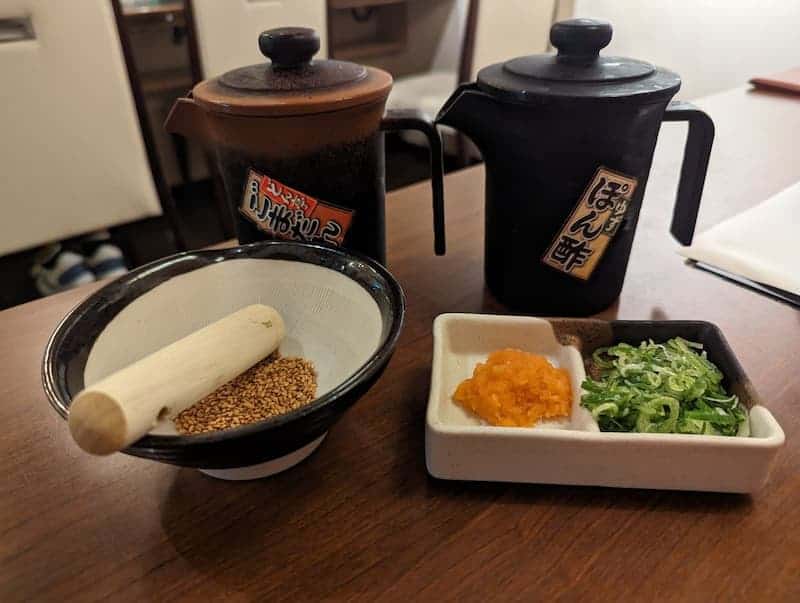 Shabu-shabu sauce is a seasoning that locals added after dipping meat and vegetables in the soup stock. The point is that it is the decisive factor in the taste of shabu-shabu. 
Fundokin Sweet sesame flavored ponzu

Many recommended ponzu for sweet-type shabu-shabu sauce. The mellow taste with suppressed sourness is attractive. By subduing the aroma peculiar to soy sauce and using the original "Ponzu special soy sauce", the natural flavor of citrus.
Sorachi shabu-shabu sauce soy sauce flavor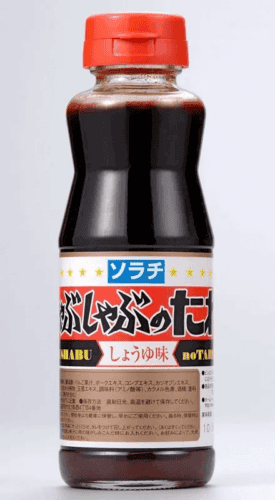 It is a soy sauce-based shabu-shabu sauce that has been familiar in Hokkaido for a long time. This product is a sauce made for eating "lamb shabu".
Sorachi shabu-shabu sauce sesame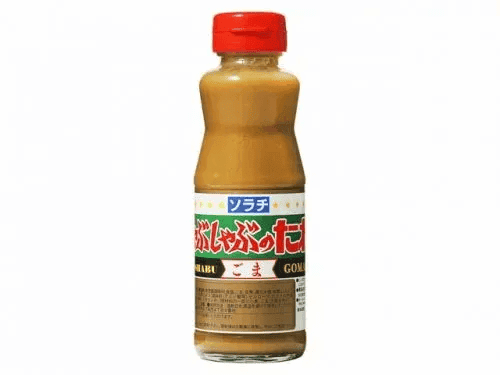 Shabu-shabu sauce uses kneaded sesame, ground sesame, and roasted sesame. The point is that you can enjoy the texture and aroma of sesame even more by using three types of sesame.
Ranking of meat for shabu shabu
There are also rankings for the meat used in Shabu-shabu. Pig shabu-shabu" is popular but people over the age of 60 like "beef". However, it seems that "pork" shabu-shabu is preferred not only because of its price but also because of its taste and ease of cooking.
Pork
Beef
Pork and beef
Pork and lamb
Lamb meat
Chicken
Fish
Sukiyaki vs Shabu shabu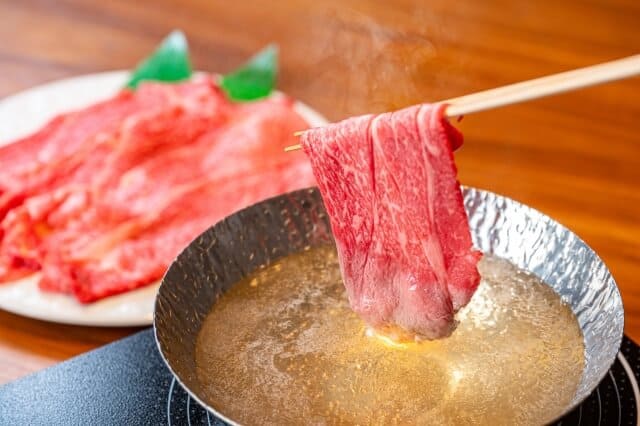 Shabu-shabu and sukiyaki are identical hotpot dishes with thin beef slices and similar vegetables, but sukiyaki's meat is to be thoroughly cooked, either by being grilled first or by being kept to simmer in the sauce. Hence, shabu-shabu doesn't usually include eggs or a soy sauce-based sauce because locals parboiled the meat in the hot stock or sauce. Shabu-shabu is fatty beef with a light flavor, but sukiyaki has a deep flavor that locals seasoned with soy sauce and sugar.
How to make shabu-shabu taste better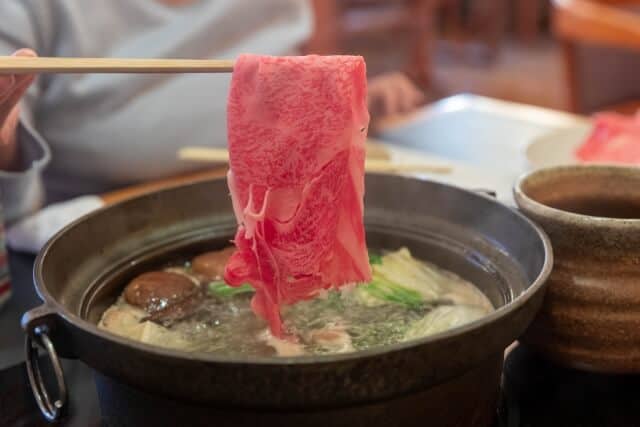 "Shabu-shabu has a strong impression that it is a simple dish that everyone can cook quickly, but there are some points to make it more delicious.
The temperature of hot water is just before boiling
Please lower the temperature after boiling so as not to miss the taste of the meat. Locals recommend that it should not have lye on it.
Which comes first, meat or vegetables?
Normally, it is better to put the meat first and then the vegetables when the dashi stock comes out, but it is better to put the vegetables such as Chinese cabbage and stems that are difficult to cook first. Especially, the taste comes out from mushrooms. Please put it slowly so that the temperature does not drop at once.
The pot use for shabu-shabu
The shabu-shabu pot is shaped like a donut and has a hollow in the middle, which makes it look like a chimney.
Luxury copper shabu-shabu pot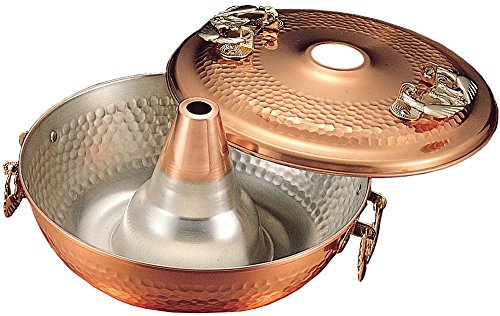 The copper shabu-shabu pot is famous for its high thermal conductivity, and it takes only a short time from the time you put the meat in and the temperature drops to boiling again.
Stainless steel shabu-shabu pot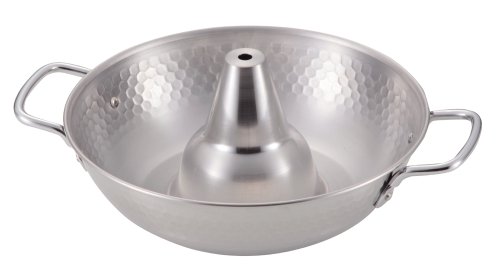 A stainless steel shabu-shabu pot that you can purchase at a reasonable price. It is made of stainless steel, so it's easy to clean, and it's also good that it doesn't rust and can easily remove the stains.
Honma Seisakusho's puppy-branded shabu-shabu pot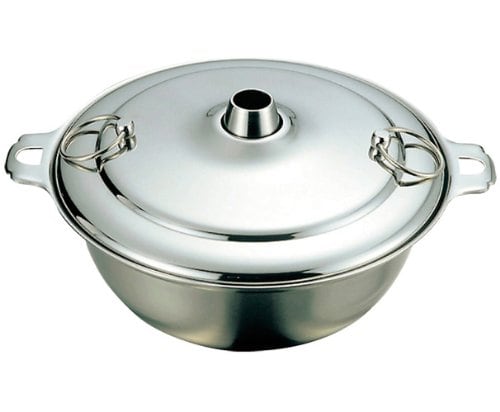 A shabu-shabu pot from Honma Seisakusho's brand "Puppy Mark", a long-established kitchen product manufacturer.
Reason for the shape of the shabu-shabu pot
It's a very characteristic shape for a pot, but why does it have such a shape? There are various theories as to why the shabu-shabu pot has the current shape, but here are some of the most representative ones.
Past Japanese use it on a shichirin (small charcoal grill)
Before cooking on a gas stove, the Japanese cook it on a charcoal fire such as a shichirin. Therefore, if you put the pot on it and shabu-shabu indoors, there is a risk of carbon monoxide poisoning. There is a theory that a chimney is attached in the middle to make an air passage.
To make it harder to cool the soup 
If there is a chimney in the middle, the area where the pot and the fire come in contact with each other will be larger, which makes it harder to cool the soup.
Where to buy Shabu shabu
Ningyocho Imahan (人形町今半)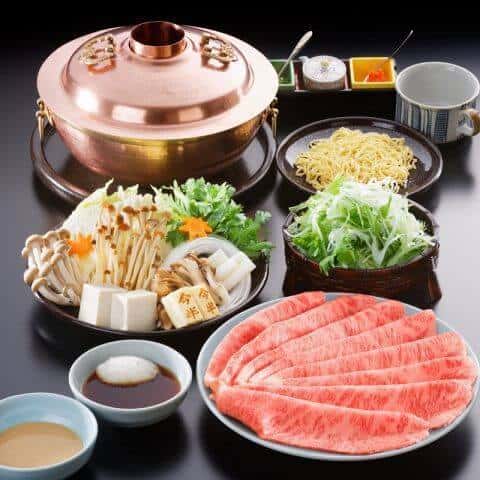 This shop has a great commitment to beef and they are the most famous of all restaurants that serve shabu-shabu. In pursuit of deliciousness and softness, beef that contains a lot of "soft fat" is used, so the meat melts the moment you put it in your mouth. There is a spacious private room, so customers recommended it for company banquets and alumni associations.
Kagayaki (かがやき)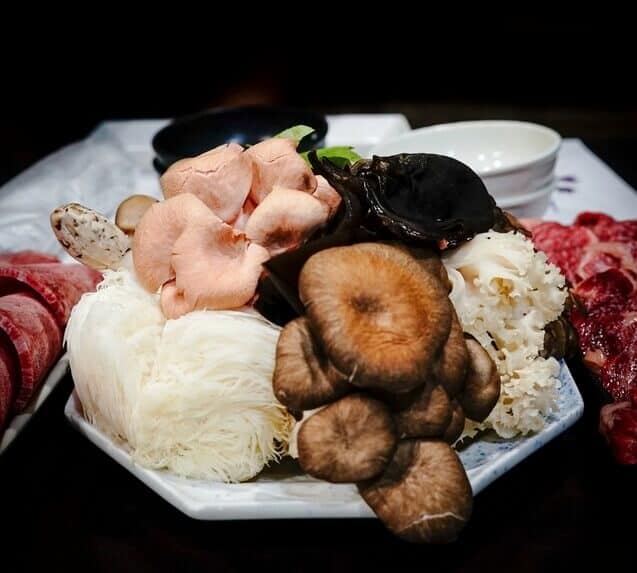 The second recommended shabu-shabu restaurant in Tokyo is Kagayaki, which is about a 5-minute walk from Minowa Station on the Tokyo Metro Hibiya Line. At this shop, you can eat A3 to A5 rank Japanese black beef meat. You can also eat all-you-can-eat sirloin and chateaubriand depending on the day 
Kintsuta Roppongi (金蔦 六本木店)
This shop features a calm interior that makes you forget the hustle and bustle of the city. In addition, there are table seats and seats in a completely private room that can accommodate up to 12 people in the large store. A cooked meat hot pot is an original hot pot dish of Kintsuta, in which vegetables are spread around a donut-shaped hot pot, and meat is densely on top of it. 
Final Thoughts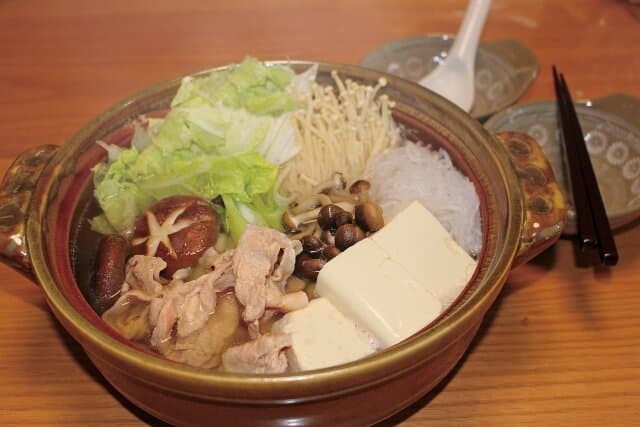 Shabu shabu is a popular hot pot dish from Japan consisting of thinly sliced meat and bite-sized vegetables cooked in steaming hot broth. Since the creation of earthenware pottery thousands of years ago, hot pot dining has been a favorite pastime in Japan, but shabu, as we know it now only, emerged in the middle of the 20th century.
If you are so much into the Shabu-shabu kind of thing in Japan, you can also try their Sukiyaki – Kanto style sukiyaki and Kansai style sukiyaki.