Udon is thick noodle made from wheat flour, often used in Japanese food. There are several ways to cook and serve udon. However, two of the most popular udon are probably Tanuki udon and Kitsune udon, which are both named after animals (racoon dogs and foxes). In this article, we will introduce about Tanuki udon, the origin of the name "Tanuki", recipes as well as restaurants to try good Tanuki udon.
What is Tanuki Udon?
Tanuki Udon is a kind of Japanese traditional food which is usually known as udon noodle served in a dashi broth, topped with Tenkasu (Tempura bits). However, in fact, Tanuki Udon may refer to different dishes depending on the region. Let's explore the amazing world of Japanese cuisine!
Tenkasu (天かす)or Agedama (揚げ玉)are crunchy scraps of deep-fried flour-batter, favoutire toppings used in Japanese food, espescially in Takoyaki (たこ焼き), Okonomiyaki (お好み焼き), udon/ soba.
Etymology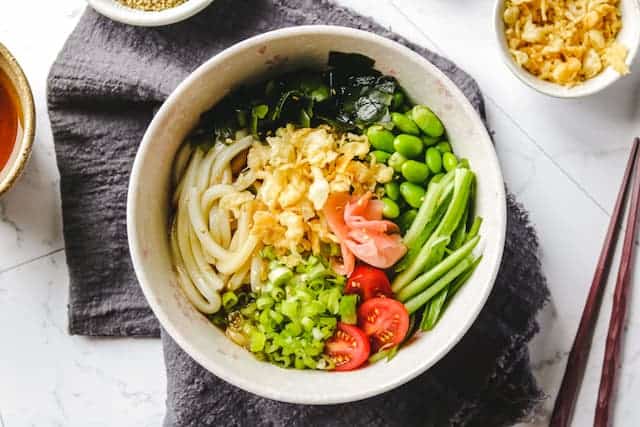 It is widely thought that Tanuki udon originated in Kanto region during the late Edo period (1603-1868). In Japanese , "Tanuki" means racoon dog – an animal which is popular in Japanese culture. It is interesting that the dish itself and the name have nothing in common. There are several conflicting theories about the origin of the name.
One strong theory show that during the time of Edo period, the ingredients of tempura udon were so expensive that they changed the ingredients to Tenkasu (crunchy bits of deep-fried batter left after cooking Tempura). Because of this reason, they called the dish "Tanenuki" (タネ抜き)(without main toppings) and corrupted into the name "Tanuki". However, some people believe that the color of Tenkasu udon is reminiscent of racoon dogs, so Tanuki udon was named after this animal. There are various theories about the name "Tanuki udon". However, up until now, the origin of it is still unclear.
Tanuki Udon Recipe
Tanuki Udon Ingredients
| | |
| --- | --- |
| Ingredients of Temari Sushi for 2 person | |
| Udon (frozen) | 1 ball |
| Tsuyu (Noodle soup) | |
| Water | 350 ml |
| Mentsuyu (noodle soup base) | 2 tbsp |
| Dashi granules | 1 tsp |
|  Topping | |
| Tenkasu | 10g |
| Dried wakame seaweed | 1g |
| Boiled egg | 1/2 |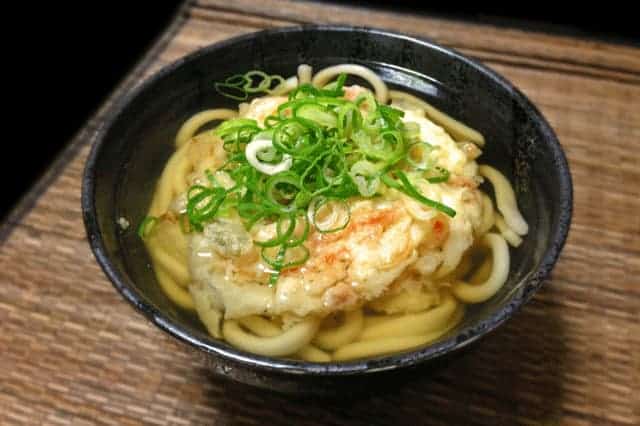 How to make Tanuki Udon?
Preparing the ingredients for toppings
You can buy packaged Tenkasu at stores or easily make Tenkasu at home with common ingredients. Check below how to make Tenkasu.
Soak dried wakame seaweed in water for about 10-15 minutes, following the instructions on the package.
Boil egg and slice in half (both soft and hard-boiled egg is okay).
After all the ingredients are prepared, gather them and move to the next step!
Make udon broth
Put ingredients for the noodle soup base (tsuyu) in a pan and boil over medium flame. When it comes to a rolling boil, add udon noodles. 
Serving
Serve udon on the bowl, add toppings on top and enjoy the meal! Itadakimasu!
Ingredients
| | |
| --- | --- |
| Ingredients of Tenkasu (1 serving) | |
| Cake flour | 30 g |
| Water | 20 ml |
| Vinegar | 1 tsp |
| Salad oil | 2 cups |
Ready to cook!
Mixing the flour
Mix flour, water and vinegar in a bowl. Make sure to mix until the flour is just incorporated. Remember not to overmix the mixture.
Frying the batter
Heat the oil under medium heat in the frying pan. Drop the batters into the oil and fry, stir with chopsticks until they turn golden color.
Serving
Use slotted spoon or fine-mesh skimmer to remove the Tenkasu from the frying-pan. If you want to store the Tenkasu for a short time (~1 week), put them in the refrigerator. However, if you want to store for a long period of time (2-3 months), we recommend keeping in the freezer.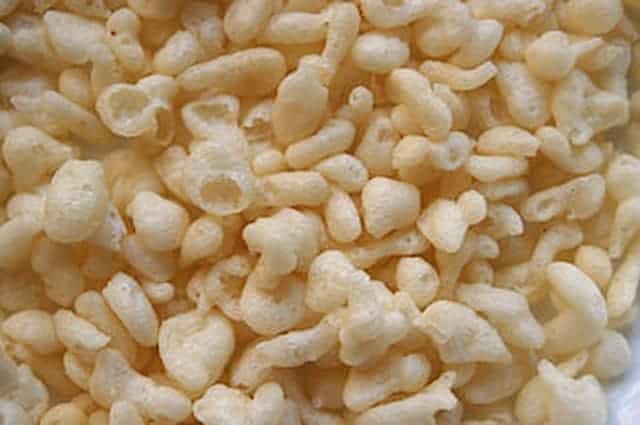 Health information of Tanuki udon
According to "Food Composition Database" by the Ministry of Education, Culture, Sports, Science and Technology (MEXT), the calories and nutrients per 400g of tanuki udon are as follows.
| | |
| --- | --- |
| Energy | 352 kcal |
| Protein | 10.24g (40.96kcal) |
| Lipid | 4.12g (37.08kcal) |
| Carbohydrate | 65.24g (260.96kcal) |
Difference between Kanto and Kansai
"Tanuki" refers to different dishes from region to region in Japan. The usual noodles garnished with Tenkasu that we all know is called "Tanuki" in Kanto (included Tokyo). However, in Kansai, "Tanuki" is used to call "Tanuki Soba" (soba only), along with "Kitsune Udon" (きつねうどん)which are both noodles topped with fried tofu. Udon with Tenkasu in Kansai is simply called "Tenkasu udon".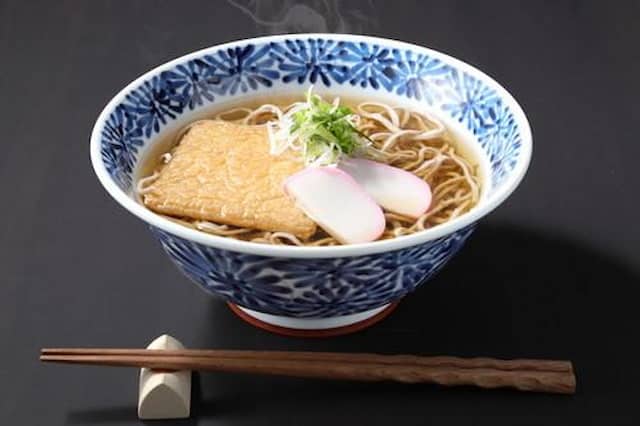 Tokyo (Kanto)
Osaka (Kansai)
Kyoto
Hokkaido
Tanuki
(udon・soba)

(udon・soba)
Tenkasu

(only soba)
Fried tofu
Kitsune udon
with ankake

(udon・soba)
Kakiage
The dishes are different depending on the region so next time when you come to the restaurant, remember where you are and make sure you order the right ingredients!
Udon day in Japan
It is obvious that udon is treasured by a lot of Japanese people, but do you know that there is also a day called udon day? Yes, there is! July 2rd is Udon day in Japan. This day comes from Kagawa prefecture – a place regarded as the udon kingdom. Come one and find out what is special on this day!
Kagawa (香川)- Born place of Udon day
Kagawa is the smalles prefecture in Japan. However, there are over 600 udon noodles shop here. In Kagawa, udon take a very important place in their food culture. That is why this place is named the Udon prefecture.
Udon from Kagawa, unlike others are called "Sanuki udon" – the old name of this region. They have a firm texture, which make them unique from the udon of other regions.

The Kagawa people are famous for their love for udon. There are some special splaces relating to this tradional food that attracted a lot of visitors. One of them is Kotohira shrine (金刀比羅宮). Since the Edo period, it is popular to visit Kotohira shrine and this is called Konpira Mairi. There are total 785 steps from the entrance to the main hall and along the way, there are a lot of udon shops for visitors to take a break and exprience the orinial Sanuki udon.
The origin of Udon day
In Japan, there is a day called Hangesho (半夏生). This day is the 11th day from the summer solstice and falls on July 2rd each year. It is an important day for farmers as this is the last seed-sowing day and farmer will take a rest for 5 days. During these 5 days, it is believed that the miasma from heaven is not good for planting, so all the wells have to be covered or else the vegetables harvested can not be eaten. There are often heavy rains on this day and they are called Hange-ame (半夏雨) – Hange rain.
In some regions, there are some traditiona activities on this day. For example, in Kansai, people eat octopus, Kagawa people eat udon while in Ono (Fukui prefecture), grilled mackerel is eaten on Hangesho. As celebrating of this day – the last rice-planting day, Kagawa has marked the second of July as "Udon day".
Where to eat Tanuki Udon?
As you may know, a lot of Japanese love udon as it can be served both on hot summer days or cold winter days. Thanks to this, Tanunki udon are quite popular in Japan and if you are in Japan, you can easily find Tanuki udon everywhere. They are also sold as instant noodles as well. However, in this article, we will introduce you some restaurants where you can enjoy the good home-made Tanuki Udon.
Daitsune Udon Ginza (太常うどん 銀座)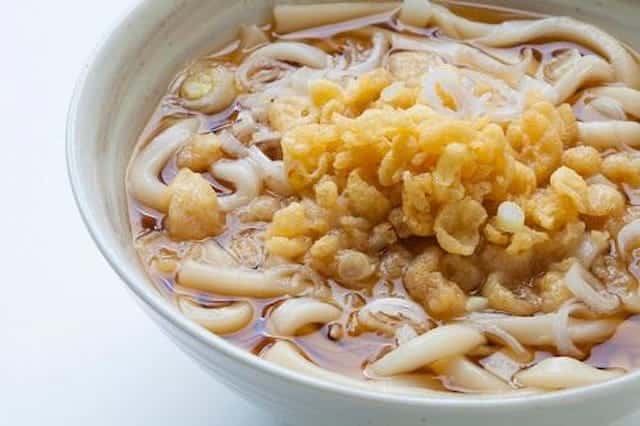 In business for 5 generations since the Edo period, Daitsune is renowned for its high-quality ingredients, especially the vegetables. They say no to chemical additives and only use natural ingredients. The special thing in Daitsune is vegetables which are carefully-chosen and delivered directly from the market to the restaurant. For these reasons, Daitsune are always busy during lunch time with locals and uf you are a visitor, don't forget to write down Daitsune in your checklist!
Musashi (むさし)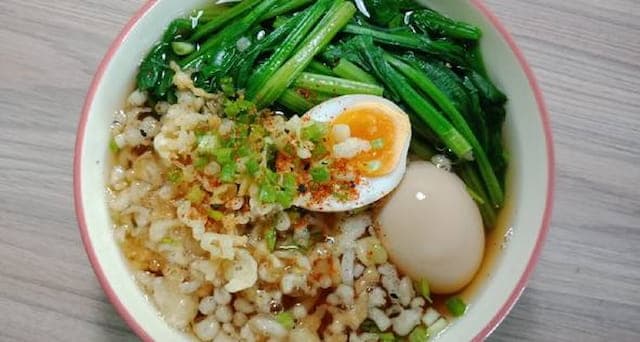 Talking about udon, we can not forget to mention Kagawa prefecture. Musashi is a famous udon restaurant in Kagawa with various of udon dishes served. Of course there are also a lot of udon shops in Kagawa and it is recommended that you try as many as possible until you find your favourite place, but if you get a chance to Kagawa, make sure to give Musashi a chance!
Taiya (本格手打うどん 大河)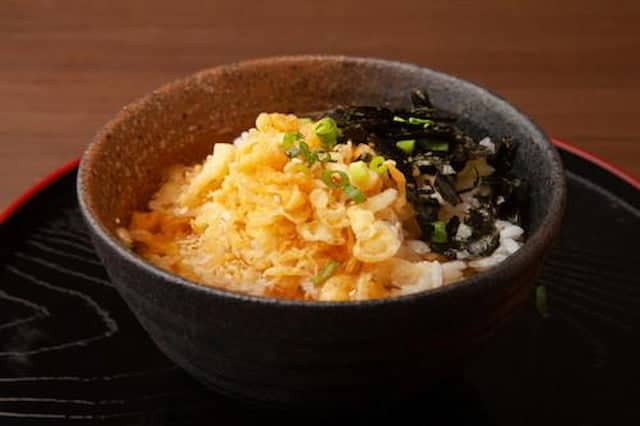 A popular restaurant with long queues not only at weekends but weekdays also. The udon served in the restaurant are chewy with nice broth. There are several topping options besides Tenkasu such as shrimp tempura, chicken tempura, chikuwa tempura, etc.
Shofukutei (招福亭)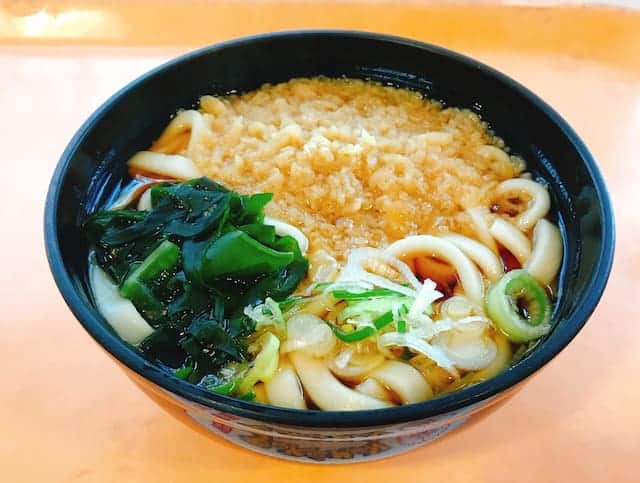 If you are in Kyoto, don't forget to visit Shofukutei to experience one of the best udon restaurant with the most "original Kyoto taste". The restaurant is small but give off cozy vibe, suited for cold days to warm up your body with delicious udon broth. Go ahead and experience the original Japanese food!
Osakaya (小阪屋)
This is the famous home-made udon noodle restaurant in Kyoto. Osakaya servea a variety of udon and soba noodles with Tokyo, Osaka and Nagoya style. Menus are served in 5 different languages which are really convenient to foreigners. This would be a good option for casual quick bowls.
Takeaway
Tanuki Udon is a simple udon noodle that is loved by a lot of Japanese people. During hot summer, you can also try cold Tanuki Udon, which is really refreshing and simple to cook. If you want to experience Japanese food, this is one of the best choice as it has chewy noodle texture, delicious broth with excellent combination of toppings. Go ahead and try it yourself!
If you want to find out other udon dishes, check it out here or click here for more information about Japanese noodles.