When mentioning a chilled dish suitable for hot summer, you may think of ice scream, yogurt, iced drink, cold noodles,… However, do you want to try a special fresh dish for summer that you have never eaten before other than these listed above. Let me introduce Hiyayakko (冷奴)! In this article, we will find out what is Hiyayakko, Hiyayakko recipes and where to eat this dish. And now, add it to your to-eat-list and let's go!
What is Hiyayakko (冷奴)?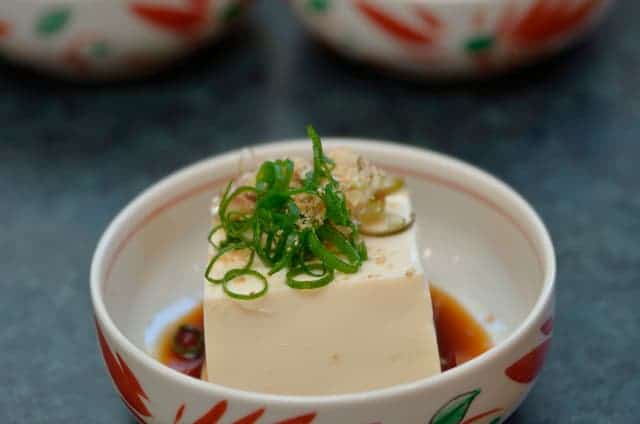 Hiyayakko, also known as hiyakko (ひやっこ) or yakko-dofu (奴豆腐) is Japanese cold uncooked tofu, cut into large squares with condiments such as chopped green nonion, dried bonito flake (鰹節), grated ginger, etc and seasonings such as dark soy sauce, red pepper miso. It is a simple and refreshing side dish that you can make even at home. The interesting part is you will never get tired of it as you can always change the toppings to find out which is the best and the most suits your taste.
In Haiku (俳句) and Renga (連歌), Hiyayakko is a season word (季語) for summer as it is often served cold in the summer and boiled in the winter.
History of Hiyayakko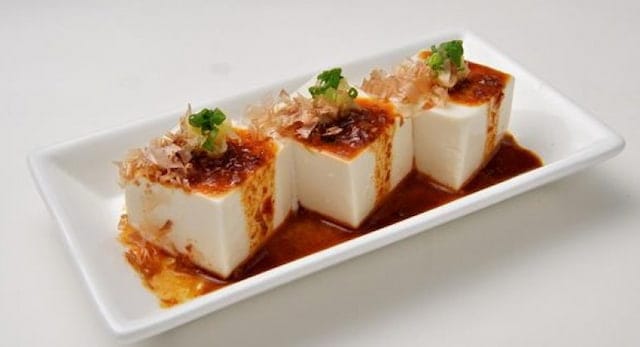 History of tofu
Before getting to know the origin of Hiyayakko, we will explore the history of Hiyayakko main ingredient – tofu. Tofu is a traditional food that is thought to originate from Chinese. The most well-known theory holds that Japanese tofu started from monks and scholars who traveled to China as envoys to the Tang dynasty from Nara period (710-794) and Heian period (794-1185). They learned how to make tofu and brought the recipe back to Japan. The Tang dynasty, at that time, was an advanced country and the mission of Japanese envoys is to learn the advanced Chinese culture and technology, including food culture such as miso and tofu. However, during Nara and Heian period, tofu was rarely mentioned in literature and the oldest record of tofu in Japan is the diary of the priest of Kasuga Wakamiya in Nara, appeared around the end of the Heian period.
Tofu was first eaten in temples and then used in Buddhist cuisine of Zen monks. In 13th century, historic documents state that tofu was quite popular and after the 14th centure, the record of tofu in Japan history increased rapidly. This Shojin ryori (精進料理) – Buddhist cuisine was later introduced to aristocrats and samurai and became the food of upper-class people. In other word, at that time, tofu was a luxury food.
In the Edo period, tofu was eaten by shogun for both breakfast and lunch. That meant ordinary people were forbidden to eat it and farmers were not allowed to make it. It wasn't until the middle of the Edo period that tofu began to appear on the table of ordinary people. Around that time, a book on Japanese tofu recipe called Tofu Hyakuchin (豆腐百珍)  gained explosive popularity among common people. According to the book, Hiyayakko is "so well-known that the cooking method is not necessary". Thanks to this, we can believe that Hiyayakko had been already a popular dish during that time.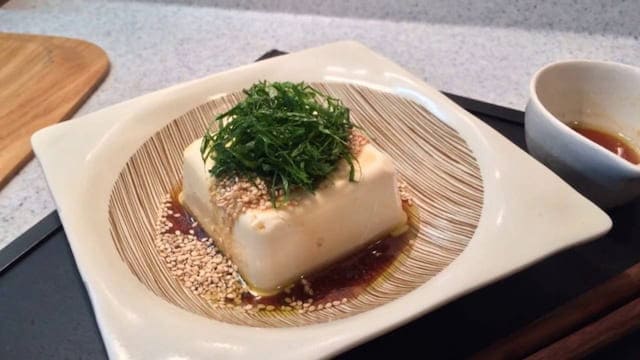 The etymology and origin of Hiyayakko
As mentioned above, Hiyayakko is chilled tofu with "Hiya" means cold and in the opposite, we have the dish Yudofu (湯豆腐) – warm tofu that is boiled. Therefore, speaking about this dish, why isn't it have the name with the meaning "cold tofu" such as "Hiyatofu" (冷や豆腐), "Hietofu" (冷え豆腐) or "Hiyashitofu" (冷やし豆腐)? Why doesn't the name contain "Tofu" but "Yakko" instead?
In fact, "Yakko" is another name of tofu. The origin of the word "yakko" throws back to the Edo period (1603–1867) when "Yakko" is a common name for servants of samurai. During this time, "cut into large square cubes" started to be called "Yakko ni kiru" (奴に切る) – cut into yakko because of the square patterns on the clothes that Yakko wore. Meanwhile, "cut into small square cubes" is called "Arare" (あられ). When eating, tofu is always cut into large square shape so it gradually had the other name "yakko". Yudofu (湯豆腐) is also "Yuyakko" (湯奴) or Niyakko (煮奴) since then. People also use "yakko" in other word such as Yakkodako (奴だこ) – square-shaped Japanese kites (たこ). There are several theories of the origin of "Hiyayakko" but the above stated theory is the strongest theory.
How to cook Hiyayakko?
Ingredients
| | |
| --- | --- |
| Ingredients for 2 people | |
| Soft/ silken tofu | 200g |
| Toppings | |
| Green onion | 5g |
| Dried bonito flakes (Katsuobushi) | 2 tbsp |
| Grated ginger | 1 tsp |
| Soy sauce | 2 tsp |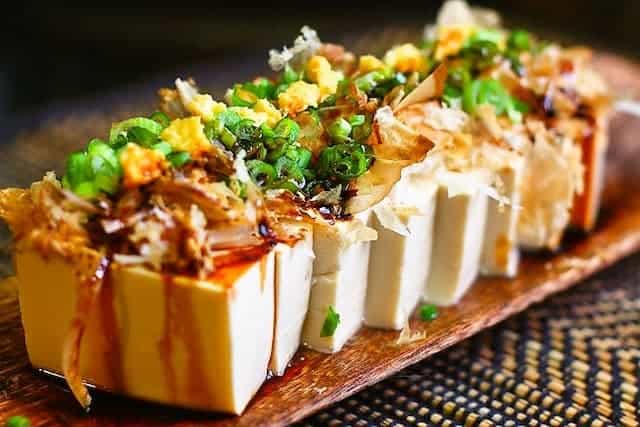 Recipe
Preparing
Drain the tofu for 10-15 minutes by wrapping a paper towel around. If you want to retain the moisture, do not need to press the tofu.
Cut the green onion into small pieces.
Cut the silken tofu in half.
Arranging
Arranging each half of the tofu in one plate, garnished with green onion, dried bonito flakes (Katsuobushi) and grated ginger on top.
Serving
For standard hiyayakko, people normally use soy sauce. If you want to have a sweeter taste, try tsuyu sauce and for refreshing and sour kick, try ponzu. And the last step! Drizzle the sauce and enjoy your meal!
Other must-try toppings for Hiyayakko
Beside the traditional standard recipe of Hiyayakko that we introduce to you before, there are also some topping recipes that you should try. Beside the recommended toppings that we list below, if you have any interesting idea about the toppings, don't hesistate to try and give feedback to us!
Hiyayakko x Natto Okra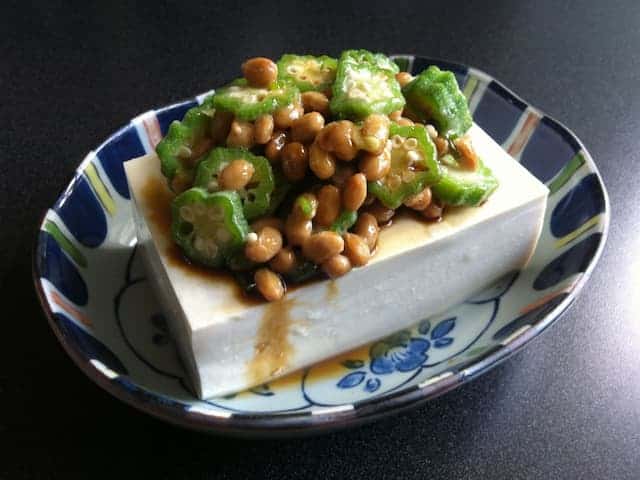 The combination of smooth and refreshing texture of the chilled tofu and sticky texture of natto okra has brought out a really good taste dish. The topping recipe is also simple. First, mix the natto with the sauce comes together in the packed natto and then add boiled okra to have natto okra topping. Serve it with Hiyayakko and ready to serve!
Hiyayakko x Kimchi-nori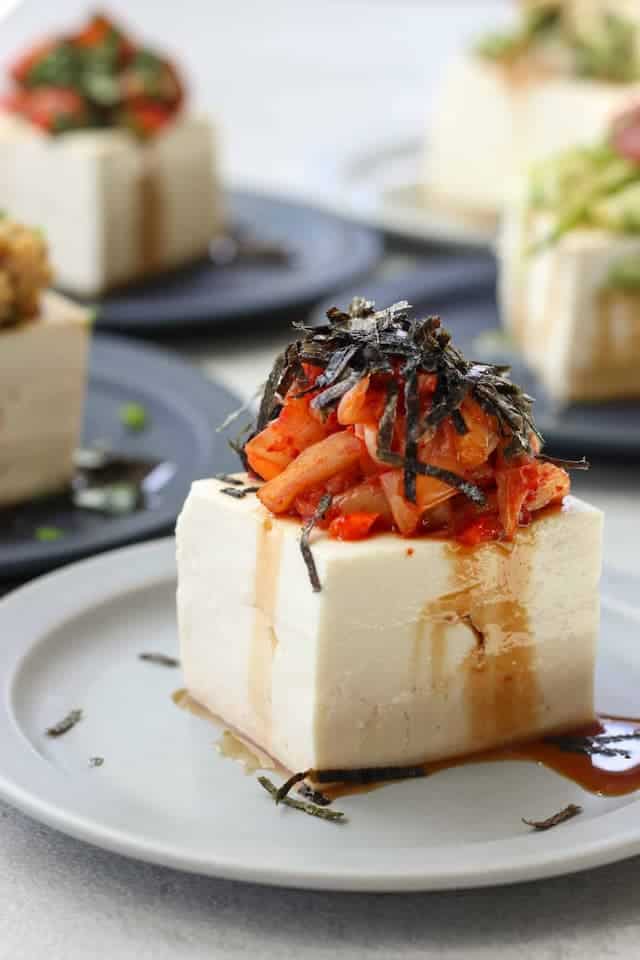 For those who like the spice taste, this Hiyayakko x Kimchi-nori would be the best option ever. For the topping, simply cut kimchi into small pieces then put kimchi and shredded nori on top of cold tofu. The smooth and fresh of tofu and spice of kimchi will make an interesting combination.
Hiyayakko x Avocado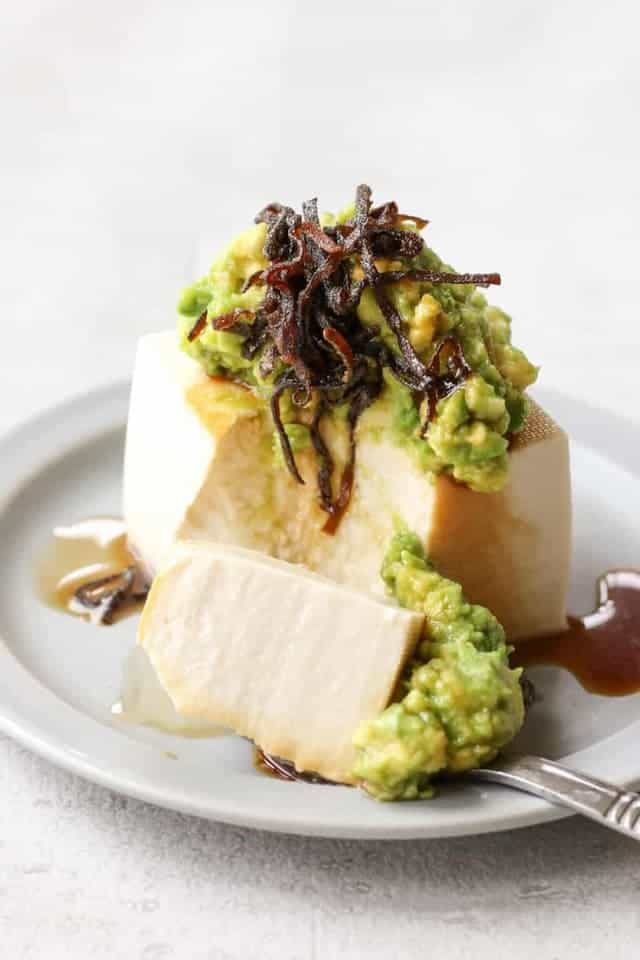 Give this dish a try! Hiyayakko x Avocado and Shio kombu. For this topping recipe, just mash an avocado and put it on the top of cold tofu with Shio kombu. Remember to drizzle soy sauce for a better taste.
Where to eat Hiyayakko?
Kiai Tofu Saitamaya (気合豆腐 埼玉屋)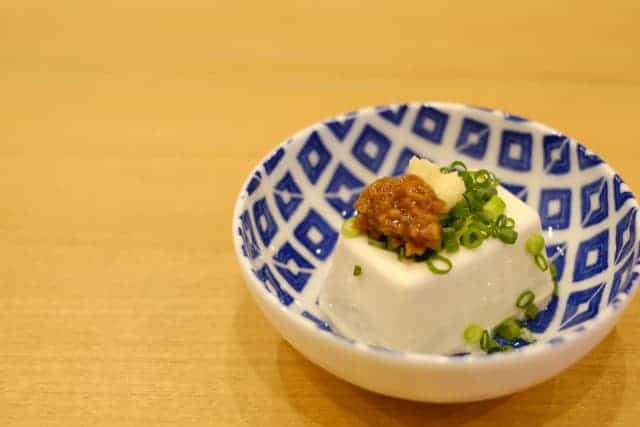 Kiai Tofu Saitama is a restaurant located in Tokyo, 8-minute walk from the South exit of Ohanajaya Station on the Keisei Main Line. This three-generation restaurant is popular with its tofu made from Tamahore soybean – a type of soybean that is rarely used by tofu makers and require good skills to turn it into delicious tofu with a rich sweetness. Tamahore is difficult to grow but has excellent taste and sweet aroma so next time you come here, remember to try this tofu shop to experience this very special ingredients!
Satomiya Tofuten (さとみや豆腐店)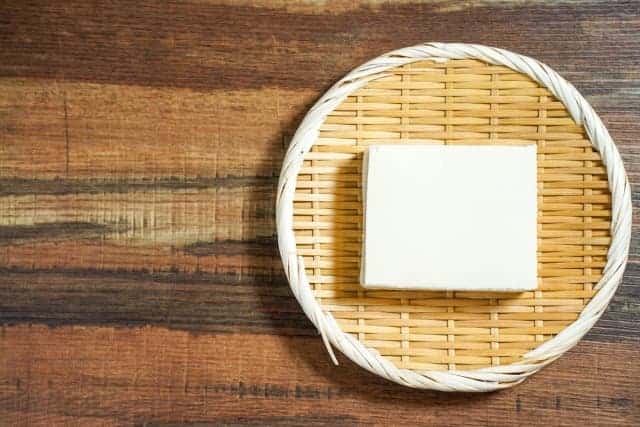 Satomiya is tofu shop just 5-minute walk from JR Komagome Station. This restaurant has a wide variety of dishes, including classics such as silken tofu and cotton tofu as well as special types of tofu. One of the must-try special ones is Zaru Tofu made from first class soybeans from Saga. The outstanding combination of the richness and sweetness taste would offer you the best experience ever.
Onoda Tofuten (小野田豆腐店)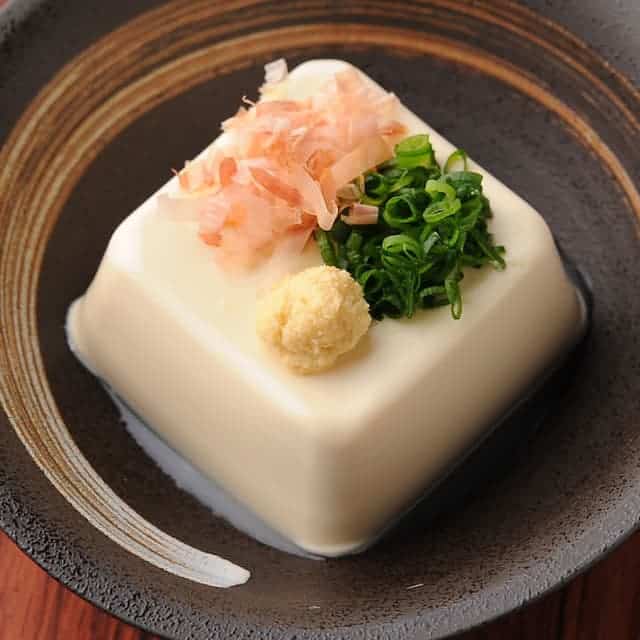 To get to this restaurant, walk about 8 minutes from Exit 3 of Ochiai Station on Tozai Subway Line. Tofu from this restaurant is soybeans called "Otofuke Osodefuri" produced in Hokkaido. This soybean makes of the best silken tofu. In Onoda, tofu has a creamy and rich taste that would suits a lot of types of toppings. Beside tofu, soy milk is also popular and there are some customers who only come here for this drink!
Hoshi Tofuten (星豆腐店)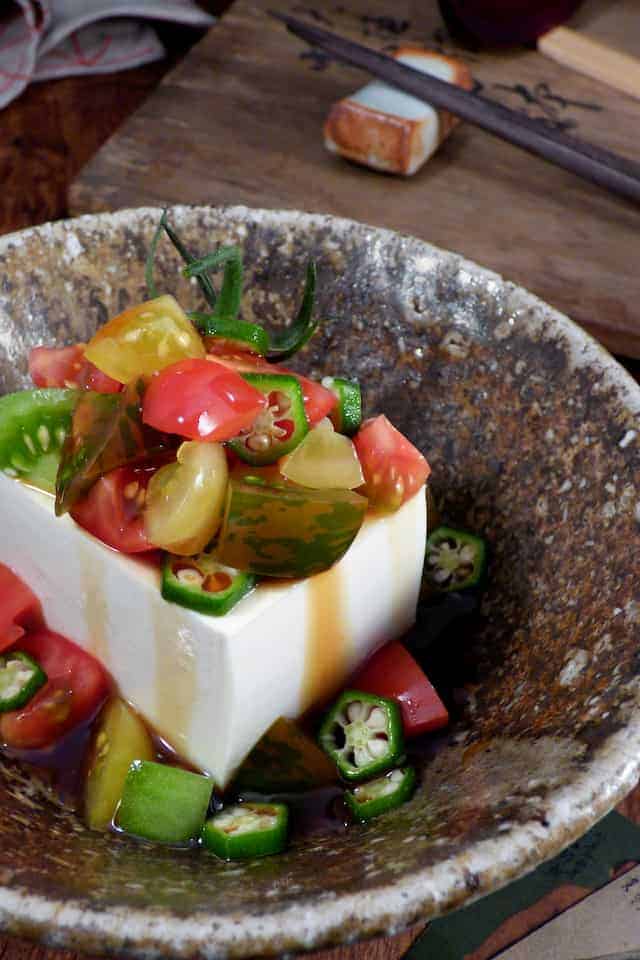 Hoshi Tofuten has the popular fresh Hiyayakko. However, speaking of Hoshi tofu shop, it has not only great Hiyayakko but also delicious soymilk. Soymilk is now available at any supermarkets but if you have a chance, just try freshly-made soymilk at tofu shop for the rich taste and sweet smell of soybeans.
Takeaway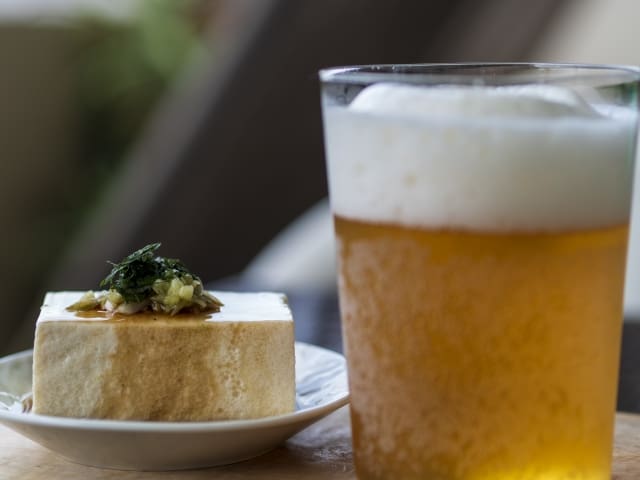 During hot summer days, imagine sitting and eating the Hiyayakko with summer drinks, it would be one of the best experience ever. Hiyayakko is one of the simplest dishes that you have ever known. Same silken tofu ingredients but difference taste depending your choice of toppings. Try it now and have your own most favourite toppings!
If you want to find out more about tofu dishes, click here to read about Goma Tofu.