Before the unlimited wings craze, Tebasaki is already existing. If you love crispy fried chicken wings, then this local dish from Japan is for you!
Are you looking for a new chicken wing dish? Read on to know more.
What is Nagoya chicken?
Home of Tebasaki
Nagoya is the capital of Aichi Prefecture. Like Tokyo and Osaka, it is one of Japan's major ports. In fact, it has become a common entry point for visitors. The city is in the center of Japan after all. Nagoya is also home to major automotive brands such as Toyota, Honda, and Mitsubishi Motors. Even the luxury car giant Lexus is headquartered in Nagoya. Thus, the city's economy continues to boom as of date.
In like manner, Nagoya is home to many local cuisines. Who doesn't like food? Everyone does, right? "Nagoya Meshi" is one of a kind. Culture and history are big factors to the city's cuisine. Foreign cuisines also have a high influence on them. Hence, Tebasaki was born.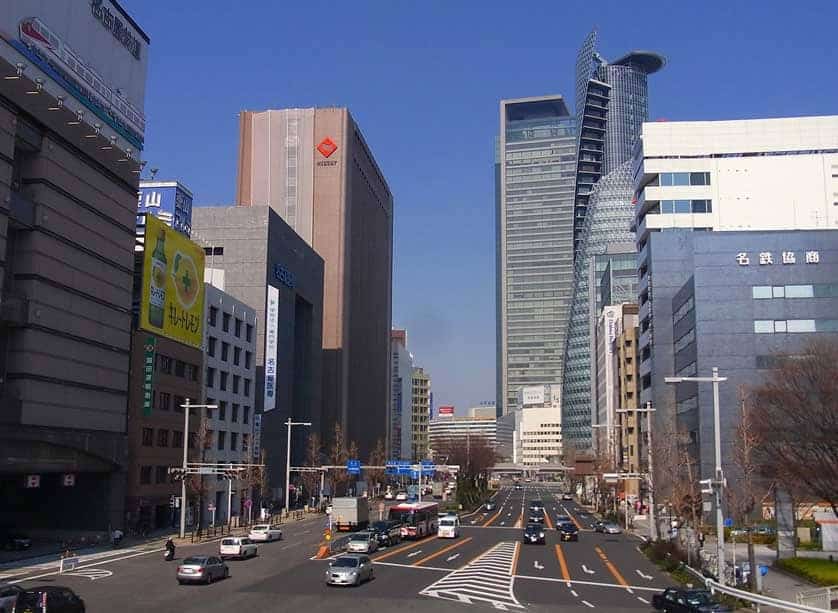 Nagoya Chicken
Tebasaki is often dubbed "Nagoya Chicken". Locals would fry chicken wings not just once, but twice! Another thing that makes it different is that people would add seasonings after frying. So as to ensure the crispiness of the wings remains, they use this method.
What is the history of Tebasaki?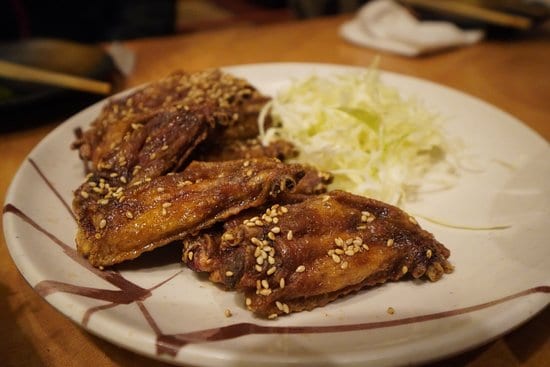 Tebasaki has quite a long history similar to other local dishes. In fact, it dates back to 1963. During that time, a restaurant by the name of "Furaibo" is the first one to serve fried chicken in Nagoya. Consequently, the owner creates a dish using chicken and a special sauce. He called the dish "Tarzan-yaki".
However, not all people can afford it. So, Kitakyushu, the owner, made a soup and added a special sauce. Luckily, customers loved it so the owner included the dish in the menu. When the chicken part he usually ordered was not available, he opted for chicken wings.
Surprisingly, chicken wings and the special sauce were a match. From there on, he created the dish which now goes by the name "Tebasaki".
How to make Tebasaki?
Making Tebasaki is fast and easy! Before heading over to the process, let's prepare the ingredients first.
Ingredients
If you want to taste it but are unable to visit Japan soon, you can still create your own. The ingredients are surprisingly easy to find. In fact, it might be readily available in your pantry.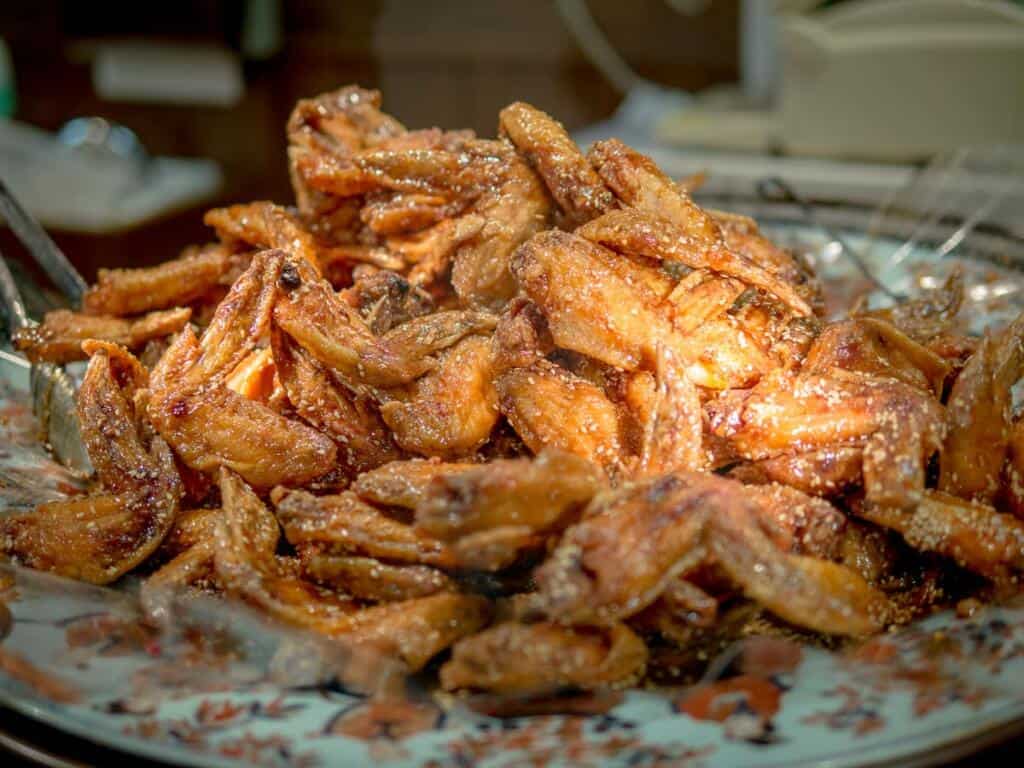 | | |
| --- | --- |
| Serving: 2 persons | |
| chicken wings | 450 grams |
| sake | 2 tbsp. |
| soy sauce | 2 tbsp. |
| mirin | 2 tbsp. |
| salad oil | 2 tbsp. |
| salt | 1/2 tbsp. |
| sugar | 1 tsp. |
| grated garlic | 1 tsp. |
| grated ginger | 1 tsp. |
| sesame seeds | 1 tbsp. |
| cake flour | 1 tbsp. |
| white pepper | 1/2 tsp. |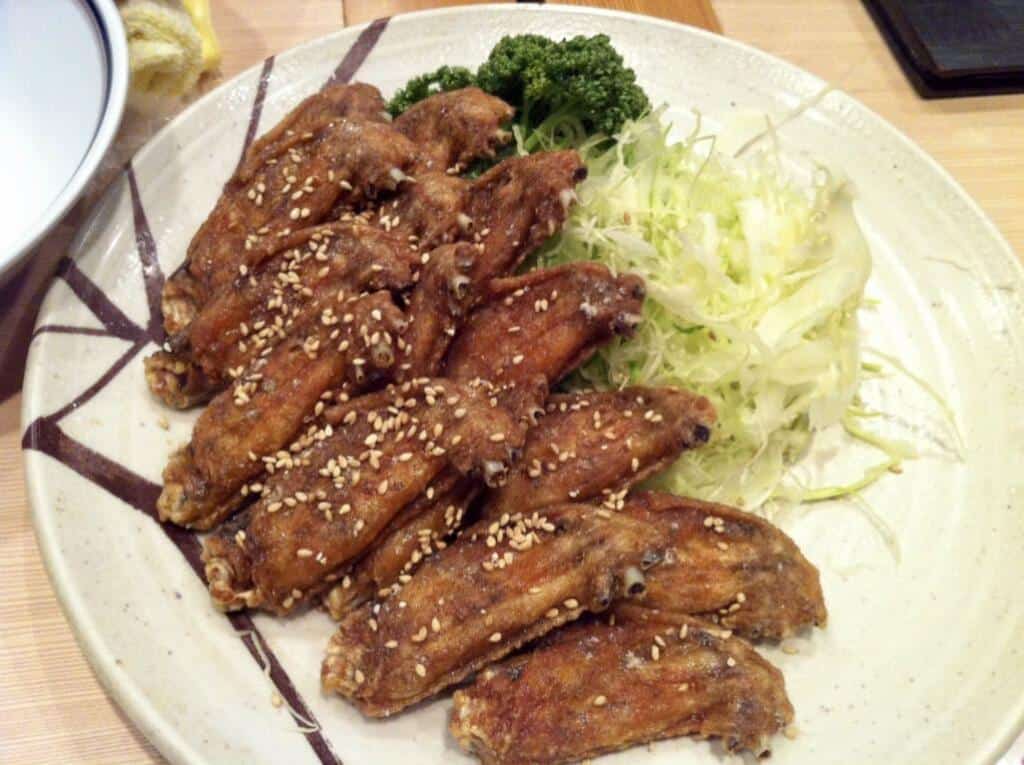 Preparing Tebasaki
It is important to realize that the cooking method is the key to a perfect Tebasaki. Not only does it define the dish, but it also separates it from the regular fried chicken wings.
Wash the chicken wings and wipe them dry, to begin with.
As soon as the wok is hot enough, combine all the wet ingredients.
Then, toss both the grated garlic and ginger. Add sugar, white pepper, and salt afterward.
Let the sauce simmer and set it aside.
At this instant, heat salad oil in a separate wok. While waiting for it to be hot enough, wipe the chicken wings even more.
After that, coat the chicken wings with flour and drop them in the wok all at once. At this time, make sure that the stove is set in medium heat.
When the wings become slightly brown, transfer to a strainer to drain excess oil.
Turn the heat to high and fry the chicken wings again. At this time, put them one by one.
While frying the wings for the second time, toast the sesame seeds in a separate frying pan.
When the chicken wings turn to a golden brown, remove them from heat. Toss them in the sauce and make sure each piece is covered.
Lastly, transfer the wings to a plate and sprinkle with sesame seeds and white pepper. Tebasaki is now ready to serve!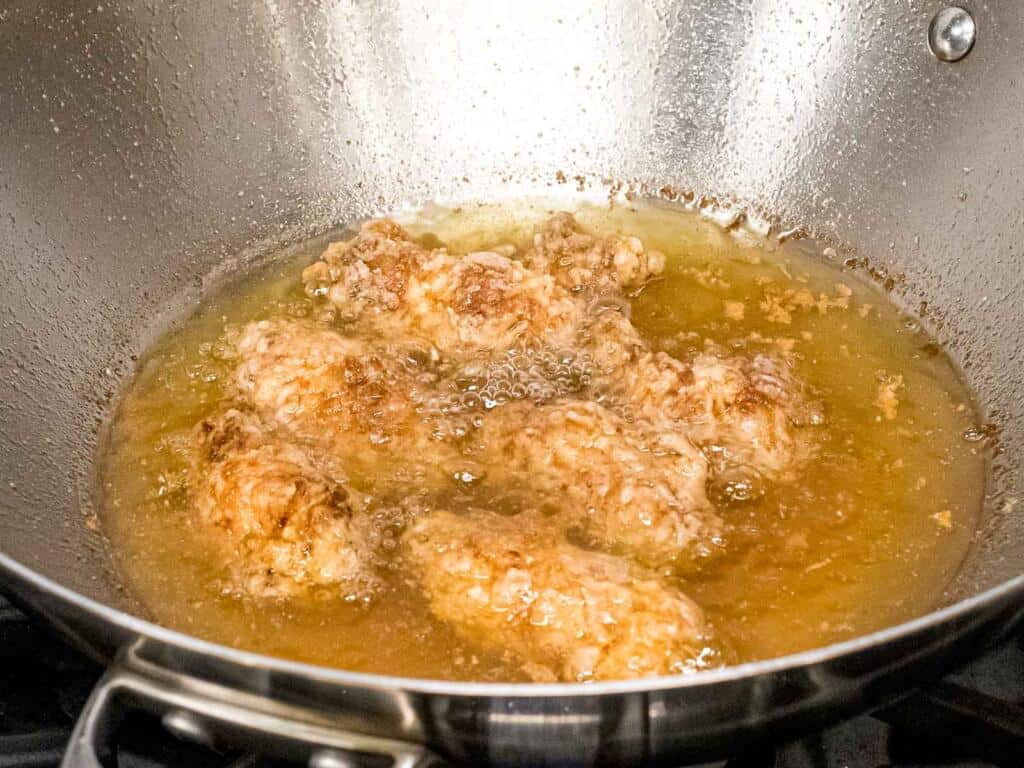 Frying the wings twice is certainly the secret to its crispiness. Another thing to take note of is that it is advisable to serve right after cooking.
Are you ready to cook your own Tebasaki at home?
What to pair with Tebasaki?
Given these points, locals have different ways to eat them. Since it is Nagoya cuisine, many restaurants in the area serve this dish.
Rice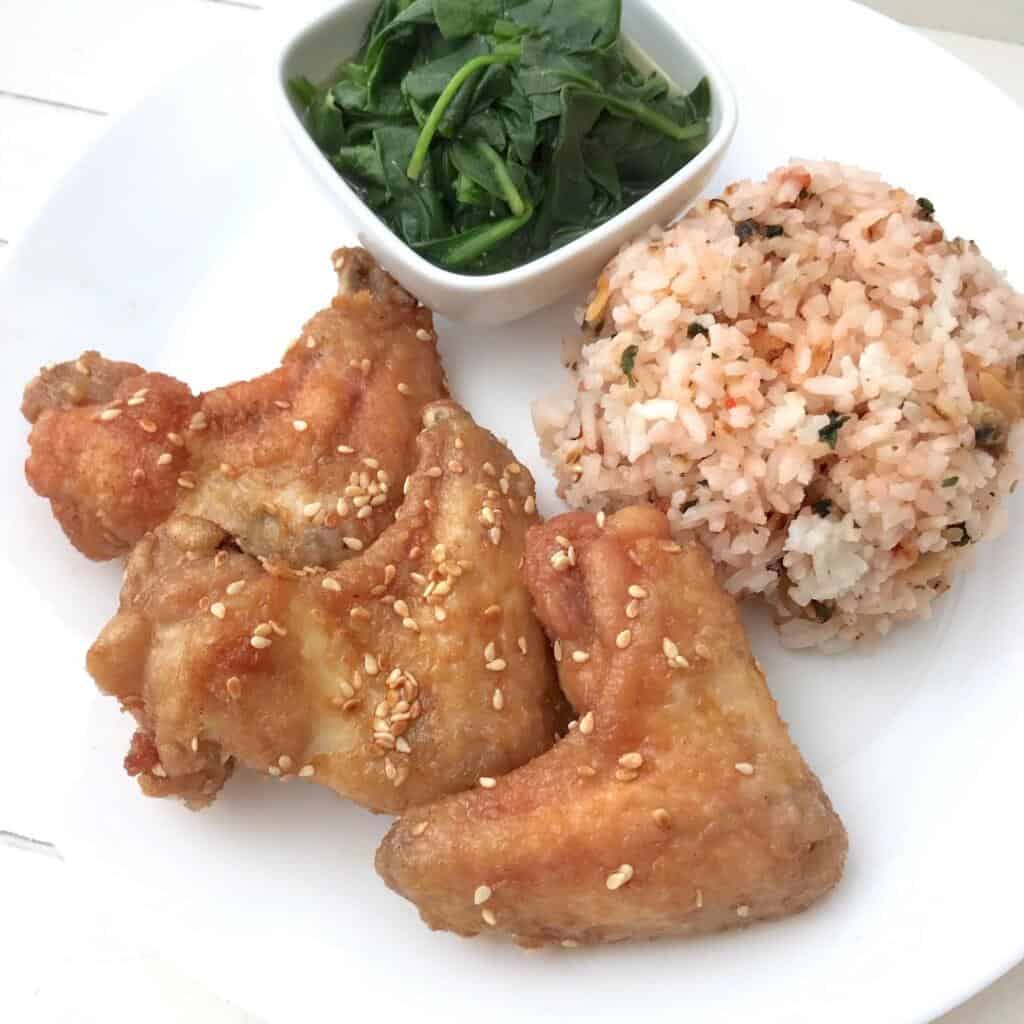 Undoubtedly, rice is a staple in Japan. As a matter of fact, many of the country's dishes are best with rice. For this reason, it's not a surprise that locals pair Tebasaki with rice.
Thus, this pair is available in small stores and even in the most popular restaurants.
Salad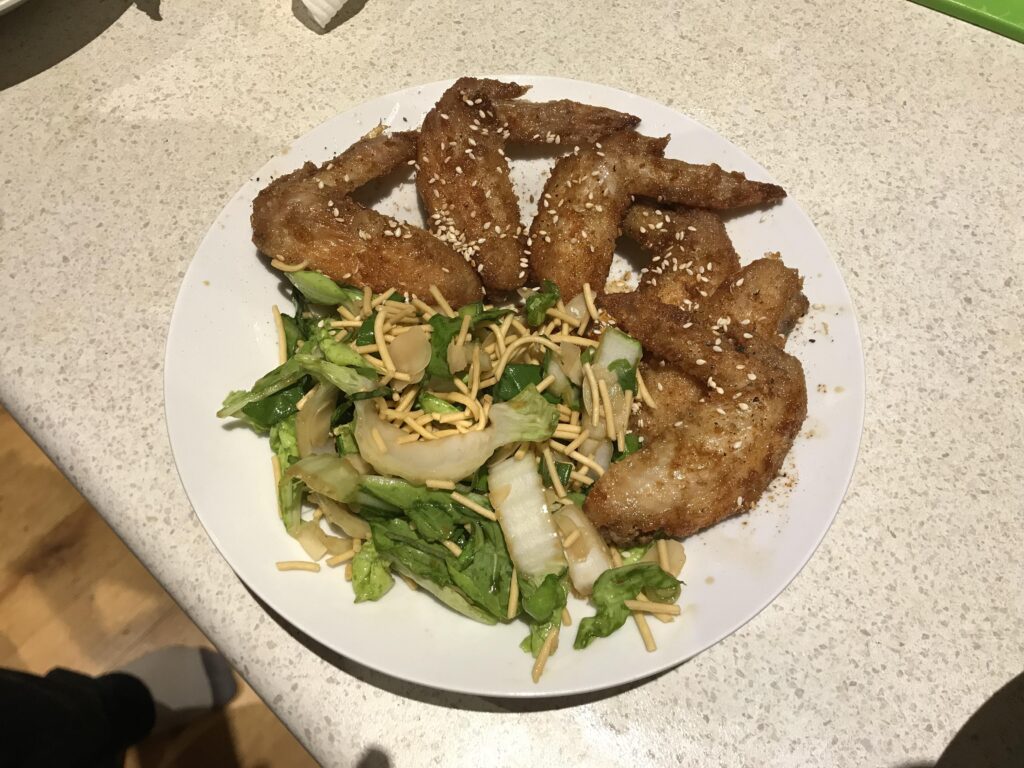 Generally speaking, Japanese cuisine commonly incorporates vegetables and meat. In fact, their cuisine is one of the healthiest worldwide. Consequently, there are many salad variants available in Japan.
Tebasaki is a perfect pair to these salad variants. Not only does Tebasaki tastes good, but it also complements any salad dish.
Beer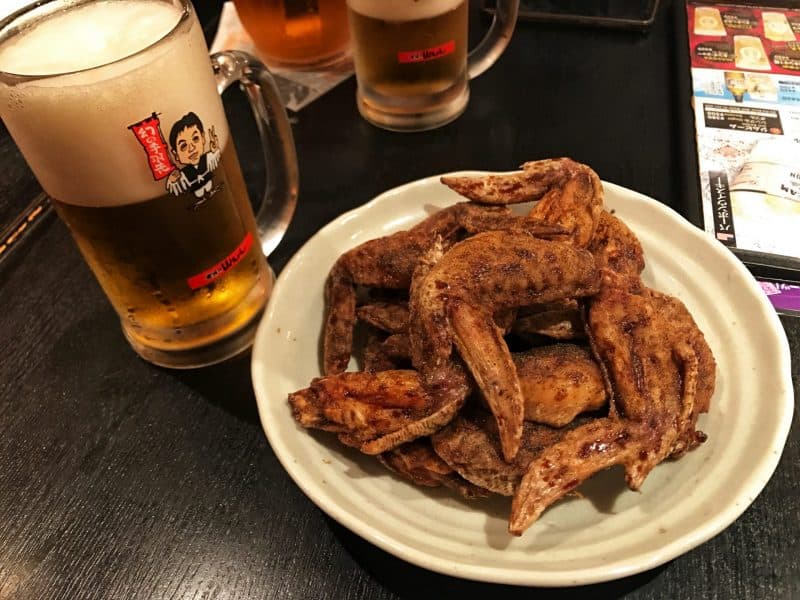 In addition to Yakitori and Gyoza, Tebasaki is also a popular food in Izakaya. But, what is the star of Japanese Izakaya? It's the beer, of course!
Munching Izakaya while sipping cold beer is a favorite among locals! The earthy taste of the beer tones down the saltiness and sweetness of the dish.
As it is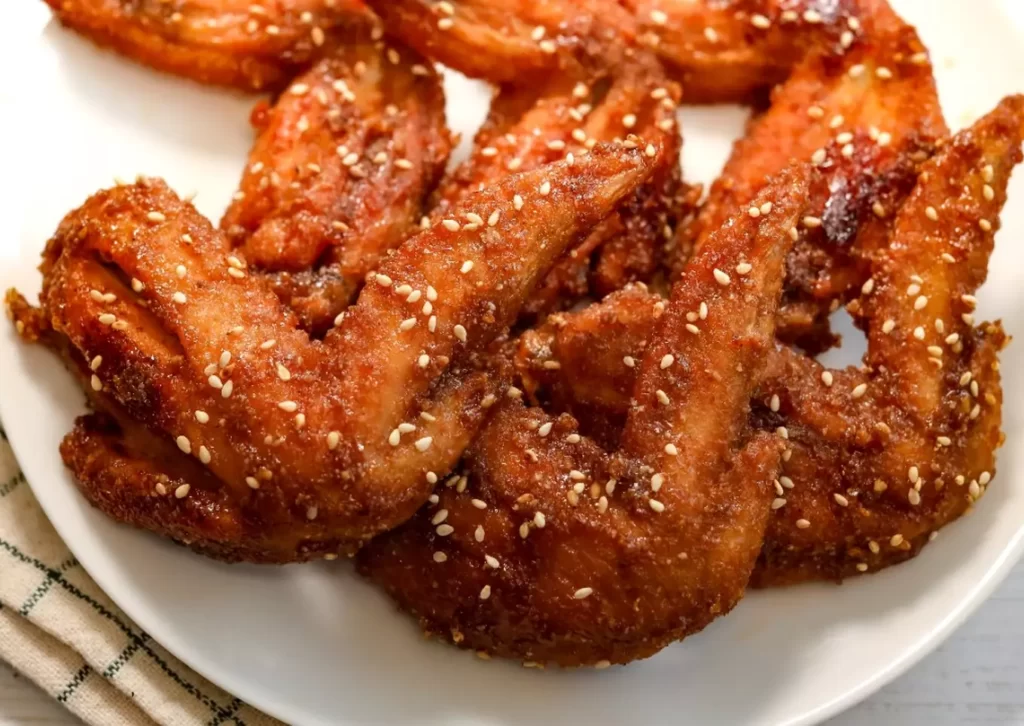 Although it's a common pair to other food and beverages, eating this alone is still the best! Nothing beats tasting the maximum flavor of the sauce while enjoying the crispiness of the wings.
Where to eat Tebasaki?
When you visit Nagoya, make sure to drop by some shops that serve Tebasaki. There are plenty of Izakaya in the area too, so don't forget to spare a night in one of them.
Sekai no Yamachan (世界の山ちゃん)
This restaurant chain is a must-try in Aichi. Of course, it's popular for its unforgettable serving of Tebasaki. Their version of the popular Nagoya dish has a unique spicy taste. Hence, those spicy food lovers will definitely enjoy the dish in this popular shop.
Since many locals love to go here after work, finding a seat can be tough especially during Fridays. The restaurant has private rooms that cater to big groups. Surprisingly, Yamachan has an English menu so foreigners will not have a hard ordering.
Torigin Honten (鳥銀本店)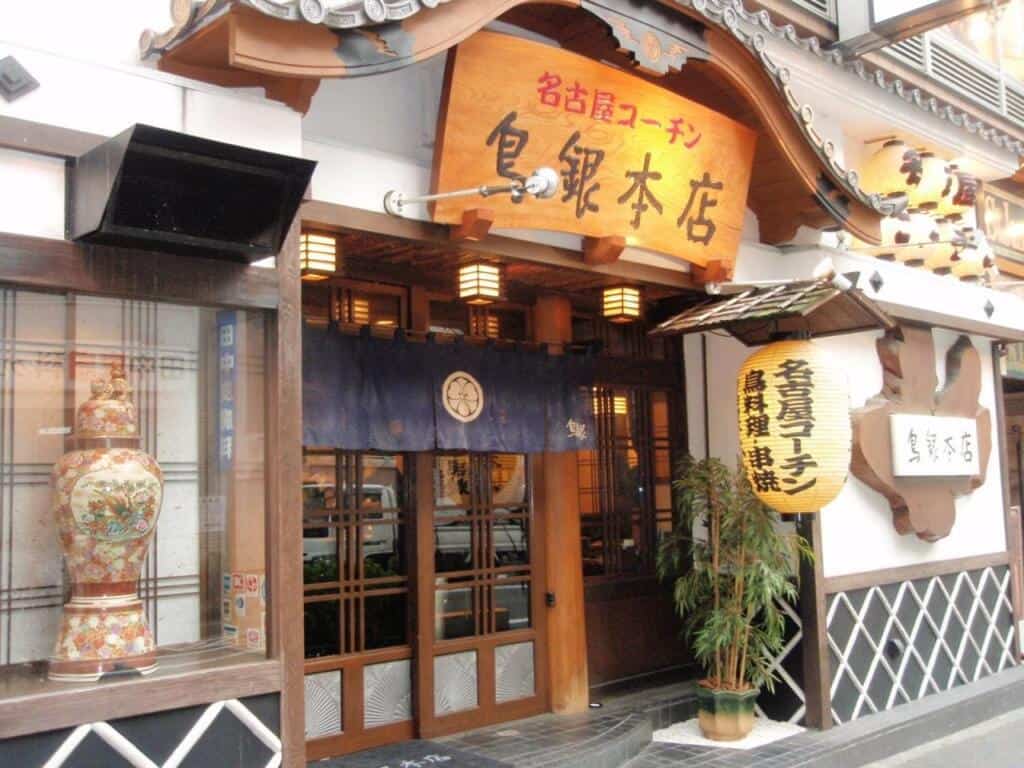 This restaurant has a long history of serving Tebasaki. In fact, it is impossible not to know this place because of the TV commercials in the region. Frequenters usually pair the shop's crispy and spicy version of Tebasaki with beer.
Another thing about Torigin Honten is its strategic location. The shop sits just a minute away from Sakae station.
Garakuta Bunko (我楽多文庫)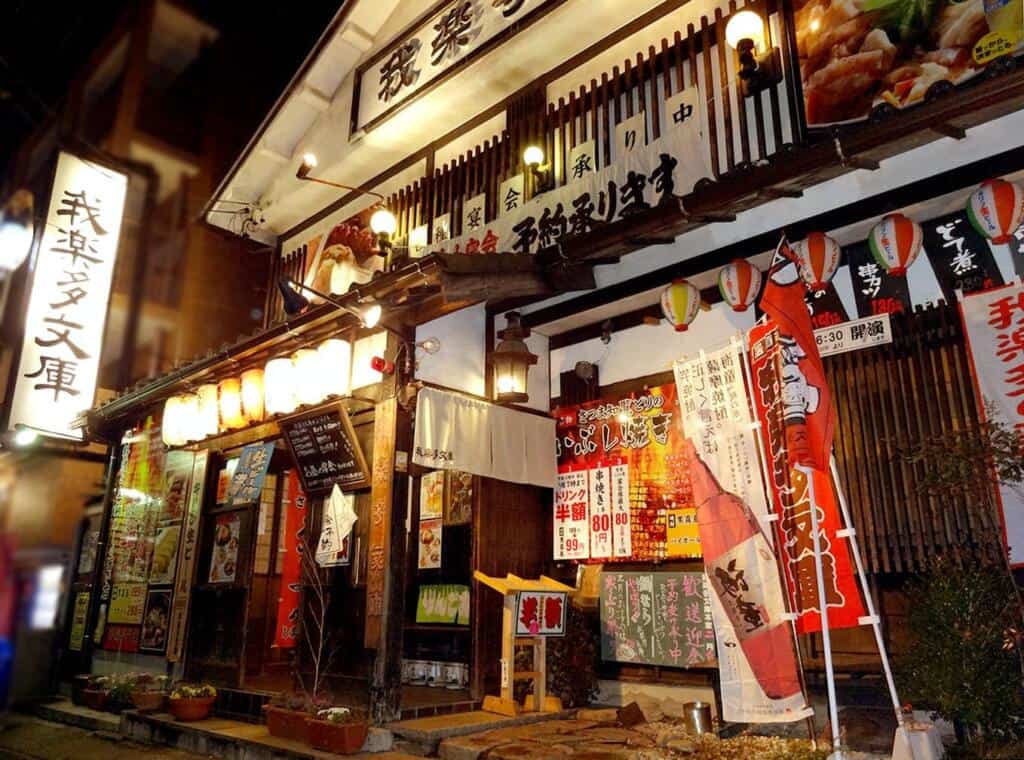 Garakuta Bunko is a household Izakaya in the area. It has a nostalgic vibe in particular. The shop is serving different dishes including Tebasaki for more than forty years.
Moreover, Garakuta Bunko is famous for its generous serving. Their sauce is also a favorite among its patron.
Are you excited to try Tebasaki? If this dish makes you drool, make sure to share it with your friends on facebook!