Speaking of Japanese traditional food, you might think of some dishes as ramen, onigiri, udon, sushi, etc. However, beside these popular dishes, lesser known Japanese dishes are also amazing. The unique features of their cuisine is the concept of seasonality as well as the presentation. The rice-centered food culture of Japan together with these stated features develops so many amazing rice dishes. Today, we would like to introduce Kamameshi (釜めし or 釜飯). Let's find out what is so special about this dish and how to cook a delicious Kamameshi!
What is Kamameshi?
Kamameshi (釜めし), literally means "kettle rice", is a rice dish cooked in a single-serving cast iron pot called "kama" (釜) with seasonings usch as soy sauce, mirin and topped with mushroom and chicken. This dish is famous for not being served on a plate or bowl but on the iron pot "kama" to keep the warmth.
Kamameshi is also popular as ekiben, in which earthenware pot are mainly used for containing. Even after eating, you can take the container home and reuse it, which is very convenient as an Ekiben. The Shinetsu Main Line in Yokogawa Station are famous for its kamameshi ekiben. Not only in Yokogawa but you can find its in stations all over Japan.
Ekiben (駅弁) is bento sold to passengers at train stations and on the trains. The first ekiben appeared at Utsunomiya Station in Tochigi Prefecture in 1885.
About Kama (釜)
Kama (or kettle) has long been place an important role as an cooking tools in Japan. In general, Japanese people usually use cast iron kama for various uses including rice cooking, water boiling, noodles boiling and broth making.
Hagama is among one of the most typical Kama-pot that has a brim around it to prevent the flame. That is the reason why it is called Hagama (kama with wing). The lid of it is wooden.
Apart from cooking, it also has other uses. Chagama (茶釜) is a type of tea utensils in tea ceremonies for boiling water.
Find out here if you want to buy Kama from Japan online. Even if you are currently living outside of Japan, you can use international shipping service! Click here for more information.
Differences vs Takikomi Gohan
Have you ever heard of Takikomi Gohan? This dish is very common in Japanese's daily meals. However, even some Japanese can not tell apart Kamameshi and Takikomi Gohan. Therefore, in this part, we will introduce about the differences between the two dishes.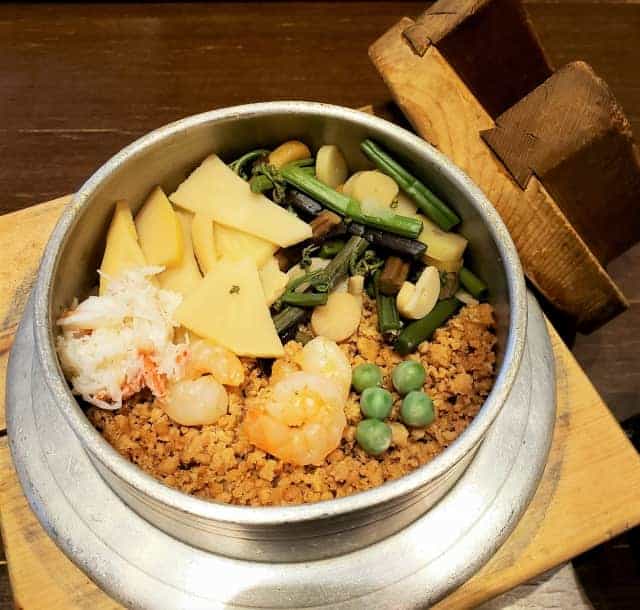 What is Takikomi Gohan?
Takikomi Gohan (mixed rice) is a delicious but easy dish that is seasoned with vegetables, fish, meat, etc and then cooked in the rice cooker. It also has another name like "gomoku gohan" or "kayaku gohan". Especially during the fall harvest, Japanese often add seasonal ingredient to make this dish. It is a popular for Japanese to eat this dish during this time of the year so that you can feel the seasonal taste.
We also have "maze gohan", rice dish that is made by mixing ingredients after cooking rice. To make maze gohan and takikomi gohan, you can cook them in a rice cooker. Therefore, you can serve it for serveral people.
Kamameshi vs Takikomi Gohan
"Kamameshi" cooked with ingredients in an one-serving pot while "takikomi gohan" is prepared in a cast iron pot or rice cooker for several people.
Both share the same way of cooking as seasoning the rice with ingredients beforehand and then cooking together. However, the difference between these two is that "takikomi gohan" is not necessarily made in a pot as it can easily cooked in the rice cooker also.
Moreoever, while Kamameshi is directly served on the "kama" pot for only one person, "takikomi gohan" can be enjoyed by serveral people by being served in a bowl.
As stated before, Takikomi Gohan has another name "Gomoku Gohan". Kamameshi also has a type called "Gomoku Kamameshi". In Japanese cuisine, "Gomoku" (五目) is a combination of various ingredients considering the balance of taste, color and nutrition. There are gomoku gohan (gomoku rice), gomoku sushi, gomoku yakisoba, etc. Although "go" in "Gomoku" means five, gomoku is not only 5 types but is a general term for a wide variety of ingredients.
History
Kamameshi is popular as ekiben. There are many ekiben with the name "kamameshi" all over Japan, but did you know that "Toge no Kamameshi" was actually the bento that changed the history of ekiben in Japan?
"Toge no Kamameshi" and the history of ekiben
Originated in Yokogawa Station
"Toge no Kamameshi" originated in Yokogawa station, which opened in 1885. The Shinetsu Main Line of Yokogawa station connecting Takasaki and Yokokawa opened for the purpose of transporting silk produced in Gunma and Nagano to Tokyo and Yokohama.
With the opening of the Shinetsu Main Line on Yokogawa Station, Oginoya was founded in 1885. At first, Oginoya sold onigiri and pickled radish wrapped in bamboo leaves as an ekiben. This is one of the first ekiben that was sold in Japan. After that, in 1953, "Touge no Kamameshi" was invented by Mineji Takamizawa, the wife of Kazushige Takamizawa, the third president of Oginoya. Her wish was to create "a distinctive ekiben that would truly please customers". However, at the begining, the dish was not a big hit. It was after being featured in newspapers and magazines that it became popular in Japan. Now that, this bento has become one of the ekiben representing Japan.
"Toge no Kamameshi" changed the history of ekiben
In the Meiji period, Japan was modernized, and the development of railways progressed steadily. Along with that, the surrounding cities with the opening of the railway also developed, making it easier for people to move around. As the number of people traveling all over the country increased, ekiben, which can be enjoyed during long travels, became popular.
Nowadays, ekiben offers different dishes depending on the local places but before the appearance of "Toge no Kamameshi", Makunouchi was mainly used as ekiben. "Touge no Kamameshi", which contains amazing local ingredients and the revolutionary idea of ​​warm lunches, changed the history of ekiben.
Kamameshi also originated in Tokyo!
Kamameshi was introduced to originate from Oginoya's "Toge no Kamameshi" in Yokogawa, Gunma. However, there is actually a restaurant in Tokyo that is said to be the birthplace of it. This restaurant is called "Ganso Kamameshi Haru" in Asakusa, Tokyo. This dish was invented by the Madame of the shop "Kamameshi Haru" in Asakusa in 1923, the year of the Great Kanto Earthquake.
Kamameshi FAQ
Apart from Gomoku Kamameshi, are there other varieties?

Kamameshi is commonly flavored with soy sauce and mirin. Some of the most popular types include seafood or kaisen kamameshi, chicken or tori kamameshi; crab meat or kani kamameshi.

Is Kamameshi served on a bowl?

Kamameshi is not served on a bowl but on a cast iron kama (kettle) so that it can keep the warmth of the dish. This is also the difference between it and takikomi gohan.
How to make Kamameshi?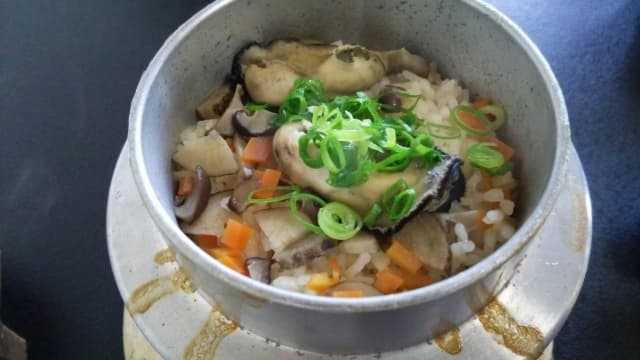 Ingredients
| | |
| --- | --- |
| Ingredients (for 2-3 servings) | Measurements |
| Rice | 2 go (300g) |
| Chicken thigh | 150g |
| Burdock Root | 1/3 |
| Carrot | 1/4 |
| Shiitake Mushrooms | 2 pieces |
| Seasonings | |
| Soy sauce, salt | |
How to make Kamameshi?
Preparing the rice
Rinsing the rice
Rinse the rice and strain it.
Letting it sit
After straining it, let it sit for 15-20 minutes. During this time, move to the step 2 to prepare other ingredients.
Preparing other ingredients
Slicing
Slice the burdock root and carrots into slightly thick slices.
Cut the shiitake mushrooms into thin slices, removing the stems.
Cut the chicken into 2 cm cubes.
Soaking
Soak the burdock root in water to drain.
Mixing the sauce
Put 2 and 2 teaspoons of soy sauce in a bowl and mix.
Cooking
Put rice, 1 and 1/2 cups of water, 1/2 teaspoon of salt into an earthenware pot, mix well, put the prepared ingredients on top, and cook.
Restaurants
Kamameshi Haru (釜めし春)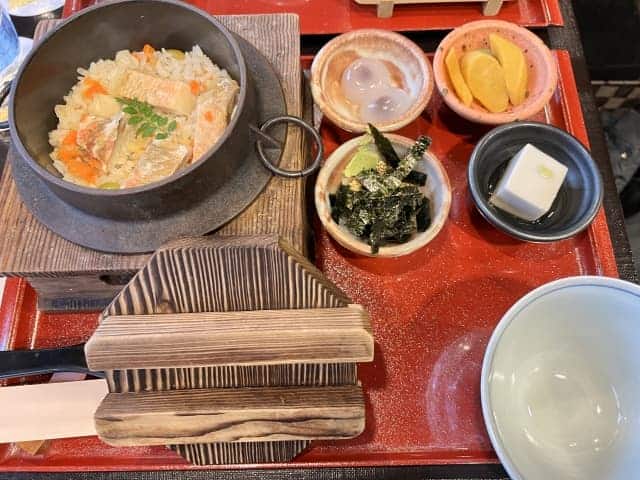 A long-established Kamameshi restaurant founded in 1926. It takes about 25 minutes to cook one-serving. During the waiting time, you can chatt with friends, drink tea or wine. There is also a branch in Ueno.
Tsumiki Kagurazaka (つみき 神楽坂)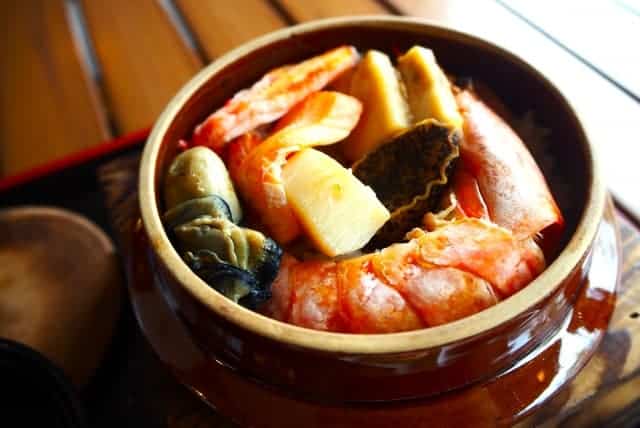 This is a Japanese restaurant where you can enjoy dishes that use ingredients from Niigata, but the best recommendation is Kamameshi. This dish uses Koshihikari rice from Niigata. The rice that was deliciously cooked and is very fluffy and chewy. Therefore, we recommend going here to enjoy not only Kamameshi but only other Niigata dishes!
Kamameshi Murata (釜めし むら田)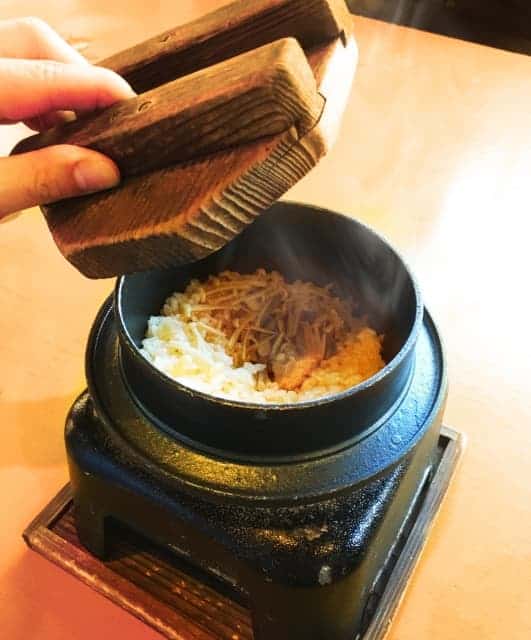 This is a specialized Kamameshi restaurant. At this store, you can enjoy the delicious rice with a variety of different ingredients. They also have a kamameshi set for lunch. Therefore, how about visitting this store and enjoy flavorful dishes for your lunch?!
Takeaway
As Japanese food culture always focuses on rice, you can find so many popular dishes such as sushi, onigiri, etc. However, the lesser known dishes also have its own amazing features. With not too many complicated ingredients, we recommend making kamameshi at home for a change. You can also find it at our recommended restaurant to enjoy the seasonal delicious taste!
If you are a fan of Japanese rice dishes, we also recommend you Taimeshi (sea bream rice) and Uwajima Taimeshi. Do you want to find out the differences between the two dishes? See below for more information and related Japanese rice dishes' articles!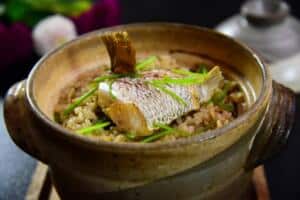 Taimeshi (鯛めし)
In Japan, the combination of fish and rice has become very common but still plays a very important role in Japanese food culture. You may know and eat Tai (s…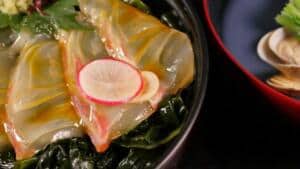 Uwajima Taimeshi (宇和島鯛めし)
Eaten in Imabari City (Toyo) and Matsuyama City Hojo (Nakayo), "sea bream" (tai meshi) is a local dish made by cooking a whole sea bream in a clay pot or ket…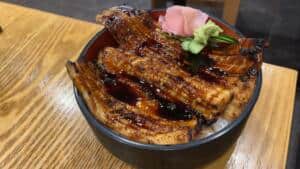 Anago meshi (あなご飯)
Anago-meshi, a specialty of Miyajima, Hiroshima Prefecture, is a local dish that is also called the taste of home in Hiroshima. Since it became a hit as an e…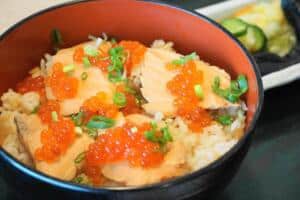 Harako Meshi (はらこ飯)
Do you love eating rice? Most Asian countries have rice in their meals. As a matter of fact, you can say that rice is the staple food of Asia. Asian househol…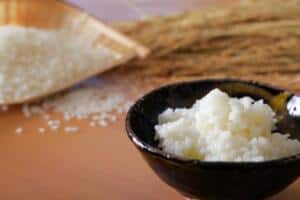 Koshihikari rice (コシヒカリ)
If you're a fan of Japanese cuisine, you may have heard of Koshihikari rice – a premium short-grain rice that is known for its sweet flavor and sticky textur…