Eaten in Imabari City (Toyo) and Matsuyama City Hojo (Nakayo), "sea bream" (tai meshi) is a local dish made by cooking a whole sea bream in a clay pot or kettle. "Tai meshi" in Uwajima City (Nanyo) is a fisherman's dish in which sea bream sashimi is dipped in a special sauce and mixed with condiments and eaten over rice. In today, we are going to talk about Uwajima taimeshi and will also introduce two different "sea bream".
WHAT IS UWAJIMA TAIMESHI?
Uwajima Taimeshi is a traditional food in Japan where you can put the sashimi of sea bream soaked in a sauce containing raw eggs on top of warm rice. Taimeshi or sea bream rice is a combination of sea bream and rice. This has been a representative Japanese cuisine that Japanese people have been familiar with since ancient times, and this dish can be found all over the country.  Taimeshi is known as one of the local dishes of Ehime prefecture, but it can be roughly divided into two types depending on the region. 
Taimeshi in the Chuyo-Toyo region centered on Matsuyama city is Matsuyama Taimeshi which is made by boiling roasted sea bream with kelp soup stock. On the other hand, Taimeshi in the Nanyo region centered on Uwajima City is Uwajima Taimeshi. We will introduce the Taimeshi centered on Uwajima City or what the Japanese called Uwajima Taimeshi.
ORIGIN OF UWAJIMA TAIMESHI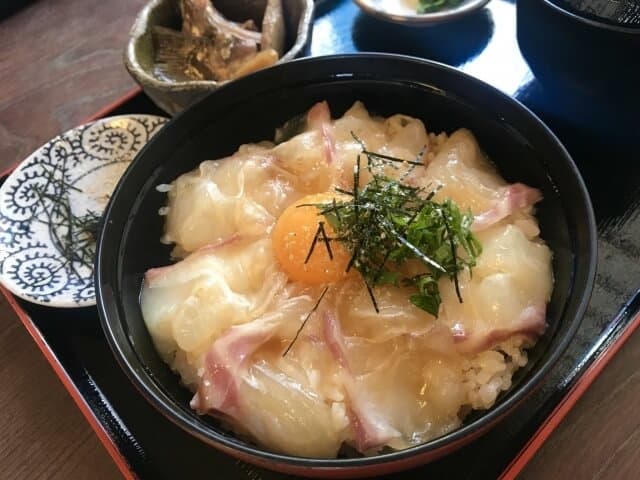 In Ehime prefecture, which is near the Seto Inland Sea, the fishing industry of them is thriving due to the nature of the land facing the sea, and there are many local dishes using seafood. One of these dishes is what they called Taimeshi. There are two types of Taimeshi depending on the region and these two also have their special taste.
Taimeshi is also called Kaizokumeshi (pirates' food) or ryoushi meshi (fishermen's food) and was originated by a pirate, based in Hiburi Island in Uwa Sea, who ate shoyu-marinated snapper and rice on a bowl after having booze on board without using fire. It is said that the Iyo Suigun (Marines) between the Period of Northern and Southern Dynasties often had this dish as well.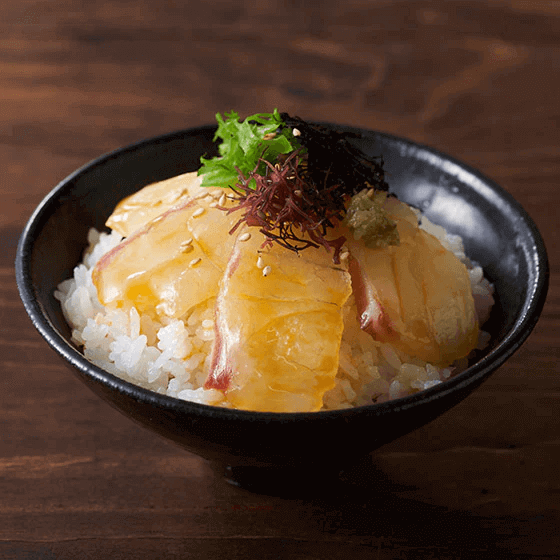 In the same region, during the 1960s, there were many cases where it was described as Hyugameshi, but eventually, it was unified into the name Taimeshi. This Hyugameshi was eaten also with seasoned sashimi on rice, and "hyugameshi" was the name for the sea bream version. Originally it was a home-cooked dish that was handed down in a part of Uwajima City, but in the 1950s, a restaurant called "Rokuho" appeared in Tsushima Town (currently Uwajima City) at that time and some other areas. And after that, it spread to prefectures other than Uwajima, such as Matsuyama, and eventually became a specialty of the Nanyo region. 
In 2007, Uwajima Taimeshi was selected as one of the 100 Best Local Cuisine by the Ministry of Agriculture, Forestry, and Fisheries as "Uwajima Taimeshi" bearing the place name of "Uwajima". Cooperatives created at local restaurants have registered regional collective trademarks. In 2009, Matsuyama City used the name Live Taimeshi and introduced Taimeshi as a local dish of Matsuyama City, but now Uwajima has been changed to the birthplace.
HOW IS UWAJIMA TAIMESHI MADE?
Process of Making Uwajima Taimeshi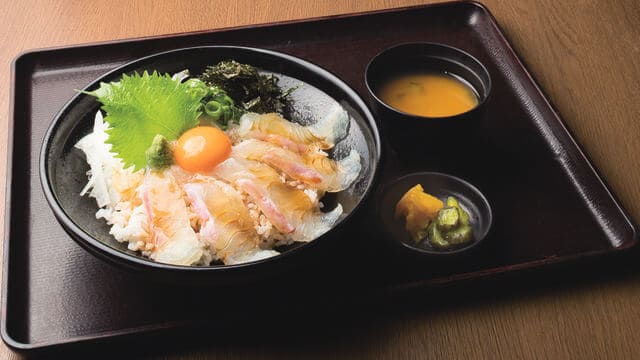 Taimeshi refers to the whole sea bream cooked in rice. Compared to the taimeshi in Chuyo and Touyo which is prepared by cooking rice and snapper together, Uwajima Taimeshi is made with marinated fresh row Tai (snapper) and sauce on the top of hot rice. The snapper is pre-baked to remove the odor and give it a savory flavor, and soy sauce, salt, sake, mirin, and kelp stock are used to season the cooked rice. Earthenware pots are often used to cook rice. When it is all cooked, it is recommended to remove the bones from the meat and by setting it aside first to have good quality meat. The condiments include tree buds and needle ginger. It is also delicious as a sea ​​bream chazuke with hot tea. Uwajima Taimeshi was mainly composed of soy sauce to raw eggs, sesame seeds, chopped green onions. Also, there are some examples of rice with seasoned sea bream soboro and rice with sashimi of sea bream.
The Uniqueness of Uwajima Taimeshi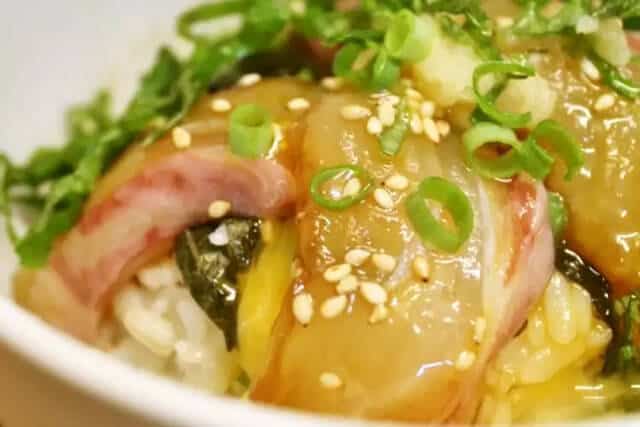 The reason why people ate Uwajima Taimeshi was because of the red sea bream itself which is the main ingredient of this dish. The natural red sea bream was said to be very difficult to obtain because it cannot be purchased unless it is caught on the day of single fishing. The taimeshi or the sea bream caught should be fresh to fully enjoy its firm texture and chewiness. And by adding eggs, soy sauce, and rice from the prefecture themselves, the sea bream have that kind of umami and it enhances the taste that no one wouldn't want to miss. 
You can eat Uwajima Taimeshi freely, but to make it more delicious, there is an instruction guide on every restaurants' table that explains how to eat it. First is to melt the raw egg in the sauce and let it blend in. Then, put all the sashimi of sea bream in the sauce, add spices as you like, and mix. And lastly, pour the rice into the bowl and sprinkle the sauce and ingredients on the rice to complete the step.
RECOMMENDED UWAJIMA TAIMESHI RESTAURANTS
Speaking of Uwajima Taimeshi, many restaurants in Ehime prefecture cater to the two types of Taimeshi and nobody wouldn't want to be left in trying them. Here are some of those restaurants that were established for the public's interests.
Marusui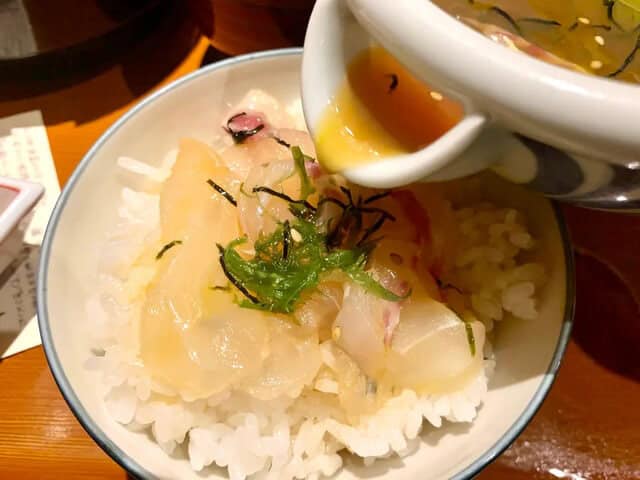 It is a famous store in Uwajima City and is believed to be the birthplace of Uwajima Taimeshi. The store serves fresh sea bream sashimi and sauce with raw eggs. Wheat miso soup is also included in the menu which is also a Nanyo's specialty. The store also serves free refills of rice.  Instructions on how to eat are also on the table. A customer can choose either natural red sea bream caught by single fishing instead of the fixed net or winding net or farmed red sea bream Taiichiro Kun. The two look the same in appearance but the sea bream Taiichiro Kun is chewy and delicious without any odor while the natural red sea bream is crispy and has a more crunchy texture.  
Hodzumitei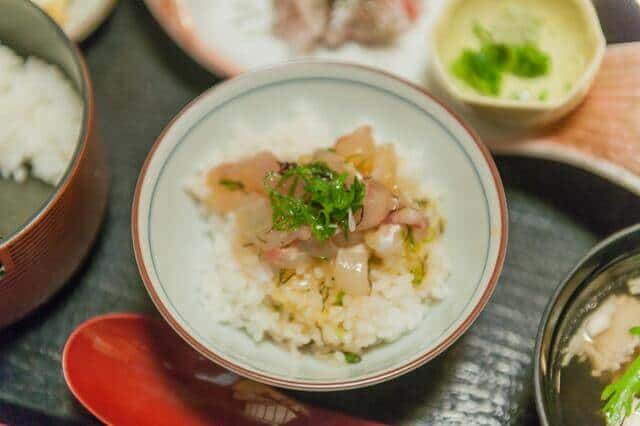 The store is spacious, it can accommodate about 200 seats including the 8 seats at the counter. The sea bream rice menu is delicious wherein the sea bream is fresh and customers can enjoy its firm and elastic texture. The flavors of raw eggs and seaweed are intertwined, and the soy sauce enhances the taste even more. Homemade karasumi is also recommended when one visits this shop to eat.  Since it is homemade, the salt condition is mild and you can enjoy the original taste of karasumi.
Tomiya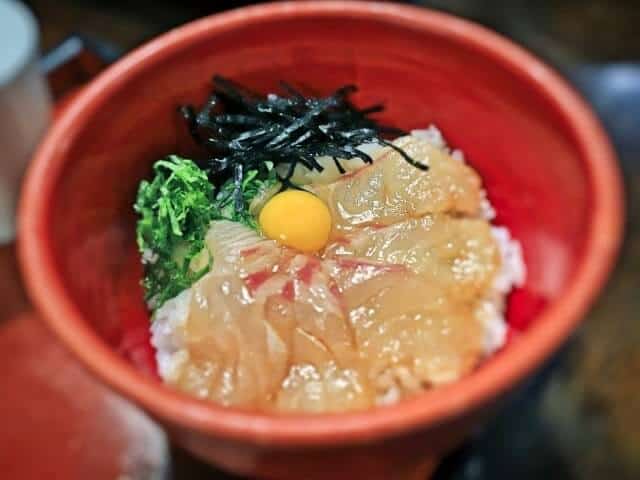 This shop is a 3-minutes walk from Uwajima station. Customers with children can be accommodated in this shop because there are various types of seats they have such as counters, tables, and tatami rooms. Tomiya's taimeshi set meal is a gorgeous set meal with simmered dishes and desserts. Customers usually eat it with sashimi, the taimeshi fillet has a slight sweetness but is delicious. The taimeshi is said to have a crispy and elastic texture and the more you chew, the more the taste of the taimeshi spreads in your mouth.
Seafood Izakaya Gaiya Uwashima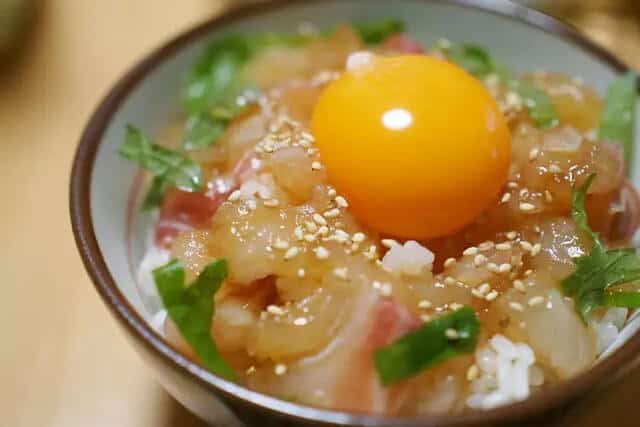 The shop has a vibrant interior that a customer can feel as soon as they enter the shop. Customers can enjoy not only sardines, but also Uwajima's local dishes, single dishes, and drinks so it is recommended for people who want to eat a variety of dishes.  There is a large parking lot in front of the store, so a customer can go by car. The shop is usually full of customers who would like to enjoy the full course of seafood. There are various types of seats such as counters, semi-private rooms, and tatami rooms.
Wabisuke
The taimeshi rice set at this restaurant also has Jakoten, a specialty of Uwajima. The crispy taimeshi sashimi looks great in appearance because it is beautifully sliced. There is plenty of rice in it, so a customer can fill their stomachs full and will be satisfied with the menu.  The interior of the store creates a neat and modern atmosphere while giving a feeling of Japanese style. It is also has a waterfall set up in front of the counter seats while you enjoy your food, you can listen to the clear sound of water and it would feel more delicious than usual.