Introduction to Yokosuka Kaigun Curry
Curry rice is a popular food in Japan. Many people overseas may have made it using curry roux or have eaten it at Japanese restaurants overseas. In Yokosuka City, Kanagawa Prefecture, there is a different kind of curry called Yokosuka Kaigun Curry ( Yokosuka Navy Curry ). The curry can only be eaten in Yokosuka City.
Aren't you wondering why it is only available in Yokosuka City and what kind of curry it is?
What is Yokosuka Kaigun Curry?
There are many different curry recipes in Japan, but there are several requirements to be Yokosuka Kaigun Curry.
The Navy Curry is a reproduction of a recipe in the "Naval Kappou Jutsu Reference Book" published in 1908, which contains recipes for military food prepared by the Japanese Navy. It is including instructions on how to make curry rice, but it is not enough to cook the curry.

Here is some criteria to be it.
Should be based on a recipe from the Navy Kappou Art Reference Book.
Can be served in Yokosuka City.
Must be served with a salad and milk.
Only stores certified by Yokosuka City of Curry can use the name.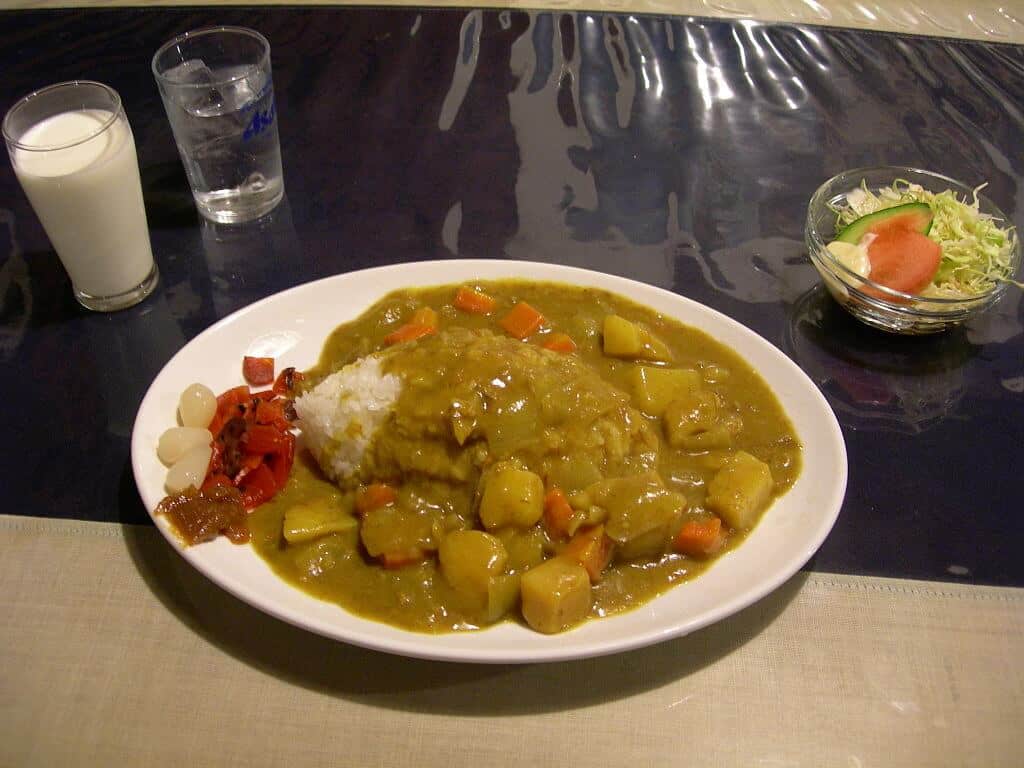 History
The Japanese naval curry originated as naval food. In the Meiji era (1868-1912), the Japanese Navy took notice of the British Navy's curry stew, which was easy to prepare and had a good nutritional balance. So They decided to make it one of naval food.
In December of 1998, the Maritime Self-Defense Force District Commander's Experience Party was held at the Maritime Self-Defense Force Tadodai Branch Office.
The commissioner said at the party curry rice is spread to people and the start is naval curry. This was the beginning of a conversation in which the commissioner suggested using curry in Yokosuka city, because Yokosuka city is closely related to the navy.

Yokosuka City, Yokosuka Chamber of Commerce and Industry, and the Maritime Self-Defense Force discussed the issue. It was decided to recreate the curry served in the former Japanese Navy.

On May 20, 1999, Yokosuka City declared "Curry Town Declaration". After their consideration, Yokosuka Kaigun Curry became main brand of the curry for the those reasons.
This is start of the Yokosuka curry!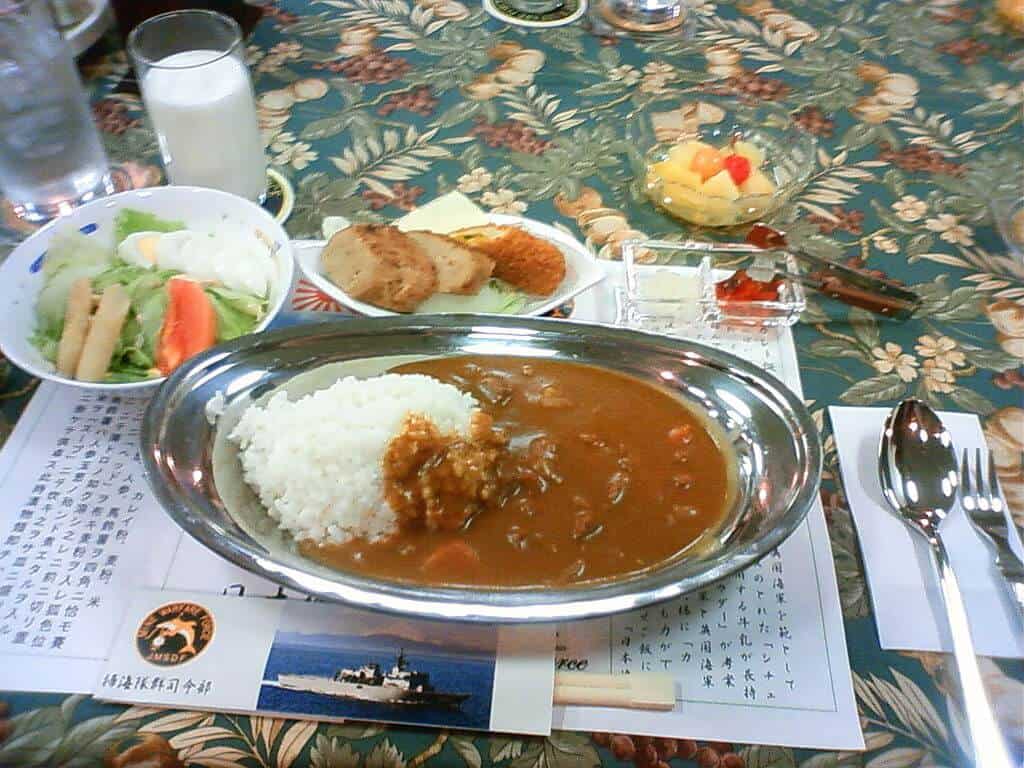 Yokosuka Kaigun Curry Recipe
Yokosuka Kaigun Curry Ingredient
| | |
| --- | --- |
| Kaigun Curry for 6 People | |
| Rice | Proper Quantity |
| Beef | 300 g |
| Potato | 400 g |
| Carrot | 250 g |
| Onion | 500 g |
| Beef Tallow | 140 g |
| Wheat Flour | 37 g |
| Curry Powder | 90 g |
| Fond de veau | 1200 cc |
| Salt | 2.5 g |
| Pepper | little bit |
| Chutney | 9 g |
| Hymie | little bit |
| Soup ingredients (umami seasoning) | 21 g |
| Fukujinzuke (vegetables pickled in soy sauce) | Proper Quantity |
How to cook Kaigun Curry ?
Cut the beef into bite-sized pieces and season lightly with salt and pepper.
Peel potatoes, dice into 5mm cubes, soak in water and drain.
Dice carrots into 5mm cubes if the skin is clean.
Cut the beef fat into small pieces.
Put 70 grams of beef fat in a pan and heat it so that it starts to smoke from the pan.
Then add the onion and sauté over high heat for about 3 minutes, add the step1 beef and sauté to brown, then add the potatoes and carrots and sauté over high heat for another 2 minutes.
Reduce the heat to medium and saute for 5 to 6 minutes, add the fond de veau, bring to a boil, and simmer over low heat for 20 minutes.
When the vegetables are soft, add the soup stock and remove any lye.
In a frying pan, slowly fry 70g of beef fat over low heat, add flour after the oil has melted.
Fry until bubbles appear all over and the mixture turns slightly brown.
Add the curry powder and fry over low heat until the mixture thickens without burning.
If there is not enough oil, add a little salad oil and stir-fry.
Mix everything together and thicken.
Season with salt, pepper, hai mee and chutney.
Place the rice on a plate, pour the curry over it, and garnish with chutney and fukujinzuke.
Prepare a salad and milk separately, and the Yokosuka Navy Curry is ready.
Cooking Tips
Choose potatoes, carrots, and onions with good ingredients, and when frying, use high heat to prevent moisture from escaping. If you are making fond de veau at home, you can add the used meat to the curry for more flavor.
Is curry good for your health?
Curry is the ultimate health food. Many kinds of spices are used in making curry. Pepper, cloves, and turmeric are common spices used in curry. Turmeric has antioxidant properties. Cloves are said to help with loss of appetite, liver function, insomnia, and stress.
Below are some of the health benefits that can be expected from curry.
Expected Health Benefits of Curry
Appetite regulation
Digestive stimulation
Metabolism promoting effects
Antibacterial activity
Autonomic Nerve Regulation
Circulation promoting action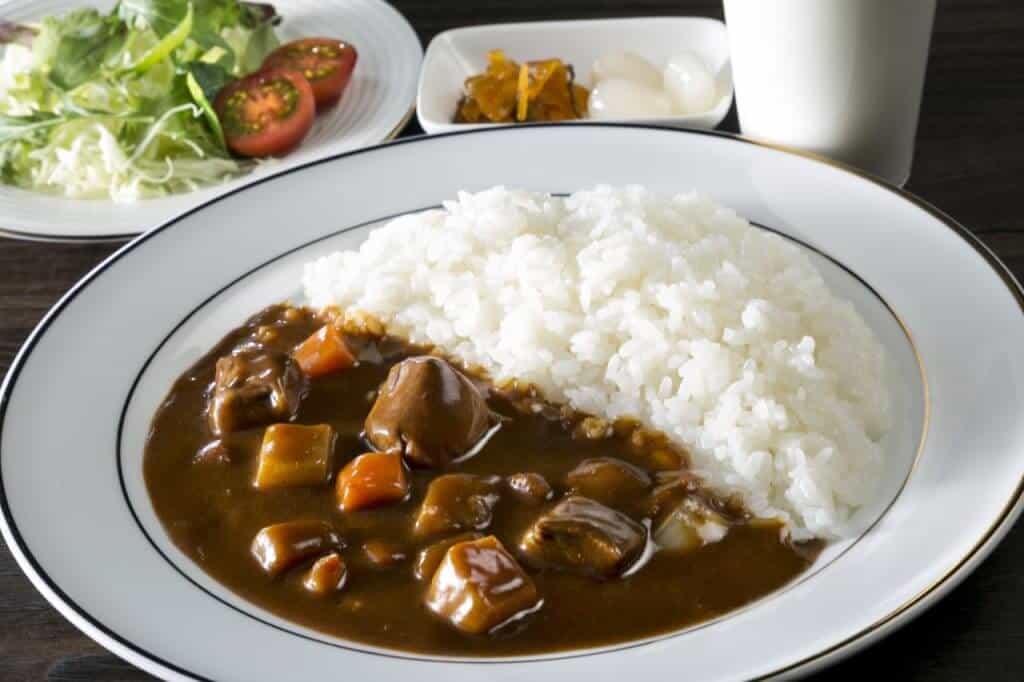 Where can you eat Yokosuka Kaigun Curry ?
Yokosuka Kaigun Curry served only in Yokosuka city, so we have to go to Yokosuka city for it!
Yokosuka city is in Kanagawa prefecture that is next to tokyo, so it is not far to eat the delicious curry!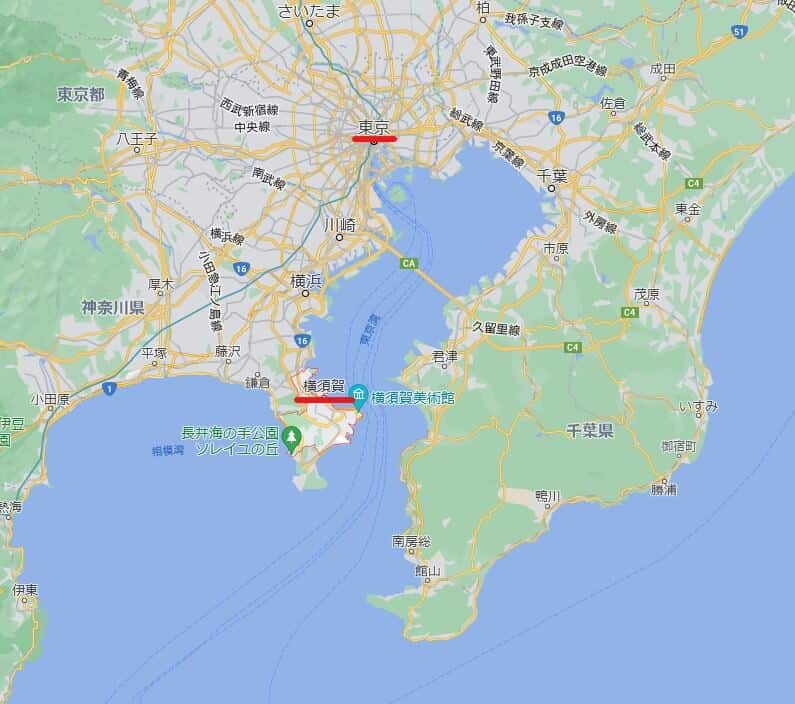 Here is some recommended restaurants.
WOOD ISLAND Curry Restaurant
This restaurant is located right in front of the Yokosuka Naval Base and has a long history.
The chef in this restaurant is one of the committee members who certify the Yokosuka Navy Curry, so you can enjoy the legitimate taste of the curry at this restaurant.
Yokosuka Navy Curry Honpo
The restaurant has the atmosphere of a ship's dining room.
The curry in this restaurant is prepared in the same way as the curry made on the ship, and vegetables and fruits are used to give it a sweetness in the spiciness. The restaurant is on the second floor, and the first floor sells goods related to Yokosuka Navy Curry.
Gyorantei
The first restaurant to be certified as a curry town in Yokosuka is Gyo-ran-tei. Due to the deterioration of the building, the restaurant was regrettably closed by many people, but the owner's strong desire to somehow preserve the taste of the restaurant was realized and the restaurant was reopened six months later.
The curry at Gyorantei is made from Japanese beef and is carefully simmered with a lot of time and effort, resulting in a taste of umami blended in with the spiciness, so this restaurant is one of popular in yokosuka.
Tsunami
A restaurant popular for its Yokosuka Navy Curry and hearty hamburgers.
Tsunami's Yokosuka Naval Curry is a dish with a good balance of sweet and sour onions and a lot of flavor from the large, rumbling meat. This restaurant is located in the middle of Dobuita stree, and on Saturdays and Sundays there is a line of tourists waiting to get in.
The restaurant also sells Yokosuka's famous navy burger, so if you have room in your stomach, you can order one along with it.
Conclusion
Yokosuka Kaigun Curry, the origin of popular curry in Japan, is a must-try if you like curry. This is the only place where you can try the special curry, so I highly recommend trying it in Yokosuka.
In Japan, there are many other dishes that use curry. Take a look at some of the other curry dishes here!