Japanese food culture is popular with dishes such as sushi, takoyaki, karaage, etc. However, Japan also has lesser known dishes, especially sweets that you should discover. Today, we would like to introduct Anmitsu – a Japanese traditional dessert that is very familiar to Japanese during hot summer days. Let's see what is inside this dish, how to make it and where to try a good Anmitsu dish!
What is Anmitsu?
Anmitsu (あんみつ) is a Japanese traditional dessert with mitsumame and red bean on top. In other word, it is one type of anmitsu. The biggest difference between anmitsu and mitsumame is whether or not it contains red bean paste.
Do you wonder what the taste of anmitsu is? Each ingredient of anmitsu has a unique taste and when combines them together, you can enjoy a refreshing delicious sweet. The red bean paste add the sweetness to the dish while the light taste of agar and dumplings make the taste balance and not too sweet. Fruits may add differences to this dish. If you add sour fruits such as pineapple or kiwi, you can enjoy the freshing the combination of sweet and sour taste. If it is fruits such as banana, the sweetness of bean paste and fruit will harmonize and make a different sweetness when you eat.
Mitsumame (みつ豆) is Japanese dessert with agar, fruits (such as mikan and peaches), gyuhi and shiratama dumplings. It was originally a summer confectionery and is a seasonal word (kigo) for summer in haiku along with anmitsu. However, today mitsumame is eaten all around the year.
Various types of anmitsu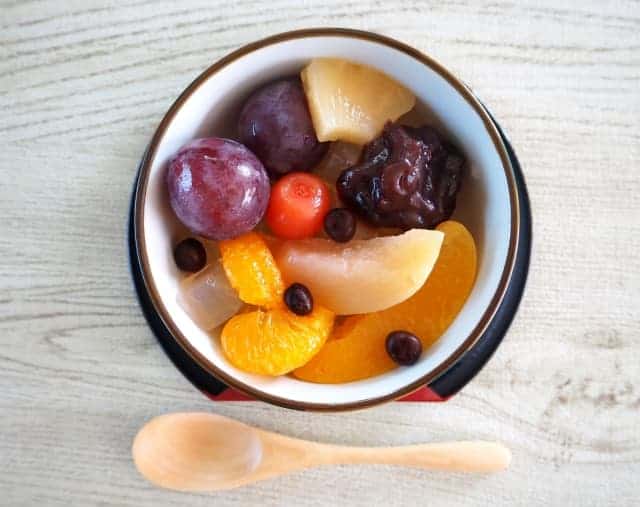 Anmitsu, like mitsumame, has many variations. Let's see what is the mosty popular type of anmitsu in Japan!
Popular types
There are seven basic and popular types that you can find at wherever that sells anmitsu. Each type has its own featured flavor that you should not miss trying!
Anmitsu
Shiratama anmitsu: topped with shiratama dumplings
Cream anmitsu: normal anmitsu with whipped cream or ice cream
Cream shiratama anmitsu: this is the mixed type of shiratama and cream anmitsu in which you can have both toppings of cream and shiratama
Matcha anmitsu: Matcha has been long popular in Japan as ingredient in so many dishes, drinks as well as sweet. Therefore, it is not surprising that they also have matcha anmitsu also. The interesting combination of pleasant bitter matcha and sweet anmitsu makes it a must-eat dessert dish.
Mitsumame: as stated before, this is the no red beans version of anmitsu that should try whenever summer comes
Cream mitsumame: mitsumame topped with whipped cream or ice cream
Other/ special types
Beside the popular ones, you can also find seasonal anmitsu (strawberry, strawberry cream, sakura, etc). Fruit anmitsu containing mitsumame, red bean paste with cut fresh or canned fruits such as kiwi, cherries, pineapples, oranges or peaches, etc is also famous too.
At sweets shop, there is also special type – omiyage anmitsu (literally "souvenir anmitsu") which is beautifully wrapped so that you can buy as souvenir or present for family and friends.
History
In the Meiji period, sweets sold at street stalls in Edo became mitsumame and then developed into anmitsu in the early Showa period. Anmitsu is believed to be invented by a long established store called "Wakamatsu" in Ginza, Tokyo.
In 1930, when receiving feedbacks from customers that "I want to eat something sweeter," the second-generation owner of this family restaurant decided to innovate the mitsumame by adding strained red bean paste on top so that the dish would be sweeter. This decision finally made the dish become a big hit. It spread all over the country became a national dessert.
Their anmitsu is mainly made with red bean paste from Tokachi. It has a firm sweetness and a refreshing aftertaste. The exquisite sweetness seems to be the secret for the charm of Wakamatsu's anmitsu for a long time.
Anmitsu FAQ
What is the difference between Anmitsu and Mitsumame?

Anmitsu is literally a type of Mitsumame. The biggest difference between the two desserts is that anmitsu is topped with red bean paste.

Who invented Anmitsu?

Hanjiro Mori, the Second-generation owner of "Wakamatsu" confectionery shop combined mitsumame and azuki beans, making Anmitsu popular dessert dish. Up until now, Anmitsu has become a national parfait dessert dish and is eaten all around Japan.
How to make Anmitsu?
How to make original Anmitsu?
Ingredients
| | |
| --- | --- |
| Anmitsu ingredients (for 3-4 servings) | Measurement |
| Agar-agar (stick form) | 1/2 |
| | |
| Caster sugar | 10g |
| | appropriate amount |
| Brown sugar syrup | appropriate amount |
Methods
Preparation
Soak with water
Soak the agar (which is in stick form) in plenty of water for 10 minutes to softe.
Squeeze out
When the stick agar becomes soft, squeeze out the water.
Tear off
Tear the stick agar off so that it dissolves easily
Boil
After the finely chopping the stick agar (or tearing it off), boil it in water. Make sure that the agar completely melt in water.
Add sugar and wait until it dissolve.
Chill in the refrigerator
After boiling the mixture, pour into a bowl and keep it in the refrigerator for at least 1 hour.
Serve
Cut the mixture in step 3 into 2 cm squares and put them in a cup. Top with boiled adzuki beans and brown sugar syrup and that's how you make the delicious anmitsu! Itadakimasu!
(Optional) As stated in the previous section, there are various types of anmitsu. Therefore, you can also decorate your dessert with cream, ice cream or fruits to deepen the flavor. Just enjoy the dish the way you like!
How to make matcha anmitsu?
Other than the orignal anmitsu, you can also make yourself other variation of it – matcha anmitsu, a perfect combination of matcha-flavored bittersweet agar and sweet azuki bean paste!
Ingredients
| | |
| --- | --- |
| Anmitsu ingredients | Measurement |
| Agar-agar (powder) | 4g |
| | |
| Matcha green tea | 1 tsp |
| | |
| Red bean paste | 1-2 tbsp |
| Syrup | |
| Sugar | 2 tbsp |
| | 50-80ml |
Methods
Mix matcha and sugar
Add 1 tsp of matcha powder and 3 tbsp of sugar to a small bowl and mix.
Make matcha agar
Put 400ml of water, 4g of powdered agar, matcha and sugar from step 1 in a pot, bring to a boil over medium heat while stirring well. Simmer for a few minutes until all the ingredients mix well.
Cool the mixture
Turn off the heat and let the mixture cool for about 10 minutes.
Solidify the matcha agar
Put the cooled agar in a container and put it in the refrigerator for 2-3 hours to solidify.
Make syrup
Put 50-80ml of water and 2 tablespoons of sugar in a pot, boil over medium heat to dissolve the sugar. After the sugar has dissolved, turn off the heat and let it cool.
Serve
Cut the matcha agar into cubes, put it in a bowl. Add 1-2 tablespoons of red bean paste and pour syrup on top. Enjoy your matcha anmitsu!
Restaurants
Asakusa Umezono (浅草梅園)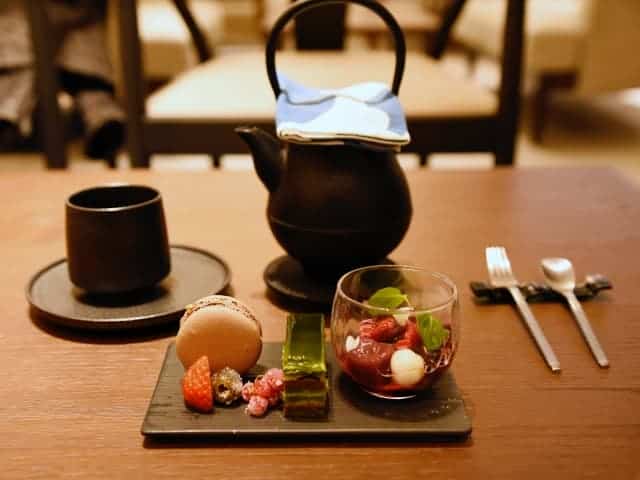 In Asakusa Umezono, Anmitsu has a good balance of agar with smooth and flavorful bean paste made from adzuki beans from Hokkaido and rich brown sugar syrup. The agar is cut into cube pieces and mixed with brown sugar syrup and bean paste. Despite the sweetness, you can eat up the dish without getting bored. The popular "Shiratama Cream Anmitsu" has beautiful red and white shiratama and delicious taste that we really recommend to try. This place is a must-visit place for any fans of sweets, not only anmitsu.
Anmitsu Mihashi (あんみつみはし)
The signboard menu of Mihashi is the original "Anmitsu". The bean paste is made from adzuki beans from the Tokachi region, Hokkaido, the brown sugar is from Hateruma Island while the agar is from Amakusa from the Izu Islands and Shizuoka. A simple dessert dish but is a perfect combination of red beans, gyuhi and mandarin oranges with an exquisite firmness.
There are more than 10 kinds of anmitsu for you to enjoy, including seasonal ones, such as "Cream Anmitsu" and "Fruit Cream Anmitsu" that uses seasonal fruits.
Mihashi was founded in 1948 in front of Ueno Park. Since then, it has become one of the most popular anmitsu shop with a calm Japanese atmosphere, making it a perfect place to stop by after visiting Ueno park or the zoo nearby.
Anya (あんや)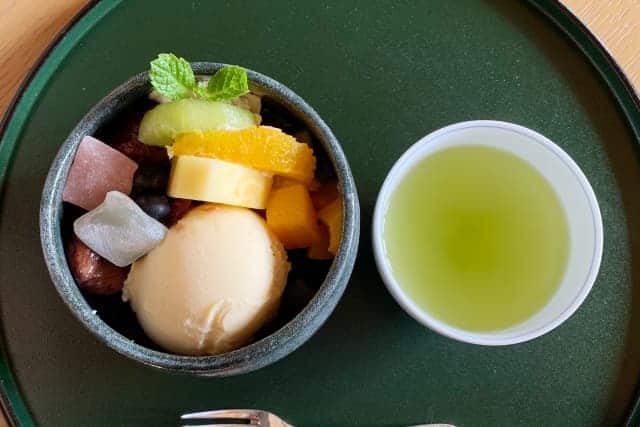 Anya opened in 2004 as a Japanese confectionery specialty store of Seijo Fugetsudo, a long-established Japanese confectionery shop founded in 1918. You can enjoy fresh hand-made sweets in the quiet teahouse. Anmitsu in Anya will also surprise you with its unique taste that you can not find anywhere else. Do not forget to note this place into your list and visit whenever you want to experience a peaceful Japanese atmosphere with traditional sweets!
Unlike other stores, the agar here is not solidified but is boiled and then solidified with Amakusa from Izu. The brown sugar syrup made from Tanegashima brown sugar and water while the toppings such as red beans, are all hand-made, except for fruits. The rice flour dumplings will be made by order so it will take some times but it is really worth the time waiting thanks to the chewy texture of freshly made dumplings.
Takeaway
Anmitsu is a popular dessert dish in Japan, especially during hot summer days. The impressive thing about it is that you can try various types of it with cream, shiratama dumpling and fruits. As seasonal fruits take important role in Japanese confectionery, you can not miss out the chance to try seasonal anmitsu such as strawberry anmitsu, strawberry cream or sakura anmitsu, which is representative of Japanese spring. As the recipe to make anmitsu is not that difficult, you can also challenge yourself by making it at home!
If you are a fan of Japanese sweets, do not forget to check out the below article or click here for more information!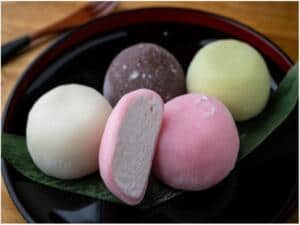 Mochi Ice Cream (もちアイス)
One of the most popular desserts in Japan that are now loved worldwide, both because of its adorable presentation, and its exquisite and refreshing taste, no…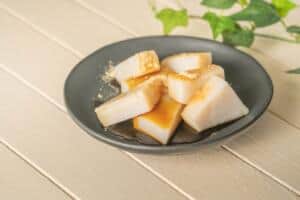 Kuzu mochi (くずもち)
If you're traveling to Japan, trying out the local cuisine is a must-do activity, and kuzu mochi should be on your list. This traditional Japanese dessert is…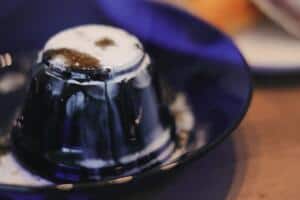 Coffee Jelly (コーヒーゼリー)
Are you looking for a delicious dessert for hot summer days? If you are still wondering and do not know which to choose, let us recommend you coffee jelly, o…