Speaking of sweets that represent Kyoto, you can't miss Yatsuhashi. It has a very long history and is said to have been born in the second year of Genroku (1689). Then what is the story behind the birth of this sweet? Let's find out all about this traditional sweet in today's article. We are also going to introduce about Yatsuhashi and raw Yatsuhashi so please take a note!
What is Yatsuhashi?
Yatsuhashi (八ツ橋) is one of the Japanese sweets that represents Kyoto, which is also famous as a souvenir. It is a type of hard-baked rice cracker made by steaming dough mixed with rice flour, sugar, and cinnamon, stretching it thinly, and baking it. The baked Yatsuhashi is mainly brown or ocher, but the one using water cinnamon is famous for its clear white color. The shape is an imitation of a koto or a bridge, and is a curved rectangle that is convex in the long axis direction. 
There are variations of it such as Yatsuhashi, which has a crispy texture after being baked (also known as hard-fried Yatsu hashi), chewy raw Yatsu hashi, and bean paste-filled Yatsu hashi with bean paste inside. The "raw Yatsuhashi " is just cut without baking the dough, and a derivative product that locals make by wrapping bean paste in raw Yatsu hashi. In modern times, the raw Yatsu hashi with bean paste is with matcha, sesame, fruit and chocolate for the bean paste. 
Etymology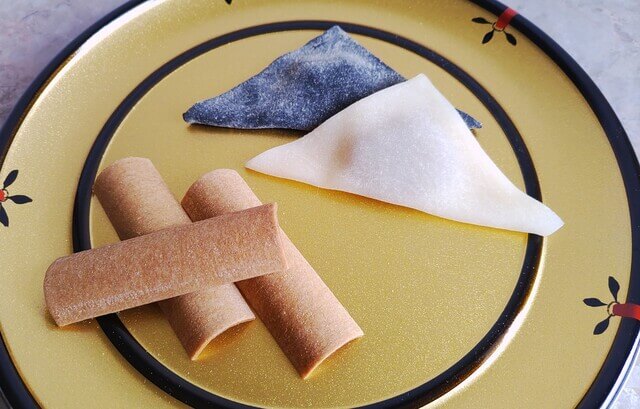 The name of this sweet comes from the Edo period composer Yatsuhashi Kengyo (八橋検校). Yatsuhashi Kengyo, a master of koto. Japanese believed that the name came from the fact that after his death, they distributed a hard-baked rice cracker shaped like a koto or a bridge in memory of his achievements.
Yatsuhashi Origin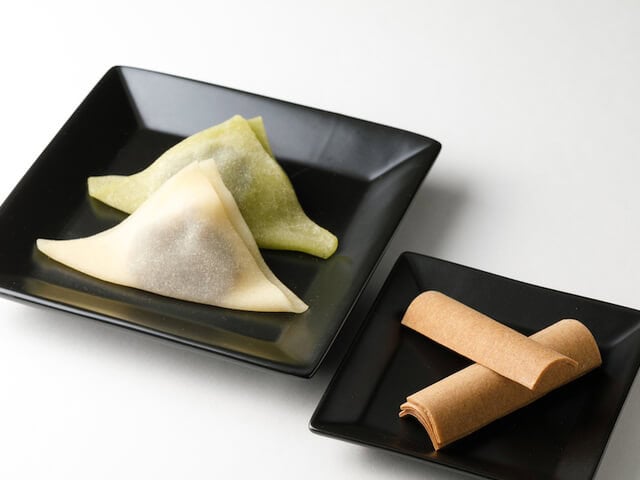 There are various theories about the origin of it, but there is no official recognition and it is unclear. According to one theory, locals based it on the motif of the Yatsuhashi Kengyo, which is said to be the founder of koto. At Yatsuhashi Kengyo, it's a waste to throw away the rice left in the rice crackers, so why not add honey and cinnamon to make a hard-baked rice cracker? There is an anecdote that he proposed this to the owner of a teahouse in the neighborhood.
There is also a theory that originated from Mikawa-Kuni Hachibashi in the ninth section of the Ise Monogatari, "Kakitsubata." Japanese believed that in the past, their ancestors built this to commemorate the eight bridges on the river.
Yatsu hashi was a product in the middle of the Edo period at a tea shop at Kinkyo-Ji Temple in Shogoin. Yatsu hashi became famous nationwide when Emperor Taisho ascended the throne in Kyoto, and many people gathered at Kyoto Station to buy souvenirs. In the 1960s, "Otabe" ("Bijuu" Co., Ltd.)) first wrapped bean jam in was the first to wrap bean paste in raw Yatsu hashi and put it on the market, and there are other famous manufacturers such as "Sei," "Izutsu," and "Yuko."
Yatsuhashi Recipe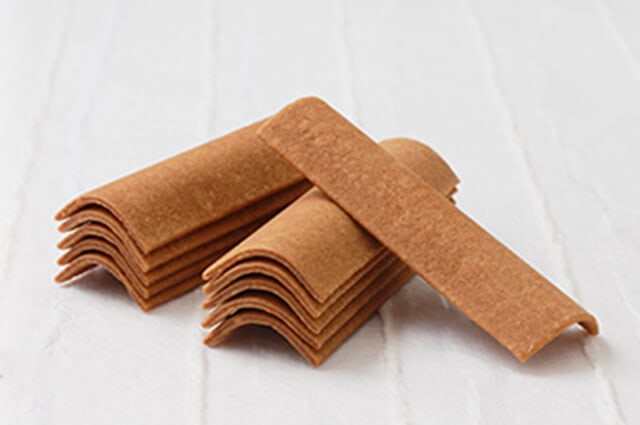 Raw Yatsuhashi Ingredients
| | |
| --- | --- |
| Ingredients of Raw Yatsuhashi for 6 people | |
| Shiratamako | |
| Joshinko | 10g |
| Water | 35g |
| Sugar | 45g |
| Cinnamon | 30g |
| Bean paste | 60g |
| Kinako (for hand flour) | 10g |
How to make Yatsuhashi
Make the dough
Add Shiratamako and water to the bowl and mix. Then, add Joshinko and sugar and mix further. Afterward, you can add 3-5 shakes of cinnamon and mix.
Steam on a medium to high heat
Prepare metal molds, containers, and bats such as egg tofu. Place a wet cooking sheet on the mold and pour the dough into it. Then, place it in a boiling steamer and steam for 15 minutes.
Sprinkle with soybean flour
Prepare a noodle stand and a silicone mat, and spread the hand-floured soybean flour on the mat. Next, place the steamed dough and sprinkle the whole with kinako
Cut and stretch the dough
Divide the dough into 6 equal parts with a scraper, etc., and spread each in a square with a rolling pin.
Wrap the bean paste
Cut the edges of the dough into squares. Place it in the middle, fold it into a triangle, and you're done. When the dough is baked in the oven, it becomes a solid-baked Yatsuhashi.
In addition to bean paste, we also recommend potato bean paste and chestnuts. It goes well with cinnamon.
Different notation of the name Yatshuhashi (八ツ橋)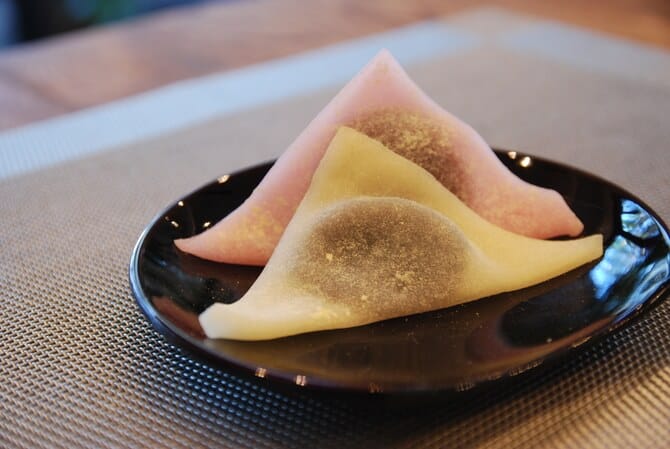 "Yatsuhashi" that represents general Yatsuhashi
First is "Yatsuhashi (八ツ橋)". The point to see is the "tsu (ツ) " in the middle. It is a big "tsu (ツ)". Also, Wikipedia registered the food as "Yatsuhashi (八ツ橋)".
"Yatsuhashi" representing the store name
The notation "Yatsuhashi [八ッ橋]" using a small "tsu [ッ]" is often found in the names of shops and products. For example, the small "tsu" is in the names of the long-established store Seigoin Yatsu hashi Sohonten.
What does Yatsuhashi taste like?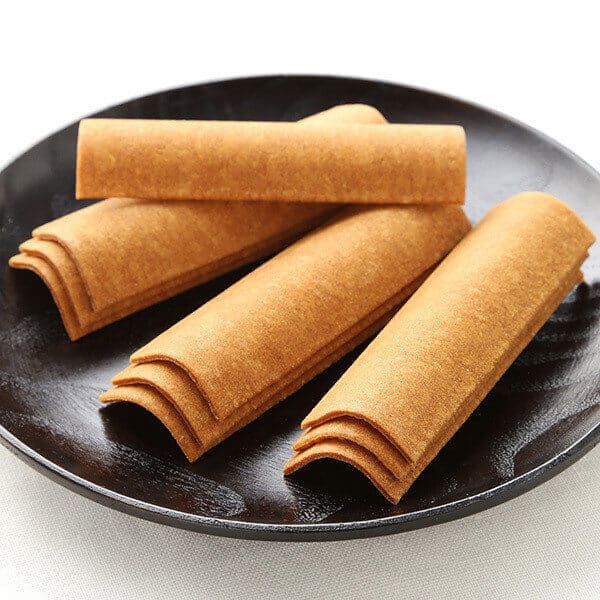 The orthodox Yatsuhashi has an elegant Nikki scent and has a mild sweetness. Not only Nikki but also various flavors such as black sesame, matcha, strawberry, brown sugar, cherry blossoms, and mint are on sale. Matcha has a bitter and astringent taste for adults, and Uji Matcha is especially popular among older people.
In addition, there are many variations such as chocolate, white peach bean paste, chestnut bean paste, and sweet potato bean paste as alternatives to raw yatsu hashi bean paste and Koshi bean paste. Raw Yatsu hashi with mango-flavored and ramune-flavored bean jam is popular as a delicious product when eaten cold in summer.
Moreover, the fragrant aroma of Nikki powder and soybean flour sprinkled on the surface of the raw Yatsu hashi enhances the attractive flavor. The texture, sweetness, and aroma are quite different depending on the restaurant.
Difference between Yatsuhashi and raw Yatsuhashi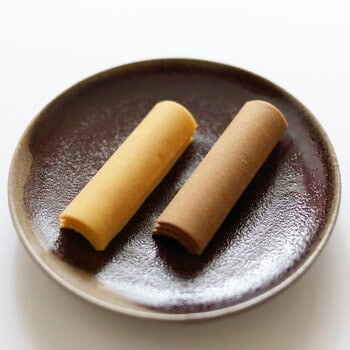 The difference between Yatsuhashi and raw Yatsuhashi is whether you eat it raw or baked. Yatsuhashi is a crispy baked, cinnamon-flavored cookie made from sticky rice flour and it feels like a thin rice cracker. While its raw version called "Nama yatsuhashi" is typically folded into a triangle and has a soft, almost mochi-like texture. They often served it. wrapped like a dumpling with anko in the middle.
Various Yatsuhashi you can buy
Raw chocolate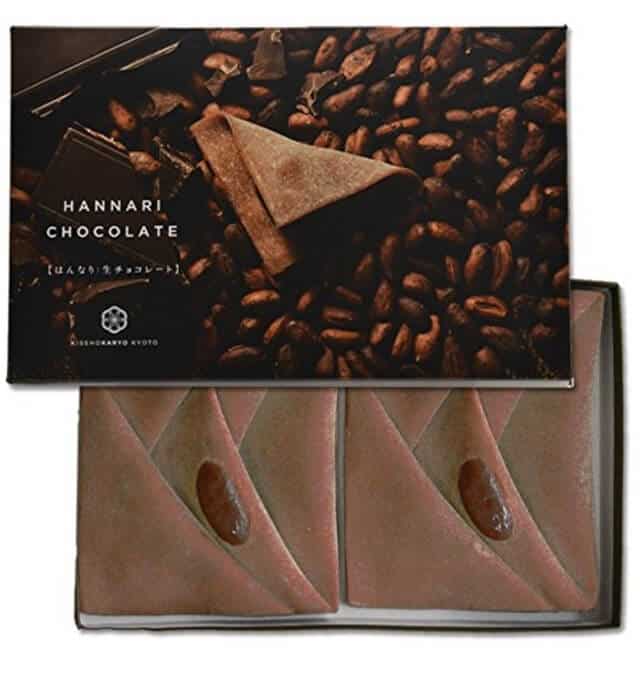 Recommended for Kyoto souvenirs, it is a raw Yatsuhashi with melted raw chocolate.
4 colors assortment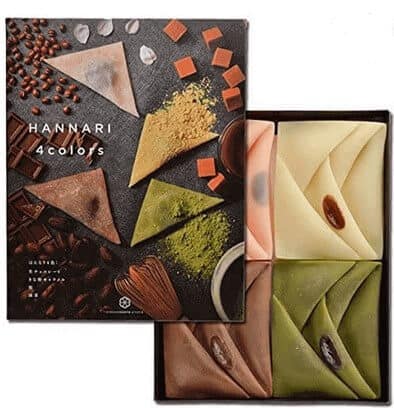 The next one is the Kinako caramel, raw chocolate, cherry blossoms, matcha, and four popular types of raw Yatsuhashi are packed together.
Matcha Assortment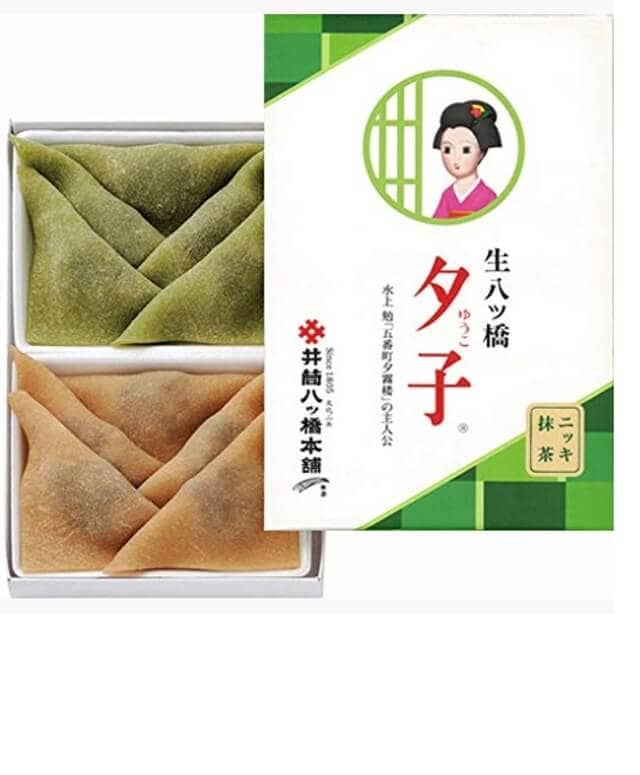 Izutsu wrapped the bean paste in raw Yatsuhashi and finished with Nikki and Matcha.
Izutsu no Nama Yatsuhashi Yuko Chocolate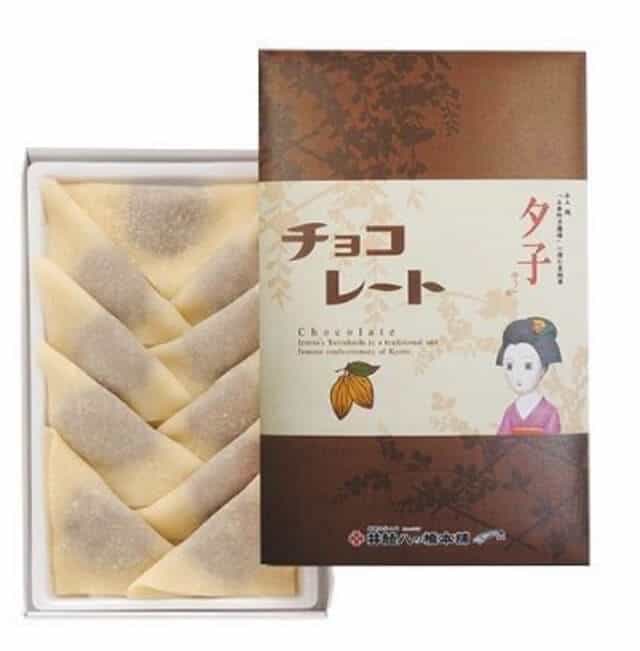 On the other hand, there is a new sensation that wraps chocolate cream and melts the flavor of cacao gently is popular with women and children.
Assorted Nikki and Uji matcha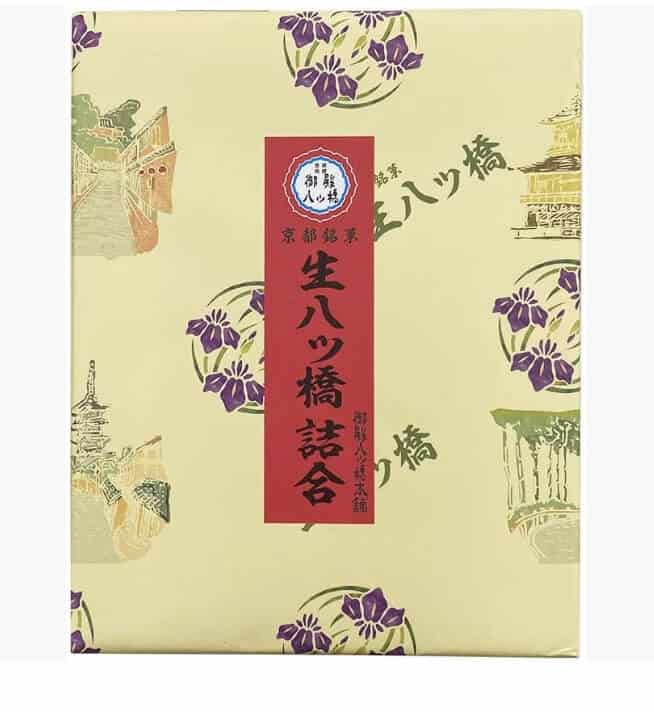 Due to the unique manufacturing method of Goten Yatsuhashi, it has a soft and chewy texture. This raw Yatsuhashi is an assortment of Nikki and Uji Matcha.
Higashiyama raw Yatsuhashi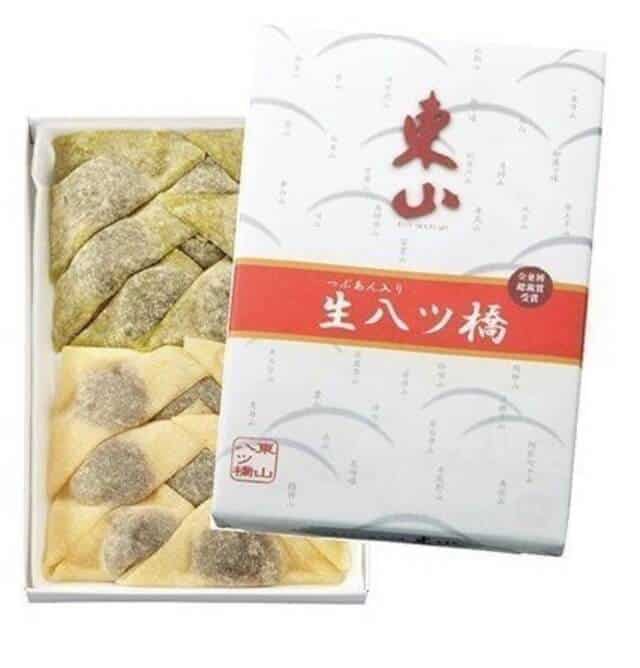 Lastly, it's color and the mellow scent of cinnamon. Received the "Governor's Award" at the National Confectionery Expo. The traditional taste of Kyoto has been passed down.
Where to buy Yatsuhashi
Izutsu Honpo (井筒八ッ橋本舗 祇園本店)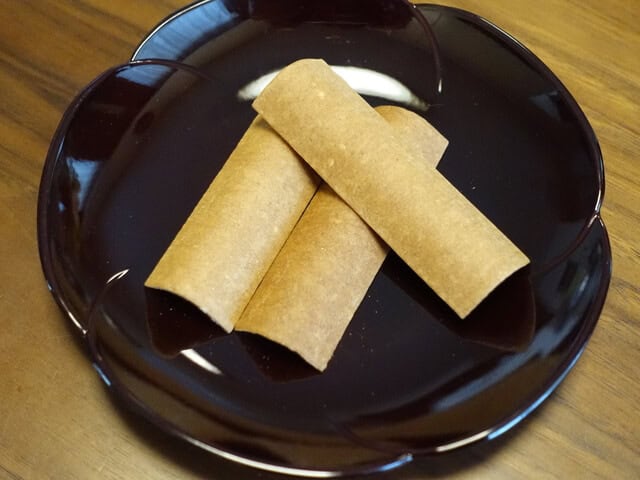 The Izutsu Honpo's raw Yatsu hashi is the most recommended dish out of the store. It is an assortment of Nikki and Matcha, but both of them had a remarkable taste. It is a triangular raw Yatsuhashi and the bean paste is sweet and delicious. The mochi is also chewy. The Matcha with red bean paste is also delicate and should be tried out by many.
Otabe Kiyomizuzaka (おたべ清水坂店)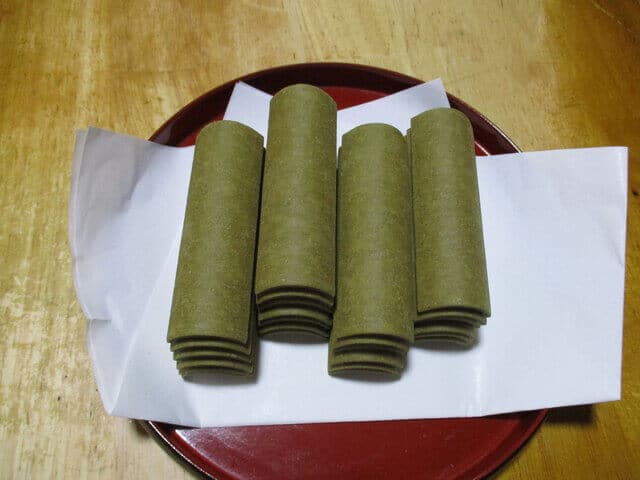 Kyoto's famous confectionery "Yatsuhashi" has been loved for over 300 years. Otabe Yatsuhashi is a thin, light, and baked Yatsu hashi. The crunchy texture is a simple taste that will leave you behind. Moreover, you can enjoy a moderate texture without being too hard. The thickness and raw materials are different from those of raw Yatsu hashi because it is deliciously finished when baked. The shop individually wrapped it and contains 3 pieces in 1 bag.
Kyobaumu (京ばうむ)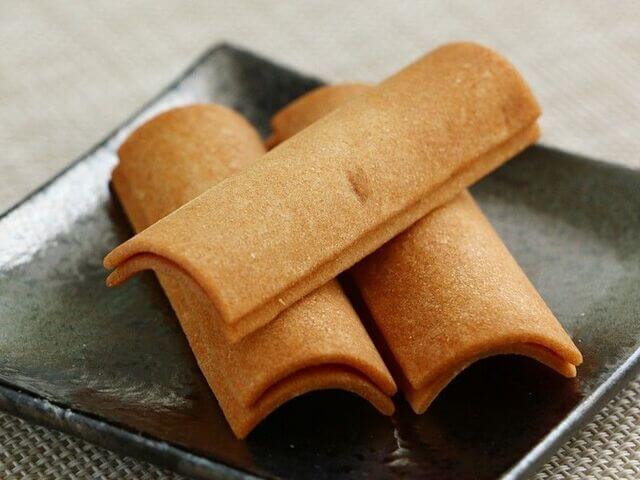 "Kyobaumu" is a famous Kyoto confectionery. "Otabe" and "Yatsuhashi" or raw Yatsuhashi are the two of the products of Kyoto's famous confectionery Otabe. There are two types of thickness, 3.5 cm and 5.25 cm. The layers are the matcha dough which is a blend of Uji matcha and sencha, and the white dough of Kyoto soymilk made from the groundwater of Kyoto. Hence, the soy milk and matcha parts are less sweet, but the fondant (sugar-coated dark green part) that covers the surroundings is sweet and has a good balance.
Shogoin Main Store (聖護院八ツ橋 総本店)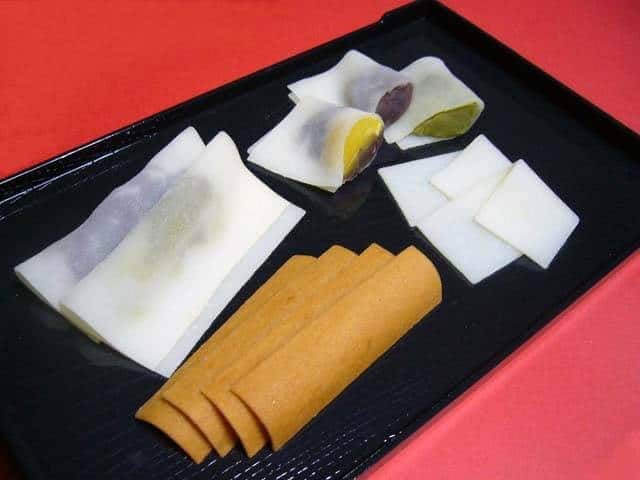 Introducing sweets centered around Yatsu hashi. Based on the idea that taste is tradition, they aim to make delicious sweets that will keep everyone smiling at all times. The shop serves authentic Yatsu hashi and Hijiri or raw Yatsuhasi with red bean paste. All the bean paste used is manufactured in-house. They carefully select the plump azuki beans from Hokkaido and cook them carefully.
Takeaway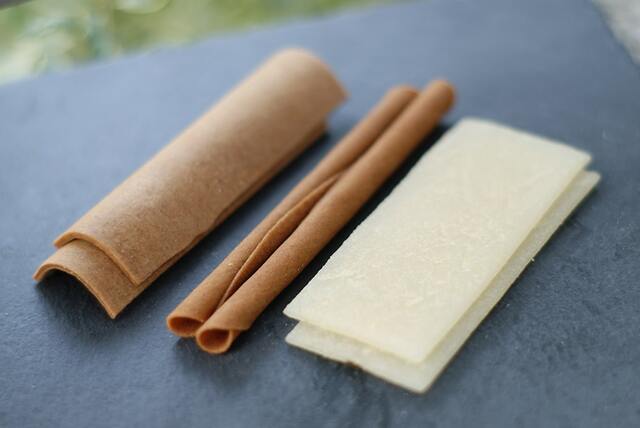 If you've ever had a friend return from a vacation to Kyoto, chances are they brought yatsuhashi sweets with them. These popular rice flour, sugar, and cinnamon packets are the classic souvenir sweets of Japan's historical capital city. According to several surveys, yatsuhashi accounts for 50% of all souvenirs purchased in Kyoto. If you would also like to buy souvenirs, especially sweets, you can try Warabi Mochi, Youkan, and Uirō which is also a specialty from the Kansai region and Kyoto.