One of the most popular desserts in Japan that are now loved worldwide, both because of its adorable presentation, and its exquisite and refreshing taste, non-other than, Mochi Ice Cream. In this article we will know more about this type of mochi dessert and why is it popular worldwide. How can we make it? And what does it taste like?
What is Mochi Ice Cream?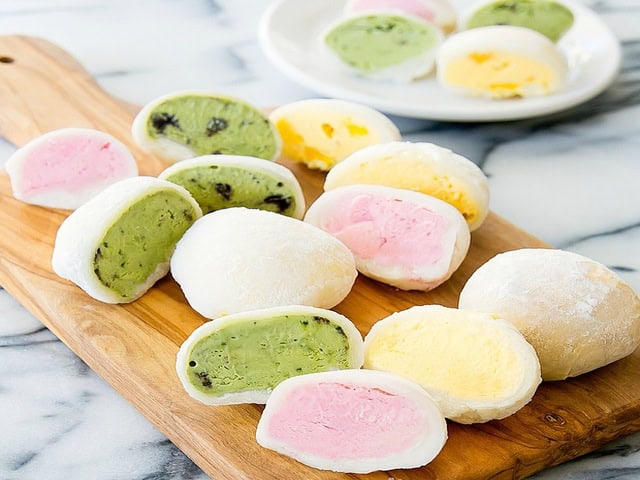 Mochi ice cream is a combination of the traditional "daifuku mochi", a Japanese confectionary with a warm image, and the cold western-style ice cream ingredient. The inspiration for this impeccable dessert is the "Wataboshi", a Japanese ice cream dessert wrapped in marshmallows. The balanced sweetness of the glutenous rice with flavored ice cream filling is what makes this dessert delightful. No wonder it gained popularity worldwide in a short period of time.
"Mochi" is a Japanese rice cake made by combining "mochigome" a short grain Japanese glutenous rice, water, sugar, and cornstarch. On a lighter note, it is an ice cream wrapped in sweet glutenous rice.
History of Mochi Ice Cream
This dessert came about in 1981. Lotte company first made this product by using rice starch and a rice milk and named it "Yukimi Daifuku". As a matter of fact, they will be celebrating their 42nd anniversary this year. Yukimi Daifuku is the most popular daifuku ice cream brand in Japan. Both adults and children love this brand. It is also gaining a steady reputation overseas as the definitive Japanese ice cream brand.
The credited inventor of mochi ice cream was Frances Hashimoto, former CEO of Mikayawa. She expanded her husband's idea of wrapping small balls of ice cream with the traditional Japanese mochi. Mikayawa also began producing this ice cream variant in the United States in 1993. Not long after, they started production in Hawaii in 1994. In the first four months, it captured 15% of the novelty frozen treat market. Recently, this dessert that originated in Japan became a craze that hit the UK in January 2021. For this reason, a viral video on social media called "Looking for Little Moons in Big Tesco" hit over 341.8M views making this Japanese refreshment popular worldwide.
Mochi Ice Cream Flavors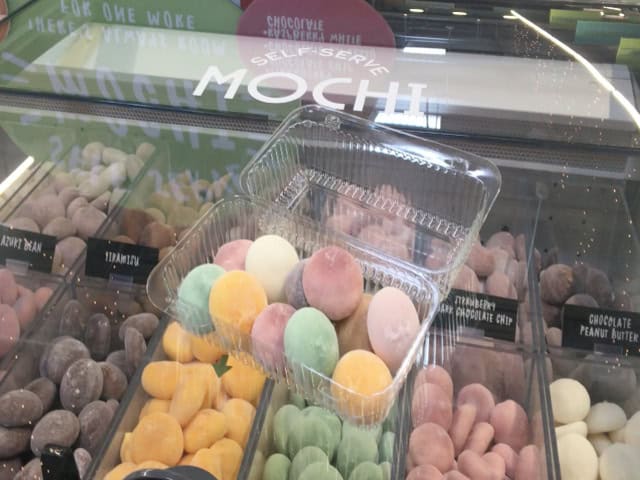 There is a wide variety of choices with regards to mochi ice cream flavors in the market. Top confectioner companies incorporating the traditional flavors of Japan whilst creating new ones. For the reason that, they need to cope up with change and trend. We will learn more about a few of this delightful dessert's flavors in this article.
Vanilla Flavor
One of the very first flavors created upon the release of mochi ice cream. It has a rich creamy and sweet taste that is easy to fell in love with. Most confectioner company has this flavor, one of which is the Lotte company with their "Yukumi Daifuku" collection.
Red Bean Paste Flavor
This flavor is the oldest flavor of all. Carrying the traditional Japanese warm dessert, "daifuku". Red bean paste flavor is loved by the locals of Japan. For the reason that, it brings a nostalgic feeling with a refreshing taste.
Strawberry Flavor
Who doesn't love strawberries? The fruit itself is pleasurable in the eyes. This is also the reason why almost all desserts have strawberry flavor. Confectioner companies in Japan incorporated this flavor with mochi ice cream. A vast collection like Lotte company has this flavor in their "Yukimi Daifuku", even pairing it with other flavors. Definitely, this flavor is to die for.
Chocolate Flavor
Of course, chocolate is a flavor made for chocolate lovers and for all ages. The chocolate flavor is also the easiest choice if you want to try something new. Various types of chocolate flavor have been created for mochi ice creams, like chocolate milk, raw chocolate flavor, and other flavor filled with chocolate filling. This flavor is a playful ingredient that is easily paired with.
There are 6 limited-edition flavors of Yukimi Daifuku worldwide. While the mango one wasn't successful in Japan, it became popular in Asian countries where locals regularly eat this fruit.
3 Most Popular Mochi Ice Cream Brands in Japan
LOTTE's Yukimi Daifuku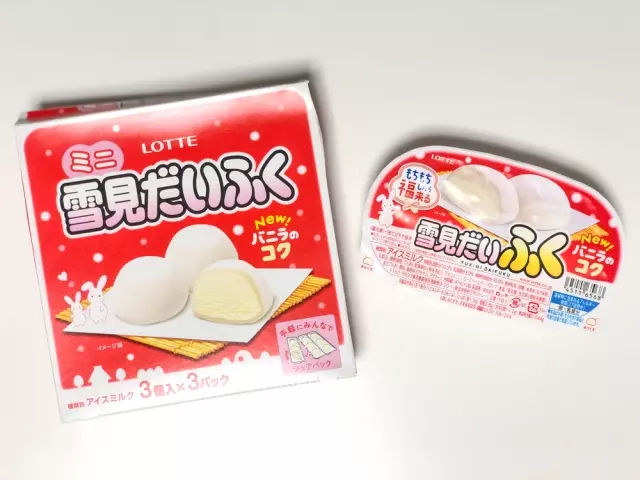 Yukimi Daifuku is an ice confectionery released by Lotte in Japan in October 1981, and is a registered trademark of the company. The company also started with vanilla-flavored Mochi ice cream. As years progress Lotte has created over 47 flavors of daifuku ice cream released in the market.
In addition to the 47 flavors which represent the prefecture of Japan, Yukimi Daifuku also has international flavors that are currently not sold in Japan.
On the other hand, Yukimi Daifuku became a household ice cream brand because it introduced the culture of enjoying ice cream even during the cold season in Japan.
MIKAWAYA's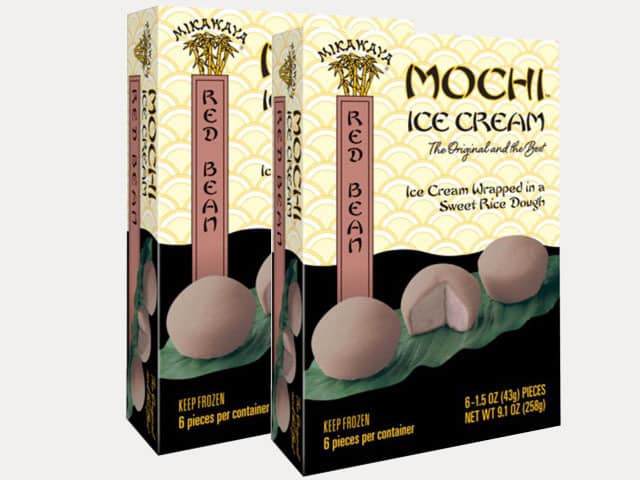 A 105-year-old producer of Japanese pastries and specialty frozen desserts. Mikawaya has specialized in fine, traditional pastries, called "wagashi" in Japanese. Their sweets are made with the finest ingredients and feature seasonal flavors. Rich, moist, unique, and beautiful, their exquisite Japanese confections bring a little bit of culture and a lot of flavors to any occasion.
MAEDA-EN's Gourmet Bonbons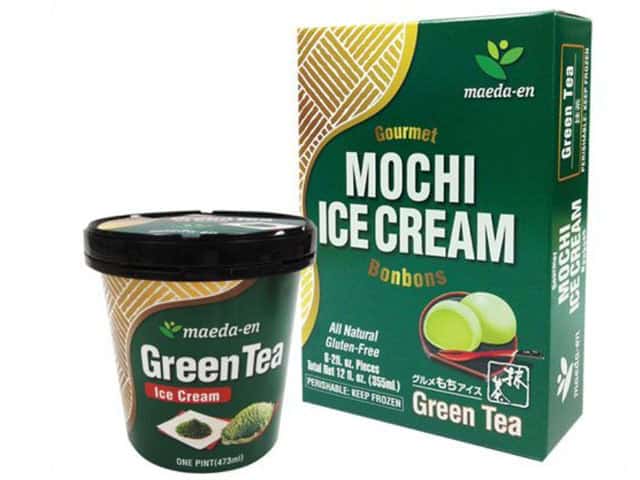 Founded by Taku Maeda. This company is a USA-based Japanese company that specializes in producing traditional Japanese products in the United States. One of their most popular products is the Gourmet Bonbons ice cream. They have been producing these quality products for over 35 years and had produced 6 popular flavors.
Mochi ice cream FAQs
How long does Mochi ice cream last?

Homemade ones can last for about 10 to 14 days in the freezer. Meanwhile, store-bought is longer since they add preservatives to them.

What are the most popular flavors?

Arguably, the most sought-after flavors are chocolate and matcha.

How many calories does it have in one serving?

It depends. While a single mochi ball can have 100 calories, a typical bowl of ice cream can have at least 300 calories. Add it up together and you'll get more or less 400 calories in one serving.
Mochi Ice Cream Recipe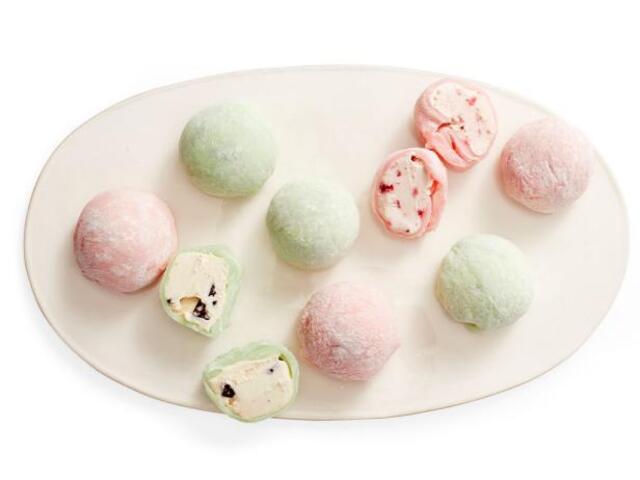 Ingredients
| | |
| --- | --- |
| | |
| Flavored ice cream of choice | 500g |
| Glutenous rice flour | 3/4 cup |
| Sugar | 1/4 cup |
| Water | 3/4 cup |
| Cornstarch, Potato starch or additional rice flour for dusting | 100g |
How to make mochi Ice cream
Preparing the ice cream
To begin with, pre-scoop your ice cream into the desired size, wrap it using plastic wrap, and put it in the freezer.
Making mochi batter
Using a microwave-safe bowl mix all of the dry ingredients. Then, add water and whisk to combine.
Cooking mochi batter
Cover the bowl with plastic wrap and poke small holes in the plastic. After that, put it in the microwave for 1 minute. Using a wet rubber spatula stir the batter, re-cover with plastic wrap, and microwave for 1 minute. Repeat the stirring process, and again microwave for 30 seconds. The mochi mixture should now be translucent dough.
Rolling and flatting dough
Lay the dough on parchment paper drizzled with cornstarch. Add more starch on top and wait for it to cool down. Using a rolling pin, roll the mochi dough to about 1/4-inch thickness.
Cutting the dough
Using a 3-inch cookie cutter ring, cut the dough. You can mush up the excess dough to create more mochi circles.
Finally
Wear a pair of plastic kitchen gloves, take one ice cream ball in the freezer at a time, and wrap it using the mochi circles ensuring that the seams created to hold all the parts inside. Return the ice cream to the freezer. Repeat this process with the other ice cream balls. Set the ice cream at room temperature for about 5 minutes and serve.
Where to buy Mochi ice cream?
Since Yukimi Daifuku is arguably the most popular brand of daifuku ice cream, almost every store in Japan sell it. Here are some of the online and physical stores where you can get this cold and sweet dessert.
Mochicream Japan Co., Ltd.
This company produces a wide range of daifuku ice cream in Japan. Some of their popular flavors are chocolate, strawberry, and coffee. They also sell Taiyaki ice cream which is also a westernized Taiyaki. However, they only sell online.
Life Saitama Shintoshin (ライフさいたま新都心店)
The grocery store inside the Life Saitama Shintoshin has different items including Mochi ice cream. The place is close to the train station making it easier to access.
Kikyoya Kofuhonkan Main Store (桔梗屋 甲府本館 青沼店)
This store was established during the Meiji era and was called "Yokocho no Kikyoya". It was passed down to generations and developed into the famous confectionary shop it is today. And it was in 1990 when the main store was moved to Ichinomiya-cho and the "Museum of Sweets" was also introduced.
Conclusion
It's no surprise why Mochi ice cream became famous not just in Japan, but also in many countries. The way it's both sweet and cold makes it a favorite dessert, especially during warmer days. Due to its undeniable popularity, many flavors were created to adjust to the liking of its consumers.
Indeed, mochi can be eaten in so many ways! You may also want to check out these delectable desserts below and let us know what you think.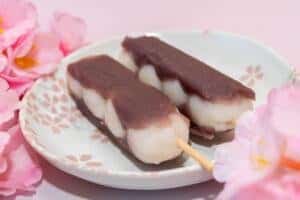 Anko Mochi (あんこ餅)
Among Japanese sweets, mochi is a very popular one not only in Japan but also all around the world. However, do you know that there is not only one type of m…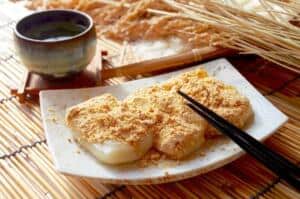 Kinako Mochi (きな粉餅)
What if I told you that there is a Japanese dessert that can make you live longer and happier? It is called kinako mochi, and it consists of chewy rice cakes…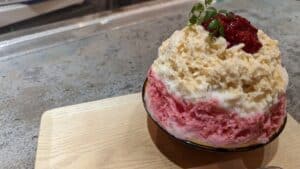 Kakigoori (かき氷)
There are hundreds of matsuri (Japanese traditional festival) all over Japan when summer comes. At matsuri, you can enjoy a lot of Japanese traditional food …