INTRODUCTION TO ISHIKARI NABE
Now we have an entry of another Nabe! Ishikari Nabe is one of the most favorite comfort food in Japan as it gives you lots of nutrients and of course not to mention the overload ingredients. Ishikari Nabe is a local specialty of Hokkaido. It has a miso broth that goes well with salmon. Yes, the main ingredient of this nabe is salmon. The ingredients are raw salmon, trout, onion, and cabbage. It's all included in the soup made from kombu kelp and miso. Additionally, this recipe adds milk for a more creamy taste. This hotpot is perfect, especially for cold winter nights. This Japanese dish will definitely warm your body and soul.
Additionally, there's a thing called "Ishikari Nabe Anniversary" every year on September 15th to promote public relations. It is registered by the Japan Anniversary Association. In Ishikari City, the "Ishikari Nabe Revival Project" was launched in 2007 to increase the number of stores offering cuisine. Also in 2007, the "Akimi no Kai" was established with the aim of revitalizing the town with Ishikari Nabe. The date of September 15 is the time when salmon are caught in the Ishikari region. Additionally, 9 and 15 reads as "let's go eat" and "eat".
ETYMOLOGY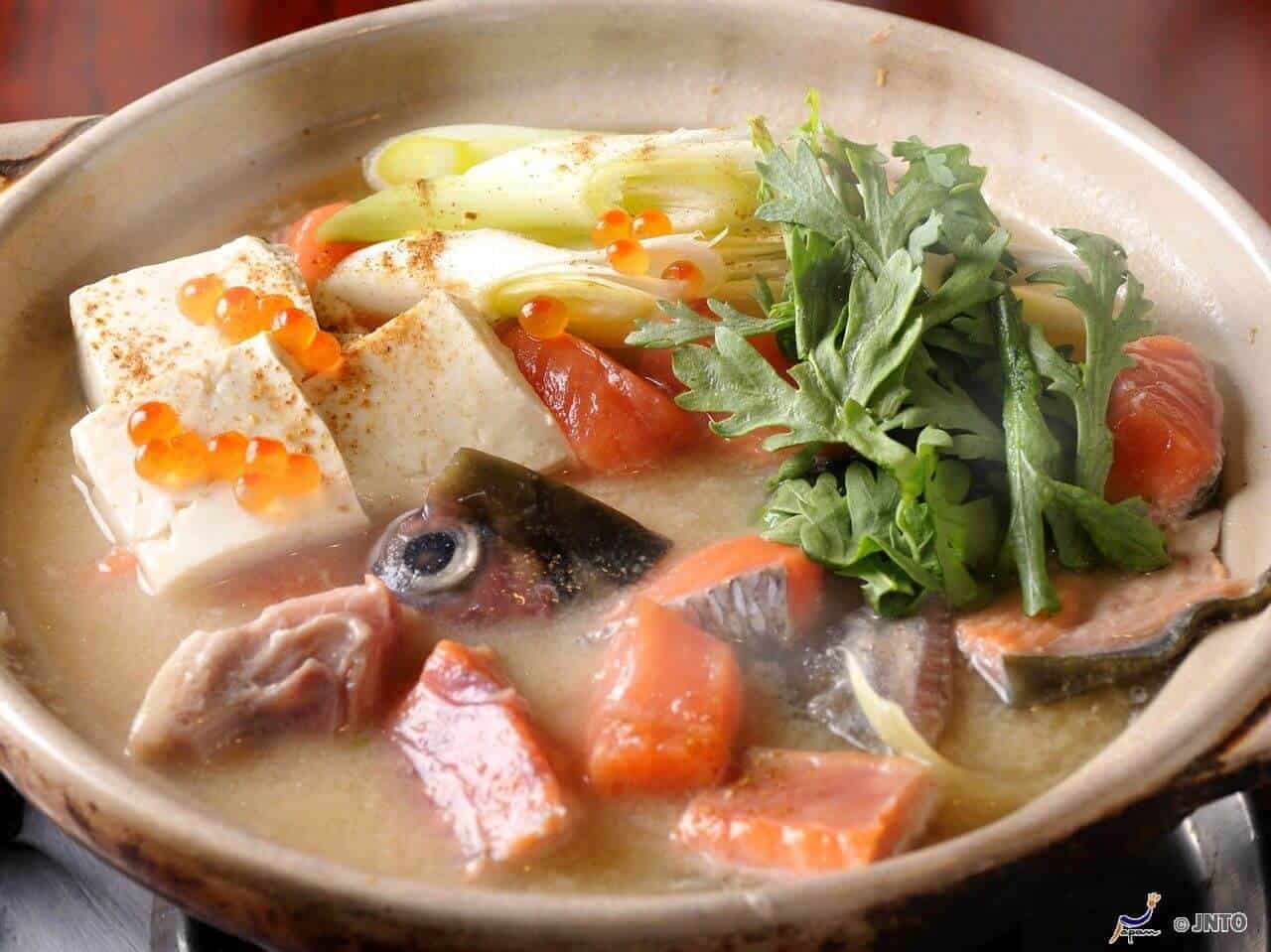 The name Ishikari in Ishikari Nabe came from work Ishikari River. It originates from the center of Hokkaido on the side of Ishikari-dake mountain to the west. The river's name is derived from an Ainu term "ishikari betsu", meaning "greatly meandering river," which describes the flow of its lower course. Nabe means hotpot in Japanese. Therefore, it means a hotpot in Ishikari.
HISTORY OF ISHIKARI NABE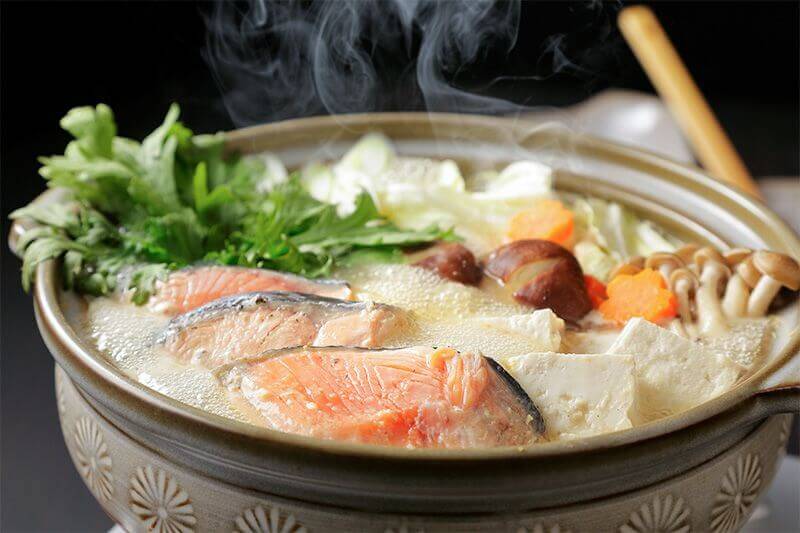 Ishikari Nabe was originally a meal for fishermen in the Ishikari region. it is where fishermen would chop up the salmon and put it into a large pot of miso soup. As the name suggests, it is a fisherman's dish from Ishikari Town, located at the mouth of the Ishikari River, that is famous for salmon. Salmon fishing has been popular in the Ishikari region since the Edo period. When celebrating a big catch, fishermen are said to have been rewarded with chunks and bony parts of freshly caught salmon. They would put directly into a pot of miso soup. Around 1950 when Ishikari City's salmon fishing drew attention as a symbol of Hokkaido's fishing industry, many tourists flocked to the city to see it. When they serve "Ishikari Nabe" to tourists who were waiting for the time to pull the seine out of the water. It became well known throughout the country because of its good taste and it gives comfort for cold winter days.
WHERE DOES ISHIKARI LOCATED?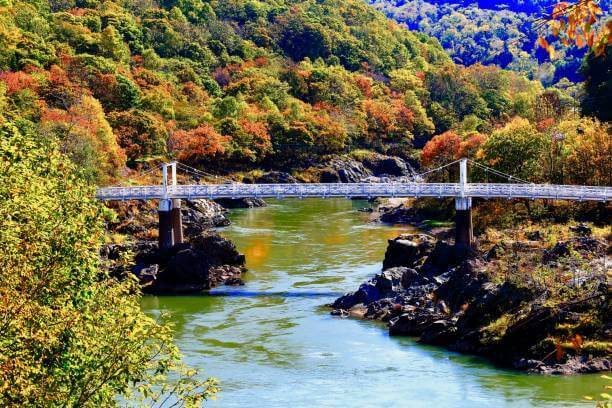 Ishikari is a city located in Ishikari Subprefecture in Hokkaido, Japan. It is located in the western part of the island. The sub-prefecture takes its name from the Ishikari River, the third-longest in Japan. It flows through western Hokkaido and empties into the Sea of Japan in the city of Ishikari. Sapporo is both the capital of Hokkaido Prefecture and Ishikari Subprefecture. For access going to Ishikawa, the nearest domestic airport is Okadama Airport. However, the nearest international airport is New Chitose Airport located in the city of Chitose.
WHAT ARE THE MAIN INGREDIENTS OF ISHIKARI NABE?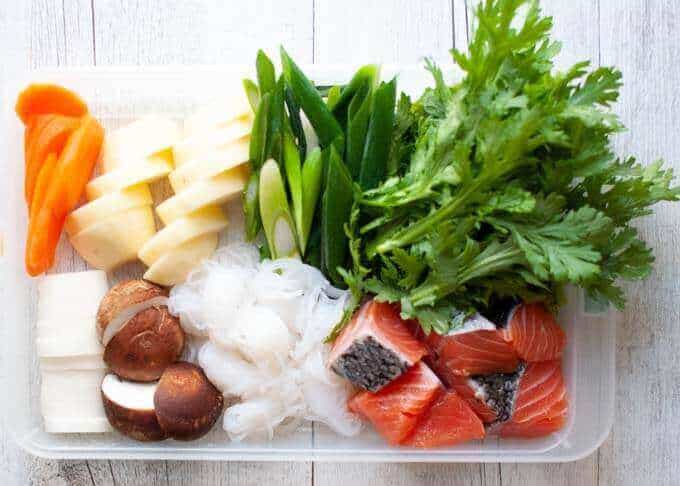 The usual ingredients of Ishikari Nabe are salmon, cabbage, radish, miso, sake, sake lees, and kelp. Vegetables often contain ingredients such as onions, green onions, shiitake mushrooms, and tofu, but they vary depending on the household. Some households add salmon roe for a luxurious taste or add butter to the flavor. Ishikari Nabe contains plenty of salmon skin collagen that is known to be good for beauty, but please be reminded that it will be lost when roasted.
For the full recipe, scroll down below!
WHAT IS THE RECIPE OF ISHIKARI NABE?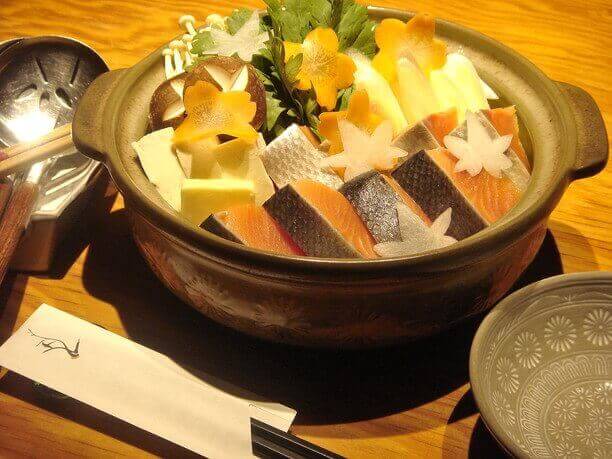 You can definitely make Ishikari nabe even at home. So how to make it? Check this recipe and make your own! This is a perfect food for a cold winter night!
Prepare the ingredients
After preparing the ingredients, put water on a pot. And then, put the kelp on it.
Cut the salmon and vegetables
Next is to get your fresh salmon and cut it to a suitable size. Sprinkle it with salt, put it in a colander, and dip into boiling water to prepare it. Cut the vegetables and then boil the potatoes. Cut them in half.
Make a soup stock
Make kelp stock. When the soup stock is done, add sake, mirin, and miso. At this time, add the miso while monitoring the taste and adjust the amount so that it does not become salty.
Put sake lees
When the pot is heated and warmed, melt the sake lees and put them in. Adjust the amount while watching the taste.
Add the hard vegetables and salmon
When the pot is boiling, add Chinese cabbage stalks, carrots, onions, radishes, and other hard vegetables. Put the salmon as well and simmer for about 5 minutes.
Add the butter and other remaining vegetables
After putting in the ingredients, add butter. Put potatoes at this timing. Add the remaining vegetables as needed, and when it's cooked, it's done! !!
Transfer and serve!
After then transfer it to the bowl, share it with your family and friends!
WHAT ARE THE HEALTH BENEFITS OF ISHIKARI NABE?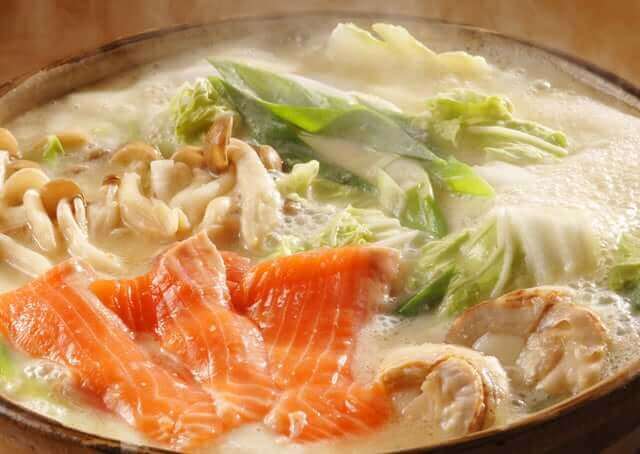 The ingredients of Ishikari nabe itself are indeed healthy! As you may know, it has lots of vegetables and the salmon is a healthy fish. The protein contained in Ishikari Nabe serves as a material for immune cells such as white blood cells and enzymes involved in immunity and has the effect of boosting immunity. It can also prevent any type of fatigue. The B vitamins contained in Ishikari Nabe have an important function of supporting the decomposition of sugars, lipids, and proteins, which are the three major nutrients essential for producing energy.
Moreover, it can also prevent the spreading or having cancer and can prevent anemia. Ishikari nabe also has loads of antioxidants so it can maintain eye health. It can also maintain bone and tooth health since it contains calcium. Ishikari nabe has a good effect on the mental health of a person. It contains anti-stress hormones that relieve stress. It also contains anti-aging and has other beauty effects for the skin. Ishikari Nabe contains Vitamin C that is good for the skin and also Salmon contains collagen.
Additionally, nowadays it's important to take care of our health during this pandemic season. Ishikari nabe also contains vitamins such as Vit A, B-complex, C, D, E, and K. Minerals such as sodium, potassium, magnesium, and more are also one of the health benefits of eating Ishikari nabe that is indeed good for our immune system.
RECOMMENDED RESTAURANTS OF ISHIKARI NABE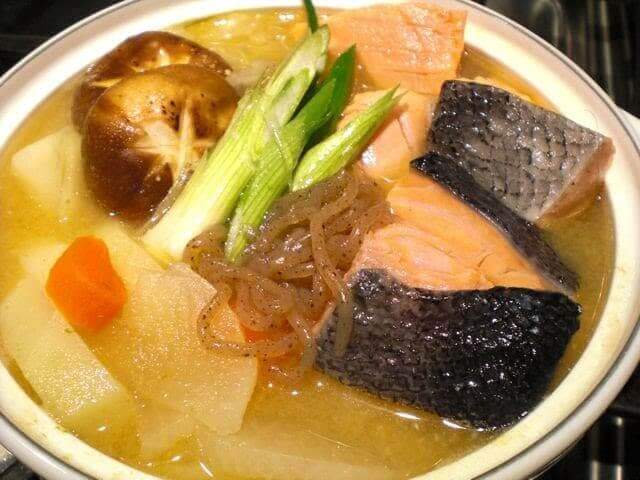 Kindaitei
Kindaitei is a restaurant specializing in salmon and trout dishes. It is located near the Ishikari River in Ishikari City, where salmon fishing was conducted during the Meiji Period. From the central area of Sapporo City it takes about 40 minutes by car, and 60 minutes by the Hokkaido Chuo Bus from the Chuo Bus Sapporo Bus Terminal near Sapporo TV Tower.
Kita no Aji Shikaritei
It is a restaurant where you can enjoy fresh seafood dishes, noodles, and set meals from Ishikari Bay. At Kita no Aji Ishikari-tei, they are particular about "local production for local consumption" and offer dishes that make use of vegetables, fruits, meat, seafood, etc. produced by the rich nature of Ishikari. There are 11 kinds of seasonal seafood such as seafood bowl, hearty salmon oyakodon, and of course the Ishikari nabe set meal!
The Yoshioka
The owner Yoshioka is particular about how to provide Ishikari ingredients to customers at a delicious and affordable price. In particular, he is very particular about Ishikari salmon, and in order to enjoy the salmon that can be caught in Ishikari all year round, he devised a special heat retention method that is unique and made all compromises in the pursuit of taste.
Sushi Sojuncho Hidaka
This restaurant is Ishikari's only restaurant with a sake brewer. It really goes well with the dish. They serve only fresh plates of seafood, as well as the delicious and famous Ishikari Nabe!
Gastronomy Studio Flower
This restaurant serves authentic Ishikari nabe. With the motto of local production for local consumption, they strive to use locally produced seasonal safe ingredients as much as possible. In Gastronomy Studio Flower, people can enjoy a variety of locally produced menus. They also have set meals and other traditional foods of Japan.
CONCLUSION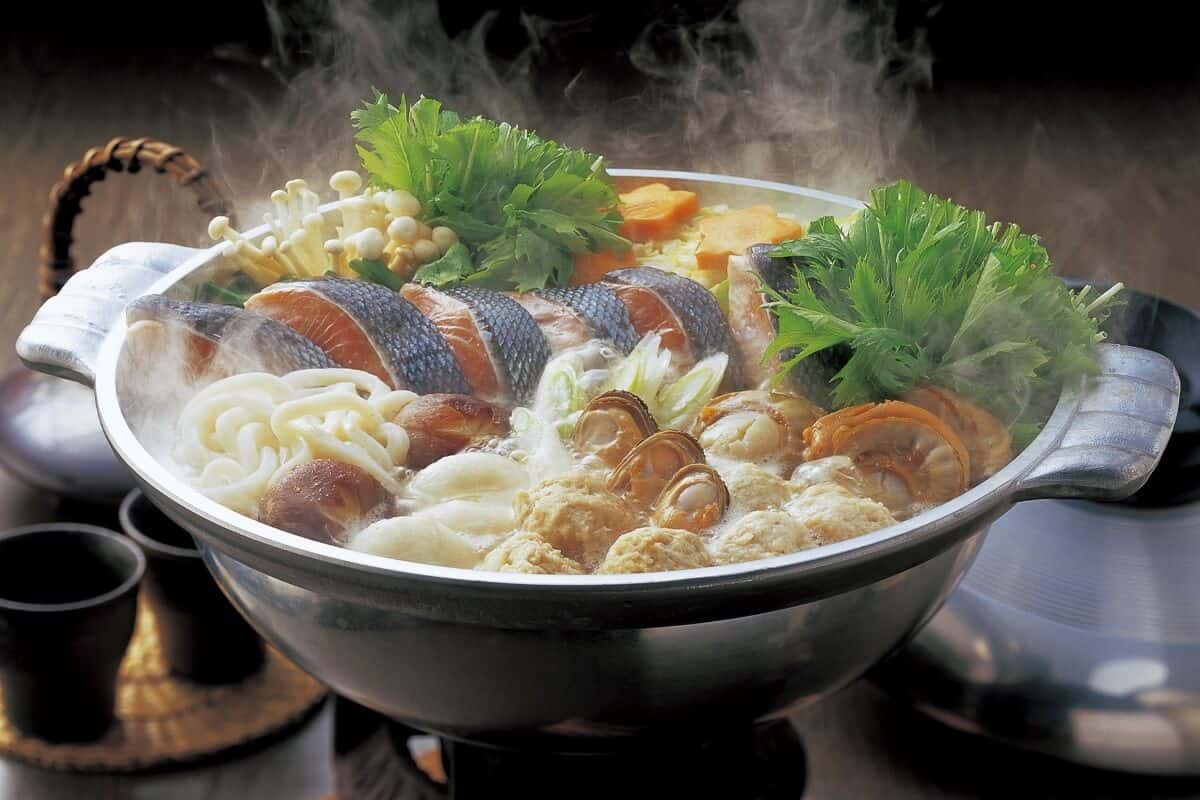 In conclusion, hot pot meals are indeed people's favorites. Nabe is a popular winter dish that is typically cooked and eaten at the table. Nabemono, or a variety of Japanese hot pot dishes, also known as one-pot dishes are famous in Japan especially in a part that is experiencing an extreme cold which is Hokkaido. Hokkaido also produces different types of fresh kinds of seafood that is why if you came to eat Ishikari Nabe in Hokkaido, you can guarantee that it's indeed fresh and delicious. As you may know from our past articles, there's also another type of nabe which is Negima nabe of Tokyo Prefecture, and also "Chanko Nabe". It is a food of sumo wrestlers as part of a weight-gain diet. Japanese hotpots are not just comforting but it is good for health as well as it includes different types of vegetables in the recipe. So if you happen to visit the northern part of Japan especially Hokkaido, don't forget to try the traditional local hotpot cuisine, Ishikari Nabe.