Tofu is an indispensable ingredient in Japanese cuisine with so many delicious dishes. You can find it in Yudofu, nabe, Hiyayakko, miso soup, etc. Agedashi Tofu is definitely one of the most favourite as it is easy to make and can be used to make other dishes. Although it has a simple recipe, there are some points you need to remember while cooking. In this article, we are going to introduce all about Agedashi Tofu, from its history, recipes to recommended stores where you can buy delicious agedashi tofu.
What is Agedashi tofu?
Agedashi tofu (known as deep-fried tofu) is a Japanese dish in which tofu is deep-fried after being coated with a batter or potato starch and served with dashi or soy sauce. Tofu is coated with potato starch and then fried by the locals, or coated with wheat flour and then fried. The lack of oil after frying and the texture of the batter are the main differences between potato starch and wheat flour batter.
Etymology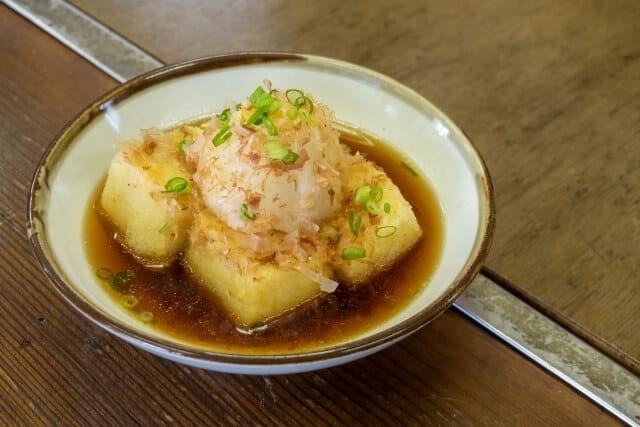 Agedashi means "fried in oil". Locals believed that the name 'agedashi' came from the fact that it is simply fried in oil and served without any other modifications. There are other theories that the name "age-dashi" comes from the fact that it releases water when fried, and that they eat it by dipping it in dashi. In modern times, not only tofu but also eggplants, daikon radishes, and potatoes were fried without batter.
Agedashi tofu History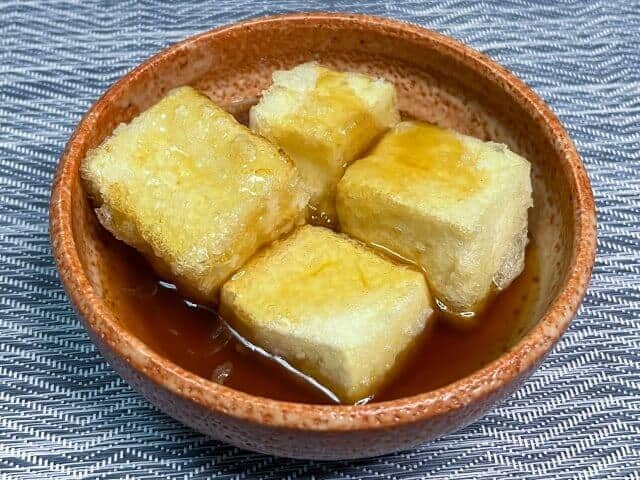 When the weather cools down, there's a dish that every Japanese misses, "Agedashi tofu." Going back in time, the cooking method was invented in the middle of the Edo period, implying that it was a popular dish at the end of the Edo period. The name "Agedashi Tofu" came from the long-established restaurant "Agedashi." It is a long-established restaurant in Shimotanimoto Kuromon-Cho, Taito-Ku, Tokyo (now Ueno-Ikenohata), served fried tofu to customers from early in the morning and took baths for customers returning from Yoshiwara.
Agedashi Recipe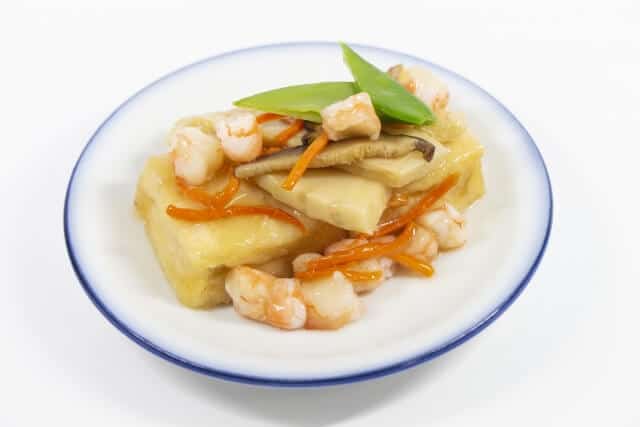 Agedashi Ingredients
| Ingredients of Agedashi tofu for 2-3 persons | Measurements |
| --- | --- |
| Firm tofu | 350g |
| Shishito Pepper | 12g |
| Grated radish | 7g |
| Grated ginger | 4g |
| Green onion | 5g |
| Frying oil | 80g |
| Dashi soup | 200g |
| Soy sauce | 50g |
| Mirin | 25g |
How to make Agedashi tofu
Prepare ingredients needed
Place a piece of kitchen paper on the bottom of the cut tofu and let it sit for 5-10 minutes. You don't need to put any weight on it, but turn it upside down once halfway through.
Pat dry the firm tofu
Lightly drain the firm tofu, soak it in plenty of flour, and shake off the excess flour. If you have one, use a brush to remove the powder.
Seasonings
Prepare the sauce and condiments before frying the tofu. Combine the seasonings (dashi, soy sauce, and mirin) in a pan and heat.
Completion
Fry the tofu in oil at 160-170℃. Tofu contains a lot of water, so it's best not to fry it at a very high temperature. Turn it upside down and fry until the surface is crispy, then remove the oil and take it out. After that, put it in a bowl and serve it with warm soup and condiments.
Key for cooking agedashi tofu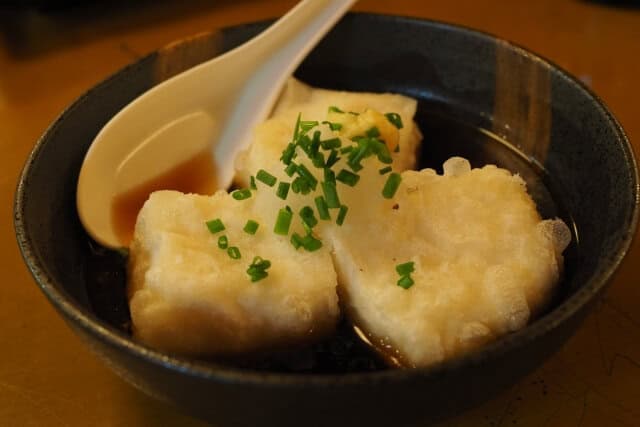 Thoroughly drain the tofu
About 90% of tofu is water. This moisture is a factor in the softness of the mouthfeel. When making deep-fried stock, it is important to drain the water carefully and firmly, considering the ease of cooking.
Depending on the tofu cut
Cut the tofu into 4 equal parts and 6 equal parts. If you cut the tofu into small pieces, it will be fried faster, and since there is more batter than the tofu inside, you can feel the appeal of deep-fried tofu. On the other hand, if you want to enjoy the thicker texture and sweeter taste of tofu, we recommend 6 large pieces.
Fry without flour coating
Generally, some coated the tofu with potato starch before frying, but the biggest point this time is that it is fried without using flour and without batter. If you put batter like tempura, you will feel the taste of flour first rather than the ingredients. Not only does it take less time and effort, but the color is also beautifully fried.
Various Agedashi tofu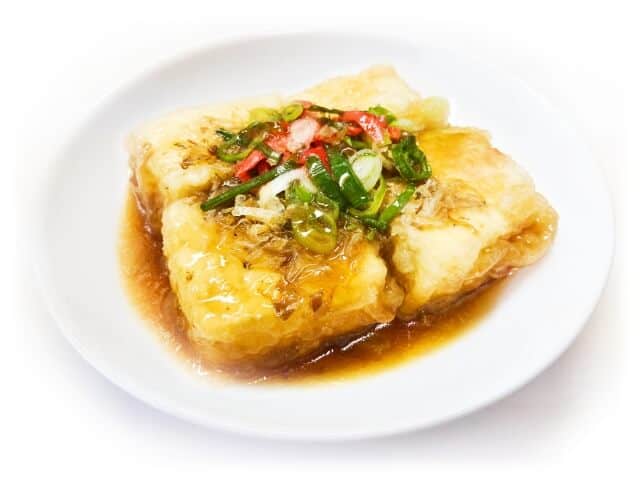 Deep-fried Jimami tofu
Fried in a frying pan and the outside is crunchy and creamy
Chinese bean paste with deep-fried tofu
Completed in one frying pan. You can put Chinese bean paste on fried tofu. It is a simple Chinese-flavored bean paste
Fried tofu with ponzu sauce
It is just fried tofu and it's delicious to eat with ponzu sauce.
Where to buy Agedashi tofu
Takaoka public bar (高岡大衆酒場)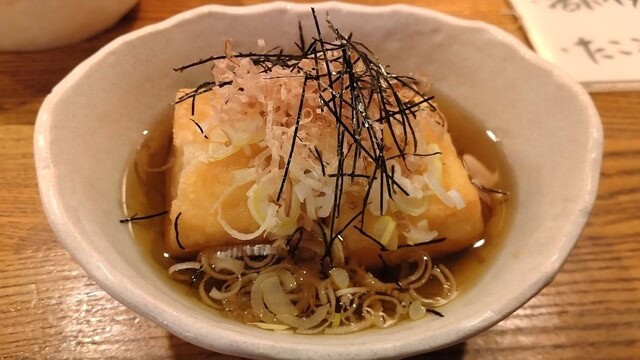 Deep-fried tofu from Takaoka public bar in Takaoka City, Toyama Prefecture. Although it is a public bar, the price is not cheap, the quantity is not large, and the masses are not large. As for the charcoal-grilled tofu. The toppings for the fried tofu at Takaoka Taishu Sakaba are green onions, bonito flakes, and shredded seaweed.
Izakaya Hachigoro (居酒屋 八五郎)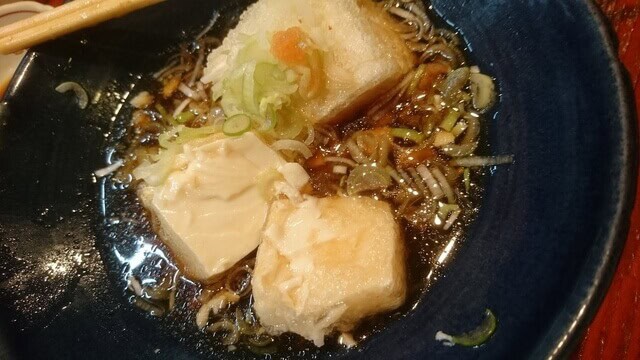 Izakaya Hachigoro 's deep-fried tofu ¥480. In addition to tofu, there are also eggplant and potato soup stocks. The deep-fried tofu of silken tofu coated with potato starch is orthodox in the dipping sauce, and the orthodox toppings (green onions and grated autumn leaves) are truly the classic style.
Takamasa (居酒屋たかまさ)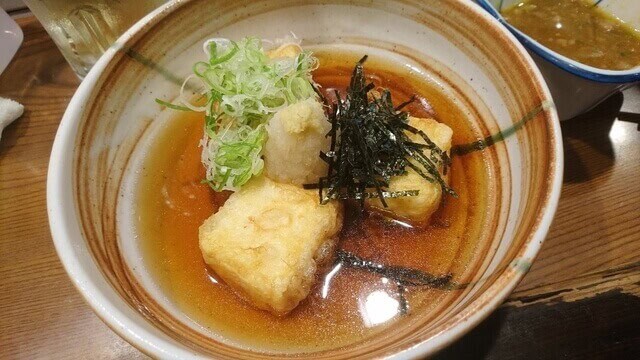 Fried tofu from Izakaya Takamasa near Takaoka Station in Toyama Prefecture costs ¥540. Deep-fried silken tofu topped with green onions, grated daikon radish, grated ginger, and chopped green onions. By the way, Izakaya Takamasa is a popular local izakaya that appeared in Rui Yoshida's Tavern Wanderings.
Final Thoughts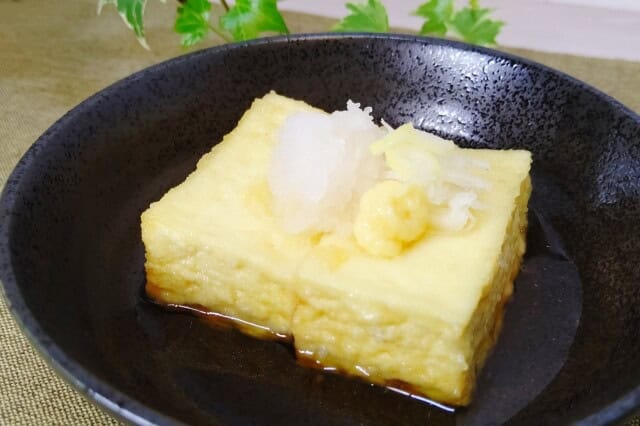 Tofu is a good source of protein and a staple of Japanese cuisine. Tofu is an especially important ingredient in vegetarian Buddhist temple cuisine (shojin ryori). On its own, fresh tofu has a delicate taste. It is a versatile food used in a variety of sweet and savory dishes. Agedashi tofu typically tastes like fish. This is because they served it with a bonito flake dish. It also contains green onions and grated ginger.
However, if you like to try more tofu dishes from Japan, there are various dishes made with tofu such as Goma Tofu, Yudofu, Hiyayakko, and Goya Chanpuru.