Fujinomiya Yakisoba is one of the local gourmet food in Fujinomiya City. The main characteristic of this yakisoba dish is its stiffness. If you want to know more about one of the major yakisoba in Japan, continue reading below.
What is Fujinomiya Yakisoba?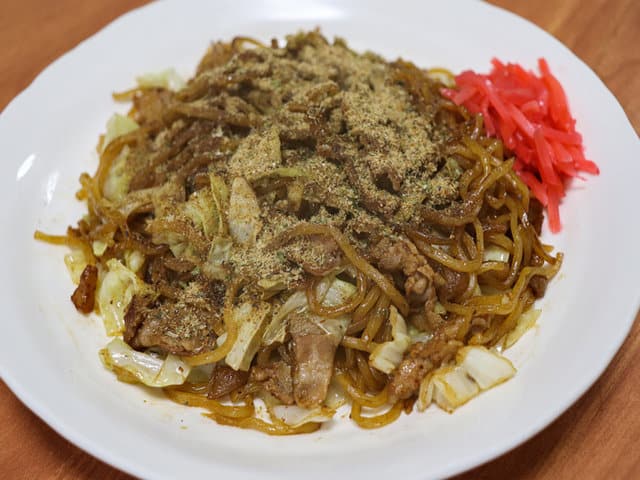 As one of the gourmet representatives of Fujinomiya City, it is unique and has standout characteristics. The noodles are steamed and coated with oil on the surface by stretching moisture. In addition to that, it became even more popular in the B-1 Grand Prix and which determines the popularity of B-grade gourmet.
Another thing about Fujinomiya Yakisoba is that it's different from ordinary Yakisoba. For example, the manufacturing and cooking methods are different. The foods that they use are also different from the regular ones.
Because of its chewy noodles, this kind of Yakisoba stands out. The seasonings are also not the same as the usual ones they use. As a matter of fact, some people would even disregard it as a type of Yakisoba. Of course, this is due to its difference from the rest.
Meanwhile, it is also important to take note that Fujinomiya Yakisoba is a B-class local gourmet that has 12 characteristics. Thus, it's no wonder that it is one of Fujinomiya City's precious gourmet.
What is the origin of Fujinomiya Yakisoba?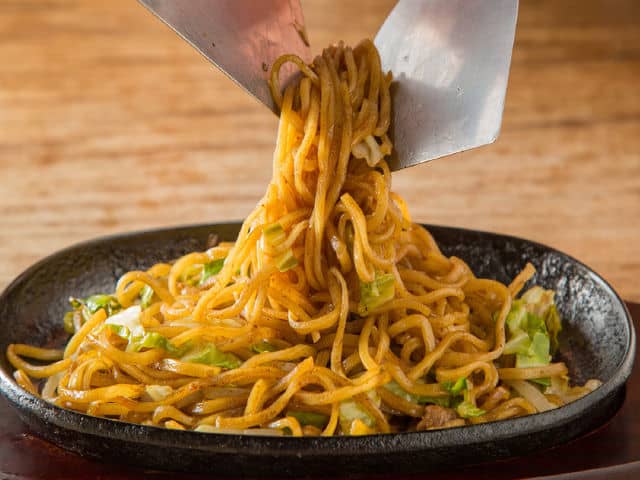 While it's a noodle dish, the restaurant where it came from was originally an Okonomiyaki store. During the Taisho and the Showa eras, the starting point for climbing the mountain was Fujinomiya City. It is also during this time when the silk industry together with Omikenshi was developing. Thus, many young men and women are working there and the town was full of life.
Meanwhile, people who fled to China went back to Japan after the war. Since many of them enjoyed the taste of the noodles they had in China, some of them tried to imitate it. Of course, one of these unforgettable noodles is Yakisoba. Even during the post-war era when there was a food shortage, Yakisoba is still a popular choice of noodles. Due to the little amount of flour and vegetables needed to create Yakisoba, it has become a common choice of affordable food.
Why is Yakisoba different in Fujinomiya?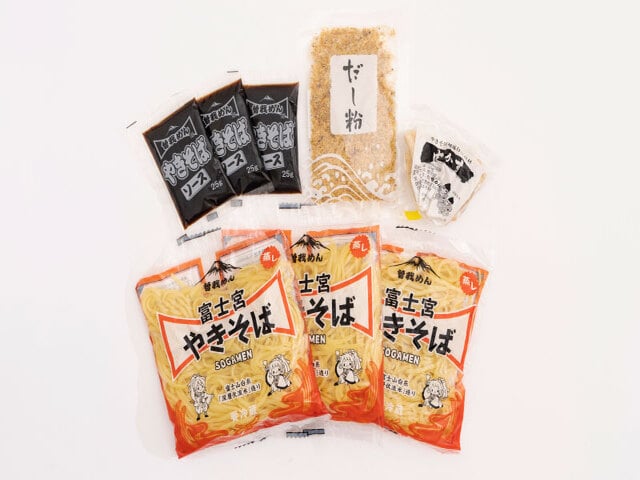 In addition to being affordable, the Yakisoba noodles in a shop along Minobu Line is also delicious. Hence, many people liked it and brought it back to their hometowns. There were no refrigerators for these people and also for Western-style restaurants at that time. So, it was quite a challenge for them to keep and store food.
On the other hand, steamed noodles often have a little moisture and can be hard at times. That's why they used a different method in softening the noodles. First is by adding water to the iron plate which gives the noodles extra moisture. Then, the other one is softening the noodles with the moisture of the cabbage. After so many trials and errors, they were able to come up with Yakisoba noodles with a firm texture. Thus, creating the same famous Fujinomiya Yakisoba we have today.
Since it became well-known, the participants of a citizen workshop created the Fujinomiya Yakisoba Society. They aim to boost this local food of Fujinomiya City which is unique to the entire region.
Nowadays, it is part of the city's food culture. It's not just different, but it's delicious and has a long record of culture and tradition. Hence, it became one of the 3 major Yakisoba noodles in Japan.
What are the Three Major Yakisoba in Japan?
Not only do they have the Five Great Meals of Japan, but they also have Three Major Yakisoba noodles. These are Yokote Yakisoba of Akita Prefecture, Joshu Ota Yakisoba of Gunma Prefecture, and Fujinomiya Yakisoba of Shizuoka Prefecture. In addition to that, Yakisoba is now the top representative of B-class gourmet.
Yokote Yakisoba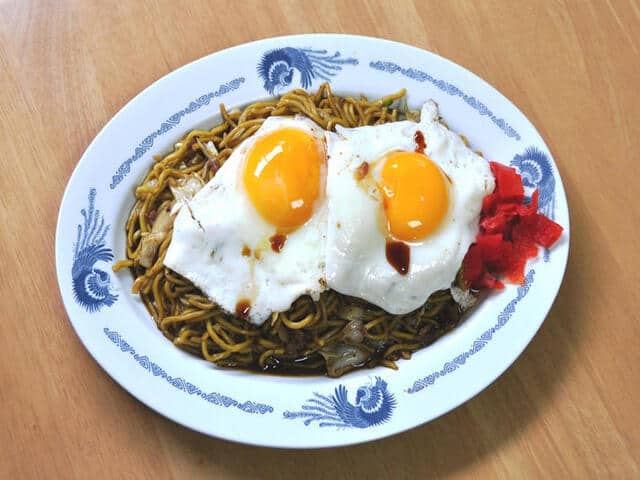 It's local food in Akita Prefecture has a one-sided fried egg added as a topping. Yokote Yakisoba is seasoned with Worcestershire sauce, so it has a sweet flavor and it contains more moisture. They also use thick and straight square noodles to make the dish. Other ingredients include cabbage and minced pork.
Meanwhile, the Yokote style of eating this Yakisoba dish is to break the yolk of the fried egg and eat it with a little more sauce.
Joshu Ota Yakisoba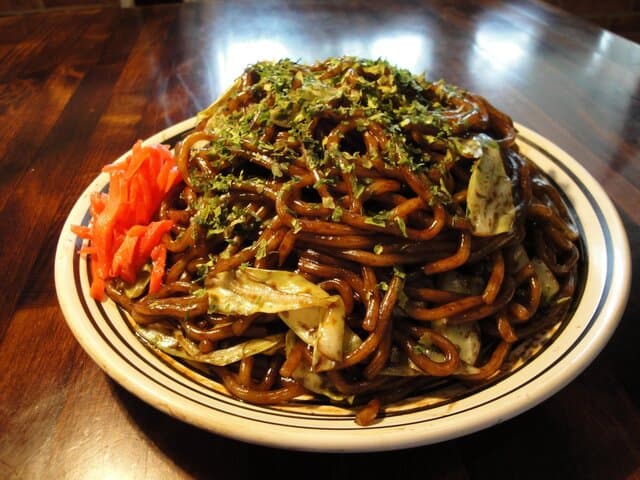 The ingredients of Joshu Ota Yakisoba are quite a variety. Aside from the thick noodles, the sauce is also thick. In addition, the special sauce is darker than typical Yakisoba. On the other hand, the main ingredient is cabbage. Each of the more than eighty restaurants in Gunma has its own version of the thick and dark sauce.
Fujinomiya Yakisoba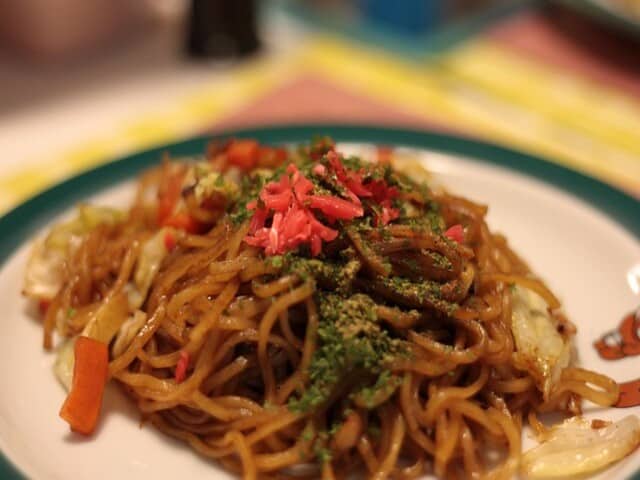 Lastly, Fujinomiya Yakisoba is the B-class gourmet representative of Fujinomiya City. Keep reading to know more about this popular unique steamed noodle dish during the post-war era.
Fujinomiya Yakisoba Recipe
Since it's different in a good way, here's how to cook Fujinomiya Yakisoba the same way as the locals of Shizuoka do.
Fujinomiya Yakisoba Ingredients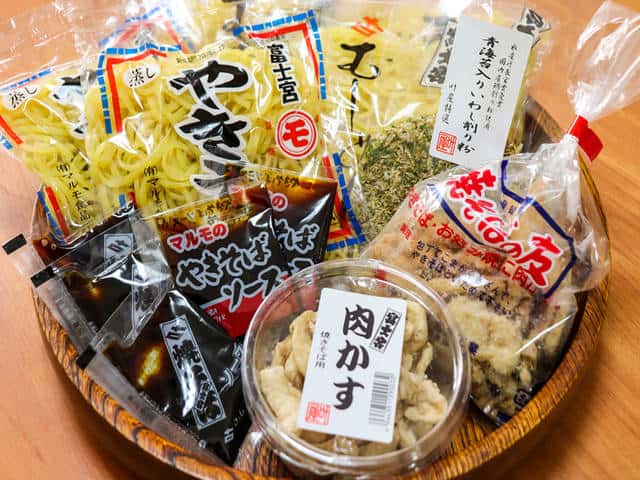 | | |
| --- | --- |
| Good for 2 persons | |
| Fujinomiya Yakisoba noodles | 2 packs |
| cabbage | 250 g |
| Fujinomiya Yakisoba special sauce | 2 bags |
| carrots | 1/3 of a piece |
| thinly-sliced pork belly | 200 g |
| dashi powder | appropriate amount |
| red ginger | appropriate amount |
| water | 80 ml |
| Nikukasu (meat crumbs) | 30-50 g |
How to make Fujinomiya Yakisoba?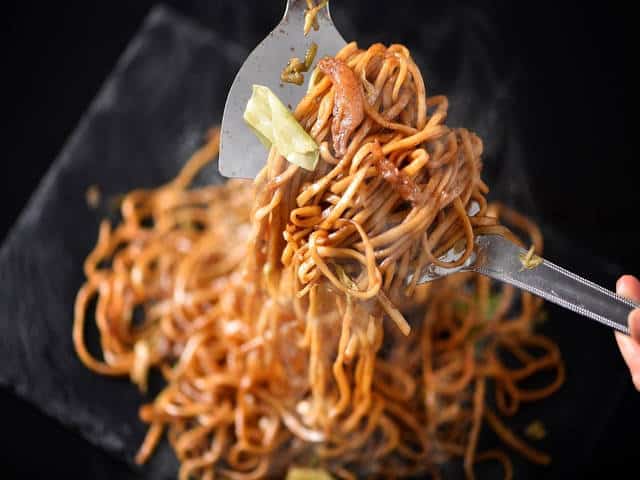 Before anything else, prepare the meat by cutting it into bite-size pieces. On the other hand, chop the cabbage and cut the carrots into thin strips.
Meanwhile, heat a little amount of oil in a frying pan. Add the pork belly slices and Nikukasu and stir-fry on medium heat. As soon as the pork's natural oil comes out, add the cabbage and carrots. Stir-fry until the oil covers the vegetables.
Then, boil the noodles on medium heat for three minutes (3 minutes). Make sure to cover the pot with a lid. Before adding the sauce, remove the lid and raise the heat to high. Mix it well before turning off the heat.
After taking it out of the heat, sprinkle it with some dashi powder according to your liking. Then, garnish with red ginger before serving.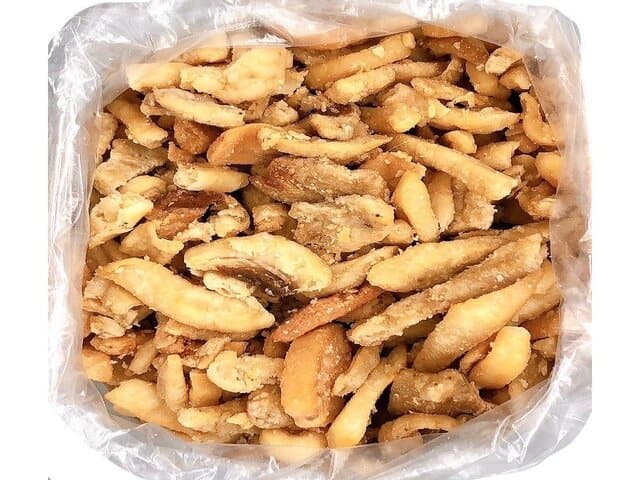 Tips
Nikukasu or meat crumbs is essential in making this dish. It does not only add meat flavor to the dish, but it also adds texture to it.
The special sauce is, of course, made of Worcestershire sauce. Even so, it is smoother and it often comes in small bags.
Since this is a unique Yakisoba dish, it is important to use the noodles from either of the four major makers: Marumo Food Industry, Sanomen, Sogamen, and Kanoya.
Which restaurants serve the best Fujinomiya Yakisoba?
The most distinct characteristic is the chewiness of its noodles. Another thing about it that makes it special is the addition of meat crumbs. Not only does it give an extra meaty flavor, but it also adds texture to the yakisoba dish. Here are some of the most recommended yakisoba restaurants in Shizuoka Prefecture.
Fujinomiya Yakisoba Antenna Shop (富士宮やきそばアンテナショップ)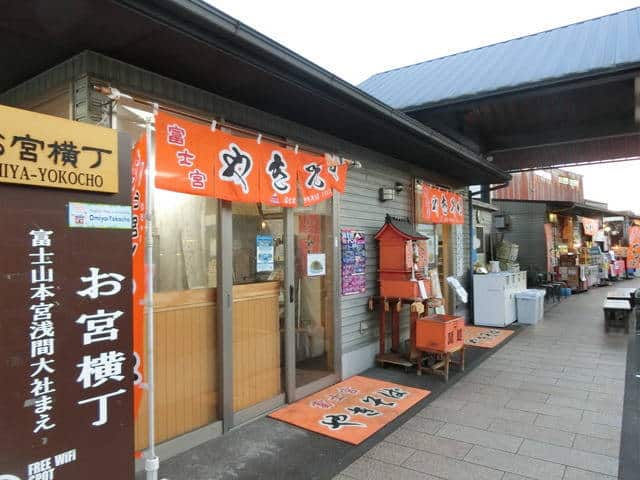 The Fujinomiya Yakisoba Society directly runs this restaurant. Since they have a huge contribution to promoting this famous B-class gourmet, you can be assured that this store serves one of the best. Although the shop looks small, you are sure to get a taste of authentic Fujinomiya Yakisoba.
Sano Shokudo (さの食堂)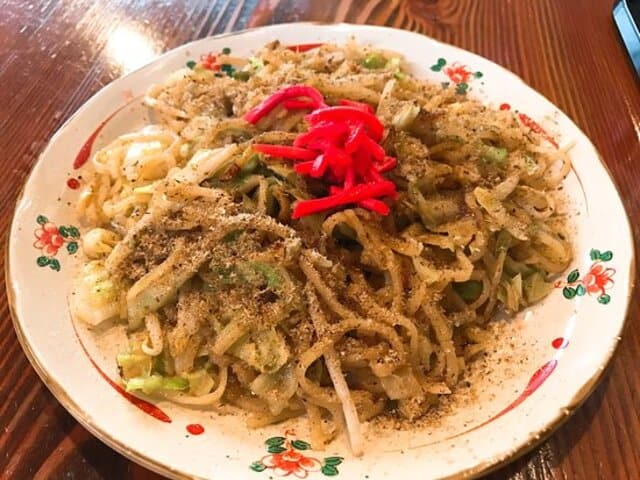 Sano Shokudo is a long-established restaurant in Fujinomiya. Their yakisoba is a must-try and it gives a nostalgic feeling to those who have been eating here for years. The restaurant is also just a few minutes away from JR Fujinomiya Station.
Yuguchi (ゆぐち)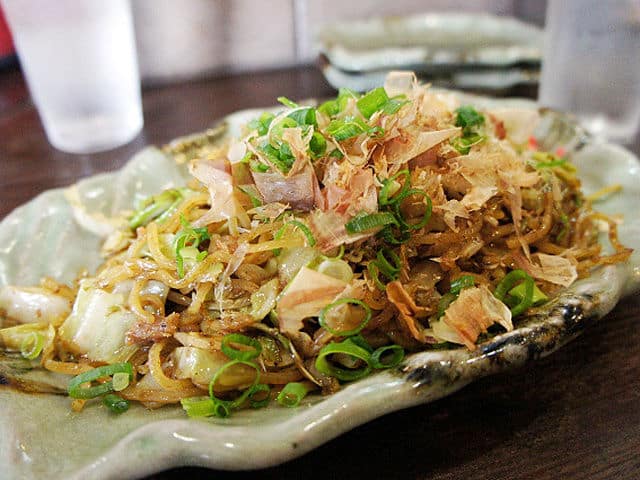 This local restaurant is, in fact, famous for its Fujinomiya Yakisoba with dried bonito flakes on top. It also has plenty of meat crumbs which makes its yakisoba a delight to your taste buds. However, Yuguchi is located quite far from the town center. But, you are in for a treat when you visit it to dine in. The store looks like an old private house and the food tastes divine!
Takeaway
Fujinomiya Yakisoba is the most popular B-class gourmet. Although it's different from the typical yakisoba, it's full of umami and is a standout local dish of Fujinomiya City. It's also one of the three major yakisoba in Japan.
Check out other yakisoba dishes and let us know what you think in the comment section below!