Hokkaido has so many local gourmets and B-class gourmets that it is called a "treasure trove of food." Among them, "Ramen Salad" originated in Hokkaido and is so refreshing and healthy that it has become so popular in Hokkaido that it is even included in school lunch menus. In this article, we'll take a closer look at the delicious Ramen Salad and reveal the secrets to making it taste amazing. 
What is Ramen Salad?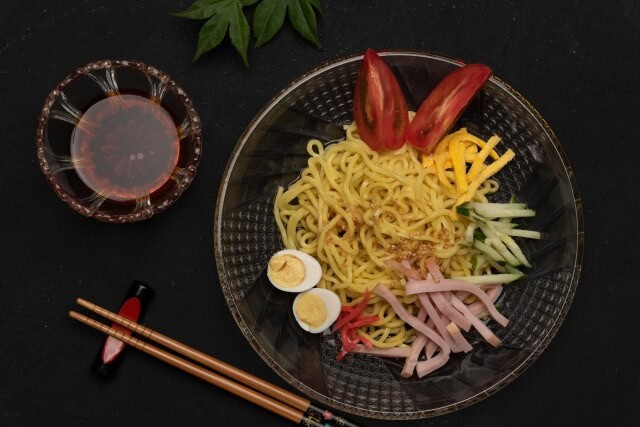 Ramen salad is a cold salad that originated in Hokkaido with a combination of salad and ramen noodles. In Hokkaido, they also call it chilled ramen. Because it contains more vegetables than chilled ramen (chilled Chinese noodles), locals eat this as a salad rather than ramen. Although it is a staple dish in izakayas in Hokkaido, it is also made at home and is one of the staple menu items for school lunches in elementary and junior high schools. They place the shredded cucumber, thin strips of egg, tomato, and ham on top of chilled Chinese noodles. 
Ramen Salad History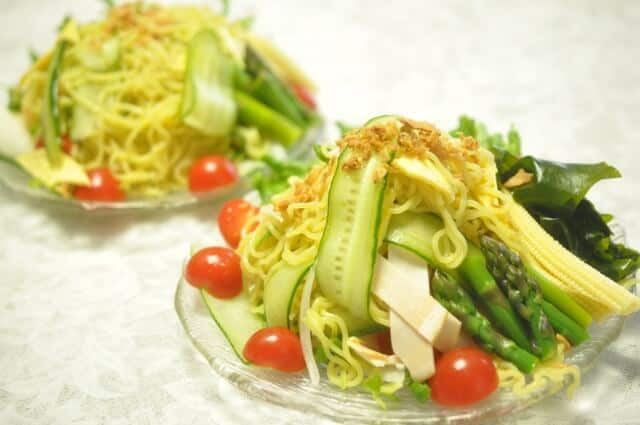 According to popular belief, when the beer hall "Big Jug" at the Sapporo Grand Hotel opened in 1985, the head chef invented "ramen that guests can savor like a salad." Following that, the popularity spread quickly, and it is now renowned as a staple of Hokkaido's izakaya. "Hokkaido Dining His Huge Jug" is available as a classic hotel cuisine at the Sapporo Grand Hotel.
The Hokkaido Seimen Cooperative awarded the Sapporo Grand Hotel a letter of appreciation in 2004 for its commitment to creating new markets and increasing consumption of Hokkaido ramen. They make the original ramen salad as one of the main products of the hotel.
Ramen Salad at Convenience Stores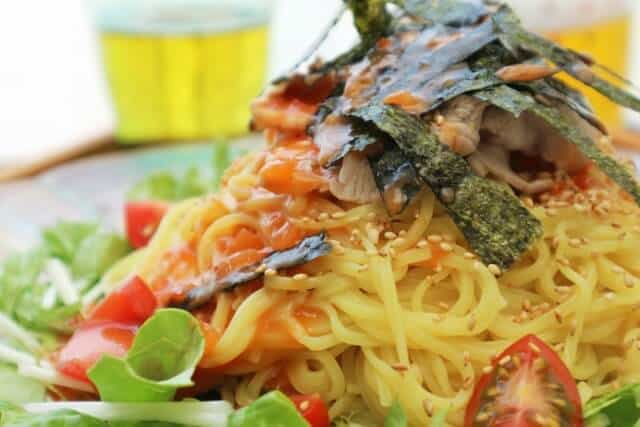 Ramen salad is a traditional dish in Hokkaido, however, it's also famous as "Lasala" in some places. It is a popular meal in elementary and junior high school lunches, especially on hot days. Many individuals must have seen these at convenience stores these days. Ramensalads are stacked up alongside spaghetti salads on the salad racks if you look closely. Locals sell this from convenience stores are not the same as those served at the Sapporo Grand Hotel. This dish has plenty of pork, but it's also high in protein, so it may be a lunch side dish.
Recommended dressing
Bell Foods "Ramen Salad Roasted Sesame"
Bell Food's "Ramen Salad Roasted Sesame" is sold at Rakuten for 270 yen including tax. This sauce is very convenient when making the dish at home. Your favorite vegetables such as lettuce, tomato, and cucumber is a popular menu item perfect for the hot season.
Nihon Shokuken "Sky and Earth Dressing Chopped Onions"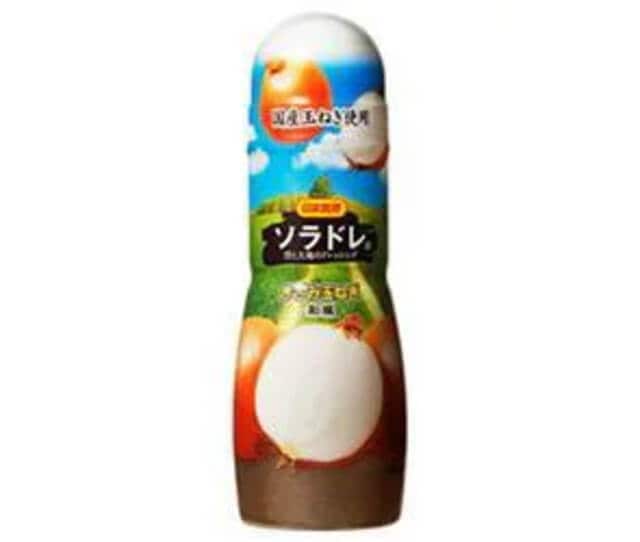 Rakuten advertised "Sky and earth dressing chopped onion" in 300 ml x 12 sets for 4554 yen including tax. They make extensive use of homegrown onions as raw materials. They also made this with edible vegetable oil, brewing vinegar, sugar, salt, soy sauce, and wine.
Ebara "Shabu-shabu sesame sauce"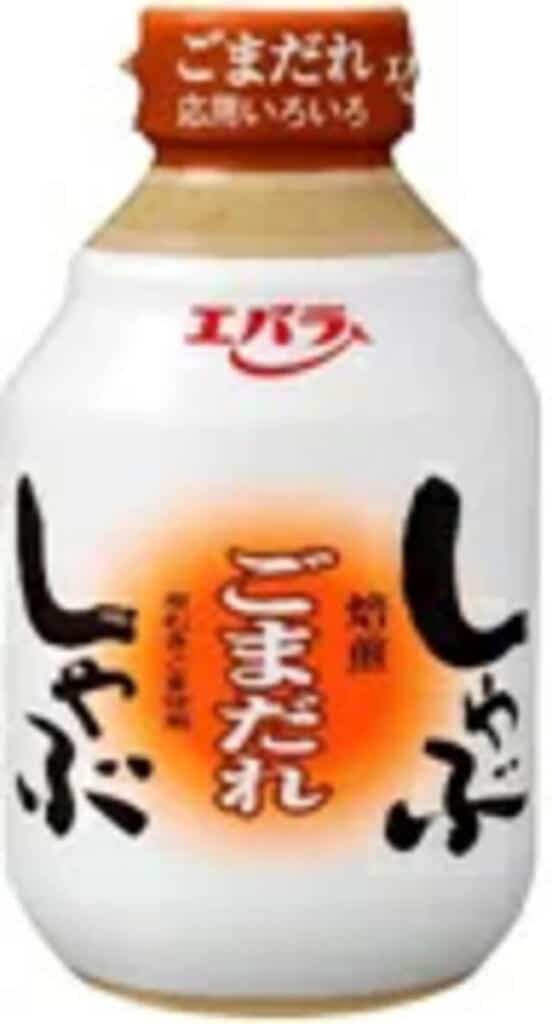 Founded in 1958, Ebara Foods sells many staple seasonings for Japanese households, such as the yakiniku sauce series, grated radish sauce series, kimchi nabe no moto, and petit nabe. The shabu-shabu sesame sauce that we are introducing this time has a reputation for being a great match with Chinese noodles for ramen salad and raw vegetables.
Popular Ramen Salad
Spicy Ramen Salad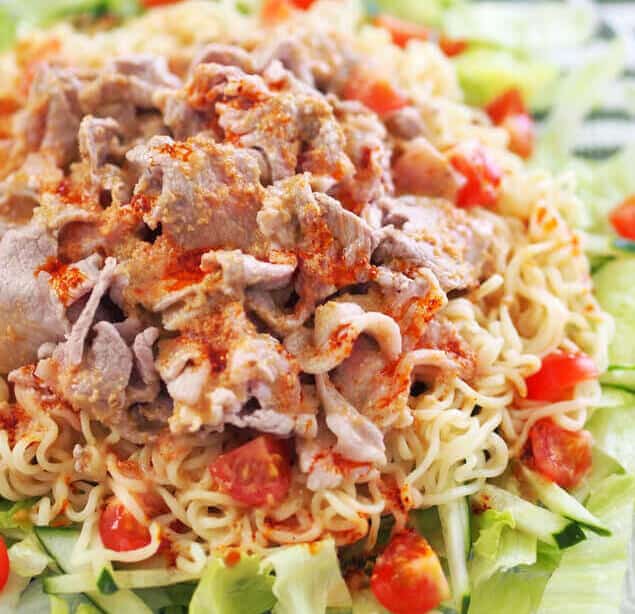 The mellow texture of the grilled eggplant and the aroma of the sesame is one of the attractions of this ramen salad. Even on hot summer days or when you don't have an appetite, you'll likely end up eating it all at once.
With Ethnic Dressing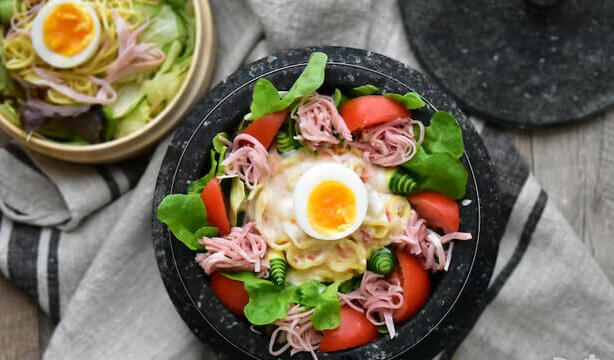 It mixes sweet chilli sauce and yoghurt. Ham, tomato, lettuce and a soft-boiled egg.
Fried chicken & eggplant ponzu ramen salad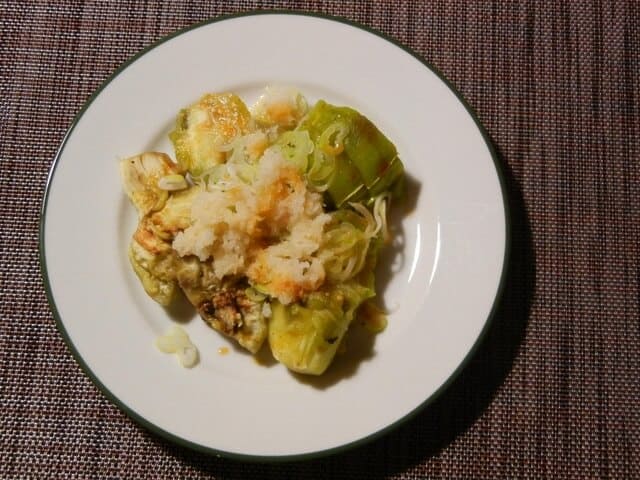 A ramen salad made by remaking fried chicken. The refreshing grated ponzu sauce goes well with fried chicken. The fragrance of shiso leaves sprinkled on the end is also refreshing.
Ramen Salad FAQ
What are the nutritional benefits of Ramen Salad?

Ramen Salad is a great choice for those looking to eat a healthy, balanced meal. It is low in fat, high in fiber, and provides a good balance of carbohydrates, protein, and vegetables.

Can Ramen Salad be adapted to suit different dietary requirements or preferences, such as vegetarian or gluten-free?

Simply omit the meat and use vegetable broth or water to cook the ramen noodles. And add tofu or tempeh instead of meat, or add boiled eggs to the salad. You can also use gluten-free ramen noodles or substitute them with rice noodles or another gluten-free alternative.
Ramen Salad Recipe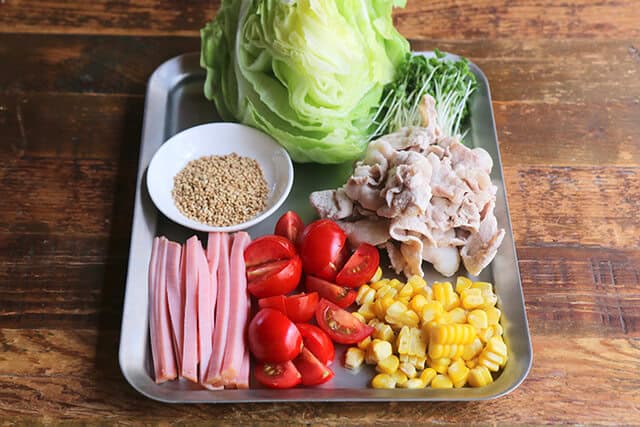 Ramen Salad Ingredients
| Ingredients of Ramen Salad for 2 persons | Measurements |
| --- | --- |
| Sugar | 14g |
| Sauce | 14g |
| Vinegar | 14g |
| White sesame | 15g |
| Sesame oil | 20g |
| Mayonnaise | 25g |
| Chili oil | 3g |
How to make Ramen Salad
Prepare the noodles
Boil the ramen noodles according to the directions on the label, drain, and rinse well with water. The noodles will stick together, so sprinkle a little oil.
Cut the vegetables and boil the meat
Tear the lettuce, and cut the cherry tomatoes and ham into bite-sized pieces. Cut the roots of the daikon radish, and remove the kernels of the corn. Boil the pork.
Add dressing sauce and serve
After mixing the sauce ingredients well, place the noodles and toppings on a plate and pour the sauce over them.
Where to buy Ramen Salad
Local Cuisine Yuku Ginza (郷土料理ユック 銀座店)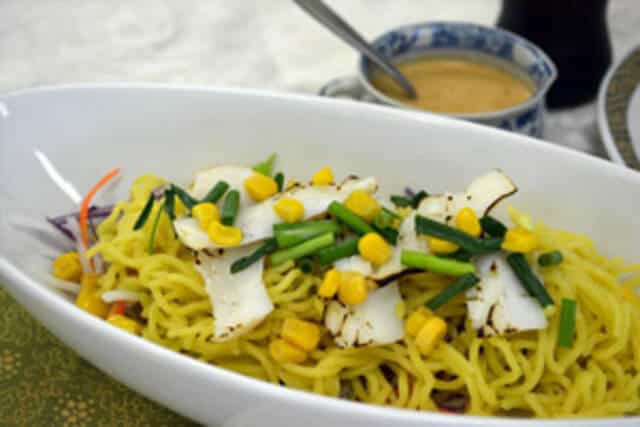 A local restaurant directly managed by "Hotel Shikanoyu," which boasts a history of 82 years in Jozankei, the inner parlor of Sapporo. You can casually enjoy the taste of Hokkaido in private rooms, counter-seats, and table seats. They serve a ramen salad made with Hokkaido wheat ramen and local vegetables is a popular local dish among young people in Hokkaido.
Sapporo Grand Hotel (札幌グランドホテル)

From the opening of the big jug in 1985 to the present day, this specialty menu boasts unwavering popularity. This is where the original ramen salad came from. As a "ramen that you can taste like a salad", it is familiar at izakayas and restaurants all over the country.
Kitamaru (北○ KITAMARU)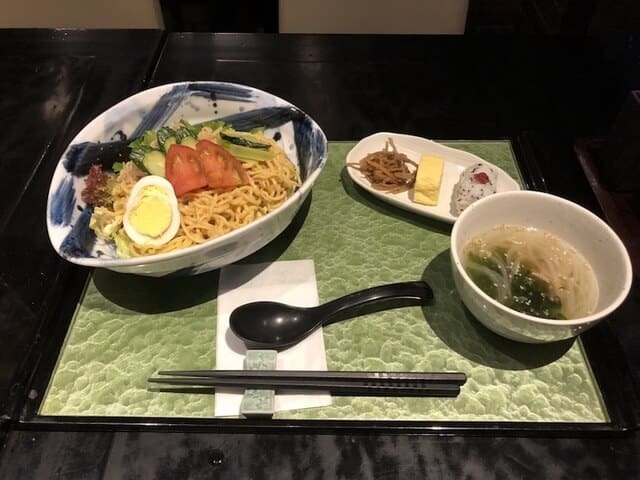 Although it is an izakaya, it is a chain store only found in Sapporo, and it is characterized by many menus using Hokkaido ingredients. At this store, something close to island dressing was used. The noodles are curly noodles with medium thickness and are delicious and chewy.
Takeaway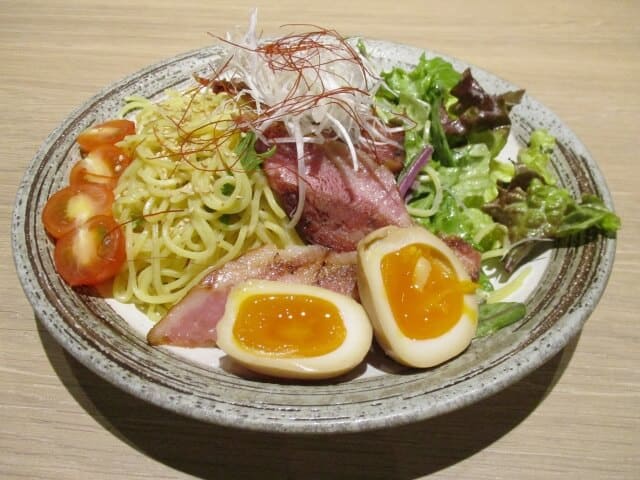 Ramen salad is a dish with plenty of vegetables. You can make it when you have leftover vegetables in your refrigerator, or you can add soybean paste to the dressing to make it a snack.
You can check some Japanese dishes below that we know you would like to try too.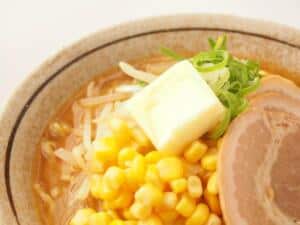 Sapporo Ramen (札幌ラーメン)
One of the representative dishes of Hokkaido's food culture is Sapporo ramen. The rich miso soup and the thick curly noodles create a perfect harmony that yo…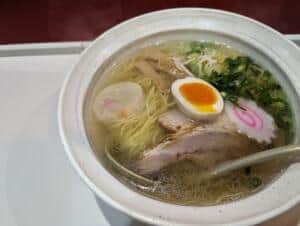 Hakodate Ramen (函館ラーメン)
【INTRODUCTION TO HAKODATE RAMEN】 Hakodate ramen is one of the three (3) major ramen in Hokkaido. Along with Sapporo and Asahikawa ramen, Hakodate ramen is …
Ishikari Nabe (石狩鍋)
【INTRODUCTION TO ISHIKARI NABE】 Now we have an entry of another Nabe! Ishikari Nabe is one of the most favorite comfort food in Japan as it gives you lots …