INTRODUCTION TO SATA ANDAGI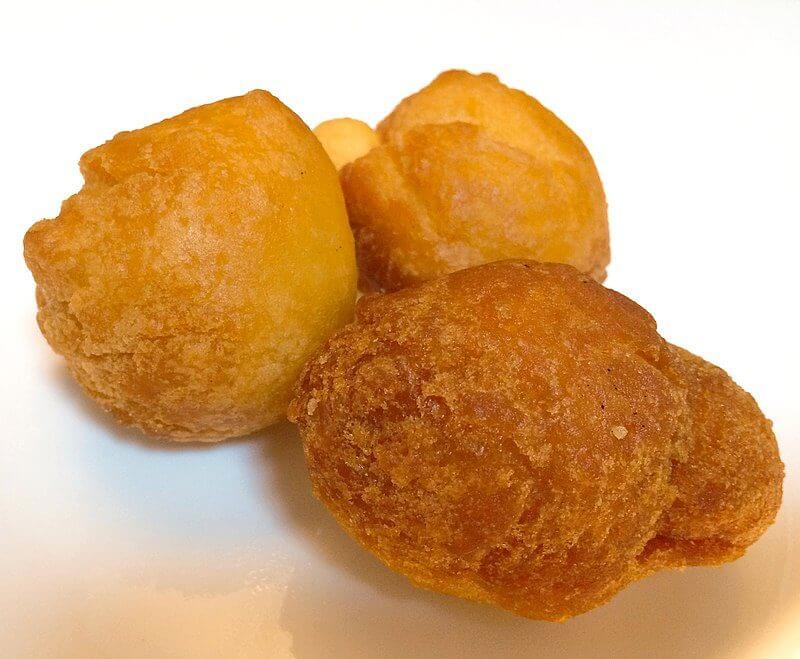 Now we have other Japanese sweets on the list! Sata Andagi, an Okinawa-style doughnut. Many Okinawan sweets are Chinese-style and they often use it for traditional events. This is also popular in Hawaii, sometimes known there simply as Andagi. Traditional Okinawan sata andagi includes flour, sugar, and eggs. The ingredients have to mix together into a ball and deep-fried. They are preparing it typically so that the outside is crispy and browned while the inside is light and cake-like.
The figure that has cracks is to resemble a person's laughing face. Those round balls crack with lines that resemble the smiley faces, which is why the doughnuts are considered good luck in Okinawa and are used for many happy occasions, such as engagements and birthdays.
ETYMOLOGY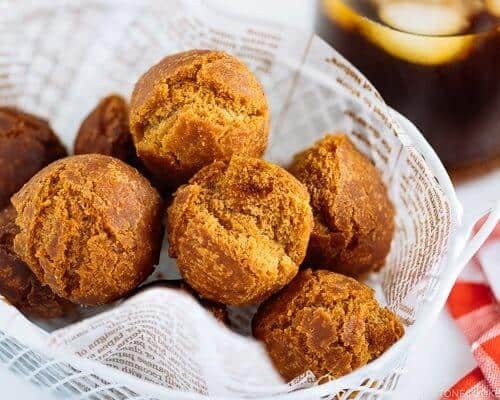 Sata Andagi in Japanese katakana is サーターアンダーギー. Sata, which means sugar. Andagi, which means deep-fried food. The texture of sata andagi is very dense and less airy and fluffy than regular doughnuts. Additionally, In Tokunoshima, they call it "Sata Tempura". Overseas, where many immigrants from Okinawa, the United States of Hawaii call it as even "Andagi". And sometimes, people call it Okinawan Donuts on the Internet.
WHAT IS THE HISTORY OF SATA ANDAGI?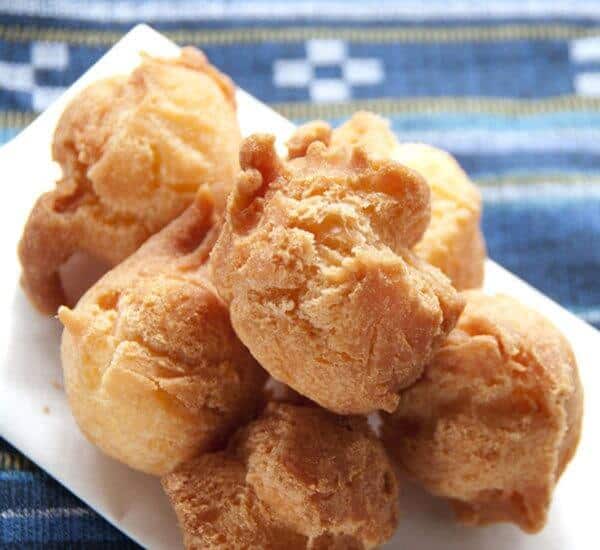 The Sata Andagi has introduced to Okinawa 500 years ago. Based on the theories, the kitchen staff who had worked in the Ryukyu dynasty came from China. In China, there is sweet bread, and it is said that those kitchen staff who returned to Japan from China brought back the recipe and became the origin of Sata Andagi. Until 1972, sugar was high-quality, so it was a high-class sweet bread that was out of reach of the common people.
WHERE IS OKINAWA?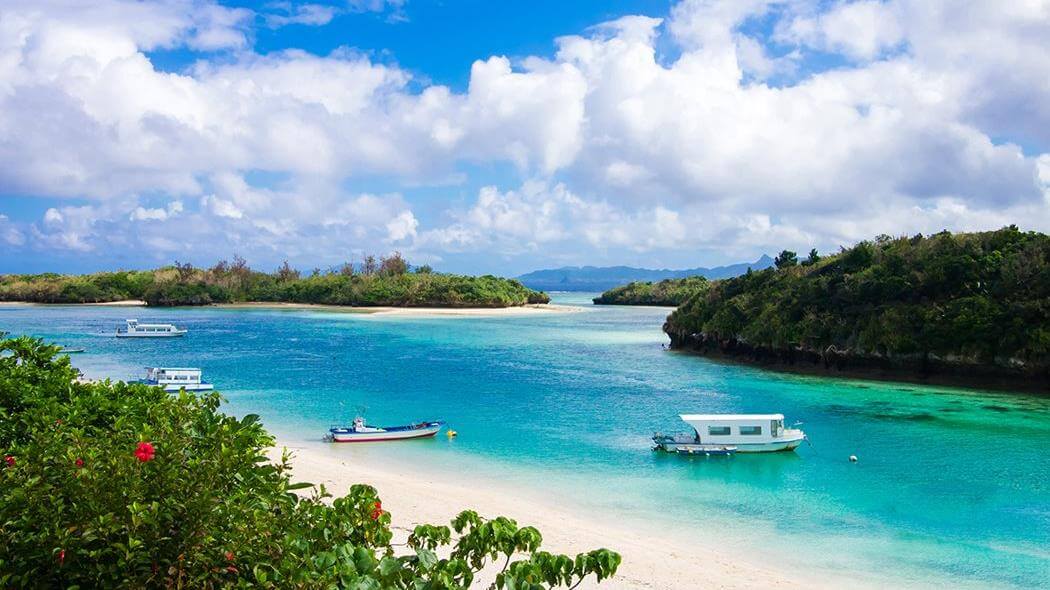 Okinawa is dubbed Hawaii of Japan and it is Japan's southernmost prefecture. Consisting of a few dozen, small islands in the southern half of the Nansei Shoto, the island chain stretches over about one thousand kilometers from Kyushu to Taiwan. While the rest of Japan shivers through winter, it can still reach a tropical 20°C here in the colder months.
Additionally, Okinawa is the birthplace of karate, home to great diving and also the first cherry blossoms of the season. Interestingly, Okinawa is where karate comes from. It might have spread like wildfire throughout the world but the sport was practiced here long before being annexed by mainland Japan in 1879 – and it remains the best place to learn the combat art. At Okinawa Karate Kaikan, you can watch tournaments as athletes gear up for the 2020 Summer Olympics in Tokyo.
Moreover, Okinawa can be reached through Naha airport.
WHY DOES SATA ANDAGI SYMBOLIZES WOMEN?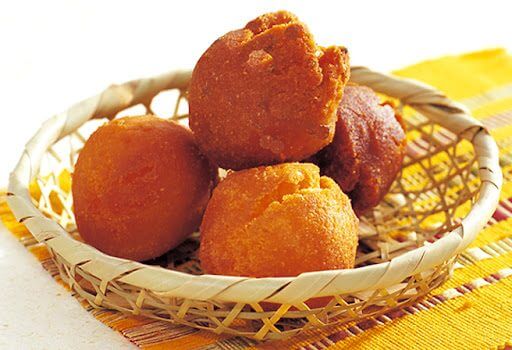 This Japanese cofenctionery is a sweet treat that symbolizes "women" in Okinawa Prefecture because of its shape that causes cracks on the surface. It is like a blooming flower because of cracks. Additionally, the flower or tulips which look like Sata Andagi is a "symbol of women".
HOW TO MAKE SATA ANDAGI?
You can enjoy the taste of each home. It takes a little trick to make the tulip flower look like it's open. Moreover, The ingredients needed are the following: cake flour, egg, brown sugar, baking powder, salad oil, and vegetable oil.
Prepare the main ingredients such as flour and baking powder
Firstly, sift the flour and baking powder and mix well.
Beats eggs and add sugar
Secondly, put eggs and sugar in a bowl and mix with a whisk without frothing. (Don't mix too much)
Add salad oil
Get your oil and add it to eggs and sugar and mix gently once or twice. Add then the sifted flour and baking powder, and mix gently from around the bowl.
Refrigerate
Wrap the dough in step 3 and let it sit in the refrigerator for about 30 minutes. (If you lie down too much, it will become hard.)
Fry
Put frying oil in a thick pan and heat slowly to about 170 degrees. Wet the palm with water, roll the dough of 4 to a diameter of 3-4 cm. When rolling the dough, it is easier to roll it if you apply oil to your hands. Fry slowly at about 165 degrees. While frying, it spins naturally and cracks in the shape of tulips. Make sure that the whole is fried in good color.
Serve and enjoy!
The small sizes can make up to 50 pieces. Don't forget to share it with your family and friends!
WHAT ARE THE RECOMMENDED STORES OF SATA ANDAGI?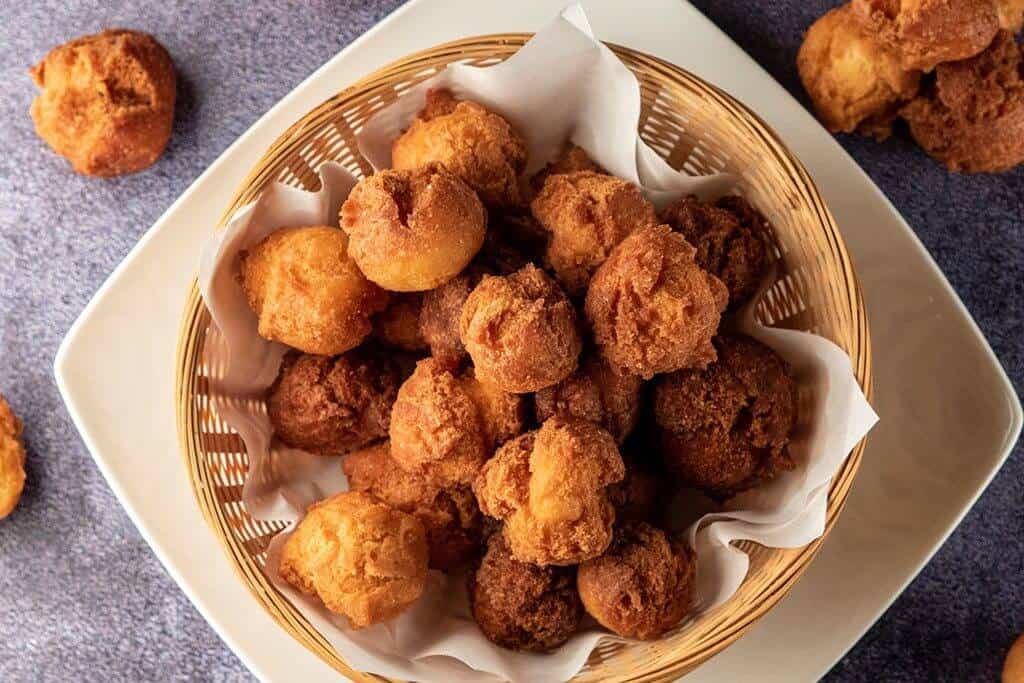 Sata Andagi's Store Amuro
It is a small shop with a signboard with the season. Amuro store is about a 6-minute walk from Gibo Station on the Yui Rail. Their Sata Andagi is made from fresh eggs from Amuro Poultry Farm and it is indeed fluffy! Definitely local's favorites! In addition to plain, there are various flavors such as white sugar and brown sugar, and cute shapes such as tulip flowers are also popular.
Kaboten no Nakasone
Kaboten no Nakasone is a long-established store that has been making Sata Andagi in Okinawa City for over 40 years. They have pumpkin-flavored huge size sata andagi sold under the name "Pumpkin". Additionally, It does not contain any additives and has a gentle taste that even small children can eat with peace of mind.
Sata Andagi Specialty Store Nakasatoya
This store is located about 13 minute walk from Yui Rail Furujima station. It is a shop that was introduced in a popular TV program before. When you enter the store, you will find a lot of sata andagi with six flavors: plain, brown sugar, red potato, sesame, coffee, and peanuts. It is popular with both locals and tourists because it is not greasy and can be eaten easily even when it gets cold. Moreover, you can also choose between small size and a large size.
Fu-Mi-Aunt's Andagi
Fu-Mi is a Sata Andagi specialty store in Uruma City. It is fried in fresh oil every day and is popular for its small size, which is perfect for snacks. There are eight standard menus such as coffee, red potato, and kinako flavor, and special order menus such as coconut and matcha that need to be reserved 3 to 4 days in advance. Sounds great, right?
Unarizaki
The popular Sata Andagi shop "Unarizaki" is located in the city of Naha. There's only red potato sata andagi is here! The volume is large, but the sweetness of the red potatoes is moderate and the crispy texture on the outside is delicious, so you can enjoy it. Unarizaki is about a 10-minute walk from Miebashi Station on the Yui Rail.
CONCLUSION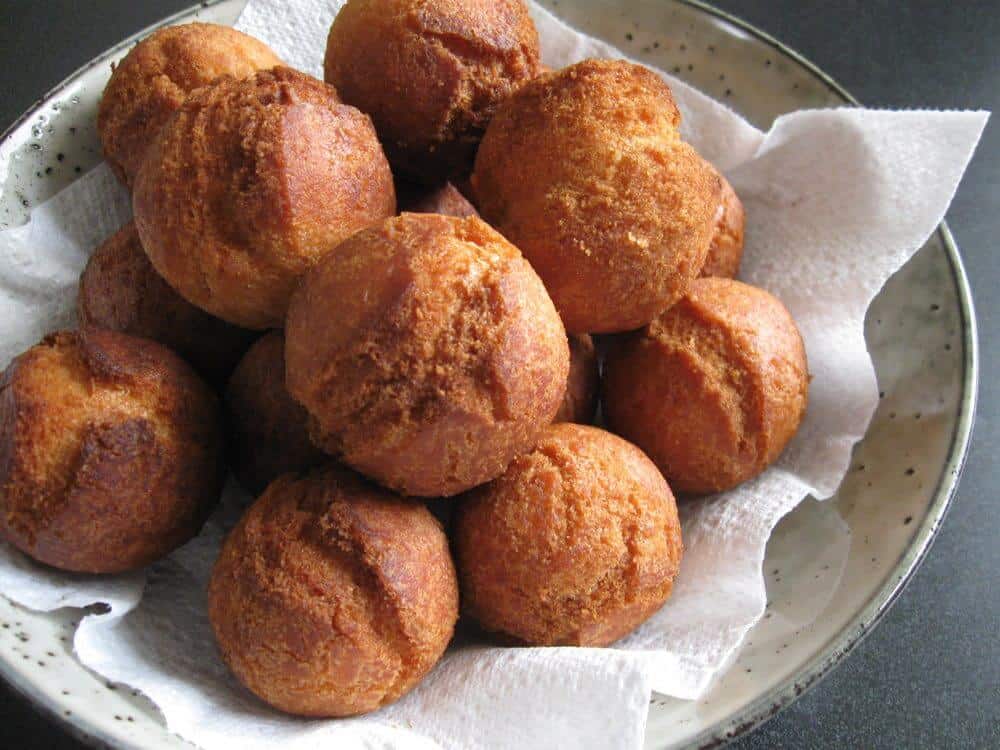 In conclusion, As usual for a Japanese confectionery, sata andagi is usually not very sweet. Sata Andagi is a traditional, fried ball of sweet dough exclusive to Okinawa. The Okinawa prefecture has also been influenced by nearly thirty years of U.S. military occupation for how many years. There are also other traditional foods in Okinawa such as Soki Soba, Atumeshi, and more. Unlike any other pastries, sata andagi has a texture similar to very dense cake and is quite dry. It actually looks like a fried doughnut commonly called a fritter by Western.
Additionally, these days. health-conscious people may be somewhat hesitant about consuming a deep-fried dough high in carbohydrates. The average calorie of Sata Andagi is 368 kcal per 100 g. However, these are still many people's favorite treats especially people of Okinawa.