You may have tried Japanese popular food such as ramen, onigiri, sushi, katsudon, etc. But if you want to experience something different, how about Okinawan food? Okinawan food differs significantly from Japanese cuisine as it tends to be stronger and spicier flavor because of infufluences from Chinese and Southeast Asian cuisine. One of the common food of Okinawa that we want to introduce today is Rafute. Let's find out the best recipe to make this dish!
What is Rafute
"Rafute (ラフテー)" also known as "braised pork belly" is one of Okinawa's local dishes, and it is a menu that allows you to enjoy the deliciousness of pork. Locals make this dish by seasoning pork belly with skin or hisagar (thigh meat with skin) in a sweet and salty flavor with awamori or soy sauce. This meal comes in two variations: one with sugar and soy sauce and another with miso. Normally, they cook the pork in Awamori (Okinawan liquor) until the pork skin melts in your mouth and the flavour is quite rich and intense.
It is a dish similar to buta no kakuni and "sanmainiku (boiled meat)" used in New Year's dishes and jubako for Buddhist memorial rituals, but they cooked this with a sweet and spicy seasoning and not thinly sliced. Locals  characterized this dish by the fact that they served it as a separate dish without mixing it with other ingredients as a certain size portion.
Etymology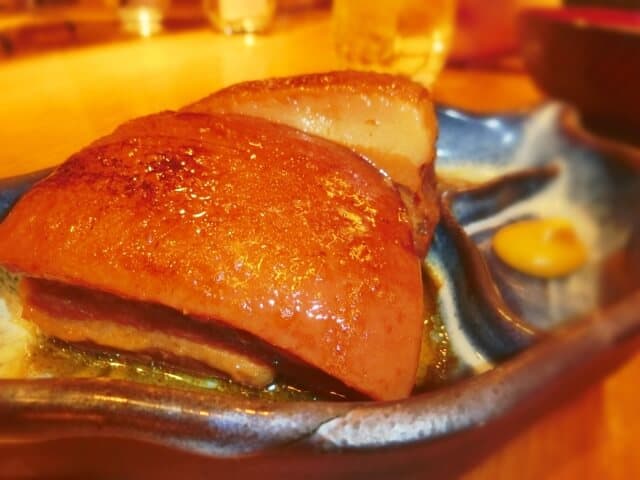 The name originated from Chinese. It is likely cognate or closely related to the similar dish called トンポーロウ【東坡肉】 tonpoorou in Japanese (also read ドンポーロウ donpoorou), meaning "dongpo pork; tungpo pork". The notation rafute can also be encountered here and there, although the true reading in Okinawan is rafute.
Rafute History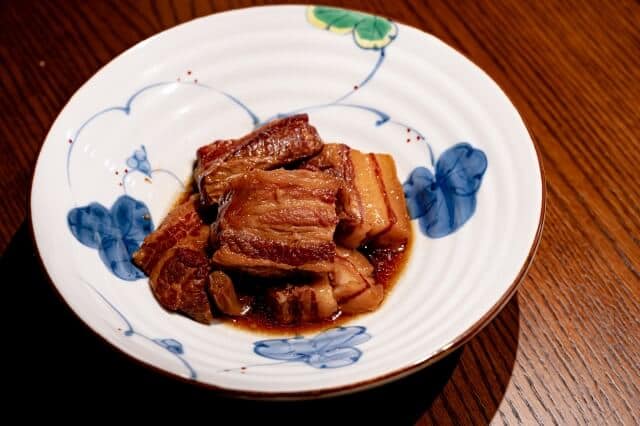 The relationship between pork and Okinawa dates back to the 14th century. Originally, pork dishes were brought to Okinawa by Chinese missions, but pig farming started in order to solve the food problem for hundreds of people in the missions.
It is also a Ryukyu Dynasty preserved cuisine that you can preserve for approximately a month. Okinawa's Ryukyu cuisine begins and ends with pork. Known not only for its meat but also for its internal organs, face, ears, and blood, especially pork belly with skin. Pork fat was also a valuable source of nutrition in poor times. Pork is commonly used because of the influence of exchanges with China during the Ryukyu dynasty. 
Originally, they hot preserved it as an Okinawan food and strongly seasoned it, but it has become a typical Ryukyu cuisine served as a guest meal or a memorial service dish due to its thin taste with the times.
In Hawaii, locals there know rafute as "shoyu pork," which they served in plate lunches. In the early 1900s, Okinawan immigrants in Hawaii introduced rafute into the local cuisine, as ethnic Okinawans owned and ran many restaurants in Honolulu, Hawaii.
Rafute Recipe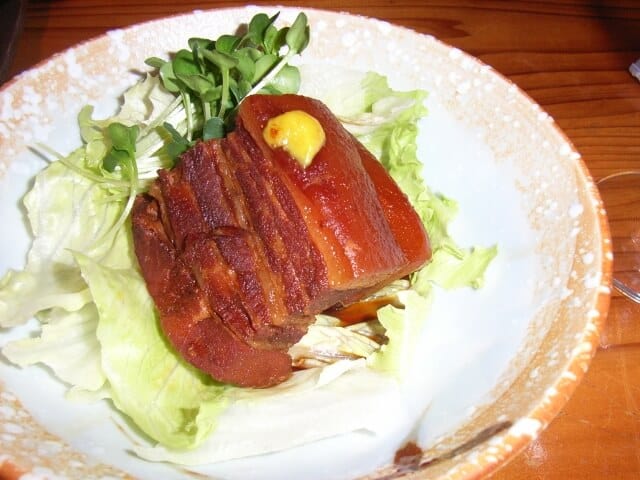 Rafute Ingredients
| Ingredients of Rafute for 4 person | Measurements |
| --- | --- |
| Pork fillet (with skin) | 400g |
| Awamori | 200g |
| Sugar | 80g |
| Soy sauce | 50g |
| Bonito stock | 200-600g |
| Ginger | 3g |
How to make Rafute
Wash the meat
Wash the pork ribs in hot water and boil them for 40 minutes to 1 hour while removing the scum and fat.
Cut and boil the pork
Cut the pork ribs into 3 to 4 cm squares, or 6 to 7 cm long. You can boil the pork that sticks out when you're aligning the shapes together for tasting.
Simmer with other ingredients
Put the dashi stock, awamori, and the meat in a pot and boil for about 5 minutes. Add the remaining sugar and simmer for another 5 minutes.
Awamori with a higher alcohol content will boil faster and the flavor will permeate more easily.
Add seasoning and simmer again
Add the soy sauce in two batches, and simmer over high heat for about 5 minutes at first, then reduce the heat to low and simmer slowly for 40 minutes to 1 hour. Cook until the meat is tender enough to be torn with chopsticks.
Serving
Put it in a bowl, pour plenty of broth on it, and put ginger on it and you're done.
Pork in Okinawa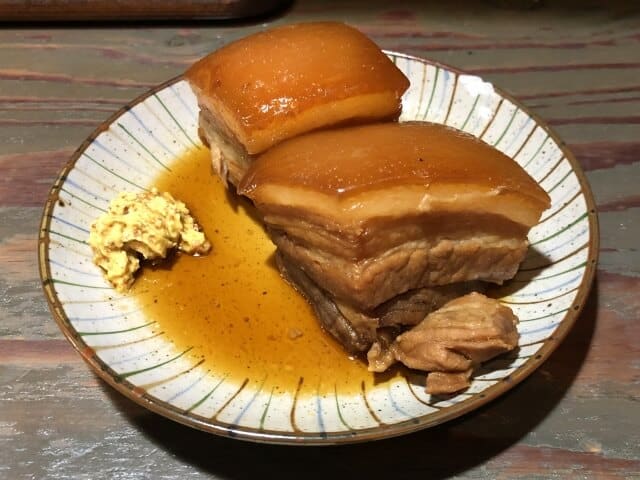 Okinawa Prefecture ranks first in the nation in the consumption of pork. You can't see pig farms in Naha City, but if you go to northern areas such as Yanbaru, you can see that they are still actively working on pig farming. Some people may have a slightly dirty image when thinking of a pig farm. But pigs are clean animals. Also, pigs have a strong image of being fat, but the body fat percentage of pigs raised is 14-18% (the standard body fat percentage for males aged 18-39 is 11-21%).
Difference between Buta no Kakuni and Rafute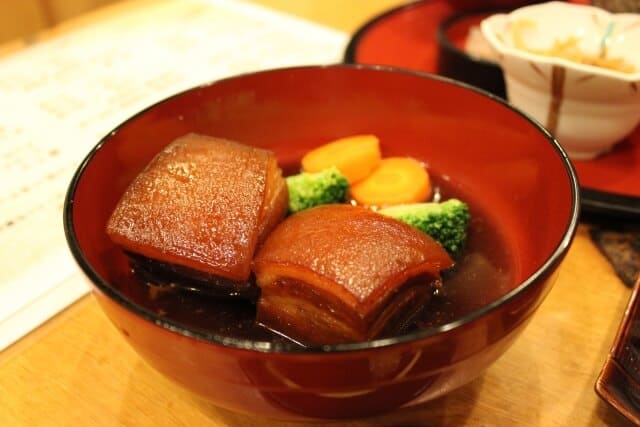 Locals make the two dishes with pork belly, but the biggest difference is that they serve the rafute with the skin on. Rafute also uses awamori and bonito stock when simmering. It is different from buta no kakuni in that rafute simmers with awamori and brown sugar.
What do you eat with Rafute?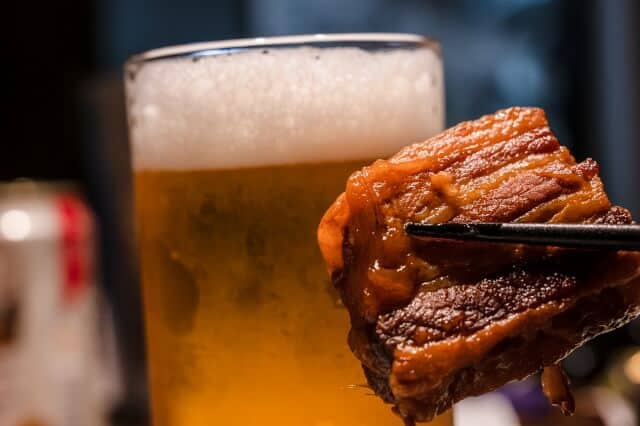 Aside from the prolonged simmering, Rafute is a rather simple and direct meal to prepare. It is a famous dish in Okinawa due to its powerful taste. Locals serve this as an izakaya-style meal with an icy cold beer or as a savory dish with fluffy steamed rice or noodles.
Is braised pork belly healthy?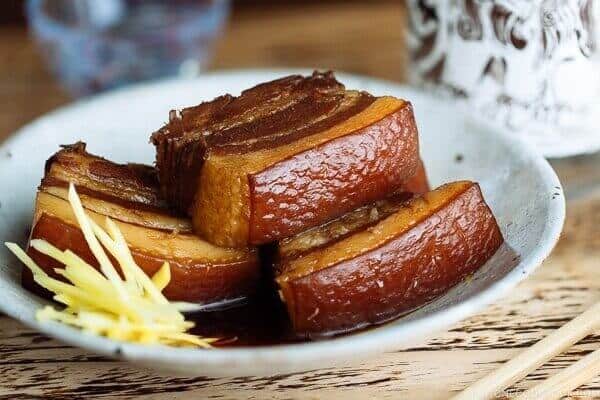 Because pork belly consists mostly of fat, this serving size packs up to 585 calories, 60 grams of total fat, and 22 grams of saturated fat. However, it's also an excellent source of B vitamins, as well as a source of other important nutrients such as vitamin E, zinc, iron, and copper.
Where to buy Rafute
Yamashou (山将)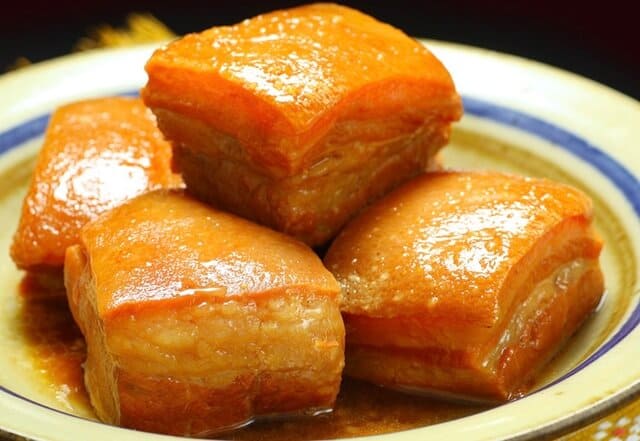 An izakaya where you can fully enjoy Okinawan cuisine. It has a calm atmosphere where you can spend a relaxing time in any situation. You can eat fresh and colorful Okinawan dish to your heart's content. The best recommendation is the rafute. Despite its rich flavor, the rafute here has a reputation for being refreshing and easy to eat.
Paikaji Uenoya (ぱいかじ 上之屋店)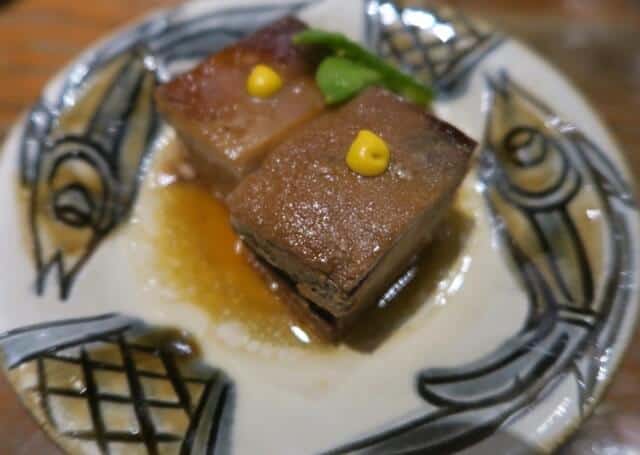 A shop where you can enjoy the atmosphere of an Okinawan grandpa and grandma's house. You can enjoy a wide range of dishes, from traditional Okinawan dishes to easy-to-eat dishes. But the best recommendation is the rafute. The dark meat and rice go well together, you can also order their rafute ala-carté.
Tobi Ume (飛梅)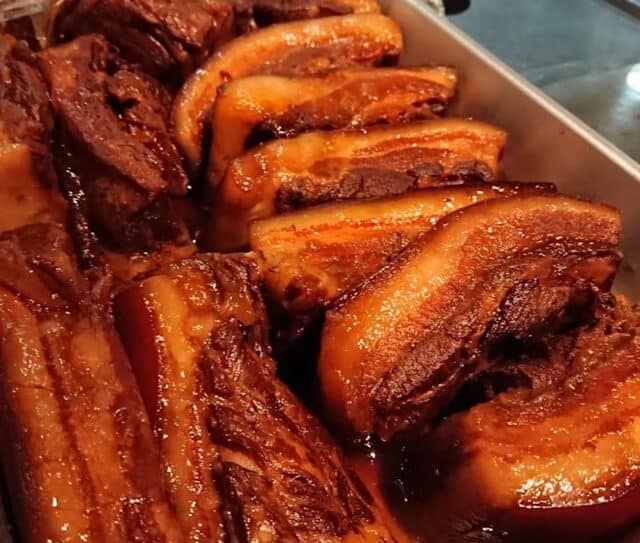 An izakaya with a relaxed atmosphere in semi-private rooms with curtains separating each seat. You can enjoy not only the standard izakaya menu, but also Okinawan cuisine. Many Ryukyu creative dishes are part of their menu. There are plenty of menus that go well with sake. Their rafute, which the shop slowly simmered and has a rich flavor, is one of their best sellers.
Final thoughts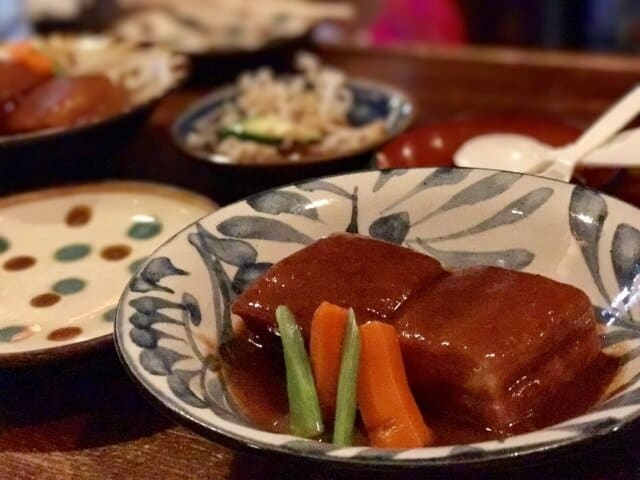 A meal in Japanese society goes beyond eating since it allows individuals to interact, strengthen ties, cooperate, work in groups, and contribute to the development of society. Pork is by far the most common sort of meat in Japan. Locals consumed nearly as much as chicken and beef combined. Tonkatsu (breaded and deep-fried pork loin or cutlet) is a characteristic dish of the Japanese pork industry. It is especially popular in Okinawa, Kyushu, and the Kanto region.
You can also look up other pork dishes in other regions of Japan, just click here.