Edomae sushi is the traditional cuisine in Japan, commonly known as the combination of cooked rice and fresh raw fish, season with vinegar.
The cuisine is associated with a specific culture and set of cooking traditions and practices. This unique sushi is a relatively modern Japanese cuisine created by Edo.
Different types of sushi served at many restaurants, that comes at the different price of range. If you love raw seafood dishes, you can easily find it many sushi restaurants. Also check out Bekko sushi.
HISTORY OF EDOMAE SUSHI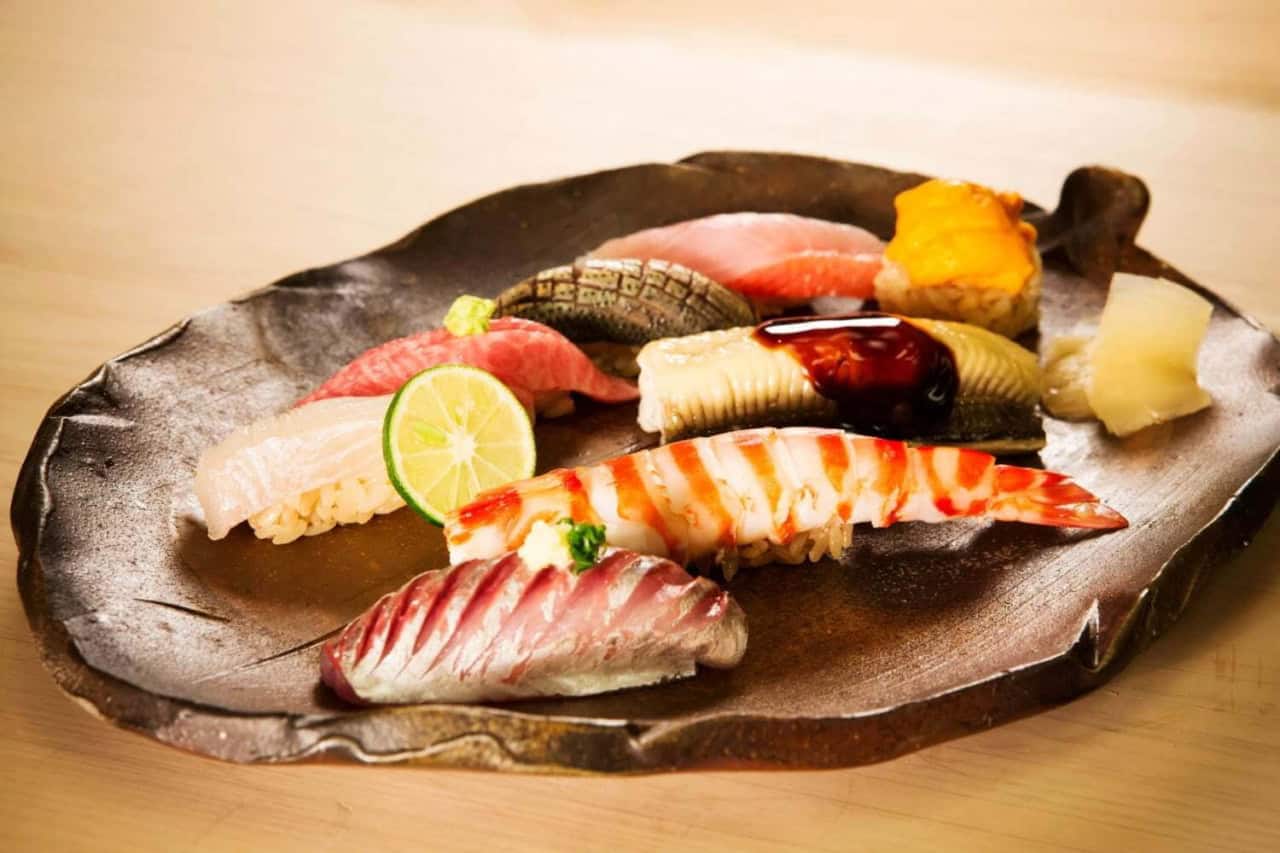 The Edomae is created in Tokyo during 1818-30, and it is invented by a chef named Yohei Hanae. The Yohei Hanae made Edomae sushi at the end of the japans Edo Period.
Before the 9th century, there was no sushi concept, but the sushi was likely introduced to Japan in the ninth century. Japan is the sushi capital of the world.
There are many types of sushi, such as maki sushi made by rolling ingredients into the rice and seaweed cylinders, and sushi made by pressing down a mound filled with rice and fish.
Most people love to eat nigiri and Edomae sushi in Japan, and it is the representative cuisine of Japan.
EDOMAE SUSHI PRESEVERATION
If we compare nigiri sushi to the Edomae sushi, there is a lot of difference between them. The first difference is vinegar. Edomae sushi uses sake yeast "Akas" instead of rice vinegar. The second difference is the large-scale preparation work to improve the fish taste of Edomae sushi. Are you confused that why you should use red vinegar? Let's dive into facts!
The red vinegar in Edomae sushi has a powerful flavor and has many benefits, and It is perfectly balanced with the fish flavor used in Edomae sushi.
The red characteristic of red vinegar is the nutrients contained in sake yeast. This makes the color of the sushi rice slightly red. Just like ordinary rice vinegar, it also enhances the preservation of rice.
WHY IT'S CALLED EDOMAE SUSHI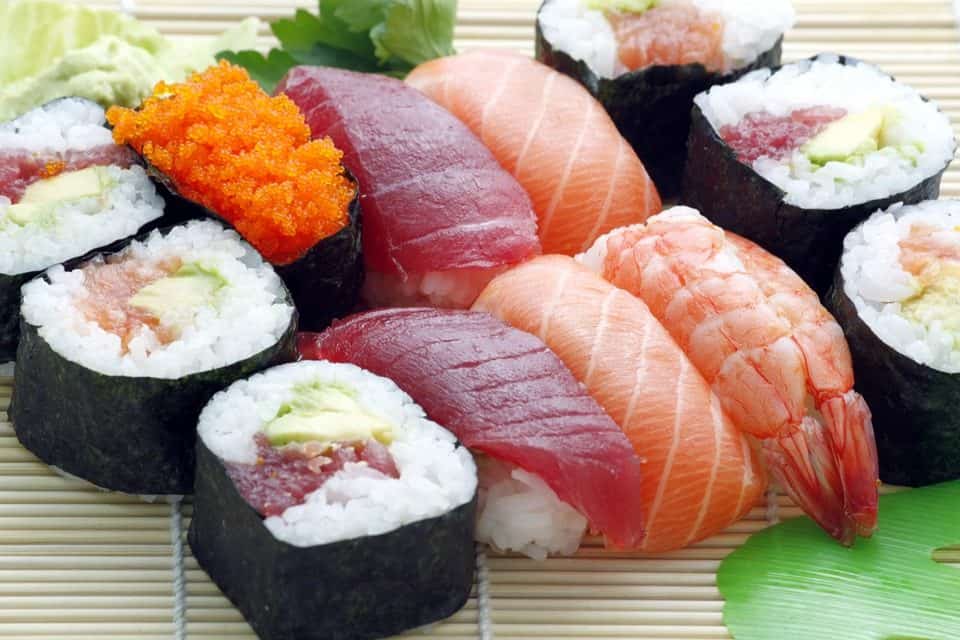 Maybe you are confused that why it's called Edomae sushi, but if you have heard the name of the Edo city so you may know the history of Edomae sushi. For those who are confused about the query, Edomae was created in the city whose name is EDO.
You might be still wondering from where "mae" words come? The "mae" means "in front of" that referring to seafood used to create sushi. So if we look for this sense, it translates "sushi in front of Edo."
Sometimes Edomae sushi is known as Edomae style sushi.
TWO CHARACTERISTICS OF EDOMAE SUSHI
EDOMAE SUSHI NOW A DAYS
Some restaurants combine Edomae style and other styles, but according to Yamamoto, it is estimated that there are only about 30 authentic Edomae-style restaurants in Tokyo. Since the government does not recognize Edomae ad there is no proper certification for it, Edomae may have slightly different things for each customer.
WHITE VINEGAR VS RED VINEGAR
Here is confusion about choosing a restaurant that what restaurant should I choose for Edomae sushi. Ensure you know that some restaurants using white vinegar, so you may find the rice's color is brown, but it doesn't mean that you have chosen the wrong restaurant or something else.
Some people use white vinegar in Edomae sushi which is made of rice and other grains. The color of the white vinegar Edomae sushi maybe brown, so it doesn't mean that the rice is old or Edomae sushi is not suitable for eating.
The red vinegar is made of sake lees, and For maturity, it may take some time, but when you saw that the color is becoming dark red, it means it's matured.
Red vinegar is rich in umami ingredients, so you don't need to add too much sugar or salt when mixing with rice. Therefore, the fish taste is emphasized, and the umami taste remains in the mouth for a long time.
UNIQUE CHARACTERISTICS
Do you know that Edomae sushi has unique characteristics if we compared it to other types of sushi? In the next two centuries, it is replaced by newer methods and ideas.
With refrigeration technology development, Edo-style sushi is no longer a local characteristic of cities near fishing ports (such as Edo). Still, it has spread out to other parts of Japan and even abroad.
In the beginning, the people were confused about selling quickly because the raw fish spoiled quickly. Most people tried to sell it on the streets because, for better taste, it would be better to consume it immediately.
TASTE & HOW TO EAT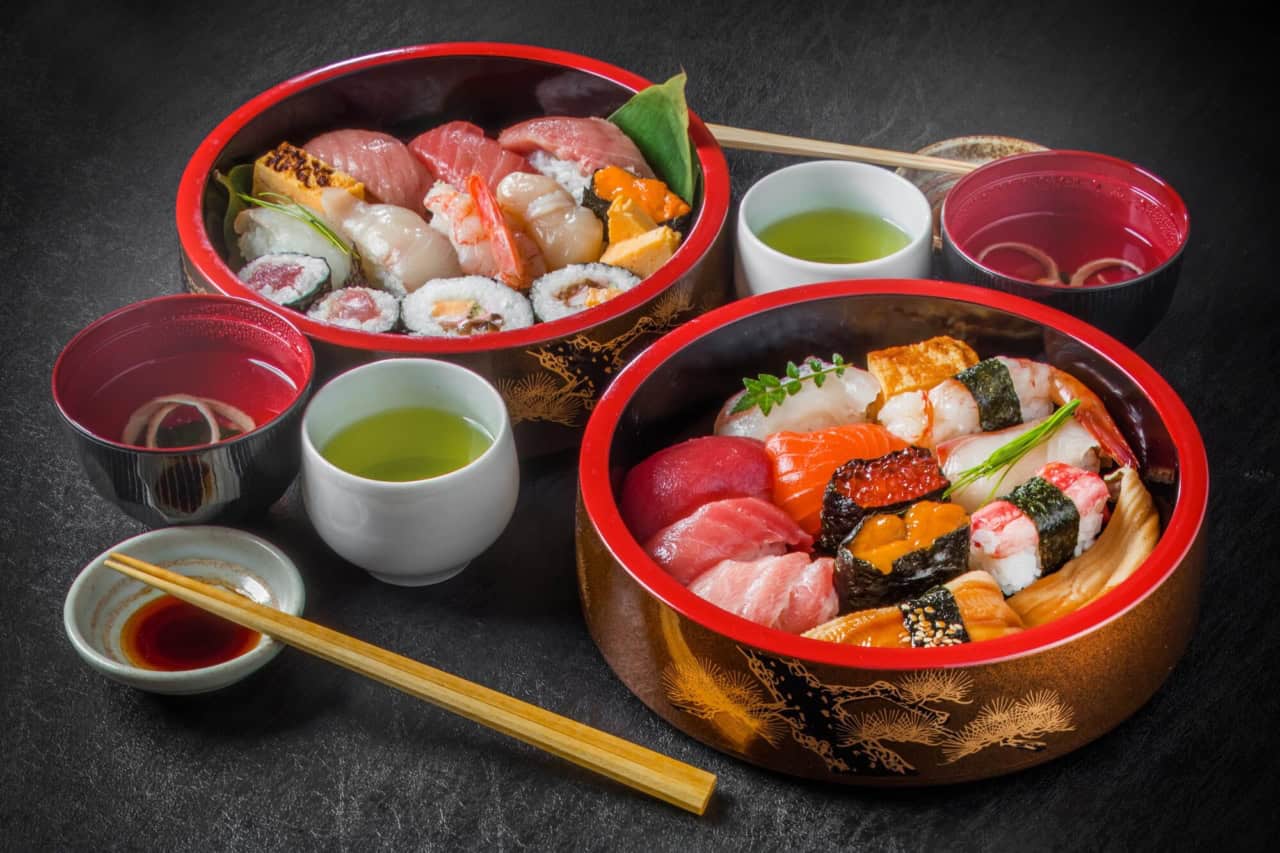 Many people ask about the best way to eat sushi, but there is no specific way to eat Edomae sushi. The taste of the Edomae sushi is quite strong. That's why you don't need to add soy sauce. If you want to add soy sauce, you can. The choice is yours.
The Red rice has a strong flavor, so it goes well with greasy fish. The slightly acidic sushi rice melts the fat in the mouth, leaving a mild and smooth taste in the mouth.
If light rice vinegar is used for the rice, it must be dominated by the shower. There is no fishy smell even without using soy sauce, and you will be satisfied with the rice taste.
WHERE TO FIND EDOMAE SUSHI
We recommend eating Edomae sushi at Tsukiji Kagura Sushi, located in the Tsukiji, Chuo City, Tokyo 104-0045, Japan. You will find the Edomae sushi at a reasonable price in Tsukiji Kagura Sushi. This is the best sushi restaurant in Japan and is famous for serving Edo-mae sushi.
Besides this, we also recommend these restaurants.
Bentenyama Miyakozushi
Shinbashi Shimizu
Sushi Masuda
Sukiyabashi Jiro
FAMOUS FAST FOOD IN EDOPERIOD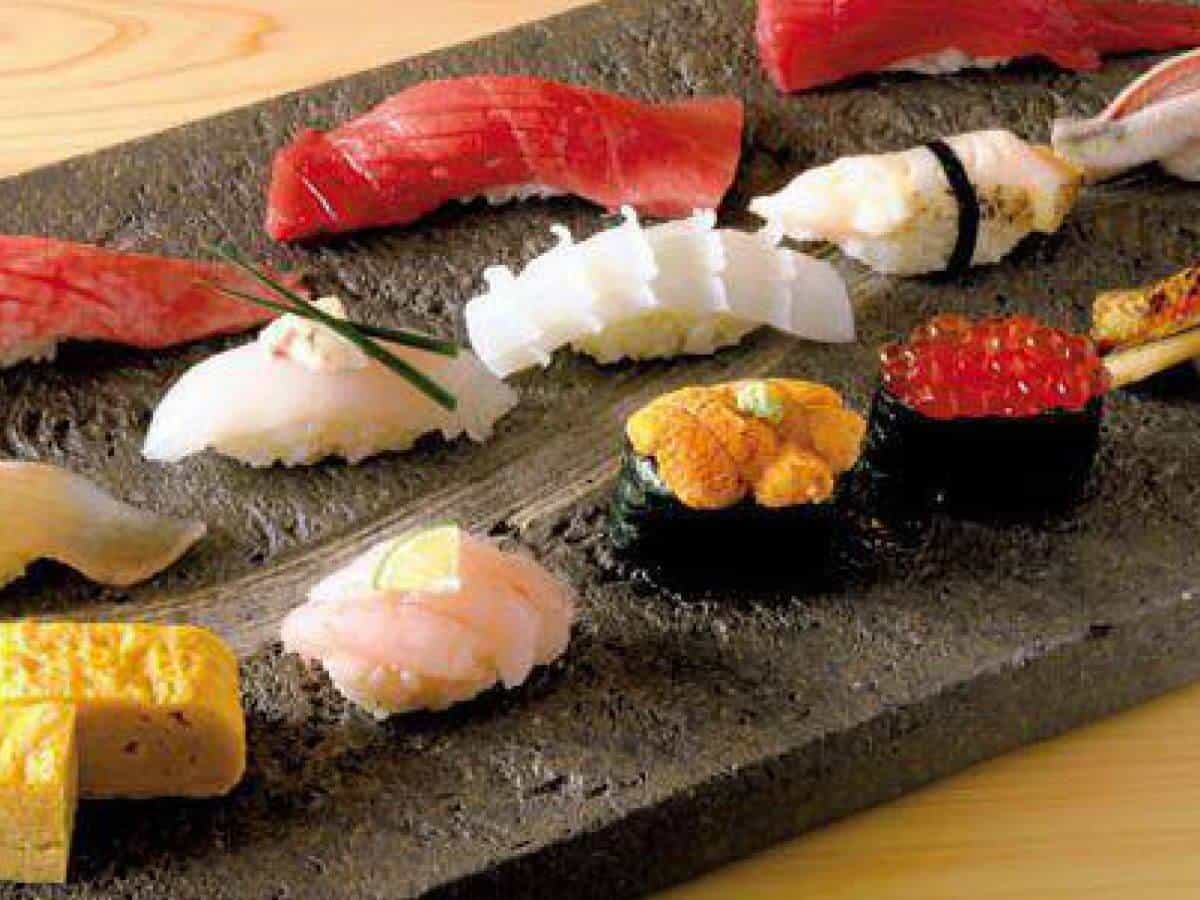 Edo-style sushi is a product of Edo culture, which expands when the public can run their businesses. Other famous fast foods that are famous back to the Edo period (1603-1868) are tempura (Edomae Tempura), soba (Edomae Soba), and eel (Eel).
Many fast-food companies are successful because Edo people are known for their busy lifestyle and lack of patience. Edo cuisine is saltier and sweeter than other Japanese dishes. This is why most people love Edomae sushi instead of the other sushi.
HOW TO ENJOY BEST TASTE
Many people say that our Edomae sushi doesn't taste better, but they don't know why so here is the recommendation that you need to take care of it.
If you want to enjoy the fresh and delicious taste of Edomae sushi, ensure to consume it as soon as possible.
However, if you decided to store the leftover and save them later, we recommend keeping them in the refrigerator for up to 24 hours.
After keeping it 24 hours in the fridge, you may feel the taste change, but it would be safe to eat, and there should be no harm after eating some sushi after 24 hours.
Ensure to consume your Edomae sushi as soon as possible to enjoy its delicious taste.
HOW DO YOU STORE LEFTOVER EDOMAE SUSHI
There are many reasons sometimes you may need to store leftover Edomae sushi. You may be want to save it for later or want to extend its shelf life. To extend the shelf life of sushi, follow the below instructions.
Pack the sushi tightly and wrap them in the plastic. Ensure to wrap them tightly. After that, place it into the airtight container.
Place them in the fridge, and You can do the same process for sashimi or any type of sushi.
FREQUENTLY ASK QUESTIONS
How do you eat sushi after it's been refrigerated?
You can reheat cold sushi for 30 seconds in a 500-watt microwave. The raw fish can be cooked a little bit, but the rice will return to room temperature, and the sushi will taste better.
How do you know sushi is bad?
Before eating the Edomae sushi, make sure they are not spoiled. To check the sushi using the tip of your index finger to press the fish gently. If the fish has marks, it may not be fresh because your fingers should not leave dents. Knowing this trick will make you an expert in finding bad sushi restaurants.
Why does my sushi taste bitter?
Rice produces a bitter taste when it comes in contact with bitter food or surfaces. When caviar comes in contact with metal, it may taste metallic, which can be interpreted as a bitter taste. There are many reasons for the bitterness, depending on the type of sushi and the ingredients used.
FINAL THOUGHTS
That was all about Edo-mae sushi, and I hope you may now know its history, characteristics, and many more.
Before eating Edo-mae sushi, ensure to check out its freshness because spoiled Edo-mae sushi may affect your health.
Many people were confused about finding the best restaurant for Edom-ae sushi. We have mentioned above the famous one that is trendy for different types of sushi.
For enjoying the delicious taste of the Edo-mae sushi, it would be better to consume it as soon as possible.
Do you think we have missed something about Edom-ae sushi? Let us know in the comments section below we will update the article.