Hiyajiru is often eaten in summer and is a local dish that can be found in many places in Japan. What is Hiyajiru? How to make it at home? Or can we find this dish in Japanese restaurant? We are going to introduce about Hiyajiru. The recipe to make it seems simple but we are going to give you the best reicpe so please check it out below.
What is Hiyajiru?
Hiyajiru (冷や汁) is a traditional Japanese instant soup that is a local dish centered on the plains of Miyazaki Prefecture. This dish takes advantage of the unique flavor of delicious ingredients such as natural, mountain food, seafood and vegetables, and crops blessed by the sun. Fish dumplings, roasted miso, ground sesame seeds, tofu, and dashi are the ingredients that locals put over cold barley rice in this classic rice bowl dish. Dashi is typical with kelp, as well as the heads and bones of fish such as horse mackerel, flying fish, and barracuda.
Etymology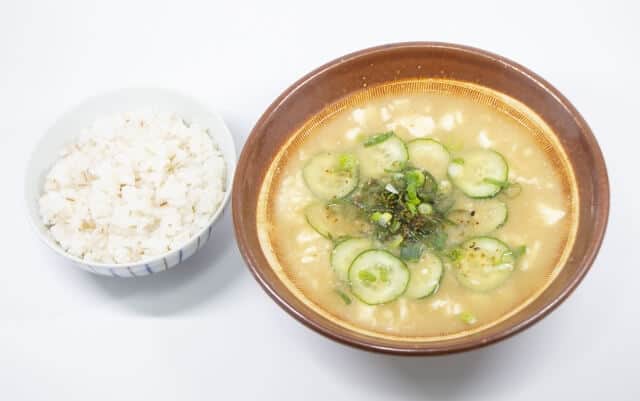 Hiyajiru (冷や汁), literally means "chilled soup" in Japanese from the root words, "Hiya (冷や)" meaning cold and Jiru "(-汁) meaning soup. Despite its name (something-jiru means soup), it is a dish made with plenty of boiled seasonal vegetables served in a fish or shellfish broth over rice.
Hiyajiru Origins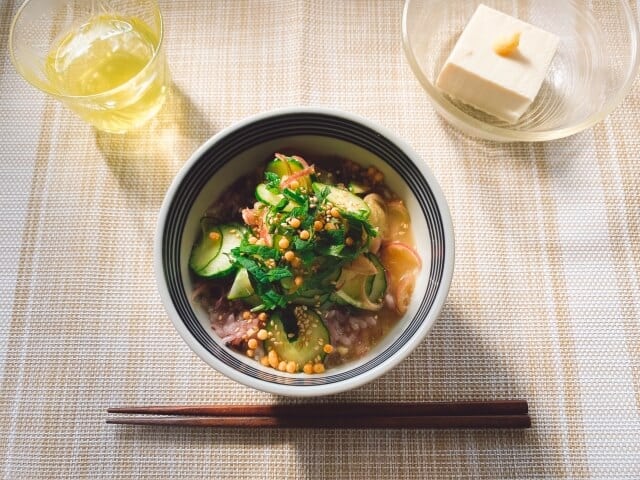 In the book
The beginning of Hiyajiru dates back to the Kamakura period, more than 800 years ago. In the books at that time, there was a description of soup with miso as a seasoning called "Hiyajiru", and this dish gradually spread throughout the country through monks and finally eaten in a place suitable for geography and climate.
Farmer's theory
It is a dish that has been handed down as easy-to-eat wisdom for farmers to provide sufficient nutrition and recover their physical strength even when they have no time or appetite when they work hard in the summer. Especially when they are busy in the morning, one farmer seems to dissolve miso in water and squeeze it into the remaining barley rice the day before.
The prefecture
Until around 1965, even in the Kyushu region, Miyazaki Prefecture, the area where people ate cold soup was originally limited to the Miyazaki Plain (the area along the sea in the central part of the prefecture), and in other areas, it is not a major dish. However, after that, as the information society progressed, the culture of Hiyajiru began to spread throughout the prefecture. And many locals can now eat it in many areas of the prefecture.
Hiyajiru Recipe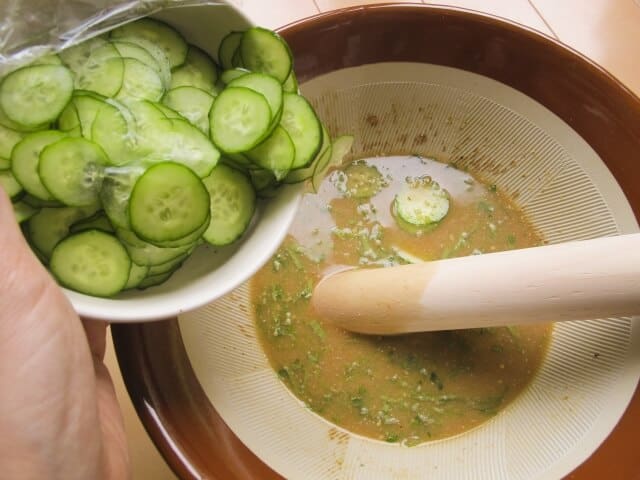 Hiyajiru Ingredients
| | |
| --- | --- |
| Ingredients of Hiyajiru for 4 person | |
| Combined miso | 56g |
| Horse mackerel (cut into three pieces) | 50-60g |
| Cucumber | 600g |
| Perilla | 28g |
| Cotton tofu | 300g |
| Dashi soup | 800g |
| Sesame seeds | 10g |
| White rice | 640g |
How to make Hiyajiru
Bake horse mackerel for 3-4 minutes
Bake only one side of horse mackerel for 3-4 minutes, and turn off the heat when the surface becomes whitish. When baking in a frying pan, sprinkle some oil on it, spread it on a paper towel, cover it, and bake it on low heat.
Loosen the roasted horse mackerel
The roasted horse mackerel removes the bones and skin and loosens itself. Use a mortar to make it even finer and make it into surimi.
Fry the ground horse mackerel and miso over low heat
Put ground horse mackerel and miso in a frying pan or pan. Next, fry over low heat by kneading with a wooden spatula.
Turn off the heat when the miso is lumpy
Moisture gradually comes out from the miso and it becomes soft. If you continue to roast it, the water in the miso will fly off and it will become like dumplings. Turn off the heat and remove the heat.
Melt the grilled miso with cold soup stock
Put the grilled miso in a mortar. Add cold soup stock little by little and crush the miso to dissolve it.
Add cucumber, perilla, and tofu
Cut the cucumber into thin slices with a width of 2 mm, shred the perilla leaves, then cut the tofu into bite-sized pieces by hand and add to the cold soup.
Finally, add sesame seeds and mix
Sprinkle cold soup on hot rice. The aroma of condiments and the flavor of miso and fish are exquisite, and it seems that you will eat as much as you want.
What are the essential ingredients for Hiyajiru?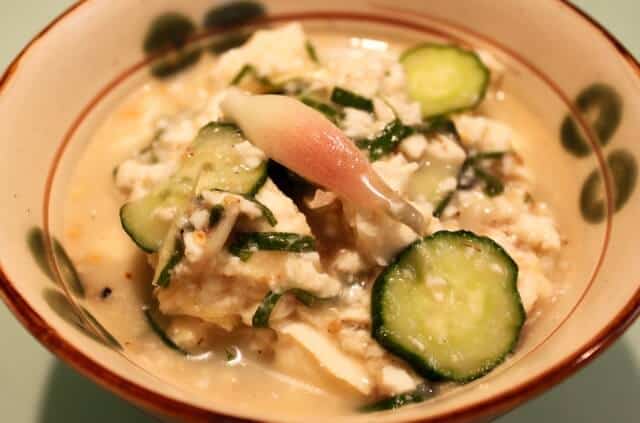 The first three essential ingredients for Hiyajiru are horse mackerel, which locals used as a soup stock, cucumber with excellent texture, and Japanese ginger, which enhances the flavor. The miso puts together these rich ingredients. While the horse mackerel is the standard fish, you can also use Thai, barracuda, and flying fish. In the first place, the "luxury version" uses fish for a cold soup, so if you want to save time and money, you can put the sardines in miso. It also goes well with tofu, tuna, and okra. All of these are easy, nutritious, and bulky to make one bowl of satisfying rice. In addition to Japanese ginger, you can use perilla, green onions, and sesame seeds as you like. The point of cooking is to put in plenty.
What are the Hiyajiru from other prefectures?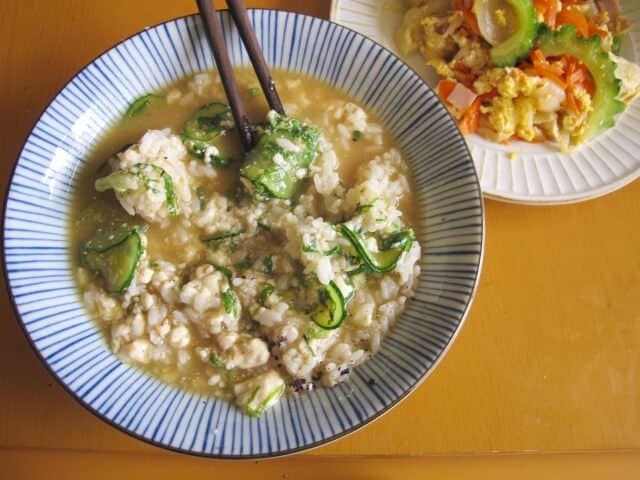 Hiyajiru is known as a staple in Miyazaki prefecture, but in fact, there are other areas in Japan where Hiyajiru is popular as a local dish.
Saitama prefecture
In Saitama Prefecture, in addition to writing "Hiyajiru" and reading "Hiyajiru", there is also an area called "Tsutate" because it uses "freshly ground" ingredients. In Saitama prefecture, locals mashed the white miso, perilla, sesame, sugar, etc., and added soup stock to spread. Furthemore, they also added Japanese ginger, ginger, and cucumber. The difference from the cold soup in Miyazaki prefecture is that they don't put fish in it. Also, instead of sprinkling it on rice, use this as udon soup.
Yamagata prefecture
Hiyajiru in Yamagata prefecture (called hiyashiru), often described this as "a lot of ingredients", and it is completely different from cold soup in Miyazaki and Saitama prefectures. It is a local dish of Yonezawa City and locals eat this by dipping seasonal vegetables in plenty of soup stock. There are no rules regarding the vegetables used as ingredients, and they vary depending on the season, such as cabbage, spinach, and snow vegetables.
What does Hiyajiru taste like?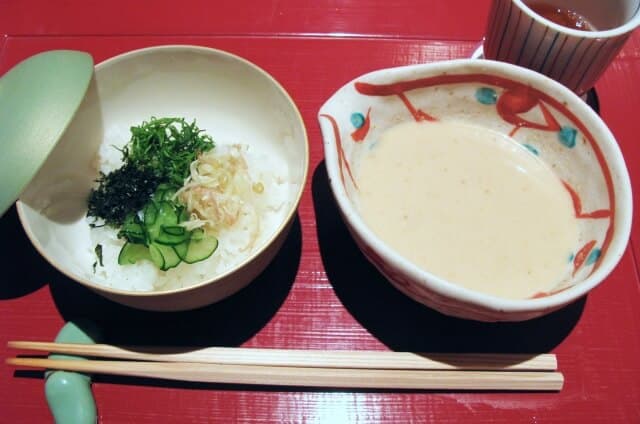 Hiyajiru is a cold Japanese miso soup that's a popular summertime meal in Miyazaki, Japan. Its taste is a nutty and redolent of toasted sesame, this is how the Japanese make this refreshing chilled soup in their family.
Where to eat Hiyajiru
Furusato Cuisine Suginoko (ふるさと料理 杉の子)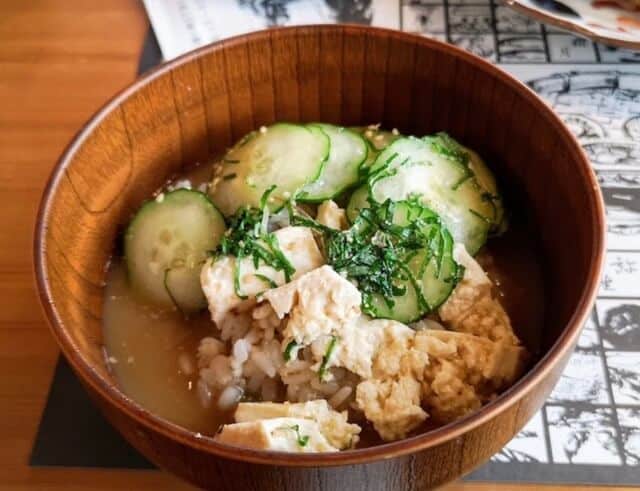 "Sugi no Ko", a long-established Japanese restaurant founded in 1970, is a driving force behind the spread of Miyazaki's cold soup throughout the country. They are particular about Miyazaki's natural ingredients, and you can enjoy classic gourmet dishes such as hiyajiru, chicken Nanban, and charcoal-grilled chicken, as well as high-grade meals such as Ise shrimp and Japanese beef.
Kagura (おもてなし 夢かぐら)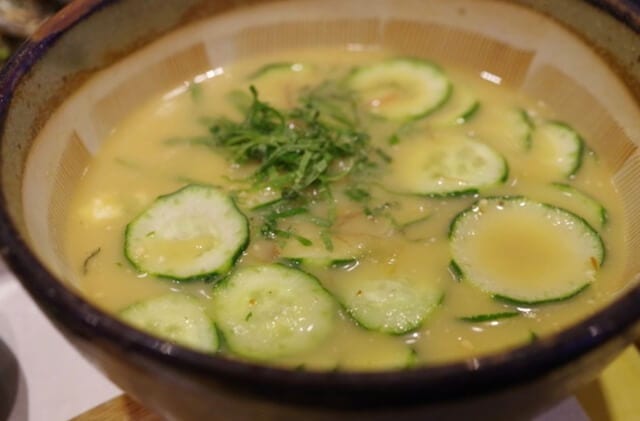 This store is another spot to eat when you're craving for some soup. There are many types of Hiyajiru, from standard Hiyajiru to seafood Hiyajiru and tropical Hiyajiru. They also offer plenty of other local dishes, and there is no doubt that you will be very satisfied from the first person to the repeater.
Nanfu Chaya (南風茶屋)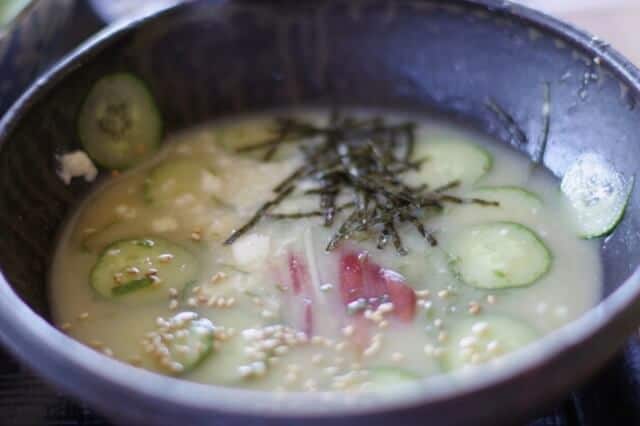 If you want to eat cold soup while enjoying the atmosphere of tropical Miyazaki, here is the Nanfu Chaya! With 50 seats and plenty of space overlooking the sea, it is also convenient to stop by when going from the city to famous places. There is also a set meal with other local dishes such as chicken nanban, so you can enjoy the rich taste of Miyazaki at once.
Fujiki (ふじ木 )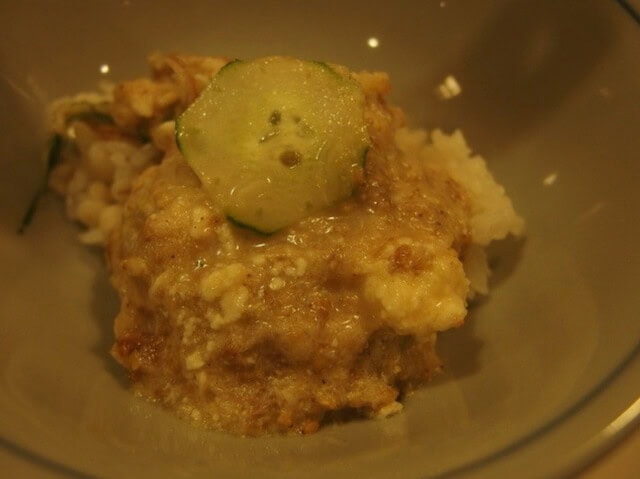 Fujiki is said to be one of the best Japanese restaurants in Miyazaki City, but the atmosphere inside the restaurant is famous for being homely and calm. On the other hand, the food is authentic, especially the fish dishes, so the quality of the cold soup made with fish is not to mention.
Final thoughts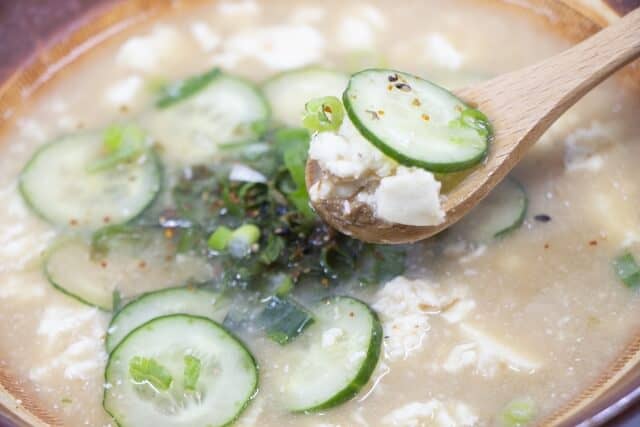 Did you know that soups play an essential role in Japanese food? From home-cooked meals to teishoku sets offered at restaurants, and traditional Japanese cuisine. Miso soup is a traditional food that has supported the dietary life of the Japanese people. While it is a basic seasoning that represents Japan, it is also a fermented food created by the activity of microorganisms. Miso Soup is one of the most important dishes in Japanese cuisine. It comes with every meal, every day, with meals using Steamed Rice as the main starch.
Some of Miyazaki's prefectural specialty dishes are Chicken Nanba and Miyazaki Jitokko.