Nabe (or hot pot) is a popular dish not only in Japan but also all over the world. However, have you wonder what are the features of Japanese nabe compared to hot pot from other parts of the world? In this article, we would like to introduce one of the most favorite Japanese type of nabe – gyunabe.
What is Gyunabe?
Gyu nabe (牛鍋) literally means "beef hotpot" in Japanese. This is one type of hotpot originating in Yokohama (Kanagawa), made with beef stewed in miso or soy sauce. It is said to be similar to sukiyaki, however there are also differences between these two dishes.
Gyu-nabe's main ingredients are beef, green onion, tofu, shiitaku, garland chrysanthemum and egg. You can enjoy gyu-nabe regardless of the season but it is considered as a high-class dish and is often eaten at celebrations when families or friends gather.
Differences between Gyunabe and Sukiyaki
In Japan, it is not surprising at all that people love sukiyaki a lot and you can see sukiyaki restaurant anywhere all over the country. There is also a dish called gyunabe that we have already been introducing in this article. However, it may be difficult to ask about the differences between the two dishes as a lot of people assume that it is just the same dish with different names. Let us talk about how to differentiate between Sukiyaki and Gyunabe!
Dictionary definition
In Kojien ("Wide garden of words", a big and famous Japanese dictionary), the definitions of two dishes are written as below:
Sukiyaki: A dish in which beef, chicken are simmered and grilled with spring onions, yakitofu in an iron pan. Before the Meiji Restoration, while meating eating was still considered taboo in Japan, the meat was grilled outdoors on a spade, or was thinly sliced.
Gyunabe: also known as ushi-nabe, a dish from the Meiji period, in which beef is simmered with vegetables in a pot.
Base on the definitions, it is still hard to distinguish between the two. Therefore, let's take a closer look at the cooking methods!
Cooking method
Speaking of sukiyaki, there are Kanto style and Kansai style. People believe that the Kansai-style if closer to the original form of sukiyaki. In Kansai, to make sukiyaki, you need to grill the meat first and then simmer the meat and vegetables with soy sauce, while in Kanto-style, warishita, a special sauce is used to simmer the ingredients.
On the other hand, in gyunabe, the thinly-sliced beef is not grilled. As a result, beef in sukiyaki has more rich flavor in comparison with gyu nabe. However, the meat of gyunabe is more tender as the beed if simmered from the beginning without grilling.
History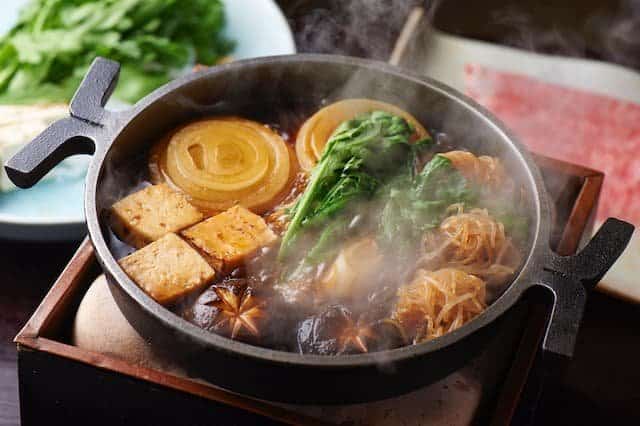 The origin of gyunabe is Yokohama (Kanagawa). It was not until the end of the Edo era that the long period of national isolation ended and beef gradually became common as food in Japan.
In 1859, when the port of Yokohama was opened to international trade, Yokahama began to be affected by Western culture and meat-eating culture spread quickly in Japan. In 1862, the owner of Yokohama's izakaya "Isekuma" opened his first gyu-nabe restaurant, inspired by the beef dishes of foreigners living near the port of Yokohama. At that time, as many Japanese disliked eating beef, as well as the strong opposition of the owner's wife, Isekuma divided the restaurant into half as an izakaya and half as a gyu-nabe restaurant.
Isekuma became popular because they would season the food to your liking, and eventually became a beef hotpot specialty store. Thanks to the success of it, gyu-nabe restaurants opened one after another in the surrounding area. Even now, Isekuma is still a long-established restaurant that represents Yokohama's gyu-nabe.
History of beef in Japan
During the Yayoi period, immigrants from Korea introduced the culture of eating beef to Japan. Since the Asuka period, there is a record that "meat-eating bans" were frequently issued in Japan for agricultural and religious reasons. Therefore, meat-eating was strictly prohibited. However, in the Edo period, the custom of eating beef had changed and people considered eating beef as an expensive nourishing "medicine".
People began to eat beef in earnest after the civilization and enlightenment of the Meiji period. Meat culture in Japan has made great progress and in recent years, there has been a "meat boom" with so many restaurants specializing in meat/beef dishes.
Gyunabe FAQ
What is the feature of Gyunabe?

The biggest diffference between Gyunabe and Sukiyaki is that beef in Gyunabe is not grilled. Therefore, gyunabe's beef is more tender while sukiya have richer flavor of meat.

What is Gyunabe Bento?

Gyunabe Bento becomes popular since its apprearance in anime/ manga Demon Slayer: Kimetsu no Yaiba. Gynabe Bento is bento with gyunabe being used as topping. As gyunabe has less liquid than gyudon, it works better for the bento.
How to make Gyunabe?
Ingredients
| | |
| --- | --- |
| Ingredients (for 4 servings) | |
| Beef | 300g |
| Green onion | 1 |
| Shungiku (chrysanthemum greens) | 100g |
| Shiitake | 6 |
| Yakitofu | 1 |
| Egg | Four |
| [A] Water | 1 and 1/2 cup |
| [A] Soy sauce | 3 tbsp |
| [A] Mirin | 1 tbsp |
| [A] Sugar | 2 tbsp |
| [A] Kezuribushi (dried fish shavings) | 2 packs (5g) |
| [B] Red miso | 80g |
| [B] Sugar | 1 tbsp |
| [B] Mirin | 1/2 tbsp |
Cooking method
Preparation
Beef
Cut beef into small, bite-sized pieces.
Vegetables
Cut green onions into 1cm width.
Cut the chrysanthemum greens into quarters.
Trim stems from shiitake mushrooms and cut them in half.
Tofu
You can buy yakitofu at supermarkets or convenience stores and cut it into about 8 pieces.
Make sauce
Put all the ingredients in [A] in a small pot and bring it to a boil. Turn off the heat and let it sit for 10-15 minutes.
Arrange the nabe
Heat the pan and add the sauce in step 2. In the center, put [B], green onions and arrange beef, vegetables and yakitofu around.
Serve
After arranging all the ingredients, boil and enjoy the meat and vegetables with beaten egg.
Restaurants
Araiya (荒井屋)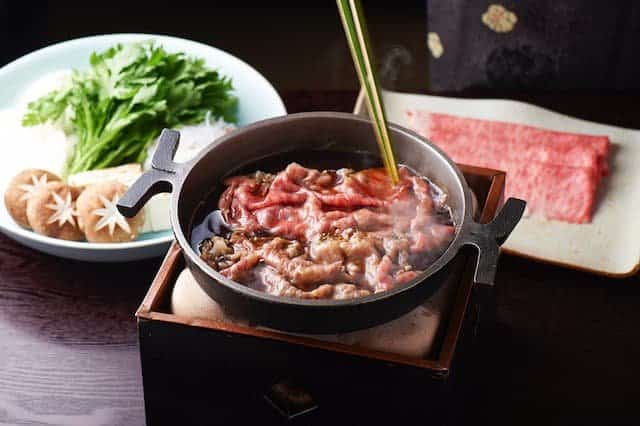 Araiya, a long-established gyu-nabe with a history of over 120 years. Everything began in 1895 when Shobei Arai, the founder, founded a gyu-nabe restaurant in Naka-ku, Yokohama (former Hisakata-cho). Throughout the long history, it still continues to develop thanks to the traditional gyu-nabe which has been loved by Japanese people. Apart from it, Araiya also offer various dishes from beef such as shabu-shabu, gyu-nikomi, gyu-yakigushi, beefsteak don, etc.
Gyunabe Yonekyu (米久本店)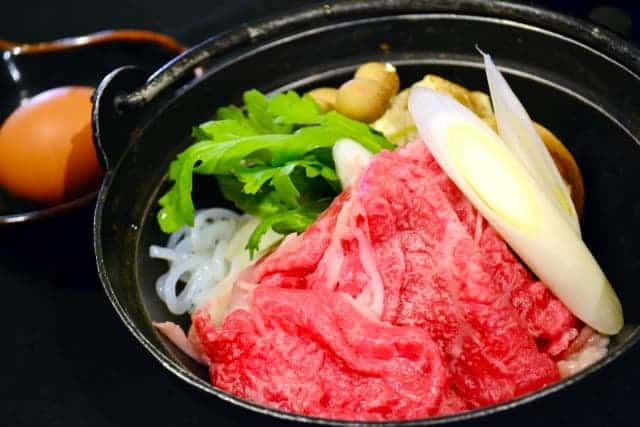 Yonekyu Honten has been serving gyunabe since its opening in 1886. With two choices on menu: Toku no Gyunabe and Ue no Gyunabe, you can easily enjoy the taste of high-end gyunabe restaurants but with reasonable price. You can order additional rice or meat as a substitute.
Toyodaya (豊田屋)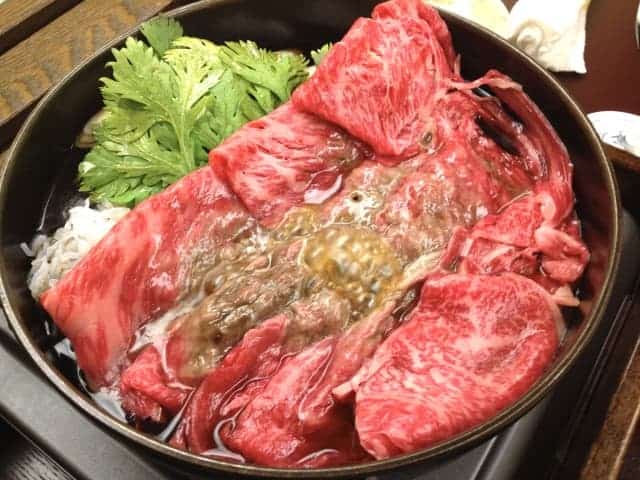 Toyodaya is a popular izakaya in Hirai. Here, from mid-September to April, you can enjoy a variety of hot pot dishes and among them, of course, beef hotpot is one of the most popular. Toyodaya's gyunabe has an amazing taste with the refreshing soy sauce base. You can also order the half-size nabe.
Takeaway
Generally speaking, gyunabe can be considered as simple version of Sukiyaki. In cold winter days, it is a great idea to enjoy beef hotpot with family and friends. You can easily find gyu-nabe restaurants everywhere in Japan. Otherwise, we also recommend you to make it at home as the recipe for making gyunabe is not complicated at all!
If you are a fan of Japanese nabe, check it out these articles!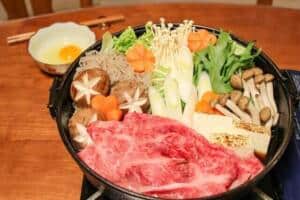 Sukiyaki (すき焼き)
Imagine sitting around a table with your family or friends, enjoying a steaming pot of delicious food cooked right in front of you. This is the experience of…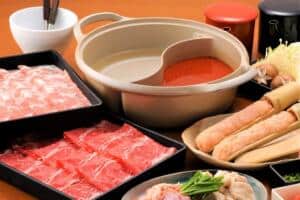 Nabe (鍋)
The weather is getting colder now in Japan. Among the various amazing traditional food of Japan, what do you think is the most suitable for a cold winter? If…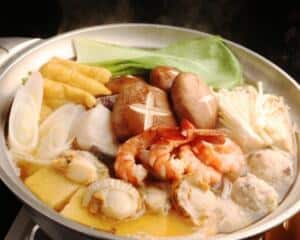 Chanko Nabe (ちゃんこ鍋)
【WHAT IS CHANKO NABE?】 Chanko Nabe is a traditional Japanese food that is specialty hot pot at sumo stables. Sumo wrestlers eat this hot pot everyday after…