Introduction to Ankou Nabe
In Japan, they are improving their food and always make it as healthy as possible. An example of this is by having nabe during the winter season, and they also gain plenty of collagen that makes their skin beautiful. Ankou Nabe is a representative Iwaki cuisine consisting of Fugu or Anglerfish hot pot. Locals in eastern Japan eat this as their typical hot pot dish in winter, and many shops offer it also as part of their menu. It is a luxurious pot made of ankimo or monkfish liver, miso, vegetables, etc., that condenses the flavor of anglerfish. 
Moreover, if you read about fugu being the western Japanese specialty dish, this dish is not new to you at all. Now, let's get to know more about the charms of Ankou Nabe that made it a staple winter dish. 
Etymology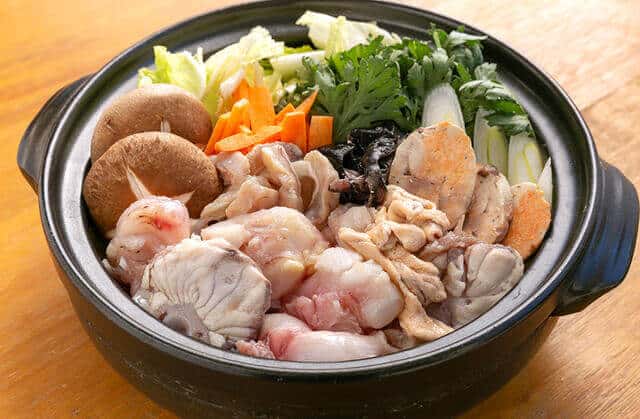 Ankou Nabe (あんこう鍋) has a meaning behind its name. "Ankou (あんこう)" or "(鮟鱇)" meaning "anglerfish" in English translation and "Nabe (鍋)" meaning hot pot making it a hot pot dish that uses anglerfish.
What is Ankou Nabe?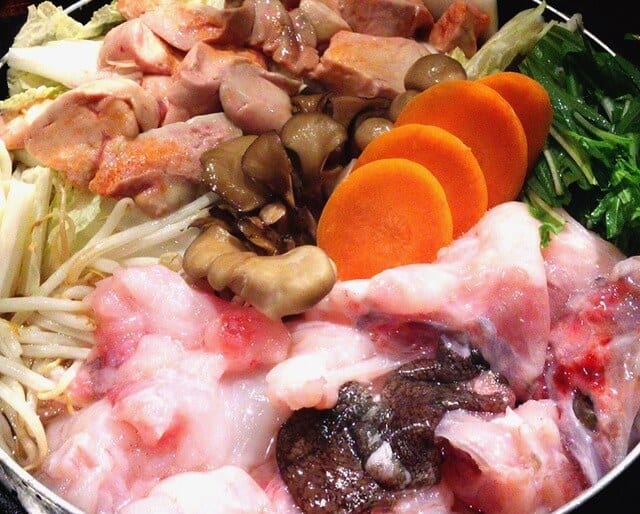 Ankou Nabe (あんこう鍋) is a traditional Japanese food from Iwaki City, Fukushima Prefecture and is a staple winter food of the prefecture. It is a typical winter hot pot that, when the season comes, is one of the home cooking that you can easily enjoy at home. Ankou is a high-class fish called "Fugu (blowfish)" in the west and "Ankou" in the east. It is an excellent dish that condenses the flavor of anglerfish because it uses meat and skin, internal organs, gills, and bones. 
The light pink color of the raw Ankou is soft, flavorful, and has no fishy odor. The Ankou becomes reddish-brown when it is frozen; the fat decomposes and emerges, causing discoloration. To bring out the original taste of Ankou or anglerfish, locals thoroughly remove dirt, harsh taste, miscellaneous taste, odor, excess water, and slime in advance. Pretreatment before boiling is very important for this kind of fish.
History of Ankou Nabe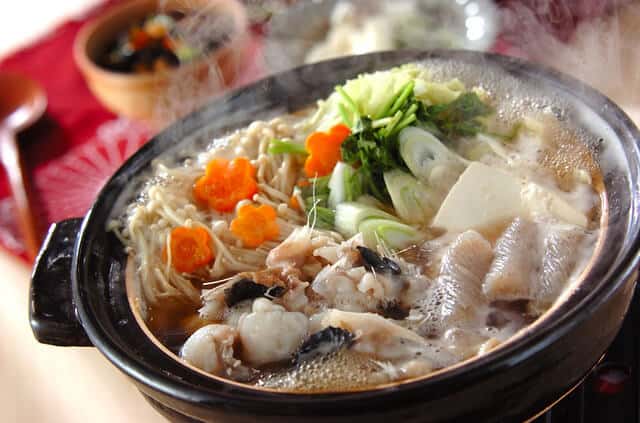 Anglerfish are deep-sea fish that live on the bottom of the sea on sand and mud. It looks grotesque, but it has nothing to throw away. Ankou Nabe was originally a fisherman's dish. Locals said that a mini version of Anko Nabe, "Anko Juice," was devised and served by many people in various places visited. Ankou Nabe has a long history. In the Edo period literature, there is a saying that locals presented it to the shogun's family. It seems that they presented it because it was high quality and delicious. Locals mainly ate this dish at restaurants and specialty stores, followed by salty soy sauce.
Another theory is that the Ankou Nabe took its root from the mage of winter Oarai. When the "Oarai Anglerfish Festival" began, the taste of the anglerfish juice offered varied. Therefore, the executive planning committee gathered the cooks of Oarai inn and held a cooking study session to unify the taste and improve the quality base. What was shared in this was to replace the roasted liver in a pot and add miso. The origin of the deliciousness of the various Anko Nabe that we encounter at many Oarai inns and restaurants today is due to this kind of unity and cooperation.
Ankou Nabe Recipe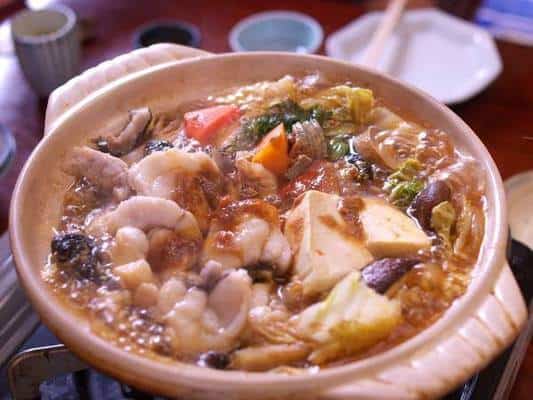 You want to know how to cook this special dish Ankou nabe at home, then first let's get to know its ingredients. Ankou Nabe's ingredients include chopped Anko, Chinese cabbage, shiitake mushrooms, carrots, green onions, and the spices are miso paste, kombu or kelp, and sake.
How to Make Ankou Nabe?
Put water to large pot.
Put 6 cups of water into a large pot or slow cooker (nabe)
Adding kombu or kelp.
Add kombu and let sit for 20 mins at room temperature and then remove it.
Adding Anko and sake until it boils.
Add sake and Anko (goosefish) and heat on high until mixture boils. Skim the top of the soup after.
Continue boiling and add miso paste.
Reduce heat to medium, then add miso paste and mix.
Boil for several minutes.
Add remaining ingredients, cover, and boil for 5-10 minutes (until cooked).
Serving it.
Sample the soup and add miso to taste.
Four Main Types of Ankou Nabe Seasoning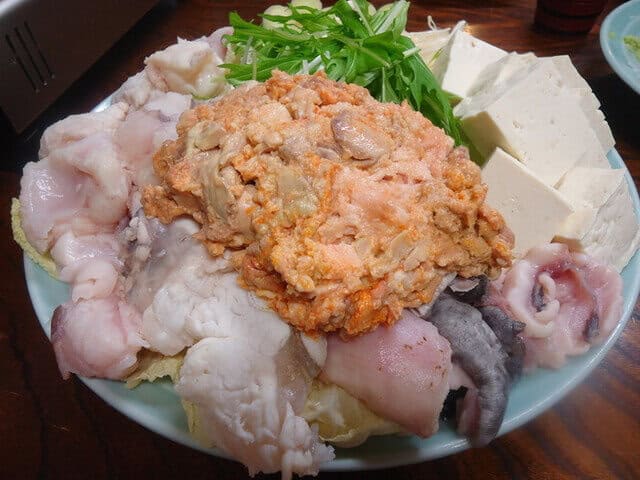 Miso Flavor
Locals served this at guest houses, inns, izakaya, and Japanese-style restaurants as a fisherman-style flavor. The shop's warishita (kind of seasoning) gives it a unique character. 
Soy Sauce Flavor
Luxury restaurants such as Japanese restaurants prefer Ankou nabe with an elegant soy sauce flavor. To make it miso-flavored, add a dumpling-like mixture of liver and miso to the pot as you like. 
Dobu Soup
You can enjoy a richer Anko Nabe at Oarai Town, Hitachi City, and Kitaibaraki City stores. The name comes from the fact that the melted ankimo (bean liver) makes the soup cloudy.
Fisherman-style Soup
The cooking method is different from the above-mentioned dobu soup, and the hot pot made with only the water of anglerfish and vegetables. It was useful to fishermen because they made this one into a nutritious pot with only vegetables, miso, and anglerfish without using water. However, this cooking method takes time and effort, and it isn't easy to make unless you are quite familiar with it, so few restaurants offer it.
Why is Ankou or Anglerfish called "Seven Parts Fish" in Japan?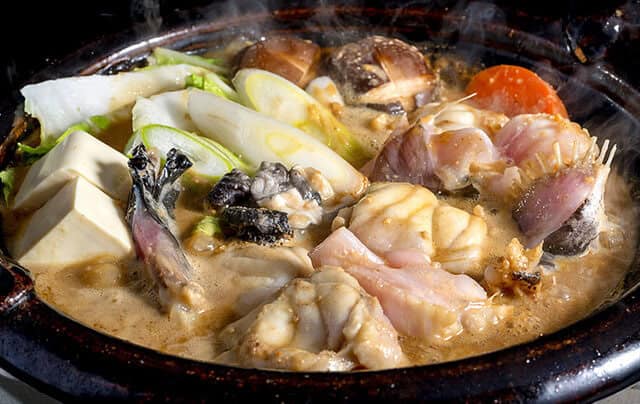 The Japanese call this "Seven parts of Anglerfish" because it indicates the anglerfish meat, and the seven edible parts of anglerfish such as gills, liver, and five other parts are locals put in the nabe.
What is the Anglerfish Processing Method?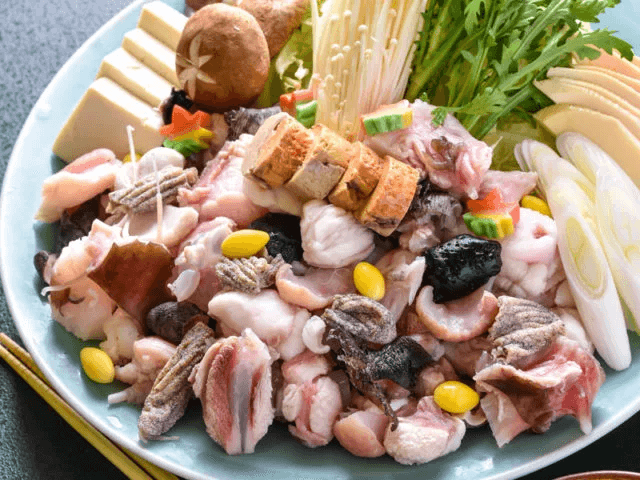 Usually, fish are often cut on a cutting board. However, since the surface of anglerfish is slimy and has a soft body that can withstand water pressure, it is difficult to handle large individuals on a cutting board. Therefore, a method called "hanging off" is adopted. The method is to hang the anglerfish by hanging a hook-shaped object on the lower jaw, stabilize it by adding water or ice, and handle the anglerfish while rotating it. This method started around the Edo period. Even now, the Oarai Hotel in Ibaraki Prefecture and some restaurants are still hanging it in front of their store.
What does the meat of Anglerfish taste like?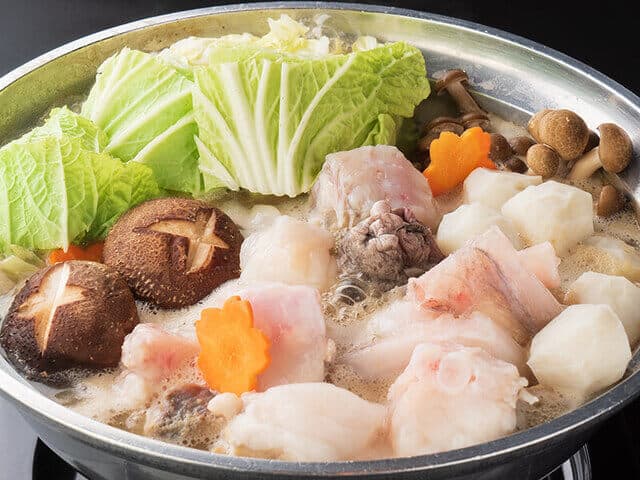 Anglerfish meat is light like white fish, but it has a particular flavor on its skin and face, so if you put it in a pot, it will be delicious because it has a lot of broth from anglerfish and contains a lot of collagen, so it's good for your skin. Also, the meat and the ankimo have a rich taste and are said to have a texture like foie gras, and some people say it tastes better than foie gras. Some locals also say that the anglerfish liver has the same rich taste as fugu.
Recommended Ankou Nabe Restaurants
Asakusa Darumaya (Fukushima)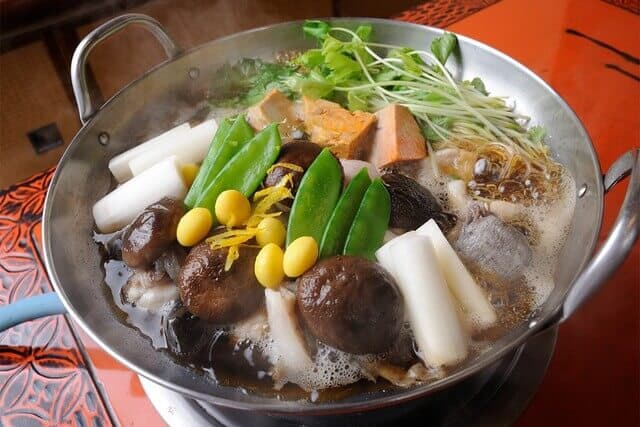 Asakusa Darumaya is a restaurant where you can enjoy delicious gems filled with the owner's commitment. You can relax and enjoy luxurious Japanese food in the calm interior. It can also be used by a large number of people, up to 75 people. They serve Ankou Nabe for two servings, and they also offer Ankou Nabe made with dobu soup that costs about 5,880 yen (excluding tax).
Shogatsuso (Fukushima)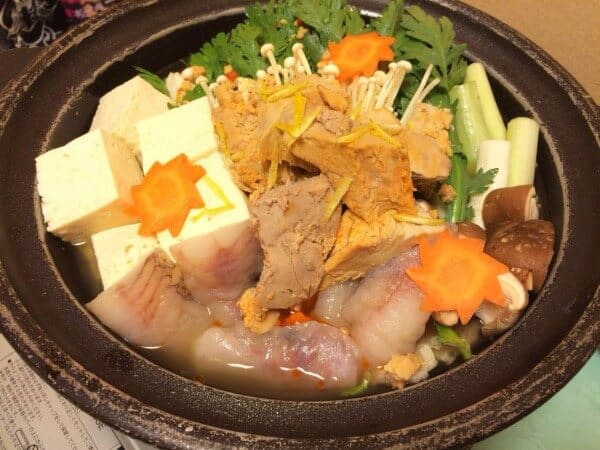 Shogatsuso will entertain you with a luxurious and proud dish that harmonizes the delicacy of Japanese food with the gorgeousness of Western food with the skill of a chef who knows all about the fresh seasonal taste. The shop offers traditional Dobu soup-style Anko Nabe as a course meal or as a single item menu. 
Food Storehouse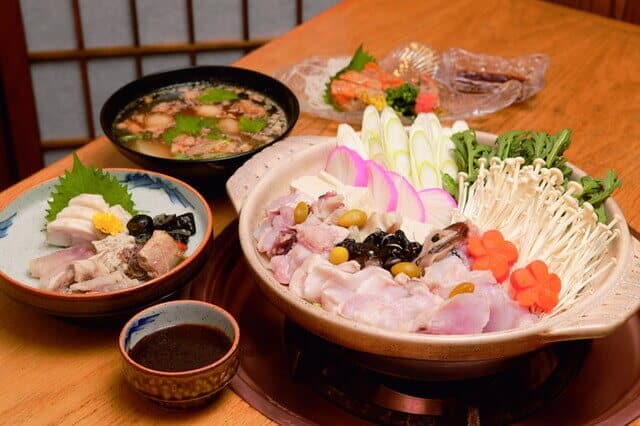 Food Storehouse shop offers various menus such as sashimi, boiled fish, grilled fish, rice bowls, soba, hot vegetables, tempura, and set meals, mainly Japanese food. The fresh seafood and ingredients used in their shop are ordered from distant production areas so that their customers can enjoy them with peace of mind and deliciousness. The shop serves the Anko Nabe, made with miso that uses plenty of liver, in a small pot for one person.
Kinman (Ibaraki)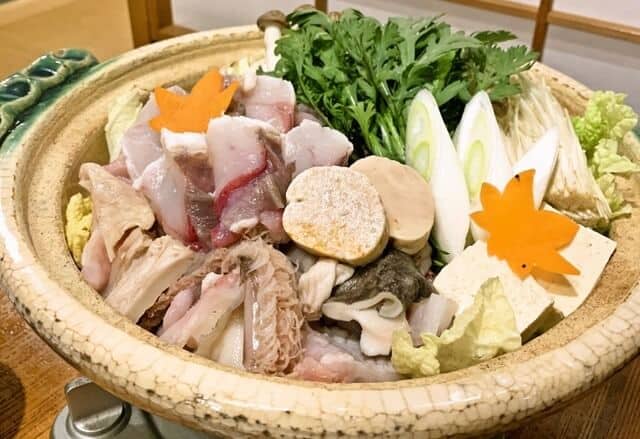 Kinman is a restaurant with fashionable local and creative dishes on the menu. Some private rooms and counters make you feel like a hideaway, and we have a large banquet hall for up to 130 people—various Japanese dishes such as eel dishes, hot pot dishes, and single dishes. They use plenty of seasonal fresh fish procured from Nakaminato and other seasonal vegetables harvested locally. You can enjoy fresh fish dishes such as angler fish pot. The shop will serve Ankou nabe from November to the end of March.
Fortunately (Ibaraki)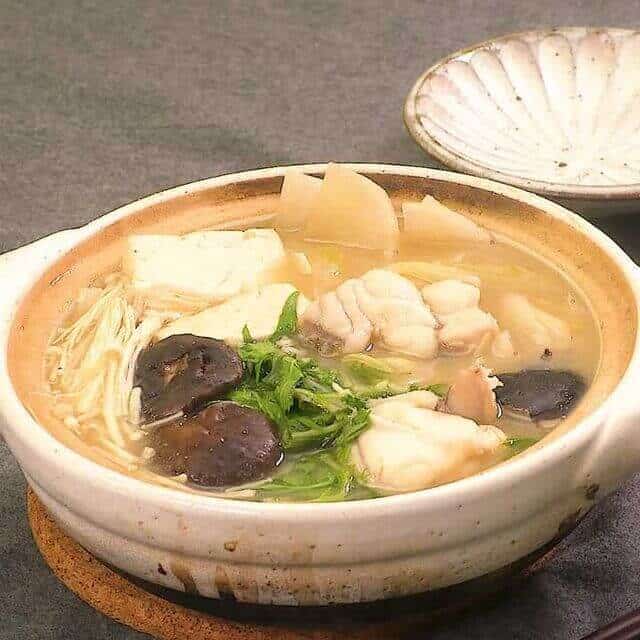 Many customers suggested going here if you want a nice, cozy, calm ambiance while enjoying your food. You can enjoy fresh fish dishes such as angler fish pot. You can enjoy delicious sake and locally sourced seafood. This is a restaurant where fish are delicious. Not only sashimi but also Ankou nabe is good in the cold season.
Conclusion
In Japan, the flavor of the nabe differs depending on each home and restaurant. The best season of anglerfish is between December and the end of February when the liver grows fat. Since it is one of the finest fish, it may be rare to line up on the table regularly. Tasting different flavors of angler nabe at different restaurants are one of the fun things you can try in Iwaki City.