We can say that Japanese people are so in love with fried food, from karaage (唐揚げ), kakiage (かき揚げ) to satsuma age (さつま揚げ). There are so many dishes, right?! But that is not all! Today, we are going to introduce another fried dish called Tatsuta age (竜田揚げ). Let's see what it is, its history and where to eat the most delicious tatsuta age!
What is Tatsuta Age?
Tatsuta age (竜田揚げ) is a type of deep-fried food, mainly made from chicken with seasoning of soy sauce, sprinkled with potato starch and then deep-fried in oil. However, beside chicken, tatse age can be made using pork or fish like pacific saury. It is a kind of karaage (fried chicken) and sometimes people also call this dish with the name karaage too. However, there are also some distinctive differences between the two dishes. Let's find out below in this article!
Health info
| | |
| --- | --- |
| Nutrients per 100g of chicken tatsuta-age | Calories |
| Energy | 265 kcal |
| | |
| Fat | 21.04g (189.36 kcal) |
| | |
| | |
| --- | --- |
| Nutrients per 100g of pork tatsuta-age | Calories |
| Energy | 311 kcal |
| | |
| Fat | 22.62g (203.58 kcal) |
| | |
| | |
| --- | --- |
| Nutrients per 100g of saury tatsuta-age | Calories |
| Energy | 335 kcal |
| | |
| Fat | 25.2g (226.8 kcal) |
| | |
The figures refer to the "Food Composition Database" (by Ministry of Education, Culture, Sports, Science and Technology)
Etymology and history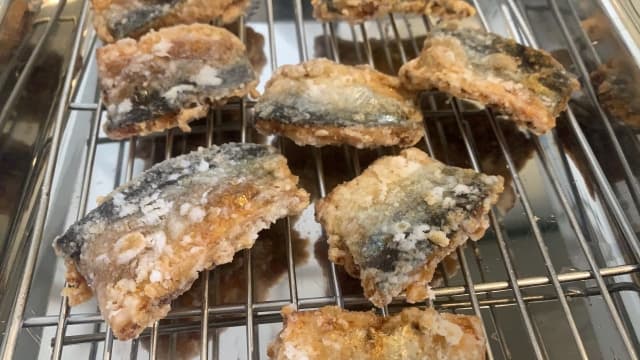 The word "Tatsuta" (竜田) of the dish comes from the "Tatsuta River" that flows through the northwestern part of Nara Prefecture. This place has long been known as a popular autumn foliage spot in Japan. Tatsuta-age is deep-fried with reddish-brown color with some white parts that are the color of potato starch. As it resemble the autumn leaves of the Tatsuta River and the shining surface of the water, the dish was named after the river.
There is another theory about the name Tatsuta age that the fried chicken was onced cooked and served in the former Imperial Japanese Navy's ship named Tatsuta. At that time, the chicken, which was made with potato starch instead of wheat flour, was so food that after that, the dish served in that ship was named Tatsuta.
There is still uncertain upon the origin of the dish. However, there was one hint is that "fried chicken" first appeared on restaurant menus in the early Showa period.
The difference between Karaage and Tatsuta age
In contrast to Karaage, deep-fried chicken that is seasoned with ingredients such as wheat flour and potato starch and fried in oil, Tatsuta-age use only potato starch. However, it seems there is not a certain distinction between the two dishes, as in some households, even the fried dish made only from potato starch is called Karaage.
Moreover, Karaage has a wide variety of recipes, such as whether to use garlic as a base, ginger, or both. Meanwhile,Tatsuta-age is basically seasoned with ginger soy sauce and sake (or mirin) so that it has the reddish brown color looks like autumn leaves. If you fry it at a high temperature of 180 degrees, the potato starch will look like a white flower.
Click here to find out more about Karaage!
Some types of Tatsuta-age
Kujirano Tatsuta-age
This is a dish of deep-fried whale meats which are seasoned with shoyu and ginger and then coated with katakuriko (potato starch). It used to be a staple food as an important source of protein in the postwar period in Japan.
The history of whaling in Japan is said to begin in the Edo period in Taiji town in Wakayama prefecture. However, some written records show that it could date back to the Nara period. It means that the food tradition of whale may have a long history, even before the Edo period. This dish has been regional food in Wakayama for a whole long time and is still served as school lunch.
Lamb tatsuta-age
Although the most simple version of tatsuta-age is chicken, there are also other kinds of meat which can be use to make tatsuta-age dish. If you want something different, how about trying lamb? It is a time-saving recipe that only needs to be seasoned and fried. It has a rich flavor and can be enjoyed even without sauce, the juicy texture is also a perfect match for both rice and sake.
Tuna tatsuta-age
Another choice instead of chicken and lamb is tuna. You can cut tuna into bite-sized and marinated in wasabi and then fried with potato starch.Garlic chips go really well with the deep fried tuna so do not forget to add them together!
Mackerel tatsuta-age
Slice mackerel into pieces and add soak in seasonings for about 10 minutes. Then fry with potato starch in a frying pan. After that, you can add your favourite vegetables such as paprika or sweet potato so that the dish can look more appetizing and delicious.
How to make delicious Tatsuta age?
Recipe
| | |
| --- | --- |
| Ingredients | Quantity (2-3 servings) |
| Chicken thigh | 250g |
| | |
| Sudachi | 1 piece |
| | |
| Seasoning | |
| | |
| Sake | 100cc |
| | |
| Grated ginger | 1 tsp |
How to make Tatsuta-age with chicken?
How to make Tatsuta-age?
Preparing the chicken
Put the prepared seasonings and ingredients in a bowl and marinate the chicken for about 20 minutes.
Lightly press the surface of the chicken with kitchen paper. Sprinkle the chicken with potato starch before frying.
Frying
Heat the frying oil to 180°C and then fry the chicken. The timing to pull it up is just before the crackling sound stops and sounds again.
Just after the crackling sound, put the chicken out of the fried-pan.
Serving
Drain the oil, place the food on a plate.
Sprinkle with salt if you want to and garnish with sudachi.
Recommended sauces for Tatsuta-age
| | |
| --- | --- |
| Sweet and spicy sauce | |
| Mirin | 1 tbsp |
| | |
| Sake | 1 tsp |
| | |
| White sesame seed | Moderate amount |
| | |
| --- | --- |
| Sweet sake sauce | |
| Mirin | 2 tbsp |
| | |
| Soy sauce | 2 tbsp |
| | |
| Potato starch with water | Moderate amount |
| | |
| | |
| --- | --- |
| Tomato sauce | |
| Tomato cut in half | 3 cubes |
| | |
| Sugar | 1 tbsp |
| | |
| Vinegar | 2 tbsp |
| | |
| | |
| --- | --- |
| Koumi (flavor) sauce | |
| Japanese leek | 3 |
| | |
| Soy sauce | 4 tbsp |
| | |
| Sesame oil | 1 tbsp |
How to eat Tatsuta-age?
A simple dish but do you know that there are actually different ways of arranging it!
Simmered in dashi stock
This is one of the best ways of eating for tatsuta-age crumble. You can eat grated daikon radish and deep-fried tatsuta-age in dashi soup stock. It is really easy to eat and the food still remains fresh even with the left-over tatsuta-age.
Nanbanzuke
To make the Nanabn-zuke, stir-fry thinly sliced vegetables, dip them in koumi (flavor) sauce and add Tatsuta-age.
Tatsuta-age rolls
You can make a roll or onigiri with tatsuta-age marinated in sweet and spicy sauce also. Not only the chicken, you can also add some vegetables such as lettuce or plum paste if you like the sour taste.
Restaurants
Minami Aoyama Itoya (南青山いと屋)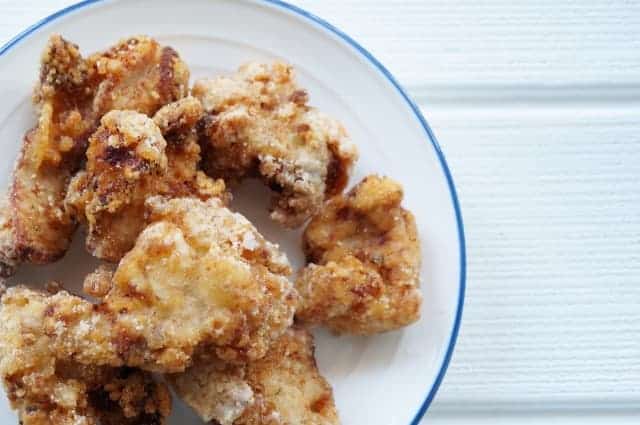 Itoya is a famous restaurant that specializes on Tatsuta-age. The owner of it, who has been featured in many media such as TV shows and gourmet magazines, opened Itoya with the desire to deliver the creativeness of Japanese cuisine to everyone. In this restaurant, you can have a chance to enjoy Japanese dishes that is constantly evolved and incorporated new cooking methods from around the world. Sound really amazing, right?! Come on and try by yourself!
Hinadori (雛どり)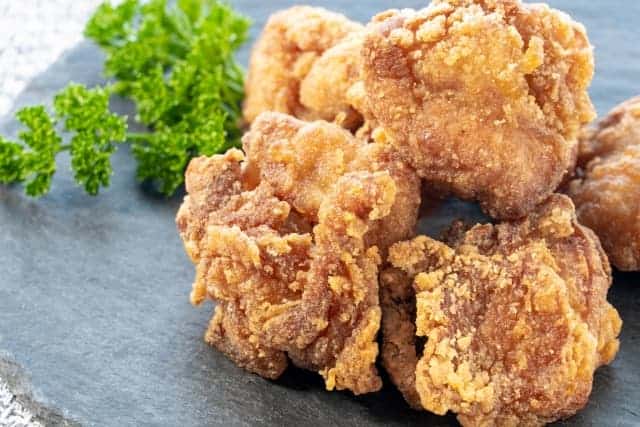 This is a famous chicken restaurant where people line up during lunchtime to get their hearty and exquisite deep-fried chicken. Tatsuta-age, which is well seasoned with spices, is among the best chicken in Asakusa.
Toyoda (とよ田)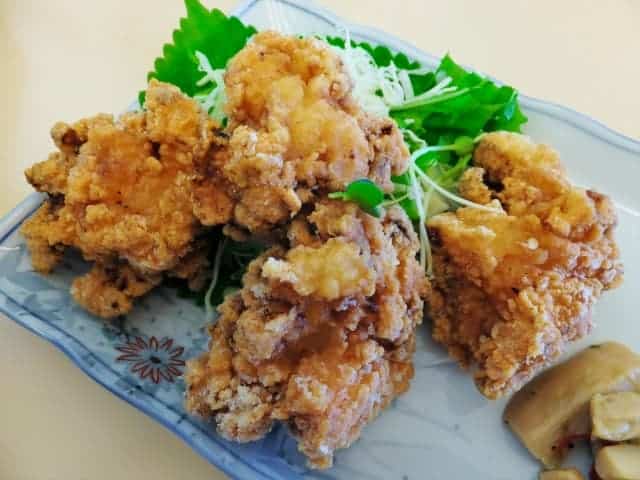 Toyoda has a history of more than 40 years and is known for its unique deep-fried chicken. Chicken is fried in ultra-high temperature oil without seasoning or batter. One of the featured menu here is the fried chicken wings that you can eat even the bones. Such an amazing place to visit and try Tatsuta-age!
Takeaway
Isn't it really interesting? Trying fried chicken from all over the world, but what is the difference between Japanese fried chicken and other countries?! Try it by yourself and tell us your impression. However, Tatsuta-age is not only made by chicken, you can also enjoy it with pork or fish. If you are interested in this recipe, what about trying our recipe at home. We are waiting for your result!
If you are a fan of fried dish, do not miss this article about karaage!