Oita Prefecture, which has one of the top chicken consumption in Japan, is proud of its famous local gourmet "Toriten". However, it is interesting that each restaurant has a different flavor of "Toriten". This time, we want to introduce about its history and its charm. Let's see why Oita prefecture is so popular with this dish!
What is Toriten?
Toriten (とり天) is a local Japanese tempura-style fried chicken from central Oita prefecture. The chicken used for toriten is selected from different parts depending on the store and homes, such as peach meat, breast meat, and chicken breast. Most of the dishes have their skin removed because locals battered and fried it in oil.
Some people may think of Toriten as chicken tempura, but according to the people of Oita prefecture, it is a different food from tempura. This is because tempura does not have any seasoning, but toriten has. In general, Japanese locals season it with soy sauce, mirin, garlic, ginger, etc. Tori ten has unique and chewy dressings and has characteristics that are neither tempura nor fried chicken.
Etymology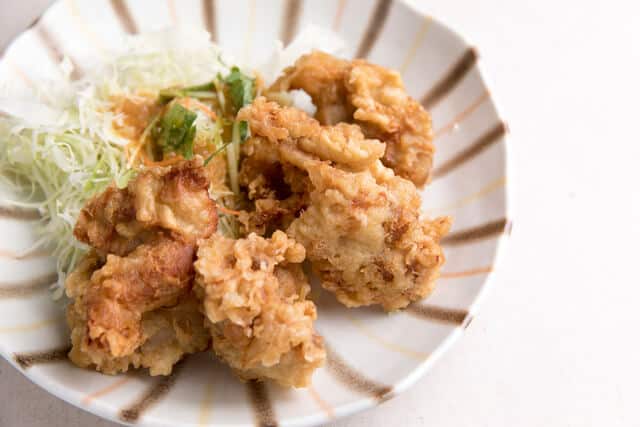 The name "Toriten (とり天)" which means Chicken tempura has two words. It consists of the words – "Tori (鳥/とり) meaning bird meat, especially chicken meat and "Ten (天)" which is short for Tempura (天ぷら).
Toriten History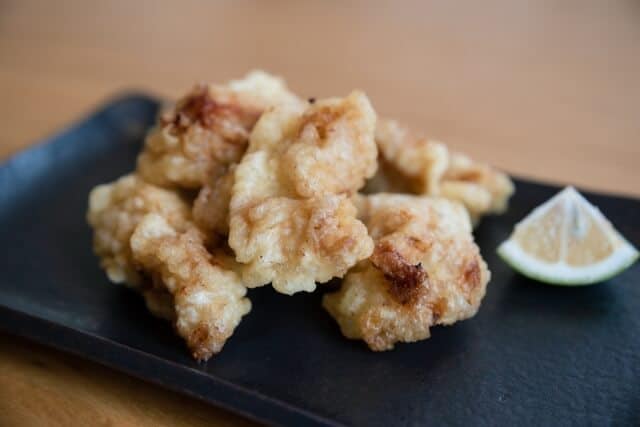 For many Oita residents, Toriten is a staple of home-cooked dishes that are up on the table as a matter of course. Regarding the origin of such Toriten, there is a theory that it is actually "Toyoken" in Beppu City and a theory that it is "Kitchen Ikoi" in Oita City.
The theory that it originated from the store "Toyoken"
Toyoken, the origin of Toriten, claimed by the Beppu City Tourism Association, is a long-established restaurant founded in 1918. Its founder, Shiro Miyamoto, is a famous cook as the emperor's cook. Mr. Shiro Miyamoto first created the Toriten which arranged Chinese food in a Japanese style. Initially, people working in the restaurant served this as a meal, but eventually, it was improved and appeared on the menu of the restaurant. The menu name at that time was "Deep-fried chicken", and the description "Chicken no Kamaboko no Tempura" is in there too. This menu gained popularity and spread in a blink of an eye, and the name "Toriten", which stands for chicken tempura, became famous.
The theory that it originated from the store of Kitchen Ikoi
The theory is that the origin of Toriten is "Kitchen Ikoi", which is claimed by the Oita City Tourism Association. This is jointly developed with the owner of "Kitchen Maruyama" which is also in Oita City, from around 1960 to devise Toriten. They have sold Toriten at a store next to Tokiha, Funaimachi, Oita City, around 1958 by the late Yoshio Watanabe, the representative of Kitchen Ikoi. The refreshing flavor was more popular than the fried chicken. The disciples of Mr. Watanabe opened stores one after another, and Toriten became widespread.
Toriten Recipe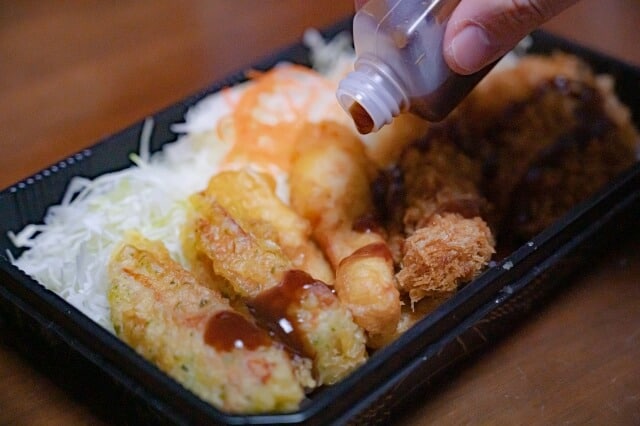 Toriten Ingredients
| | |
| --- | --- |
| Ingredients of Toriten for 4 persons | |
| Chicken thigh | 200g |
| Chicken breast | 200g |
| Cooking sake | 14g |
| soy sauce | 14g |
| Sesame oil | 15g |
| Grated ginger | 7g |
| Grated garlic | 4g |
| water | 70g |
| Beaten egg | 50g |
| Cake flour | 42g |
| Starch | 28g |
| Fried oil | 120g |
| Cabbage (shredded) | 20g |
| Ponzu sauce | 28g |
| Mustard | 2g |
How to make Toriten
Cutting the chicken
Cut chicken breast and chicken breast into bite-sized pieces.
Covering the chicken with batter
Put the chicken in the batter, rub it well with your hands, wrap it, and leave it in the refrigerator for about 15 minutes.
Dressing the chicken with batter
Next, put the ingredients for the garment or dressing in a bowl and mix well. Then, put the chicken with the batter and mix well.
Frying the toriten
Add frying oil to a height of about 3 cm from the bottom of the frying pan and heat to 170 ° C. Then, add the chicken and fry for about 7 minutes until cooked, then drain the oil
Serving
Serve cabbage and 5 in a bowl, and add ponzu and mustard to complete.
Please adjust the frying time according to the size of the meat. You can also use chicken breast to make it delicious.
What part of chicken to be use and seasoning to use?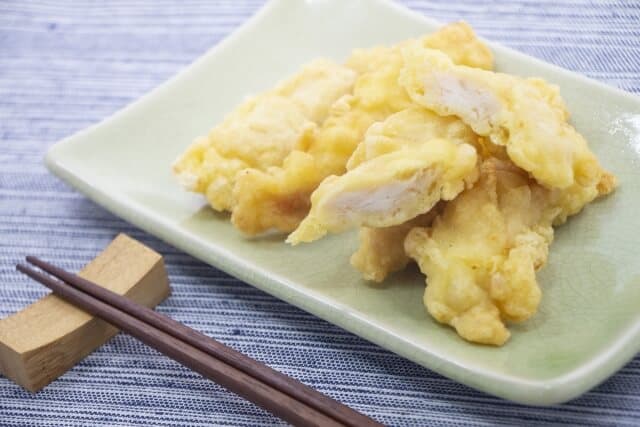 You can use any portion of the chicken. Different parts of the chicken are used for toriten, such as thighs, breasts, and white meat, depending on the restaurant or household. In most cases, the skin is removed because the chicken is battered and deep-fried. They cut into small pieces and soak the meat in soy sauce, sake, and garlic powder before wrapping it in tempura powder and deep-frying.
Tori ten is usually with fresh greens and eaten hot, right after being fried. Ponzu sauce (prepared with soy sauce and vinegar) and mustard is the most frequent sauce. It's also popular in Oita to eat with a Kabosu-based sauce.
How to cut Toriten?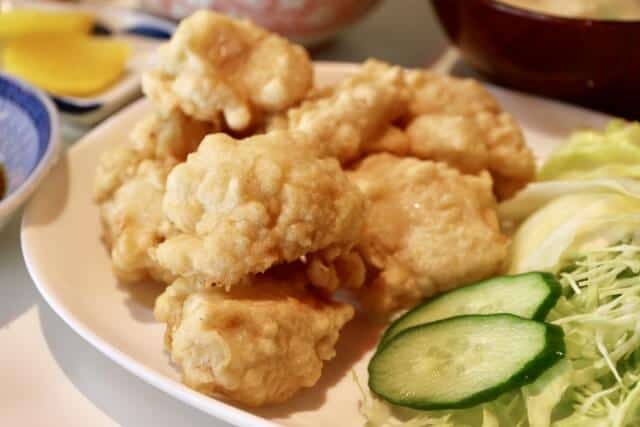 Toriten is mostly a chicken that has been cut into pieces that are easy to eat. Therefore, you may not be confused about how to cut it at the stage of eating. If you make a large toriten at home, you should cut it like a chicken cutlet or loin cutlet. Also, when you put it in a bento, it will be easier to use if you cut it in half even if it is a general toriten. There are no strict rules regarding the size and cutting method of Tori ten. Basically, you can just put it on, but if it is difficult for small children to eat, you can cut it to a size that is easy to eat on the spot.
Toriten vs Karaage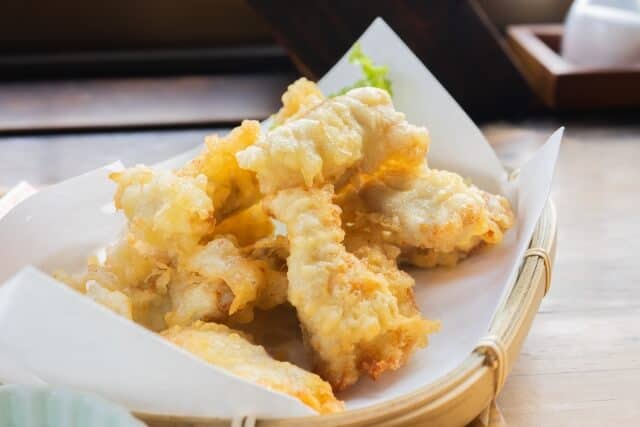 Karaage chicken is coated in flour or potato starch and cooked in light oil, whereas Toriten chicken is battered and deep-fried like tempura. Toriten is almost always served with mustard or ponzu sauce made from soy sauce, vinegar, and Japanese citrus fruit, although Karaage is occasionally served with mayonnaise.
Where to buy Toriten?
Toyoken (東洋軒)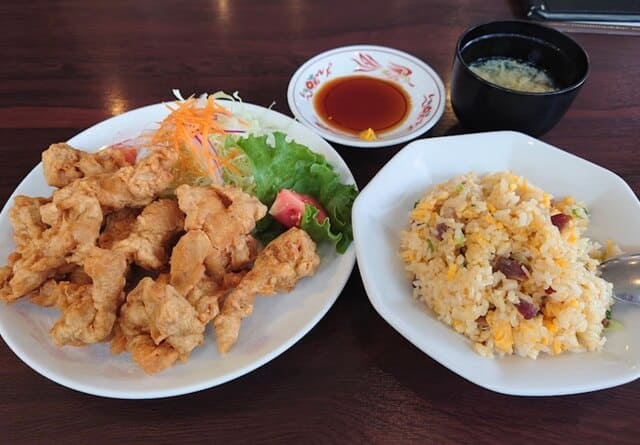 Toriten of "Toyoken" is famous by using only domestic chicken thighs and plenty of eggs without using any water for the batter. With a crispy texture, the meat is plump and tender, and it continues to be delicious even when cooled. The chicken itself is also with seasoning, and the soy sauce that is the base of the seasoning is an original blend only for "Toyoken".
Grill Mitsuba (グリルみつば)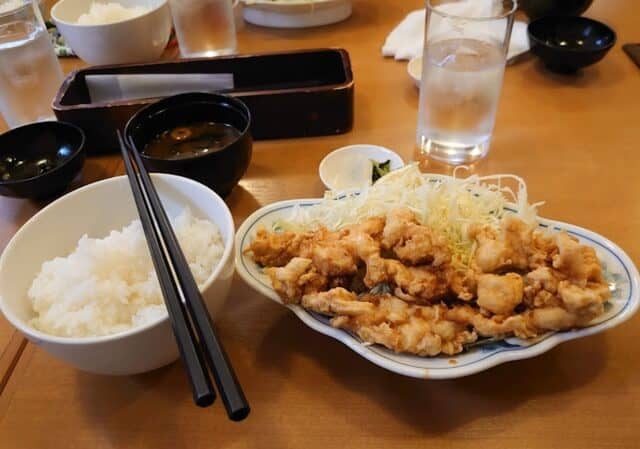 "Grill Mitsuba" Toriten has the same ingredients and taste as it was when they found it. They wrap the raw chicken with a simple seasoning in a fluffy garment to give it a gentle taste. The sauce is homemade, and the best match is the fluffy clothes and the sweet sauce with rich flavor. The taste is exquisite and you can enjoy the original taste of chicken.
Mayakashiya (まやかしや)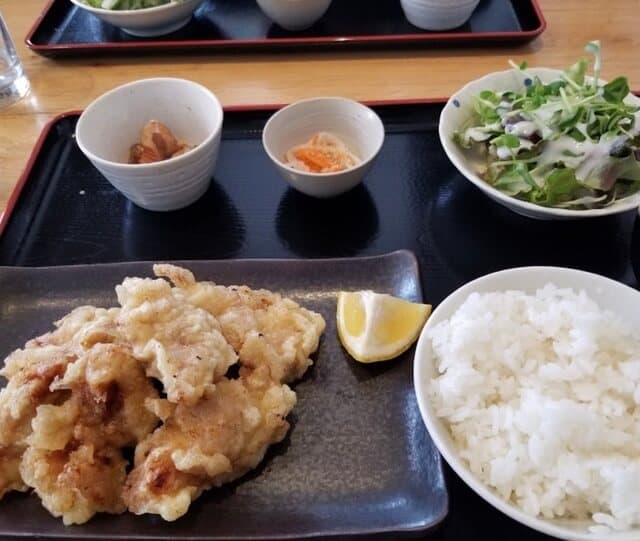 Mayakashiya and original toriten soaked in soy sauce, mirin, garlic, and ginger on thigh meat from Oita prefecture. It has a nice taste, so you can eat it as it is without vinegar and soy sauce. It has a strong taste and goes very well with rice. There is also a type of traditional Toriten that eats meat with ponzu and mustard. At Mayakashiya, you can choose between these two types of Toriten.
Kitchen Maruyama (キッチン丸山)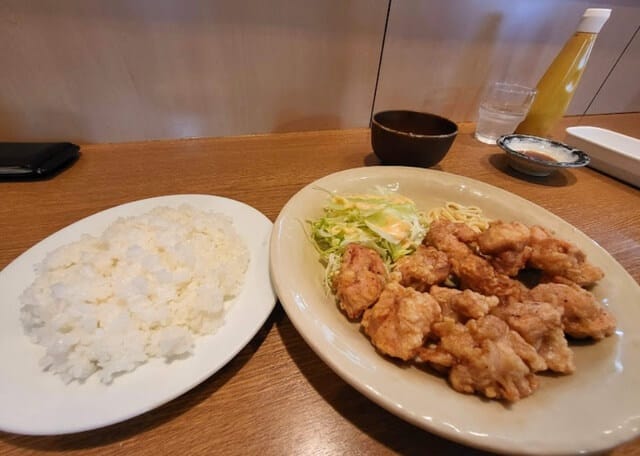 At "Kitchen Maruyama," you can enjoy the soft and juicy toriten made with chicken thighs from Oita prefecture. There are 7 bite-sized toriten on a plate. Toriten and garnished salad and pasta look delicious because they are simple and healthy. Their toriten is deep-fried chicken that the owner soak in homemade sauce in a thin batter.
Takeaway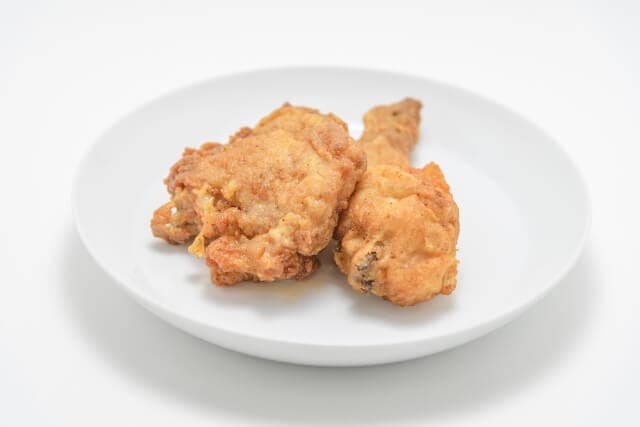 Toriten, a flavor that is distinct from fried chicken and tempura, is a favorite of not only Oita residents but also tourists. If you're on a low-carbohydrate diet, be mindful of how you consume while still enjoying Toriten's charm. Toriten is a simple dish to prepare at home, so make a large batch and reheat leftovers. There are some other dishes popular in Oita prefecture that we recommend you to take a taste of, such as Atsumeshi.