Kushi Katsu is a local dish from Osaka. Not only is it famous in Western Japan, but it's also a popular dish in Tokyo. While it is a common food in the country, there are different types of katsu. So, why do the Japanese love frying meat cutlets?
What is Kushi Katsu?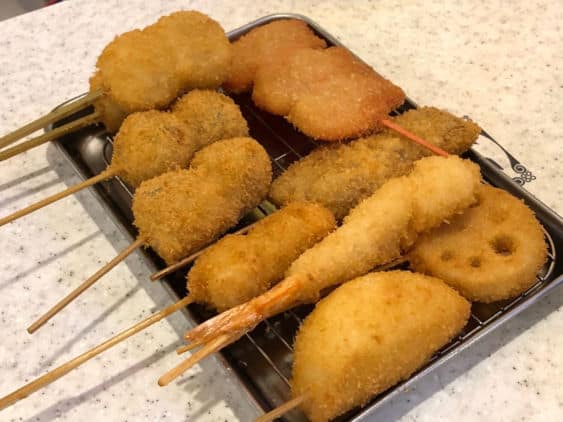 Kushi Katsu (also Kushikatsu) is sometimes referred to as "Kushiage". The creator mixed meat and vegetables together before putting them in a skewer.
Restaurants and even food stalls all over Osaka sell Kushi Katsu. As a matter of fact, it is almost impossible not to find one when you're roaming in the city. To emphasize its popularity, you can find shops that have long queues outside. In other words, people are willing to fall in line and wait just to eat Kushi Katsu.
History of Kushi Katsu
Where is the origin of Kushi Katsu? Of course, many would think it's Osaka. However, it's still unclear up to date. As a matter of fact, there are different theories about its history.
One of the theories is that Kushi Katsu started in downtown Tokyo. In addition to that, the dish is still very popular in the are these days. There are several stores in the Tokyo area that serve this dish in particular.
Meanwhile, another theory is that Nagoya's Miso Katsu came from Kushi Katsu. For instance, they have a tradition of dipping Kushi Katsu in Hatcho Miso soup.
Lastly, the theory that it really originated in Osaka is what most people know. Many believe that Kushi Katsu was born around the end of the Taisho Era. The owner of the restaurant used to give this to the workers. At first, Kushikatsu was just fried beef. However, they added vegetables and seafood later on.
What is the difference between Kushi Katsu in Kanto and Kansai?
While Kushi Katsu is available both in Kanto and Kansai, there's a little difference between them. Likewise, Kushi Katsu is different from Kushiage in Kanto. Unlike in Osaka, where both are just the same.
Kanto-style
In Kanto, Kushiage and Kushi Katsu are not the same. Although both have meat, Kushiage has seafood and vegetables. They would insert the meat and onions alternately in Kushi Katsu. On the other hand, Kushiage contains meat, vegetables, and seafood. Then, they will insert these into bamboo skewers. Lastly, they will cover it with flour and deep fry.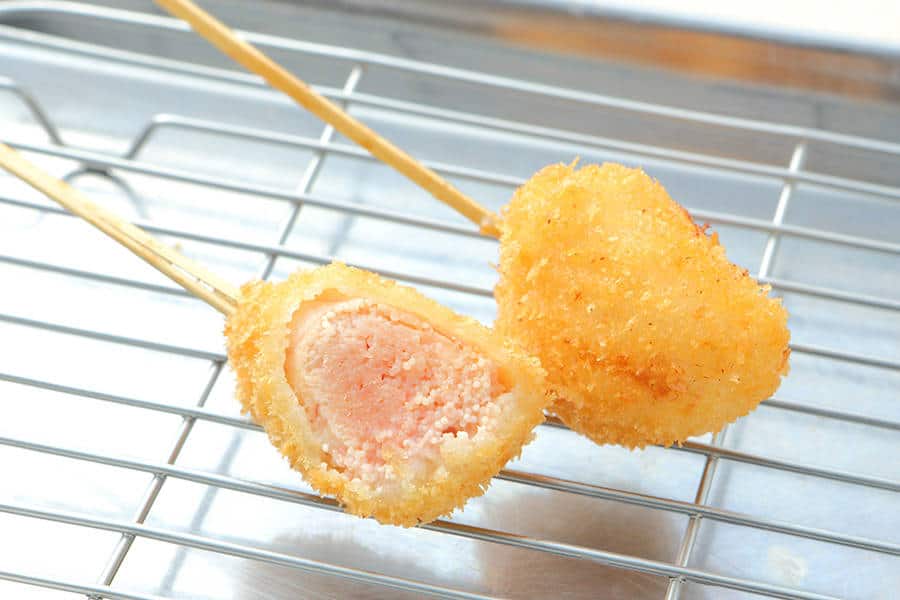 Kansai-Style
In Kansai, both are just alike. People also put meat, vegetables, and seafood together before rolling into the batter. Then, they will insert them into bamboo skewers and deep fry after. In short, Kushiage and Kushi Katsu in Osaka are just the same.
Kushi Katsu Recipe
Making this local food is fast and easy! In fact, the ingredients may be readily available in your kitchen. So, how to cook Kushi Katsu?
What are the ingredients of Kushikatsu?
| | |
| --- | --- |
| Good for 4 persons | |
| beef meat (tenderloin) | 400 grams |
| onions | 1/2 pc. |
| Shiitake | 4 pcs. |
| sweet potato | 1/2 pc. |
| salt | a pinch |
| eggplant | 1 pc. |
| cabbage | 100 grams |
| tomato | 1 pc. |
| lemon | 1/2 pc. |
| egg | 1 pc. |
| flour | 300 grams |
| breadcrumbs | 1 1/2 cups |
| oil | 3-4 cups |
| pepper | a pinch |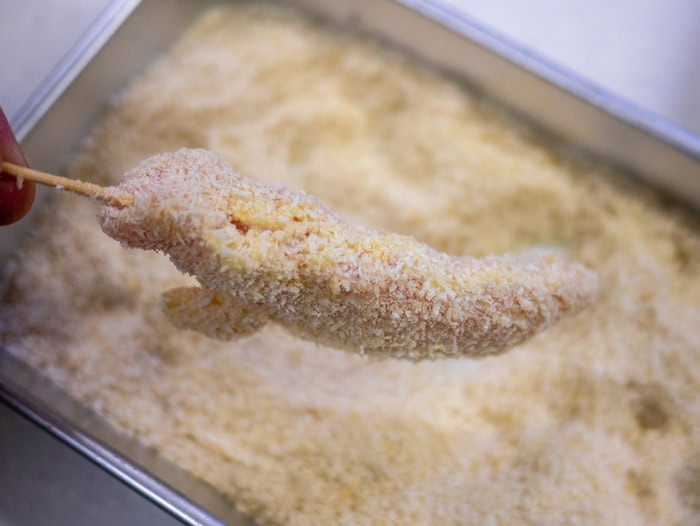 Obviously, this recipe is the same as Kansai-style.
How to cook Kushi Katsu?
Before anything else, prepare the vegetables by rinsing them with water. After that, pat dry and cut them into bite-size pieces. Then, shred the cabbages into thin slices and soak in water.
Secondly, put sweet potatoes in a microwave-safe container. Then, heat it for about two to three minutes to soften them a little. While waiting, pound the beef tenderloin with a meat tenderizer.
In the meantime, insert the meat and vegetables into bamboo skewers. While sprinkling salt and pepper, heat oil in a deep fan.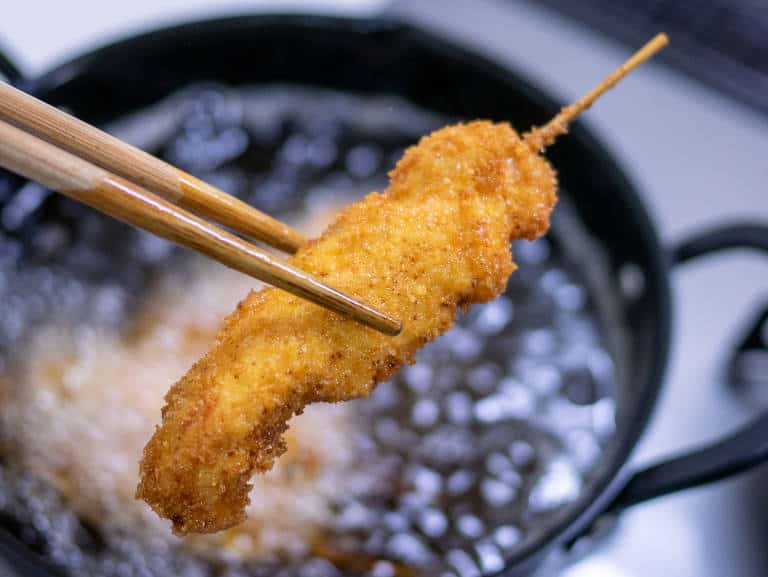 Dip them into flour, egg, and breadcrumbs at this instant. When the oil is hot enough, deep-fry the skewers in high heat. As soon as the breading turns golden brown, remove them from the heat.
Finally, drain the excess oil and serve them with cabbage, tomatoes, and lemon. You can also include a sauce of your choice.
Kushi Katsu Sauce
Of course, we all have our sauce of choice! While you can eat Kushi Katsu as it is, dipping it in a sauce makes it even better. For this reason, we have listed some of the popular sauce options below.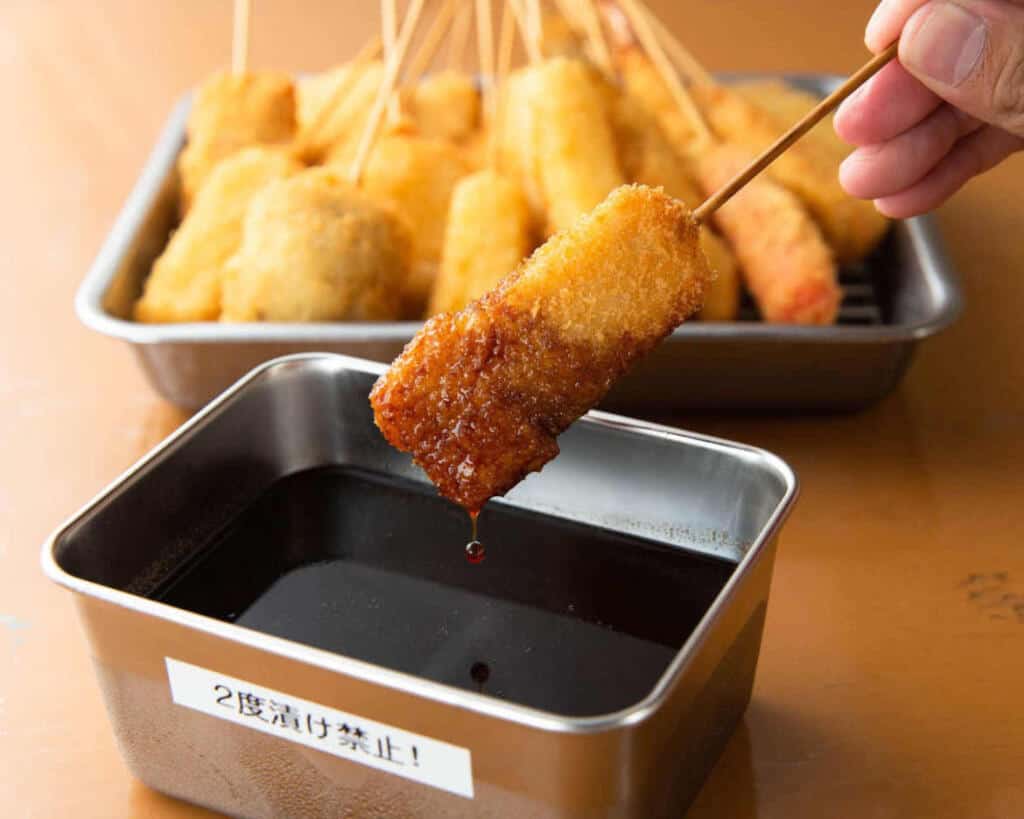 The special Worcestershire sauce is the most popular sauce of choice, to begin with. Unlike Nakano sauce, this one is lighter since they added soy sauce. Other ingredients include ketchup, oyster sauce, water, and Sanon Tou. Mix them all together and boil in a pan to make the famous special Kushikatsu sauce.
Meanwhile, there are people who are big fans of mustard. We all know that the combination of mustard and sesame tastes like heaven! That is no exaggeration, by the way.
Soy sauce, of course, is one of the top contenders for Kushikatsu sauce. It's basic yet it enhances the flavor of the meat. Shiitake also tastes even better when drizzled with soy sauce.
While the sauce can be addicting, take note that dipping the skewers more than once is not allowed. It is rude and stores usually have signs about this.
Kushi Katsu Restaurants
Rumors are true, there are quite a number of stores that sell this Osaka local food. Check out these shops the next time you visit the city!
Kushi Katsu Daruma (串かつだるま 道頓堀店)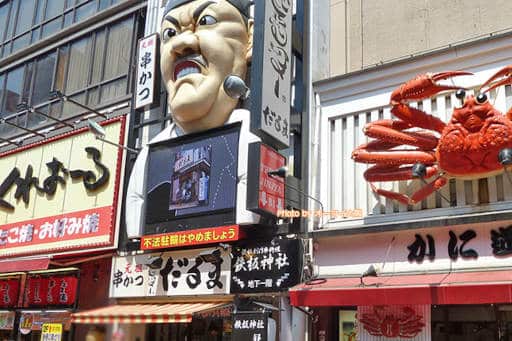 This is arguably the most popular Kushi Katsu restaurant. As a matter of fact, people dubbed their version "Daruma Kushikatsu". Whether you're in Dotonbori to shop or eat, make sure to drop by Kushikatsu Daruma!
They have been serving since 1929 and lines are always long daily. The store offers three sauce flavors and customers can only dip their skewers once. Kushikatsu Daruma is easy to spot with the famous "angry chef" brand.
Ageha Grand Front Osaka (揚八 グランフロント大阪店)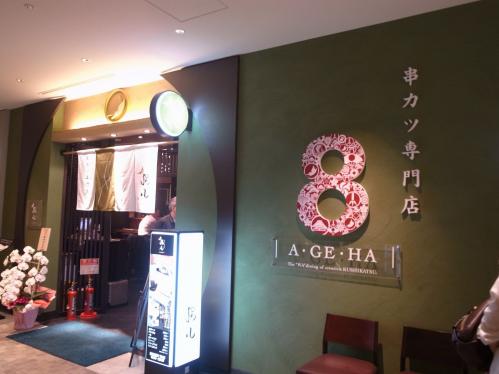 Do you want to taste fluffy Kushi Katsu? You should visit this place then! It's just a two-minute walk from Hankyu Umeda Station. The restaurant boasts a modern interior which is perfect for casual dining and occasions.
Kushi Katsu Cuisine Katsu Whitey Umeda (串かつ料理 活 ホワイティうめだ店)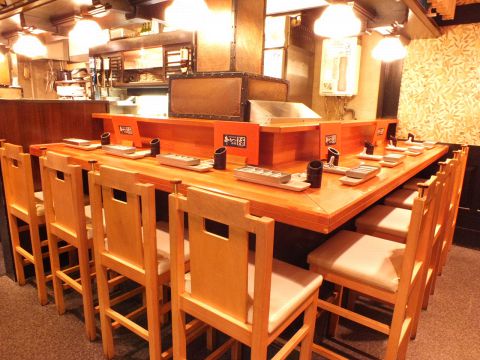 This restaurant has been delighting people since 1960. They are popular for their "Kushikatsu Gozen" for only 1,264 yen. It's a set meal that includes miso soup and seven types of skewers.
They are also easy to find. In fact, the shop is just a minute away from Umeda Subway Station. When you enter the place, a cozy atmosphere and counter seats will welcome you.
Meanwhile, here are some stores that we suggest when you are in the Tokyo area.
Kushi Katsu Tanaka (串カツ田中)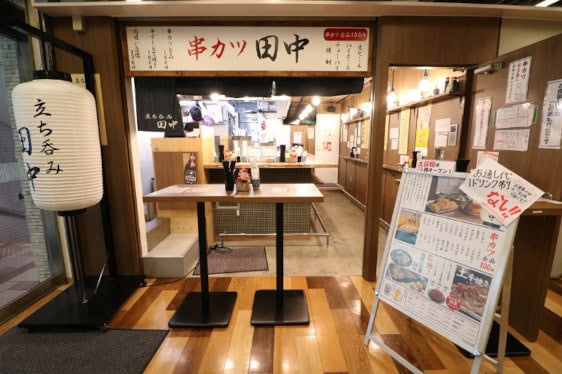 Kushikatsu Tanaka is a chain of restaurants all over Japan. The one in Shinjuku is the most famous one indeed. The place is one of the busiest areas in Japan. From local office workers to tourists, many people visit the place daily.
The father of the company's vice president handed down the recipe. In addition to that, the first store opened in December 2018 in Setagaya, Tokyo. Customers loved the savory taste of Tanaka Kushikatsu. Eventually, more people started coming in.
Kushinobo Tokyo Ginza Main Store (串の坊 東京銀座本店)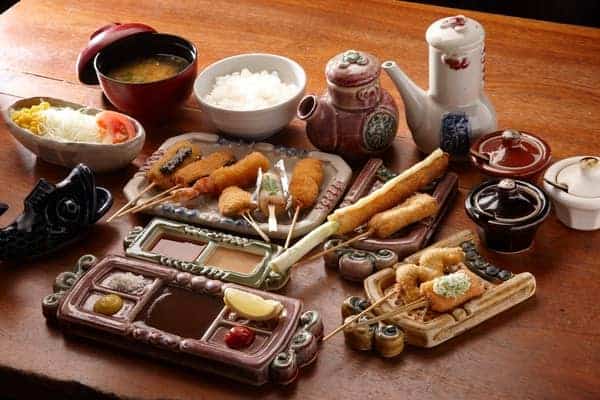 People know Kushinobo with their Kushikatsu Omakase Cuisine. Customers can feast on forty pieces of skewers for only 7,000 yen. This is, in fact, a good deal considering the location and serving size.
The shop also has different table settings which are good for solo, couple, and group dining. You can enjoy crispy Kushiage with a glass of beer in a cozy atmosphere.
Epilogue
Kushi Katsu, just like Takoyaki and Sakura Mochi, is an Osaka local food that is simple yet savory. The rich taste of meat complements the crispiness of the breading after frying. Don't ever visit Osaka again without tasting these sumptuous skewers!