As the rice-centered food culture, food made from rice plays an important role in Japanese cuisine as well as Japanese traditions. In Japanese, "gohan" or "meshi" means cooked rice but it also generally refers to a "meal". For a Japanese, a traditional home meal consists of the staple food – rice and one and more side dishes (soup, vegetables, meat, fish, etc). Therefore, it is no doubt that Japanese food is well-known for its rice dish as onigiri, mochi (rice cakes), chazuke, kayu, sushi and so on. Today, we would like to introduce a "beautiful" and "elegant" Japanese rice dish that have been a hot topic overseas for a long time, dressed omu-rice (ドレスドオムライス).
What is Dressed Omurice?
About Omurice
Omurice (or omelette rice) is rice with chicken inside a thin and scrambled egg. For a more flavorful taste, people usually top it with ketchup and garnish with green onions. Omurice's origin is said to be Japan but it is a mixture of Western and Asian food cuisine. Egg is important ingredient for breakfast in Western countries while rice is the staple food of not only Japanese food but also many Asian countries.
For more information about this dish, find out here.
What is special about Dressed Omurice?
Dressed omurice is a type of omelette rice that looks like "wearing a dress". That is the reason for its name and a lot of people compliment this dish as "elegant". Other than this common name, it also has another nickname such as Tornado Omelette or Twister Omelette thanks to the twisted egg in the center.
Originally, it was a popular limited dish at a Western restaurant in Saitama Prefecture. After a customer posted it on social media, it was featured on TV and became popular. Because of its gorgeous appearance, people also call it "the lady of the culinary world".
Origin of omurice
The name omurice is a combination of the French word "omelette" and the English word "rice". The born of this dish came from two restaurants: "Rengatei" in Ginza, Tokyo and "Hokkyokusei" in Shinsaibashi, Osaka.
In 1900 (Meiji 33), in the kitchen of the Western restaurant "Rengatei" in Tokyo, there was a "meal dish" that consisted of beaten eggs, meat, and onions, fried with rice. One of the customers who saw it and wanted to try that dish. That is the begin of "Rice Omelette".
About 20 years later, at "Panya no Shokudo", the predecessor of "Hokkyokusei", a Western-style restaurant in Osaka, there was a regular customer who had an upset stomach and always ate only white rice with omelletes. The owner of the restaurant said, "It's a pity if you have to eat the same thing every day." so that he decided to fry the white rice with onions, ketchup and top with thin egg omelette to serve this customer. This is the "omurice" version that we all know nowadays. In other words, the original style of combining eggs and rice was from "Rengatei", the current style of wrapping fried rice with a thin omelette was from "Hokkyokusei".
History of dressed omurice
This dish was invented by Benitei, a Western-style restaurant founded in 1958 in Omiya Ward, Saitama. At first, it was originally called "Omurice". However, when a customer said to the inventor that this dish looked like a dress, the inventor decided to renamed to "Dress de Omurice" (or dressed omurice). After its born, this dish became popular all over Japan and you could also find an article about it on magazine at this time. Even until now, dressed omuricce has been so familiar with Japanese people for its elegant appearance as well as amazing taste.
Various styles of dressed omurice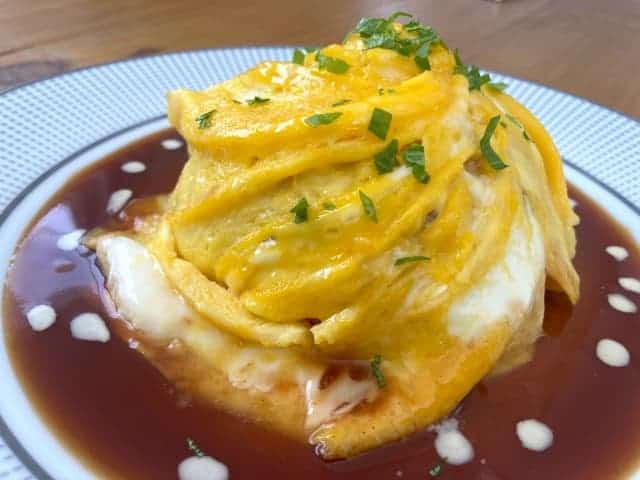 Thai-style dressed omurice
Instead of the normal sauce, the omurice is topped with green curry sauce. This combination is good thanks to the sweetness of creamy egg and green curry, which immediately reminds you of Thai cuisine.
Carbonara style omurice
Talking about Carbonara, we would immediately think about carbonara pasta. However, in today's article, we would like to introduce about a new kind of dressed omurice – carbonara style dressed omurice. It is not difficult to make as you can easily find carbonara sauce at supermarket.
Mapo style omurice
This style is Chinese style dressed omurice (or Mapo style). If you do not have mapo tofu sauce, you can use ankake sauce instead. The spicy taste of sauce goes perfectly with eggs, which makes it the most signigicant feature of the dish. You can also garnish with chopped seaweed and white sesame on top.
Dressed omurice FAQ
Why does it have the name "Dressed Omurice"?

"Dressed Omurice" is a innovated version of omurice in which the omelette looks like the flowing dress of a dancer. It was born in at Benitei, a 60-year-old western food restaurant in Saitama city. Originally, the name of it was "special omurice" but then was renamed to "dressed omurice" when published on magazines.

Where is the birthplace of Dressed Omurice?

Benitei, a Western-style restaurant founded in 1958 in Omiya Ward, Saitama, was the place to create this beautiful and delicious dish. This dish was born in around 1997~1998 and at this time, it was only a special dish Benitei. However, after a customer posted it on social media, it received a lot of attention and became popular all over the country.
How to cook Dressed Omurice?
Ingredient
| Ingredients of Dressed Omurice (2 servings) | Measurements |
| --- | --- |
| For ketchup rice | |
| Rice | 180g |
| Bacon | 1-2 pieces |
| Onion | 1/8 piece |
| Salad oil | 2 tsp |
| Ketchup | 2.5 tbsp |
| Consomme granules | 1 tsp |
| Salt and pepper | appropriate amount |
| For omelette egg | |
| Eggs | 2 |
| Water | 2 tbsp |
| Salted butter | 10g |
| Salad oil | 2 tsp |
Method
Prepare ingredients
Cut the bacon into 1 cm pieces and chop the onion.
Stir-fry rice
Stir fry the prepared ingredients
Heat vegetable oil in a frying pan over medium heat, and fry the bacon and onions from step 1. Then, add ketchup and fry further.
Add rice
Add the rice, consommé granules, and salt and pepper, stir-fry, and serve on a plate.
Make the omelette
Prepare
Put eggs and water in a bowl, beat and strain with the strainer.
Fry egg
Heat the pan
Add butter and salad oil to a well-heated frying pan. Reduce the heat to medium to low heat, and when the butter melts and foams lightly, pour in the egg mixture.
Swirl the omelette
When the egg mixture around the edge of the frying pan has hardened, pinch both ends with chopsticks and bring it to the center.
Serve
After fixing the chopsticks firmly so that they do not move, set the heat to medium to strong and slowly turn it off. When the drape is created, gently slide it over the rice and gently pull out the chopsticks. The point is to keep the chopsticks in place until you've finished sliding them over the ketchup rice. That's how you make the dressed omurice!
Points for better Dressed Omurice
POINTS
・If you hold the chopsticks in your dominant hand and the handle of the frying pan in your other hand, it will be easier to make the drape later.
・If you use too much force, it will be difficult for the egg to cling to the chopsticks, so it is important to use enough force. The egg clings to the chopsticks and creates a beautiful swirl.
・Use both butter and salad oil. Butter alone tends to burn easily, so salad oil is used to neutralize it. If there is a lot of oil, the frying pan will slide more smoothly, making it easier to slide.
Restaurants
OMS (オムズ)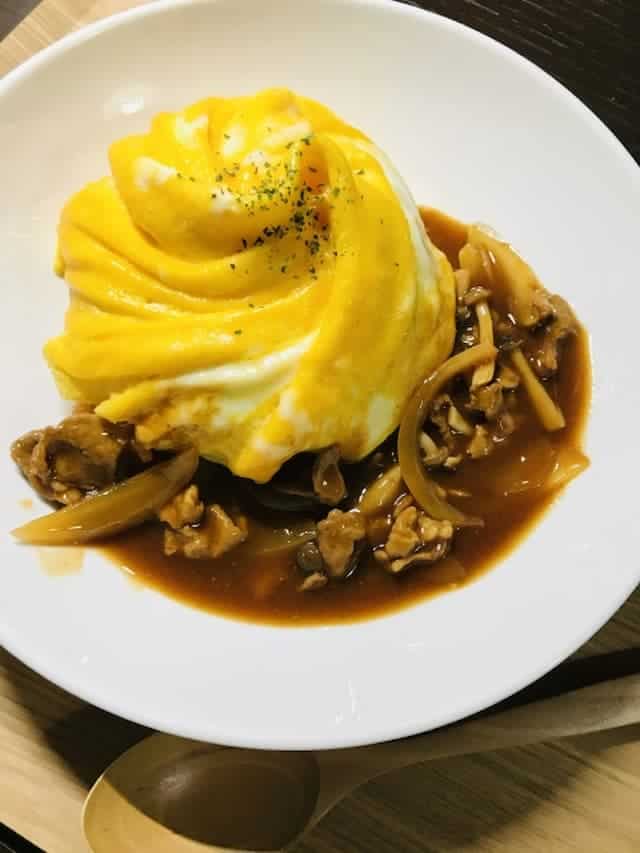 At OMS, you can enjoy fluffy dressed omurice with perfect appearance and texture. Its menu has so many types but we recommend you the most popular Hokkaido beef special omelette. You can also order a set to enjoy omelette rice together with delicious salad and drink.
Big Smile (ビッグスマイル)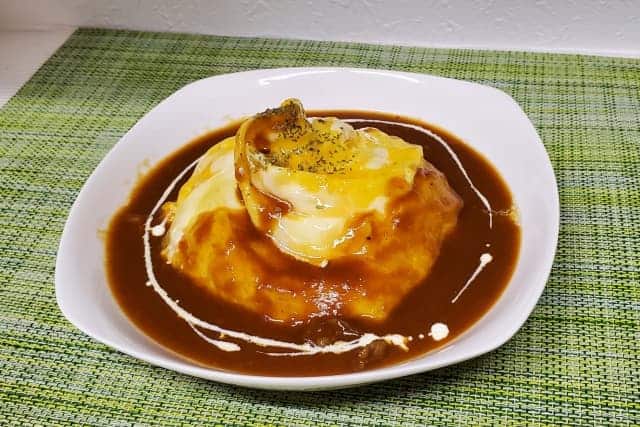 The next restaurant that we are going to introduce is Big Smile. If you are looking for a place to have lunch, then Big Smile is one of the best option. The rice is topped with edible flower as a decoration for the beautiful omelette dress. If you come to Big Smile during the lunch time, all lunch menus come with a salad and a drink bar! Other than dressed omurice, you can also try other rice and curry dish at Big Smile also.
Ristorante UEMON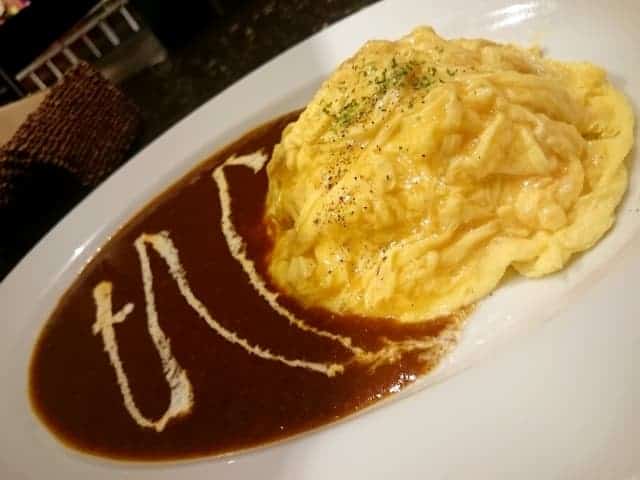 Ristorante UEMON has a wide variety of lunch menus, including omelet rice lunch, pasta, meat, and fish. It's nice that the salad, soup, and drink all come as a set. For the dressed omurice, not only the appearance but also the taste is delicious with the ricch demi-glace sauce. They also have a takeout menu so that you can buy and enjoy the food at home.
Takeaway
If you loves rice dish, we recommend you try this dish once. Different from the normal omurice, dressed omurice has an "elegant" and appealing appearance of a dancer's flowing dress. As it only has basic ingredients, you can also try making it at home following our recipe above.
Get more detailed information about other delicious rice dishes below!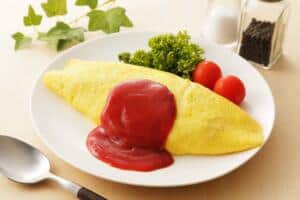 Omu Rice (オムライス)
If you're a fan of anime or manga, you've seen Omu Rice for sure! In fact, it may be one of the most used Japanese food in them. Even food vlogs (video blogs…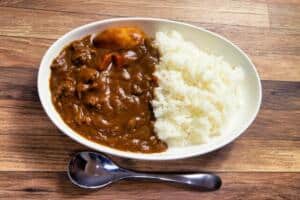 Curry rice (カレーライス)
【Introduction to Curry Rice】 Did you know that curry is just as popular in Japan as ramen? Furthermore, when most people think of curry, they think of Indi…