If you're a fan of anime or manga, you've seen Omu Rice for sure! In fact, it may be one of the most used Japanese food in them. Even food vlogs (video blogs) also post about it often. So, what exactly is Omu Rice and why is it so popular?
What is Omu Rice?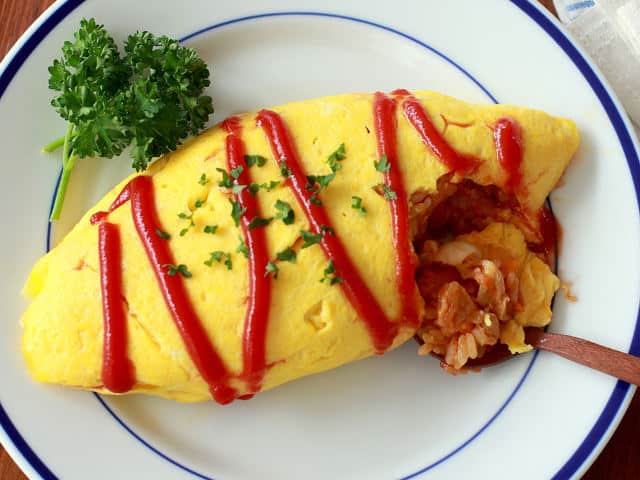 Omu Rice or sometimes called Omelet Rice is chicken rice inside a thin and scrambled egg. It's usually topped with ketchup, but that is completely optional. In addition to ketchup, some people would also sprinkle some green onions for garnish.
On the other hand, there's also a type of Omelet Rice that uses thin and fluffy scrambled eggs. When you cut the omelet rice open, a rich and soft scrambled egg spreads on top of the rice. It's so pleasing to the eyes that's why many children enjoy eating it. Aside from its fascinating visual, the taste is also simple yet very satisfying.
Omurice Omelette (Omu Rice) is an example of yōshoku or the Western style of cooking that began during the Meiji era.
It's a fusion of Western and Asian cuisine. Omelet (Omelette) is a common Western breakfast that has been around for ages. Meanwhile, fried rice is a dish that Asians often serve during breakfast as well. The combination of these two breakfast dishes started in Japan a long time ago. Eventually, it became one of their famous dishes across the globe.
Different Types of Omelet Rice
As time went by, several kinds of Omelet Rice became popular. Of course, this is a result of the continuous development to cater to people's different preferences. Although the basic composition and ingredients are just the same, these types of Omu Rice will surely capture your heart.
Classic Omu Rice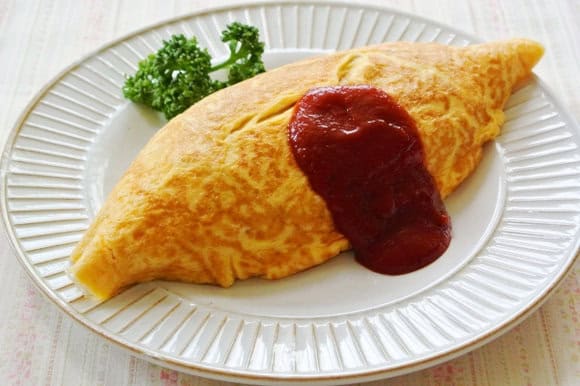 Sometimes referred to as Retro Omu Rice, the Classic Omu Rice is the old-fashioned and simplest form of this worldwide famous dish. It also gives a nostalgic feeling, especially to those who loved eating it as a child. It's also the type of Omu Rice that anime and manga usually features.
Dressed Omelet Rice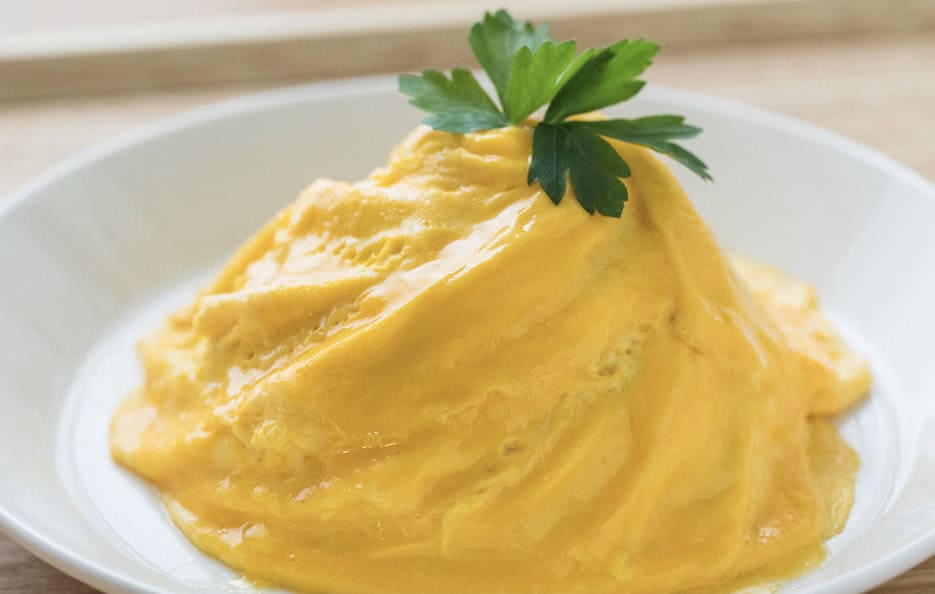 In other countries such as Korea and Hongkong, they call it Tornado Omelet or Twister Omelet. It relies on a unique method of cooking scrambled eggs. In fact, it uses a chopstick to remake the shape and appearance of a tornado. Of course, it may be challenging to do at first but there's an easier way to achieve it.
Dressed Omelet Rice looks amazing that many restaurants began presenting their fried rice omelette this way.
Fluffy Omu Rice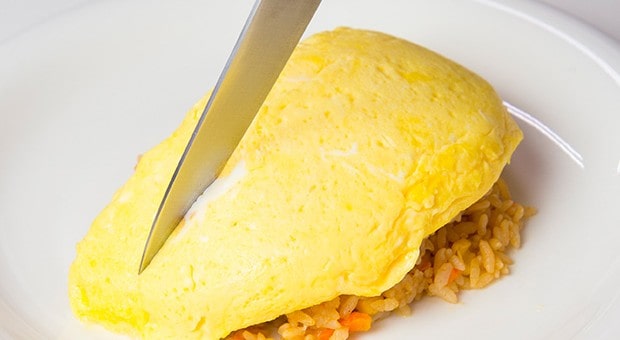 While Omu Rice is supposedly rice that is wrapped in thin scrambled eggs, Fluffy Omu Rice is not. As a matter of fact, they just place the fluffy omelet on top of the rice. However, it requires a certain level of softness of egg in order to make this successful.
Dandelion Omu Rice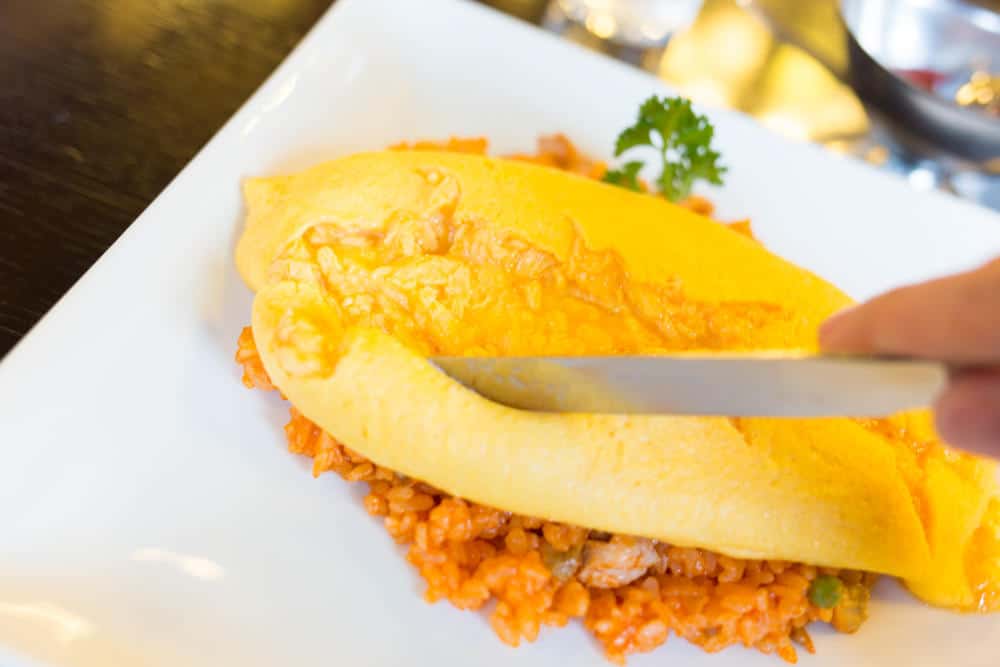 This type of Japanese Omelette Rice uses thin and soft-boiled scrambled eggs to wrap the fried chicken rice. As soon as you cut the omelet open, thick and fluffy soft-boiled eggs run down through the rice. It's such a delight to see not just for children but for adults as well.
What is the origin of Omu Rice?
There are various theories about the origin of Omu Rice. In fact, the only thing that's sure is that the birth of this famous dish was during the Meiji era. However, there are two theories that stand out from the rest.
Rengatei
During the Meiji era in 1900, a Western restaurant under the name Rengatei in Ginza, Tokyo gave birth to it. They had an employee's meal that later turned out to be part of the menu. It was a meal with scrambled eggs, meat, onions, and rice. Also, they often used a spoon to eat the meal. However, a customer wanted to try the meal one day and he immediately liked it. Thus, this event marked the birth of Rice Omelette.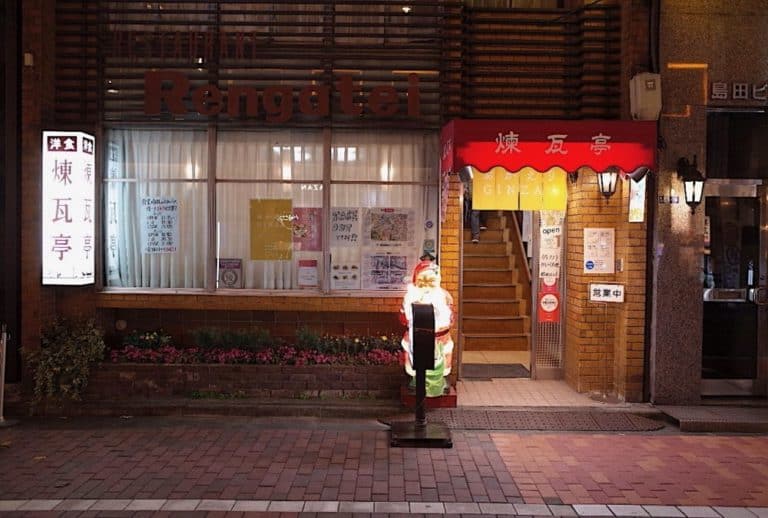 North Star
About twenty years later, a restaurant in Osaka had a regular customer who always had an upset stomach. The name of the restaurant is North Star which also has a Western theme. But, this particular customer only had the same order every day which is an omelet and white rice. Meanwhile, the owner of the restaurant felt sorry for the customer he added onions and ketchup to the eggs. He also wrapped the rice inside the omelet. From then on, the name Omelet Rice was given.
In conclusion, the combination of the concept of making Rice Omelette of Renga-Tei and the method of wrapping of North Star contributed to the Omu Rice we know today.
Omu Rice Recipe
Since making the Japanese Omelette Rice is easy, why don't you try cooking this at home? Of course, it's important to know how to make chicken rice first. This chicken rice recipe will surely make any fried rice omelette more delicious.
Chicken Rice Recipe
| | |
| --- | --- |
| Good for 2 persons | |
| chicken thigh (bite-size cuts) | 75 g |
| warm rice | 400 g |
| chopped onions | 75 g |
| olive oil | 1/2 tbsp. |
| diced carrots | 50 g |
| tomato paste | 1 tbsp. |
| ketchup | 3 tbsp. |
| salt | 1/2 teaspoon |
| pepper | a pinch |
| butter | 10 g |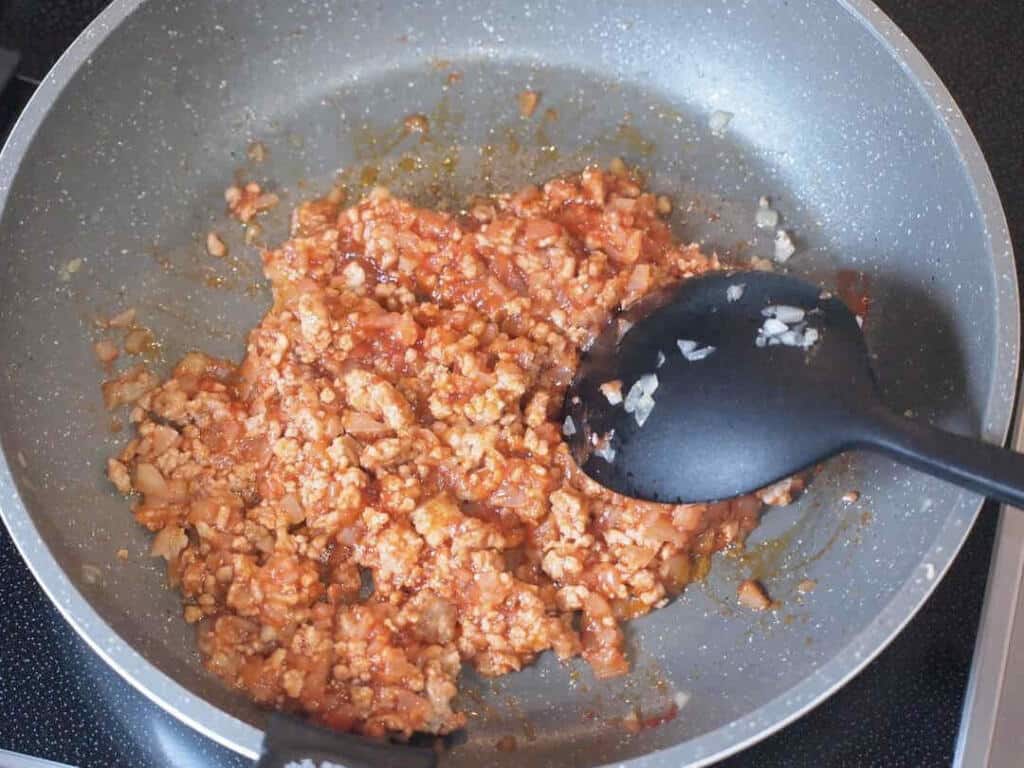 How to make Chicken Rice?
In the first place, heat the frying pan and add the olive oil. When it's hot enough, sauté the chopped onions, carrots, and chicken all at once. Stir-fry for about three minutes (3 minutes).
As soon as the chicken meat and vegetables are ready, add salt and pepper to season it. Then, reduce the heat before pouring the ketchup, tomato paste, and butter into the pan.
Mix well until the butter melts and the wet ingredients blend well with the chicken meat and vegetables. After that, toss the warm rice in and make sure the ketchup and other ingredients cover it fully.
Lastly, adjust the seasonings according to your preference.
Omurice Ingredients
| | |
| --- | --- |
| Good for 2 persons | |
| eggs | 4 pcs. |
| Chicken Rice | 400 g |
| salad oil | 2 tsp. |
| ketchup | 4 tbsp. |
| butter | 10 g |
| water | 1 1/2 tbsp. |
| salt | a pinch |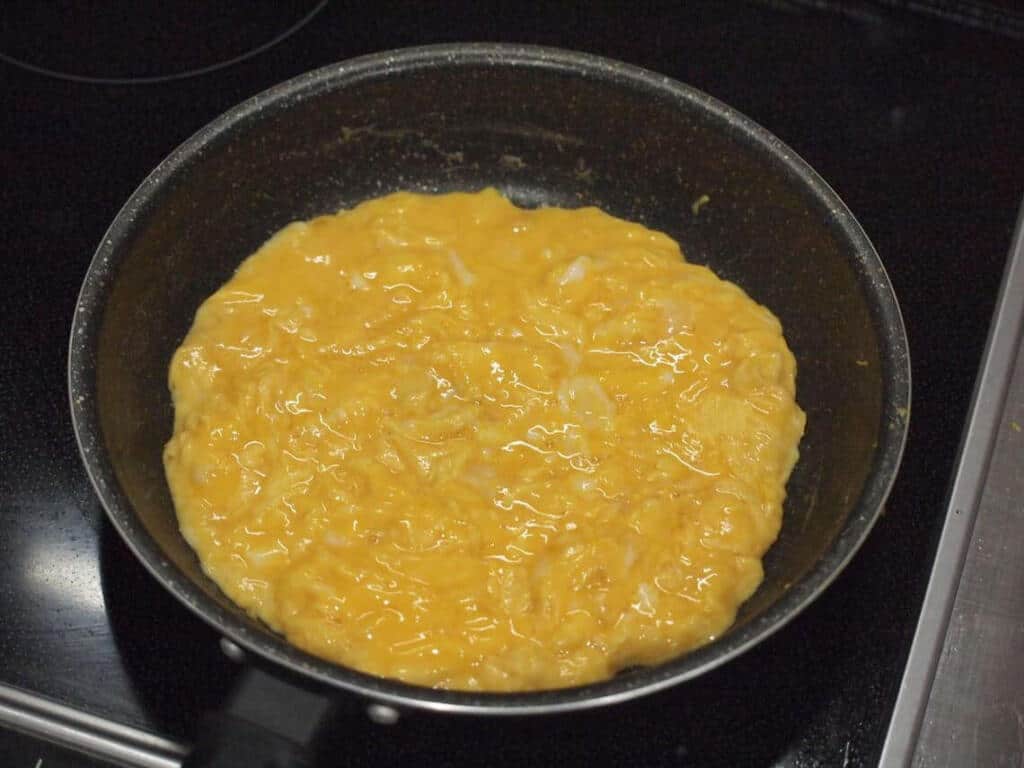 How to make Omu Rice?
Firstly, make sure to cook chicken rice on the same day. This is to ensure the freshness of the dish, of course.
In a separate bowl, crack two eggs and add salt to taste. After that, mix well using a chopstick until there are no lumps.
Then, heat a frying pan and pour 1 tsp. of salad oil. When it's hot enough, add the eggs and spread them over the pan.
Without delay, stir the center part and tilt the frying pan until it's covered with egg mixture. Turn off the heat as soon as the eggs are half-cooked.
Then, toss half of the chicken rice on top of the scrambled egg while cooking in low heat. Gently pull one side of the scrambled egg and slowly cover the chicken rice with it.
As soon as you covered the chicken rice with egg, move the omelet rice to the opposite side of the pan. After that, let it cook for a minute. Then, transfer the omurice omelette to a clean plate using a spatula.
Meanwhile, combine ketchup, butter, and rice in a frying pan and cook it over low heat. Once the butter is melted, mix it well and turn off the heat.
Finally, pour just the right amount of ketchup butter sauce on top of the fried rice omelette. Voila! Your Omu Rice is now ready to serve! (Repeat steps 3 to 8 to make the other one.)
Tips
Using ketchup butter sauce is optional. Of course, you can use regular ketchup which you can buy from stores.
You can also use tomato puree instead of tomato paste if you want a less concentrated one.
Where to eat Omu Rice?
There are quite a number of restaurant in Japan that sells Omu Rice since it's a favorite among locals and tourists. Of course, each shop has something to offer from the taste down to the store ambiance. Here are some of the best places to eat Rice Omelette in Tokyo.
Shiseido Parlor Ginza Main Store (資生堂パーラー 銀座本店レストラン)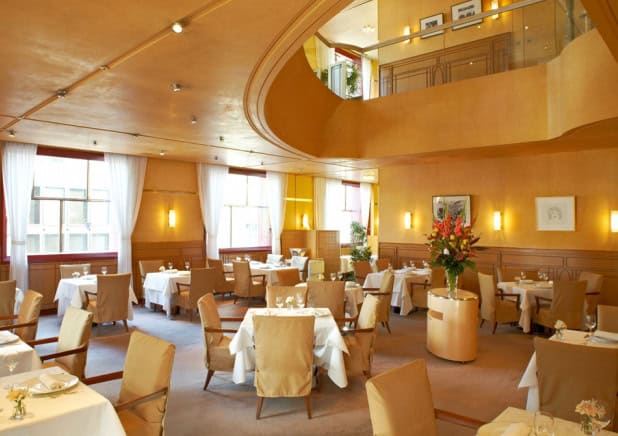 This Japanese-Western restaurant began selling Omu Rice since its opening in 1928. Shiseido Parlor Ginza Main Store is famous for its visually appealing dishes and the cozy ambiance of the store. Aside from the fried rice omelette, their desserts are also something their customers love.
Shiseido's Rice Omelette recipe uses three pieces of eggs and homemade tomato sauce so it's rich and fulfilling. It's also fluffy and has the traditional taste of chicken rice.
Rengatei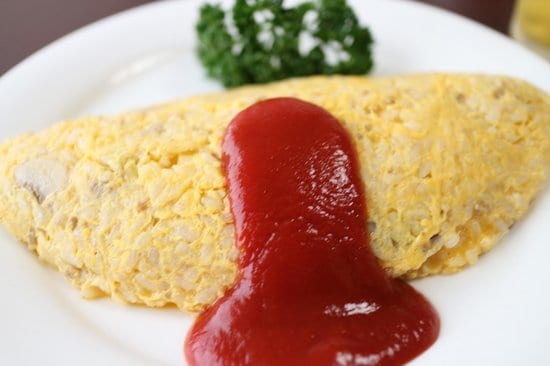 This long-established store is believed to be the originator of Omu Rice. Their Japanese egg rice omelette is hard on the outside but soft on the inside. Instead of the usual chicken rice, they also use minced beef or pork that is well-flavored.
The interior of Rengatei also has a nostalgic European vibe. It's definitely worth visiting, especially if you're on a quest to find the best Omu Rice in Japan. Renga-tei is just three minutes (3 minutes) away from Ginza Station.
Cafe YOU (喫茶YOU)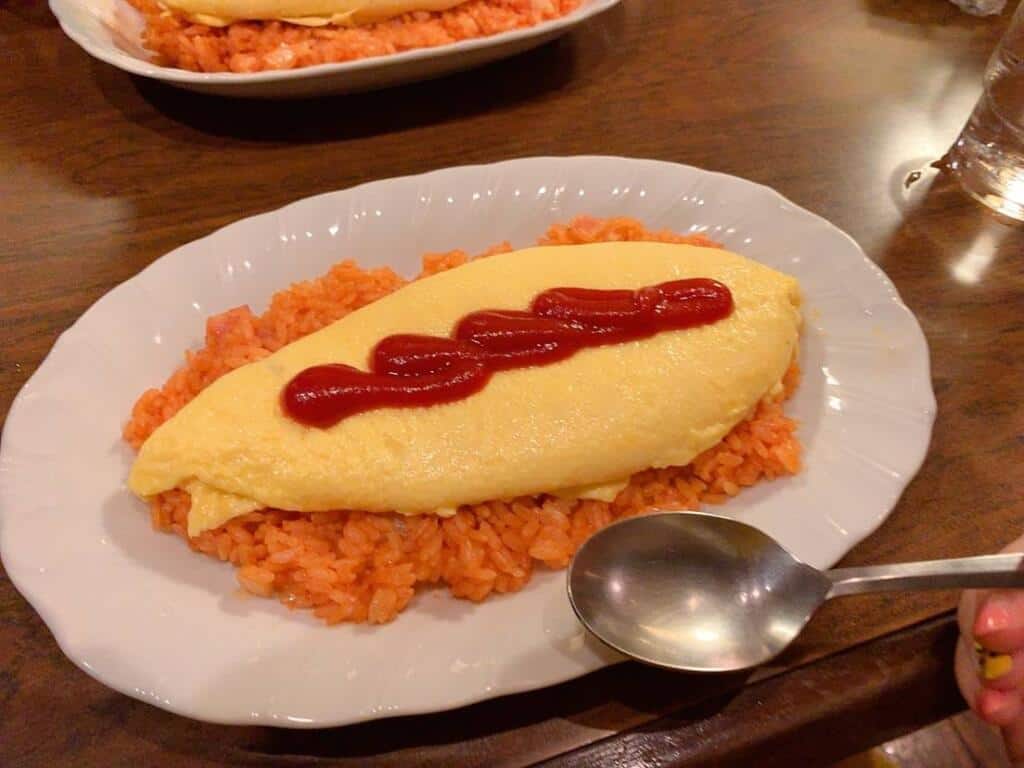 When you cut open the fluffy Omu Rice, a burst of the soft-boiled egg will welcome you. Cafe YOU is a local coffee shop in Ginza which has a retro ambiance. Aside from their exquisite line of coffee, their fried rice omelette is also something that customers recommend. They also use margarine instead of butter so it doesn't overpower the taste of the eggs and whipped cream.
Taimeken (たいめいけん)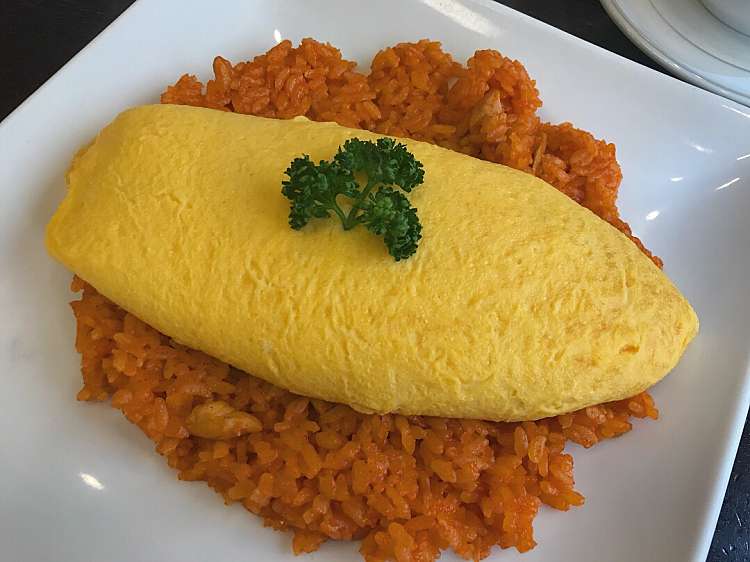 Although many stores serve fluffy Japanese Omelette Rice nowadays, Taimeken claims to be the originator of this trend. Their chicken rice contains mushroom and green peas which add extra flavor to it. They also serve the ketchup separately so you will have the option to put it or not.
Kurofunetei (黒船亭)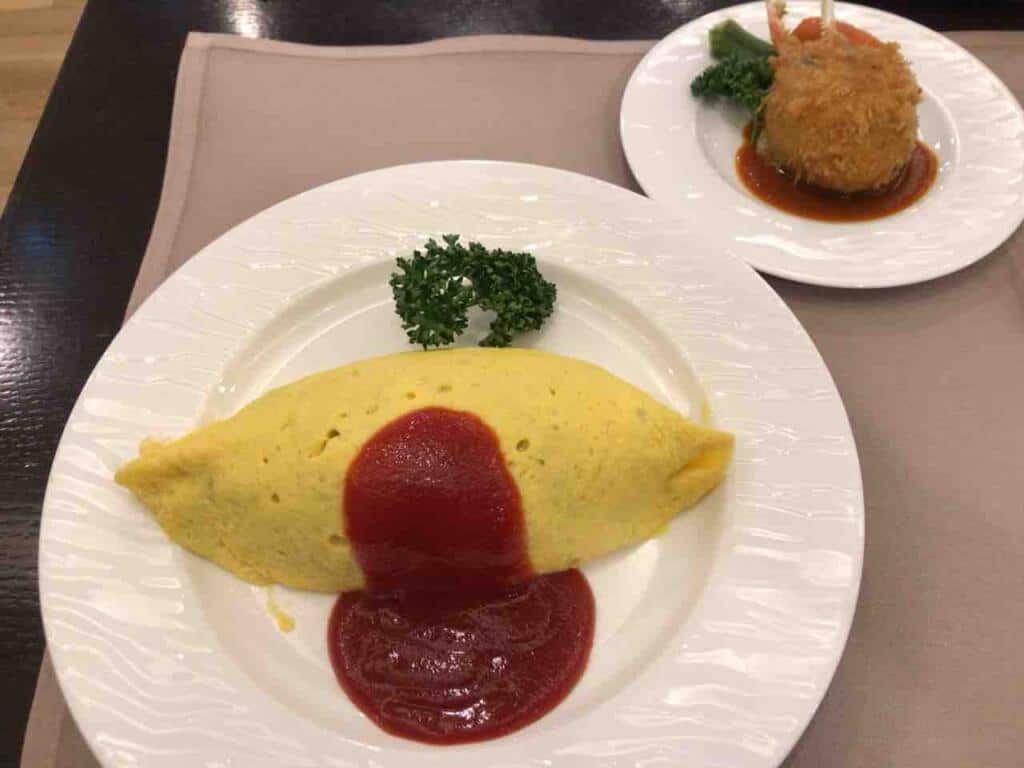 Kurofunetei is located not in Ginza but in Taito-ku, Tokyo. They use ordinary ingredients but their Omu Rice is still delicious. Kurofunetei also uses Koshihikari rice from Minamiuonuma in making their chicken recipe. They cook it in chicken bouillon and tomato puree so it's even richer. Aside from that, the use of plenty of butter blends well with eggs and brings out its flavor more.
Their technique of making Omurice is a hit with many so they are one of the most recommended shops in Tokyo. Kurofunetei is just a 3-minute walk from Ueno Hirokoji Station.
Conclusion
Omu Rice is fried chicken rice that is wrapped in thin scrambled eggs and topped with ketchup. The reason why Japanese Omette Rice may be popular is because of how simple the dish is but it's full of flavor and texture. Not only does it gets featured in shows, but it's also a highly recommended mashup dish in Japan.
Are you excited to try Omu Rice? Let us know in the comments section below.
You may want to check out other yōshoku dishes as well. Don't forget to like us on Facebook to stay updated with our latest Japanese food recommendations!