Traditional winter cuisine known as Shizuoka Oden is popular all around Japan. This was created in central Japan's Shizuoka Prefecture and has since spread across the whole nation. In this article, we will explore the history and cultural significance of the dish in Japan and the key ingredients and cooking methods used to create this delicious and hearty winter dish.
What is Shizuoka Oden?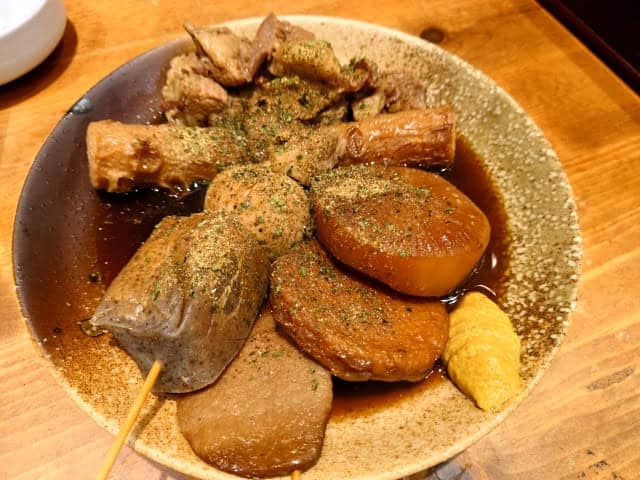 Shizuoka Oden is a local dish of Shizuoka City where ingredients such as beef tendon, black hanpen, paste, daikon radish, and eggs are all skewered and simmered in black dashi stock, then topped with aonori and fish stock powder. Locals characterized this by ingredients such as black hanpen and pork offal. Black hanpen is a specialty product of Shizuoka made from minced mackerel and sardines from Yaizu, including bones. It is a popular delicacy that locals commonly eat in Izakayas together with a variety of alcoholic drinks. 
Shizuoka Oden History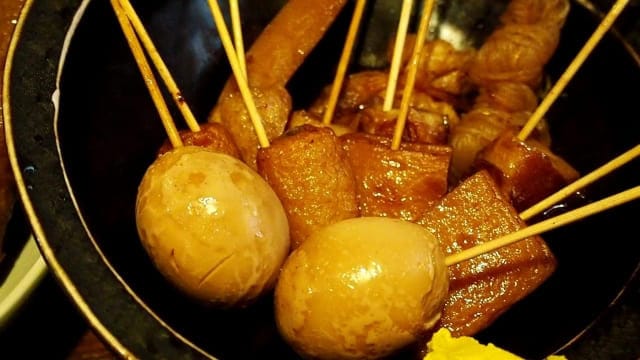 Shizuoka oden originated during the Taisho period, although locals believed that after the end of World War II, leftover beef tendon and pork offal were utilized as ingredients in oden, increasing its popularity. Furthermore, because it was possible to use seafood gathered in Suruga Bay at the time, fish paste products such as black hanpen were exploited as oden ingredients. It initially began as a dish called dengaku, which consisted of grilled tofu skewered topped with miso sauce. The name was eventually shortened to "den" with an honorific "o" at the beginning, creating the name "oden". 
The major ingredients in tofu stew during the Edo era were a powerful soy sauce and a soup made from a combination of konbu (seaweed), whale meat, and beef tendons; whale meat was later discontinued. After the Meiji period, individuals began incorporating more items like konnyaku and eggs. In Japan, this dish is a favorite at festivals and food stands. Oden is currently available at an izakaya, restaurants, convenience stores, and even canned goods in vending machines. 
Difference in Shizuoka oden broth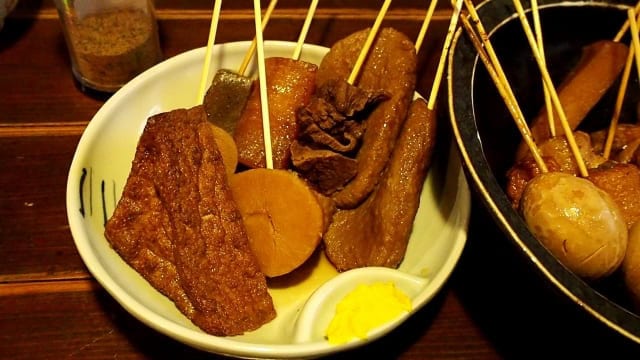 While several regions have their distinctive methods of producing the broth for Shizuoka Oden, the meal is a nationwide staple in Japan and the variations may be generally categorized into three types. While they frequently served the oden with miso soup in the Nagoya region of Japan, the broth is generally light in the Kansai region of Western Japan. Oden is traditionally prepared in a black broth in the Kanto area of Eastern Japan. These regional variations give each version a unique taste and character, making it a wonderful and diversified meal widespread across Japan.
Health Benefits of Shizuoka Oden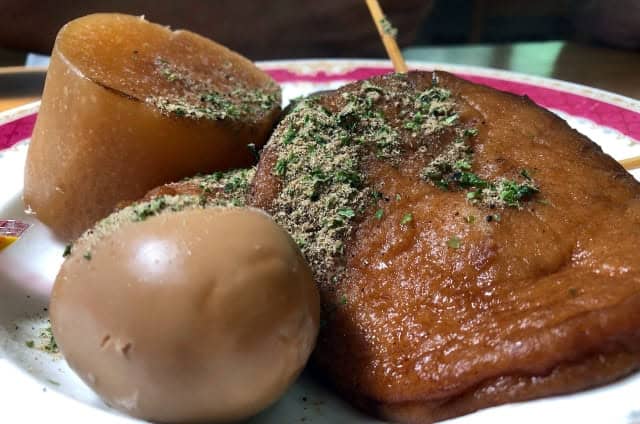 Shizuoka Oden contains several protein-rich ingredients such as beef tendon, boiled eggs, fish cakes, and vegetables. This makes it a great low-fat meal option, especially for those who are watching their fat intake. Additionally, it contains a variety of vegetables, including Japanese white radish, which is rich in vitamin C and other essential minerals. 
Shizuoka Oden vs Himeji Oden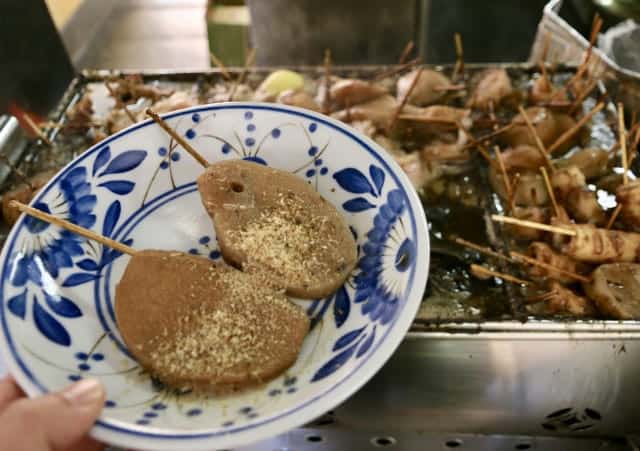 Himeji oden is to eat oden with stewed burdock rolls and beef tendon dipped in ginger soy sauce. The way locals from Hyogo prefecture poured ginger soy sauce in the oden is one way of uniqueness that is only common practice in the prefecture. While the Shizuoka Oden uses dark soy sauce and a black broth made from chicken bones (and beef tendon). Locals pierced all the ingredients with bamboo skewers, sardine shavings, bonito flakes, and green seaweed called "dashiko" are sprinkled on top.
Shizuoka Oden FAQ
What are the standard ingredients of Shizuoka Oden?

Among the standard ingredients of Shizuoka oden are beef tendon, black hanpen, Japanese white radish, boiled egg, satsuma-age, chikuwa, and kelp. 

What's the difference between Shizuoka oden and oden?

Shizuoka Oden differs from traditional Oden in that the broth is black, and locals added "dashiko (fish powder)" and "green seaweed" after eating. They commonly used kelp and bonito flakes in oden soup stock, and many of them are somewhat yellow and translucent, while Shizuoka Oden is a black soup with no visible bottom.
Shizuoka Oden Recipe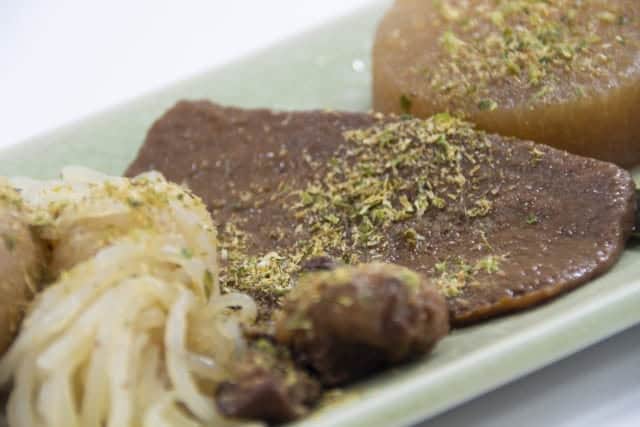 Shizuoka Oden Ingredients
| Ingredients of Shizuoka Oden for 4 persons | Measurement |
| --- | --- |
| Black hanpen | 120g |
| Beef tendon | 100g |
| Water | 3,840g |
| Japanese white radish | 200g |
| Konjac | 160g |
| Egg | 92g |
| Early boiled kelp | 120g |
| Kezuribushi | 20g |
| Sugar | 28g |
| Mirin | 28g |
| Soy sauce | 70g |
| Liquor | 28g |
| Salt | 3g |
| Dashi powder | 10g |
| Aonori | 8g |
| Mustard | 15g |
How to make Shizuoka Oden
Prepare the beef
Parboil the beef tendon. Put the beef tendon and 5 cups of water in a pot and heat it.
 Boil the other ingredients
Put 11 cups of water in a large pot, and when it boils, add the bonito flakes and remove the stock. Boil the konjac and radish, and tie the kombu. Hardly boil the eggs. Thread a skewer in each and place it in the pot.
Combining beef and season it
Add the beef together with the broth, add sugar, mirin,soy sauce, liquor, and salt. Then simmer over low heat for 2-3 hours. Add hot water if the juice becomes less on the way.
Serve
Sprinkle aonori and dashi powder and add mustard.
Where to buy Shizuoka Oden?
Mikawaya (三河屋)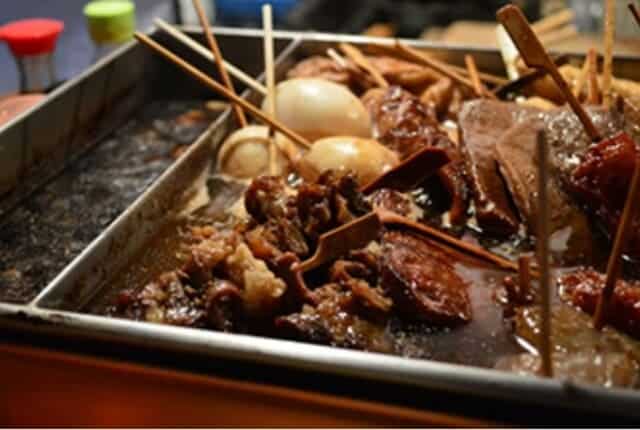 A famous Shizuoka oden restaurant with over 70 years of history, starting with an oden stall. Since its founding, the soup stock made from beef tendon and dark soy sauce has been added to keep the traditional flavor alive. They carefully selected the oden ingredients with a focus on locally produced seasonal ingredients. Furthermore, they slowly simmered the Shizuoka beef until it became mushy.
Ogawa (おがわ)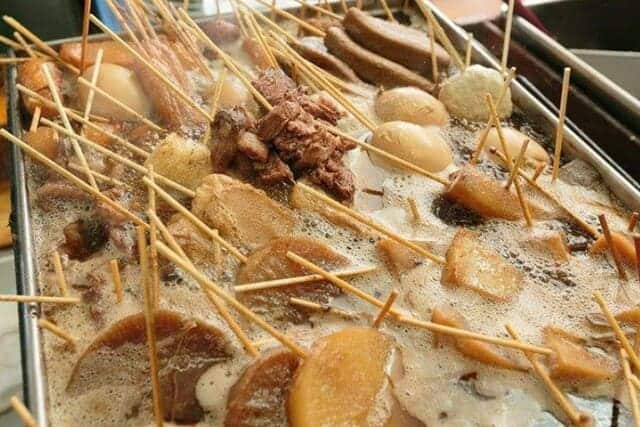 Established in 1948, Ogawa is a long-established oden restaurant that has been around since the days when oden culture began in Shizuoka. The dashi, which they continuously simmered since the opening of the restaurant, has a mellow and deep taste with the addition of beef tendon and fish paste. You can enjoy rice balls, yakisoba, shaved ice, etc. along with oden. You can enjoy the nostalgic atmosphere.
Umibouzu Main Store (海ぼうず 本店)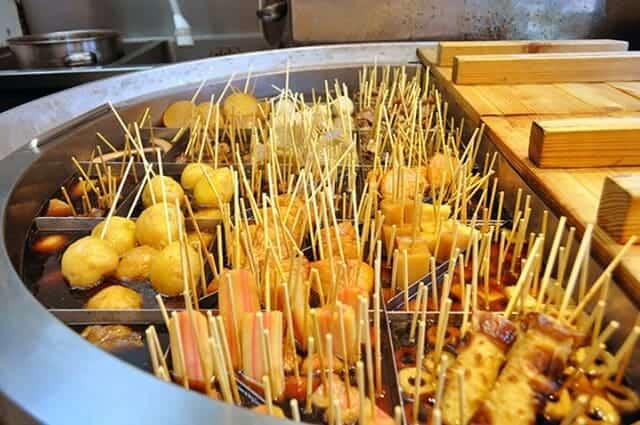 You can enjoy a variety of Shizuoka Oden at a reasonable price, from traditional Oden ingredients such as beef tendon, black hanpen, and paste, to advanced Oden such as soft-boiled eggs and fruit tomato oden. In addition, there are various Shizuoka gourmet dishes such as charcoal-grilled dishes using local ingredients for local consumption.
Final Thoughts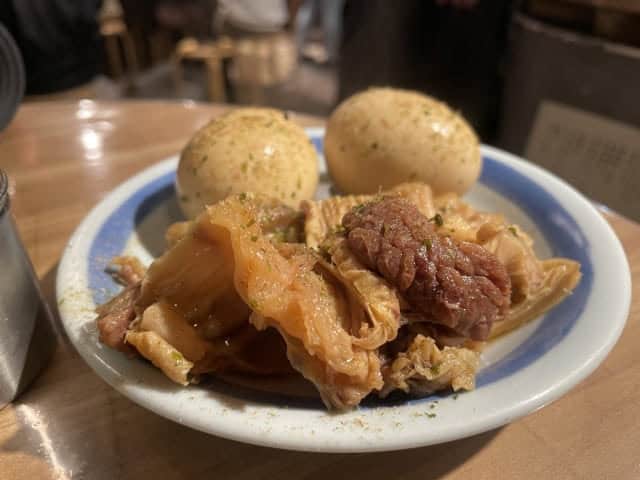 If you find yourself in Japan, be sure to try Shizuoka oden, a dish that locals enjoyed for generations in the Shizuoka region. Whether you are a fan of Japanese cuisine or just looking to try something new, this dish is a must-try dish that is sure to satisfy your taste buds. With its unique combination of ingredients and savory broth, this dish offers a one-of-a-kind culinary experience that you won't soon forget. So don't hesitate, head to Shizuoka and give this delicious dish a try!
You can check some Japanese dishes below that we know you would like to try too.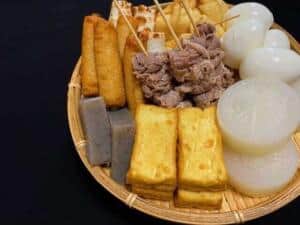 Oden (おでん)
Have you ever tried oden? It is a delicious and nourishing Japanese dish that is made with various ingredients cooked in a flavorful broth. Oden is especiall…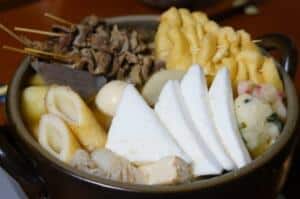 Hanpen (半片)
Although many people know about the existence of hanpen, many people do not eat it every day. This dish tends to play a supporting role, it is actually a goo…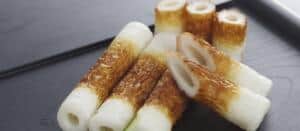 Chikuwa (ちくわ)
Japanese traditional food is always famous for their mouthwatering fish dishes such as sushi (寿司), sashimi (刺身), hitsumabushi (ひつまぶし), etc. With the…