When you hear the word "kamaboko," what is the first think that comes to your mind? In fact, satsumaage, hanpen, tsumire, date roll, etc are all members of the kamaboko family. This time, we will introduce kamaboko, which is a unique original fast food Japan that condenses the deliciousness of fish and high-quality protein so that you can eat it straight.
Introduction to Kamaboko
Kamaboko is a traditional Japanese food and is commonly a variety of Japanese fish cakes. Several kinds of fresh fish meat or reprocessed pureed white fish called surimi make up Kamaboko. Consequently, Whitefish is usually the primary raw ingredient use in making Kamaboko. Kamaboko products are in fact, reborn as easy-to-eat by condensing the deliciousness and high-quality protein of fish. 
Furthermore, a fish cake is an Asian dish made up of fish and other seafood. It is crushed, minced, and mixed with flavors and starchy food and then fried, and the Japanese call it "Kamaboko." We will now learn about it more as we go along this article.
Etymology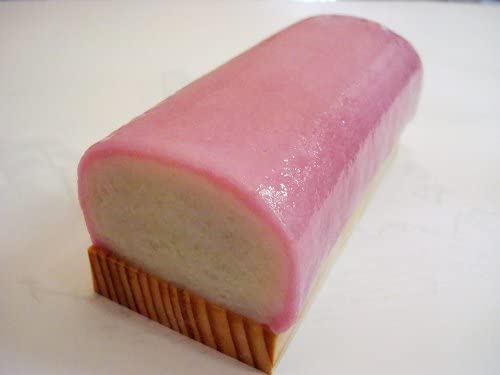 Accordingly, there is no precise English translation for kamaboko (蒲鉾). The rough meanings or translations of Kamaboko are 'fish paste', 'fish loaf', 'fish cake', and 'fish sausage'. Locals recommend using the Japanese name because no adequate English name exists, other than the Jewish dish, gefilte fish, which is somewhat similar.
What is Kamaboko?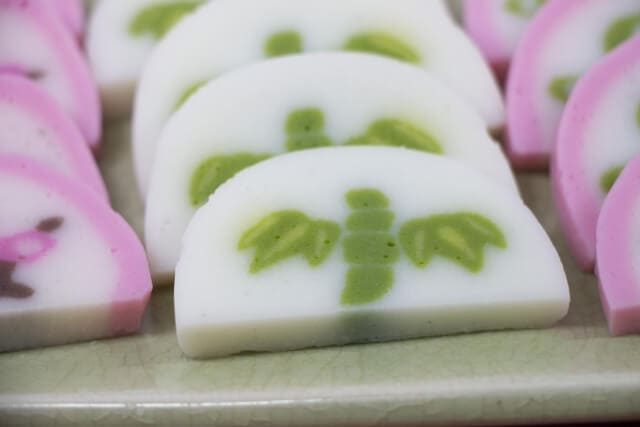 Kamaboko, also known as Japanese fish cake, is both a traditional and processed seafood ingredient common in many Japanese dishes. Locals make kamaboko from several fresh fish meat like Cod, Threadfin Bream, and other white fish such as the reprocessed pureed white fish called surimi. Thus, kamaboko can be enjoyed on its own or can complement many other meals, and using the fish cakes for celebratory purposes in Japan. Locals sold this in a semi-cylindrical loaf, featuring artistic patterns, such as the pink spiral on each slice of narutomaki. In Miyagi Prefecture, Sasa-Kamaboko (笹かまぼこ) is a regional variation, pale white, formed in the shape of bamboo leaves and lightly grilled immediately before serving.
History of Kamaboko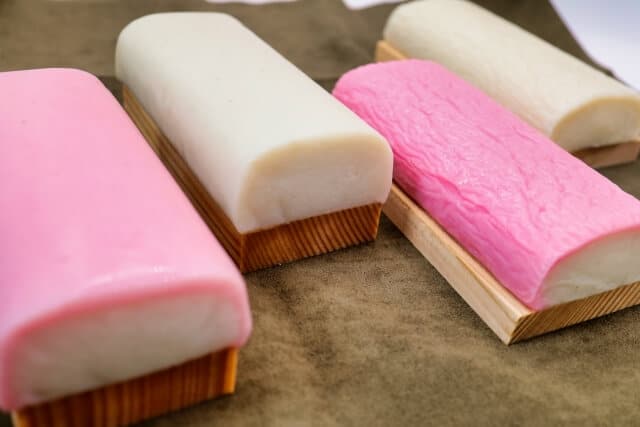 On the other hand, there seem to be various theories about the origin of Kamaboko. First is about its first appearance in the history of Japan in 1115 during the Heian period. A sketch of a banquet dish for celebration recorded Kamaboko in the ancient documents of that time. Therefore, the year where it first appears (1115) makes November 15th the "Kamaboko Day." 
The second theory was that Kamaboko dates back to around 260 AD. During that time, the Empress Jingu ate groundfish at Ikuta no Mori (near present-day Kobe) on her journey by putting it on the spearhead and grilling it. Since then, it has been popular in the palace and at the "Choken no Gi," which is the wedding ceremony of the crown prince. They prepared this in an ancient style.
Many thought that the shape of the Kamaboko was similar to cattail, which is identical to today's Chikuwa. Looking at the history of making it, the manufacturing technology completed in the Edo period. However, there was not much change until the Meiji and Taisho eras. Thus, they developed the meat grinding machine from the middle of the Meiji era, and the machine is gradually doing the manual work everyone is having a hard time with. Nevertheless, they inherited the basic technique of Kamaboko under the apprenticeship system until the 1945's.
Kamaboko Recipe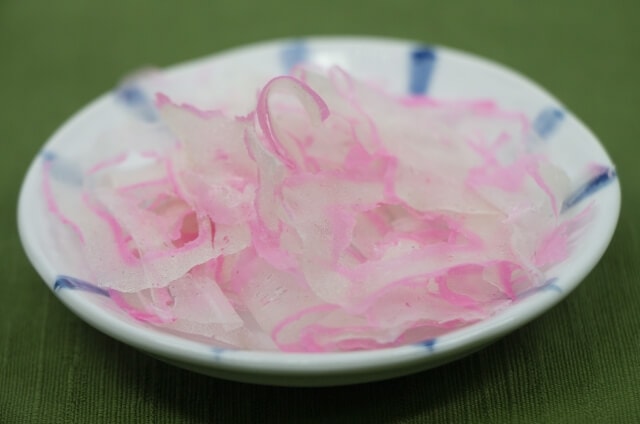 The early kamaboko is from a minced catfish. The whitefish used to make surimi (a paste made from fish or other meat). However, nowadays, you can easily make surimi by choosing the white fish you want based on what you like. Thus, the whitefish recommended using are cod, shark, Golden threadfin bream, gnomefish, grunt fish, lizardfish, Japanese bluefish, and etc.
How to make kamaboko?
Did you know that Japanese are very careful when it comes to creating this masterpiece? Accordingly, craftsmen performed what they call "Water bleaching" on making kamaboko. This process cleans the fish meat with water and removes fishy odors such as fat, enzymes, and blood that inhibit the elasticity of kamaboko. By doing so, it created a fresh, glossy whiteness and elasticity on kamaboko. Hence, the whiteness of kamaboko should be a natural white. The water the craftsmen used for "water bleaching" is the groundwater in Odawara, called Hakone Hyakunenmizu (Hakone 100-year-old water.)
Additionally, you can now easily make a homemade steamed fish cake at home for all your family to have it also.
Preparation
Firstly, you should prepare all the ingredients required. Then, grind the fish fillets in a food processor. Add egg, ginger juice, cornstarch, and salt. Mix it all well.
Dividing into halves
Divide it into halves. You should brush 2 12″ x 10″ sheets of aluminum foil with oil.
Shaping the kamaboko paste
Shape kamaboko paste into logs approximately 4.5″ in length and 2″ in diameter.
Inserting a skewer
Roll up and seal both ends. Steam for 30 minutes over high heat. Next, test if it is complete by inserting a skewer into the center of the log. If it comes out clean, then it's done.
Types of Kamaboko
There are also types of kamaboko. Generally, there are 10 kinds of it;
Red Kamaboko
It is one of the most fundamental Japanese fishcakes enjoyed with soups like ramen and soba. Even though many know it as with red color, it has a pinkish shade. Locals steamed it on a little wood board.
White Kamaboko
It is second in prominence to red kamaboko; it is all white in shading and steamed. However, the locals broiled the highest point of the tube-shaped fishcake to make marginally brilliant dark-colored outside.
Kani Kamaboko
It is like an imitation crab yet seems to be a kind of fishcake made of white fish and prepared with crabs' fluids. This kind is prominently in westernized sushi as a filling in California Sushi Rolls.
Naruto Kamaboko
This type is acclaim by locals for its lovely pink and white spirals and twirls and the outside with minor edges. When you cut the narutomaki, it makes a colorful addition that adds to the presentation of any dish that it complements. Narutomaki Fishcake is frequently utilized as a garnish in soup, like ramen or sushi.
Sasa Kamaboko
Sasakama is a claim to the fame of the area. Thus, the molded fishcakes are like bamboo leaves, and locals serve it as toasted to give a warm cooked flavor. Sasakama is also one of the "three major Sendai specialties, along with gyutan-yaki and zunda mochi.
Kobu Maki Kamaboko
These are fresh cakes that have an extremely slight layer of Kelp inside. The fishcake blend moves with the Kelp to create a whirl when you sliced the fishcake to make the extravagant structure. This sort of Kobumaki fishcake is marginally more expensive than red or white fishcake. Accordingly, it is regularly an ingredient on special events like New Year as a significant aspect of the Osechi Ryori feast.
Decorated Kamaboko
It is a steamed cylindrical-shaped fish cake, and when cut open, a beautiful pattern emerges with, for example, trees, blossoms, many-sided kanji, or other creative creatures. It is frequently a feature of Osechi, Ryori, or Japanese New Year's food.
Chikuwa
It is a flame-broiled fishcake with a grilled fish taste to it. Japanese molded it into a long, tube-shaped cylinder that is hollow within. Chikuwa is frequently added to Japanese stew, namely Oden, and utilized as a fixing in dishes.
Hanpen
It is a white, triangular fishcake that is a blend of white fish and Nagaimo Japanese mountain yam, making it lighter and fluffier. What adds to the remarkable fleecy surface of Hanpen is that locals boiled this fishcake rather than steamed it. Hanpen can also be square or even round in shape and may incorporate added seasoning to change its flavor, like ginger or shiso perilla leaf.
Satsuma-age
The southern part of Japan enjoyed this satsuma-age. It is like a plain cake made with straightforward white fish or blended in with different fixings, for example, vegetables or fish to make various kinds of Satsuma-age. Locals added the deep-fried fishcake to a pan-fried food, hot noodles, and Japanese stew.
How to eat Japanese fish cake?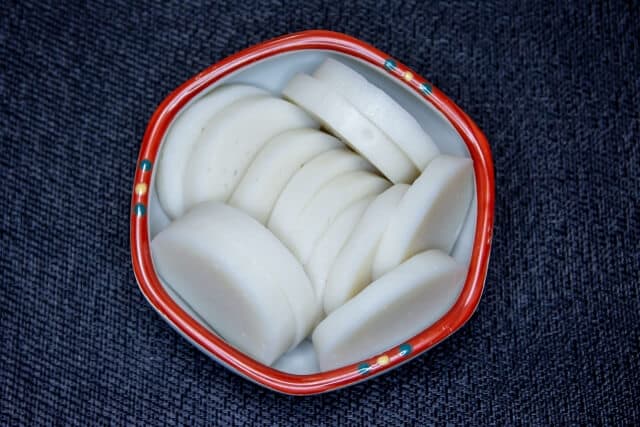 You can eat it on your own or eat it with drops of soy sauce. You can also slice it and add it to soups, salads, casseroles, noodles, and many other dishes. It is also better to fry it with a bit of seaweed to make delicious tempura.
Some people have commented that they eat it as "itawasa". The condensed umami of the fish and the sweetness of the sugar complement the spiciness of the wasabi. Some people sliced it thicker and cut a slit in it to put ingredients in between. It is also delicious when served with mayonnaise. It seems to be used as a side dish that can be eaten quickly or as a snack for drinks.
Significance of Having Kamaboko as one New Year's Food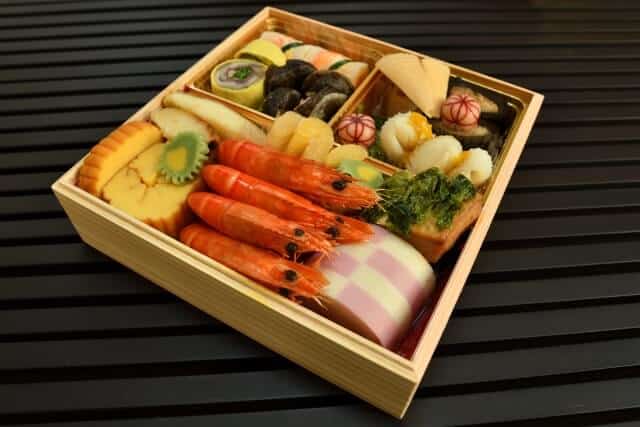 Kamaboko has a combination of the colors red and white. The red color represents a belief that prevents evil spirits, while the white represents purity. Further, the shape of kamaboko — resembling that of the sun at daybreak— represents the new year's first sunrise. so It is in osechi that many Japanese eat for new year.
What are the benefits of Japanese fish cake?
Despite its wonderful taste, it has several medical advantages, such as it contains almost no fat, generally a lot of supplements, and has well-adjusted proteins. Consequently, it incorporates a balanced cluster of amino acids, including each one of the nine amino acids. Additionally, it has antioxidant effects. Consequently, it has heaps of beneficial proteins and various other vitamins and minerals necessary for a balanced diet and good health. Since it's a protein-rich meal, it plays its part in maintaining the health of your nails, hair, and skin. 
Is Kamaboko Healthy?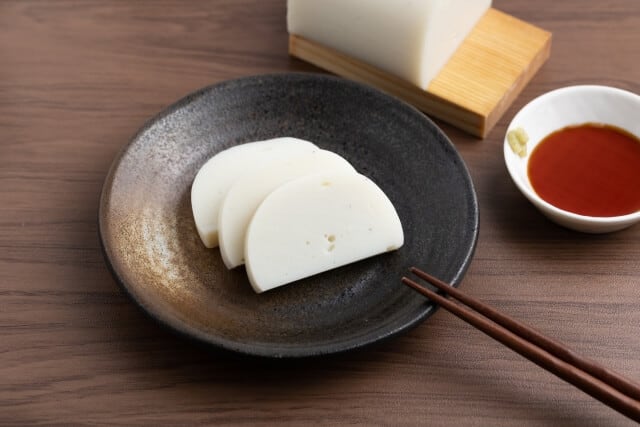 Yes and no. Depending upon the manufacturer, kamaboko may contain ingredients such as MSG. Thus, other manufacturers produce theirs only from the highest quality fish, with no additives or preservatives. High-quality kamaboko will contain as much protein as eggs, as well as many healthy nutrients. It will also be low in fat and calories. However, it may be high in sodium, so if you are purchasing one, you will want to check the ingredients to ensure you are making a health-conscious choice.
Recommended restaurants that serves Kamaboko
Suzuhiro Asakusa store (Tokyo)
Suzuhiro Asakusa Store is in Asakusa, a sightseeing spot in Tokyo. It is a famous Kamaboko specialty store in Odawara. This shop is popular for its chewy Kamaboko with grated white fish from Odawara. They also sell oden seeds. The roasted chikuwa also is popular and some customers recommended their fish paste.
Chouwarou (Kanagawa)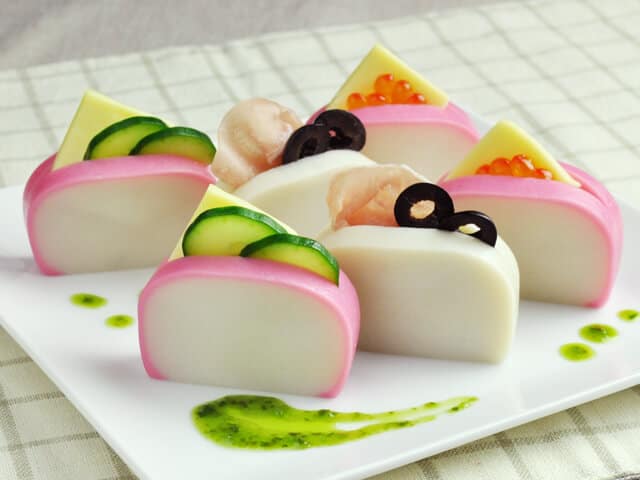 This shop is a Delicatessen selling craft beer & artisan foods and is making kamaboko fish cakes.  It is a restaurant in Suzuhiro Gamo no Sato, which has been relocated and renovated from a Shoin-zukuri main building, a fully lacquered dozo, and an old gassho-style house. Chouwarou uses kamaboko as one of the important parts of their menus.
Yao Kamaboko Store (Osaka)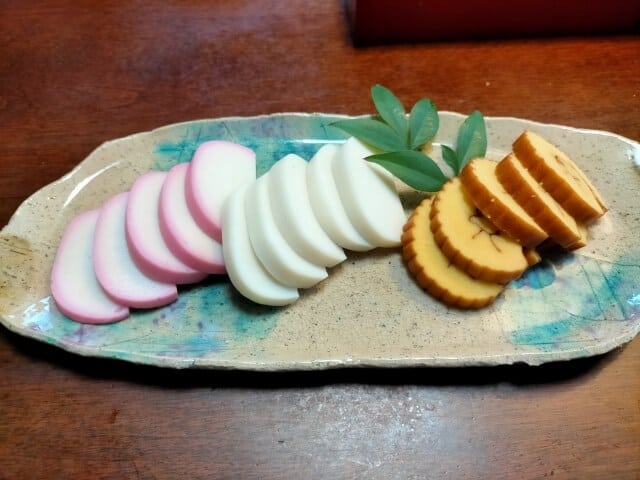 Yao Kamaboko is a 3 minutes walk from Temma Station and 8 minutes walk from Osaka Metro Tenjinbashisuji 6-chome Station. This restaurant specializes in making dishes out of Kamaboko. They packed the Gyoza maki with the fish paste of Kamaboko. It has an indescribably strange texture, but it is exquisite and delicious. 
Date Masamune dining table (Sendai)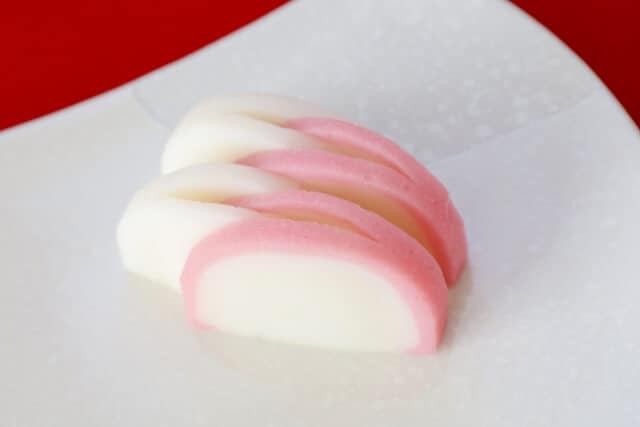 Date Masamune dining table is a restaurant with a theme of  a place that everyone who visits can enjoy various  Miyagi's food and culture as well as kamaboko. This restaurant inherits the "heart of hospitality" of Date Masamune, the founder of the clan known as a foodie. They offer dishes with a rich local flavor that luxuriously use selected seafood and mountain food. 
Hachimaru Gamo (Sendai)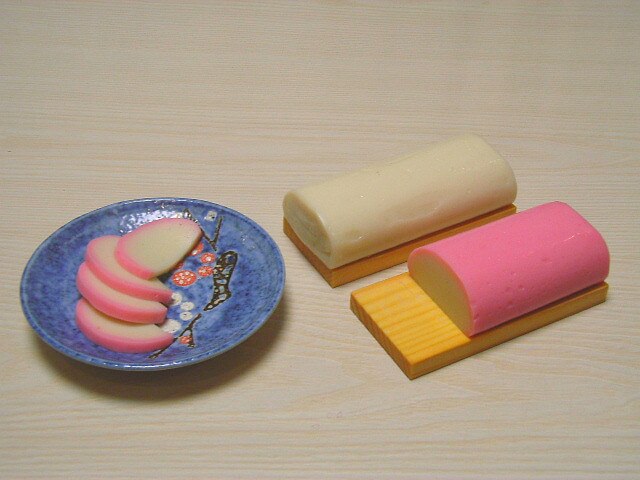 Hachimaru Gamo has 1st and 2nd level with the 1st level having counter seats 7 seats that can accommodate up to 8 people and the 2nd level with 22 seats at the table. This is a unique restaurant specializing in Kamaboko, where homemade secret surimi is kneaded and fried on the spot. You can also enjoy the skill of the trained craftsmen on the spot. Thus, the restaurant wants to convey the charm of freshly fried Kamaboko to as many customers as possible. Additionally, they wrap and mix carefully selected ingredients that complement their homemade surimi and provide them to the customers.
Conclusion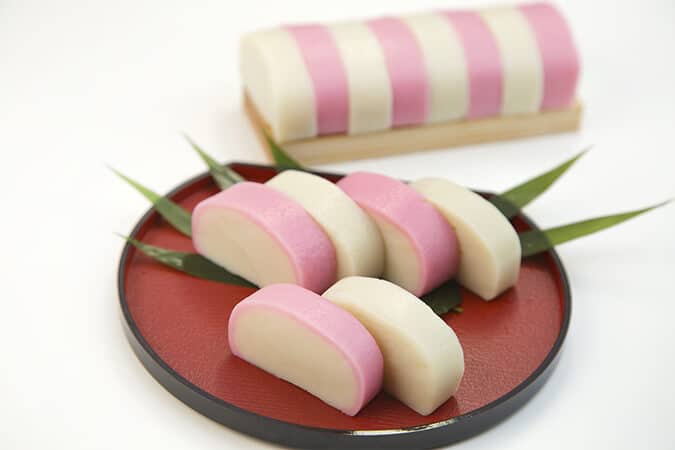 To sum up, Kamaboko or fish cakes has a rich history in Japan and even has a museum dedicated to it. November 16th also happens to be National Kamaboko day in Japan as well. In Japan, when there's a celebration, you will find the kamaboko on a dining table, usually in red (more like pink) and white as those colors are Japan's celebratory color. So, there's no surprise that the dish is one of the traditional and common food items during New Year's celebration meals.
Kamaboko is one of fish cake food in Japan. There are another type of fish cakes like Satsuma age.
If you are interested it, please check it!