The simple roasted sweet potato, or yaki-imo, doesn't get as much attention in a country more known for its sushi, sashimi, and noodle meals. But this hearty vegetable, another historical import to the island country, has long been a cherished winter treat consumed in the chilly months after its production. But did you know that yakiimo is a beloved centuries-old cuisine that Japanese traditionally eat straight from the coals, whether traditional street vendors sell them. You will learn all about it in this article.
What is Yakiimo?
Yakiimo or Baked Sweet Potatoes is a mouth-watering baked Japanese sweet potato snack, especially popular during the colder seasons in Japan. Locals considered this to be a food culture unique to East Asia and include stone-roasted sweet potatoes, pot-grilled sweet potatoes, and kamado-yaki. They have a rich, creamy, smooth texture, light and fluffy, too. They have a sweet, slightly caramelized flavour, with earthy, nutty hints. It's the ideal ingredient since it may be a staple food and it fills you up.
Yakiimo History
The origins of roasted sweet potatoes may be traced back to the Edo era. To bake the sweet potato, they placed the charcoal in a waist-high jar, and heated the air within the jar. Manzo Minowa devised the stone-baked sweet potato, which is baked on a hot stone in a kiln, after the war in 1951. When opposed to the pot-baked method previously utilized, stone-roasted potatoes can cook a significant volume in a short amount of time. In addition, Mr Minowa leveraged his past expertise working at a ramen shop to sell a set of tools for creating stone-baked sweet potatoes on a cart.
Baked sweet potatoes, which first debuted in the late Edo era and are still popular today, have experienced three booms so far, and the fourth is already quietly started. When the first baked sweet potato boom happened in the late Edo era, inexpensive and sweet baked sweet potatoes were the "jusanri, sweeter than chestnuts," and a baked sweet potato boom arose. The second boom occurred during the Meiji era, when Tokyo's population surged. It gained attention as a cheap dish, and it grew in popularity, resulting in the establishment of several stores that also operated as shaved ice shops during the summer.
Yakiimo wagon car history
Manzo Minowa of Mukaishima, Sumida Ward, began selling stone-baked sweet potatoes from a cart in postwar Tokyo, and stone-baked sweet potatoes spread quickly in downtown neighborhoods like as Asakusa and Fukagawa. The sale of stone-baked sweet potatoes peaked during the 1960s time of tremendous economic expansion. However, following the Osaka Expo in the 1970s, fast food restaurants and convenience stores proliferated, and sales of stone-baked sweet potatoes dropped. These days Japanese now offered them in supermarkets during the winter, and it is simple to obtain stone-baked potato cooking gear and tools online, so the old-fashioned stone-baked potato auction has all but vanished.
Various sweet potatoes for yakiimo
Beni Haruka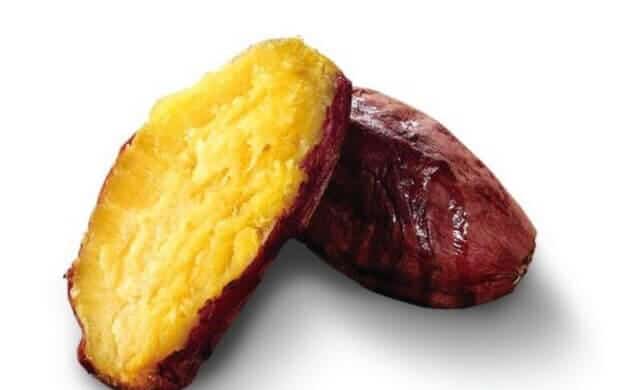 Beni Haruka is a variety that sparked the recent yaki-imo boom, and the secret to its popularity is its moist meat and its sweetness. The sweetness is very strong, and it is crunchy on the inside. It may not be well known, but freshly dug Beniharuka has no sweetness at all and is full of fibres and stringy.
Anno potato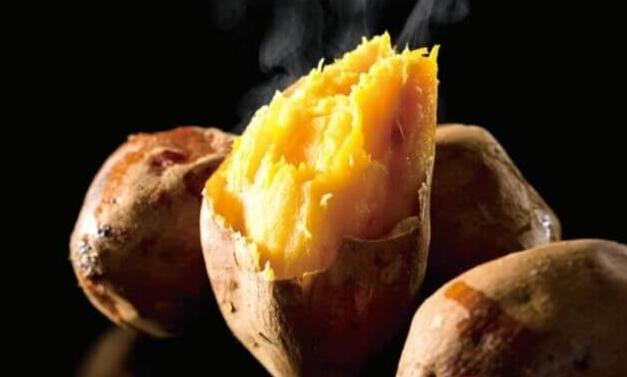 Anno potato is a variety that maintains constant popularity. It is a moist yet sweet, unique carotene flavour. The sugar content is condensed because it is slightly smaller than other sweet potatoes. Anno potatoes are known as a speciality of Tanegashima in Kagoshima Prefecture. Needless to say, the texture of eating it was that slimy and sweet.
Beni Azuma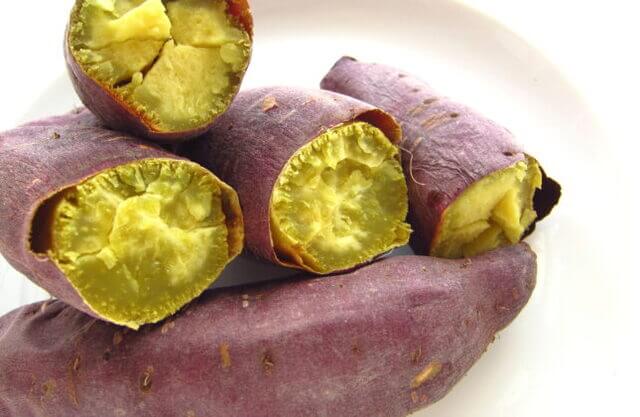 Beniazuma is a popular yaki-imo that has been familiar for a long time and has a fluffy texture. Cultivated mainly in the Kanto region. The flesh is yellow, fluffy when cooked, and low in fibre. The most widely grown variety is 'Beniazuma', known for its characteristic soft and flaky texture. It has lovely purple skin, with sweet-washed yellow inside.
Health information on Yakiimo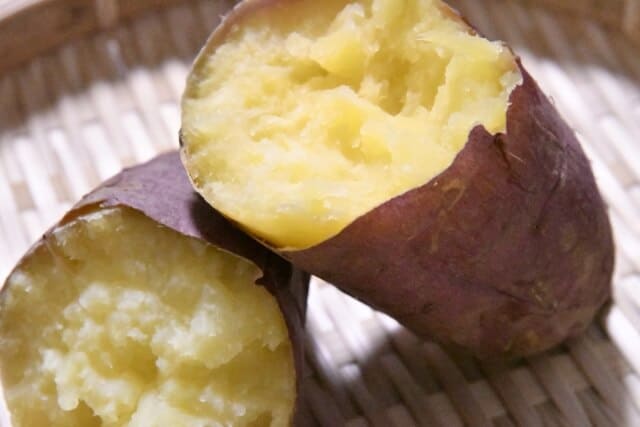 Did you know that yakiimo has the "strongest ingredient that creates beauty"? One ingredient has a lot of happy effects, such as intestinal activity, beautiful skin, small face and fat-burning effects. It has a detox effect and is good for eliminating swelling. The dark greenish part of the cut end of a sweet potato. Not only does it burn fat, but its antioxidant action prevents dark spots and suppresses the growth of melanin. Like dietary fibre, it is effective for intestinal regulation and constipation relief.
Yakiimo FAQ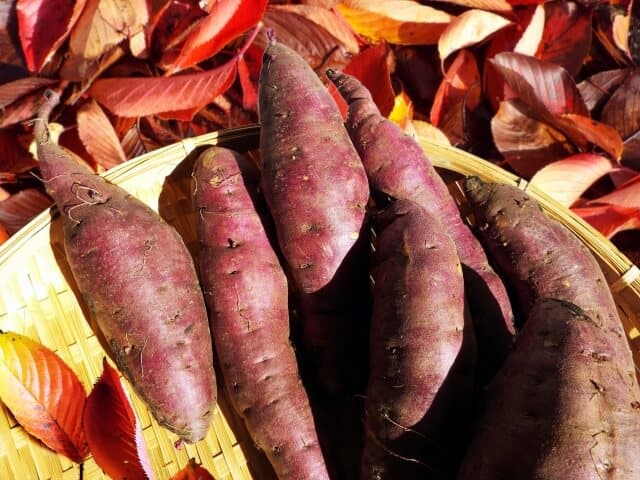 What does Yakiimo taste like?

The texture is nearly fluffy like a rich cake but starchier and drier. They have a mild nutty flavour, are much sweeter, and when cooked, the sugar on the surface caramelizes and oozes out. It has a sweet, chestnut-like flavour and texture.

At what temperature is recommended to cook Yakiimo?

Traditionally, eastern Japan emphasized a fluffy texture, while western Japan emphasized a moist texture. This requires a high temperature of about 100°C, and desirable to raise the temperature to 100°C after bringing out the sweetness at around 70°C.
Yakiimo Recipe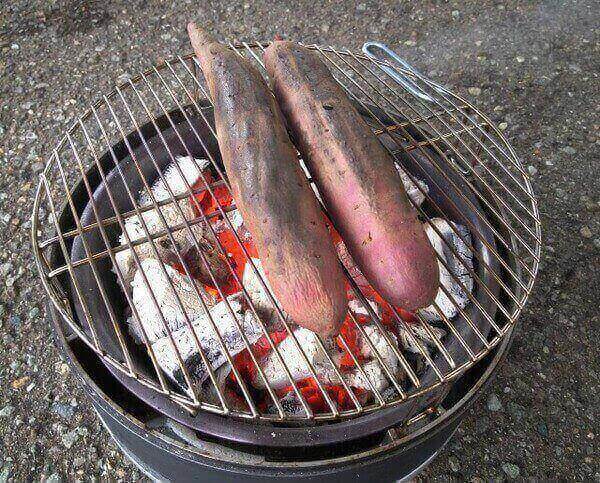 Yakiimo Ingredients
| Ingredients of Yakiimo for 1 person | Measurements |
| --- | --- |
| Anno imo (potato) | 400g |
How to make Yakiimo
Prepare the sweet potato
Preheat the oven to 180°C. Peel the Anno potato and then, wrap the Anno imo in aluminum foil.
Bake the sweet potato
Place it on a baking sheet and bake it in the oven at 180°C for about 40 minutes, then leave it in the oven for about an hour.
Completion and serving
When the heat is removed, wrap and chill in the refrigerator for about 2 hours. Cut it into bite-sized pieces and put it in a bowl to complete.
Where to buy Yakiimo 
pukupuku (超蜜やきいもpukupuku)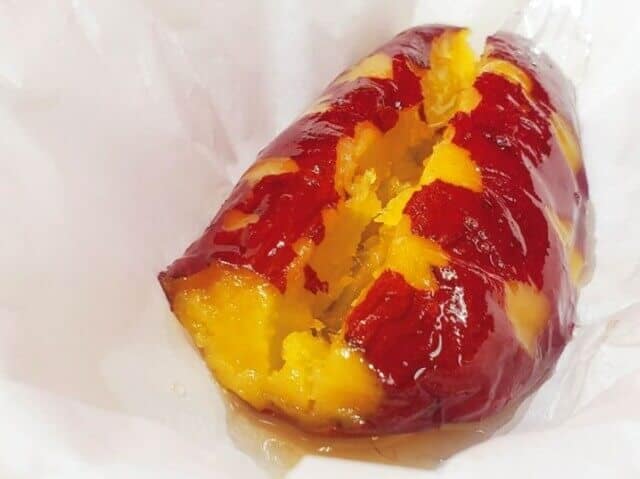 A sweet potato shop that opens only in winter in the residential area of ​​Shinagawa, in front of the eaves of a private house. Many people visit for the "super honey yaki-imo", which was created by continuing to pursue only "sweet roasting of yaki-imo" for more than 10 years.
Kurataya (倉田屋)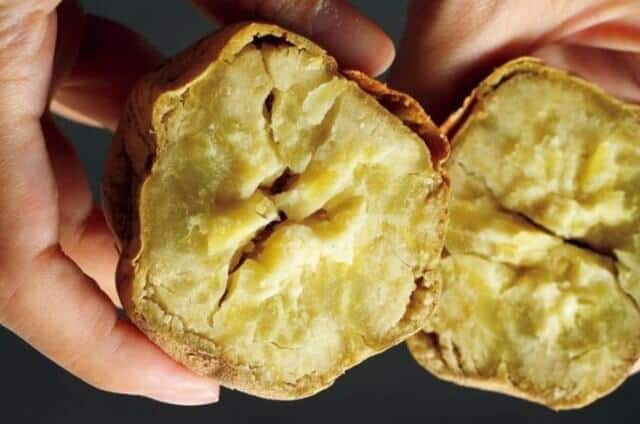 It has its roots in sweet potato yokan made from sweet potatoes grown on the Arakawa riverbed in an era when sweetness was a precious commodity. A rare white sweet potato made in Niijima. A slightly nostalgic taste that makes you feel warm. The longer it is stored, the more viscous and sugary it becomes, giving it a different taste. 
oimo lab.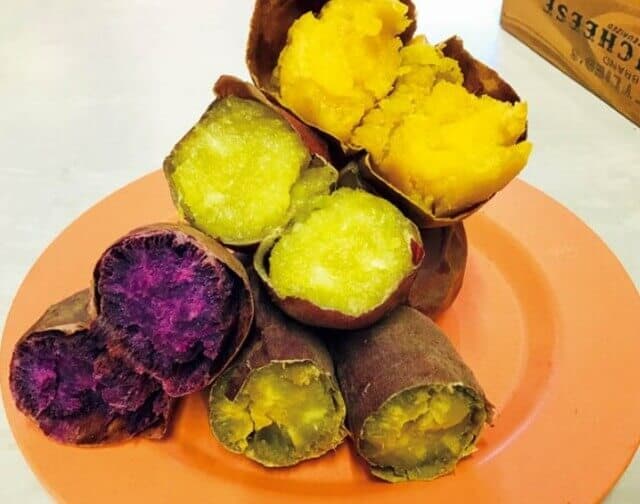 A specialty store that pursues the charm of sweet potatoes every day in a city of cafes. There are several types of baked sweet potatoes baked in a special oven, including premium silk sweets grown. As the name of the lab suggests, they research how to eat delicious sweet potatoes every day, and our sweets are also popular.
Final Thoughts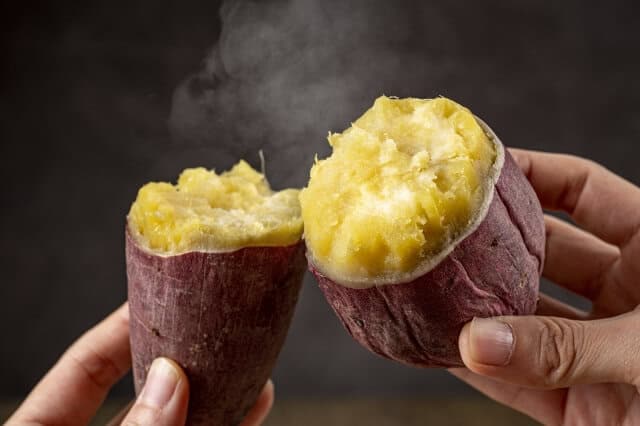 Many Japanese people find themselves yearning for sweet potatoes as the fall air begins to blow. Sweet potato from Japan is sweet. It is an excellent source of vitamin A, vitamin C, and dietary fibre. Additionally, it has a lot of antioxidants. The attraction of sweet potatoes will only increase as new kinds and ways to enjoy them come into existence. The popularity of sweet potatoes among Japanese people is still growing.
There are other Japanese sweets and snacks you can try, such as Senbei, Ningyo Yaki, Imagawa Yaki, and Kaminari Okoshi.