Chanpuru, a staple dish in Okinawan izakayas and restaurants. It can found as a side dish in a lot of supermarkets and convenience stores. There is a wide variety of dishes, including the nationally famous Goya Chanpuru, Okinawan tofu, kurumafu, papaya, and other Okinawan ingredients, as well as somen noodles, bean sprouts, and other readily available ingredients, etc. Today, let's talk about the popular "Goya Chanpuru"! But first, do you know what is the meaning of "Chanpuru"?
What is Goya Chanpuru
Goya Chanpuru is a local Japanese dish made with tofu and thinly sliced goya or bitter gourd. It is also one of 100 local dishes from Japan's agricultural, mountain and fishing villages. Locals stir-fried in oil, and quickly fry the thinly sliced ​​goya (bitter gourd) with carefully selected tofu over high heat.  Luncheon meat, egg, moyashi and gōyā are some other common ingredients. There are various bitter melons in the world, and there are about 300 kinds of them. The firm, dark-colored bitter melons with dense warts are fresh and bitter, so they are best suited for chanpuru. Light-colored, plump bitter melons are rich in moisture and less bitter and are suitable for salads.
Chunaga bitter gourd is native to Okinawa and has a long, thin body like a cucumber. It has a strong bitterness and is easy to cook, so it is recommended for goya lovers. Murubushi bitter gourd is thick and stocky and has good quality and juicy flesh. There are many types of chanpuru in Okinawa, including goya chanpuru, fu chanpuru made with wheat gluten, and somen chanpuru made with somen noodles. It has a reputation as the "king of summer vegetables" and is a vegetable rich in vitamins. 
Etymology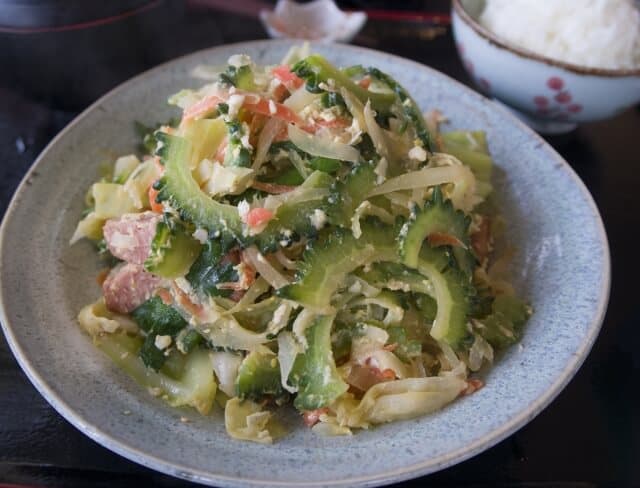 Chanpuru means "mixed" in Uchinaaguchi (Okinawan dialect). Surprisingly, the term derives from the Indonesian word campur, which means "mixed," and this dish contains tofu and pig as main ingredients in addition to the goya. You may also add your favourite veggies, such as carrots, green beans, and bean sprouts, to mention a few.
When many people hear Okinawan cuisine, the first item that springs to mind is Goya Chanpuru. Tsurureishi is the common Japanese name for goya. Bitter gourd is another name for it. Other regional names in Kyushu and the Nansei Islands include Gora in the Miyako dialect, goya in the Yaeyama dialect, nigagori throughout much of Kyushu. This includes Kumamoto Prefecture, toguri in Amami Oshima, Kagoshima Prefecture, and nigaui in Nagasaki Prefecture's Isahaya region. Locals know the Tsurureishi by several other names, including Isahaya region, Kagoshima mainland, and so forth.
Goya Chanpuru History
Locals believed that it originated from Indonesia. The Ryukyu dynasty was active in trading with China, Korea, and Southeast Asia during the period. They brought the foreign cuisine culture to Okinawa during the time. And they referred to Okinawa's cuisine culture as "Chanpuru culture." In addition to the well-known Goya Chanpuru, other Chanpuru dishes include somen, bean sprouts, and mustard greens.
Speaking about goya, it appears that it originated in Southeast Asia, concentrating on India. Then, it spread throughout the country from Okinawa. From 1596 to 1615, they introduced this to Japan. Even more unexpected, it is unknown when bitter gourd initially arrived in Okinawa. The bitter gourd is now widely used in Okinawan cooking. Goya's alternative name, bitter gourd, was also mentioned in 1713, indicating that it existed in Okinawa prior to that date.
Goya Chanpuru Recipe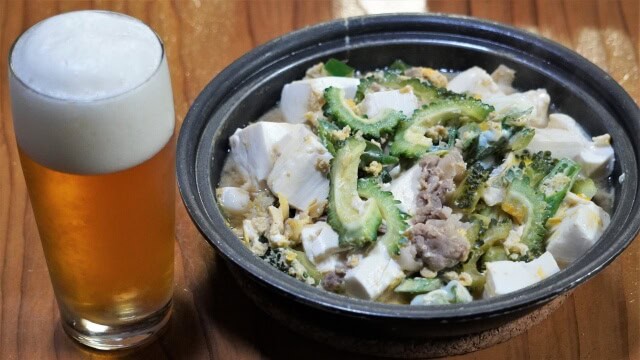 Goya Chanpuru Ingredients
| Ingredients of Goya Chanpuru for 1 person | Measurements |
| --- | --- |
| Goya | 50g |
| Egg | 23g |
| Thinly sliced ​​pork rib | 40g |
| Cotton tofu | 20g |
| Bean sauce | 5g |
| Salt | 2g |
| Pepper | 2g |
| Soy sauce | 3g |
| Chicken broth | 10g |
| Dried bonito | 3g |
| Sesame oil | 3g |
How to make Goya Chanpuru
Cut the tofu and fry
Cut the cotton tofu into bite-size pieces, drain and fry on both sides in a frying pan.
Prepare the bitter gourd
Cut the bitter gourd in half lengthwise, remove the pith, slice into 4-5mm pieces, lightly soak in water and drain.
Fry the pork ribs
Stir-fry thinly sliced ​​pork ribs (thinly sliced) into 4-5cm lengths in oil with a small amount of chilli bean sauce.
 Season the dish
Add the tofu, add a small amount of stir-fried chicken stock, and season with salt, pepper, and soy sauce.
 Serving
Softly mix the beaten egg all over to adjust the flavour, then sprinkle sesame oil over the skin of the pan and top with bonito flakes to complete.
What does goya taste like?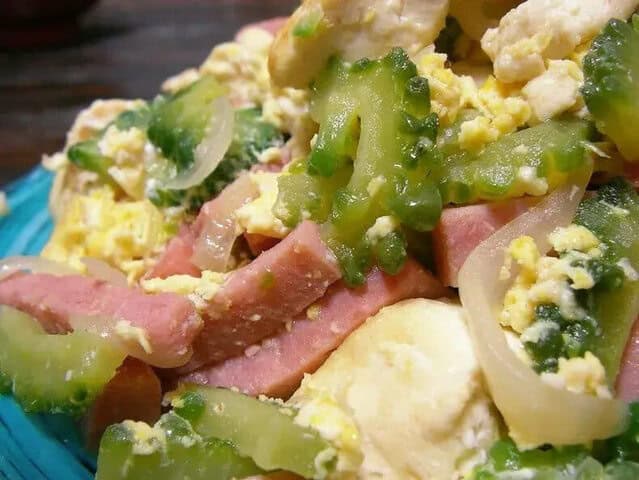 Goya or bitter melon is a long, green vegetable characterized by its bumpy skin and distinct, bitter flavour. It resembles a bumpy cucumber and can be easily spotted in many Japanese supermarkets due to its bright green colour and distinctive look.
Why you should eat Goya?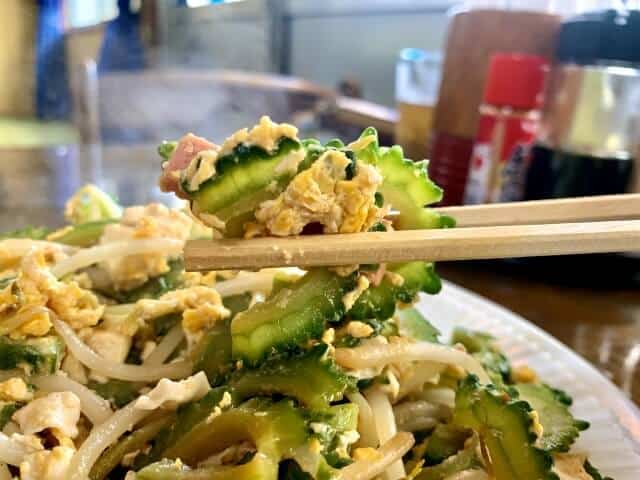 One of the reasons why many Okinawans live so long is that they often eat goya, a traditional food. Goya contains an ingredient called "Momodusin," which is the source of its bitter taste. This "Momodusin" has the effect of stimulating digestion and enhancing appetite. But if you don't like it, you can cut it thinly and rub it with salt to make it easier to eat. Also, vitamin C in goya is hard to break even when heated, so locals hope it will be a countermeasure against spots and freckles caused by sunburn. It's a perfect vegetable for summer.
Health information about Goya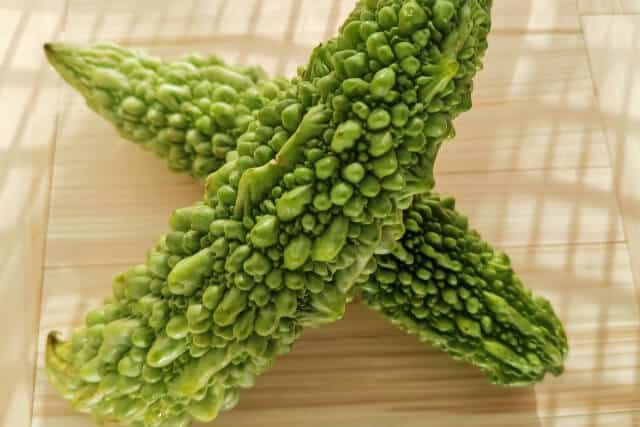 Goya or bitter gourd contains the most vitamin C in vegetables. The vitamins B1, B2, folic acid, potassium, calcium, iron, and dietary fibre are also present in bitter gourd. In addition to whitening the skin, it also produces collagen to give the skin firmness. Its potassium is also effective against swelling, and calcium, which adjusts the texture of the skin.
Types of Goya Chanpuru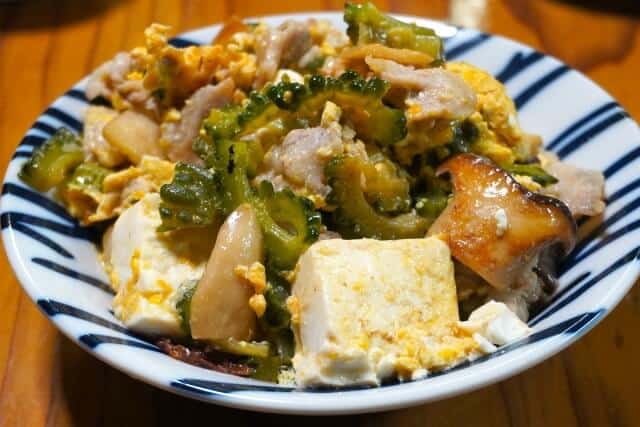 There are many types of Chanpuru dishes, not just Goya Chanpuru, depending on the main ingredients.
Fu Chanpuru
A type of Chanpuru uses Okinawa's unique kuruma-fu.
Tamana Chanpuru
Chanpuru using Tamana (cabbage).
Mamina Chanpuru
Japanese uses bean sprouts called Mamina. 
Papaya Chanpuru
Locals stir-fried the chopped green papaya before ripening.
Chikina Chanpuru
Chanpuru with salt-pickled mustard greens.
Somin Chanpuru 
This type uses firm boiled somen noodles.
Nabera Chanpuru
With loofah, and an empty core kind of chanpuru.
Where to buy Goya Chanpuru
Ayagu Shokudo (あやぐ食堂)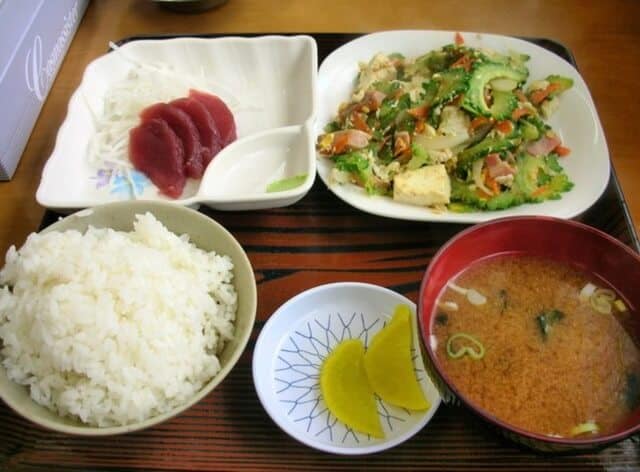 "Ayagu Shokudo" is a restaurant that is popular among locals for its voluminous set of meals and delicious goya chanpuru. If you want to taste the authentic Okinawan Goya Chanpuru, which is now popular as a home-cooked dish all over the country, this is the place to go. Their "Goya Chanpuru Set Meal" is a deluxe version that comes with plenty of chanpuru, sashimi, soup, rice, and pickles.
Namifu Shokudo (波布食堂)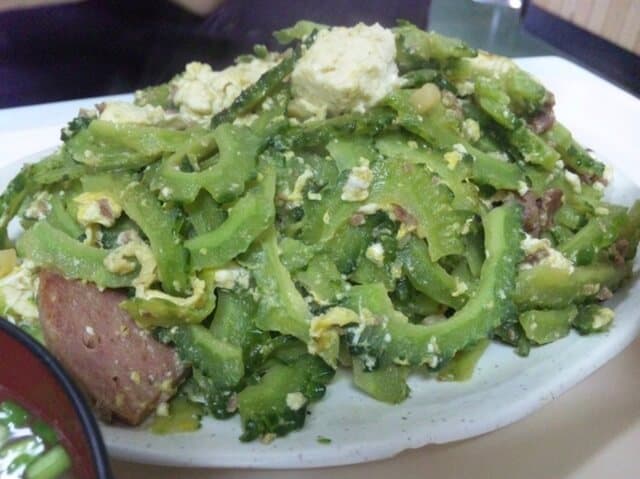 "Namifu Shokudo" is a restaurant that has become famous for its heaping amount of "meat soba" through customer reviews. There are many hearty menus in Okinawa's cafeterias, but this may be the best. Many people order the "meat soba", which has a large amount of stir-fried meat and vegetables on top of the soba. Their Goya Chanpuru is also one of their best seller inside the store.
Mikasa Matsuyama Store (三笠 松山店)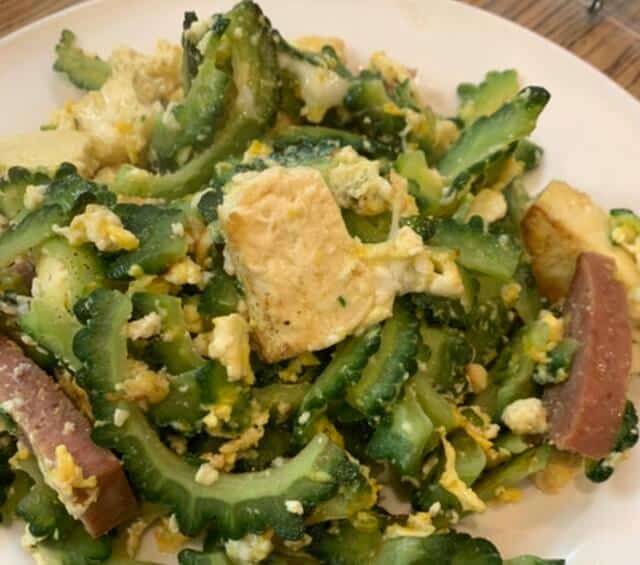 "Mikasa Matsuyama Branch" is a long-established popular restaurant located in a business district. This cafeteria is popular with nearby office workers, local middle and high school students, and families. The menu includes items in Okinawan households, such as goya chanpuru, pork eggs, Okinawa soba, and tofu chanpuru.
Takeaway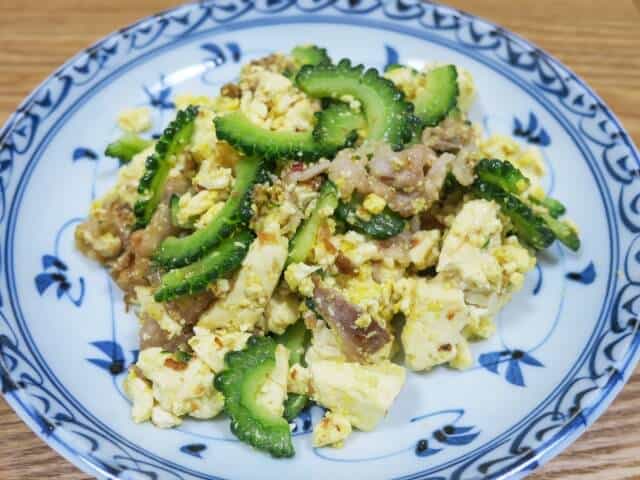 As far as Okinawan cuisine is concerned, a popular traditional dish called Goya chanpuru is responsible for the incredible longevity of Okinawans. Goya chanpuru is not only highly representative of the traditional Okinawan diet way of eating but is also a major part of the Okinawan centenarians' diet. 
Speaking of classic Okinawan dishes, goya chanpuru, Soki soba, and rafute. Okinawan food tastes better than ever, and you can enjoy it to your heart's content. Not only can it be found at restaurants, but it can also appear as a menu item at home.