Nestled in the heart of Japan's Akita Prefecture lies a culinary gem that has captivated locals and visitors alike for generations – butter mochi. This delectable treat, with a history steeped in regional tradition, offers a delightful fusion of flavors and textures. Join us as we embark on a flavorful journey through Akita's rich culinary heritage, exploring the origins, preparation, and cultural significance of buttermochi in this enchanting corner of Japan.
What is Butter Mochi?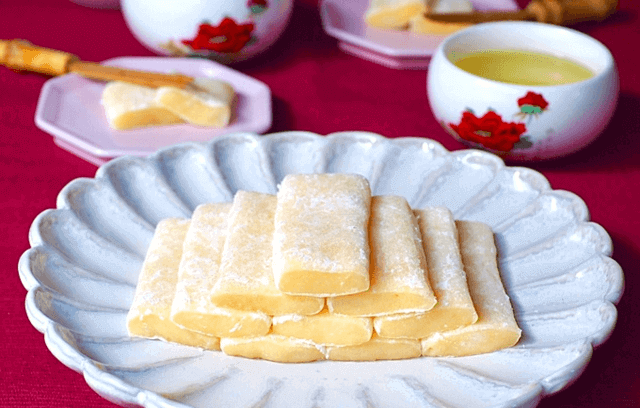 Butter mochi is a beloved regional delicacy with a history of more than four decades in Kitaakita City, Akita prefecture. It begins with the pounding of glutinous rice or mochi soaked overnight in water, followed by the incorporation of various ingredients like butter, flour, egg yolk, and sugar. One distinguishing feature of this treat is its remarkable ability to maintain a soft, non-hardening mochi-like texture. This unique quality made it a practical choice as a preserved sustenance by the "Matagi," traditional hunters who braved the winter using time-honored techniques.
Butter Mochi History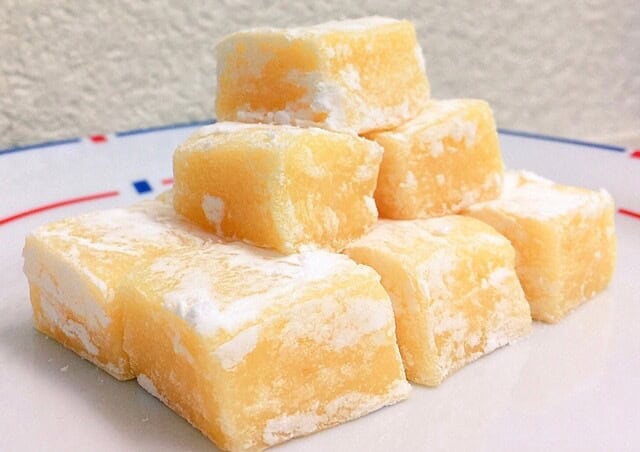 Butter mochi is popular for its moderate softness and subtle sweetness. It turns out that the mysterious combination of butter and mochi actually originated from a practical custom. It has a history of over 40 years in Akita. During those times, people based in northern Akita who made a living by hunting brought this kind of mochi with them to supplement their calories during the bitterly cold seasons. By the way, butter at that time was obtained through barter with the Ainu and people of Hokkaido. In other words, this mochi was born not as a luxury item but as a necessity.
Why did the butter mochi become famous?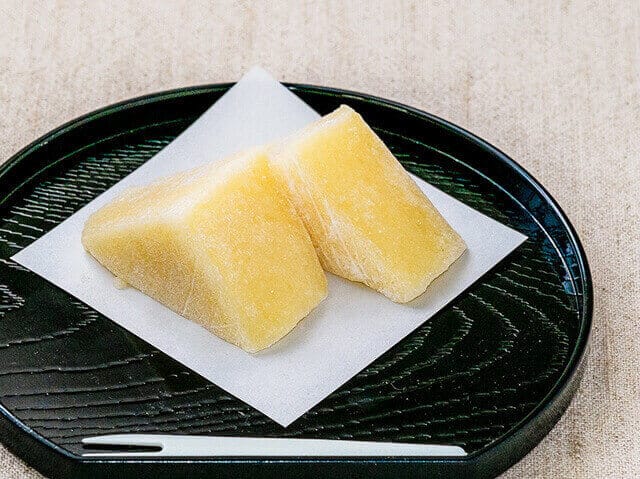 Miura-an's Mochi Triangle Butter Rice Cake rose to fame thanks to its impressive fourth-place ranking in the 3rd Japan National Snack Ranking. This delightful treat, affectionately dubbed "butter mochi" by patrons, has even earned the prestigious title of a "recommended certified speciality" by Kita-Akita City. Its journey to stardom began roughly a decade ago when Miura-an was established. Initially, the popularity of Miura's butter rice cake grew within the local community, with enthusiastic recommendations from those who had tasted its deliciousness.
In response to the growing demand, Miura-an began offering its butter rice cakes at various locations, including stations on inland rail lines, Akita Airport, and specialized antenna shops in Tokyo. The key to their delectable creation lies in their unwavering commitment to quality. Miura-an sources glutinous rice exclusively from trusted farmers, eschews blending different rice varieties and meticulously adheres to precise cooking times to achieve the ideal sticky texture. The recipe for these delectable butter rice cakes was perfected through persistent trial and error, underscoring their dedication to consistently delivering a mouthwatering treat that has captured the hearts of many.
Calories of butter mochi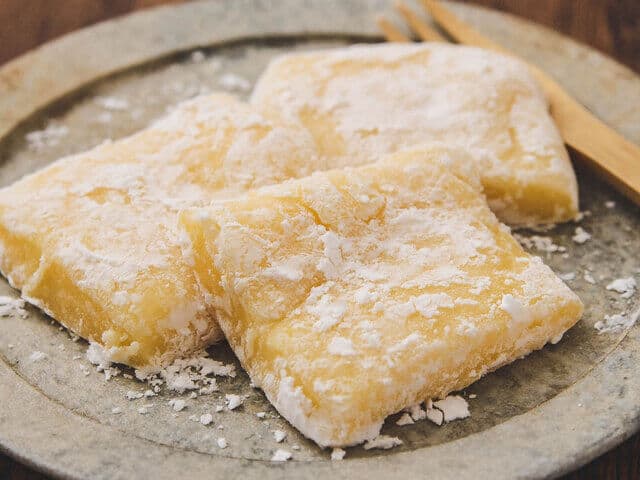 Since the combination of mochi and butter is quite a heavy ingredient, the calorie content of this kind of mochi is a concern. It also contains sugar and egg yolks. After all, it is a food created to provide calories, so naturally, it is high in calories. Typically, it has 244kcal per 100g. It is a little too high in calories to be a snack. One commercially available weighs about 70g, so the calorie content is just under 180 kcal. 
How to eat butter mochi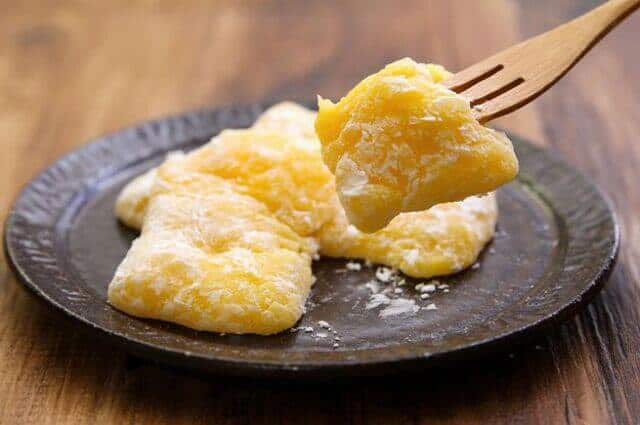 Since it has started to attract attention as a local gourmet food, this mochi is being produced and sold all over Akita. Warm it up in the toaster before eating. Commercially available buttermochi is a convenient food that keeps well and does not harden, so it is still often eaten as a snack by children in Akita. In the summer, they make it a little salty to prevent it from spoiling, and in the winter, locals add sugar to increase the calories. Before eating, warm it up a bit in a toaster to enhance the buttery aroma and make it even more delicious.
Butter Mochi FAQ
What is the taste of butter mochi?

In recent years, local gourmet food has been in the spotlight, and it has also become well-known nationwide. It seems to be very popular, especially since not only butter but also eggs and sugar are added to make it look like a sweet. Characterized by its juicy buttery texture and moderate sweetness.

What are similar dishes outside Japan?

In Hawaii, mochi has gained popularity among Hawaiians and individuals of Japanese descent, largely influenced by Asian immigrants. One of the beloved mochi variations is "Butter mochi" or "Bibingka" in the Philippines. While its core ingredients, such as mochi flour, butter, eggs, and sugar, are similar to those found in Akita Prefecture, Hawaii's version incorporates additional elements like coconut milk, condensed milk, and baking powder. 
Butter Mochi Recipe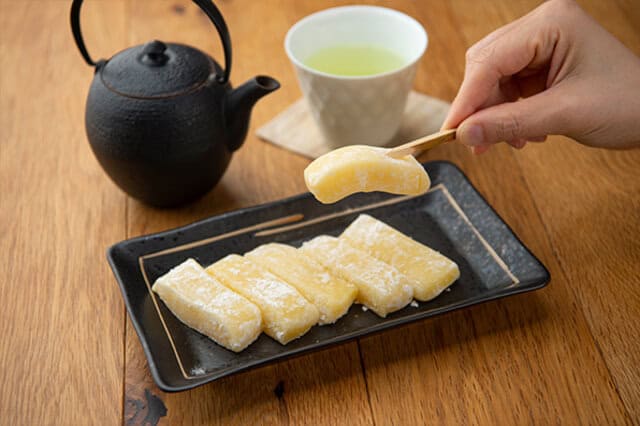 Butter Mochi Ingredients
| Ingredients of Butter Mochi for 3 persons | Measurements |
| --- | --- |
| Rice cakes | 30g |
| Water | 28g |
| Sugar | 32g |
| Salt | 3g |
| Egg yolk | 11g |
| Butter | 6-7g |
| Potato starch | 14g |
How to make Butter Mochi?
Making the mixture
Pour water over the cut mochi and heat it in the microwave. When the mochi becomes soft, throw away the excess water and mix well with a spoon. Once the mixture is smooth, add the sugar, salt, and egg yolk and mix quickly before it gets cold.
Add the butter and mix to coat
It doesn't matter if they are separated here. Adding potato starch makes it easier to clump together, making it more like buttermochi all at once.
Knead and serve
Add potato starch (not listed) to the palm of your hand and knead a little. Then, sprinkle potato starch (not listed in ingredients) in a square container, put the mochi there, and let it cool down a bit to make it easier to cut with a knife. Cut it and arrange it on a plate.
Where to buy Butter Mochi?
Akita Airport Souvenir Square A.E.L. (おみやげ広場 あ・えーる)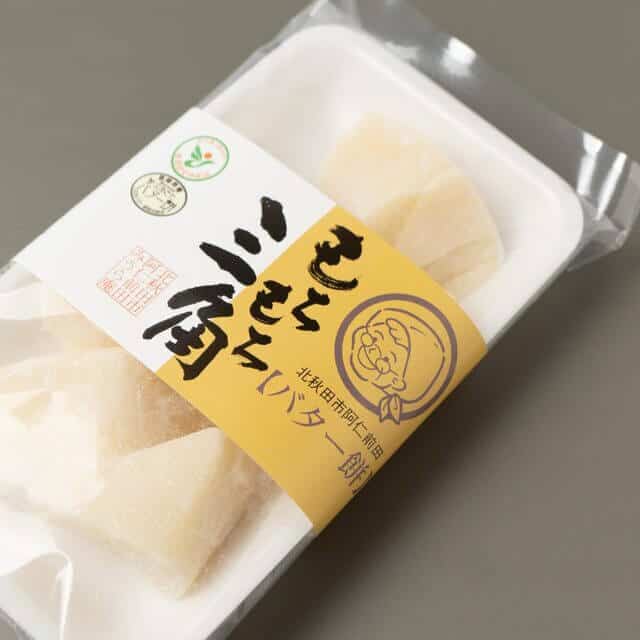 "Butter Mochi" is a typical sweet from Kitaakita City. The secret to delicious buttermochi is the "golden recipe." The richness of butter, the soft and gentle sweetness, and above all, its crisp texture. We only use sticky rice grown by trusted farmers. Carefully and faithfully follow the recipe arrived at through trial and error. Each item is filled with Mr. Miura's passion as he makes each item by hand. It is a snack that you can eat with peace of mind as there are no additives.
Seneido (泉栄堂)
The buttermochi sold by Seneido, founded in 1919. It is characterized by its square shape, which is more solid than those available at other shops, but it is so soft that it bends when you hold it in your hand, and does not retain its original shape.
Fukugetsudou (蕗月堂)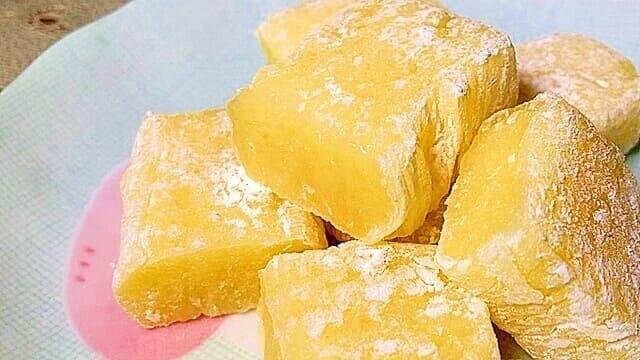 Butter mochi from Bugetsudo is so popular that you can sometimes find it in supermarkets in Akita Prefecture. The thinly sliced ​​buttermochi has a similar texture to Suama and Gyuhi. 
Final Thoughts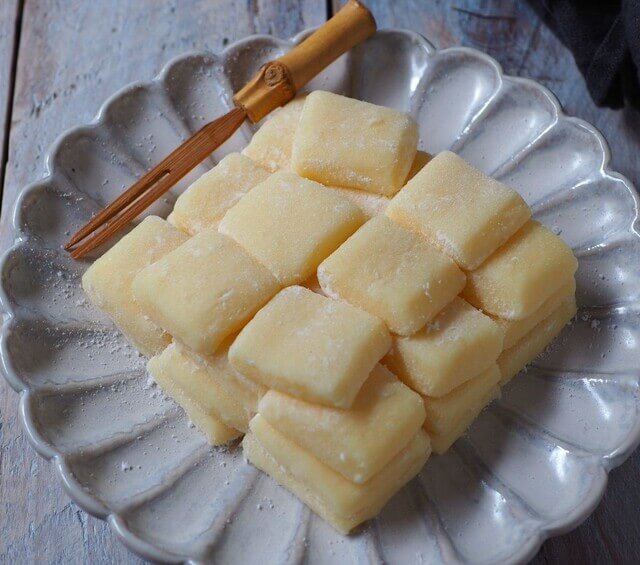 In exploring the rich and diverse world of butter mochi, we've journeyed through the charming traditions of both Akita Prefecture and Hawaii, uncovering the unique ways in which this delightful treat has evolved and found a place in the hearts of its respective communities. While the origins and preparation methods may vary, the common thread of mochi, butter, and eggs weaves a connection between these two distant culinary landscapes. 
You can check some Japanese dishes below that we know you would like to try too.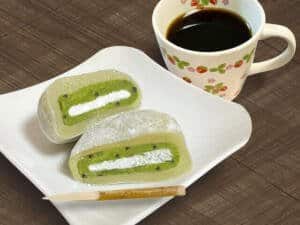 Mochi (餅)
【Introduction to Mochi】 When it comes to traditional Japanese desserts, Mochi is always the answer. This traditional dessert is famous for "rice cake," enj…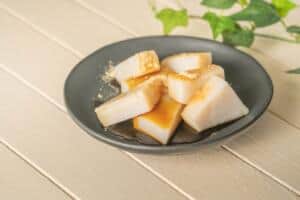 Kuzu mochi (くずもち)
If you're traveling to Japan, trying out the local cuisine is a must-do activity, and kuzu mochi should be on your list. This traditional Japanese dessert is…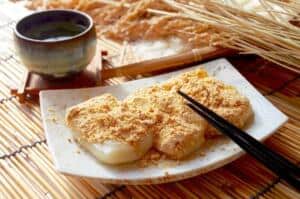 Kinako Mochi (きな粉餅)
What if I told you that there is a Japanese dessert that can make you live longer and happier? It is called kinako mochi, and it consists of chewy rice cakes…